Whether it's appetizers or dinner, fried, grilled, or chilled, shrimp is a protein-packed crustacean that adds fun and flavor to any dish. Try any one of our 28 Best Shrimp Recipes to satisfy your craving!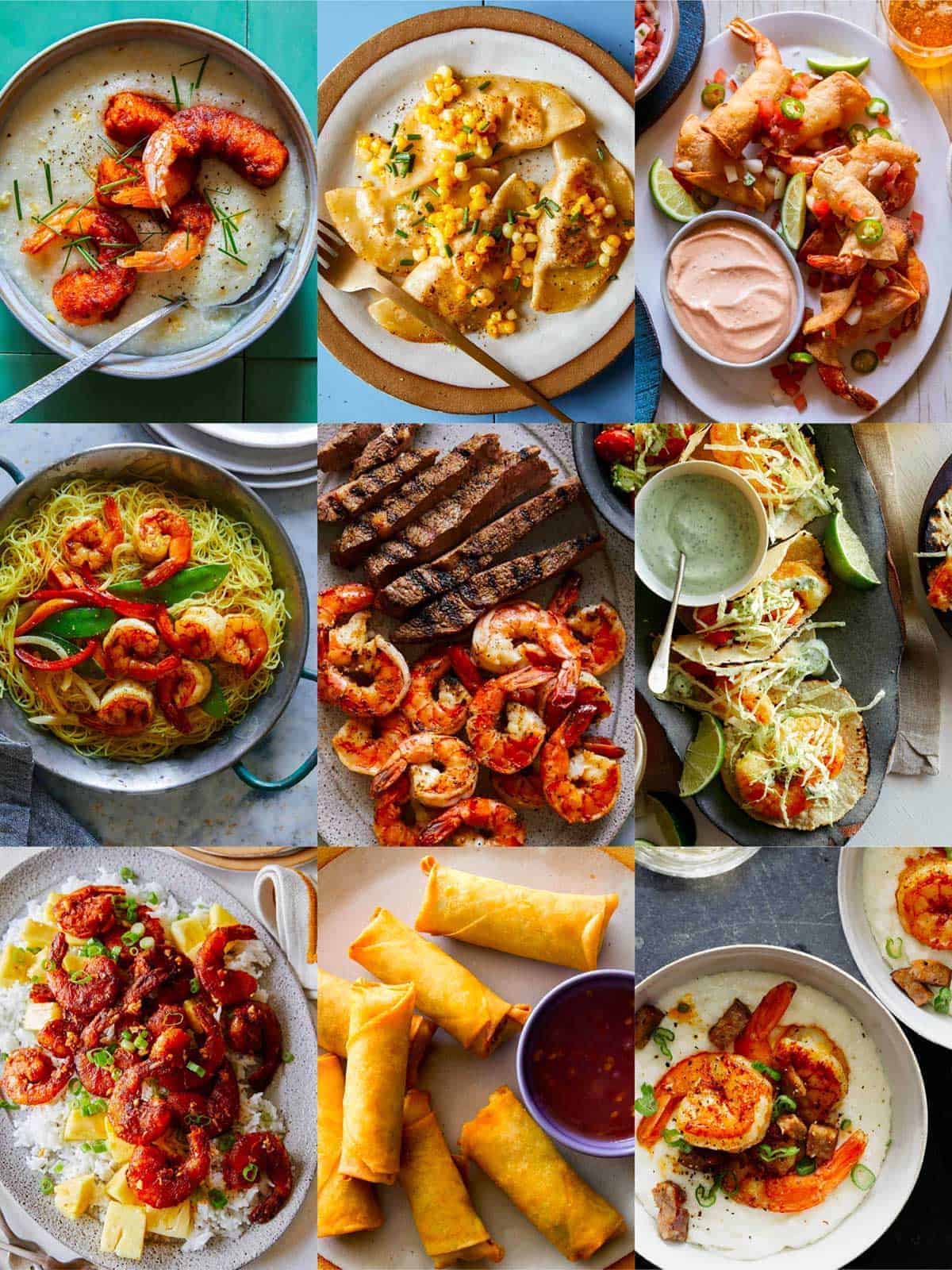 By the sheer volume of shrimp recipes on the website, you can tell we're raving fans — just like we know you are! Shrimp is such a versatile protein that can be used in everything from shrimp cocktail to shrimp scampi, and it can be breaded and fried or stuck on a skewer and grilled to perfection.
We love keeping a package of shrimp ready to go in the freezer anytime we need a quick appetizer or meal. Be sure to check out the different types of shrimp, their sizes, and the difference between fresh and frozen shrimp as well!
We have a wide variety of shrimp recipes perfect for any occasion: simple appetizers, weeknight dinners, and true crowd-pleasers!
Shrimp Appetizers
Whether you need a quick app for a cocktail party, an evening with friends, or game day, try these appetizers with shrimp as the star!
These Shrimp Fritters are crispy on the outside, fluffy on the inside, and absolutely irresistible. A pate a choux mixed with shrimp and green onion packs them with so much flavor, only to be topped by the spicy-honey drizzle served with them!
Served in individual cups, Mexican Shrimp Cocktail is the perfect handheld party food for people to enjoy while mingling on a hot day. It's a light, but filling appetizer with a hearty spin on traditional shrimp cocktail.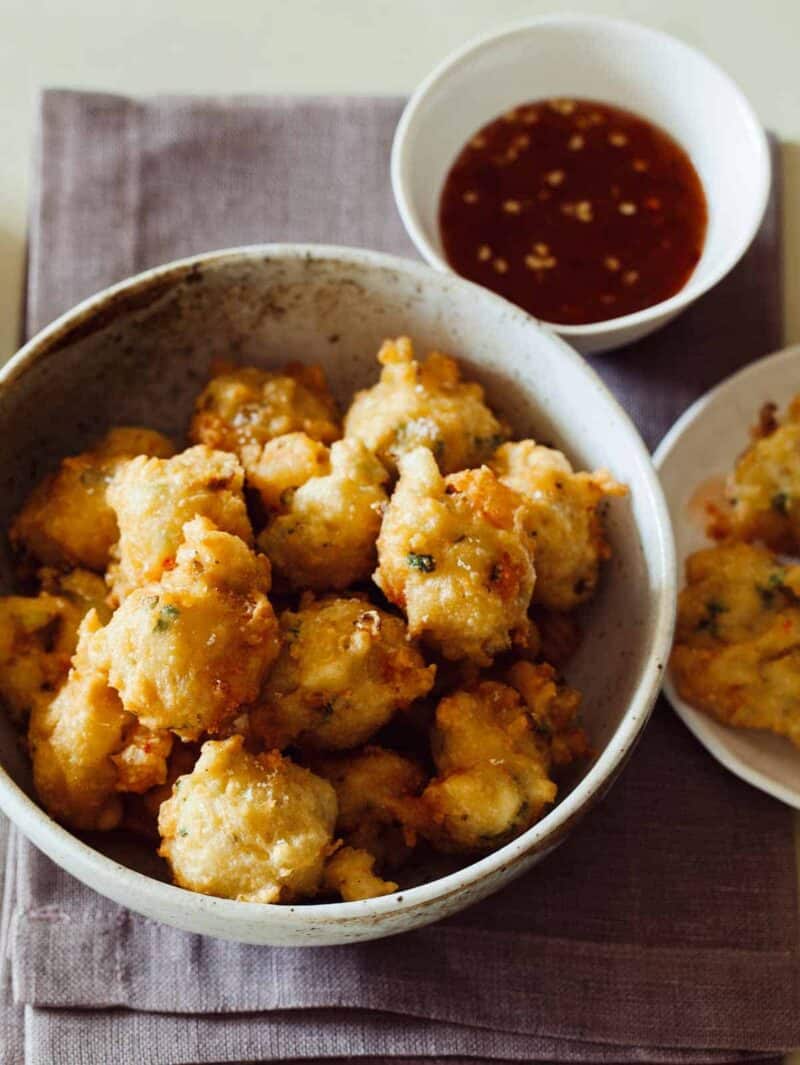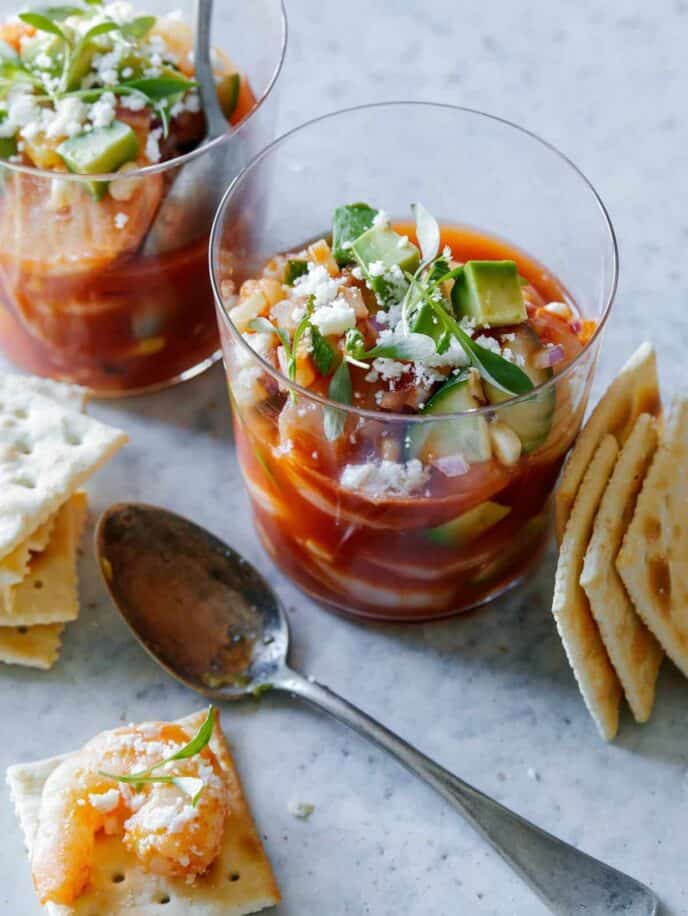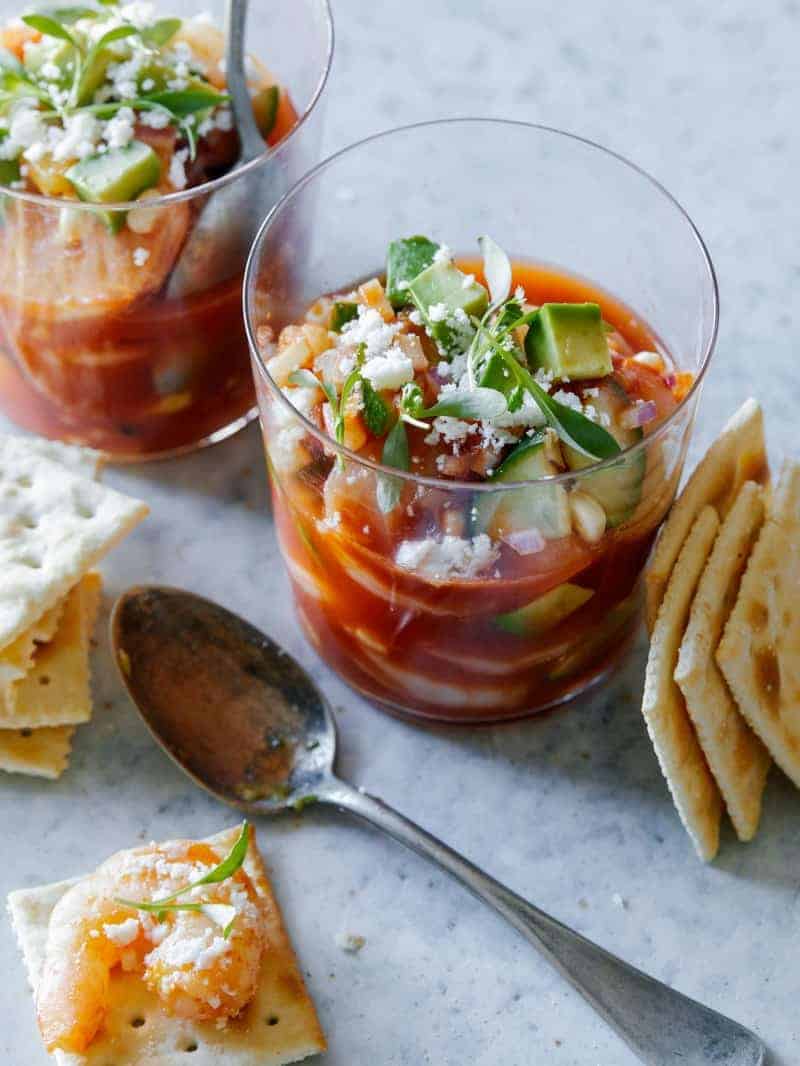 A platter of Shrimp Toast won't last long at a party. You can easily make these toasts in bulk to feed this appetizer to a whole crowd of people.
Shrimp Taquitos are super crispy and a fun take on traditional taquitos. Each shrimp is wrapped in a corn tortilla and fried, then served with a simple chipotle crema and pico de gallo for dipping.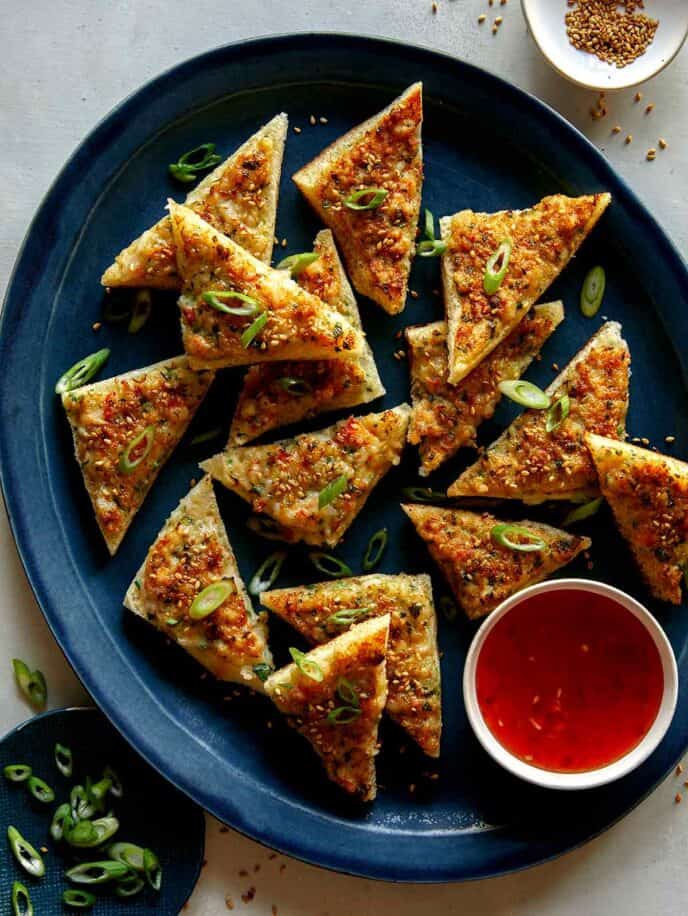 We love this super simple, classic Shrimp Scampi that uses minimal ingredients but can be completely versatile. Serve it with a bunch of toothpicks for a crowd-pleasing appetizer, or toss it together with some pasta for a quick and easy dinner that everyone will love!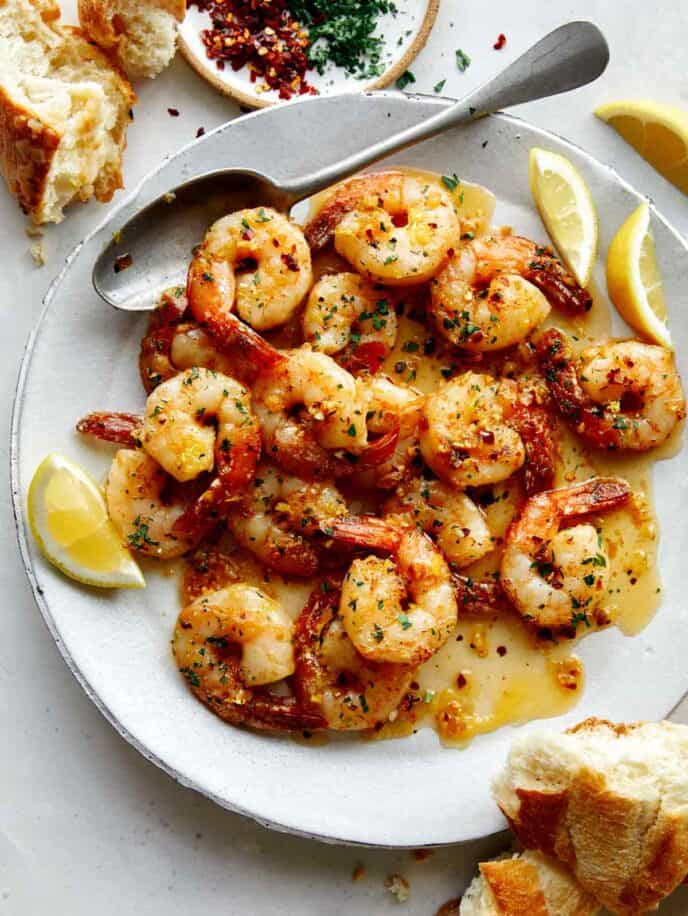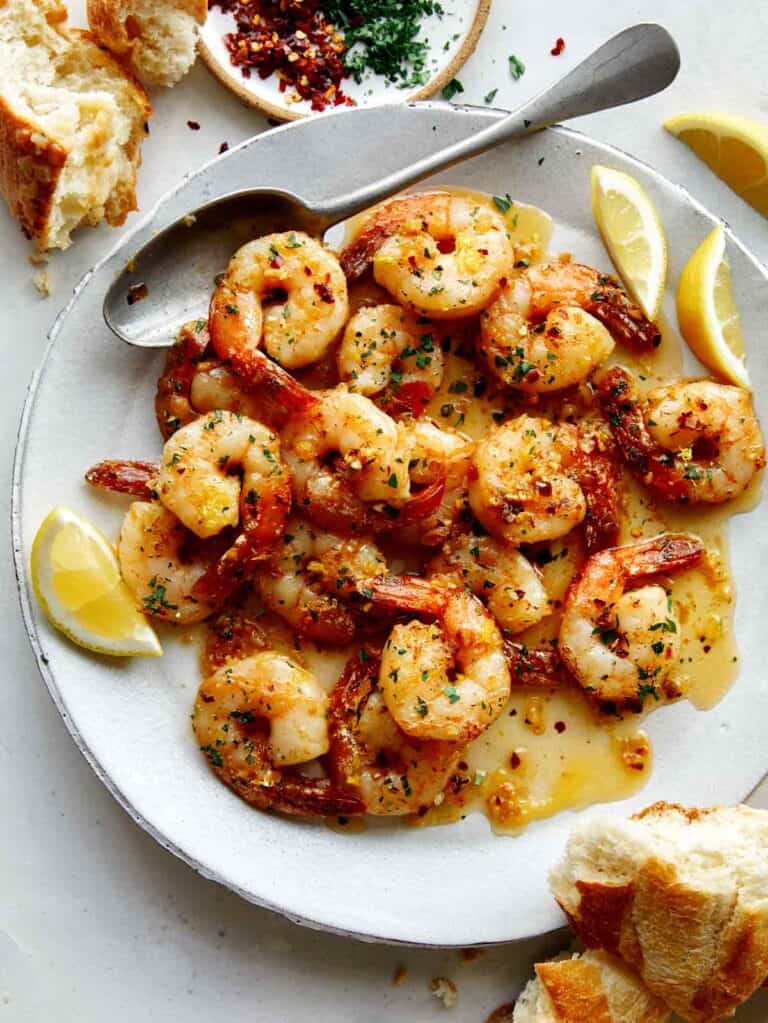 Fried Shrimp Recipes
Battered and fried is one of the best ways to enjoy tender shrimp. Try any of these recipes, from salads to tacos, for a new way to enjoy fried shrimp.
We love these baja-style Beer Battered Shrimp Tacos — so light, crispy, and, when paired with a simple slaw, is the perfect meal for summer!
The coconut coating on this Coconut Shrimp with Mango Salsa gives the shrimp so much flavor and an amazing flaky texture. This recipe will show you how to easily fry them up, bake them, or use an air fryer– whichever way you want to cook them!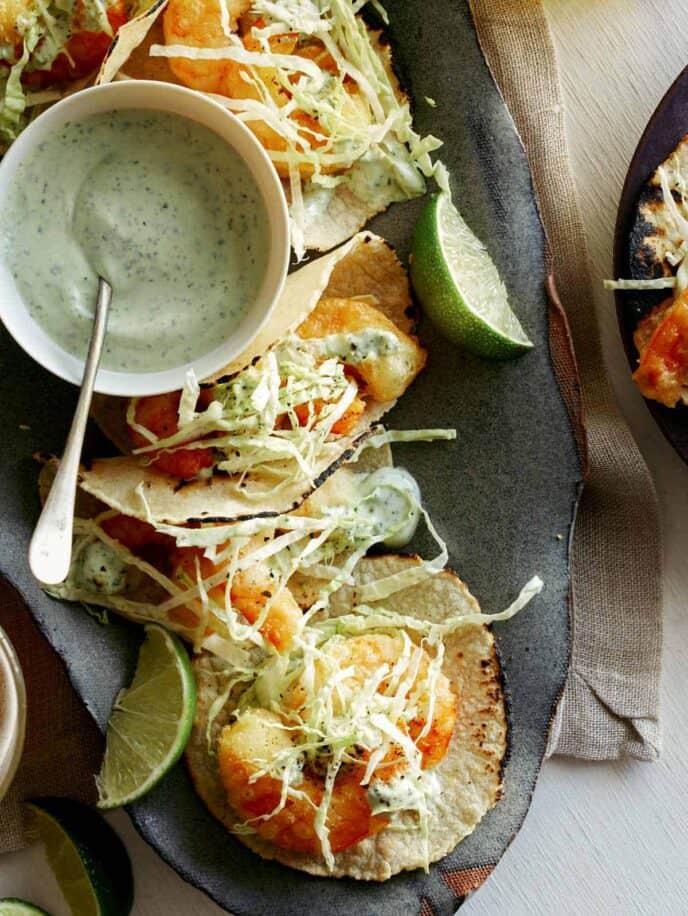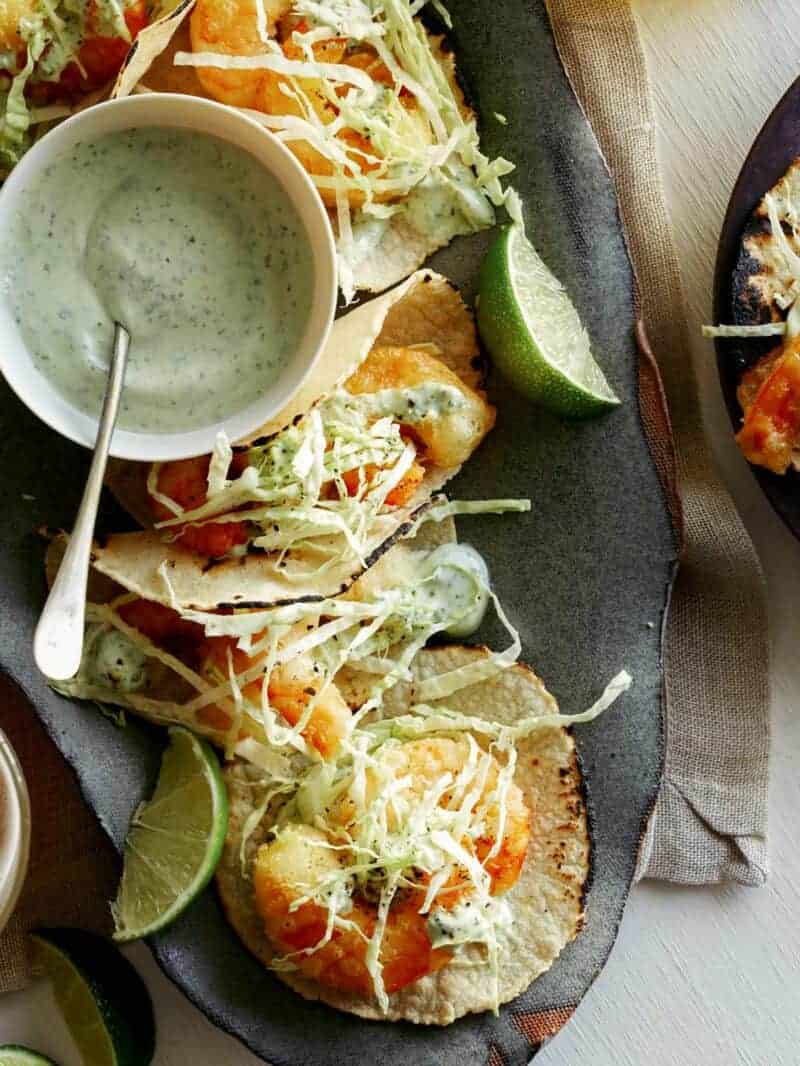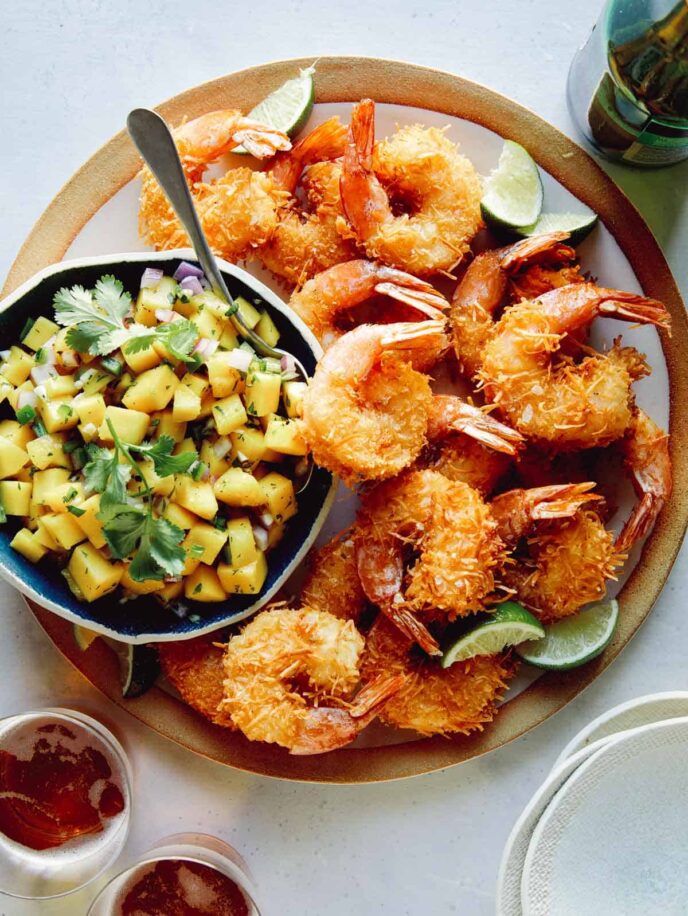 Our Coconut Shrimp Summer Salad is a loaded, delicious summer salad that utilizes all the fresh summer ingredients like radicchio, heirloom tomatoes, cucumbers, and juicy nectarines. Plus, it's topped with delicious crispy coconut shrimp that turns this salad into a meal.
Try battered and fried squid, shrimp, fennel, and potatoes in this unsuspecting Light and Crispy Fritto Misto. While fried, the batter is super light, and when paired with our garlic aioli, this dish is simply irresistible.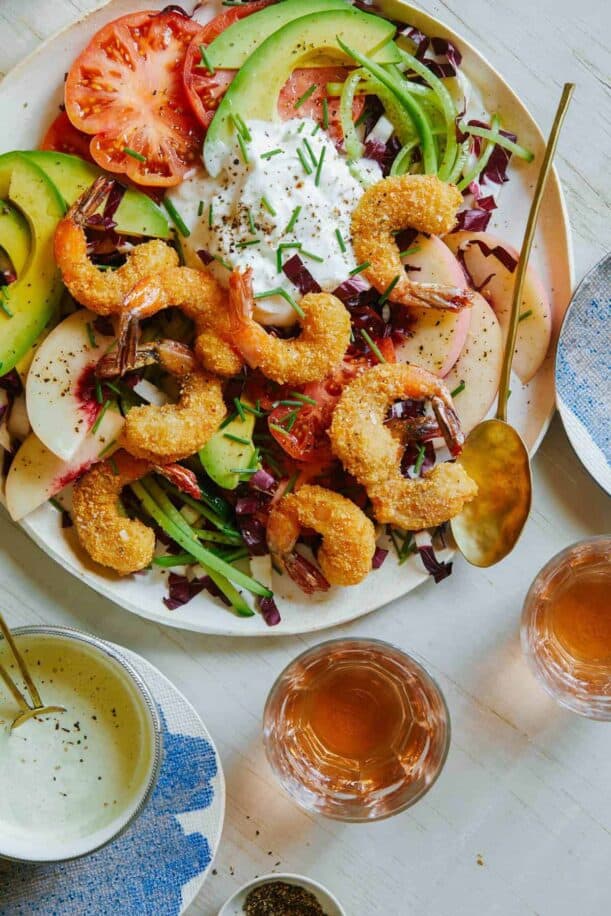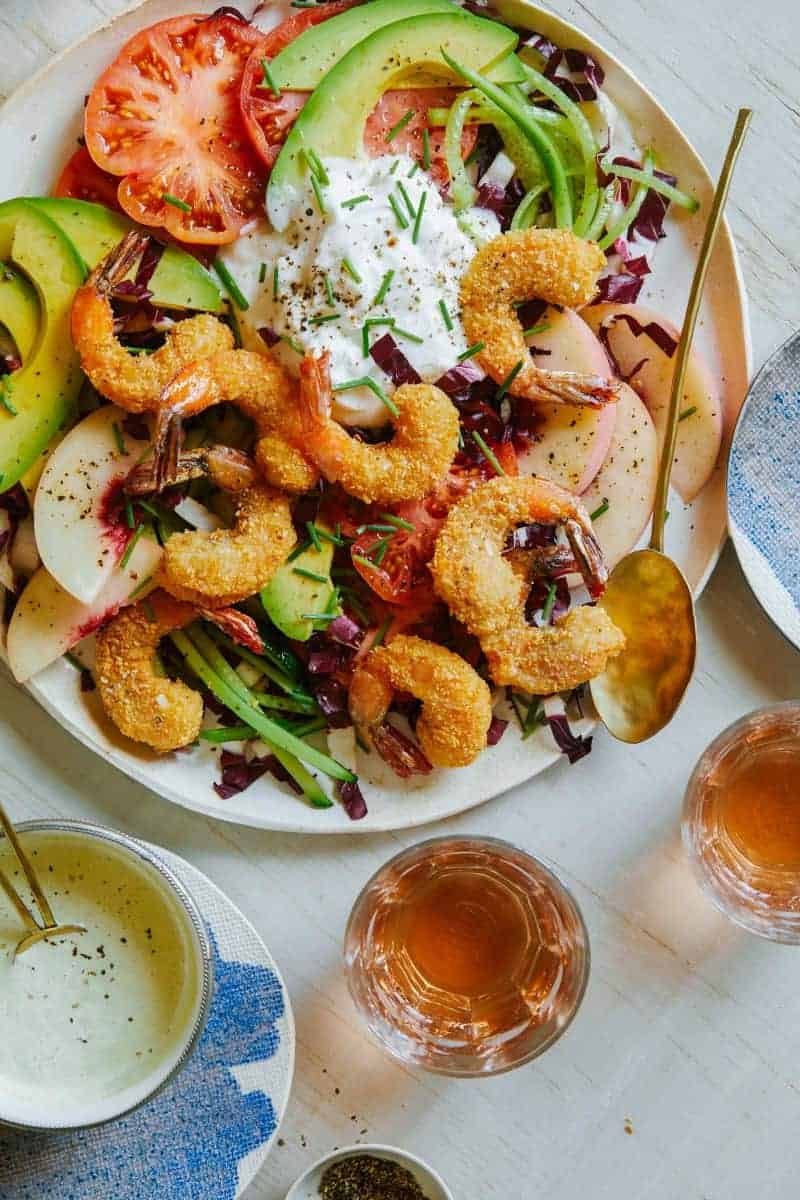 Grilled Shrimp Recipes
Fire up the grill and enjoy everything from grilled peel-and-eat shrimp to surf and turf! Grilled shrimp cooks up quickly and is perfect for skewers or grill baskets.
Get back to the basics with this simple Grilled Peel and Eat Shrimp! Perfect for a quick appetizer when grilling out or as a side to go with anything from steak to nachos.
When grilling for a special occasion, you can't go wrong with this Grilled Shrimp and Steak Surf and Turf. Perfectly seasoned, then topped with a fresh seasonal tomato, cucumber, and feta salad for the ultimate meal on the grill.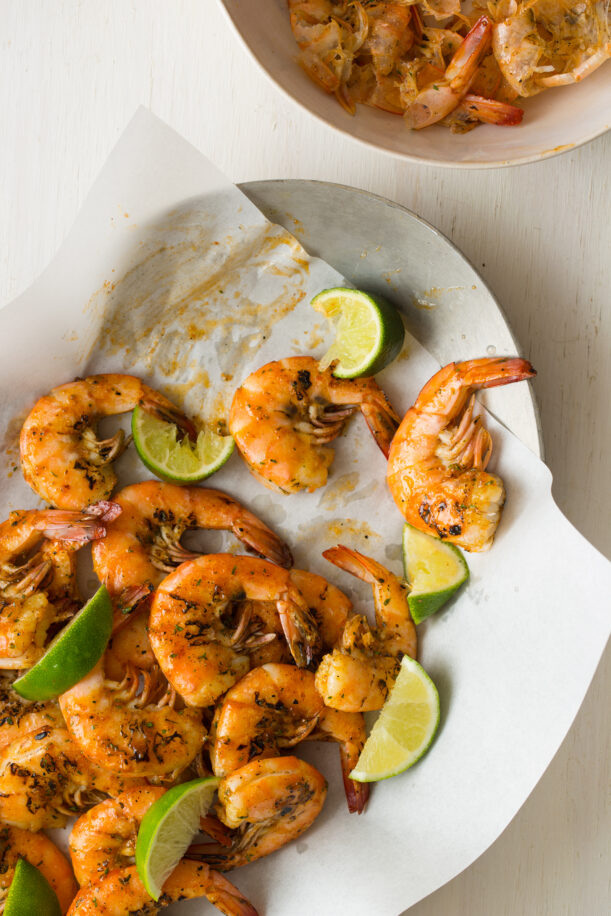 Shrimp Pasta Recipes
Chicken in pasta? Been there, done that. These pasta recipes feature shrimp as the star, a position it takes very seriously! Try any of our favorite pasta recipes with shrimp below.
This super creamy Seafood Carbonara features squid, mussels, and shrimp piled high on al dente Bucatini pasta, all swimming in a truly decadent white sauce.
Don't let the idea of homemade ravioli steer you away from this Creamy Shrimp and Corn Ravioli recipe! We use "short cut" won ton wrappers to wrap up the creamy shrimp and corn filling, and the result is amazingly delicious without the hassle!
This Cajun Shrimp Pasta is luxuriously creamy with a touch of heat and filled with so much shrimp — we know you'll be making this one over and over!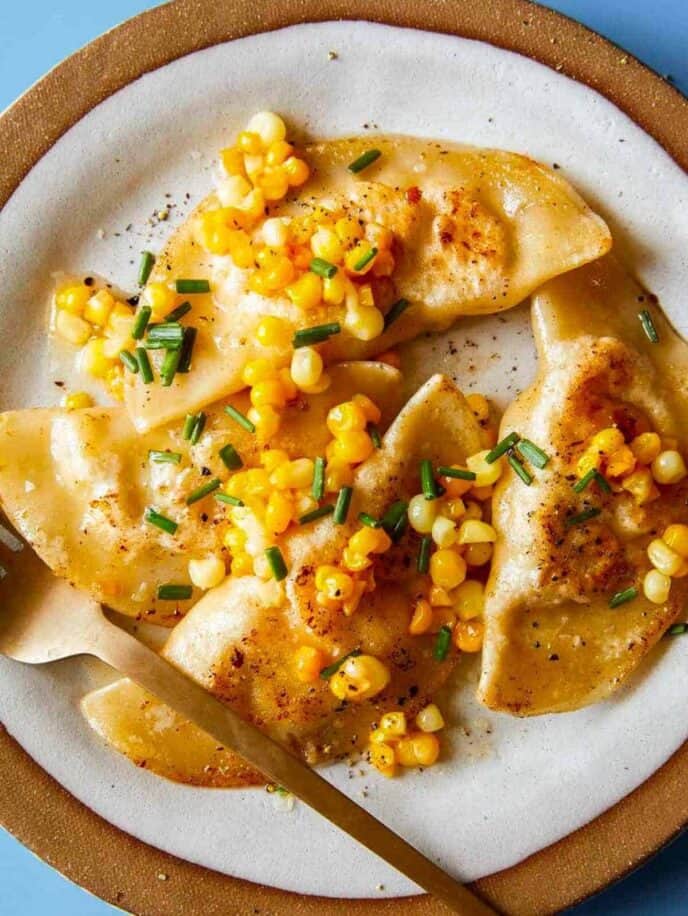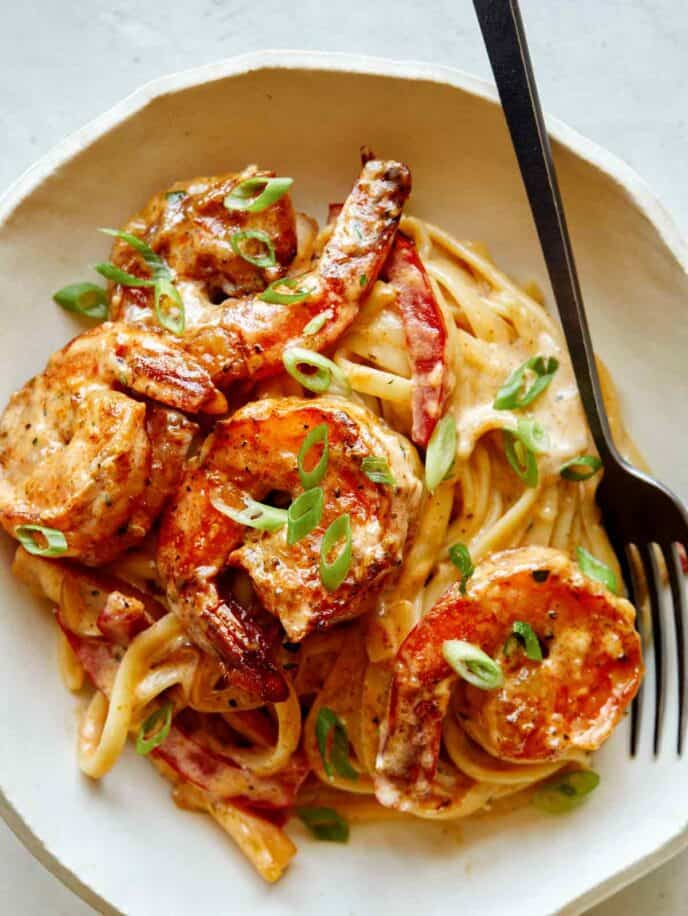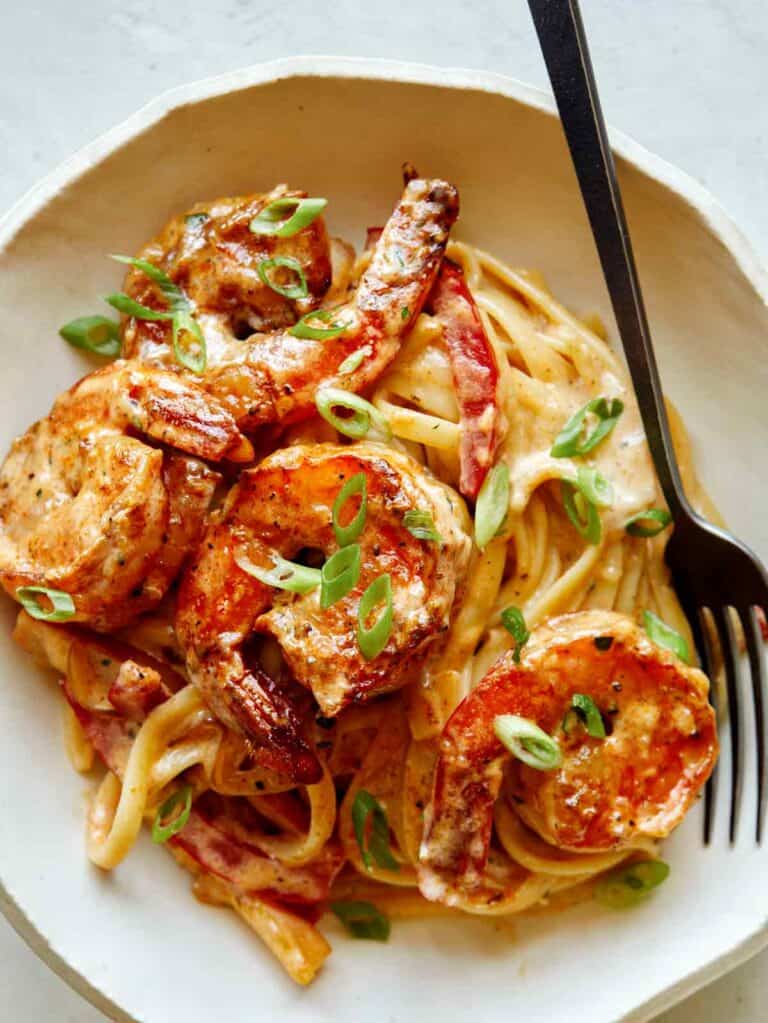 Asian Shrimp Recipes
So many of our Asian recipes feature shrimp, and it's no surprise! Shrimp is tender and buttery, complimenting Asian sauces and ingredients so well. Try any of our favorite Asian shrimp dishes below!
Our Singapore Noodles cook up quickly and are full of explosive flavor. We love that you can swap the vegetables out for whatever you have on hand, like shredded cabbage, sliced carrots, and sautéed mushrooms!
Nothing can warm you up on a cold day quite like a bowl of Spicy Red Curry and Coconut Noodle Soup! This soup takes less than 30 minutes to make and has such a deep and savory flavor, we know you'll love it!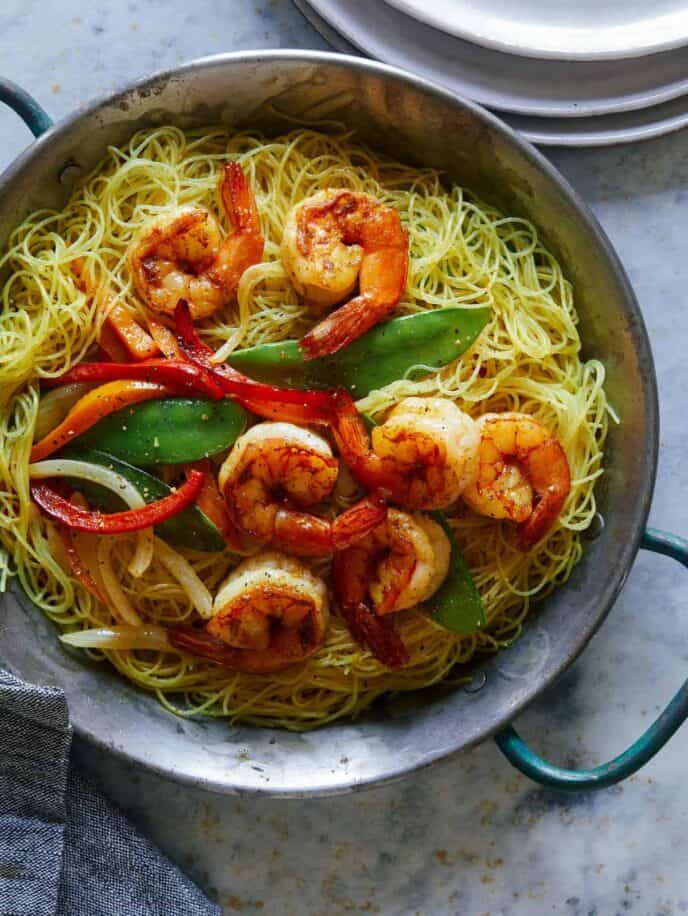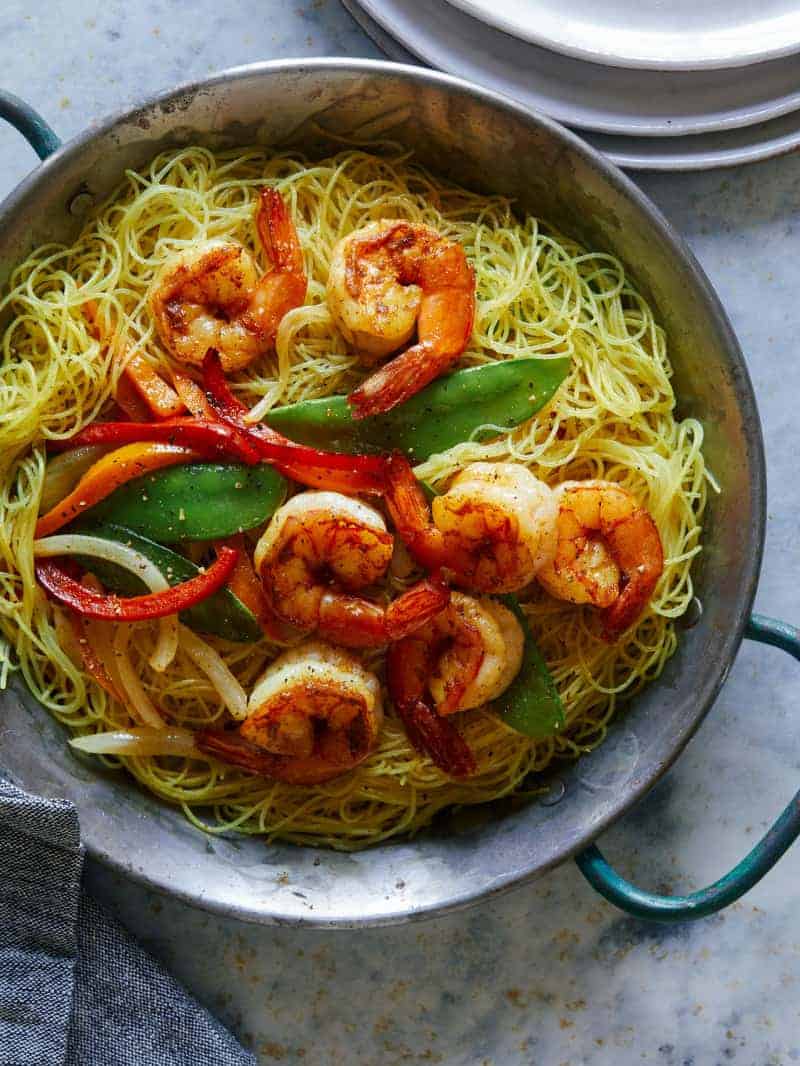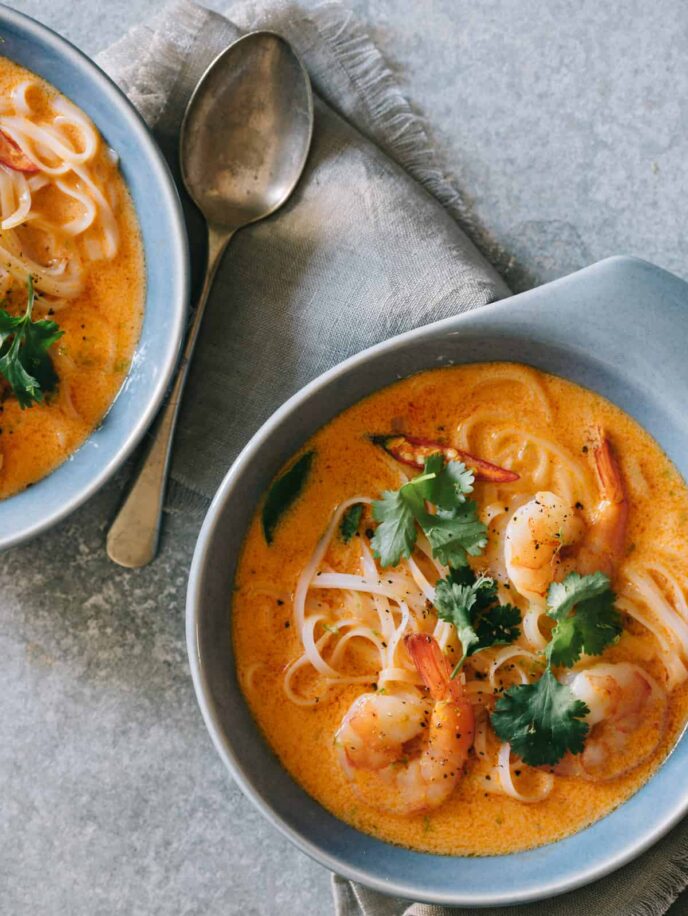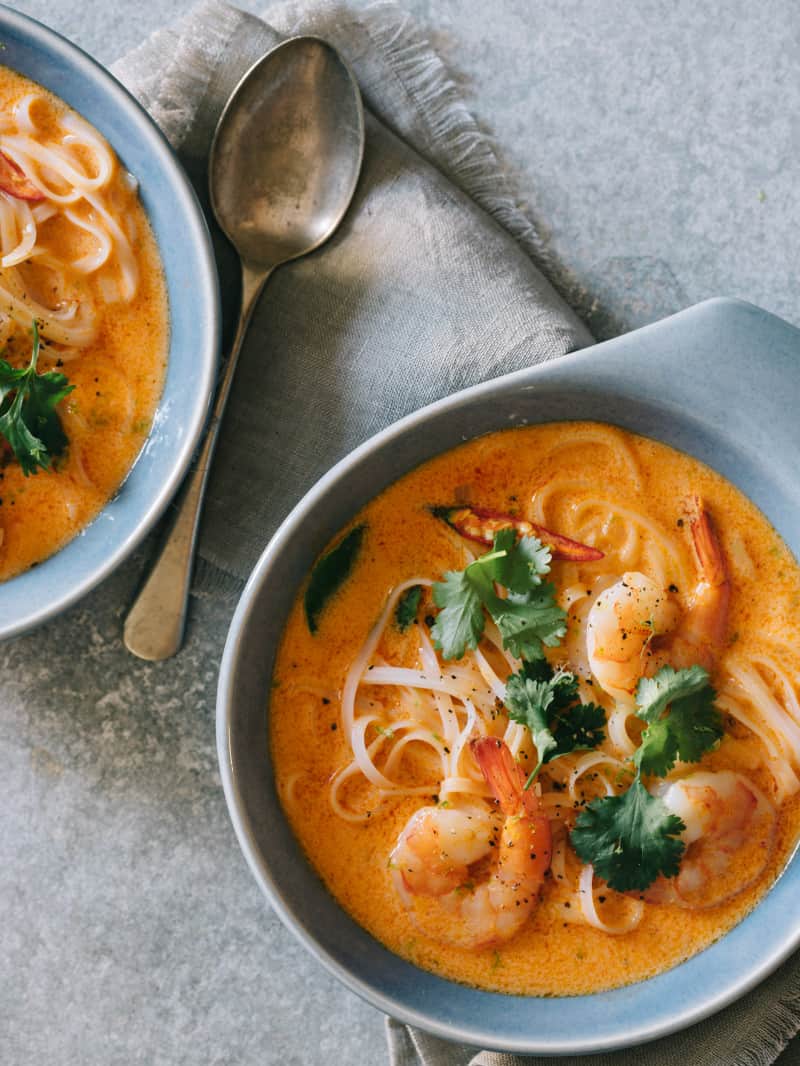 Super fast and super satisfying, our Yum Woon Sen with Shrimp is perfect for an easy weeknight meal without the fuss. This dish is enjoyed cold, and you can even make it the night before or a big batch for meal prep!
Shrimp Okonomoyaki is a savory Japanese pancake loaded with shrimp and vegetables before being topped off with the most mouthwatering sauce. You can enjoy it for breakfast, lunch, dinner, or even just a hearty snack.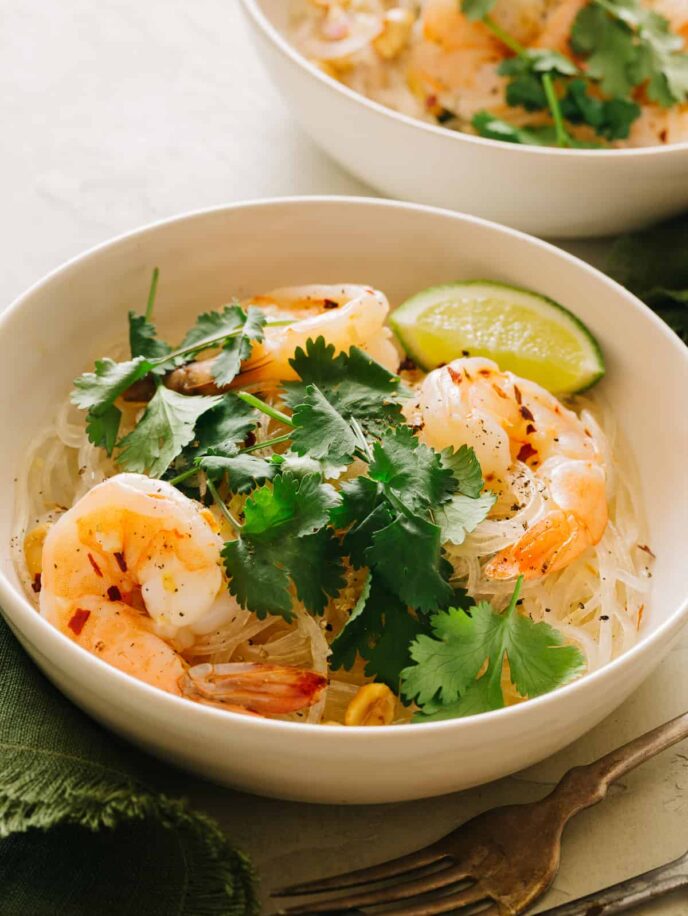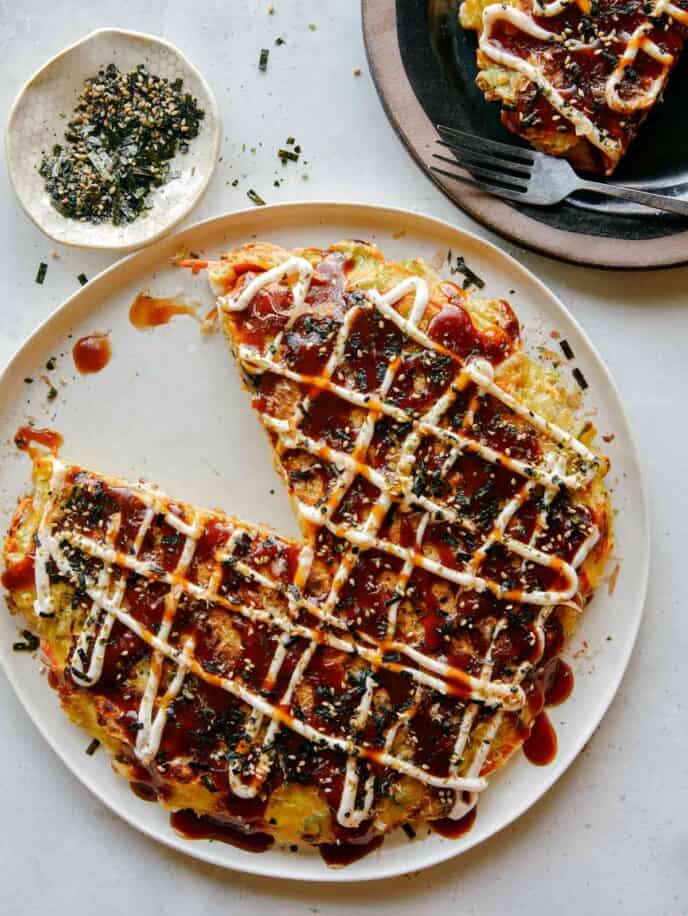 Shrimp Shumai is a classic dim sum dish that's way easier to make than you would think. Plus, you can make a double batch of these steamed dumplings and freeze them for whenever the craving hits you!
Speaking of freezer meals, Pork and Shrimp Dumplings are another favorite! These dumplings can be steamed, made in a soup, or pan-fried, making them incredibly versatile and perfect to have on hand.
We love this Soba Noodles with Shrimp recipe for lunch or dinner any day of the week. Soba noodles are piled high with shrimp, edamame, and peanuts and dressed in creamy peanut sauce. You can make everything ahead and toss it with the sauce right before serving it.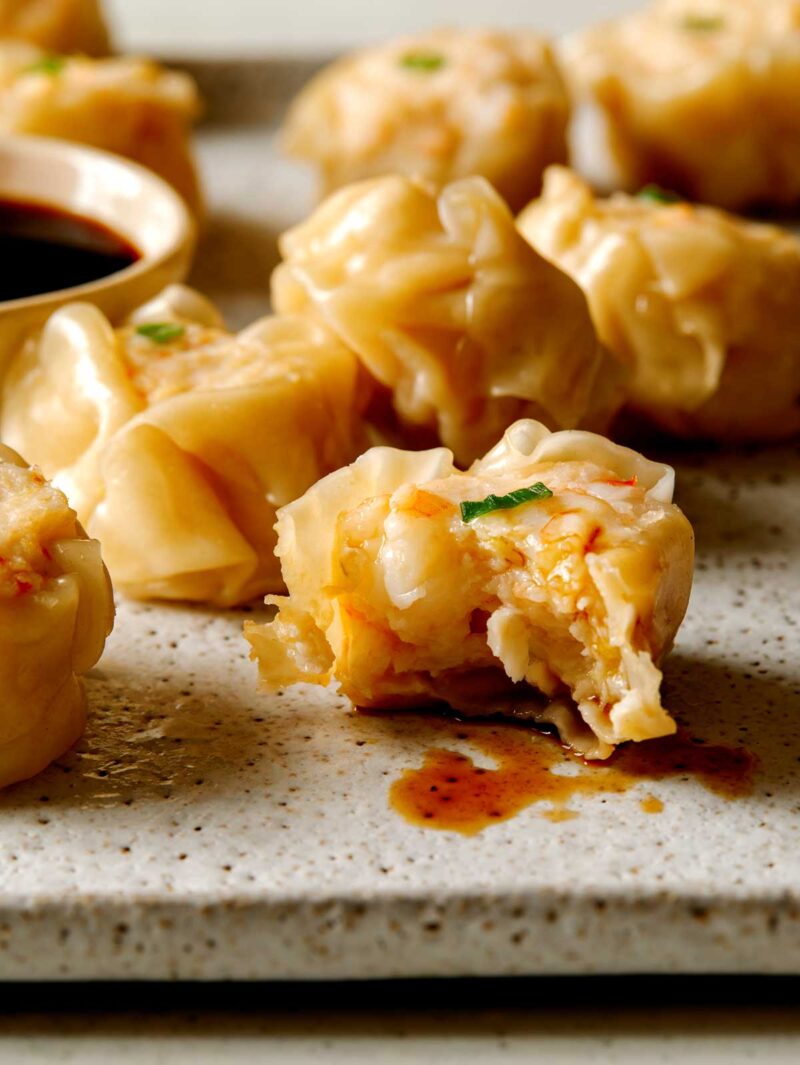 Shrimp Dinner Recipes
While shrimp makes a great appetizer or light meal, it's also the perfect protein for these heartier dinner recipes.
Shrimp and Grits may sound like breakfast food, but it's hearty enough to enjoy for dinner! It's creamy, cozy, and completely satisfying.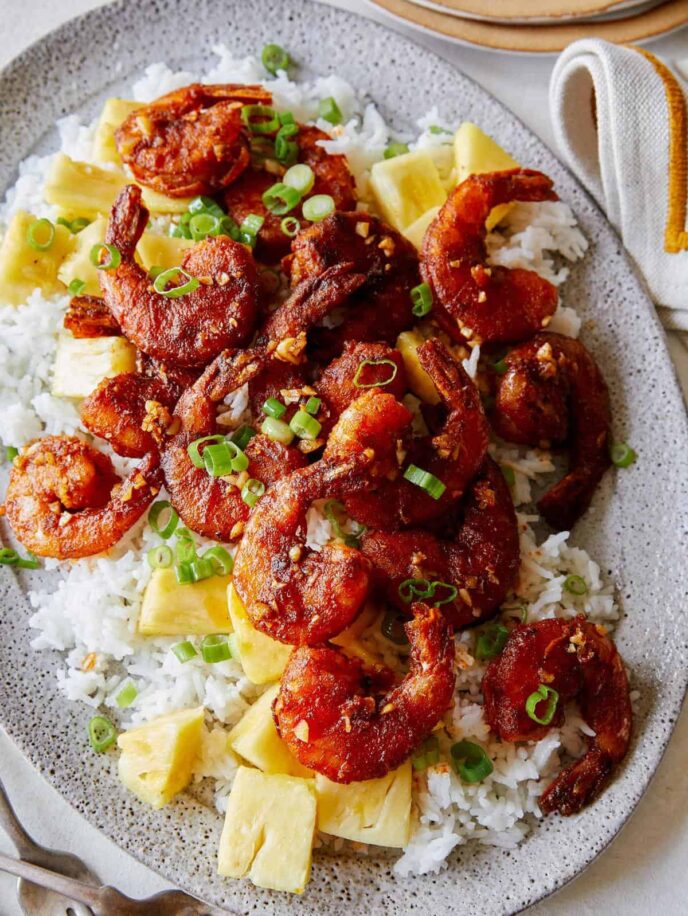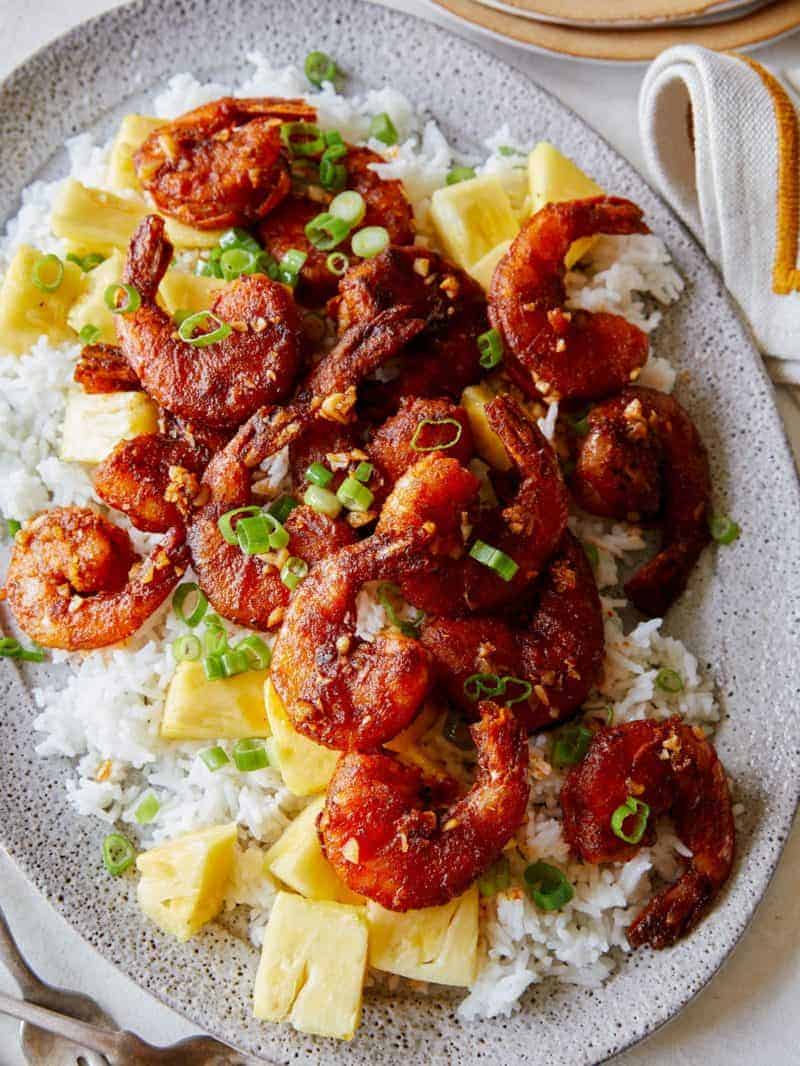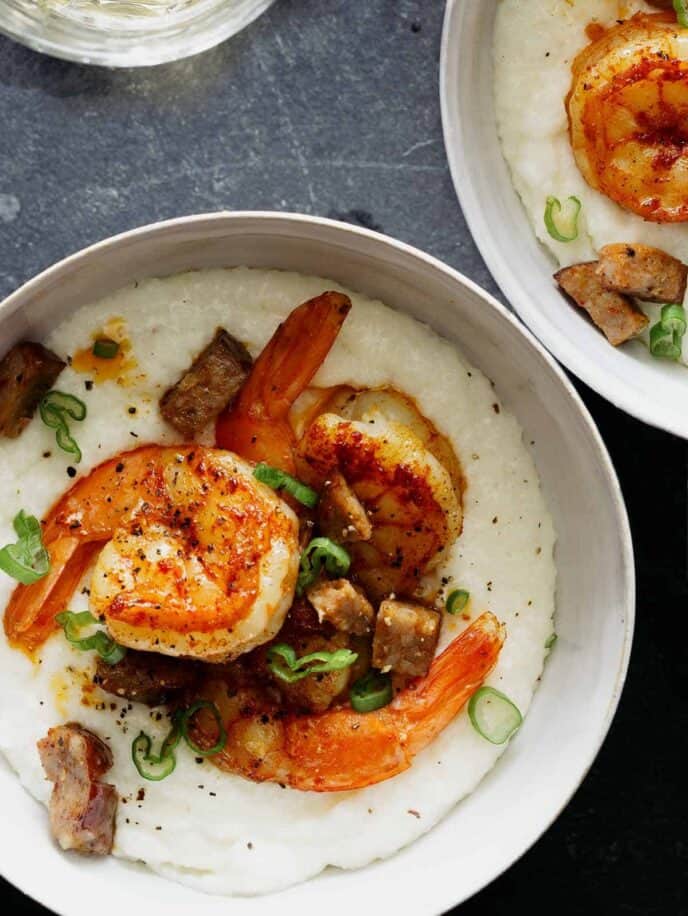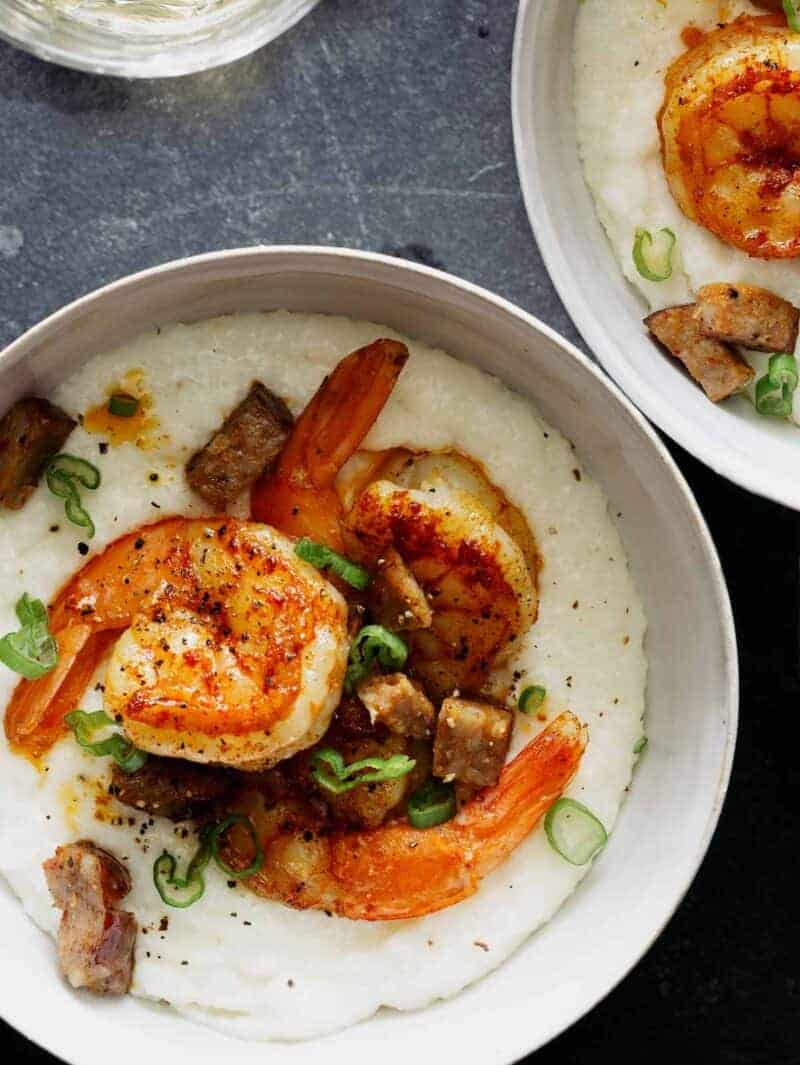 This extra hearty and super delicious Shrimp and Andouille Jambalaya is the perfect meal to warm you up on a cold day. Succulent shrimp pairs so well with the zesty Andouille sausage. By the time you add the rice, tomatoes, and other veggies, you have a batch big enough to feed a crowd or enjoy all week long.
If you're a fan of Nashville hot chicken, you'll love this Hot Shrimp Over Cheesy Corn Grits! This shrimp packs the heat, and when combined with the cheesy, creamy flavor of the grits, you'll experience an explosion of flavor that's completely irresistible.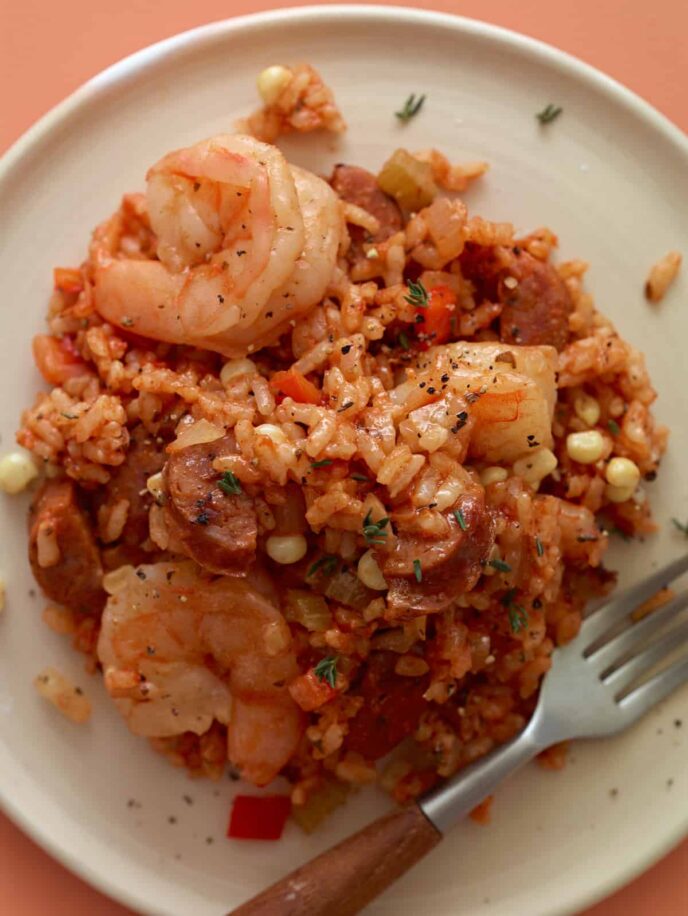 Types of Shrimp
Before making any of our shrimp recipes, you need to know which shrimp to buy! There are so many varieties behind the seafood counter or in the freezer case at most supermarkets it can be more than confusing knowing which ones are best. While you can't go wrong with any of them, here are a few varieties we often use.
White Shrimp – have a mild sweet flavor. They are larger and have a tender texture.
Brown Shrimp – have a more pronounced flavor and a firmer texture.
Pink Shrimp – tastes sweet and has a nice tender texture.
Rock Shrimp -have a nice salty flavor and soft texture.
Red Shrimp – tastes sweet and has a texture most similar to lobster.
Tiger Shrimp – have a mild shrimp flavor and a nice firm texture.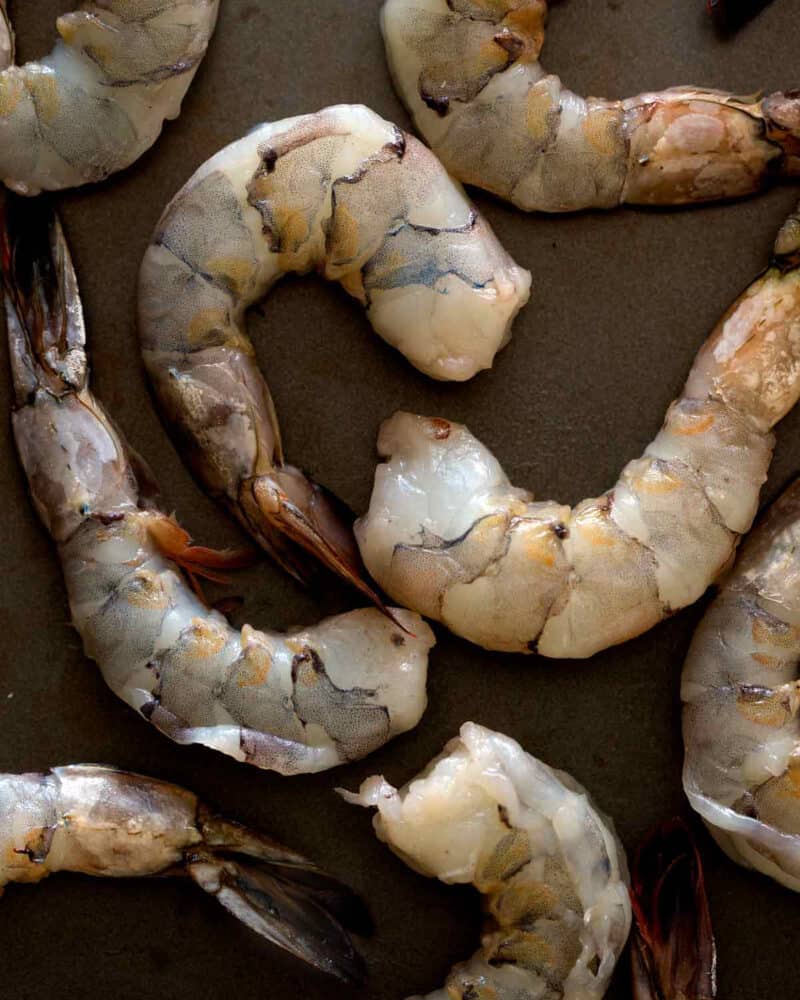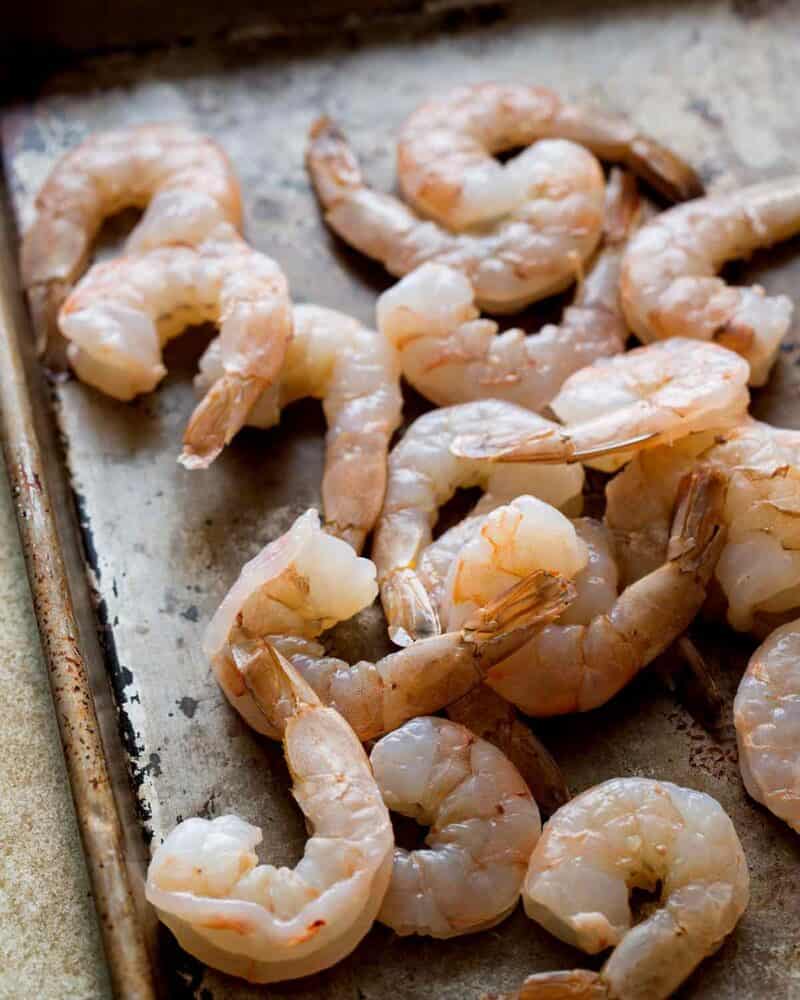 Frozen vs. Fresh
Now that you know what type of shrimp you want, do you reach for the freezer case or the fish counter?
While it may seem like a big difference between the two, they're usually the same! Both the fresh shrimp you see in the seafood case and the pre-packaged shrimp you find in the freezer aisle are flash-frozen for freshness, but the thawed shrimp you find in the seafood case is usually a little more expensive for convenience. The exception is if the shrimp you're buying is local and marked otherwise on the sale label.
For this reason, we usually like to buy a large bag of frozen shrimp from the freezer aisle, which usually also provides a wider range of sizes for whatever your needs are. To thaw, place the frozen shrimp in a colander and run under cool to cold water until thawed.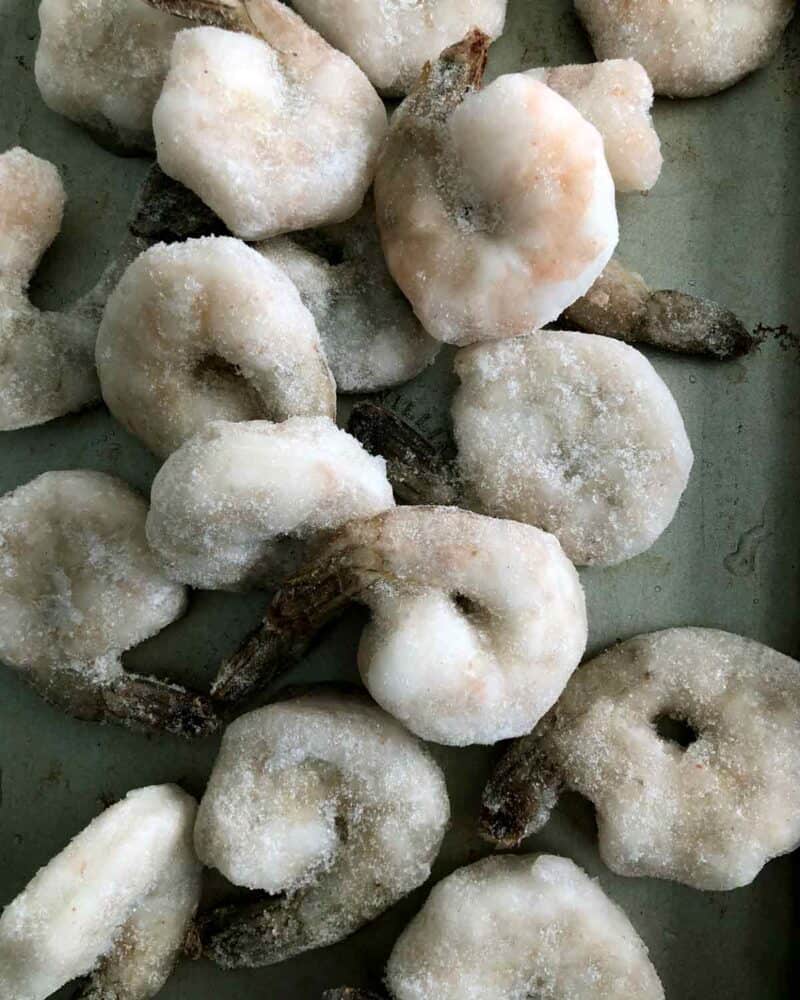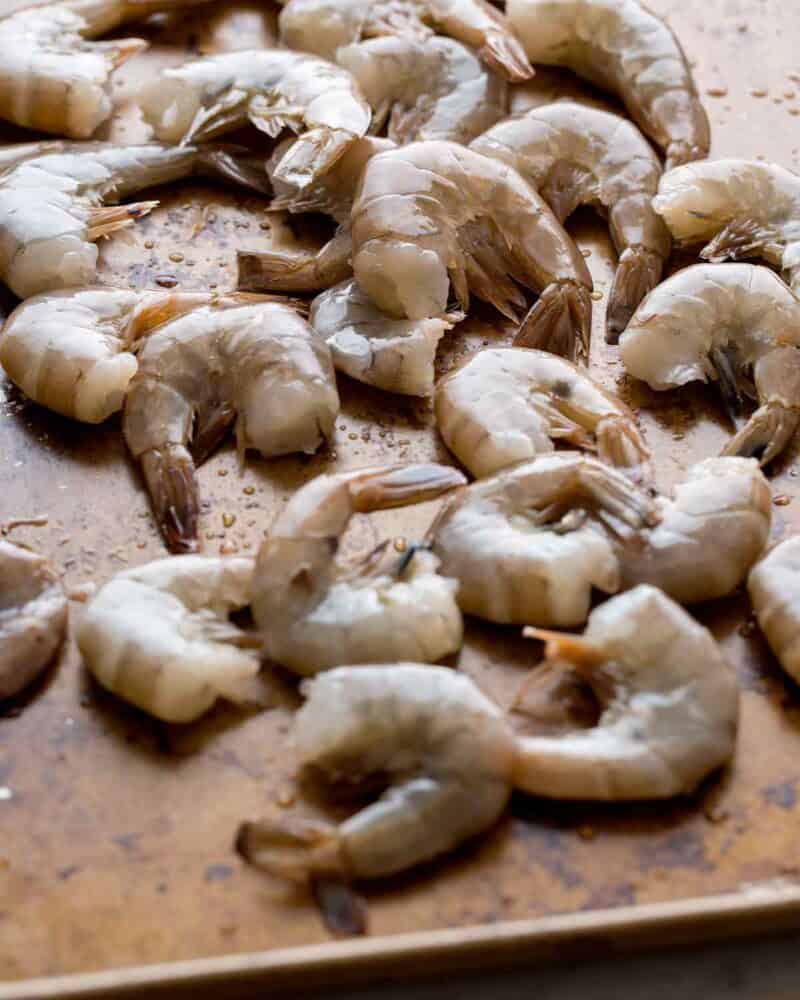 Shrimp Sizes
You've decided on the type of shrimp, whether frozen or fresh, but now you have to choose a size! There are plenty of different sizes to choose from when it comes to shrimp, ranging from extra small to extra colossal. Here's what to expect from each size.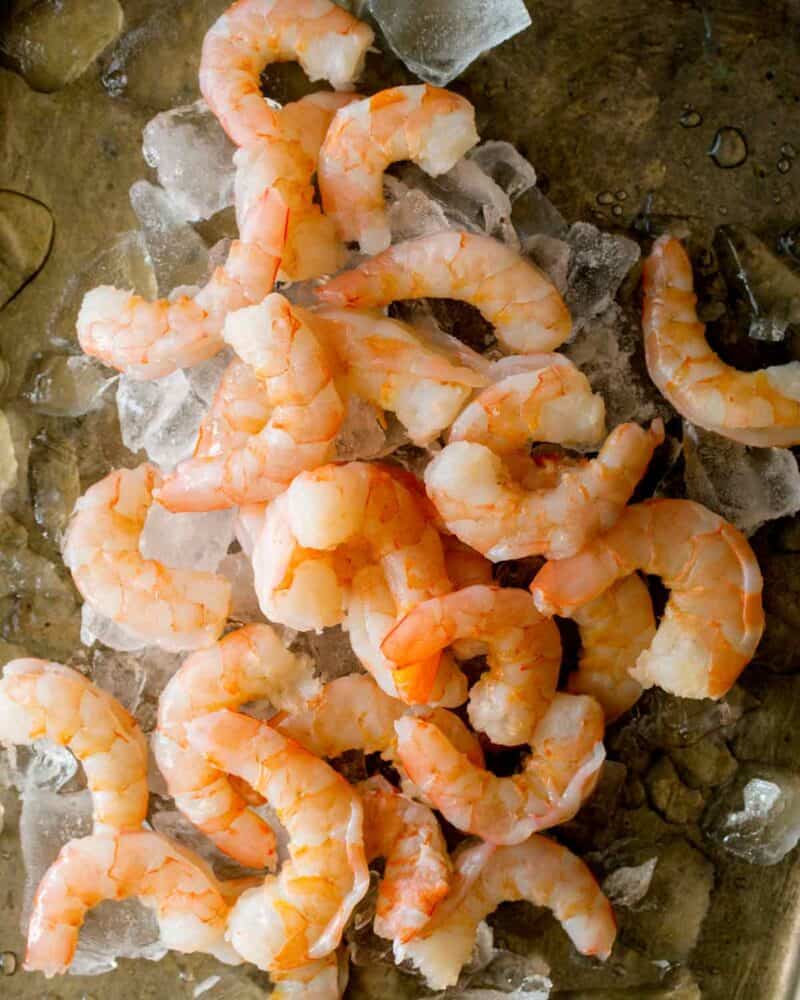 It's best to judge shrimp size by the amount per pound. At the seafood counter or on frozen shrimp packaging, you will see numbers like 41/50 which means you will get approximately 41 to 50 shrimps per pound.
The smaller the number, the larger the shrimp. You might also see numbers like U10. The U stands for "under." In this case, it would mean under 10 shrimp per pound. Below is a list of shrimp sizes and approximately how many you will find in a pound.
Extra Colossal – Under 10
Super Colossal – Under 12
Colossal – 13/15
Extra Jumbo – 16/20
Extra Large – 26/30
Large – 31/35
Medium – 41/50
Small – 51/60
Extra Small – 61/70
How to Choose Sustainable Shrimp
How and where shrimp are harvested makes a big difference in the sustainability and safety of the shrimp. We love the website Seafood Watch. They chart all seafood and give ratings on which seafood is safe to eat and which you should avoid. The website also provides suggestions for good alternatives if what you are looking for isn't ideal for eating at that time.
More Delicious Recipe Round Ups You Will Love