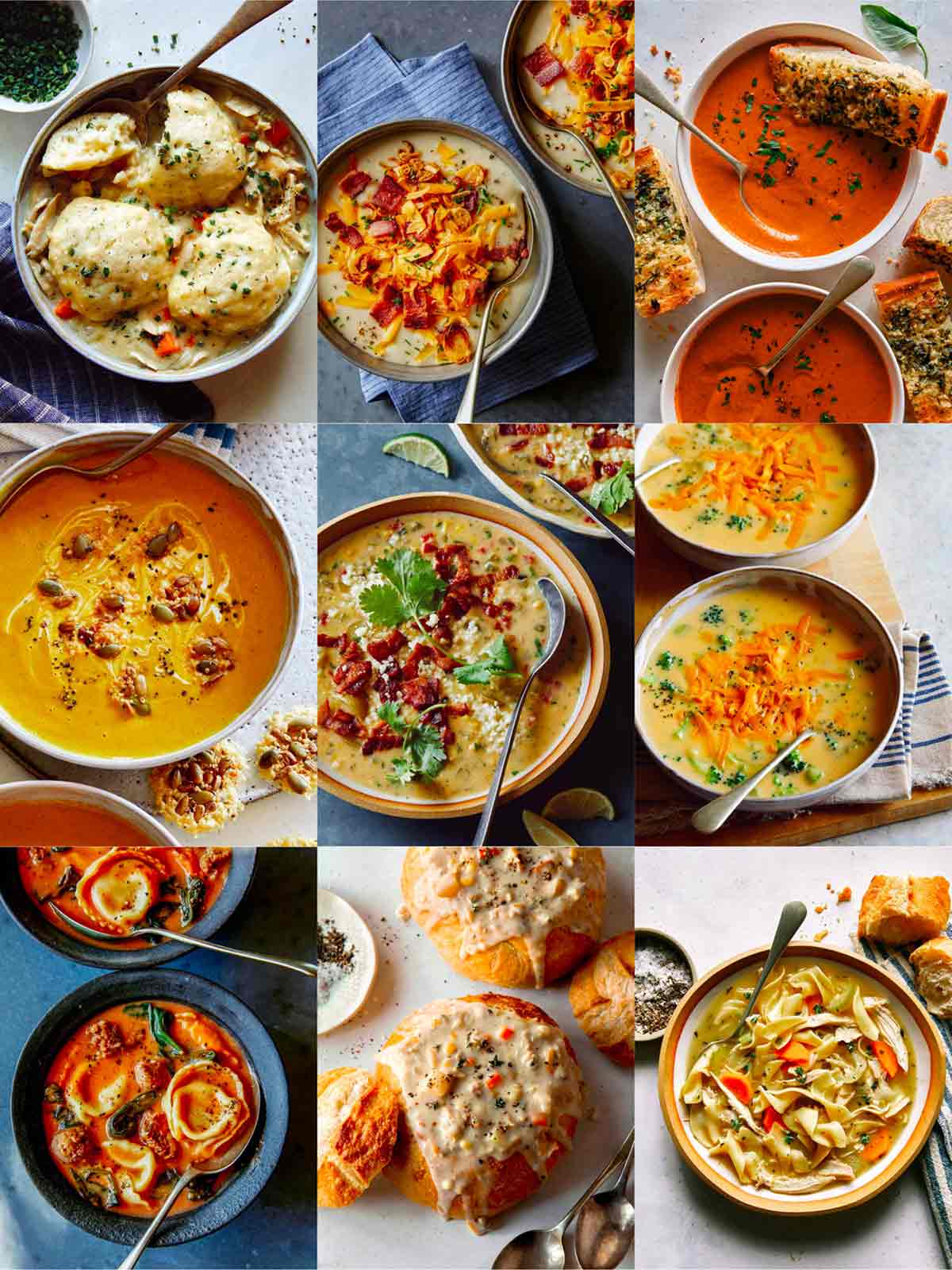 We're so excited about this compilation of our Best Soup Recipes we've created for you all! We curated a wide variety of delicious soup recipes we promise you'll want to make all year long!
Our Most Popular Soup Recipes
All of our soup recipes are our favorites, but here are your favorites! Our most popular soup recipes on our site that everyone loves.
Our Chicken and Dumplings newer to our site, but its quickly become one of our most made soups and we can totally see why! The dumplings are so soft, fluffy and sit in a super creamy stew filled with shredded chicken. It's an easy recipe that's so delicious and cozy.
We love Broccoli Cheddar Soup and our recipe is so good! Our favorite part about it, is that it can be made in just 30 minutes! Chilly days and nights are made so much better with a big bowl of this!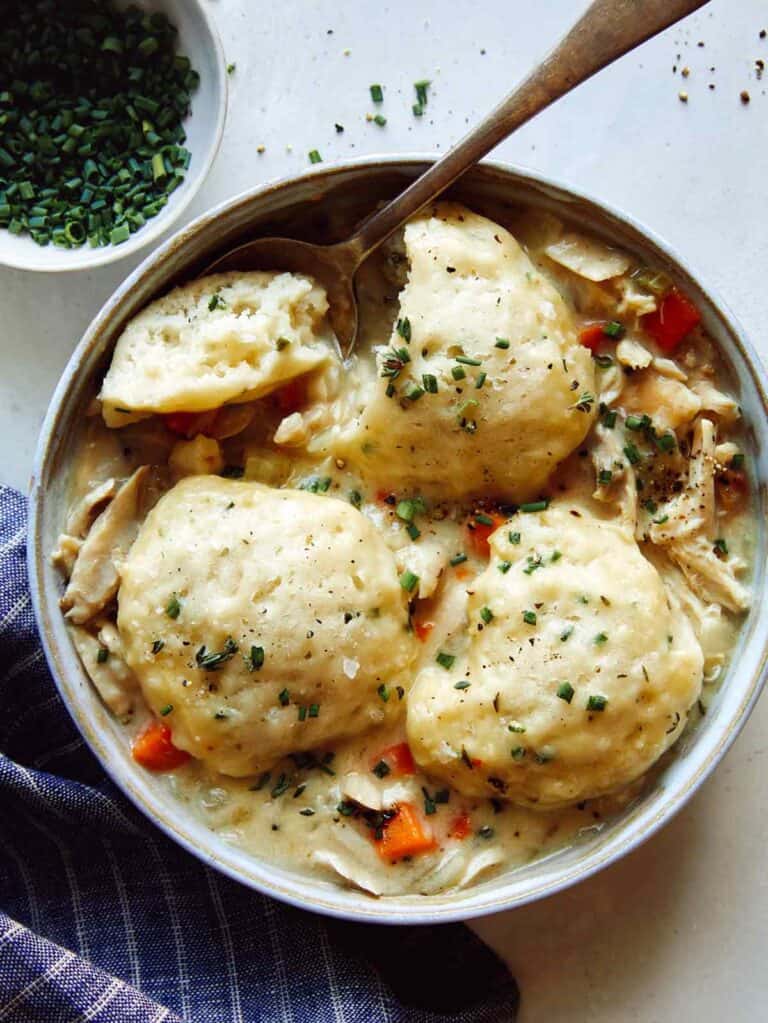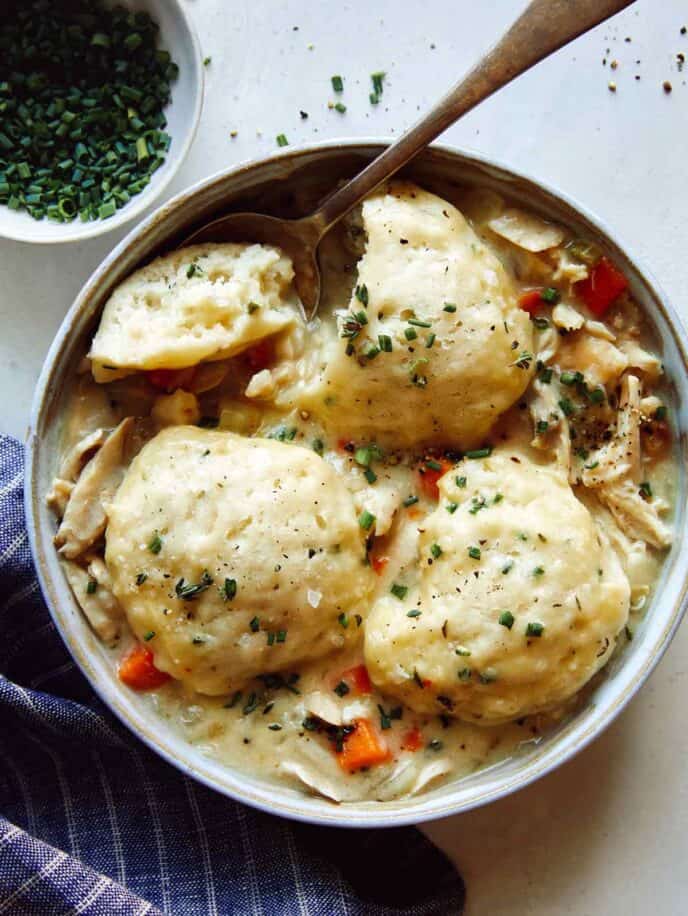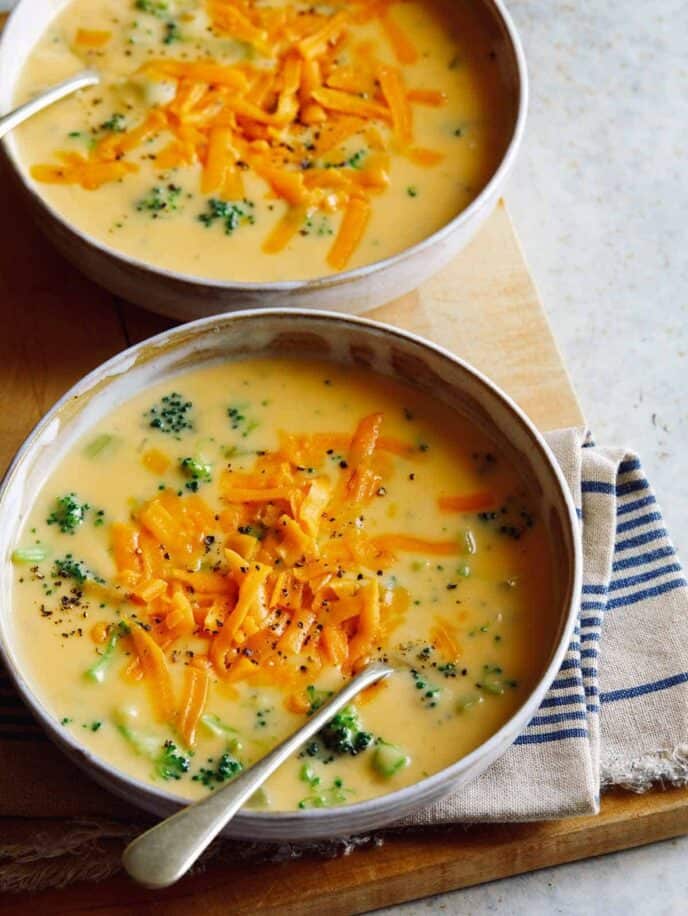 Our Spicy Red Curry and Coconut Noodle Soup is another really popular, flavor packed soup that we love so much! Thai red curry paste is stirred together with creamy coconut milk, rice noodles and finished with poached shrimp.
We love making our delicious Corn Chowder during the summer when fresh corn is in season, but this chowder can be made anytime of the year by simply swapping frozen corn in for fresh. It's 100% worth the small amount of extra effort it takes to make this ridiculously satisfying recipe!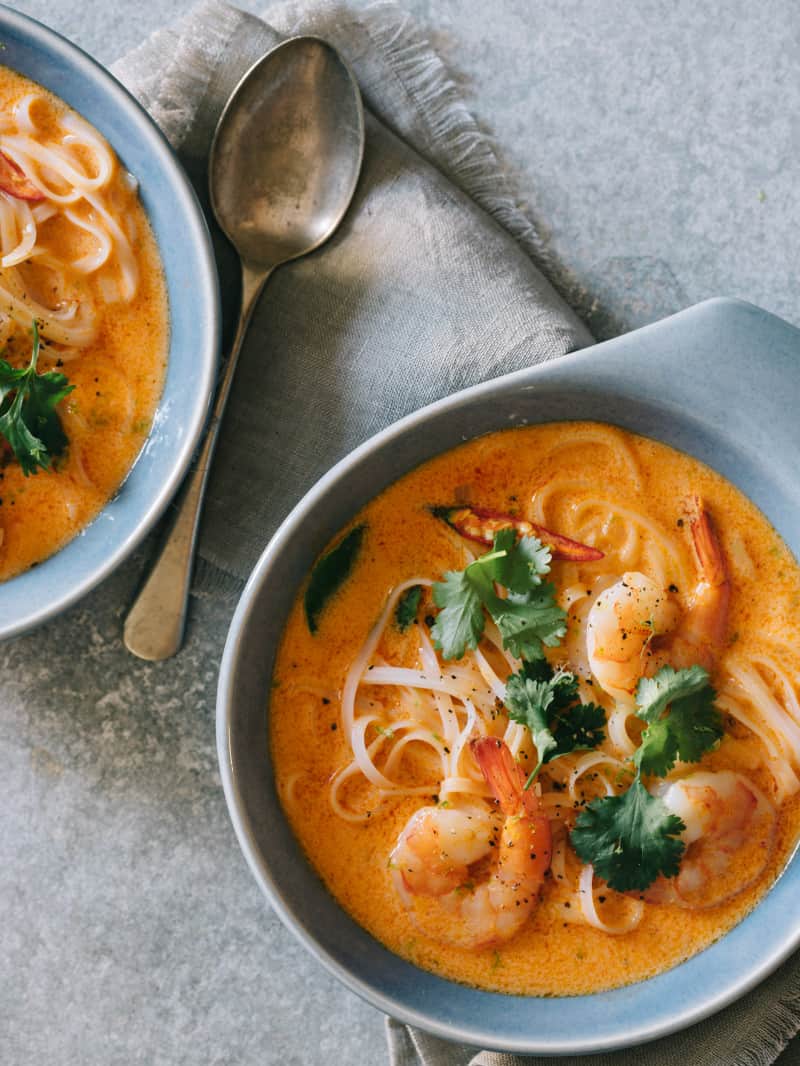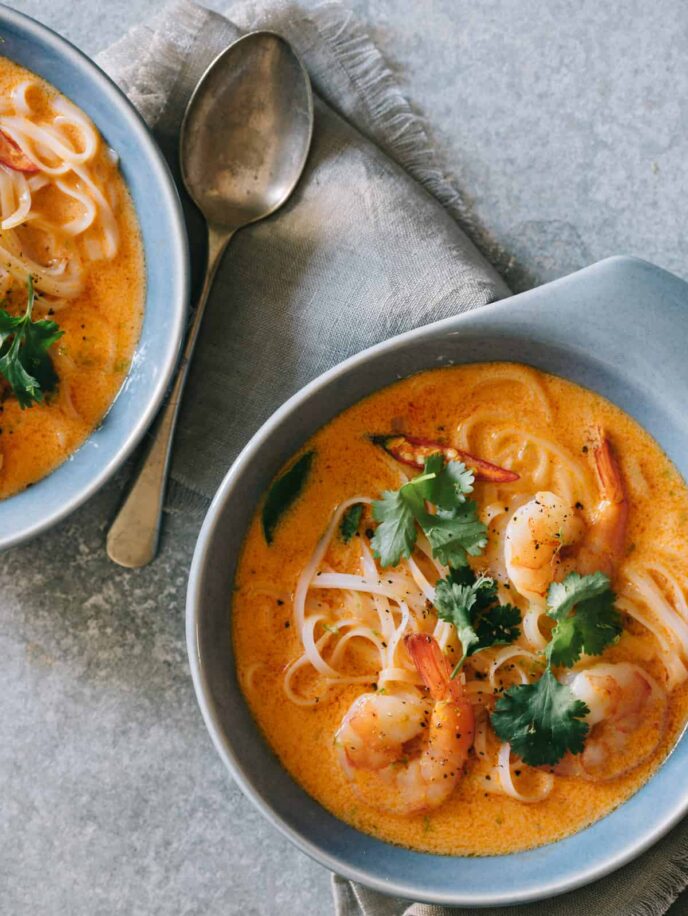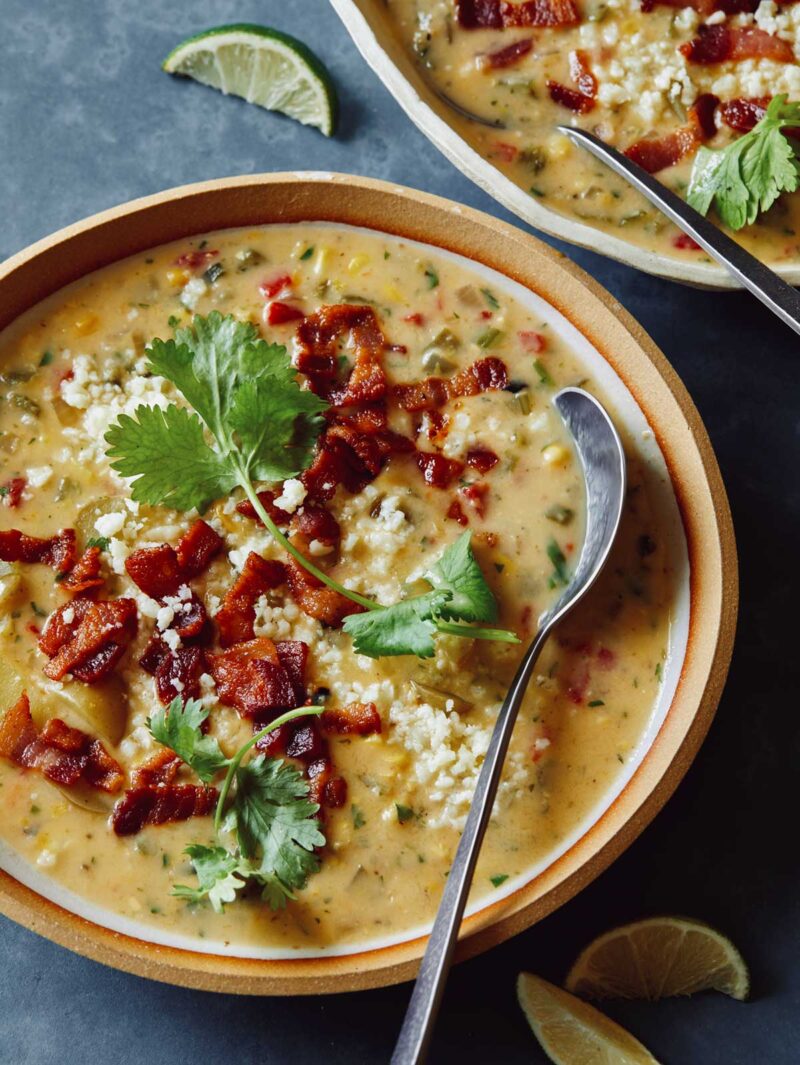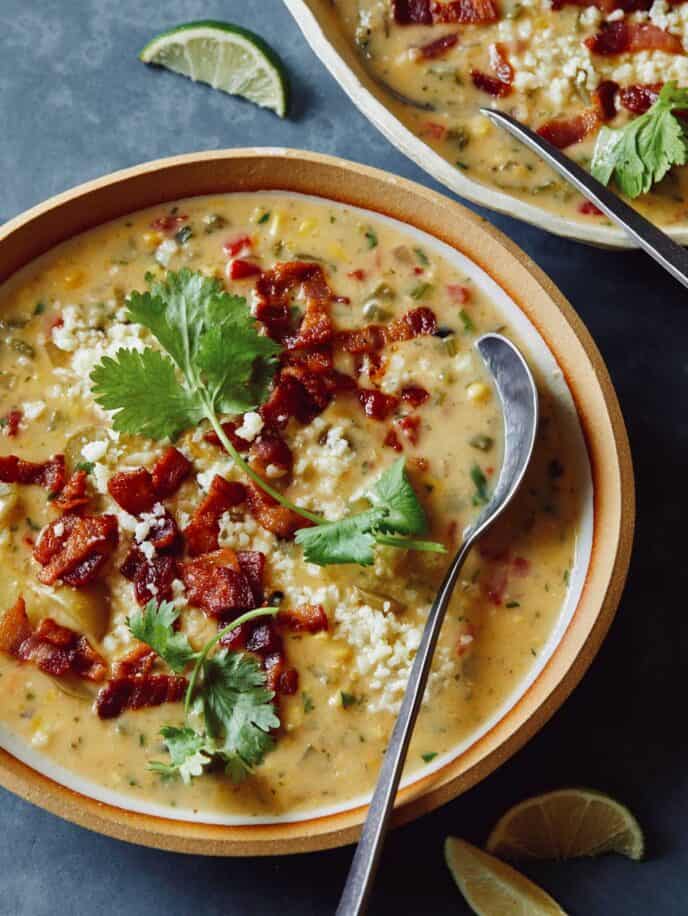 Our Favorite Chicken Soup Recipes
We love the four soup recipes on this list. They spread the gamut from creamy and hearty, to lighter and topped with some fresh ingredients.
Creamy Chicken and Farro Soup is a super comforting and truly delicious dish that is hearty enough to enjoy on its own, any day of the week.
We promise you'll love our Pozole Verde de Pollo! It's loaded with so much flavor, you'll be surprised at just how easy it is to make! Just make sure you don't skimp on the toppings, it's one of the best parts!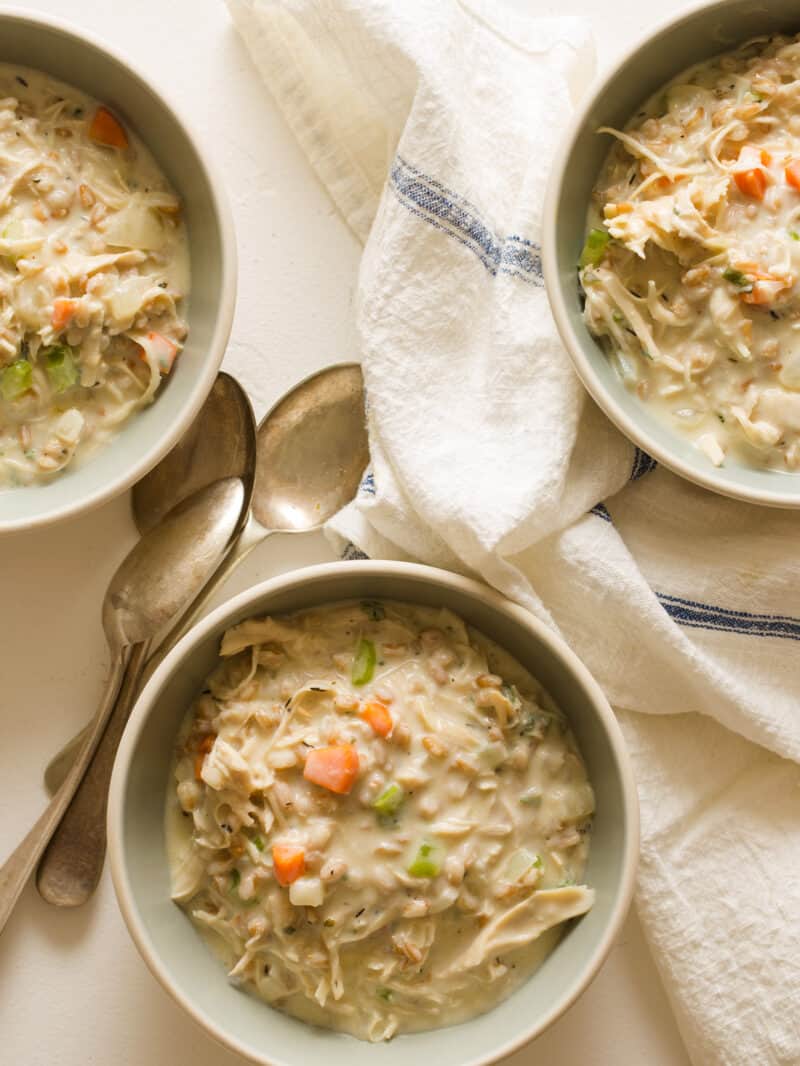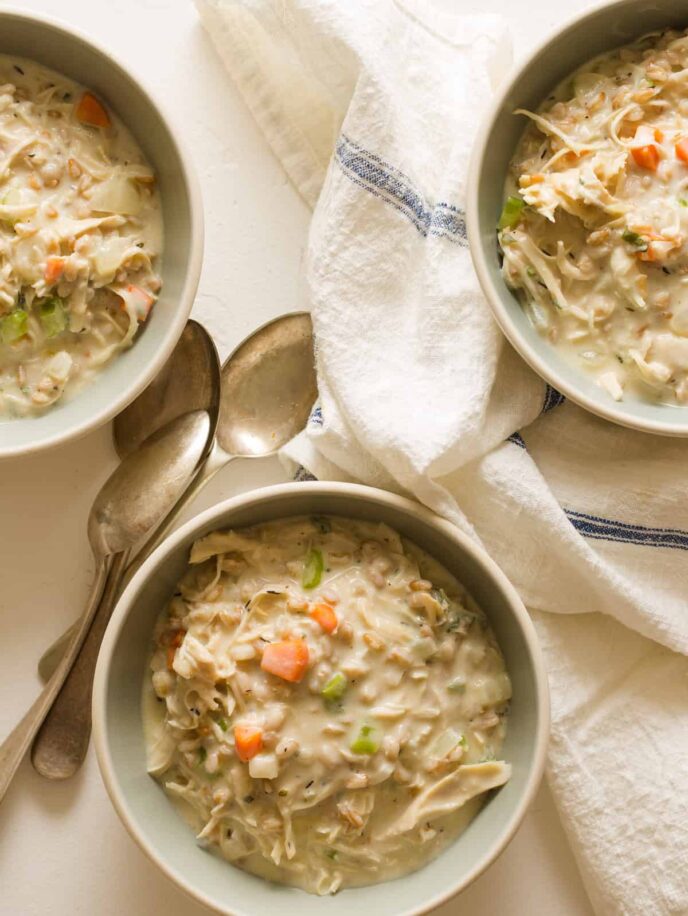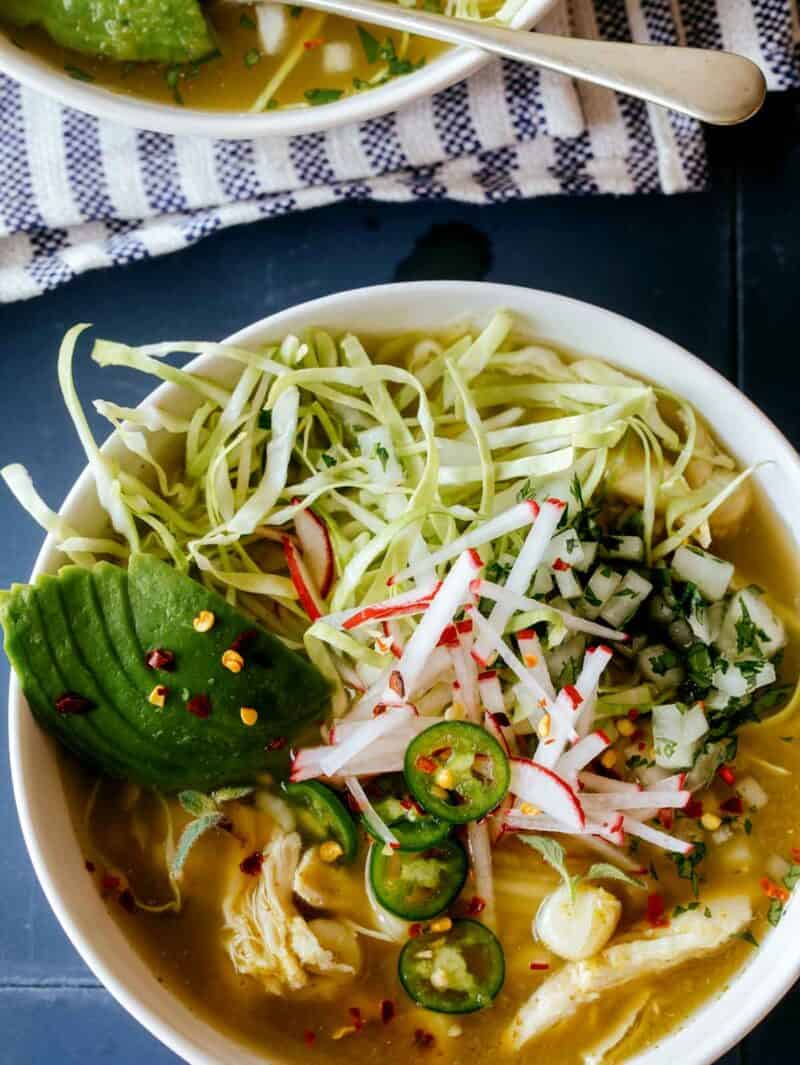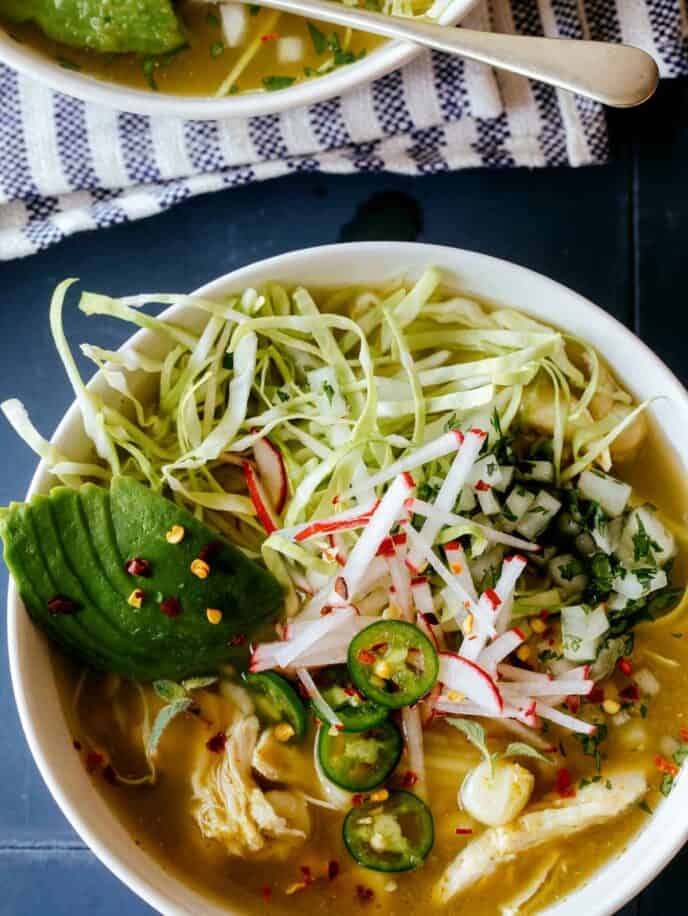 Our Creamy Chicken and Gnocchi Soup is a super hearty and cozy soup that will warm you up on those cold days. Using store bought gnocchi cuts down a lot of time and makes prep a breeze!
Chicken Noodle Soup just screams classic comfort and our version is just that. It's an easy classic recipe you can cozy up to during chilly fall and winter months.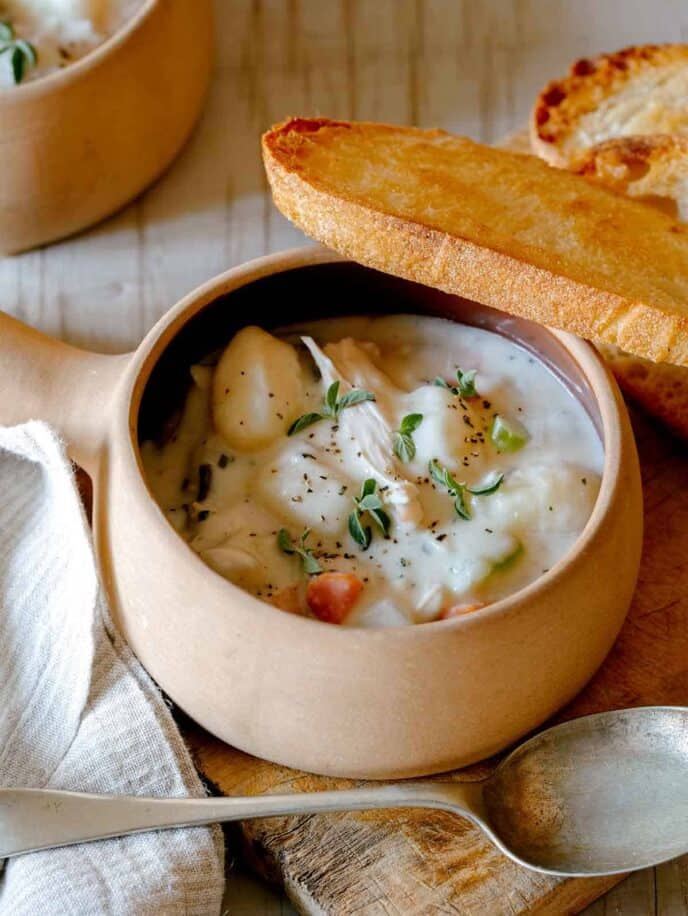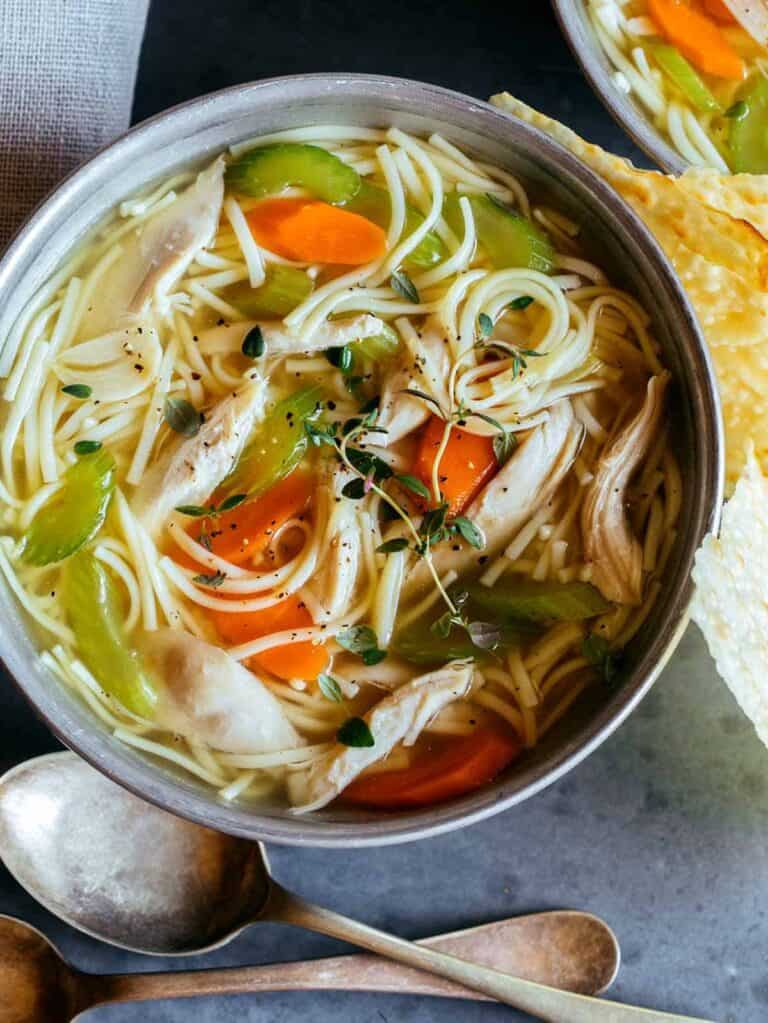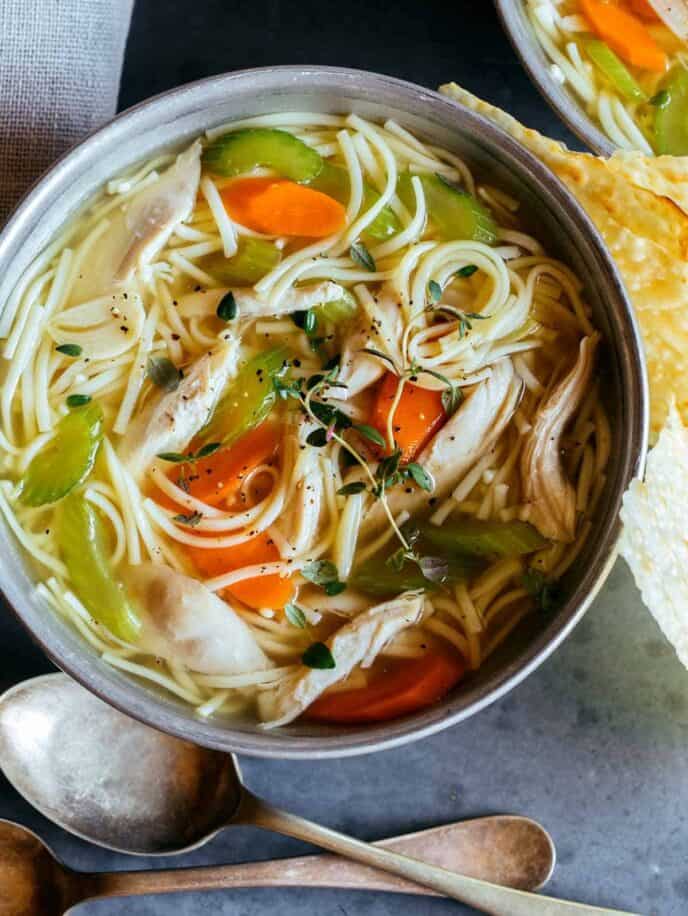 The Coziest and Creamiest Soups Ever
Cozy and creamy! Two words that you want to hear when someone is describing soup! These four recipes are cherry picked out of our collection because we think they fit best on this list!
Creamy Pumpkin Soup is one of our go to soups during fall. Topped with our seeded Parmesan crisps, this is a recipe everyone will love!
Our Curried Butternut Squash Soup is perfect if you're looking to spice up your typical butternut squash soup, but still keep things simple.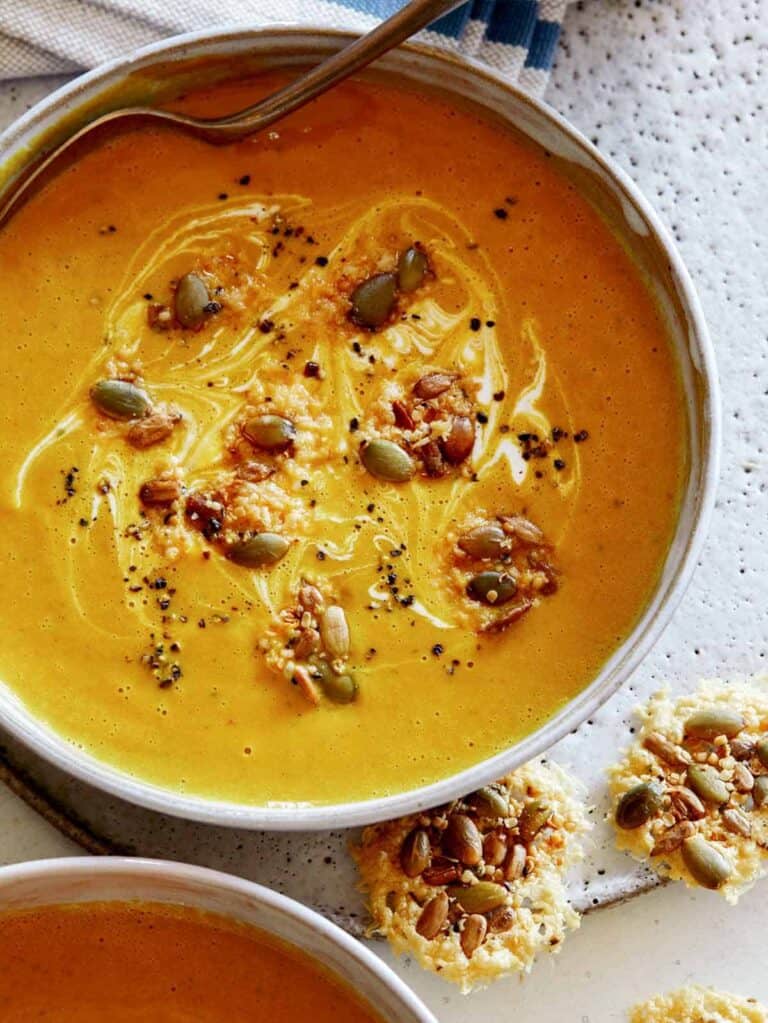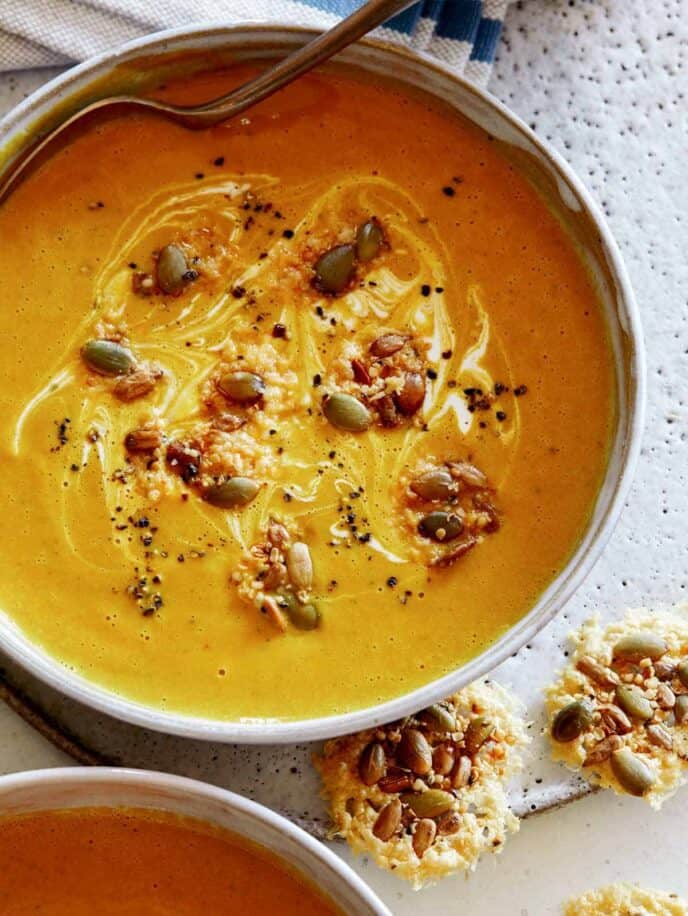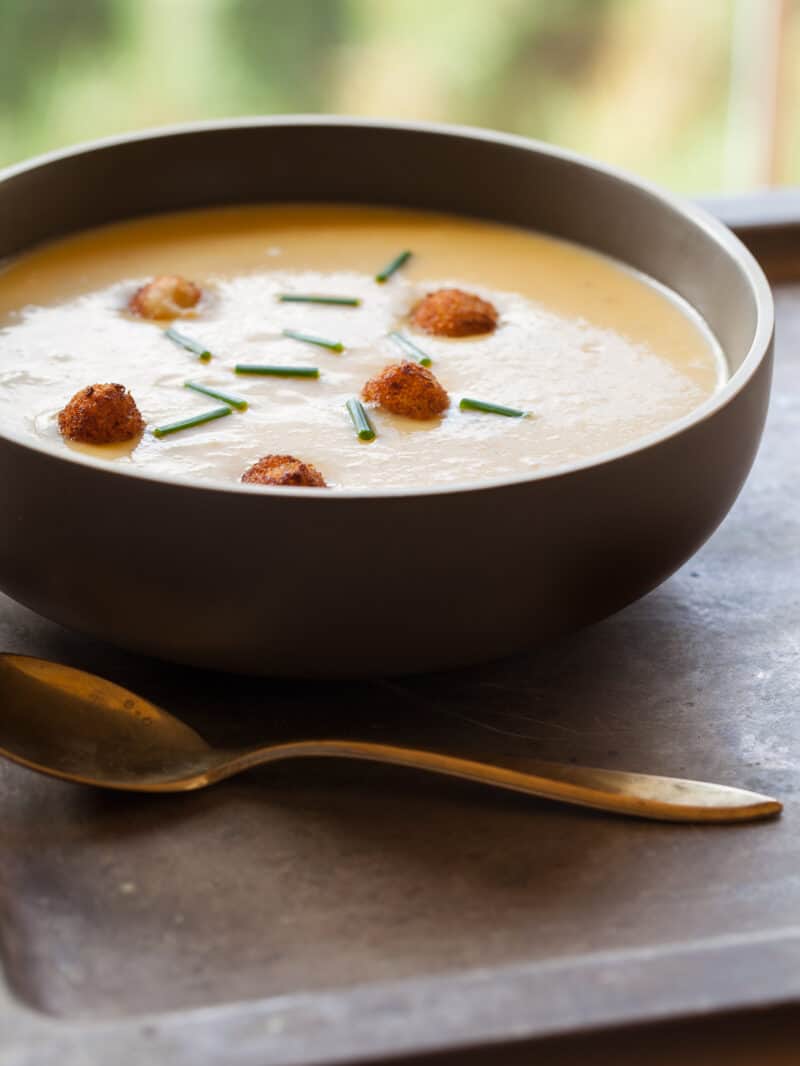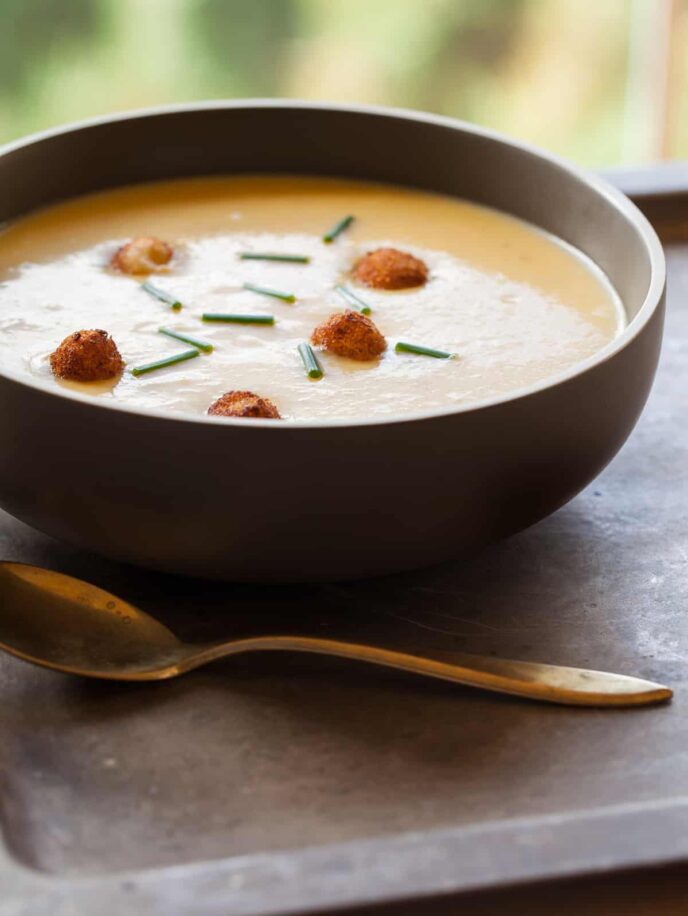 Roasted Tomato Soup recipe is one of our personal favorites! Our version is studded with lots of basil which gives this recipe a ton of flavor. We're especially partial to enjoying this soup with a gooey grilled cheese sandwich to make us feel like a kid again!
This Spicy Black Bean Soup is one of our oldest soups on the site! It's such an easy recipe to make, super flavorful and can seriously be enjoyed anytime of the year.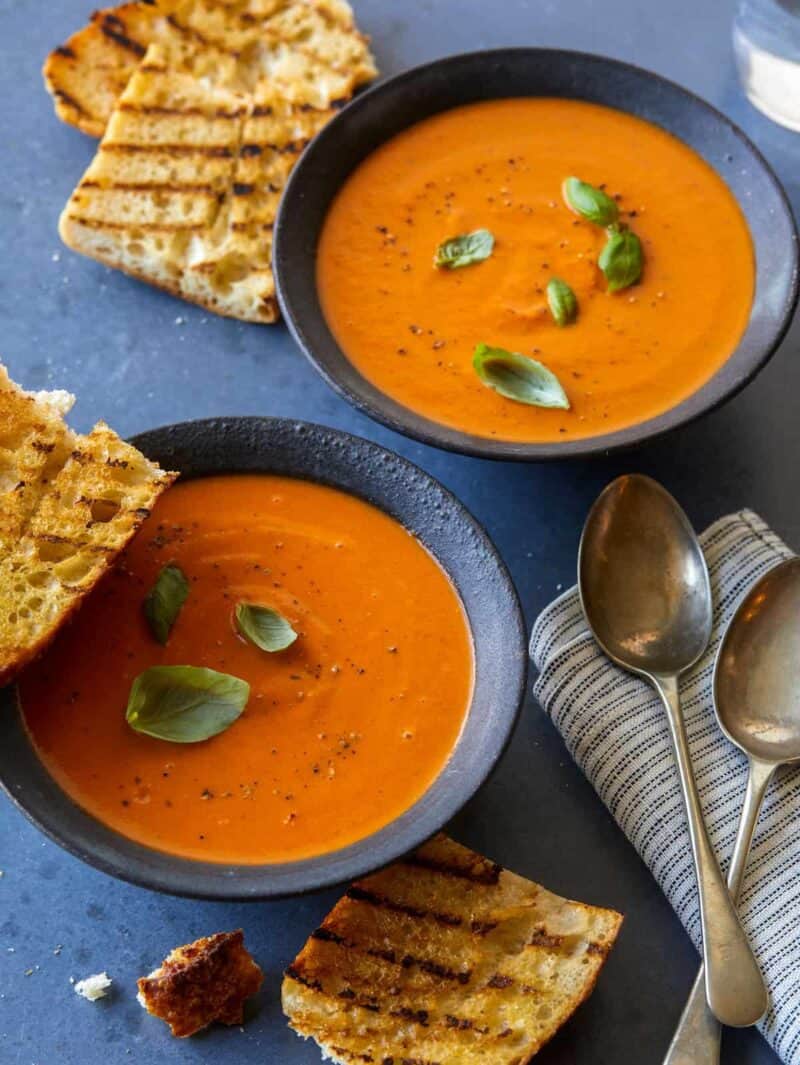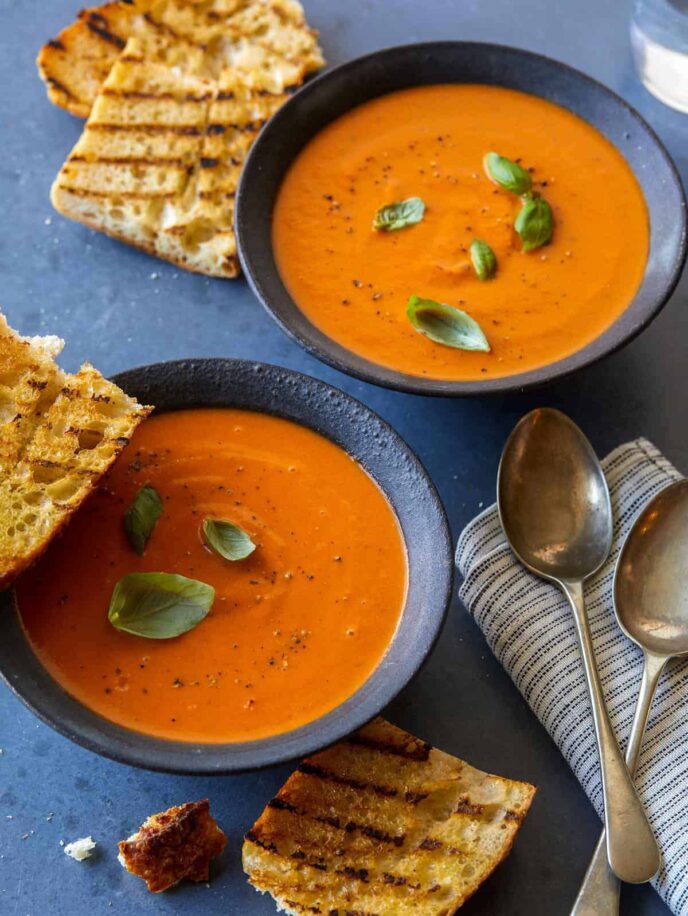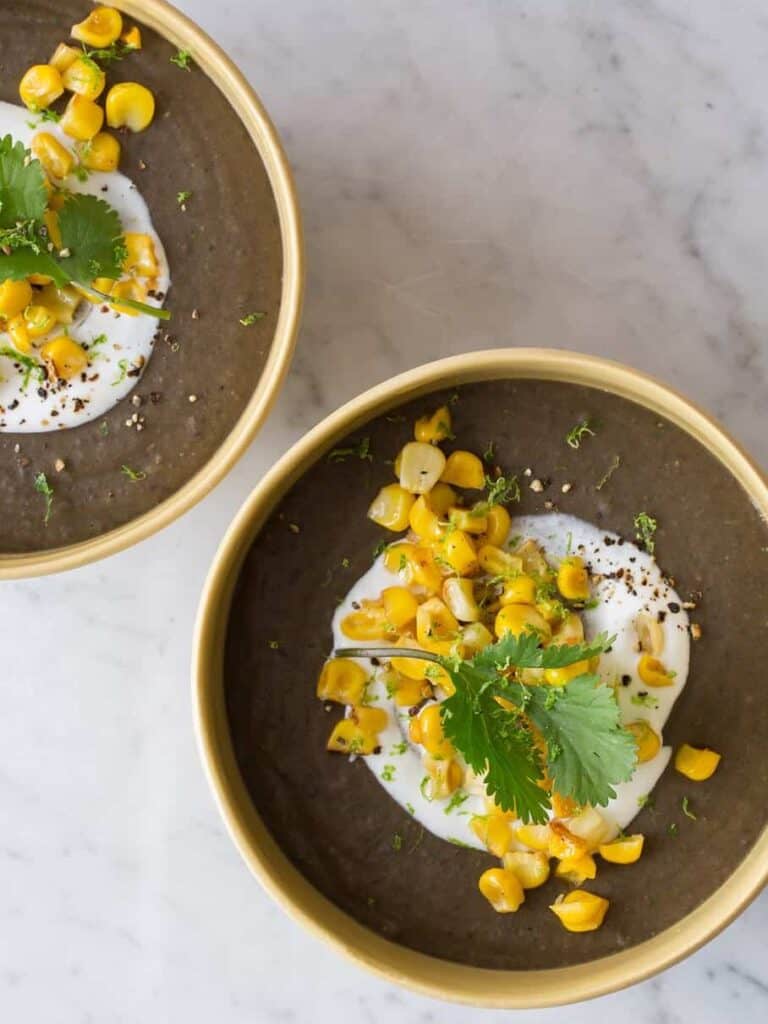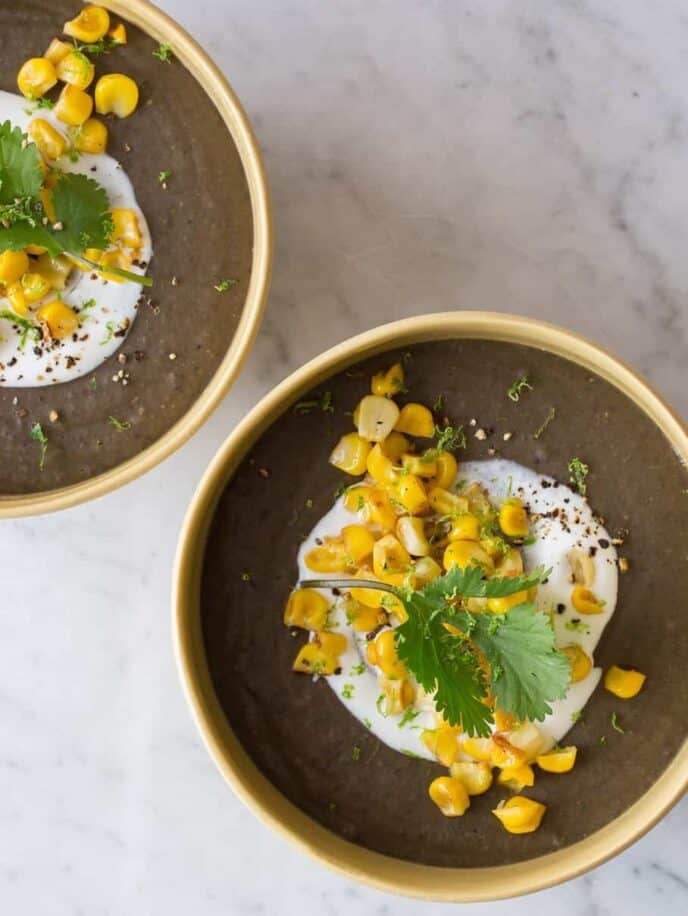 Our Favorite Asian-Inspired Soups
A lot of the soups on this list are curries which are super flavorful and delicious. These are perfect recipes to try if you are in a bit of a rut.
Our Spicy Thai Red Curry Soup is similar to our version with shrimp, but with shredded chicken instead for another incredible delicious and versatile option!
We love our Garlic Ginger Beef Noodle Soup. It's super flavorful. We use store bought stock and infuse it with more flavor. This recipe is delicious!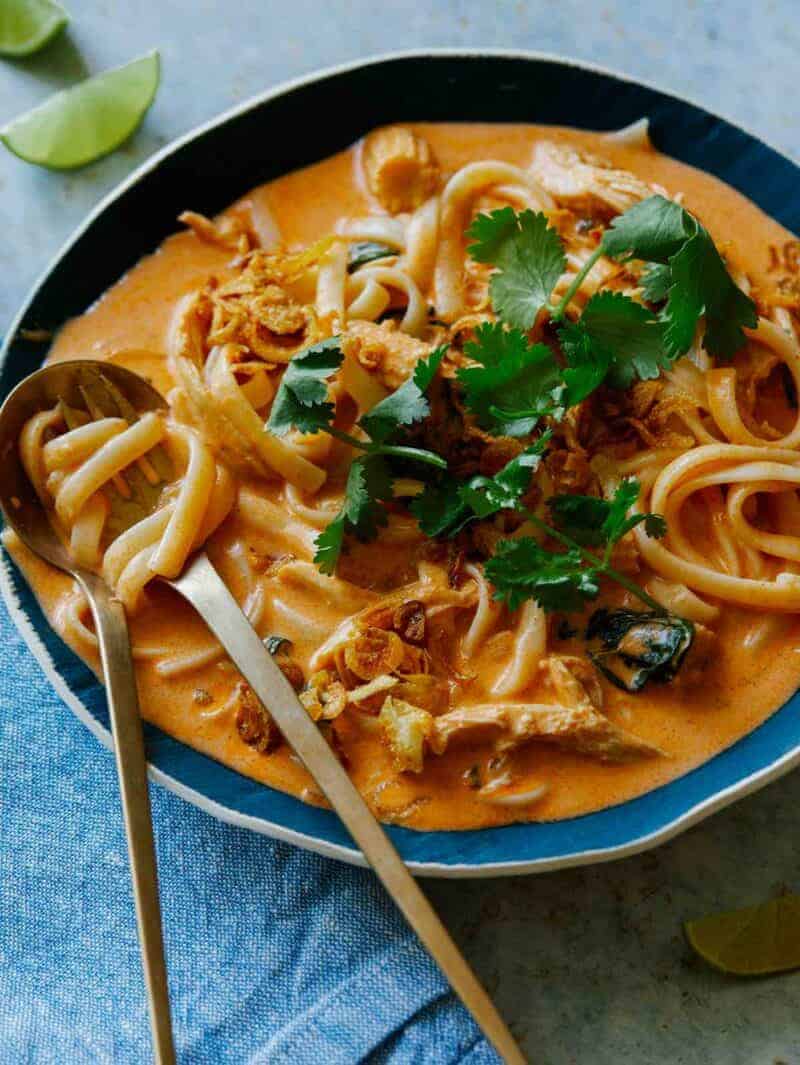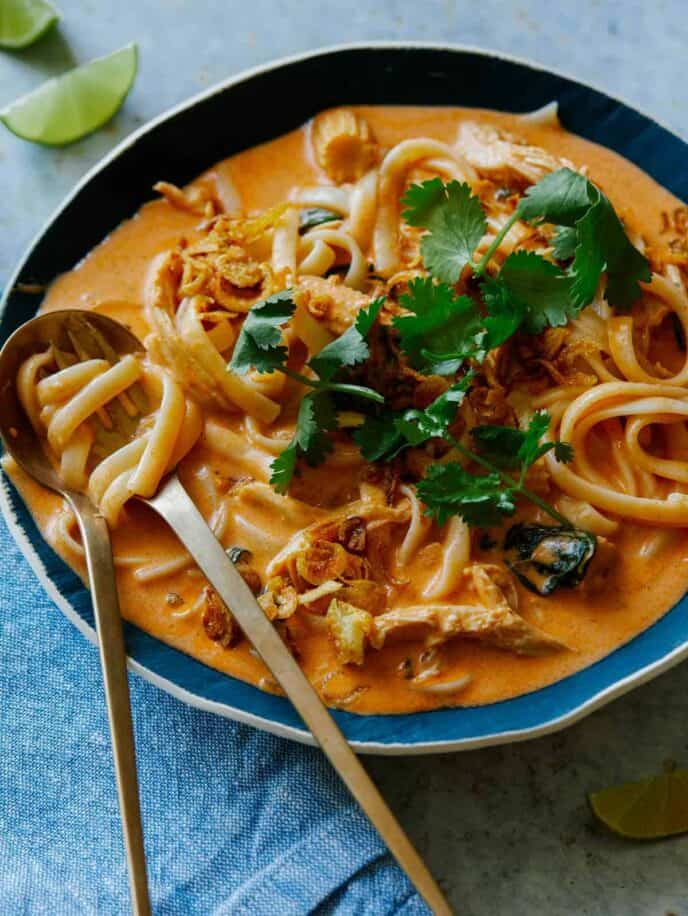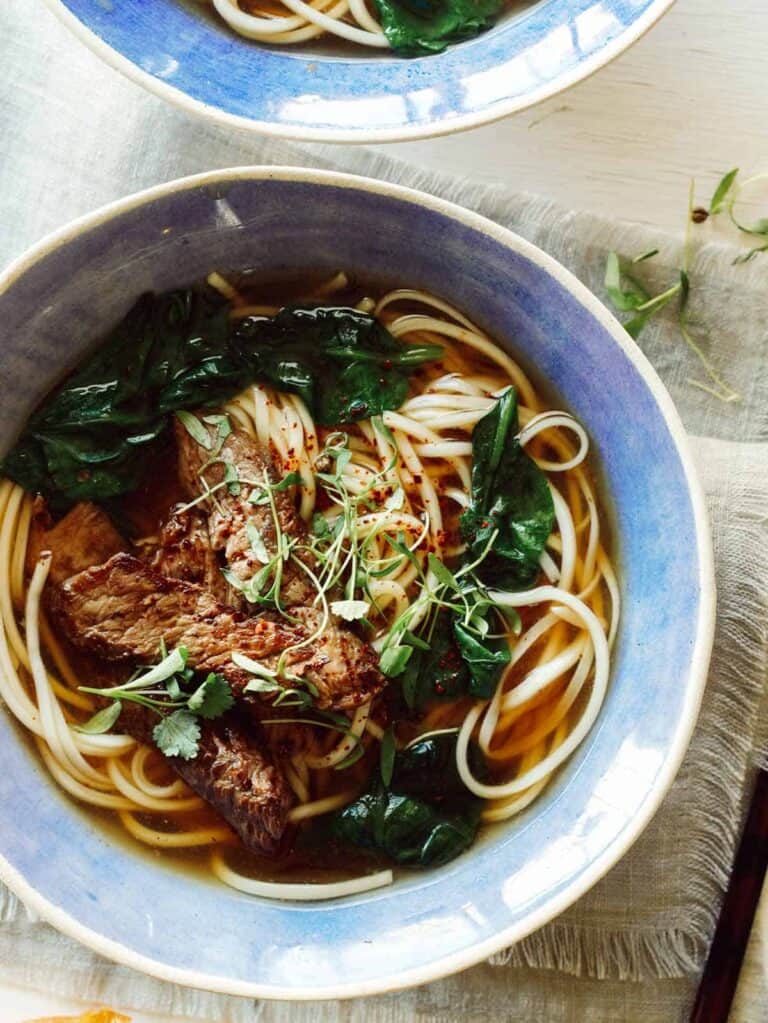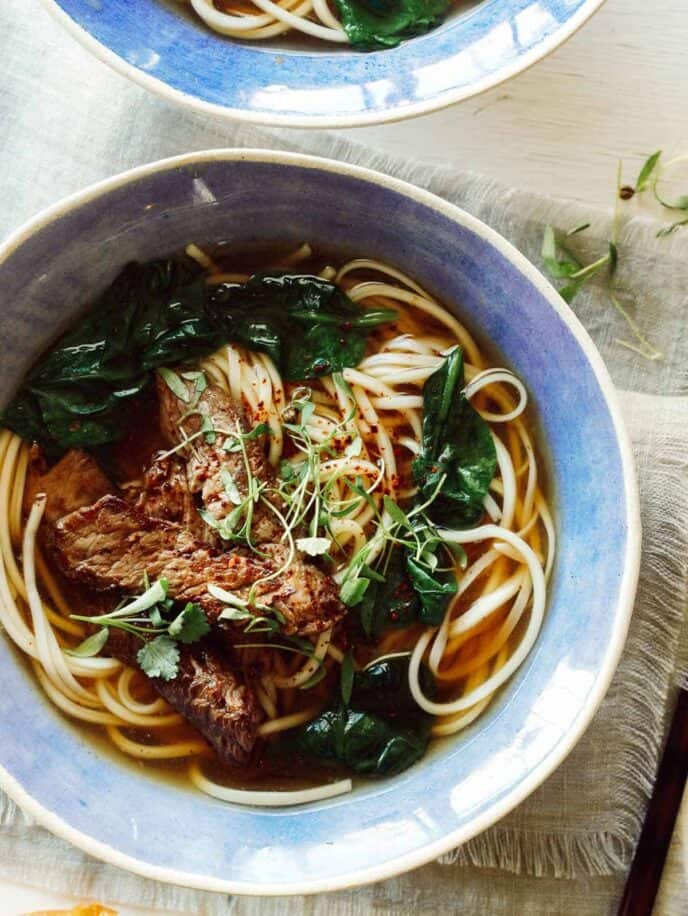 In the mood for something packed with 'all the things', loaded with mouthwatering flavor and finished with a spicy kick? Then our Spicy Chicken Laksa is just for you!
Green Curry Noodle Soup is vegetarian friendly, simple to make and totally soothing. Perfect for a busy weeknight too!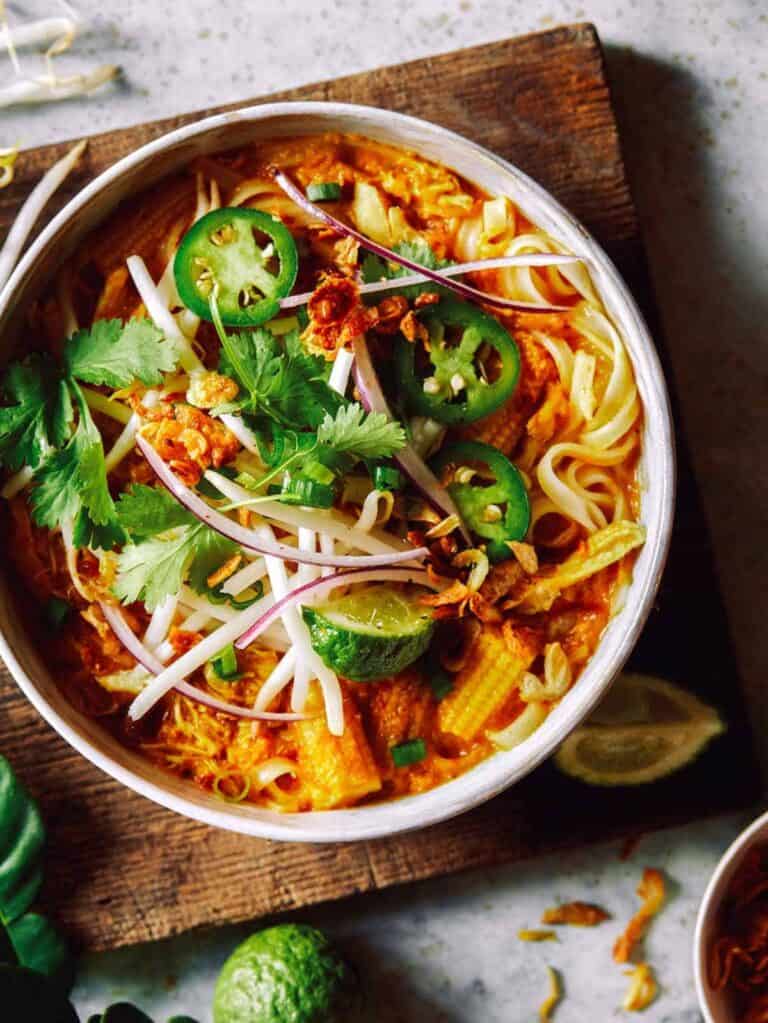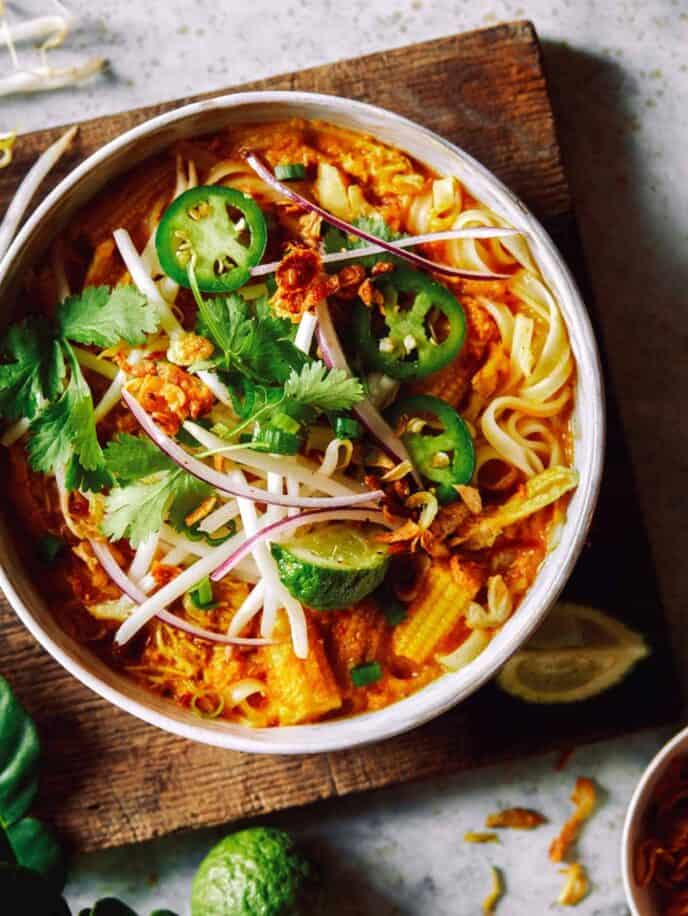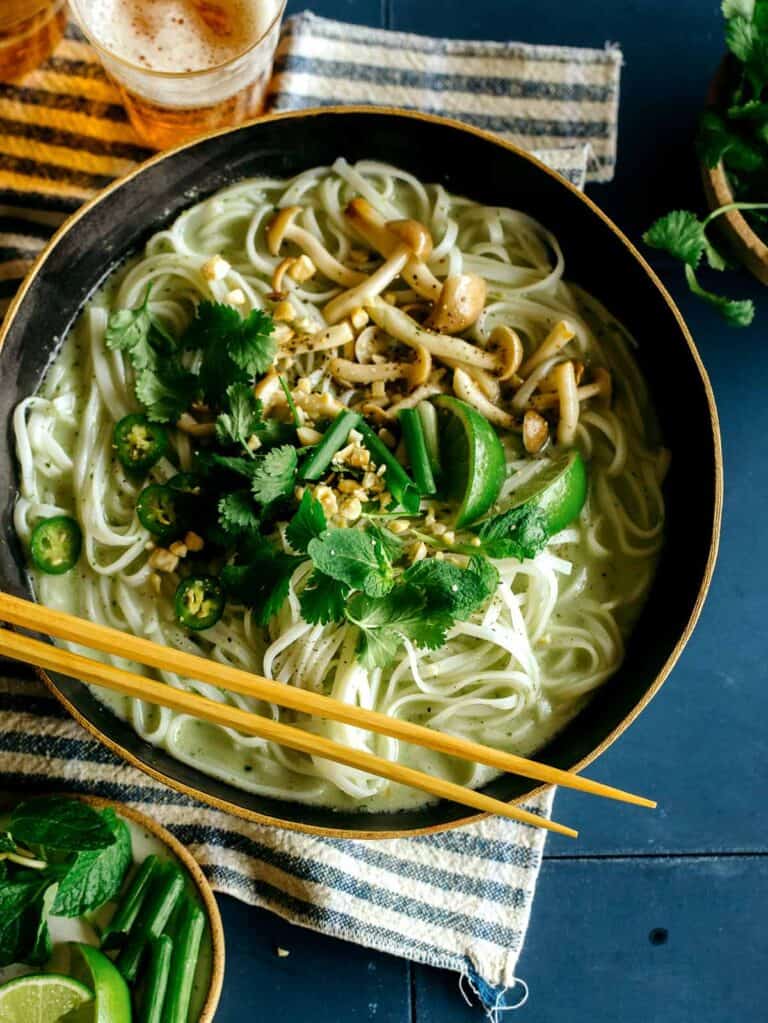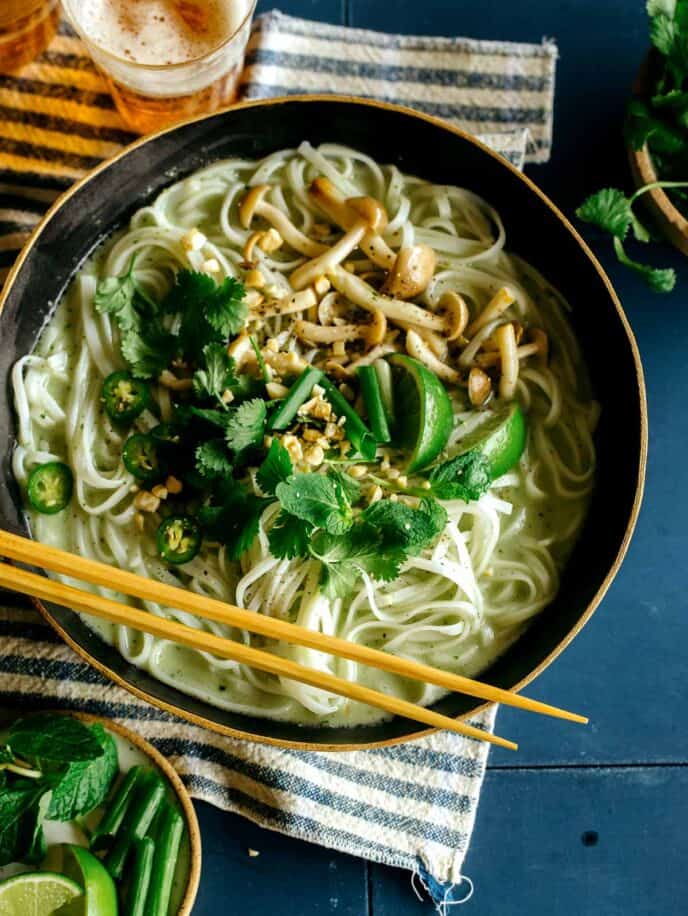 Indulgent Soup Recipes to Enjoy for Dinner
There are some personal favorites on this list (hello clam chowder!), but all of these indulgent soup recipes should be on your list of things to make!
Filled with chopped clams, a touch of bacon, hearty potatoes, and preferably served in a sourdough bread bowl, our New England Clam Chowder is another hearty and comforting classic recipe we really love.
Our One Pot Mulligatawny is extra creamy and exploding with flavor. We love topping ours with a scoop of rice, shredded chicken and golden raisins because in this case more is more!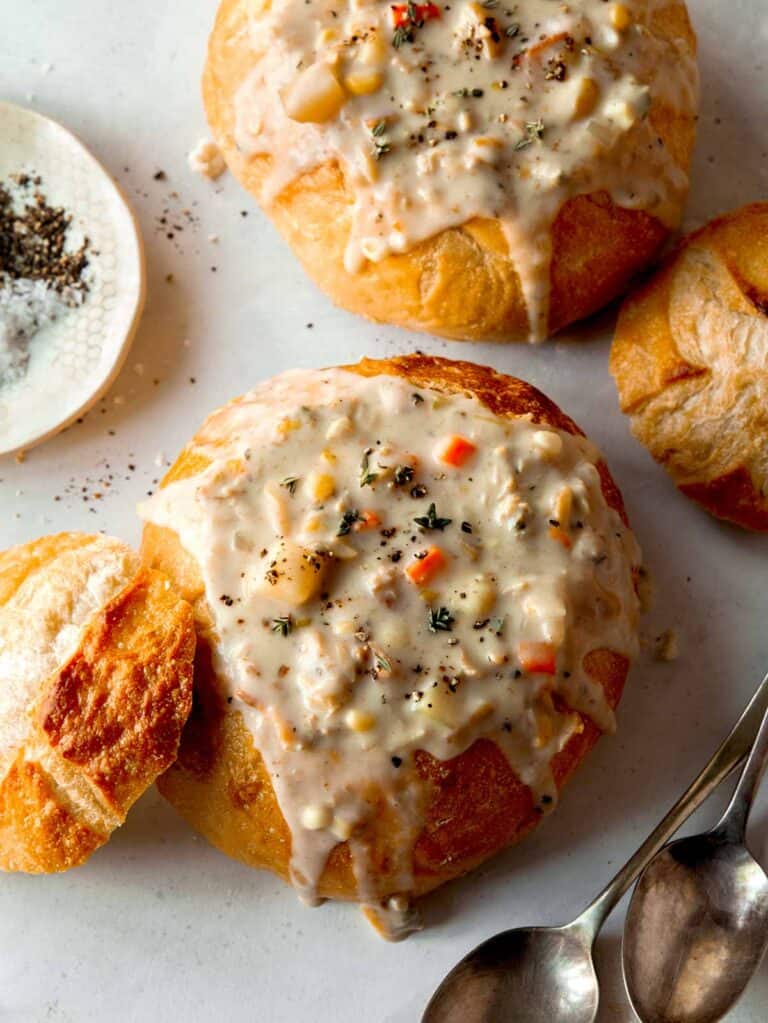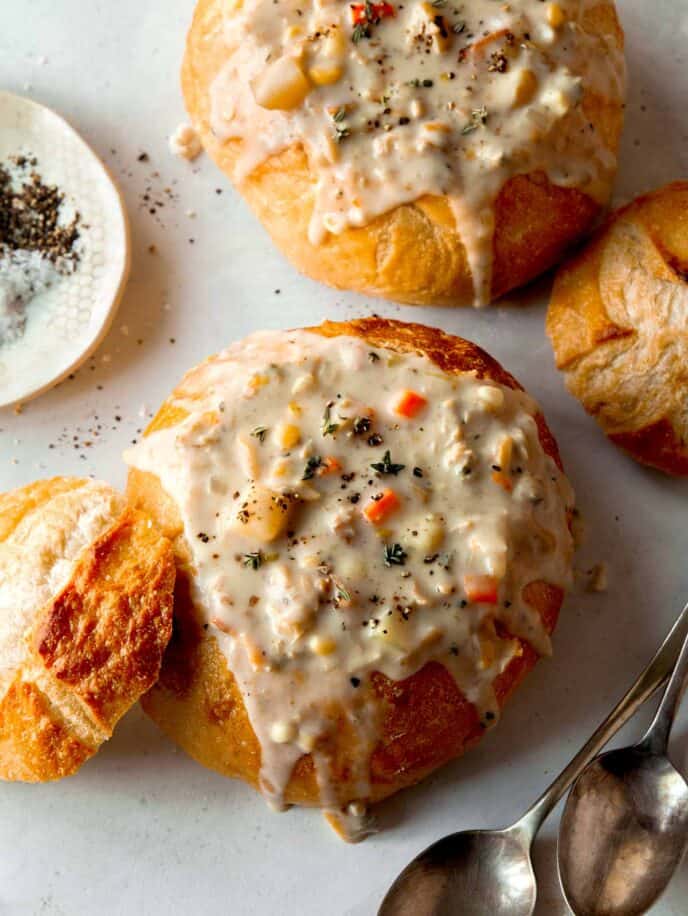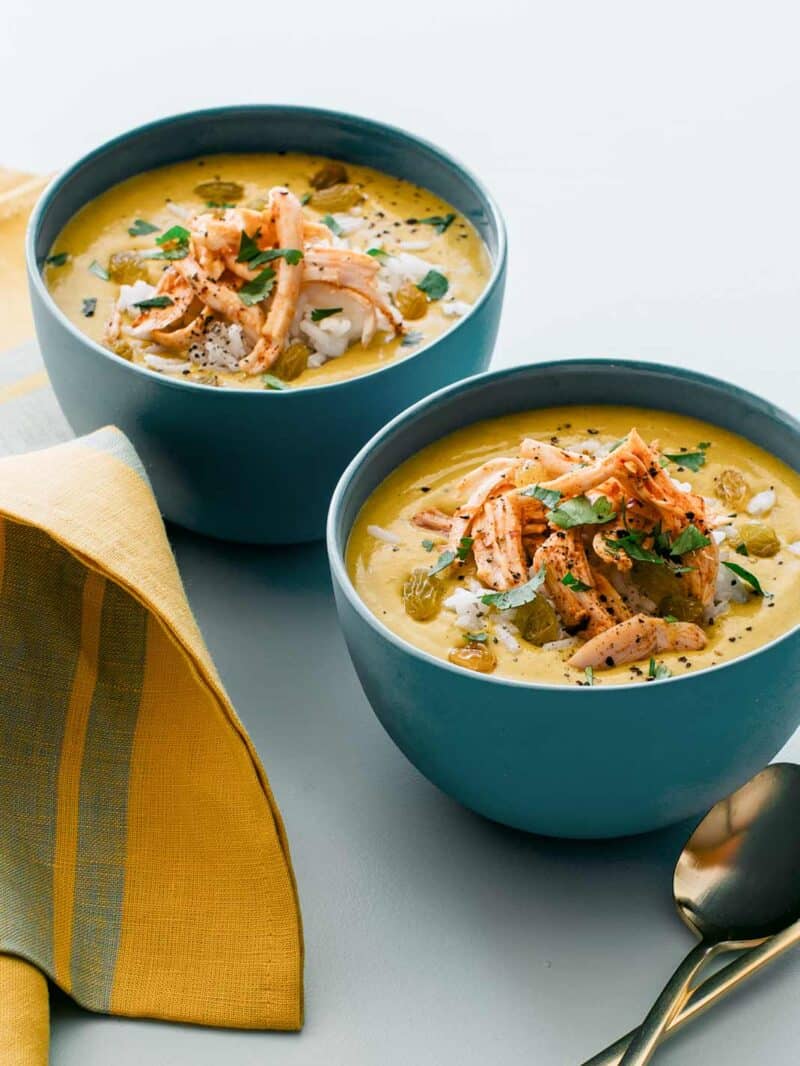 Classic Lobster Bisque that is so silky smooth and buttery you don't even need the extra chunks of poached lobster, although we'll take it for sure!
Tortellini Soup using our favorite brand of store bought tortellini, for a simple, rice and delicious soup that's hard to stop at just one bowl.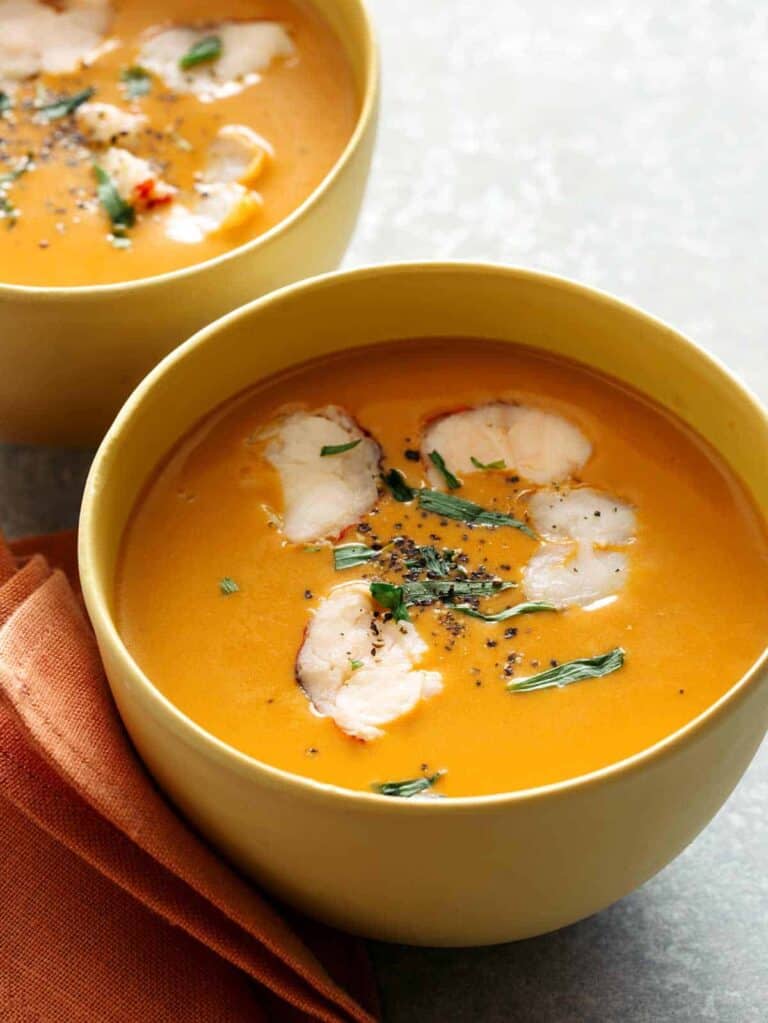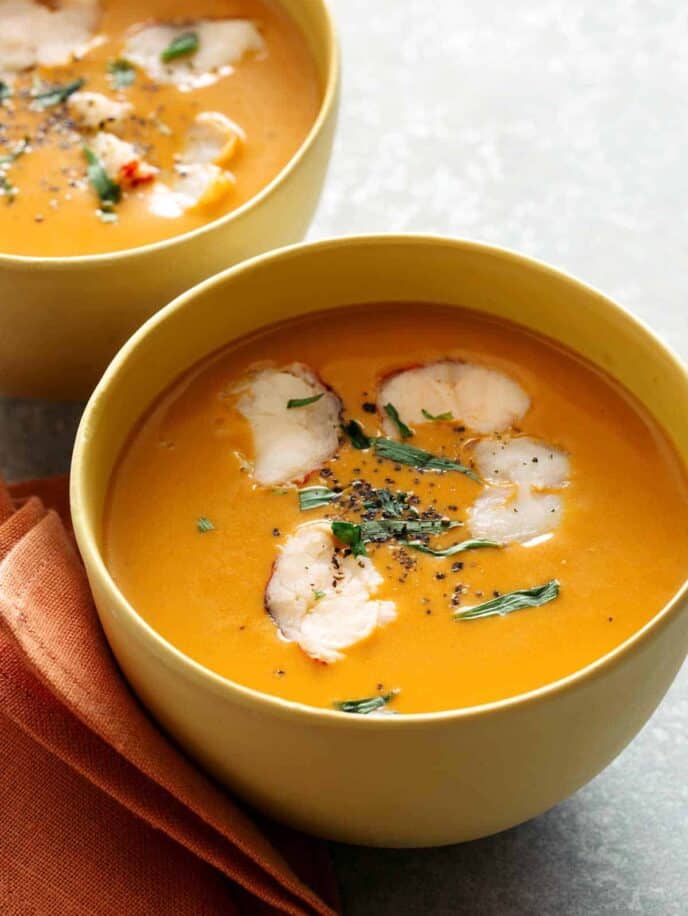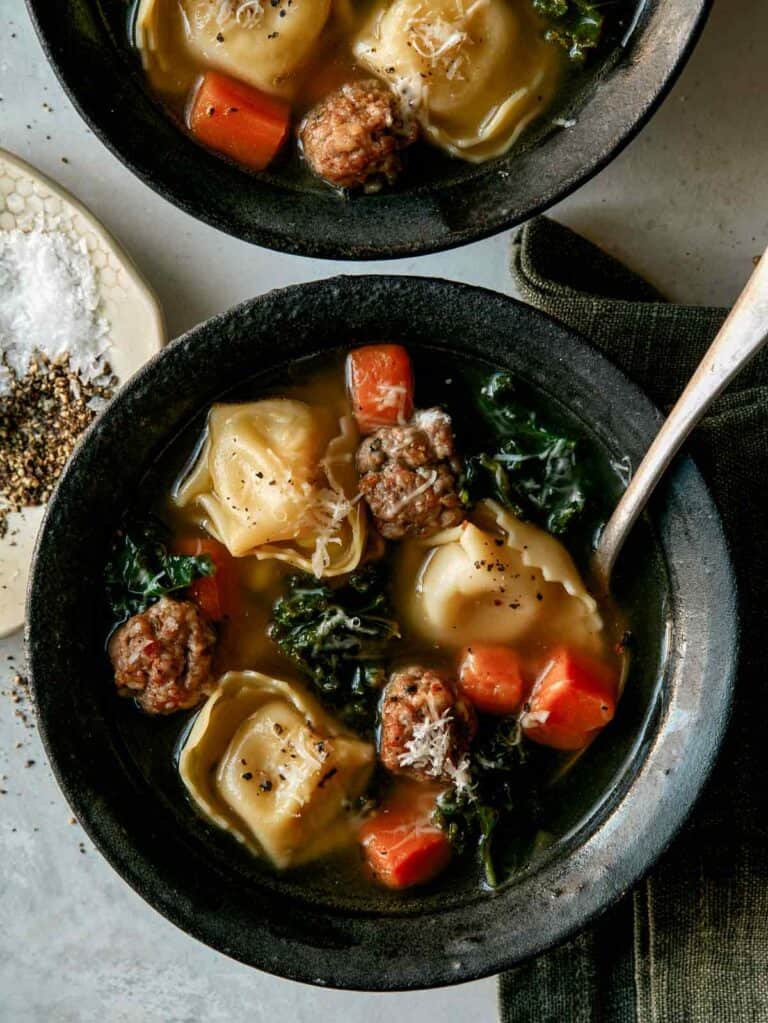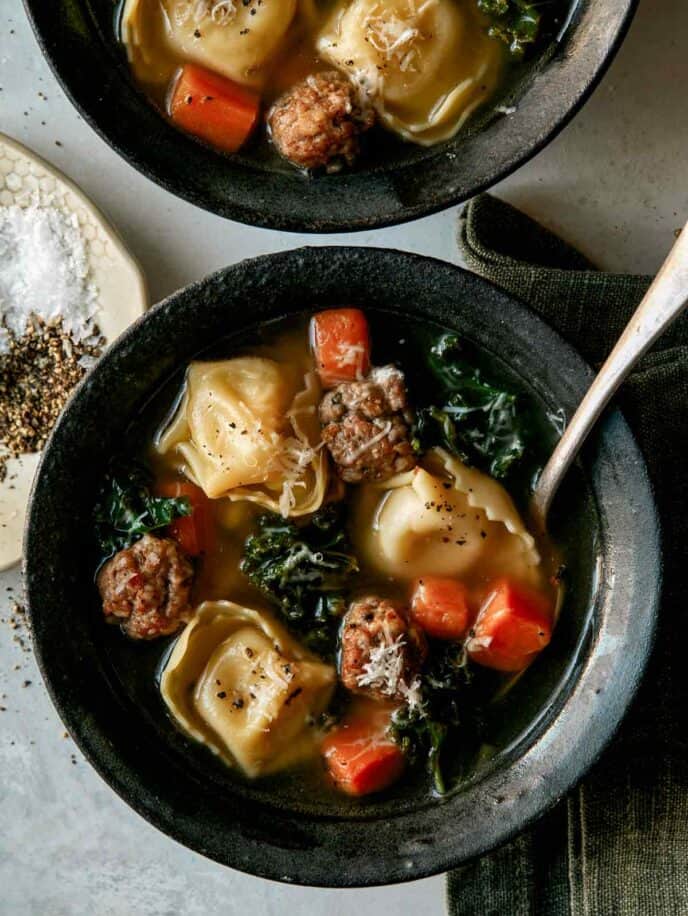 Our Best Healthy Soup Recipes to Enjoy Anytime
All of these soups are perfect if you're looking for some recipes on the lighter side.
We top our Creamy Vegan Lentil Soup with Spinach with a garlicky almond creme. It's so creamy, delicious and super healthy!
We love enjoying this Spicy White Bean Chili during the spring and summer for a lighter take on the classic tomato based chili.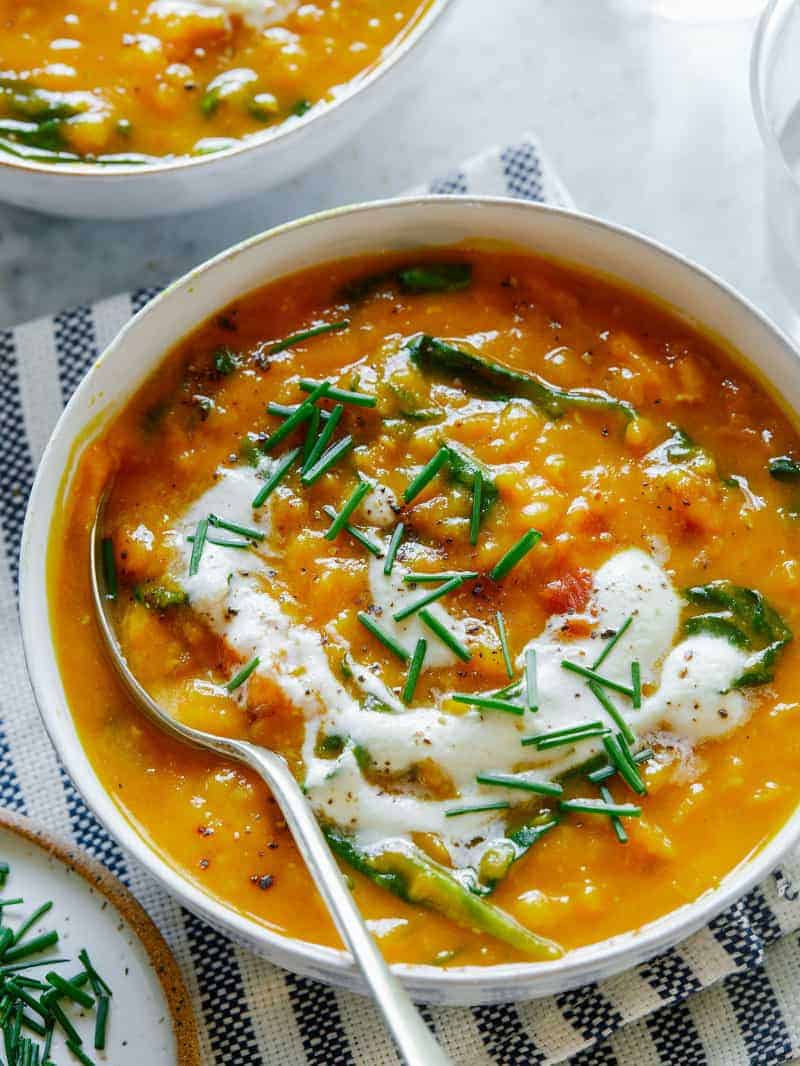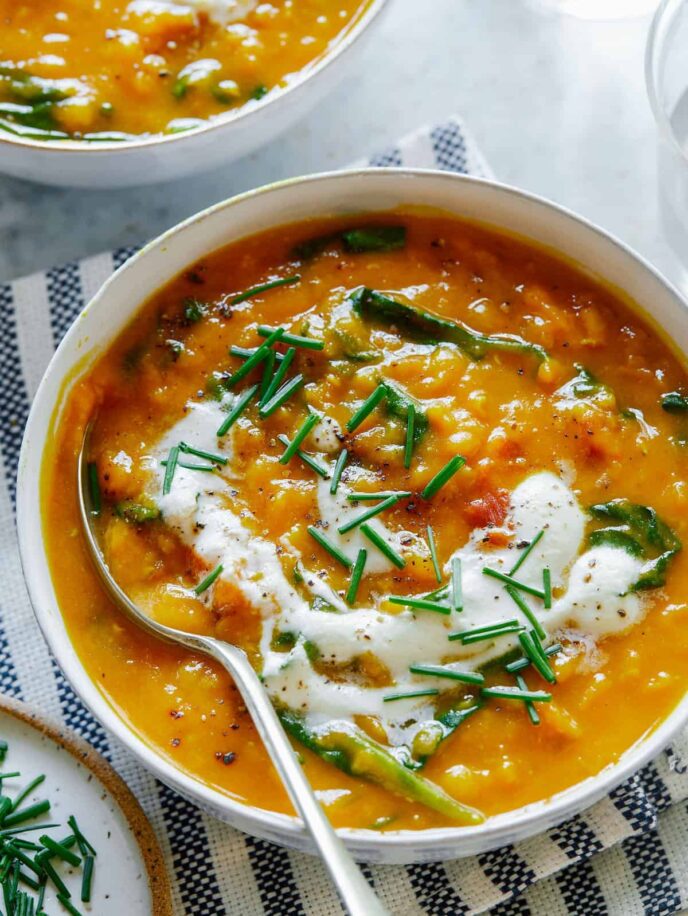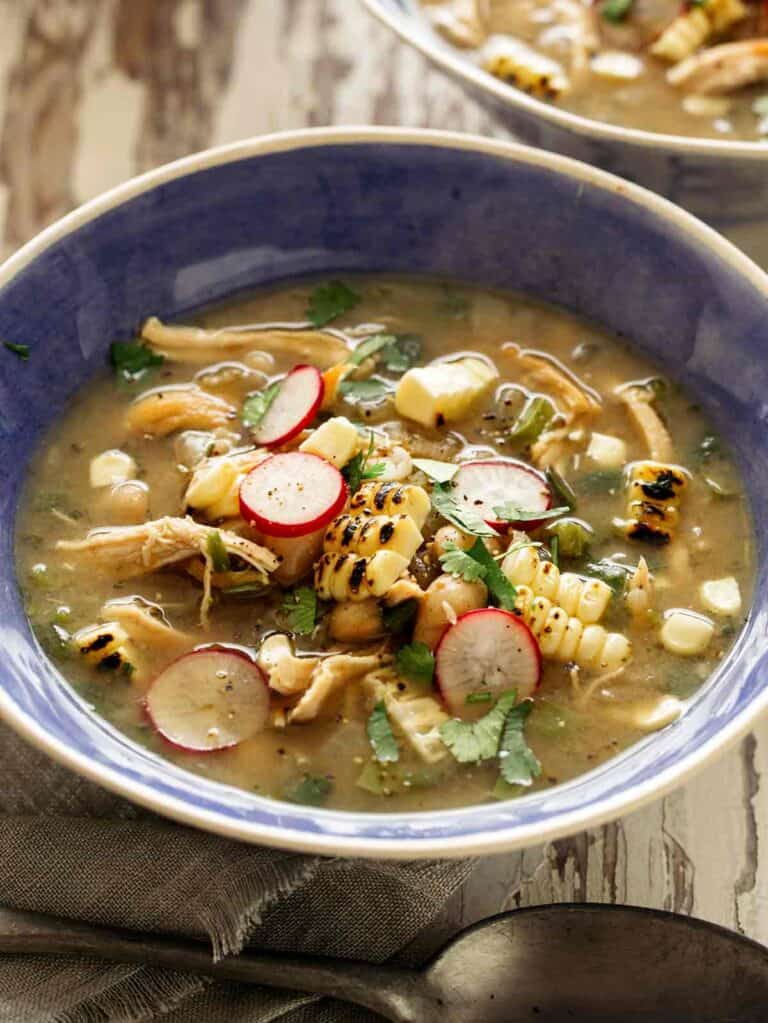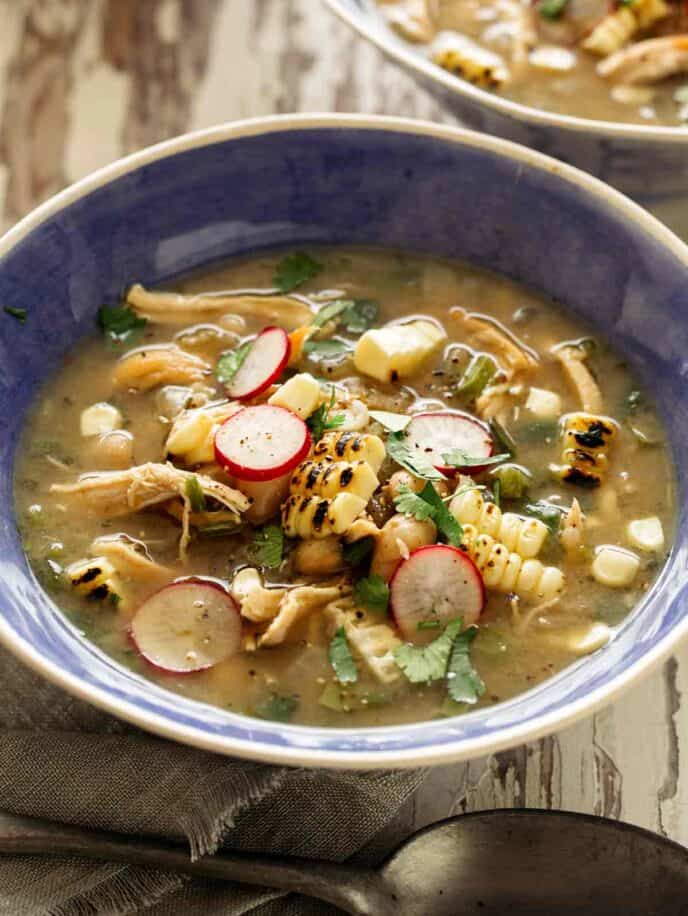 Our Masoor Dal (Stewed Red Lentils) is a little thicker and more of a stew. We love serving it over a bed of basmati rice, or with fluffy pieces of bread to soak up all the flavor. Although it's perfect on its own too.
Hearty Kale and White Bean Soup is such a simple and comforting soup recipe that's also studded with chunks of sweet potato and ham. Want to make it vegetarian friendly? No problem, swap the chicken stock out for vegetable stock and the ham out for chickpeas!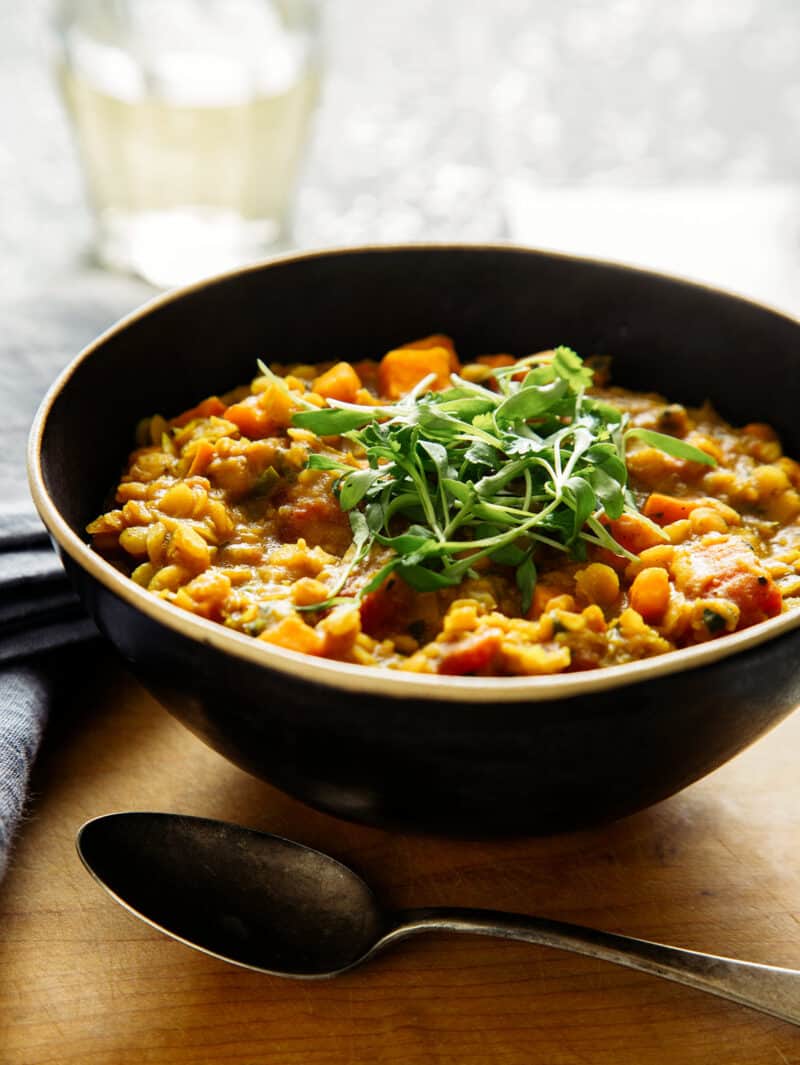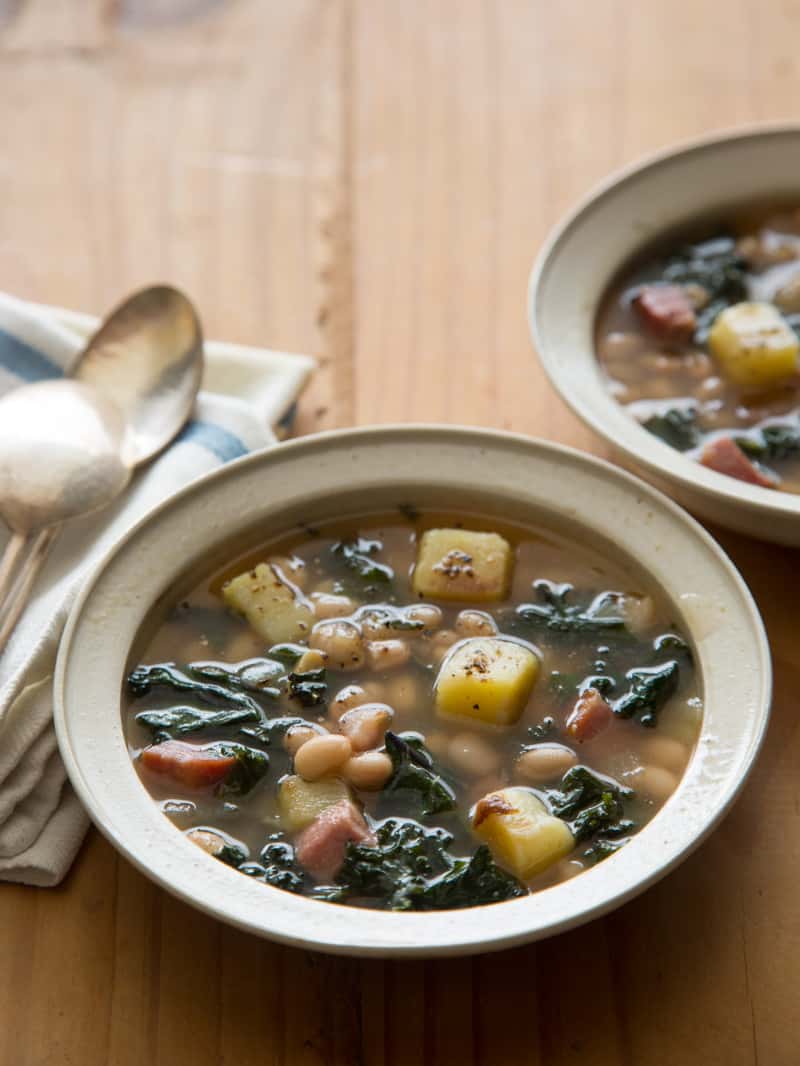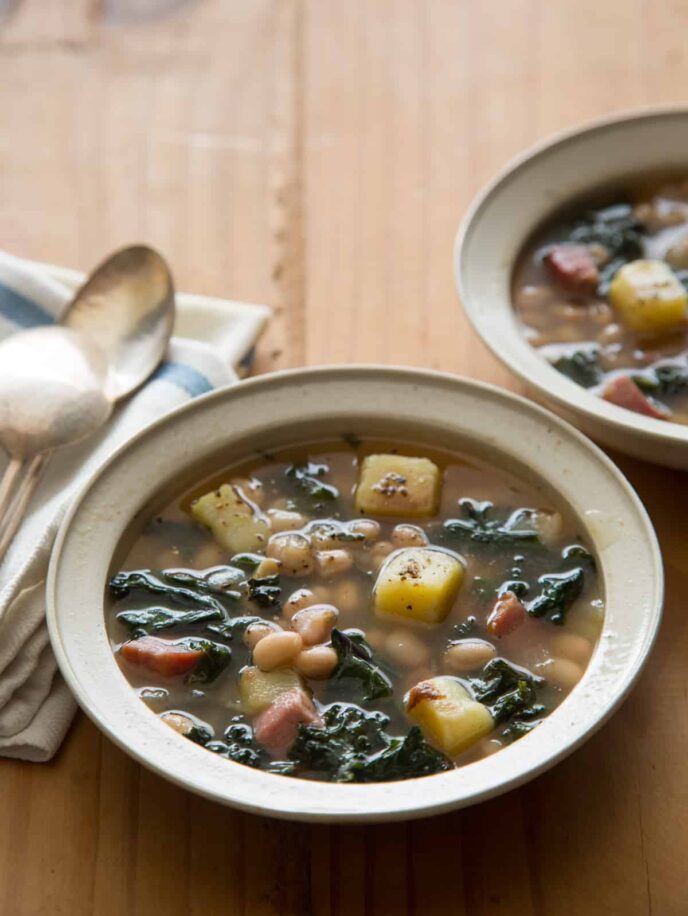 Delicious Cold Soup Recipes for Hot Days
Cold soup can be a little weird if you are not familiar with it, but wow are these refreshing on hot days!
Sweet Corn Gazpacho is another great way to take advantage of gorgeous summer corn. Enjoy this hearty, cold and super quick recipe for lunch or dinner.
Strawberry and Tomato Gazpacho is so light and refreshing. The sweet and savory combination is perfect for a hot summer day!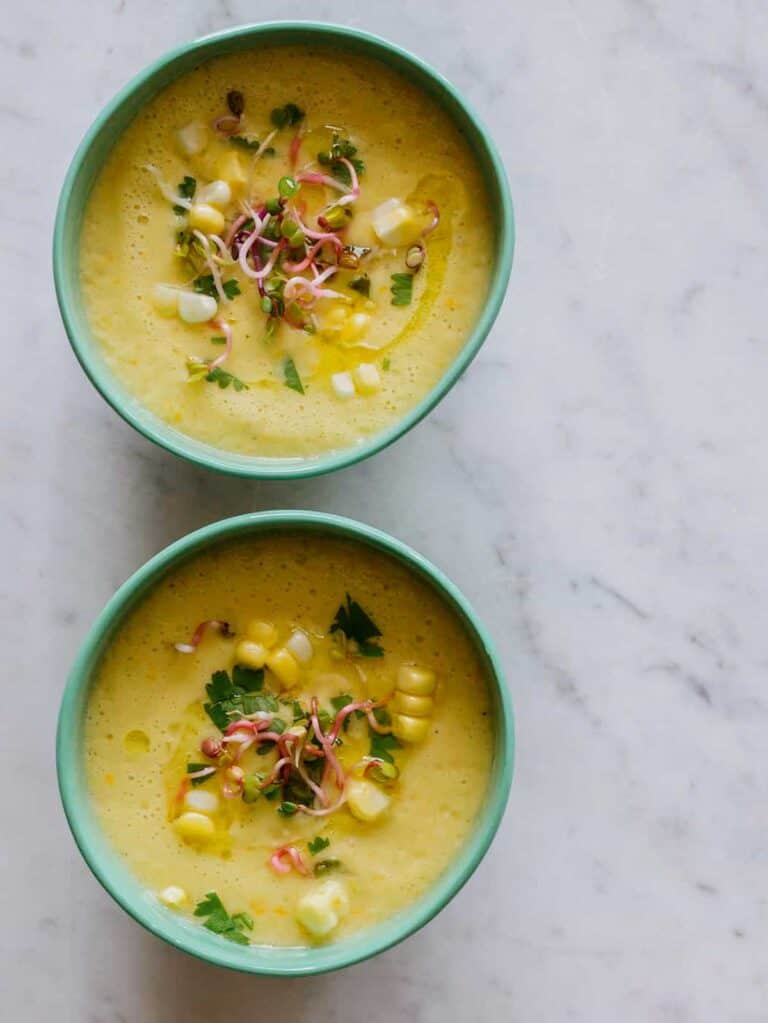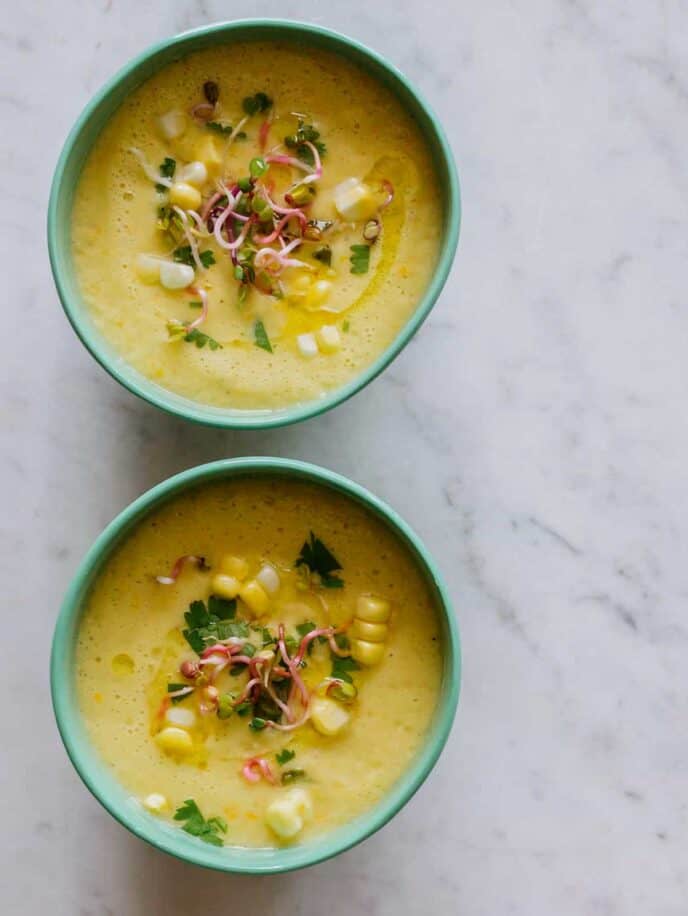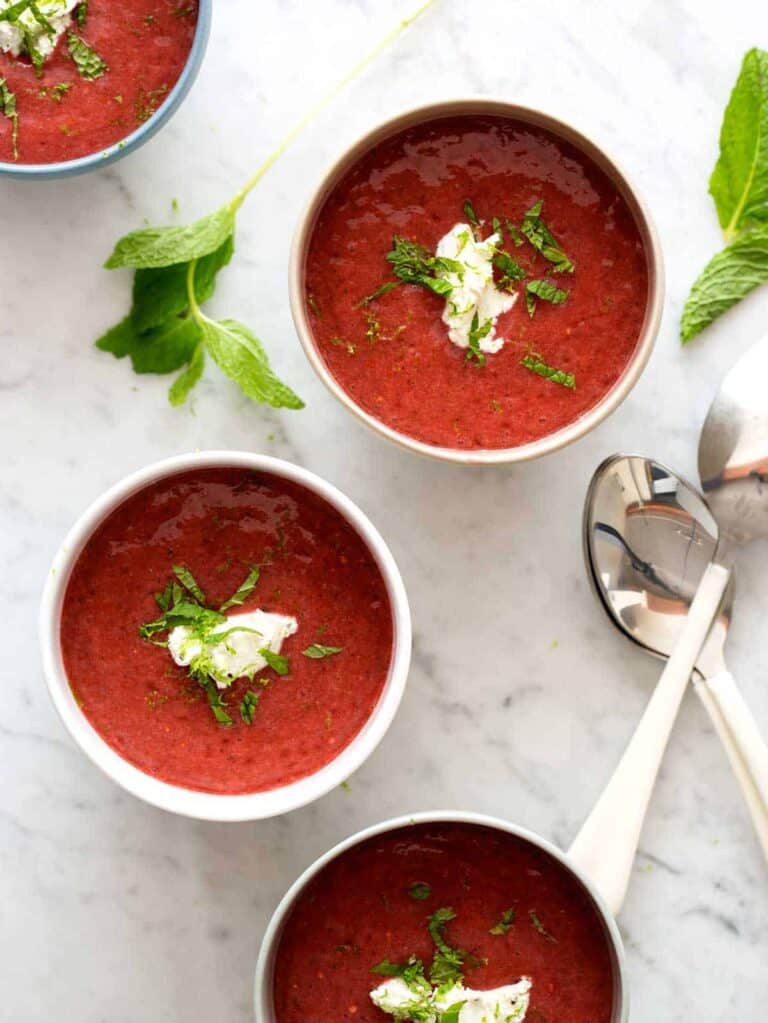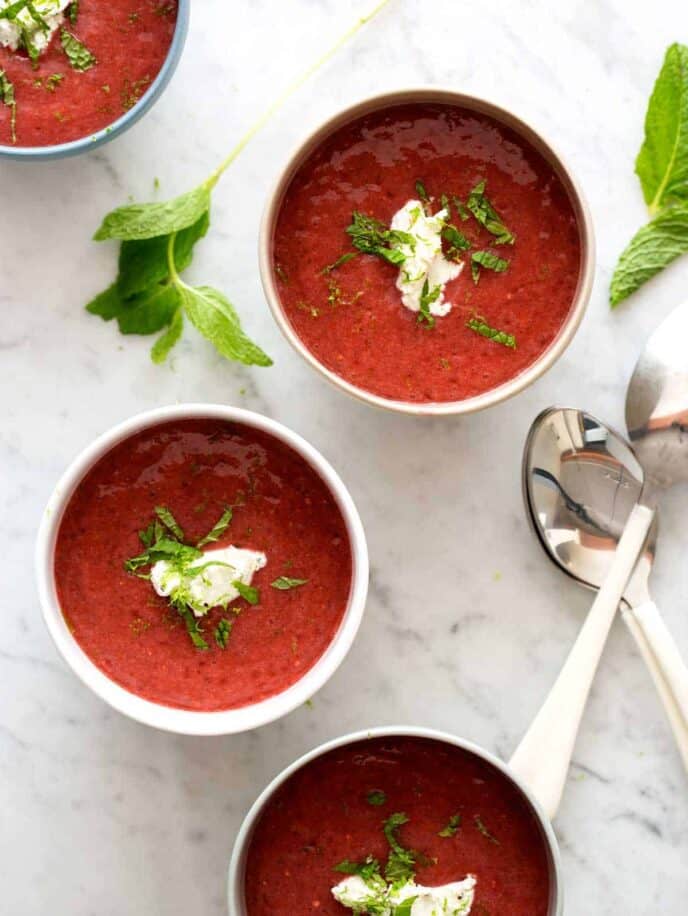 Soups Everyone Will Love
Here is a great list of 5 soup recipes that we think are crowd pleasing recipes. Perfect when you have no idea what to make for dinner!
French Onion Soup is such a classic soup recipe. It's so easy to make and we have yet to find a single person who isn't a fan.
Our Roasted Cauliflower Soup has a little parsnip added to it, making it just a little bit special.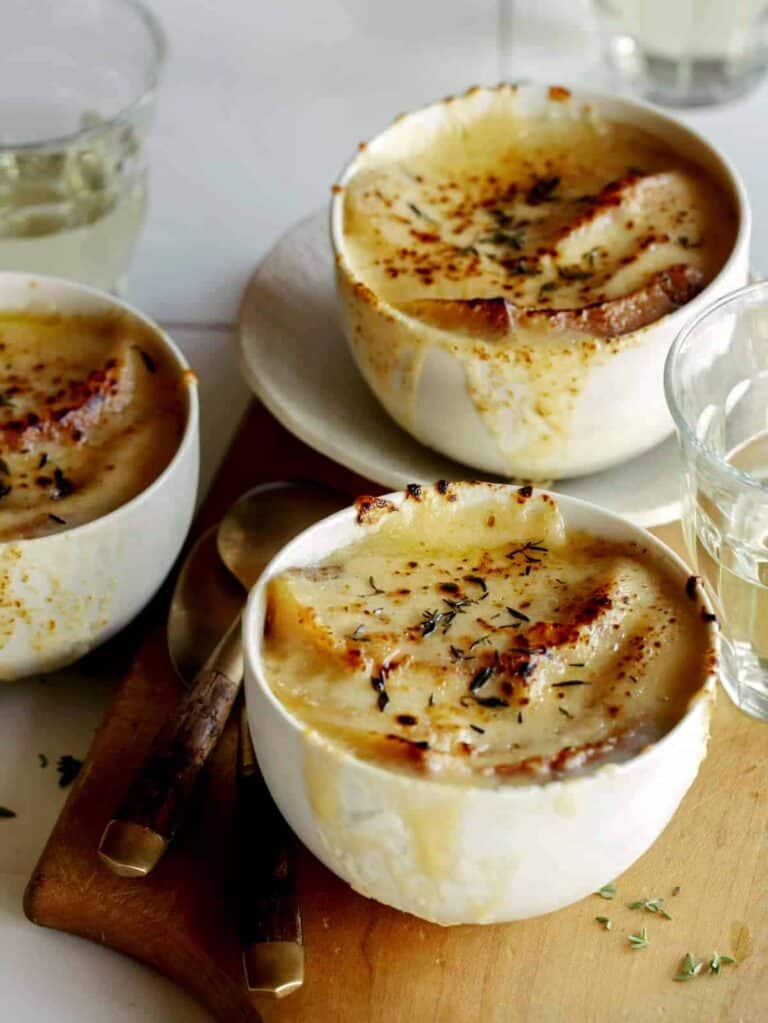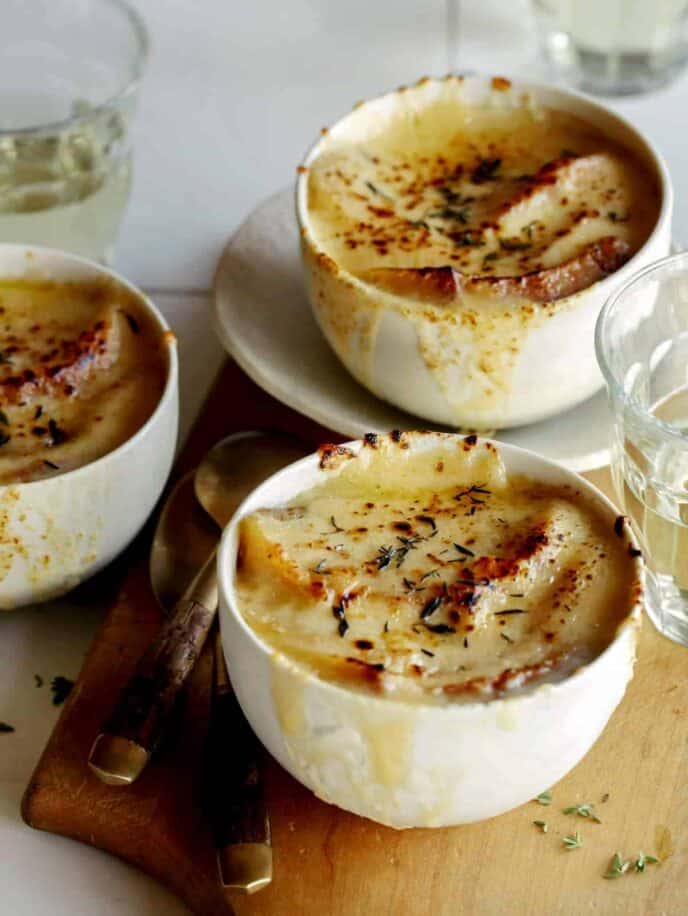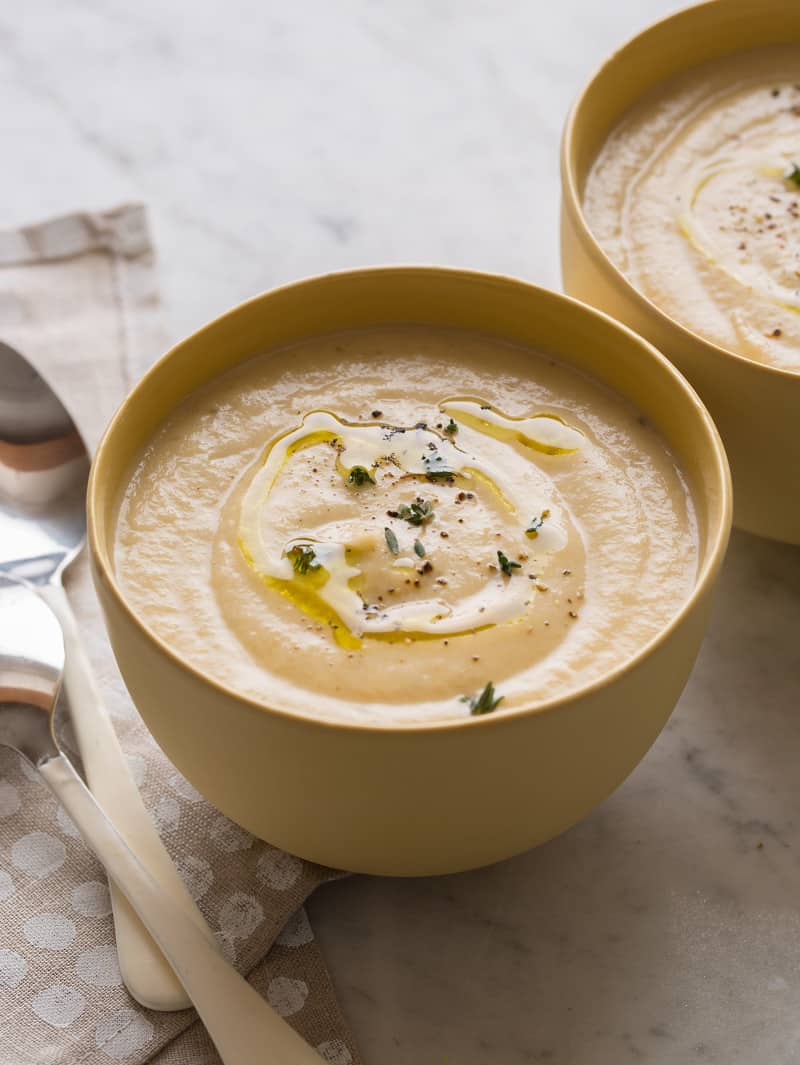 Kitchen Sink Chili because who doesn't love chili? This is another recipe where more is more and we add a special ingredient that really takes this chili recipe up a notch.
Have a baked potato for dinner, but make it soup with our Loaded Baked Potato Soup recipe! We think the more toppings the merrier, but you do you and add as little or as many toppings as you'd like to this lusciously creamy recipe.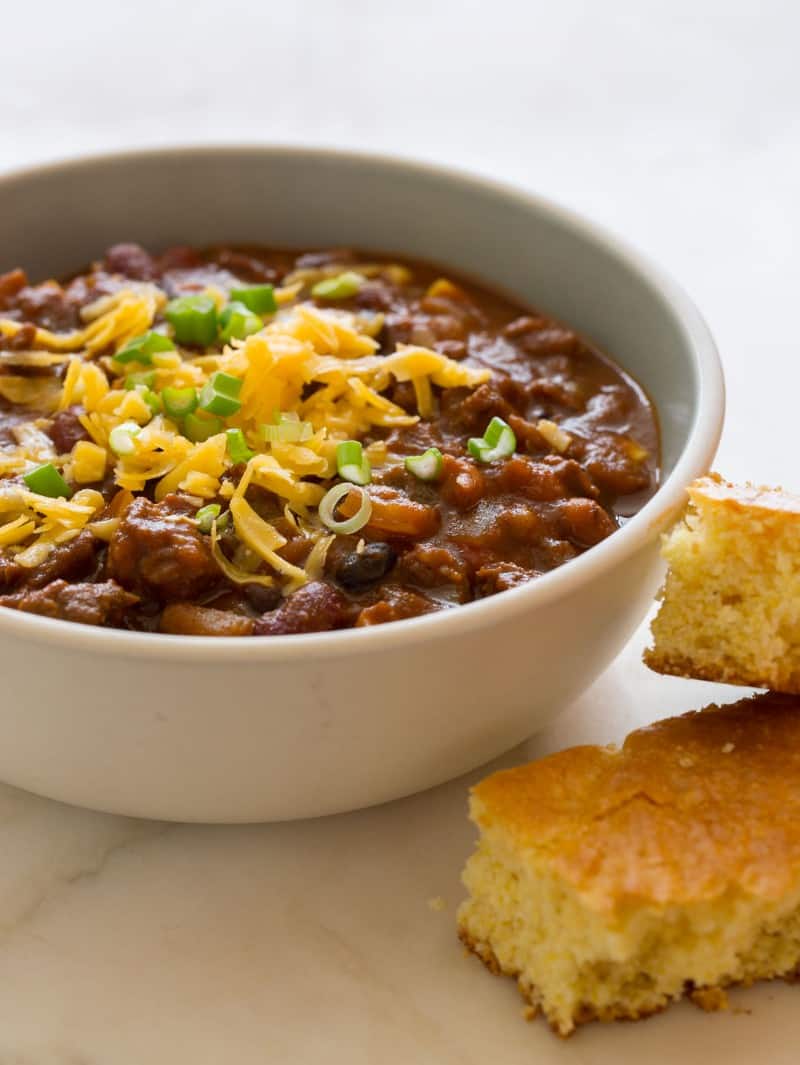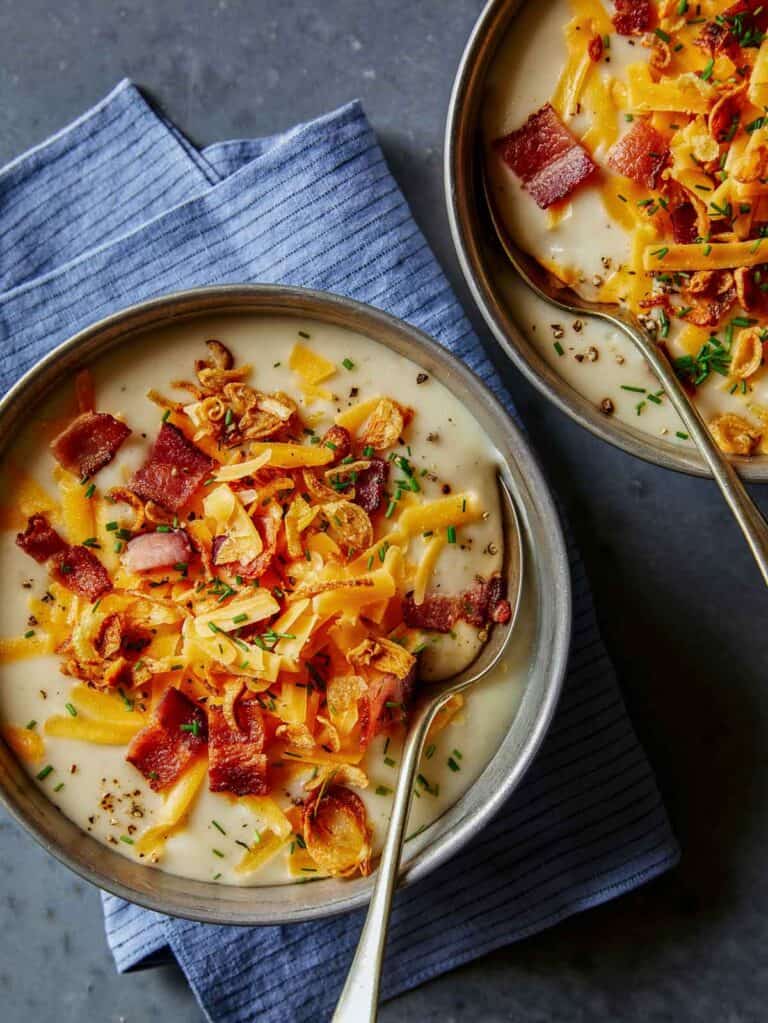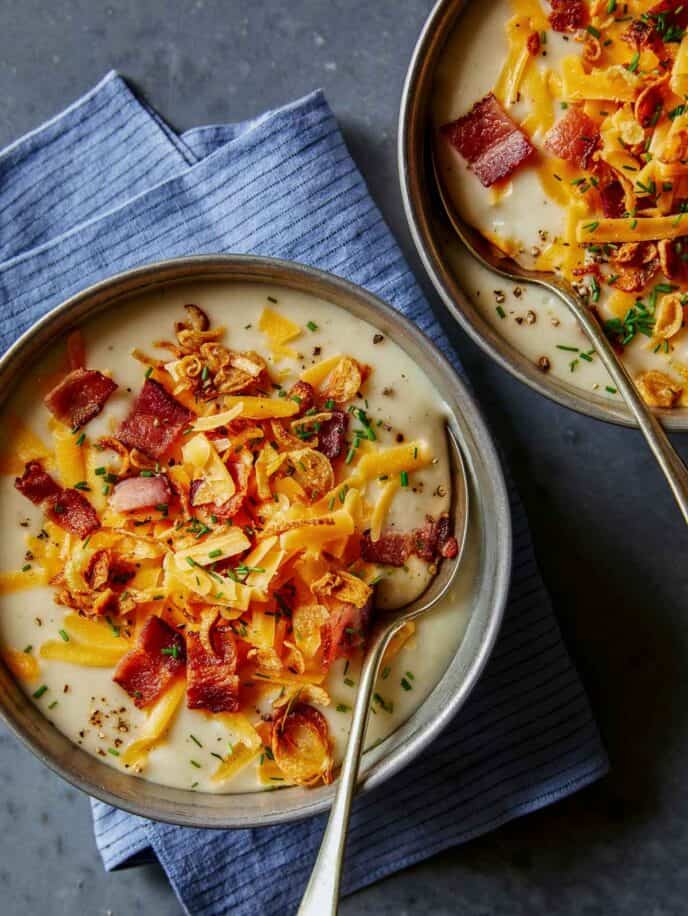 Creamy Tortellini and Sausage Soup is a delicious family friendly recipe that is so easy to throw together. The leftovers are so good!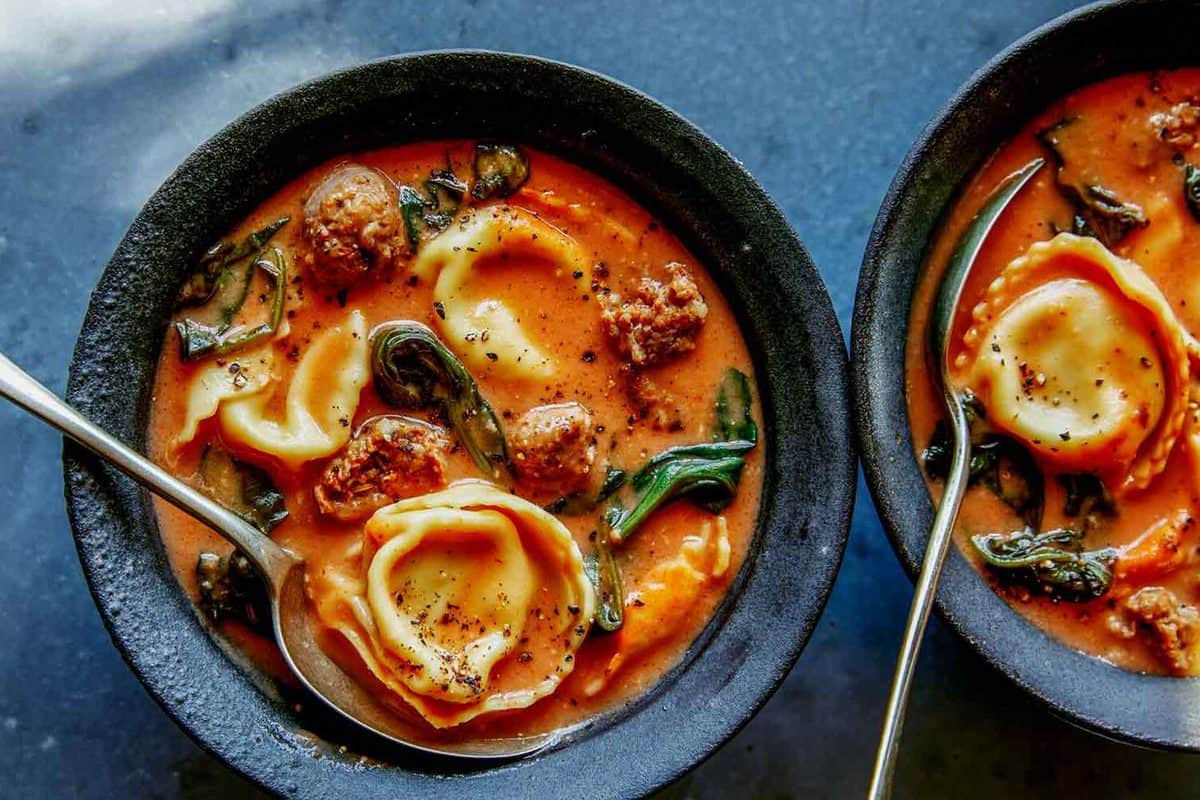 Love recipe roundups? We do too! Here are some others you will love: