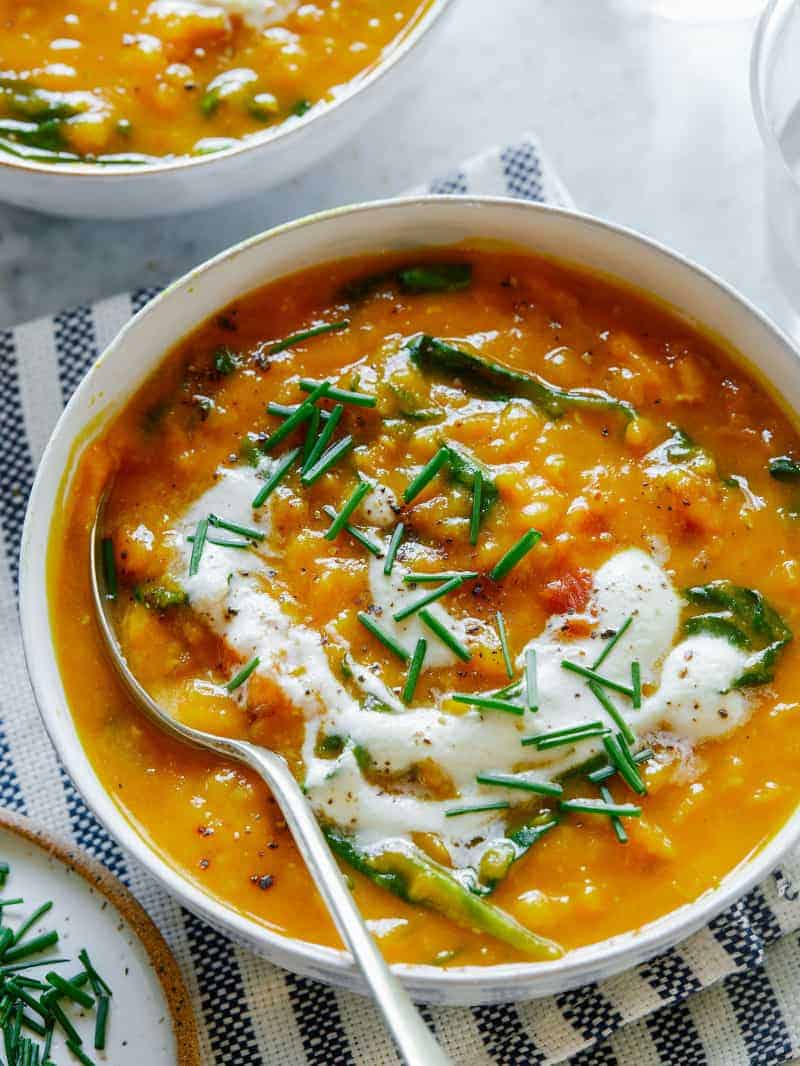 I've said it before and I'll say it again, I love love love lentils. They're really versatile and do a really good job filling you up! I also love how good for you they are, but also how delicious they are no matter how they're prepared. Seriously. They add a great amount of texture to salads, they make great vegan or vegetarian burgers that also feel 'meaty' and filling and they're so perfect for creamy, luscious soups that are even better as leftovers the next day.
Today we have our Creamy Vegan Lentil Soup with Spinach and we topped it with a simple Garlicky Almond Cream. The recipe is pretty simple and comes together rather quickly. I like blending half the soup so that you get an even more creamy texture, but that's totally optional! You can also add some kale into the mix instead of spinach if that's more your jam, I just recommend letting it cook down for a long amount of time so its nice and tender.
I like soaking the garlic with the almonds because it helps to draw out some of the 'harsh' flavor of the raw garlic, and doesn't require any additional sauting or blanching. This almond cream is also totally optional, but the added creamy garnish is nice. This is a great weeknight meal because it doesn't require tons of ingredients and time, plus you can make a double batch and eat it throughout the week, which is my favorite way to make and eat this! Enjoy! xx, Jenny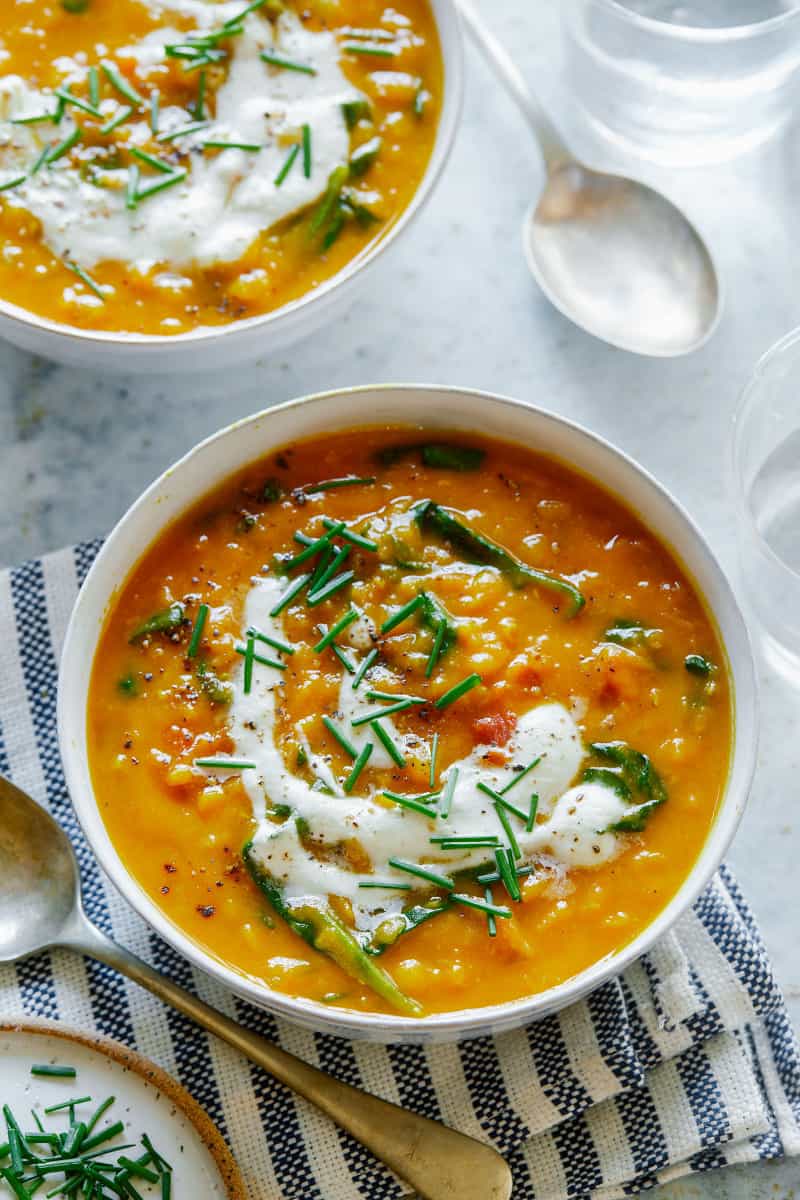 Vegan Lentil Soup with Spinach and Topped with Garlicky Almond Cream

Makes 1 quart

Ingredients:
garlicky almond cream:
1/2 cup raw almonds
2 garlic clove, thinly sliced
salt and pepper to taste
lentil soup:
2 teaspoons extra virgin olive oil or coconut oil
1 small yellow onion, diced
2 garlic cloves, minced
4 roma tomatoes, seeded and diced
1 1/2 teaspoons ground cumin
1 teaspoon ground coriander
1 teaspoon ground turmeric
1 1/2 cups dry red lentils, rinsed
2 1/2 cups vegetable stock
8 ounces baby spinach
salt and pepper to taste
garnish:
sliced chives

Directions:
1. For garlicky almond cream: Place almonds and garlic into a small bowl and submerge in water. Allow almonds and garlic to soak for at least 3 hours and up to 8 hours. Drain and place almonds and garlic into a blender. Add 1 cup fresh water and blend until smooth and creamy. Season with salt and pepper. Set aside.
2. For lentil soup: Place a pot over medium-high heat and add oil. Once oil is hot, add onion and garlic and sauté for 5 to 6 minutes.
3. Add half of the tomatoes followed by the cumin, coriander and turmeric and continue to sauté for an additional 2 minutes.
4. Add lentils to pot and stir together for 1 minute. Season with salt and pepper.
5. Pour stock over mixture and bring to a boil. Once water is boiling reduce heat to medium and simmer for 20 to 25 minutes or until most the liquid is absorbed and the lentils are creamy. Season with salt and pepper.
6. Remove soup from heat and scoop half of the soup into a blender and puree until smooth. Pour pureed mixture back into the pot and stir together.
7. Bring soup back to a simmer and stir in remaining tomatoes and spinach until just wilted. Adjust seasonings as needed.
8. To serve: Ladle soup into bowls and top each with some of the almond cream and sliced chives. Serve.