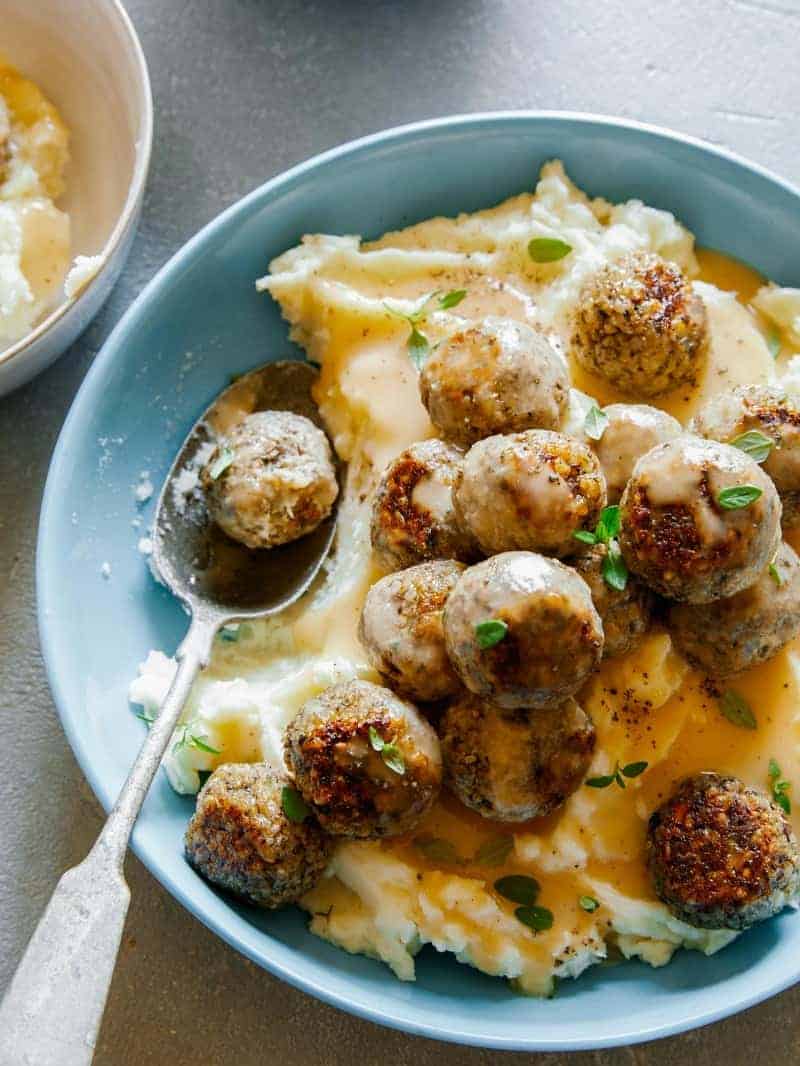 We're starting the week off with a fully vegan meal, that's still very cozy and warming, our Meatless Swedish Meatballs Over Mashed Potatoes and Gravy! This is a perfect, winter meatless Monday type of dish! I love the meatballs because the mushrooms in them still make them seem 'meaty', and they're just really flavorful in general. They're also pretty easy to make!
If you're not feeling the mashed potatoes on this one because you don't want to double up on the carb situation (there's some brown rice and panko in the meatballs) I highly recommend you sub in our Cauliflower, Parsnip and Roasted Garlic Mash! It's SO good, and while it's not vegan, you can swap the butter out for a vegan butter and swap the cream out for the nut milk of your choice and BOOM, it's vegan!
Oh! I should also mention that the meatballs freeze VERY well! Just pop any leftover meatballs onto a parchment lined baking sheet so they're not touch one another, stick them in the freezer, and once they're frozen, you can transfer them into a freezer safe bag for about 3 months! When you're ready to enjoy them again, you just need to stick them in the oven until they're heated through! Se simple and so good! Enjoy! xx, Jenny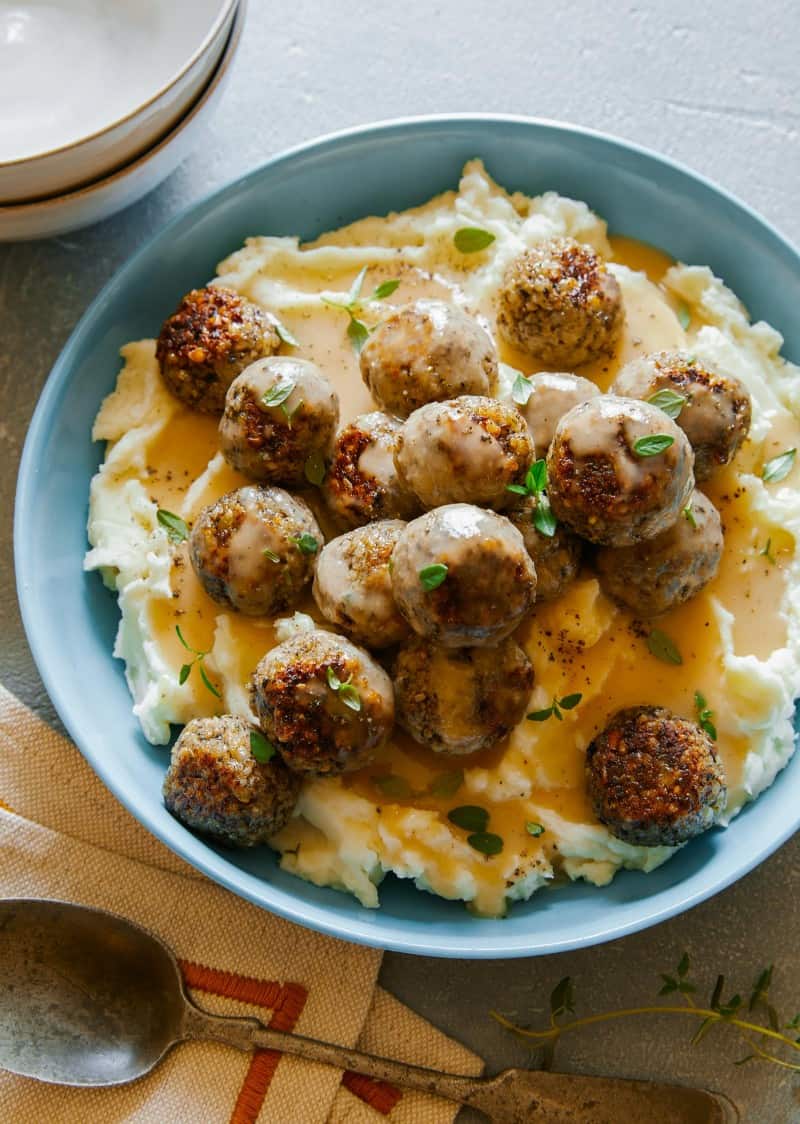 Vegan Swedish Meatballs over Mashed Potatoes + Gravy

Makes 15 to 18 'meatballs', 1 qt of potatoes + 1 pint of gravy

Ingredients:
meatless meatballs:
2 1/2 teaspoons extra virgin olive oil, divided
8 ounces sliced cremini mushrooms
2 garlic cloves, minced
1/2 shallot, minced
1 cup cooked and cooled brown rice
1/4 cup panko breadcrumbs
1/4 cup flour
2 teaspoons minced basil
1 teaspoon minced oregano
1 teaspoon salt
1/2 teaspoon cracked black pepper
mashed potatoes:
2 large russet potatoes, peeled and chopped
3 tablespoons vegan butter of choice
1/4 cup almond or cashew milk
salt and pepper to taste
gravy:
2 tablespoons vegan butter or choice
2 garlic cloves, minced
2 tablespoons flour
1 teaspoon onion powder
1 cup flavorful vegetable stock
1 tablespoon tamari or soy sauce
salt and pepper to taste

fresh thyme leaves, optional garnish

Directions:
1. Meatballs: Place a large skillet over high heat. Once skillet is hot add oil. Add mushrooms and saute for 3 to 4 minutes. Add garlic and shallot and continue to saute for an additional 2 to 3 minutes. Lightly season with salt and pepper.
2. Stir in basil and oregano and remove mixture from heat. Set aside and allow mixture to cool, about 10 minutes.
3. Pour mushroom mixture and remaining meatball ingredients into a food processor and pulse until mixture comes together (8 to 12 pulses).
4. Form 1 to 1 1/2 tablespoon sized balls with the mixture and set onto a parchment lined baking sheet. Refrigerate meatballs for about 30 minutes.
5. Remove meatball from refrigerator. Place large skillet over medium heat and add remaining oil. Add meatballs to skillet and sear on each side for 2 to 3 minutes. Remove from heat and lightly season, if needed.
6. Mashed Potatoes: Place potatoes in a large pot and fill with water until potatoes are completely submerged.
7. Place over high heat and boil until potatoes are fork tender, 15 to 20 minutes. Drain and return potatoes back to the pot. Add butter and nut milk and mash until smooth. Season with salt and pepper.
8. Gravy: Place a small pot over medium heat and melt butter. Add garlic and saute for 1 minute. Add flour and onion powder and whisk together. Slowly add stock, while whisking until fully incorporated and no lumps remain. Add soy sauce and season with salt and pepper. Boil gravy for 5 to 7 minutes or until thick enough to coat the back of a wooden spoon.
9. Assemble: Scoop mashed potatoes into a large bowl and top with meatballs. Drizzle gravy over entire dish. Top with fresh thyme leaves, if using. Serve.