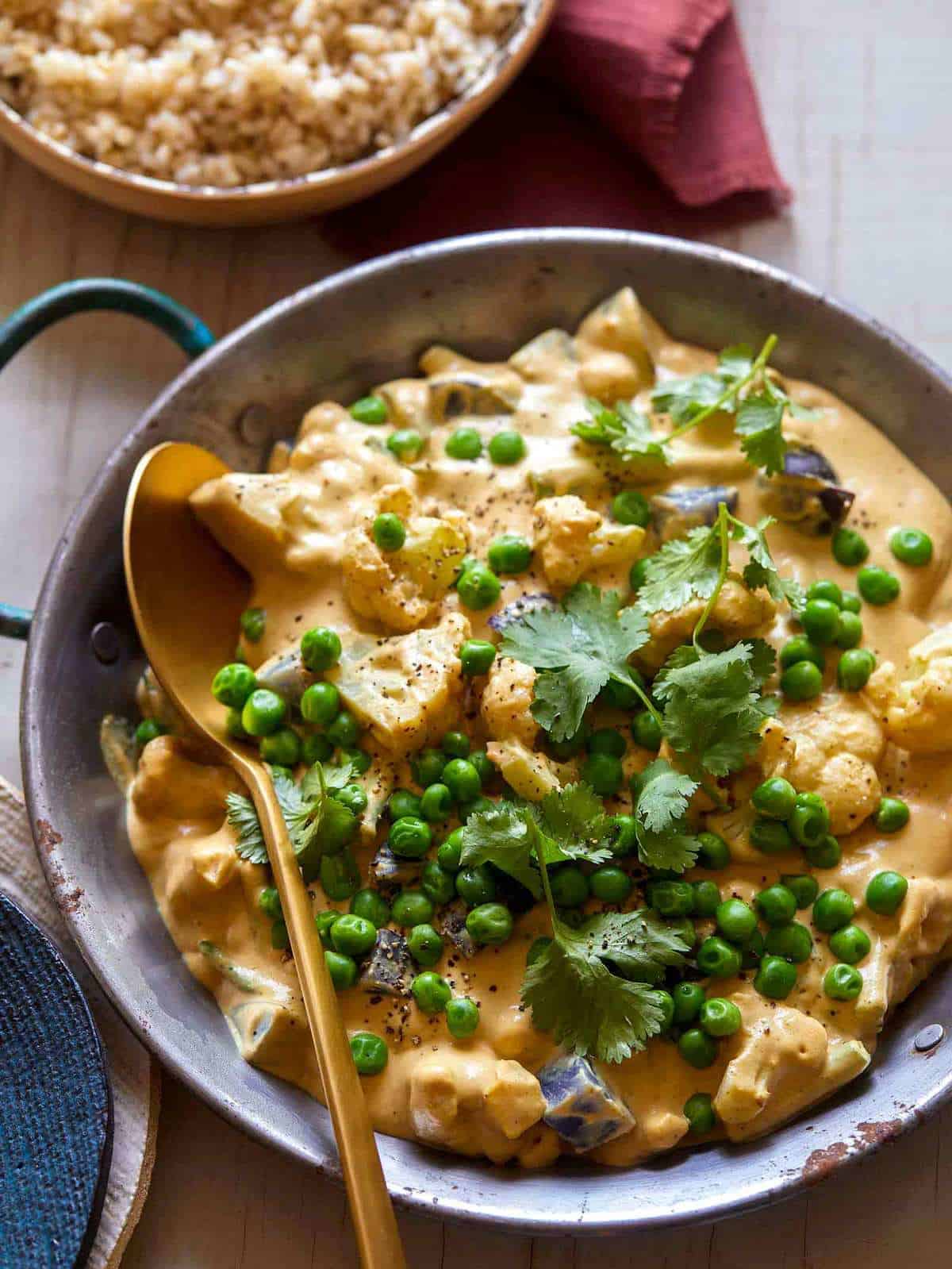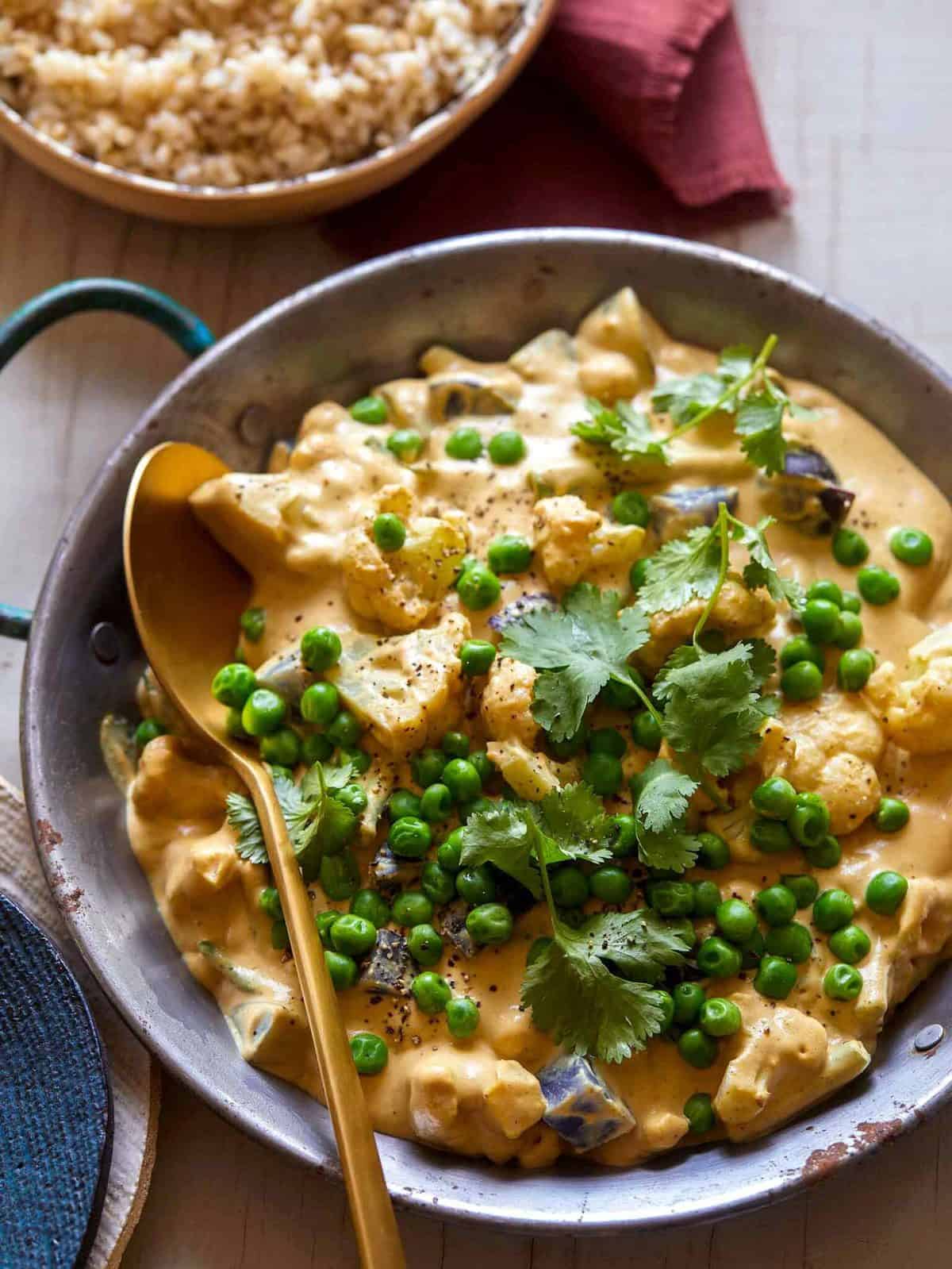 Have you guys been enjoying the vegan recipes we've been putting out here and there? Truth be told, the meals my husband and I eat at home are probably 50-60% vegan. I love create really decadent, cream and meat filled dishes for the blog, because they're fun and there's always a time and a place for them, but when it's just the hubs and I enjoying a meal at home or out, we're usually more drawn towards things like stewed lentils (dal), grain bowls, etc. Don't get me wrong, I can take down a bacon cheeseburger and hot dog any day, but on a consistent, day to day basis a dish like today's Vegetable Loaded Vegan Korma is a little more up my alley. I love how creamy and filling this dish is, a total comfort dish without too much guilt (still a little guilt in this dish, but that's what makes it so yummy, lol).
The creaminess in this dish comes from the raw, soaked cashews and the coconut milk. You can replace the cashews for raw, soaked almonds (making sure to soak the almonds for twice as long), but I would recommend NOT replace the canned coconut milk with light coconut milk; it just won't give you the texture or consistency you need to make this dish super cozy. This dish is even better the next day, but you may need to thin it out a tad bit with some water or a little more coconut milk. Enjoy! xx, Jenny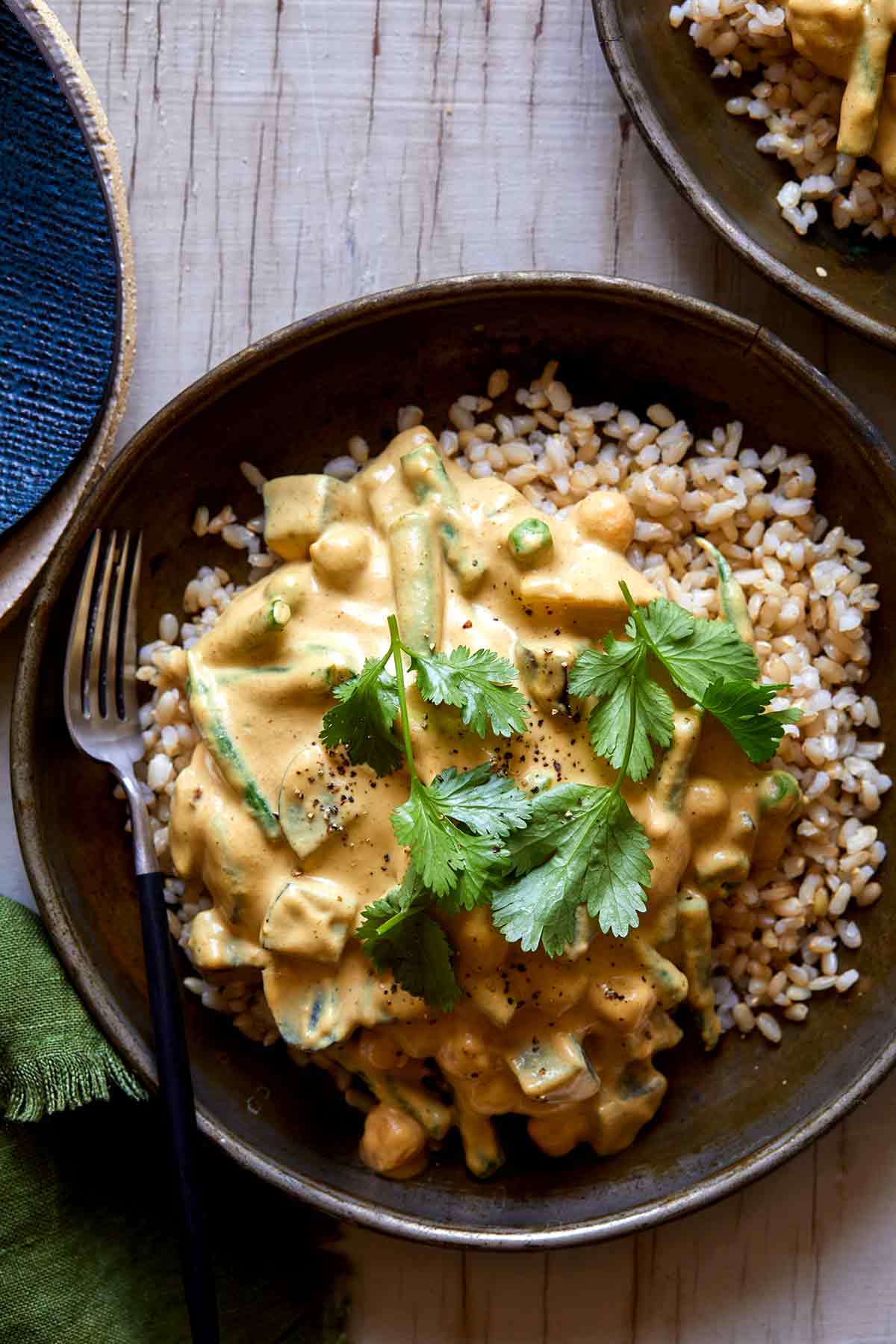 Hungry for more?
Subscribe to never miss a recipe.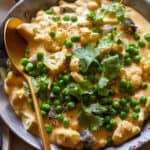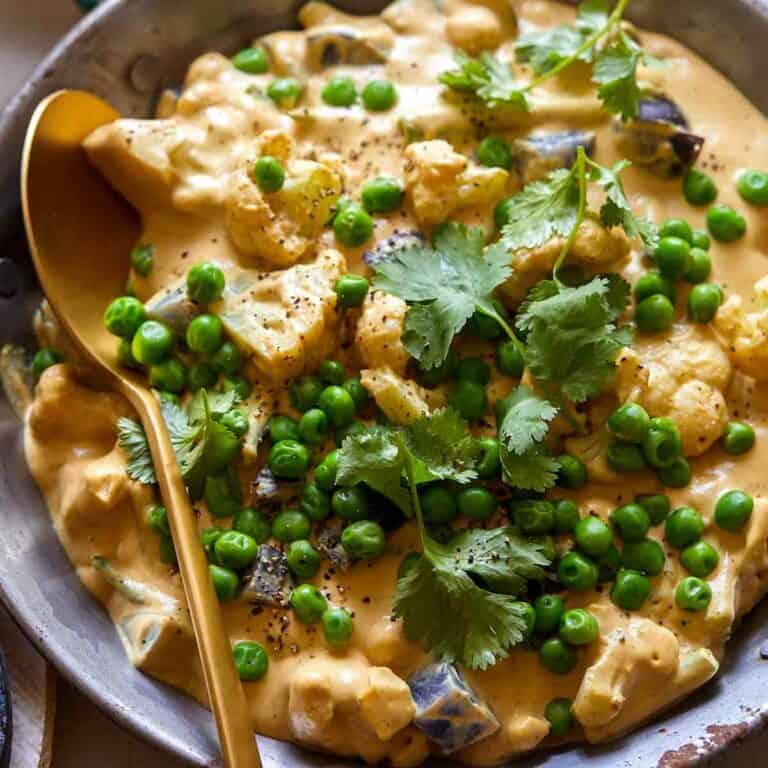 ---
Vegetable Loaded Vegan Korma
INGREDIENTS
3

tablespoons

extra virgin olive oil, divided

1

medium purple (or russet) potato, peeled and diced

½

head cauliflower, cut into bite-sized florets

12

green beans, trimmed and cut into 1 inch pieces

2

teaspoons

curry powder, divided

½

onion, diced

2

garlic cloves, minced

1

teaspoon

minced ginger

1

teaspoon

garam masala

1

teaspoon

ground coriander

1

teaspoon

turmeric

½

cup

raw cashews, soaked in 1 cup water for 1 hour

3

tablespoons

tomato paste

1

(15 ounce) can coconut milk, divided

½

cup

frozen peas, thawed

salt and pepper to taste
INSTRUCTIONS
Pour 2 tablespoons oil into a large saucepan over medium-high heat.

Add potatoes and sauté for 3 to 4 minutes.

Reduce heat to medium, add cauliflower and continue to sauté for 4 to 5 minutes or until the potatoes and cauliflower begin to get soft and tender. Season with salt and pepper and 1 teaspoon curry powder.

Add green beans and continue to sauté for 2 to 3 minutes.

Remove from heat and transfer vegetables to a plate and set aside.

Place saucepan back over medium heat and add remaining oil.

Add onion to the pan and sauté for 3 to 4 minutes. Add garlic and ginger to the pan and continue to sauté for 2 to 3 minutes.

Stir in remaining curry powder, garam masala, coriander, and turmeric to pan and toast for 1 minute. Season with salt and pepper.

Transfer mixture to a blender and add cashews (with water) and half of the coconut milk.

Blend together until mixture is smooth.

Pour mixture back into the pan and simmer over medium-low heat. Stir in tomato paste and coconut milk and simmer for 5 to 7 minutes. Season with salt and pepper.

Stir sautéed vegetables and peas back into the sauce and simmer until vegetables are cooked through completely.

Adjust seasonings, if needed, and serve over brown rice or with flatbread.
NOTES
*If you don't have a high powdered blender, you can replace the raw cashews with raw cashew butter, for a smooth sauce.
*If your sauce is too thick, you can add a little water to get the right consistency.
Calories:
691
kcal
Carbohydrates:
44
g
Protein:
13
g
Fat:
56
g
Saturated Fat:
32
g
Sodium:
186
mg
Potassium:
1407
mg
Fiber:
10
g
Sugar:
13
g
Vitamin A:
581
IU
Vitamin C:
72
mg
Calcium:
98
mg
Iron:
7
mg