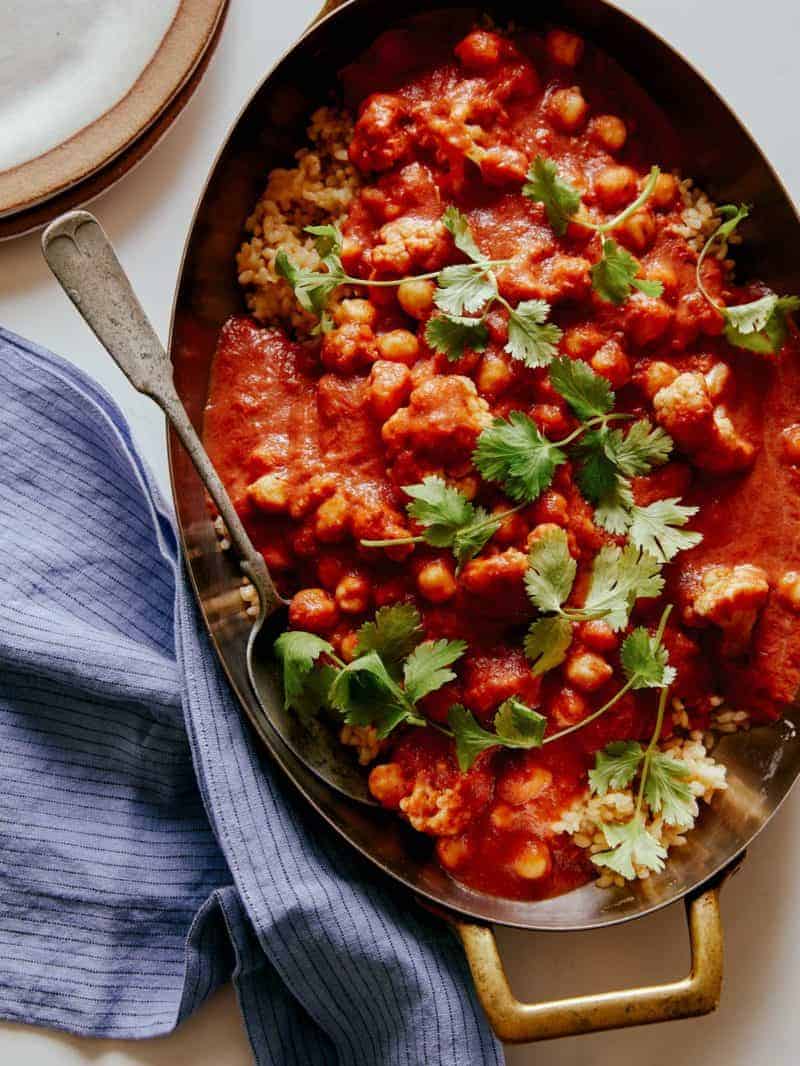 While most of LA seems to be hating all the rain we've been getting the past couple of weeks, Teri and I have been LOVING it! It's really nice to have a handful of cozy days in. I also feel like I'm a lot more productive on 'dreary' days and I'm not really sure why. I'm sure there's some weird statistic about what weather does to peoples psyches that I'm sure I'll 'internet rabbit hole' some day…just not today, lol. Anyway, another reason I've been loving these chilly and rainy days are for all the deliciously stewy sitches that are PERFECT to make and eat on these kinds of days!
Today we have our Spicy Vegan Cauliflower and Chickpea Curry, and guys it's GOOOOOD. I've been seeing lots of versions of cauliflower and chickpea curry lately and I'm all for it! Dishes like this curry really scream cozy and comforting, and who doesn't enjoy cozy and comforting…especially in food form?? Make this easy dish on a chilly day and eat it for the next few days, the flavors only get better and better with time. Enjoy! xx, Jenny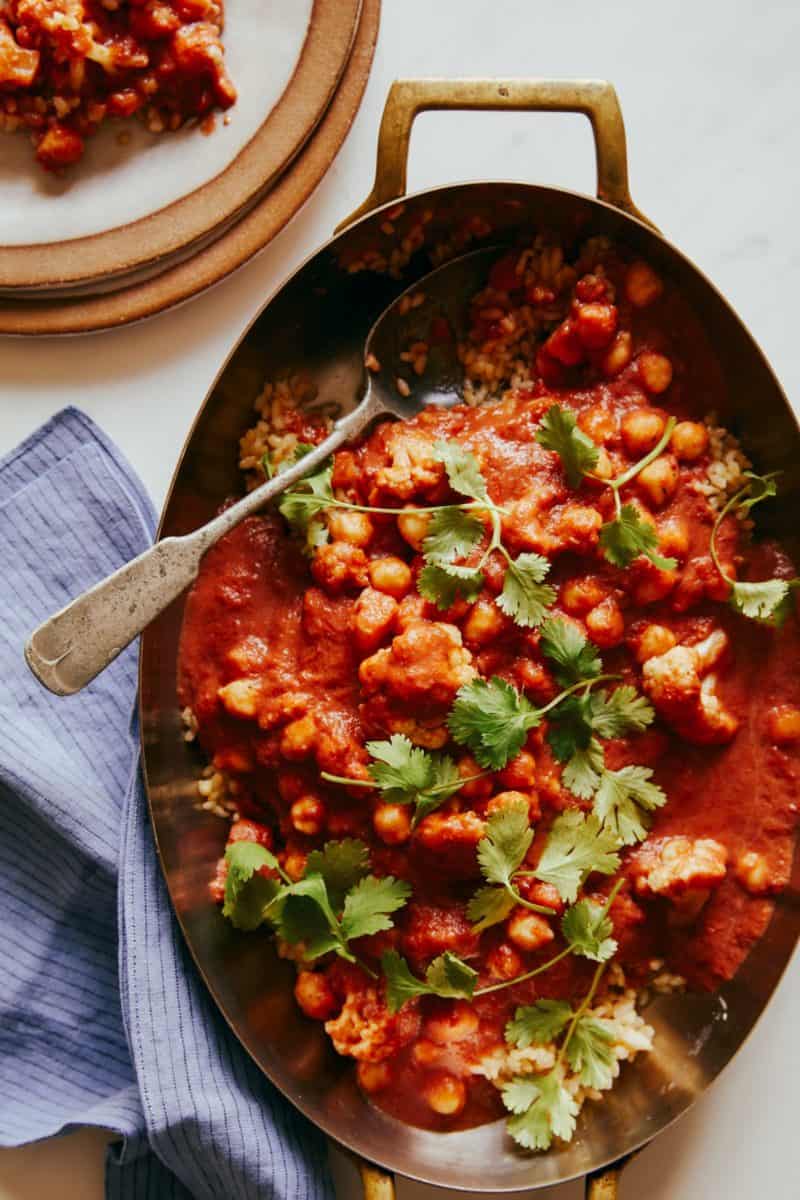 Spicy Vegan Chickpea and Cauliflower Curry

Serves 3 to 4

Ingredients:
1 head cauliflower, stem removed and cut into bite sized florets
1 1/2 teaspoons cumin
1 teaspoon coriander
3 1/2 extra virgin olive oil, divided
1 shallot, minced
2 garlic cloves, minced
1 1/2 teaspoons garam masala
1 teaspoon smoked paprika
1/2 teaspoon chile powder
1/4 to 1/2 teaspoon cayenne
1 (28 ounce) can tomato puree
1 (15 ounce) can chickpeas, drained
1 cup canned coconut milk
salt and pepper to taste
chopped cilantro, garnish
chopped mint, optional garnish

Directions:
1. Place cauliflower florets in a mixing bowl, add 1 teaspoon cumin, 1/2 teaspoon coriander, a sprinkle of salt, and some cracked black pepper and toss together until cauliflower is well coated.
2. Place a large skillet over medium heat and add 1 1/2 tablespoons oil.
3. Add cauliflower and sauté for 3 to 4 minutes.
4. Using a slotted spoon, transfer cauliflower to a plate and set aside.
5. Add remaining oil to skillet. Add shallot and garlic and sauté 3 to 4 minutes.
6. Add remaining spices and continue to sauté for an additional 2 minutes.
7. Stir tomato puree into skillet and lightly season with salt and pepper.
8. Lower heat to medium-low and simmer for 5 minutes.
9. Add cauliflower back into skillet, along with chickpeas, season with salt and pepper and continue to simmer for 10 to 15 minutes or until cauliflower is tender.
10. Stir coconut milk into cauliflower mixture and simmer for an additional 3 to 4 minutes or until sauce is thick (enough to thoroughly coat cauliflower and chick peas) and creamy. Adjust seasonings as needed.
11. Top with chopped cilantro and mint, if using. Serve over brown basmati rice, with a side of grilled pita bread.