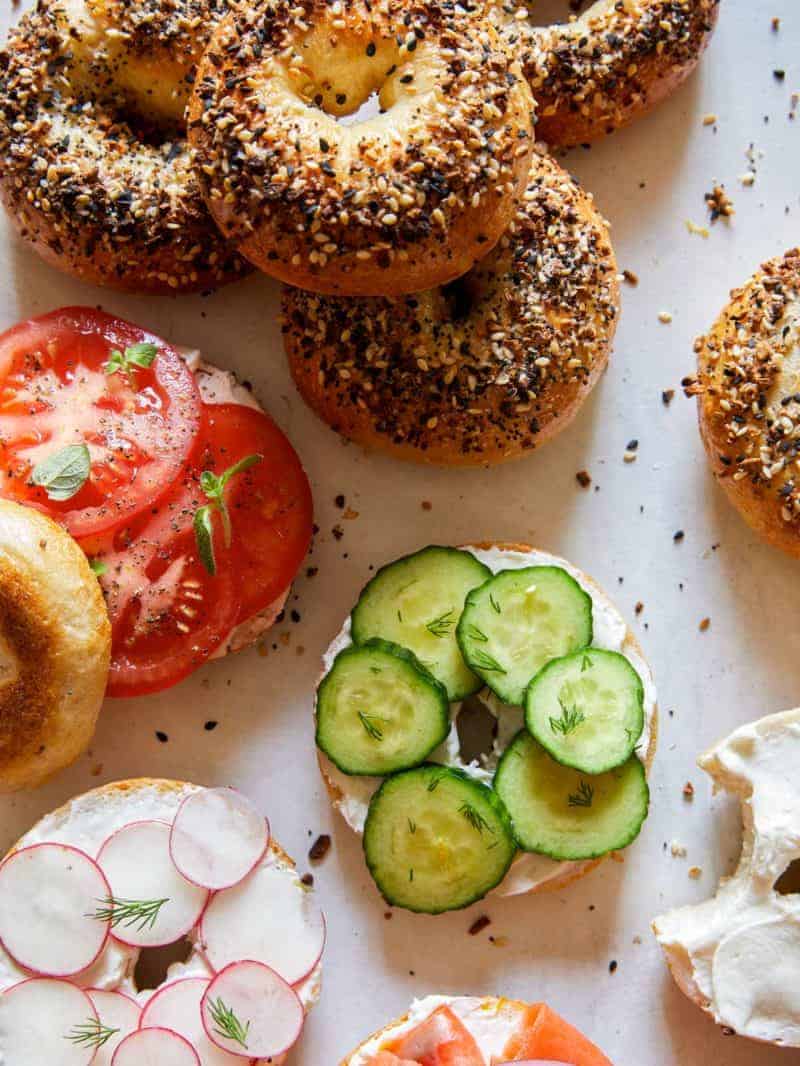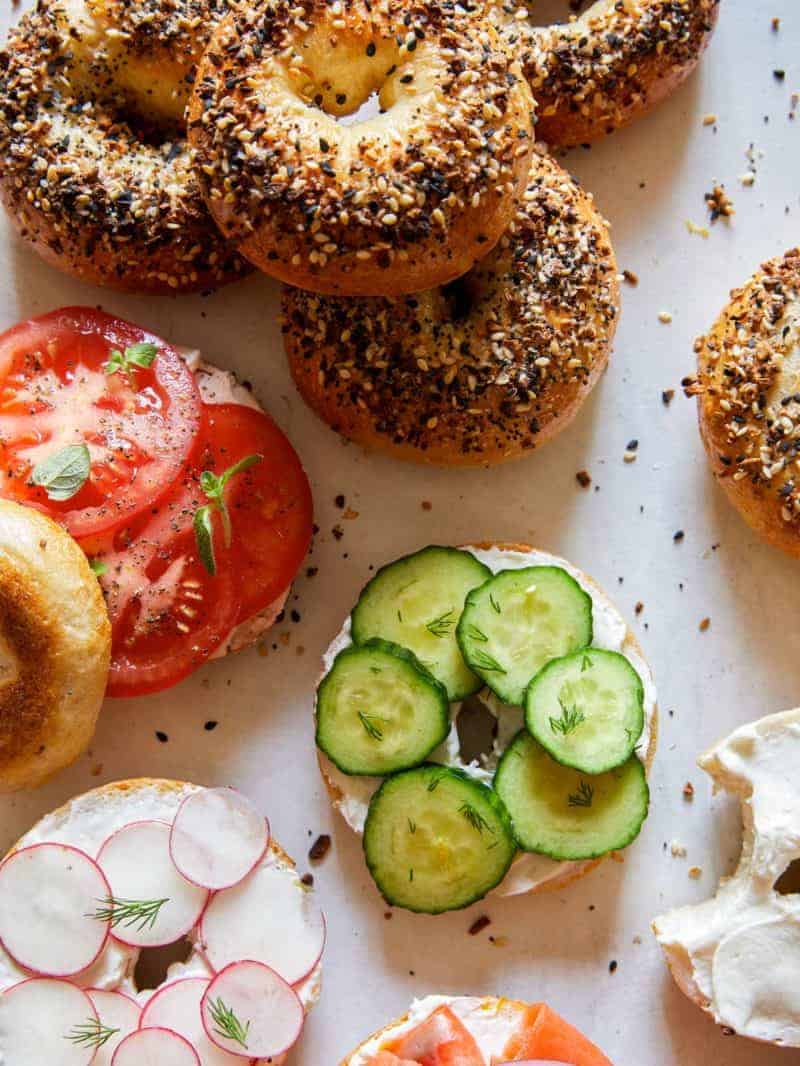 Bagels. Oh how I love bagels. Seriously though. I think I could eat a bagel every single day for the rest of my life. My love handles and double chin wouldn't be pleased, but whatever. For some reason its taken me a really long time to make homemade bagels and now that I have, YAY! I mean I'm not going to be dramatic and say something like, "GAME CHANGER!" or "LIFE CHANGING" or "I'LL ONLY EVER EAT HOMEMADE BAGELS FROM NOW ON!"…because lets be serious, it's not and I won't; BUT what I will say is that fresh homemade bagels are pretty darn amazing and a VERY satisfying accomplishment. They're also a lot easier to make than one would think.
Bagels require such few ingredients and the active time is minimal. you're mostly sitting and waiting for the dough to proof. I think maybe the water bath aspect initially intimidated me, yet I've been making pretzels for years (which also requires a water bath) so my logic doesn't really make sense, but whatever!…I've overcome my weird fear and now urge you all to make your own bagels, even if it's just one time! I promise if nothing else, you'll feel very pleased with yourself. Enjoy! xx, Jenny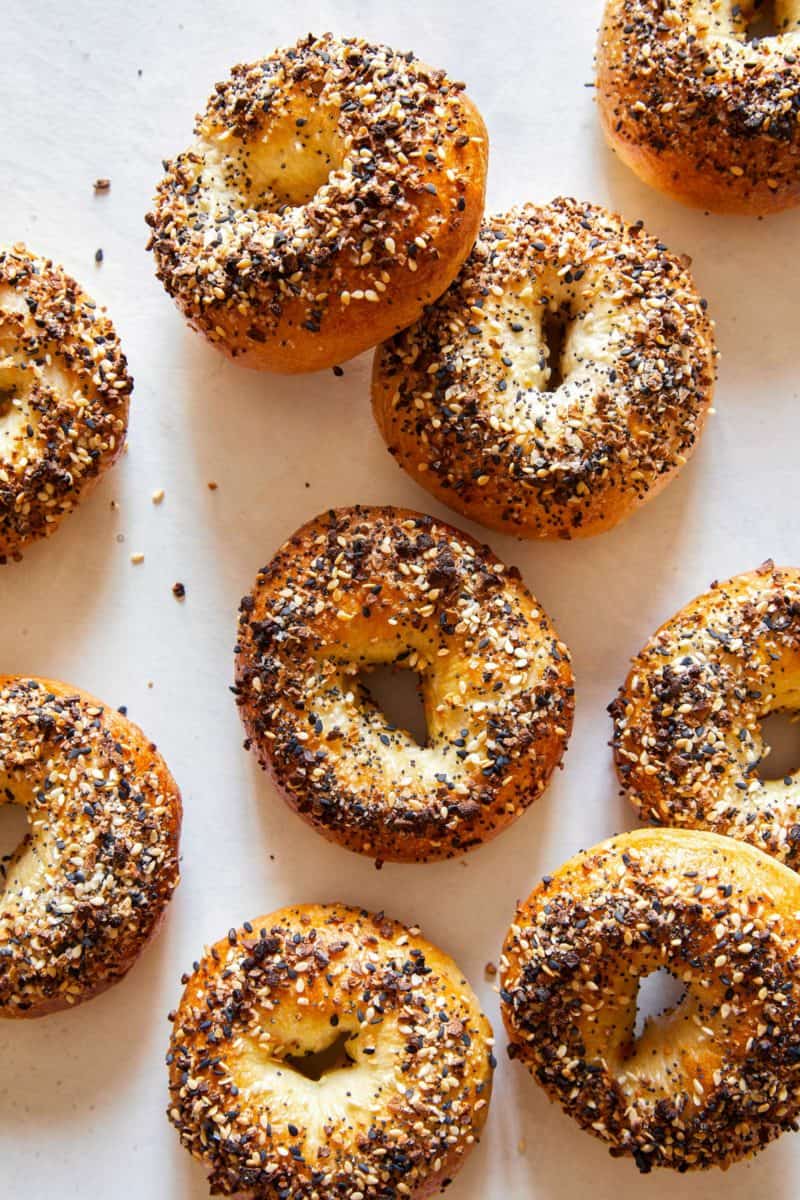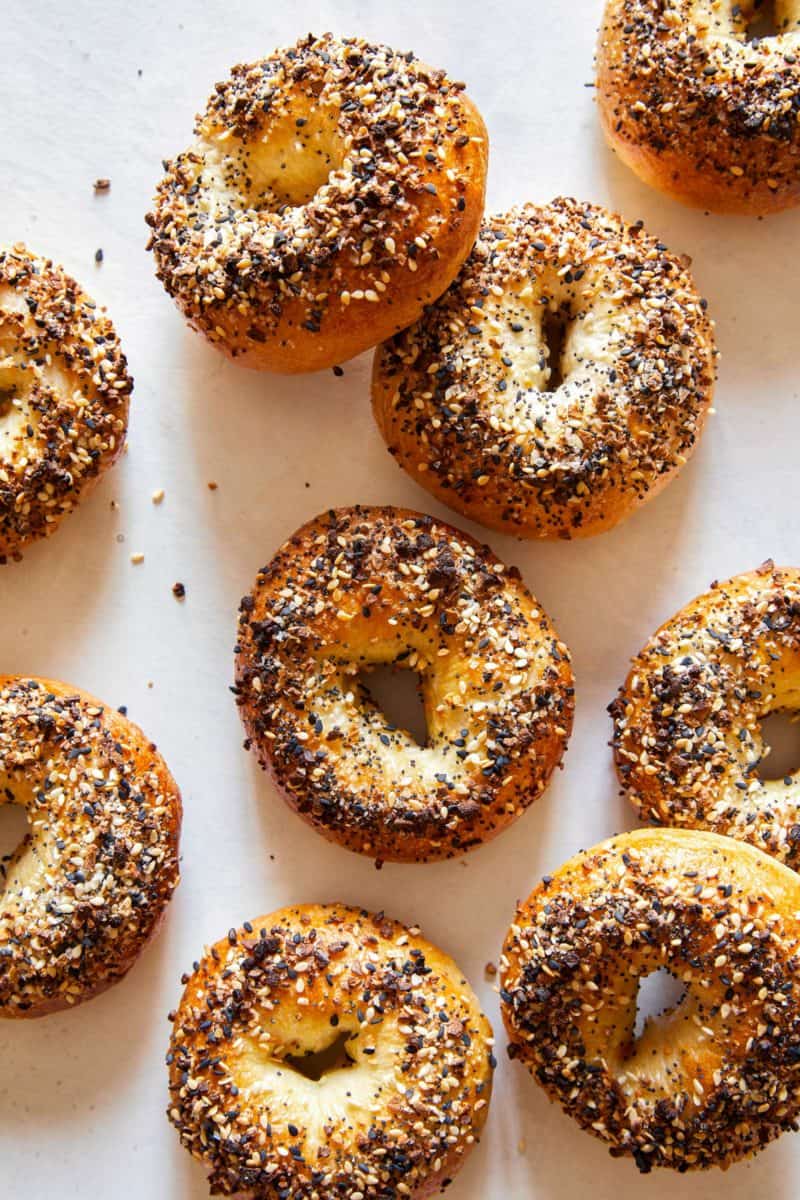 Hungry for more?
Subscribe to never miss a recipe.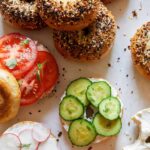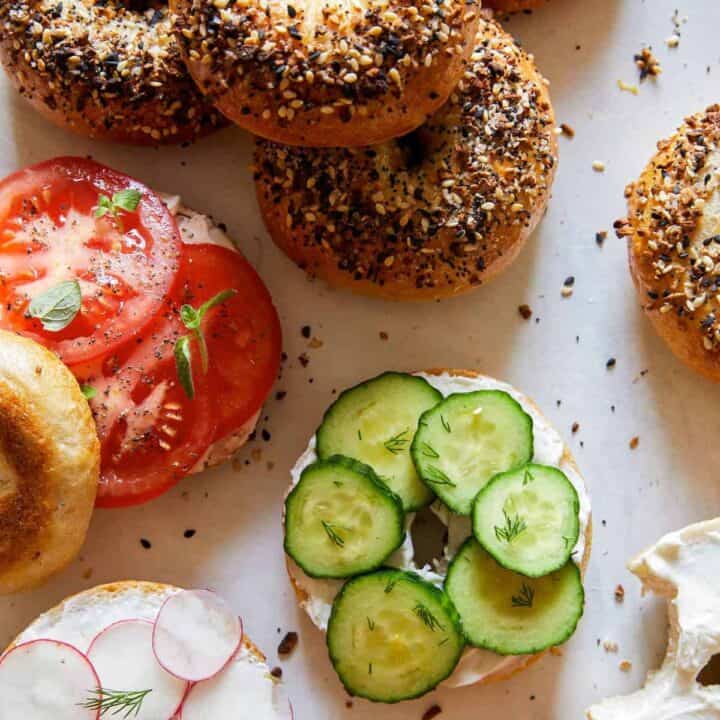 ---
Mini 'Everything' Bagels
INGREDIENTS
bagels
1 ⅓

cups

lukewarm water

1

tablespoon

malt barely syrup

or honey

1

tablespoon

active dry yeast

¼ ounce

1 ½

teaspoon

salt

3 ½

cups

bread flour
water bath
2

quarts

water

¼

cup

malt barely syrup

or honey
INSTRUCTIONS
Pour water into a large mixing bowl, gently stir in malt barely syrup and sprinkle yeast over mixture. Allow mixture to sit for 5 minutes. Once yeast is foaming, add salt and mix together. While mixing add flour, 1 cup at a time, until all flour has been added and a rough dough forms.

Turn dough onto a lightly floured surface and knead until dough is smooth and elastic, about 7 to 10 minutes.

Lightly grease a large mixing bowl, add dough and cover with a clean dish towel. Place in a warm area and allow dough to proof for about 1 1/2 hours or until dough has doubled in size.

Punch center of dough and turn onto a clean and lightly floured work surface. Divide dough into 16 or 18 pieces and roll each into a small ball.

Carefully press your finger through the center of each ball of dough and spin ball around, while slightly stretching the dough until each are about 2 inches in diameter. Loosely cover shaped bagels and allow them to slightly proof again, 20 to 30 minutes.

While bagels proof, bring water and malt barely syrup to a light boil in a wide mouthed pot; once malt barely syrup has dissolved and bagels have proofed, carefully line 2 baking sheets with parchment and set aside.

Carefully transfer a few bagels into the water bath, ensuring not to overcrowd the pot.

Boil each bagel for a minute, flip each over and boil for an additional minute.

Using a slotted spoon, carefully remove bagels from water bath and transfer to one of the parchment lined baking sheets, about 1 inch apart.

Repeat until all bagels have been in the water bath.

Whisk 1 tablespoon water into the beaten egg and brush mixture over each bagel. Sprinkle a generous amount of everything bagel seasoning over each bagel.

Bake bagels for 15 minutes, turn each baking sheet and continue baking for an additional 7 to 10 minutes or until bagels have puffed up and browned.

Remove bagels from oven and cool completely on a cooling rack. Split bagels in half and serve with toppings of choice.
Calories:
124
kcal
Carbohydrates:
25
g
Protein:
4
g
Fat:
1
g
Saturated Fat:
1
g
Cholesterol:
12
mg
Sodium:
208
mg
Potassium:
98
mg
Fiber:
2
g
Sugar:
5
g
Vitamin A:
22
IU
Vitamin C:
1
mg
Calcium:
54
mg
Iron:
1
mg