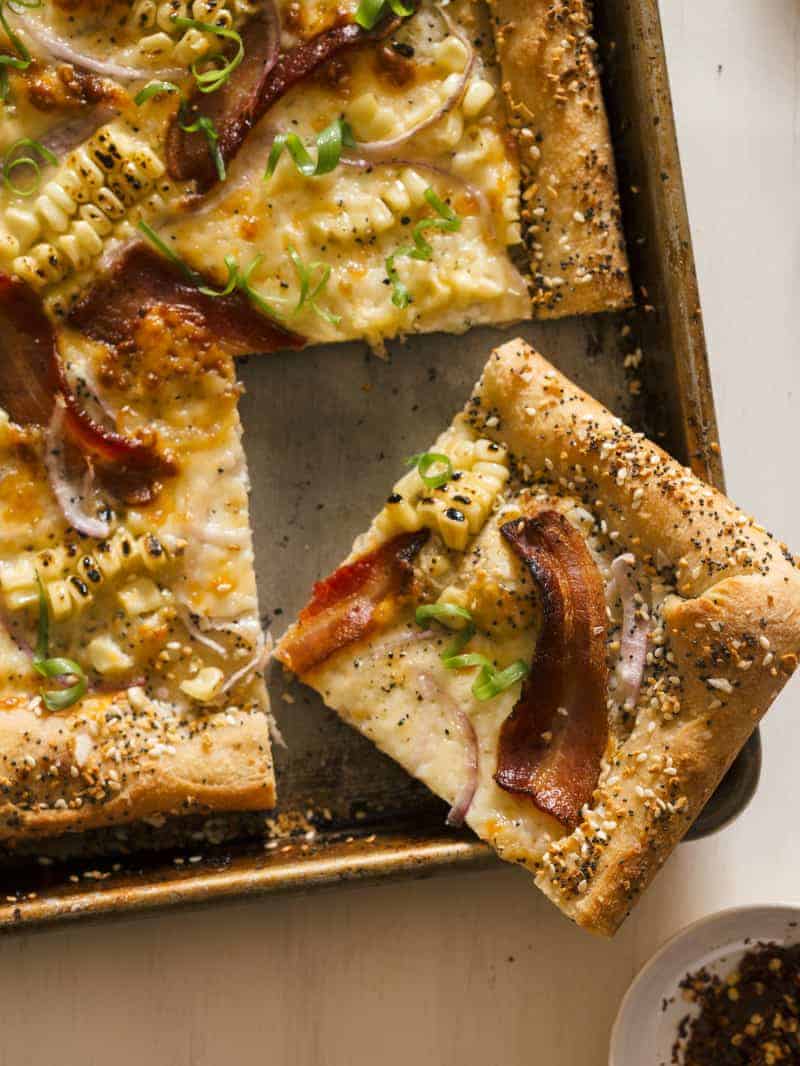 Hello my name is Jenny and I love pizza. Seriously though, I LOVE pizza. Although I'm from Chicago, land of the deep dish, I don't discriminate; I love every and all pizzas. As much as I love a super simple and perfectly cooked Nepalese-style wood-fire pizza, the forever Midwest gal in me gets absolutely silly for a stuffed crust pizza.
Who invented the stuffed crust?! I actually read a couple articles on it, most notably this Bloomberg article from 2013. Apparently as the story goes, Pizza Hut launched the stuffed crust into into stardom, but two other people (NJ natives) both claim they had created the stuffed crust years ago, etc etc. I always get curious about these kinds of random things, don't you? It's just interesting to me.
Anyway, our version today is a bit different from the typical cheese stuffed crust, our crust is actually stuffed with cream cheese AND it's topped with "everything bagel topping"! It's sort of my way of giving a big high-five to pizzas, stuffed crusts and everything bagels all at once! I really should've started this post with "Hello my name is Jenny and I love pizza AND bagels", because that statement is totally true, a little too true. I'm basically a carb-loading whore and I'm pretty okay with it.
I love the crunch and flavor you get from the "everything topping" and paired with the savory cream cheese center, it's perfect! This recipe really gives you the best of both bread + cheese loving worlds; and let me tell ya, the seamless transition of eating pizza to 'bagel' is pretty spectacular. I highly recommend making this recipe for Father's Day with a test-run before hand, and not to make sure you like it, but just so you can eat it twice in 2 weeks, lol. Enjoy! xx, Jenny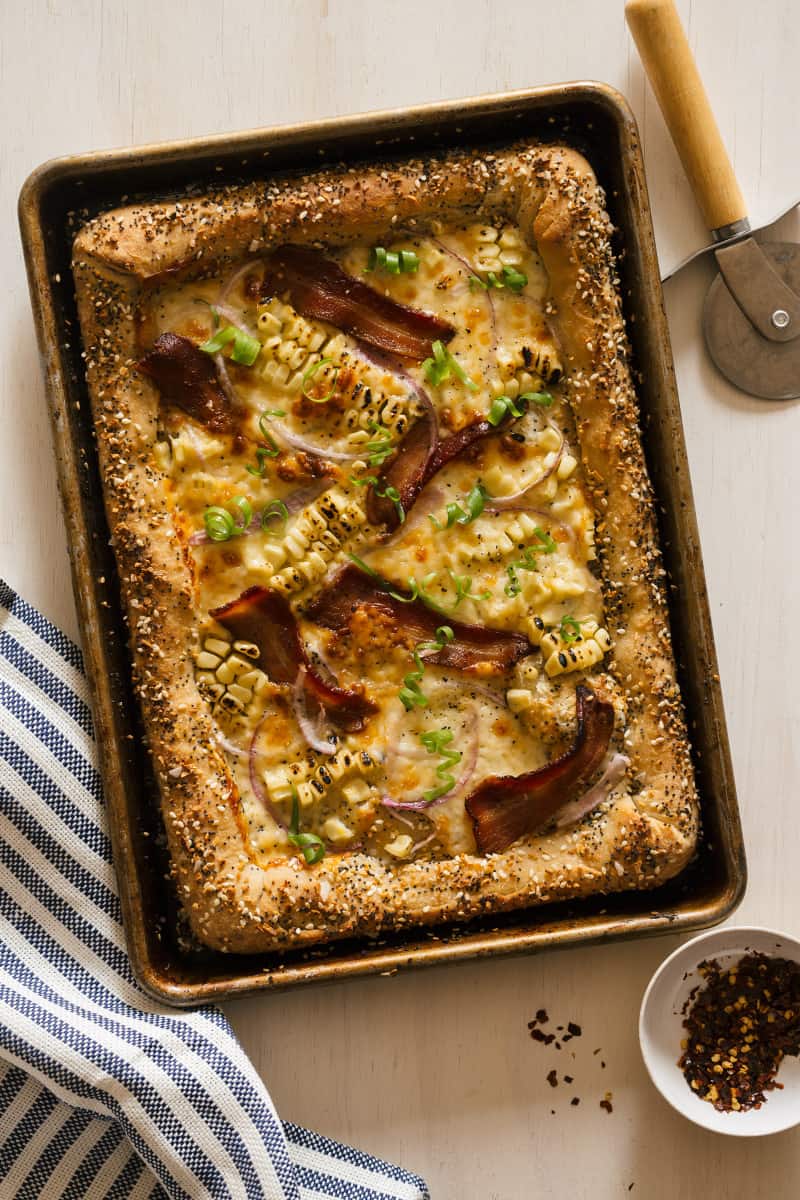 Charred Corn + Bacon Pizza with a Cream Cheese Stuffed, "Everything" Topped Crust

Makes 1 (9"x12") pizza

Ingredients:
"everything" seasoning:
1 tablespoons sesame seeds
2 teaspoons garlic flakes
2 teaspoons onion flakes
2 teaspoon poppy seeds
1/2 teaspoon crushed sea salt flakes

2 tablespoons extra virgin olive oil, divided
1/3 cup medium-ground yellow cornmeal
1/2 recipe pizza dough, room temperature

6 ounces cream cheese, softened and whipped
4 ounces shredded fontina cheese (can use Monterey Jack)
2/3 cup charred corn kernels (from 1 corn on the cob)
3 strips of bacon, cooked and cut into 1 inch pieces
¼ cup thinly sliced red onion (about 1/8)
2 green onions, thinly sliced
cracked black pepper to taste

Directions:
1. For 'Everything' seasoning: Place all ingredients into a mixing bowl and stir together until completely combined. Set aside until ready to use.
2. Preheat oven to 500˚F. Brush 1 tablespoon of oil onto a 9"x12" baking sheet (with a lip) and sprinkle to cornmeal.
3. Roll dough out on a clean, lightly floured surface until you have an 11"x14" rectangle about 1/4" thick dough. Transfer the dough onto the prepared baking sheet, allowing excess dough to hang over the edge.
4. Brush 1/2 tablespoon of oil over the dough and fill a piping bag or disposable plastic quart-sized bag with the softened cream cheese.
5. Pipe the cream cheese along the entire perimeter of the baking sheet and fold the overhang of dough over the piped cream cheese, pressing the edges to seal.
6. Top pizza with 2/3 of the cheese followed by the corn, bacon, red onion and remaining cheese.
7. Brush remaining oil over the stuffed crust and generously sprinkle with "everything" seasoning.
8. Bake pizza for 10 to 12 minutes or until cheese has melted and crust has browned nicely.
9. Remove from oven and allow pizza to cool for 5 to 7 minutes. Top pizza with green onions, slice and serve.