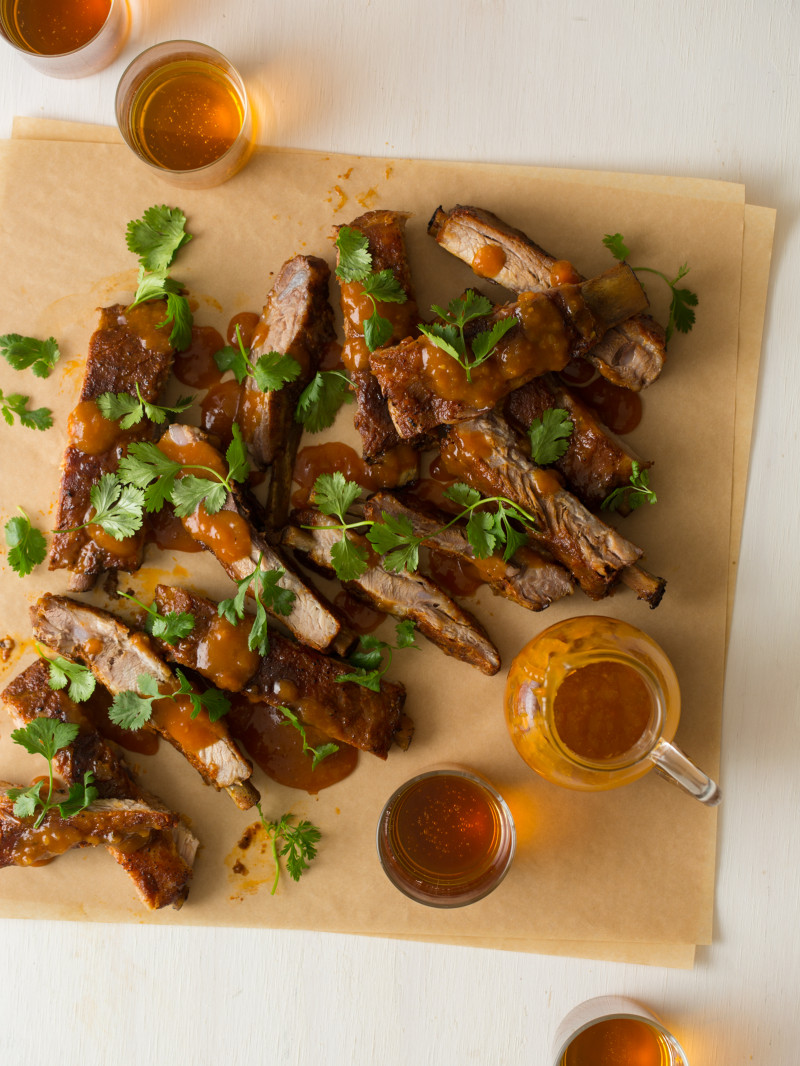 Hi! We are reposting this recipe today because it's delicious and deserves your attention again! Plus Memorial Day is right around the corner and this is the perfect meal! 
I'm so excited the 4th of July is almost here! I love this holiday because everyone tends to run outside and fill beaches, parks, backyards, etc. It's great! This year I plan on walking down to the beach for a little sun before cooking up these Mango and Habanero Glazed Spare Ribs! I love the overall meatiness of spare ribs, but today it's really all about this glorious glaze. There are definitely a handful of ingredients required to make the glaze, but you're mostly just throwing things into a single pot and cooking them together before blending them to a smooth puree, plus this yields about 1 1/2 quarts so you'll have plenty leftover for other uses. My favorite thing about this glaze is that it starts off light and sweet and by the time it slides down the back of your throat you begin to feel the heat. Feel free to go as light of heavy on the heat and you like! I love a good kick in the pants from chile peppers, but I also love the flavor of habaneros so I tend to stick with 1 or 2 peppers so you still feel the heat, but the entire glaze doesn't end up just tasting like pure fire…but adjust accordingly! I love this glaze on grilled spare ribs, but it's also a great multi-use sauce on almost everything…chicken, fish, sauteed vegetables, endless options!
The instructions of this rib recipe are written for the oven, but you can easily convert it to the grill by making sure you maintain a low temperature. It's also important to have the rack sitting in indirect heat at all times, until you're ready to finish the ribs by brushing on some glaze and getting the ribs nice and caramelized! This is a great recipe for 4th of July, but also just great for anytime you're craving a big, messy and delicious meal like ribs! Enjoy! xx, Jenny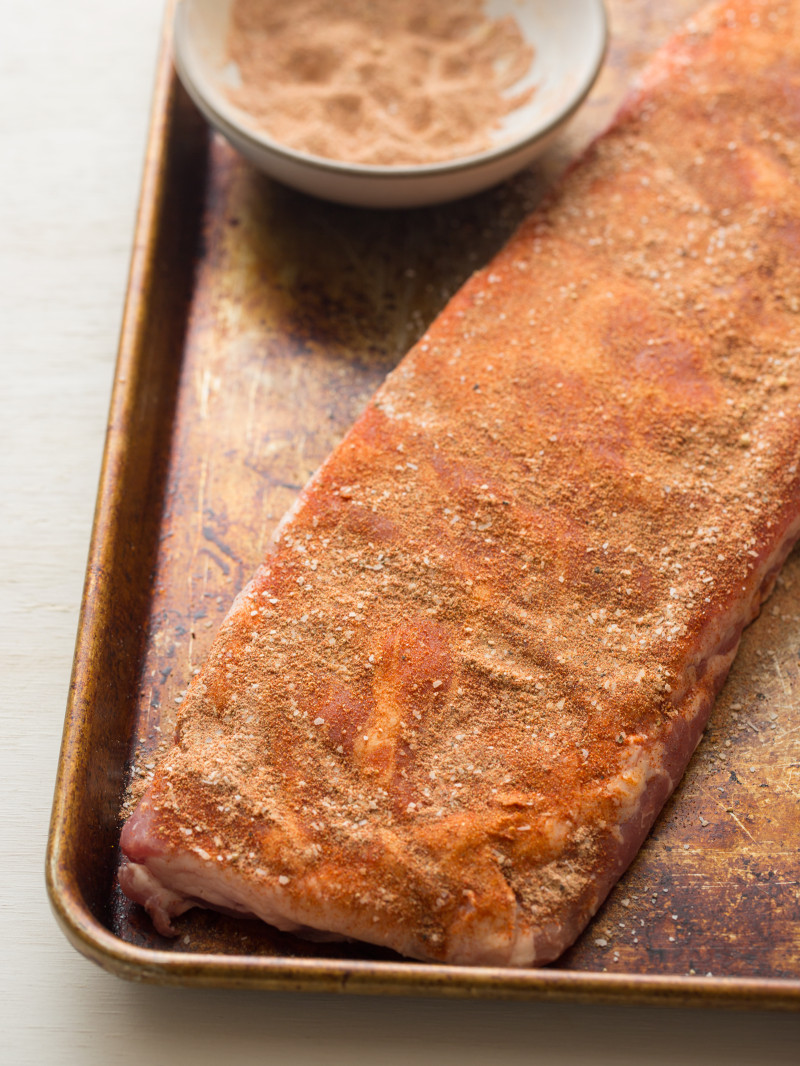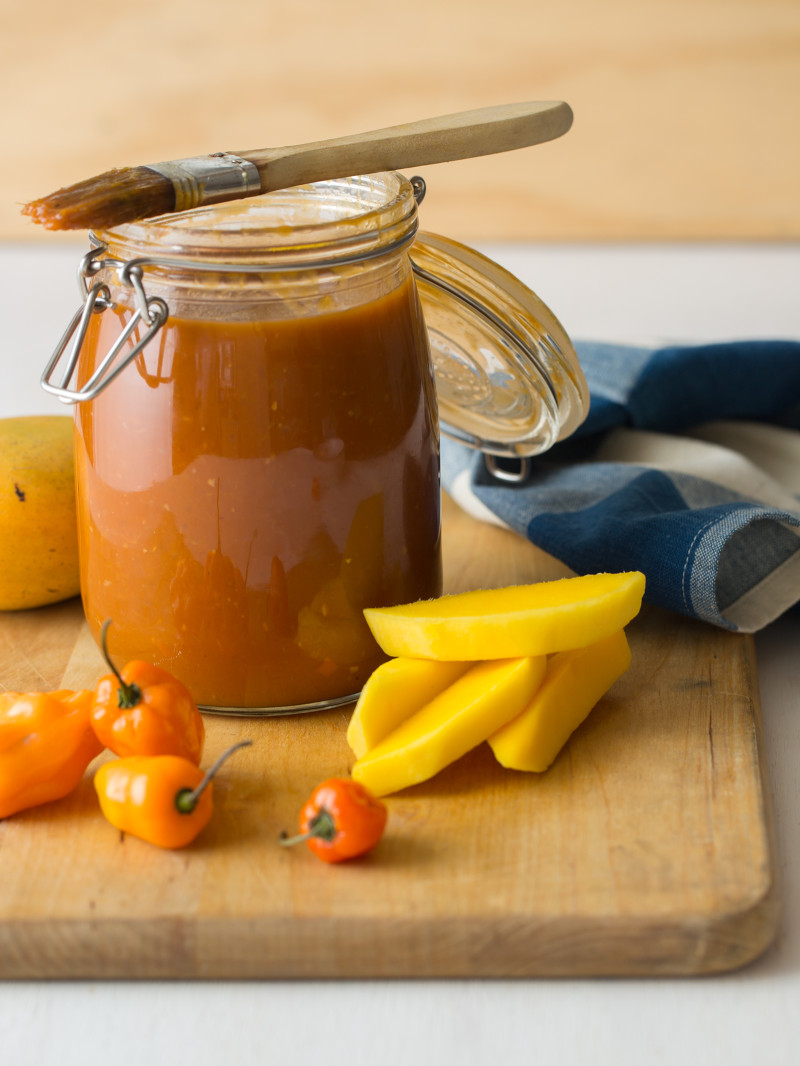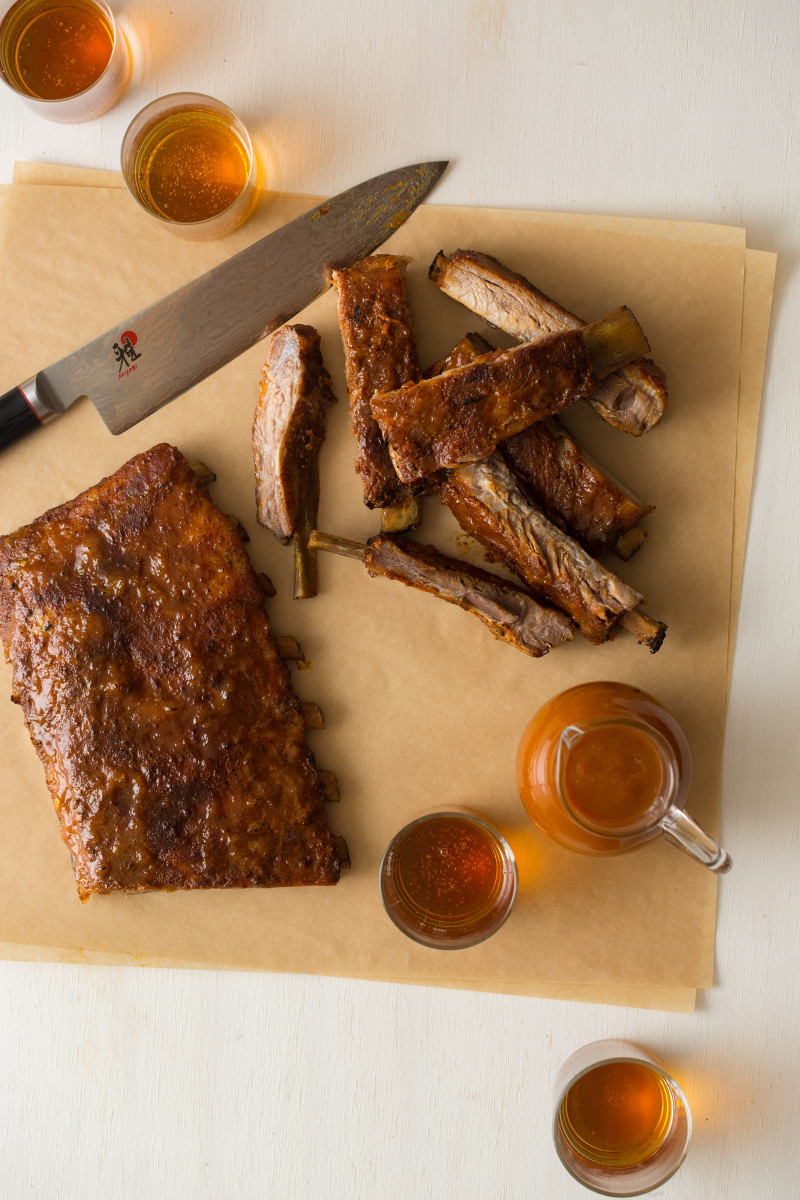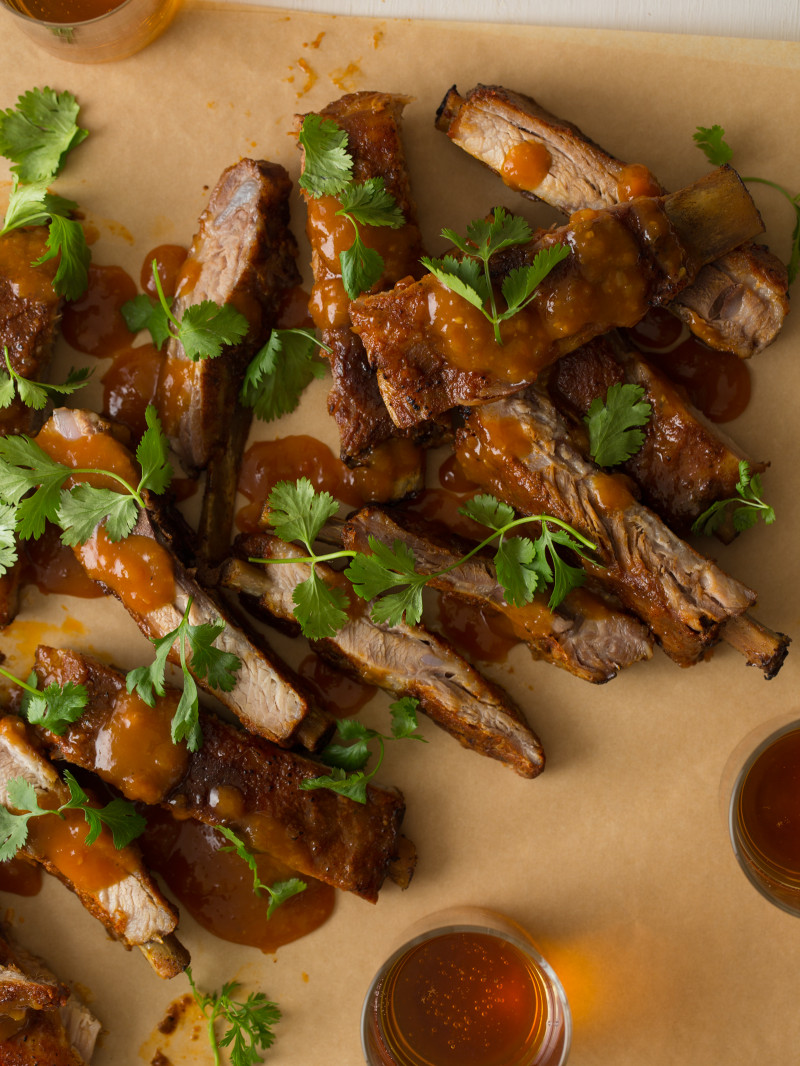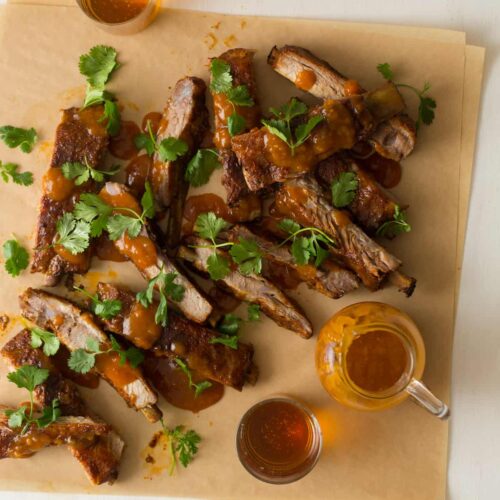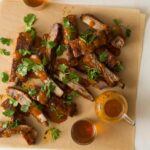 ---
Mango-Habanero Glazed Spare Ribs
INGREDIENTS
1

(3 ½ lb.) rack spare ribs
dry rub
1

tablespoon

garlic powder

2

teaspoons

smoked paprika

1

teaspoon

ground dry mustard

1 ½

teaspoons

sea salt

1

teaspoon

cracked black pepper
mango habanero glaze
2

tablespoons

extra virgin olive oil

1

yellow onion, diced

3

garlic cloves, minced

2

teaspoons

grated ginger

1 ½

cups

diced mango

1

cup

crushed tomatoes

¾

cup

fresh, 100% mango juice

⅔

cup

light brown sugar

½

cup

apple cider vinegar

1

tablespoon

molasses

1

tablespoon

Worcestershire sauce

1

lime, juiced

1 to 2

habanero chiles, seeded and diced

salt and pepper to taste
INSTRUCTIONS
Place ribs on a baking sheet, lined with foil.

Mix together all the dry rub ingredients until well combined. Smother ribs with the dry rub, on both sides, until fully coated and tightly wrap with foil.

Refrigerate and allow ribs to marinate for 12 hours.

For glaze: Pour oil into a large saucepan and place over medium-high heat. Ad onion, garlic and ginger and sauté for 4 to 5 minutes. Season with salt and pepper. Add remaining ingredients and stir until completely combined. Bring mixture to a boil, then reduce heat to medium-low, cover and simmer for 20 to 25 minutes. Set aside and allow mixture to cool for about 30 minutes. Pour mixture into a blender blend until smooth. Pour mixture back into the pan and simmer for an additional 10 minutes. Adjust seasonings and set aside to cool. Store glaze in the refrigerator until ready to use.

Place ribs onto a baking sheet and place into oven, meat-side down, for about 3 hours or until ribs are tender and juicy.

Remove ribs from the oven and carefully unwrap. Remove ribs from the foil completely and place back onto the baking sheet, meat side down.

Turn broiler on high in oven.

Baste ribs with glaze and carefully flip over. Brush the glaze over the meaty side of the ribs and place under broiler for 2 to 3 minutes.

Brush ribs with more glaze and return to broiler for 3 to 5 minutes or until caramelized and the edges begin to crisp.

Remove from broiler and allow ribs to rest for about 10 minutes. Cut rack into individual ribs and drizzle with more glaze. Finish ribs with fresh cilantro leaves and serve.
Calories:
1799
kcal
Carbohydrates:
164
g
Protein:
67
g
Fat:
97
g
Saturated Fat:
29
g
Cholesterol:
296
mg
Sodium:
1649
mg
Potassium:
1644
mg
Fiber:
10
g
Sugar:
127
g
Vitamin A:
13438
IU
Vitamin C:
73
mg
Calcium:
234
mg
Iron:
12
mg