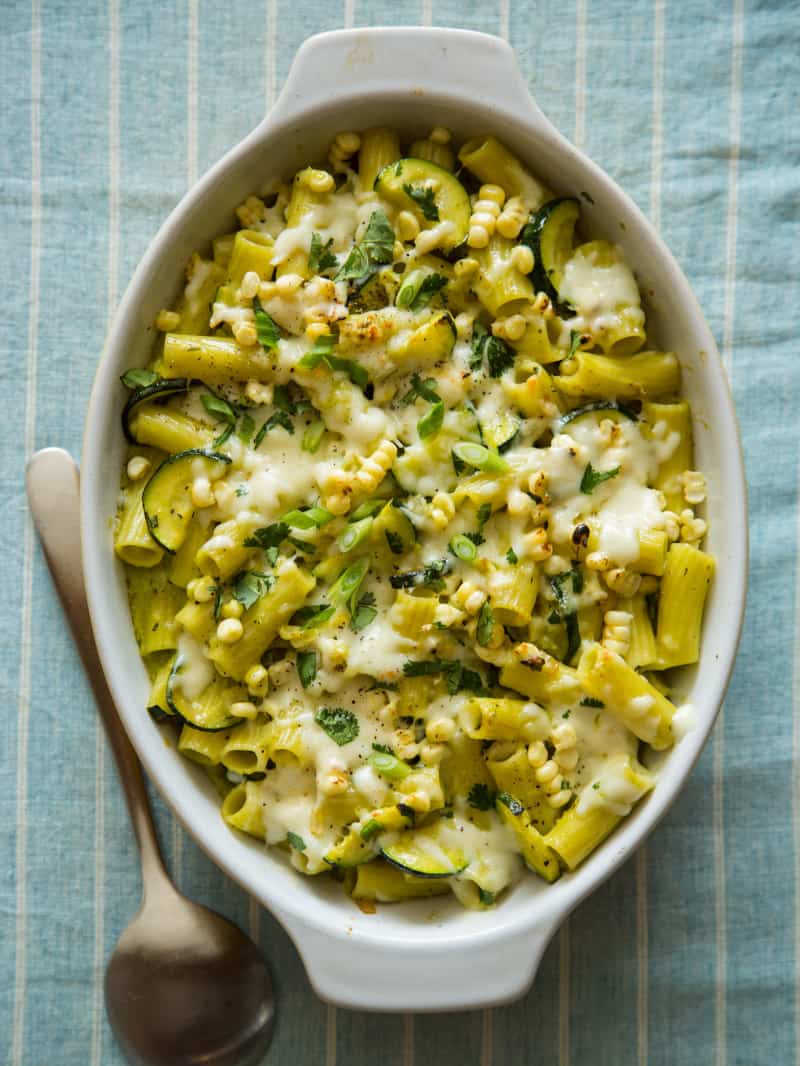 I've been having major carb cravings lately. I mean nothing really new about that I guess, but I've specifically been craving all the pastas….and not like fancy handmade pastas (which is actually one of my few food 'kryptonites') or simple garlic and buttered noodles pasta, but extra creamy, baked pastas. At first I set out to make one of my favorite baked macaroni and cheese dishes, but then decided I didn't want so much a "cheese" sauce as I did a cream sauce. I remembered a very simple recipe I learned in culinary school back in the day, for a roasted poblano bechamel. It was the creamiest, most indulgent sauce that had the most fantastic smoky and subtle peppery flavor that I remember wanting to just guzzle the stuff down as soup.
So I just started cooking, pulling everything out of my fridge and cabinets that I thought would work. The final result is this Baked Chicken Rigatoni with Corn, Zucchini, and a Roasted Poblano Bechamel. Luckily I had just gotten back from a huge farmer's market hull and had plenty of corn and zucchini to throw in..plus, 'tis the season, so yay! And although I didn't want to end up with a "cheese sauce" I do love me some melty, stringy cheese so I decided to toss a bunch of shredded Oaxaca into the dish as well as load the top with it too. This way, I get that melty cheesiness I want while keeping the overall sauce looser, smoky and creamy….if that makes any sense at all (<~ yikes!).
I really love this dish and love that it makes enough for leftovers the next day, because this dish reheats VERY well and makes for a great lunch the next day, especially when paired with a simple mixed greens salad. Enjoy! xx, Jenny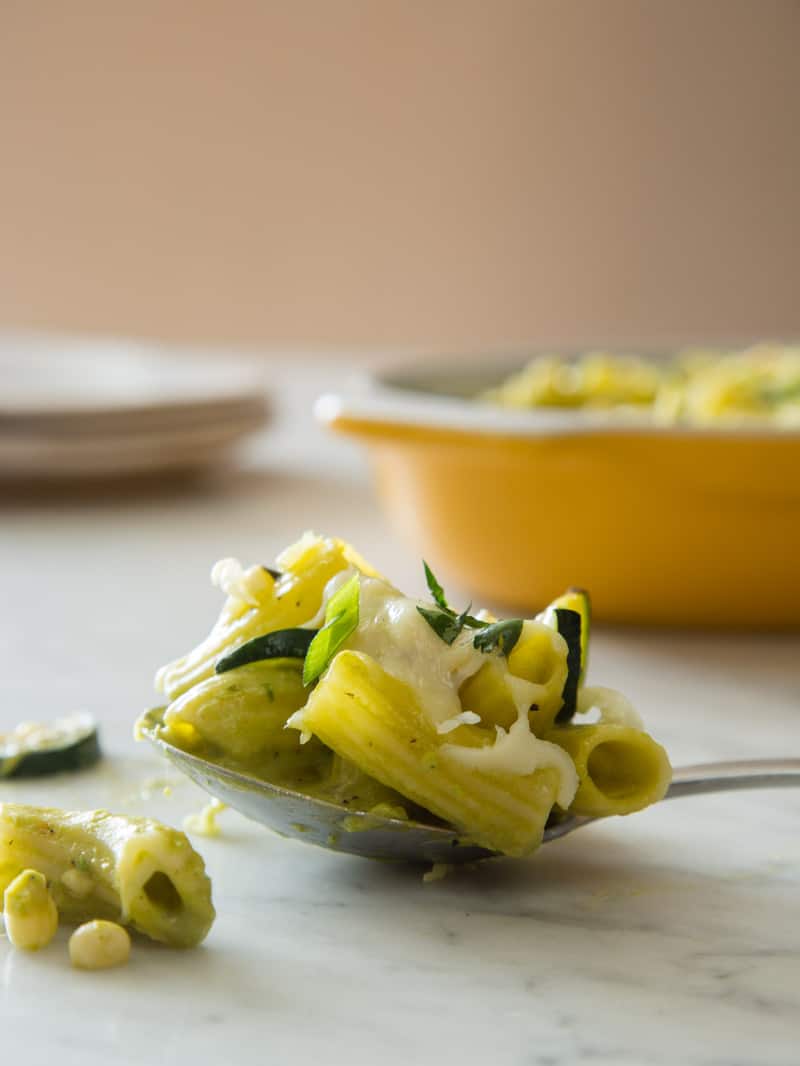 Here are some more baked pasta dishes you will love: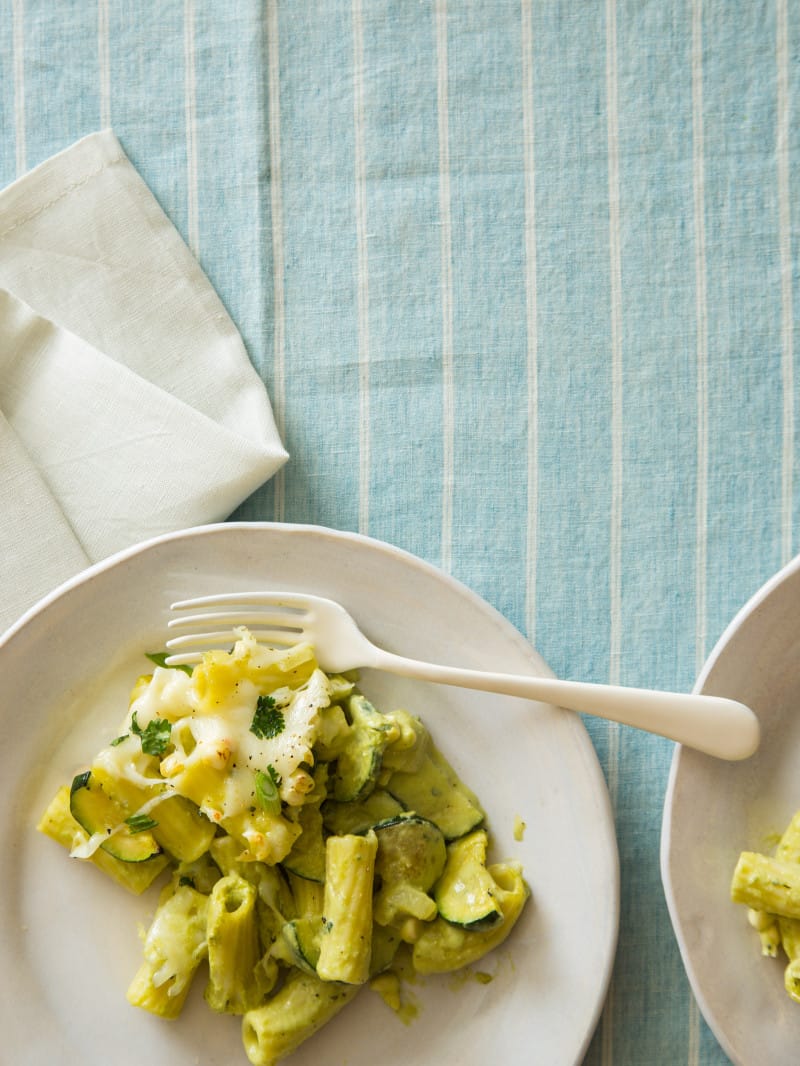 Hungry for more?
Subscribe to never miss a recipe.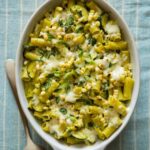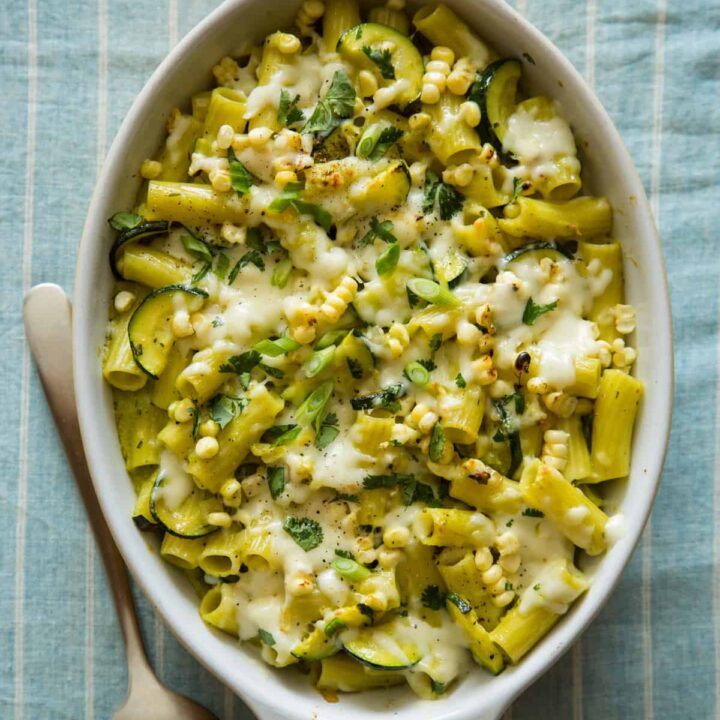 ---
Baked Chicken Rigatoni with Sweet Corn, Zucchini and a Roasted Poblano Béchamel
INGREDIENTS
2

tablespoons

unsalted butter, softened

8

ounces

dry rigatoni

3

tablespoons

extra virgin olive oil, divided

1

shallot, diced

2

garlic cloves, minced

1

large

zucchini, chopped

1

tablespoon

minced oregano

1

tablespoon

minced basil

1

cup

sweet corn kernels

2

heaping cups

cooked and shredded (boneless-skinless) chicken breast
roasted poblano béchamel
4

tablespoons

unsalted butter

4

tablespoons

all purpose flour

14

ounces

whole milk

2

roasted poblano peppers, skinned, seeded and chopped**

7

ounces

shredded Oaxaca cheese

can sub Monterey jack Cheese

juice of 1 lime

salt and pepper to taste
garnish
lime wedges

cilantro leaves
INSTRUCTIONS
Preheat oven to 375˚F. Grease a baking dish with butter and set aside.

Fill a pot with water and bring to a boil, over high heat. Add a small handful of salt and rigatoni and boil for 5 to 6 minutes or until al dente, stirring occasionally.

Drain pasta, reserving 3 tablespoons pasta water and pour into a large mixing bowl and toss with 1 table of oil.

Pour remaining oil into a saucepan and place over medium-high heat.

Add shallot, garlic and zucchini and sauté for about 4 minutes. Season with salt and pepper.

Stir in the oregano, basil and corn and continue to sauté for an additional 3 to 4 minutes. Add chicken sauté for 1 minute.

Pour mixture over cooked rigatoni, lightly season with salt and pepper and toss together. Set aside.

For roasted poblano béchamel: Place saucepan back onto stovetop and melt butter over medium heat. Whisk in flour and continue to whisk until no lumps remain and flour has cooked though, about 3 minutes. Add milk and whisk until no lumps remain.

Simmer until mixture is thick enough to coat back of a wooden spoon. Stir in chopped poblanos and 2 ounces of shredded cheese and season with salt and pepper. Remove from heat and cool for 5 to 7 minutes.

Pour béchamel into the well of a blender, along with reserved pasta water, and seal shut with lid. Remove plastic cover portion of lid and replace it with a clean dishtowel. Blend béchamel for 2 to 3 minutes or until completely smooth.

To assemble: Pour béchamel over rigatoni mixture, add 2 ounces of shredded Oaxaca, and lime juice and adjust seasonings; then toss together. Pour mixture into prepared baking dish and top with remaining 3 ounces of shredded cheese.

Bake for 20 to 25 minutes or until dish is hot, bubbly and top is golden brown.

Remove from oven and allow rigatoni to cool for about 10 minutes.

Top with cilantro leaves and serve with lime wedges.
NOTES
**To Roast Poblano Peppers:
-Place poblano peppers into a baking sheet and place under a broiler. Broil for about 5 minutes, carefully flipping with tongs every 2 minutes until the outside is completely charred. Transfer charred peppers to a heat-safe mixing bowl and cover with plastic wrap for 10 minutes. Uncover and clean away the charred peel from the peppers as well as the stems and seeds.
Calories:
450
kcal
Carbohydrates:
40
g
Protein:
14
g
Fat:
27
g
Saturated Fat:
14
g
Cholesterol:
42
mg
Sodium:
330
mg
Potassium:
380
mg
Fiber:
3
g
Sugar:
7
g
Vitamin A:
648
IU
Vitamin C:
37
mg
Calcium:
112
mg
Iron:
1
mg
CUISINE:
Italian-american