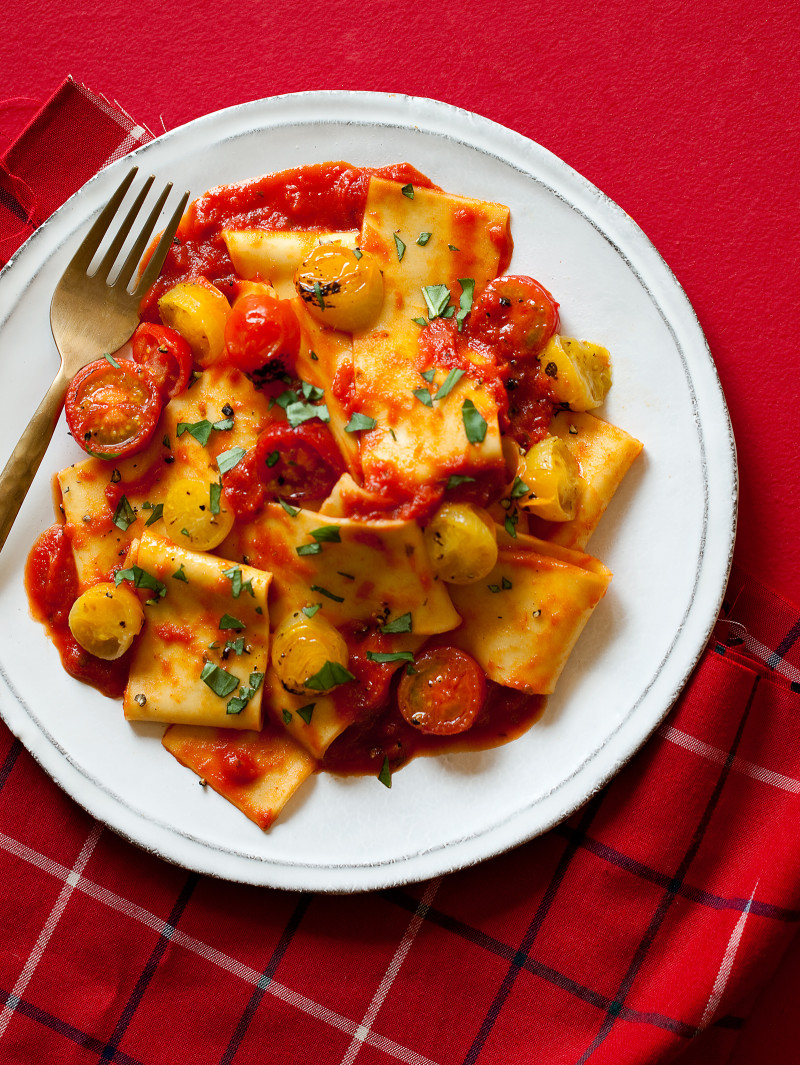 Simple delicious pasta. This Pappardelle Pasta with a Roasted Cherry Tomato Sauce is really beautiful. I feel like this is one of those recipes where you make it the first time you have a boy over at your house and you cook. Simple, no fuss, no screw up, delicious recipes. I feel like cooking for a boy for the first time, you don't want to do anything that could totally bomb. So this is one of those recipes.
♥ Teri
Parpardelle Pasta with a Roasted Cherry Tomato Sauce
Serves 3 to 5
Ingredients:
sauce:
1 ½ lbs cherry tomatoes, halved
1 tablespoon thyme, minced
1 garlic clove, lightly smashed
2 tablespoons extra virgin olive oil
1 (28 ounce) can whole tomatoes with the juices
1 cup basil, roughly chopped
2 tablespoons oregano, minced
½ cup red wine
1 lb fresh parpardelle pasta
garnish:
2 tablespoons basil, chopped
Directions:
1. Preheat oven to 350°F.
2. Bring a large pot up to a boil.
3. Season with a generous amount of salt and add pasta. Stir.
4. Cook until al dente, about 4 to 5 minutes for fresh pasta and 8 to 10 for dry.
5. Drain, reserving ½ cup of pasta water, and gently toss pasta with olive oil. Set aside.
6. Place the cherry tomatoes, thyme, garlic and olive oil onto a baking sheet and toss together.
7. Roast in the oven for 20 minutes, or until soft and lightly caramelized.
8. Pour half of the cherry tomatoes into a small bowl and set aside.
9. Pour the remaining cherry tomatoes into a blender with the canned tomatoes, basil and oregano. Season with salt and pepper and puree until smooth.
10. Pour the mixture into a saucepan and stir in the red wine.
11. Simmer for 20 to 30 minutes. Season with salt and pepper.
12. Toss the sauce, pasta and pasta water together and finish with remaining roasted tomatoes and chopped basil. Serve warm.