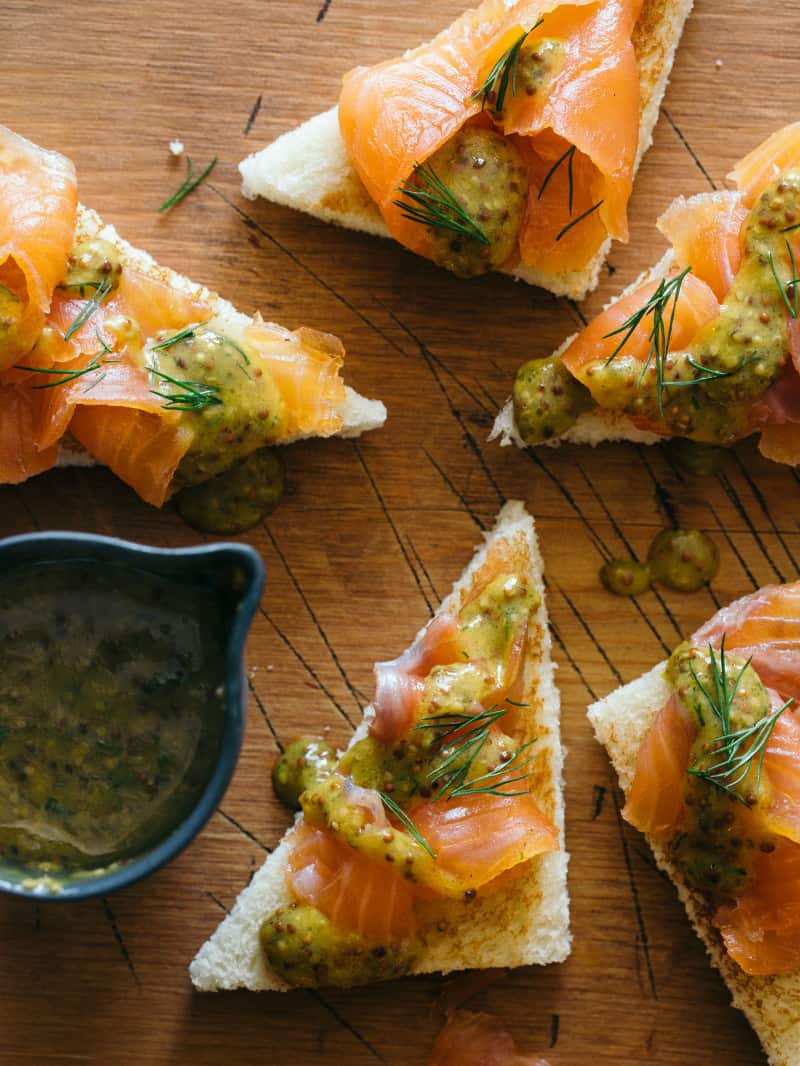 There are so many "quintessential" things that most people find super intimidating to make in the kitchen themselves, until they've tried it one time. I think this goes true for things like gnocchi, bread, ravioli, and what we've made for today, gravlax, or cured salmon. The main, distinct difference between gravlax and smoked salmon is that smoked salmon is cold smoked and gravlax is only cured, traditionally with lots of dill.
Making gravlax is one of those DIY cooking projects that people find intimidating, but really it's one of the easiest and most affordable things to make yourself! Seriously. When I learned how easy it was, I freaked! You can play around with different cure ratios and flavors, but we've kept our version today pretty simple and to the point. I love how the lemon zest and dill almost 'perfume' the salmon during the curing process.
Depending on how strong of a cure you want on your salmon, you can cure the fillets for 2 to 3 days. A salmon with the 2 day cure will not have quite a strong of a briny flavor, and it will still have a pretty soft flesh, while the 3 day cure will have a stronger flavor as well as firmer texture overall. Once you make your own gravlax and see how simple and delicious it really is, you'll rarely want to buy it from the market again…seriously. Enjoy! xx, Jenny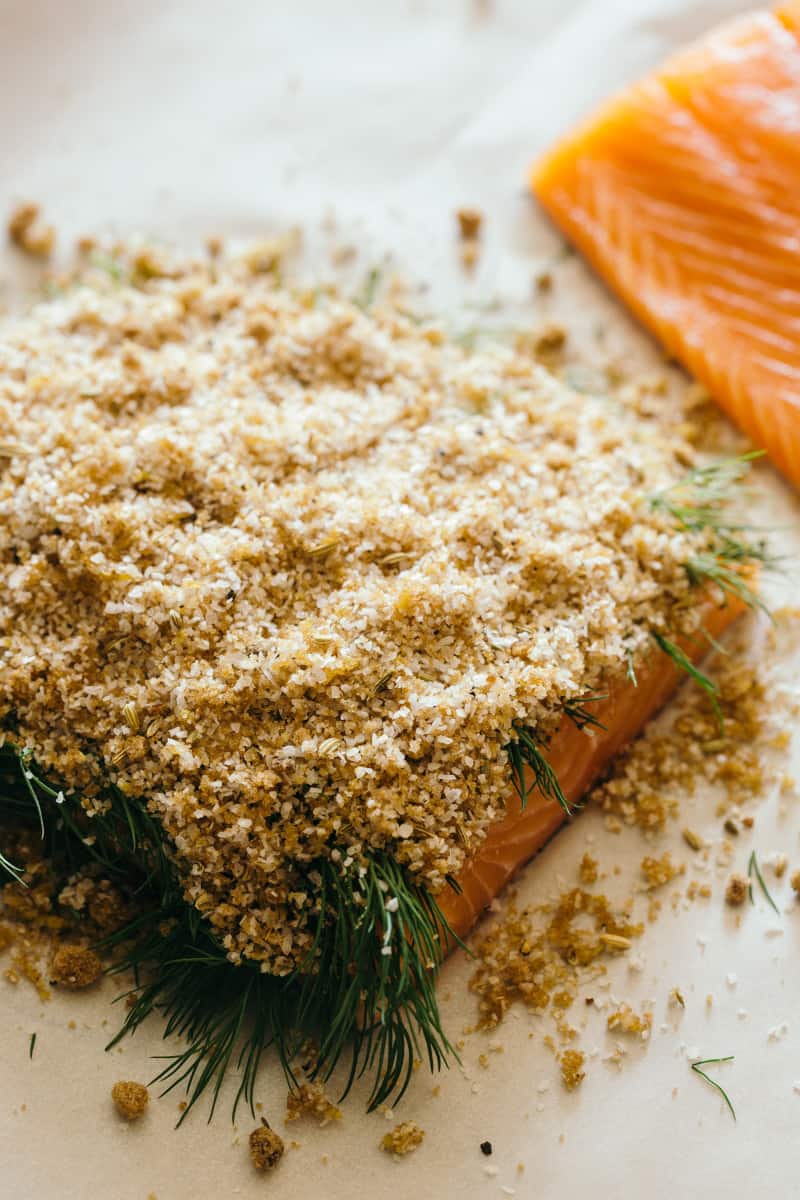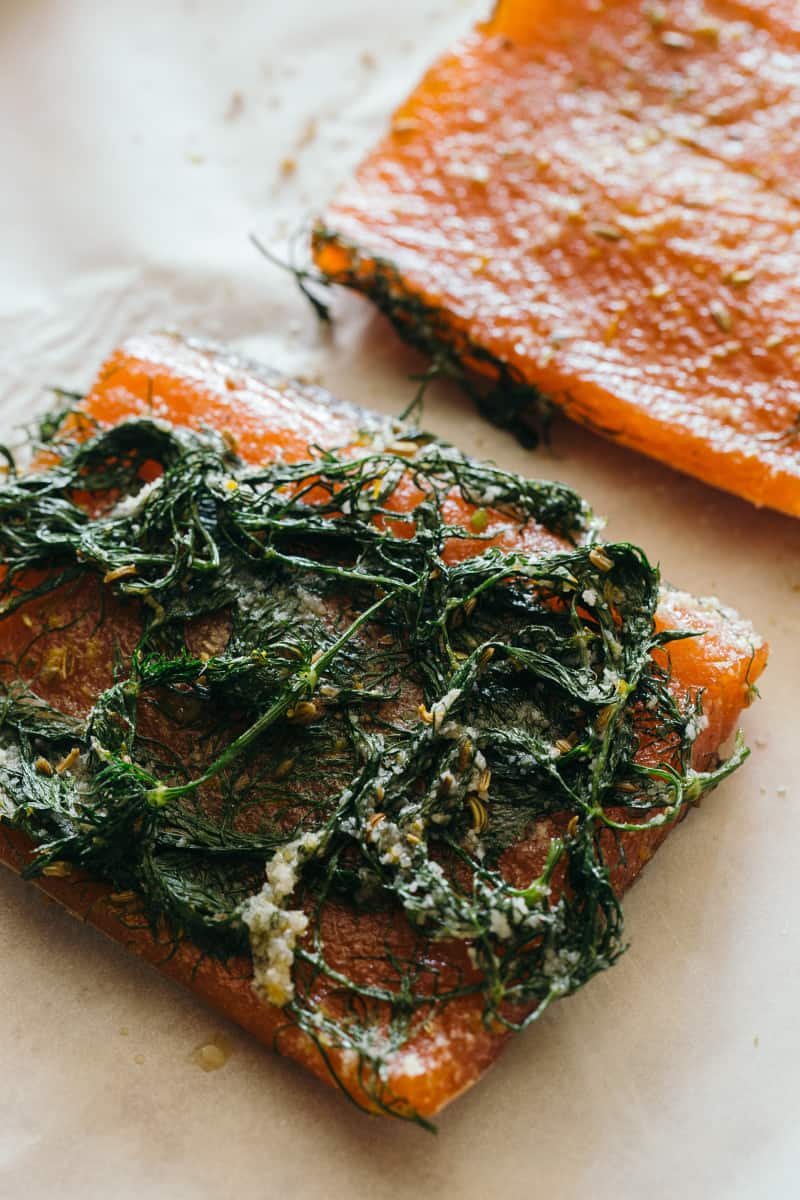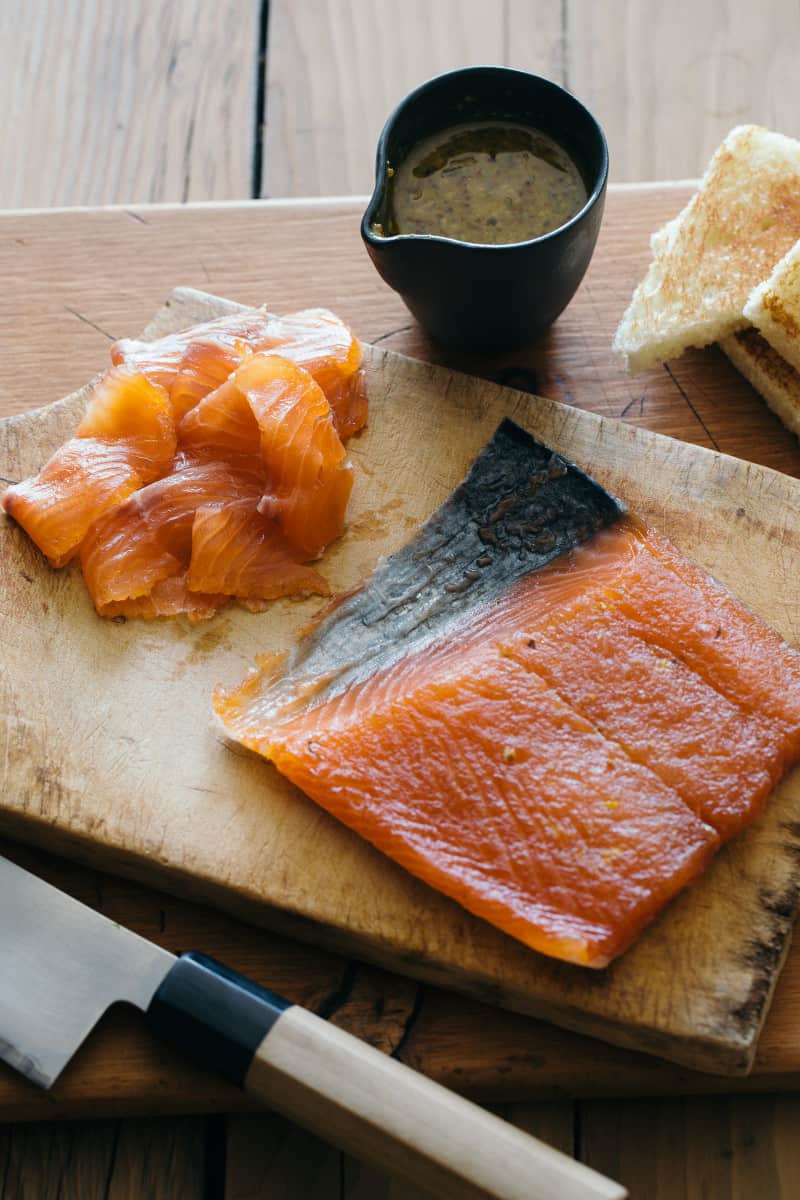 You might also like our Mini Everything Bagel recipe, Beet Cured Salmon recipe, or our Smoked Trout on Toast.
Hungry for more?
Subscribe to never miss a recipe.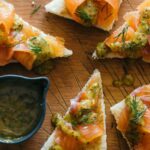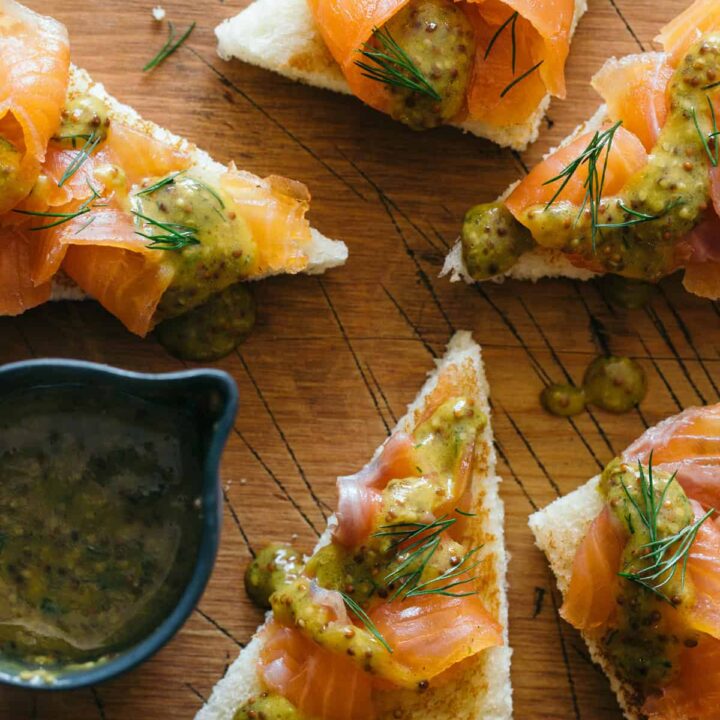 ---
DIY Gravlax with a Whole Grain Mustard Sauce
INGREDIENTS
whole grain mustard and dill sauce
½

cup

whole grain mustard

3

tablespoons

light brown sugar

1 ½

tablespoons

champagne vinegar

1

tablespoon

minced dill
salmon
1

pound

side of salmon (boneless and skin on), cut in half crosswise

1

bunch

dill

¼

cup

light brown sugar

¼

cup

kosher salt

2

teaspoons

crushed fennel seeds

1

teaspoon

crushed black peppercorns

zest of 1 lemon
INSTRUCTIONS
For the mustard sauce: Place all the mustard sauce ingredients into a mixing bowl and whisk together. Cover and refrigerate.

For the gravlax: Place a couple sheet of plastic wrap over one another. Lay one of the salmon fillets onto the plastic wrap, skin-side down. Cover the flesh of the salmon fillet with the bunch of dill.

In a mixing bowl, combine the remaining ingredients and mix together.

Sprinkle the entire cure mixture generously over the dill topped salmon fillet and top with the other salmon fillet, skin-side up.

Tightly wrap the sandwiched fillets together and place into a resealable plastic bag, removing all the air.

Place the bundle into a baking dish and weigh down with something like a jar of tomato sauce. Refrigerate and cure for 1 day. Turn the bundle over and place "weight" back over the fillets. Continue to cure salmon for another day.

At this point the bundle can be flipped and cured for an additional day or it can be rinsed at this point. (48-72 hour cure depending on desired flavor and texture)

Carefully unwrap the salmon and gently rinse the dill and cure mixture from the salmon surface with a damn and sterile cloth.

Thinly slice gravlax, removing it from the skin as it's sliced.

Serve thinly sliced gravlax over toast points with a drizzle of whole grain mustard sauce.
Calories:
137
kcal
Carbohydrates:
12
g
Protein:
12
g
Fat:
4
g
Saturated Fat:
1
g
Cholesterol:
31
mg
Sodium:
3742
mg
Potassium:
323
mg
Fiber:
1
g
Sugar:
11
g
Vitamin A:
43
IU
Vitamin C:
1
mg
Calcium:
33
mg
Iron:
1
mg
COURSE:
Appetizer, Breakfast, brunch