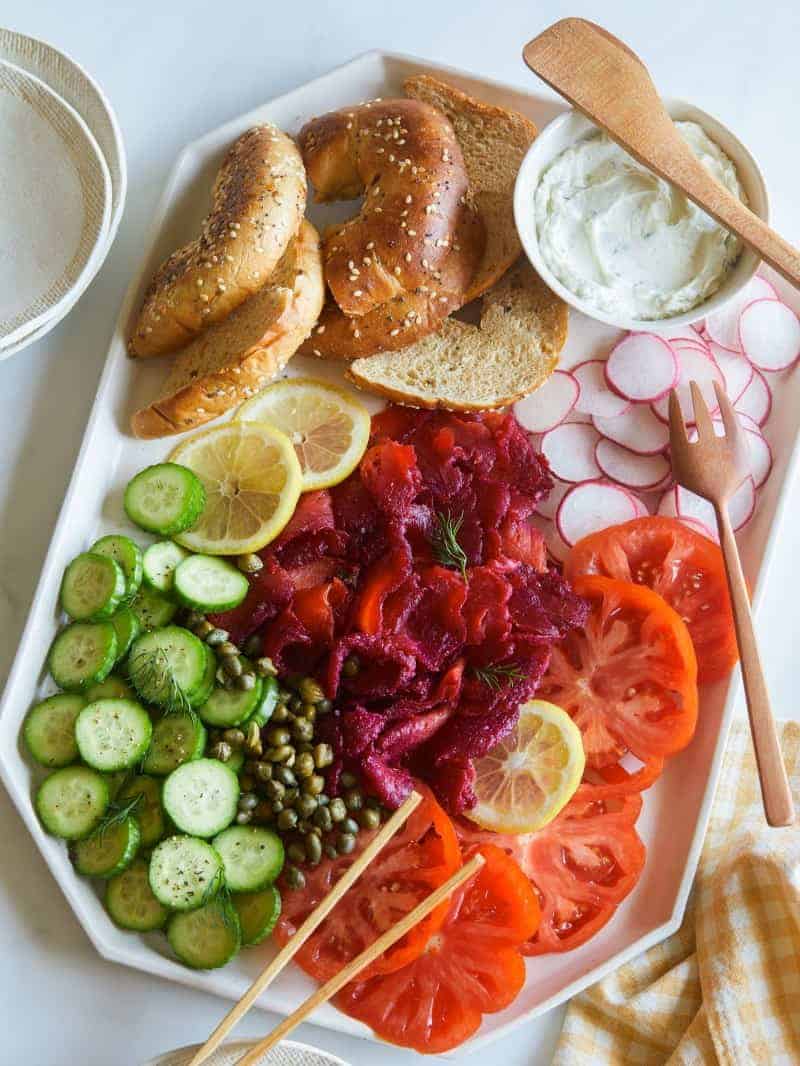 The weekend is finally here. You want to invite friends over for weekend brunch, but it's summer, a billion degrees outside and the thought of turning the stove on makes you want to cry. What do you do? You make this Beet Cured Salmon Brunch Platter and impress the heck out of your friends! This recipe couldn't be easier, you just need 20 minutes, a handful of ingredients, super fresh fish, and 2 to 3 days of downtime; the result is a tender, flavorful cured salmon with the prettiest magenta stripe running along the top.
You can switch up the herbs and spices in the curing mix to your liking and add or take away whatever you want to the overall brunch platter. We have a non-beet cured gravlax recipe here, that we paired with a simple whole grain mustard sauce. It's a total crown pleaser that takes minimal effort, so it's also perfect if you're entertaining over the weekend, but have a busy week leading up to the brunch. Enjoy! xx, Jenny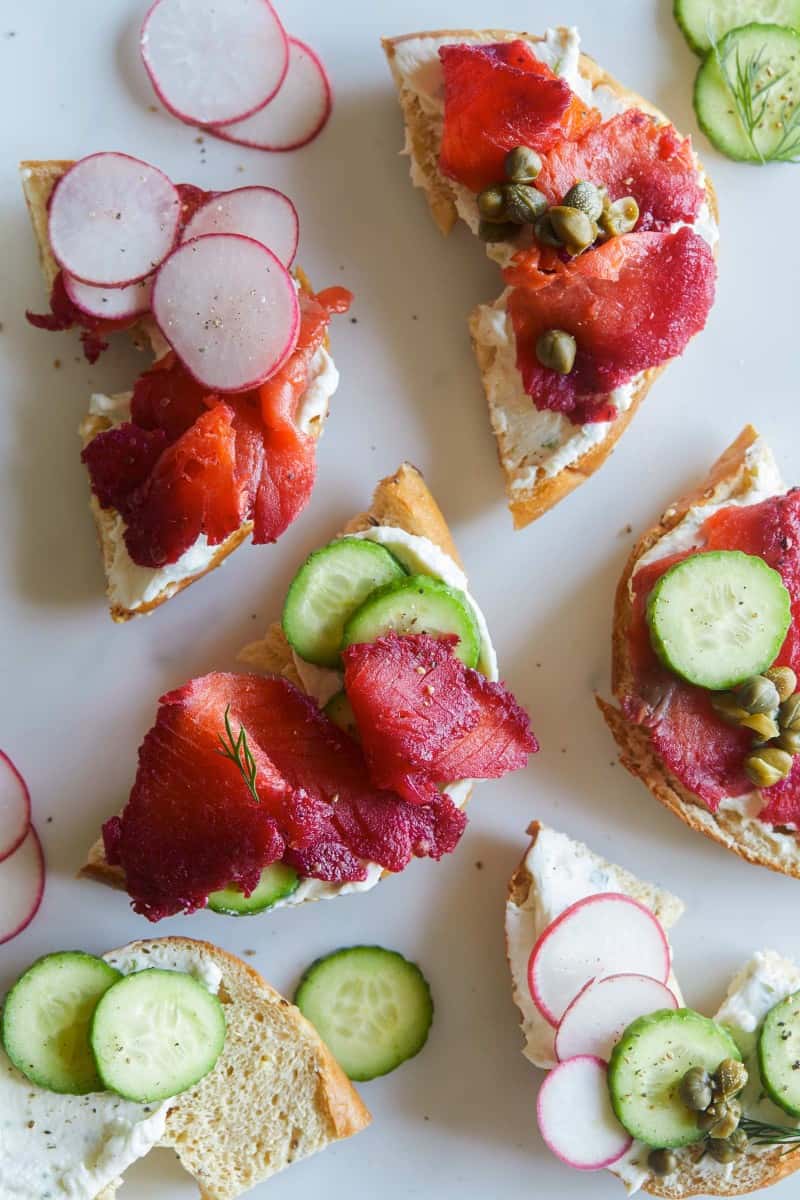 Beet Cured Salmon Brunch Platter

Makes 3/4 pounds cured salmon (serves 6)

Ingredients:
lemon-dill yogurt sauce:
2/3 cup Greek yogurt
1 lemon zested and juiced
1 tablespoon honey
2 tablespoons minced dill
salt and pepper to taste
beet cured salmon:
1 pound side of salmon (boneless and skin on)
1 bunch dill
1/4 cup light brown sugar
1/4 cup kosher salt
1 teaspoon crushed fennel seeds
1 teaspoon crushed black peppercorns
zest of 1 orange
2 large red beets, stemmed, peeled and coarsely grated
serving suggestions:
bagels
toast points
crackers
sliced cucumbers
sliced tomatoes
sliced radishes
sliced red onions
capers
whole grain mustard
crème fraiche
whipped cream cheese

Directions:
1. Place all sauce ingredients into a mixing bowl and whisk together. Cover and refrigerate until ready to serve.
2. For beet cured salmon: Place a couple sheet of plastic wrap over one another. Spread half the beets onto the plastic wrap, in the shape of the salmon side. Lay salmon side onto the beets, skin-side down. Cover the flesh of the salmon fillet with the bunch of dill.
3. In a mixing bowl, combine the remaining ingredients and mix together.
4. Sprinkle the entire cure mixture generously over the dill topped salmon and top with remaining grated beets.
5. Tightly wrap salmon and transfer bundle to a baking dish and weigh down with something like a jar of tomato sauce. Refrigerate and cure for 1 day. Remove jar and continue to cure salmon for another day.
6. At this point salmon bundle can be cured for an additional day or it can be used at this point. (48-72 hour cure depending on desired flavor and texture)
7. Carefully unwrap the salmon and gently brush mixture from the salmon surface with a clean and damp dish towel or paper towel.
8. Thinly slice gravlax, removing it from the skin as it's sliced.
9. To serve: Place sliced salmon in center of a large platter and arrange accoutrements around salmon. Serve.