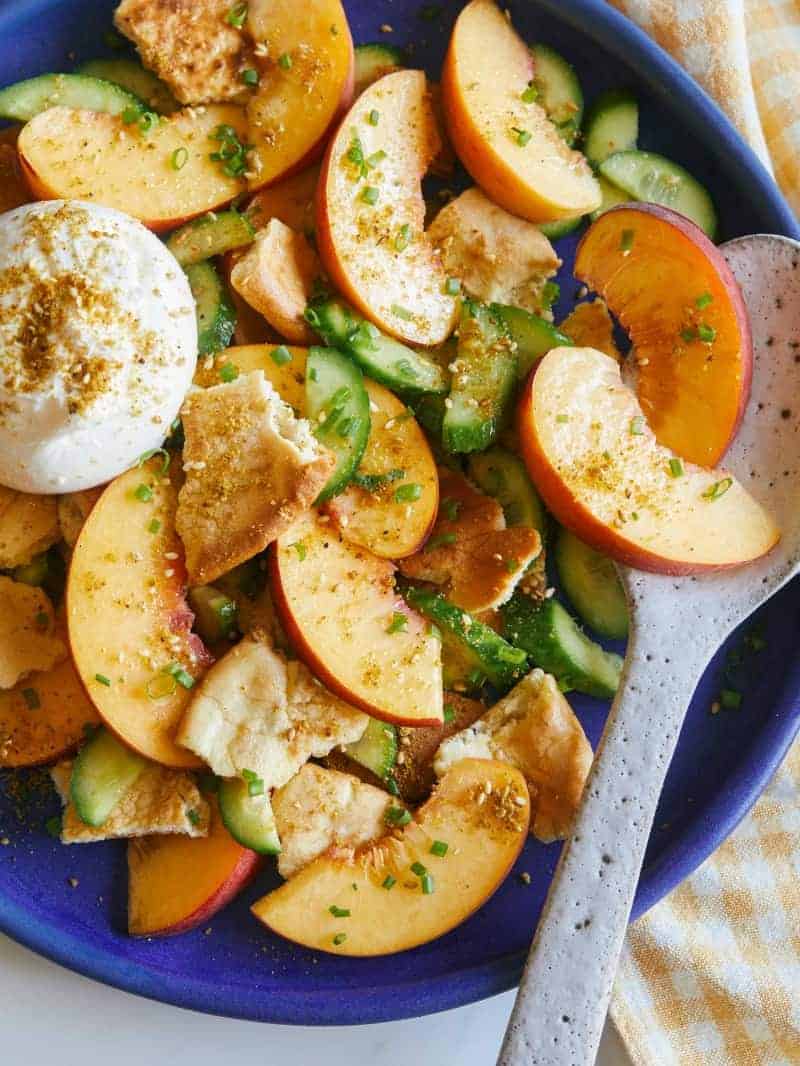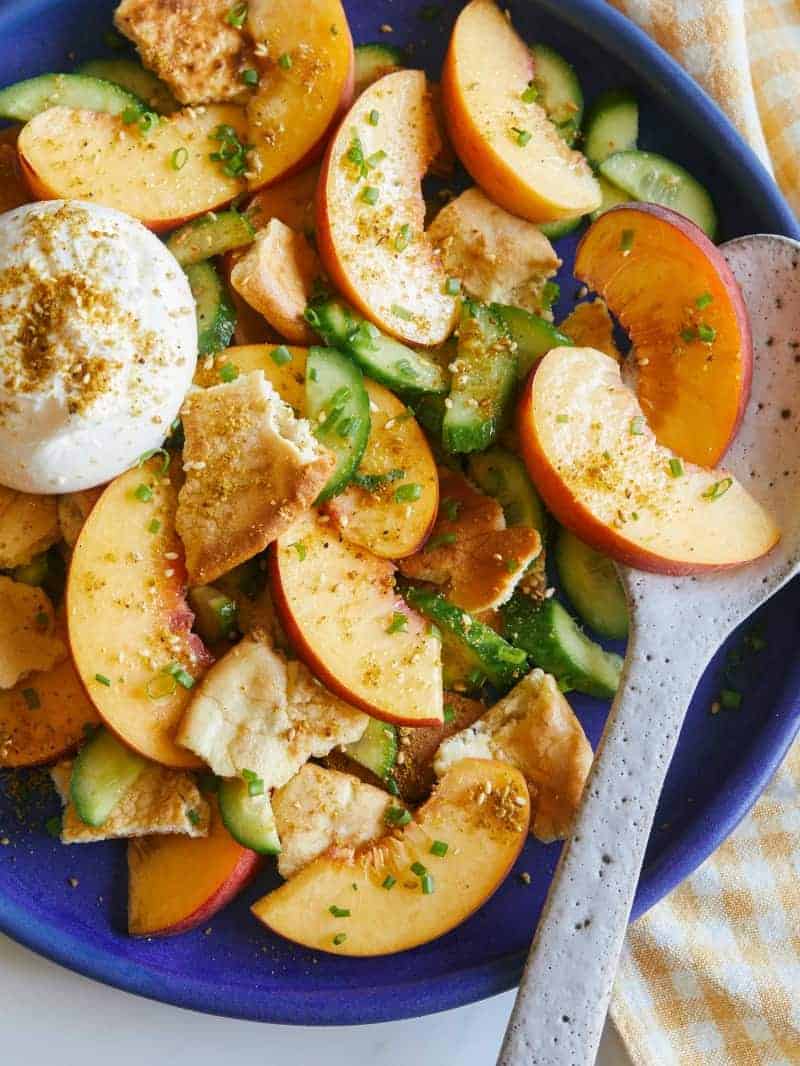 I love a salad that has bread in it. This Simple Panzanella Salad that we have on the blog is a favorite of mine. So today we have a new version for you! This Peach and Pita Panzanella Salad with Burrata and Dukkah. I love using the pita bread with this instead of the typical baguette. Sprinkle generously with all the dukkah because dukkah is the best! You also may just want to bookmark this recipe for the dukkah part alone because there are a lot of missed opportunities for dukkah in your life and you should probably start to remedy that. :)
♥ Teri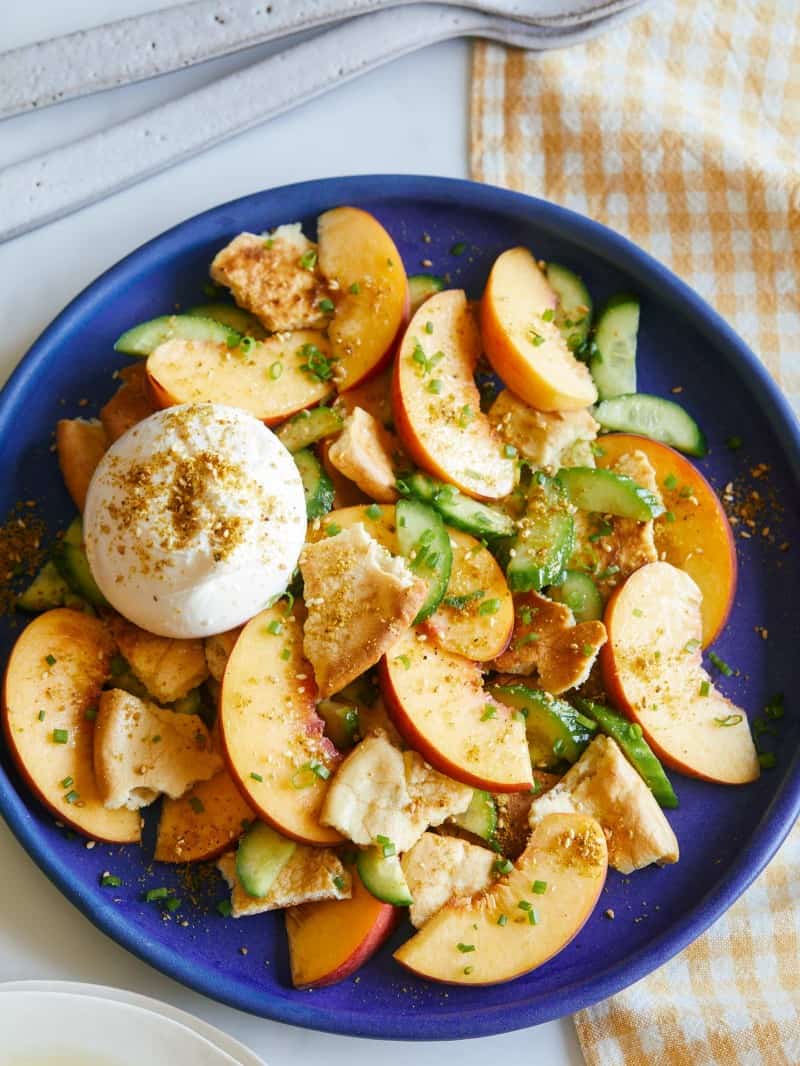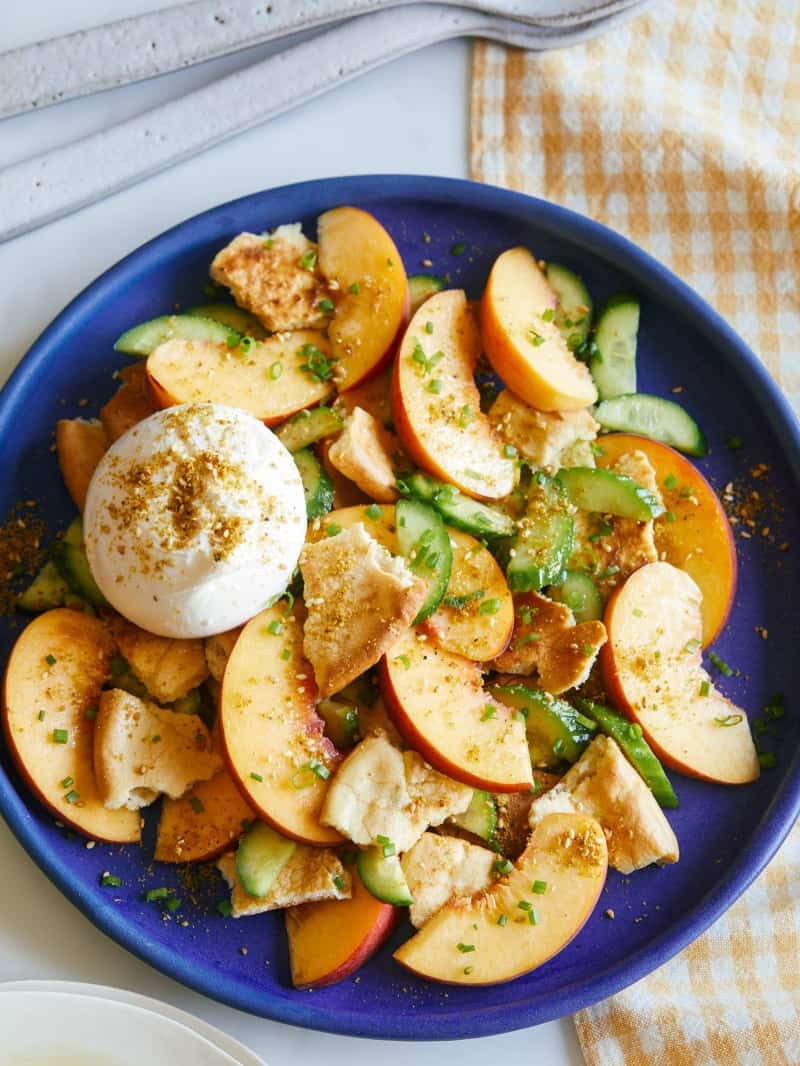 Hungry for more?
Subscribe to never miss a recipe.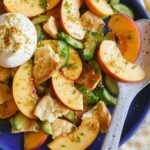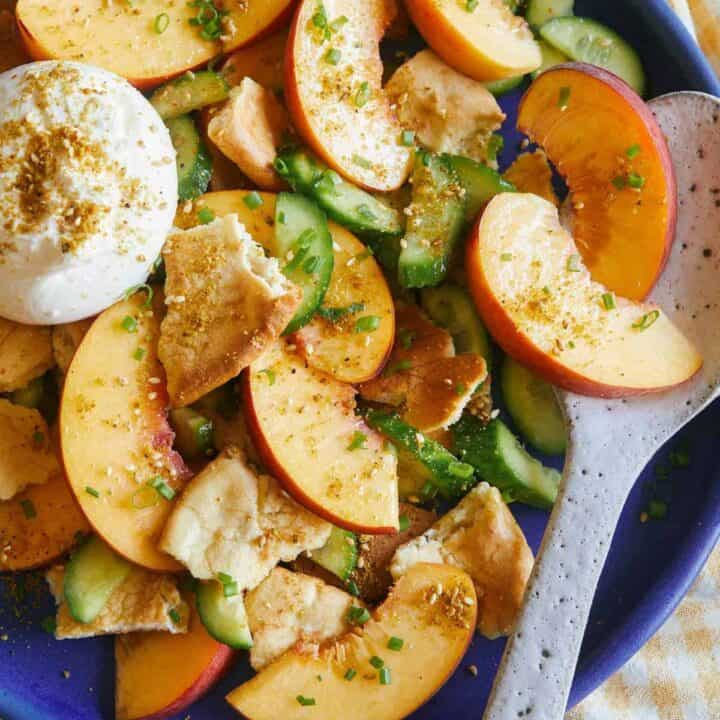 ---
Peach and Pita Panzanella Salad with Burrata + Dukkah
INGREDIENTS
finely ground dukkah
½

cup

shelled pistachios

¼

cup

shelled walnuts

¼

cup

sesame seeds

1

tablespoon

coriander seeds

1

tablespoon

cumin seeds

1

teaspoon

black peppercorns

1

teaspoon

sea salt flakes, lightly crushed between your fingers
lemon + za'atar vinaigrette
1

garlic clove, minced

½

small shallot, minced

2

lemons, zested and juiced

1

teaspoon

za'atar seasoning

½

cup

extra virgin olive oil

salt and pepper to taste
assembly
3

whole wheat pitas, torn into pieces and toasted

2

peaches, pitted and thinly sliced

2

Persian cucumbers, halved lengthwise and thinly sliced on a bias

1

large ball burrata

thinly sliced chives
INSTRUCTIONS
For dukkah: Place pistachios and walnuts in a skillet and place over medium-low heat. Lightly toast nuts for 4 to 5 minutes, shaking the pan frequently to prevent burning and lowering the stove temperature as needed.

Remove from heat and transfer to a food processor. Pulse the nuts until evenly ground (I like my dukkah to be on the finer side, but you can make the nuts coarser).

Transfer ground nuts to a mixing bowl.

Pour sesame seeds into the skillet and return skillet to heat. Toast for 2 to 3 minutes and transfer sesame seeds to the nut mixture.

Pour coriander, cumin seeds and peppercorns in the skillet and toast for 3 to 4 minutes or until fragrant.

Transfer toasted seeds to the food processor (or a spice grinder) and finely grind mixture. Transfer spices to bowl with nuts and sesame seeds, add sea salt flakes and stir until completely incorporated.

Store dukkah in a cool, dry place, in an airtight container for up to 3 months.

For vinaigrette: Place all ingredients, except oil, into a large bowl and whisk together. While whisking, slowly drizzle oil into the mixture until fully incorporated. Season with salt and pepper.

To assemble: Top vinaigrette with toasted pita and cucumbers and toss together. Refrigerate for at least 30 minutes and up to 2 hours. Before serving, add peaches to the salad and gently toss together. Pour salad onto a platter and top with burrata. Sprinkle with a generous amount of dukkah and sone chives and serve.