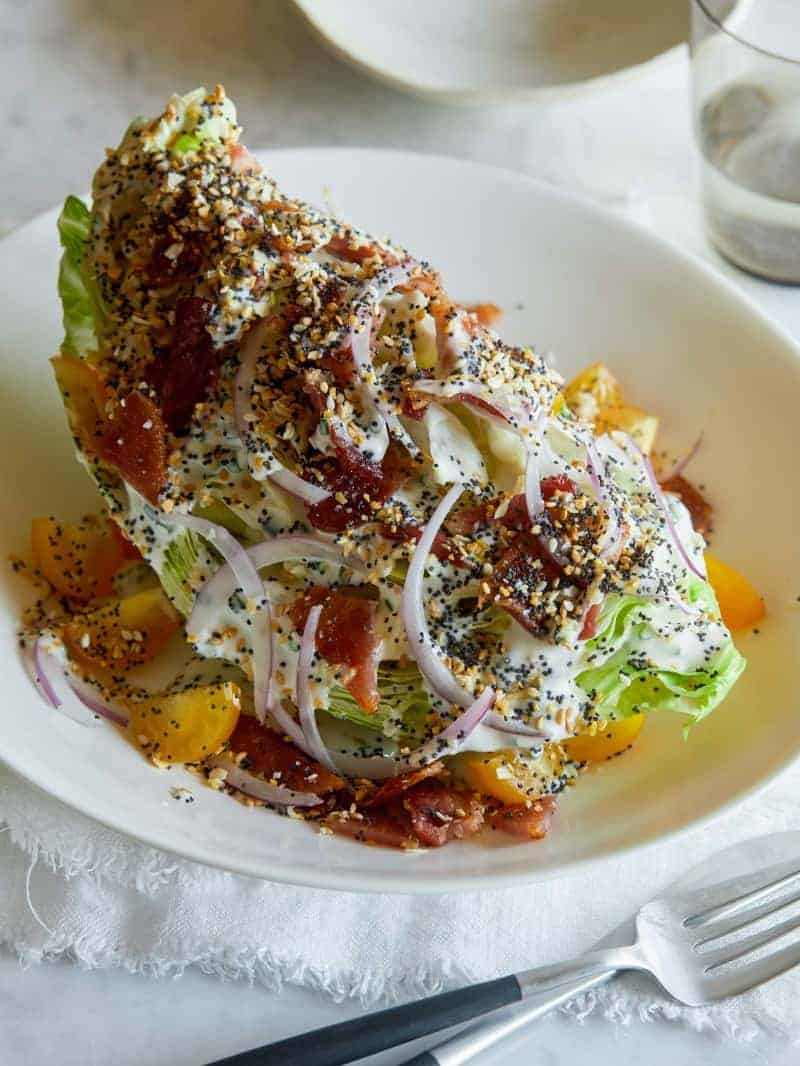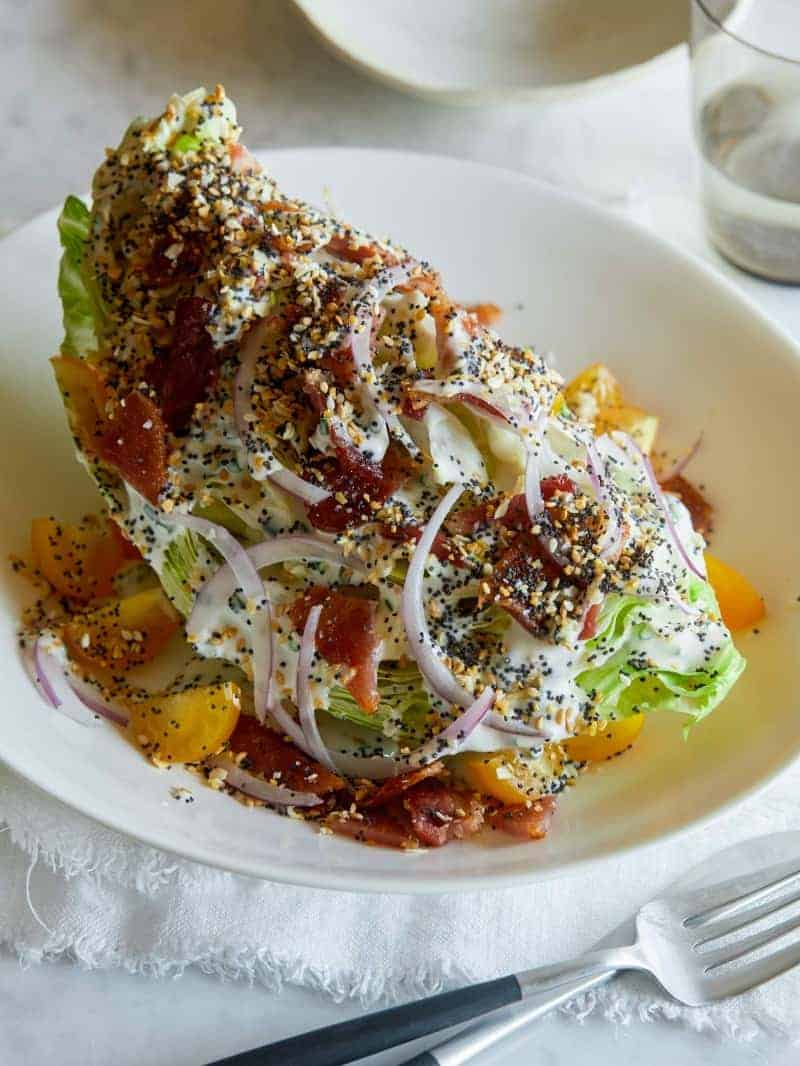 Have you guys ever just see a dish somewhere, whether it's from the internet, television, a magazine, etc. and thought how you HAVE to try that?! Well, I do all the time. Seriously. Today we have a recipe based on one of those visual cravings! So last month Bon Appetit released their Top 10 list of best restaurants in America and Turkey and the Wolf  from New Orleans was at the top of that list. They were on the list specifically for their signature fried bologna sandwich, which looks UNREAL by the way, but what really caught my attention, in the feature, was their version of a wedge salad. Normally wedge salads don't get me that excited…I think they're great, but also mostly an excuse to eat a bunch of bleu cheese and ranch, lol.
The reason their wedge salad caught my eye is that it was COVERED in "everything seasoning"!! What a super simple, but brilliant idea, right? The everything seasoning not only adds really nice flavor to the salad, but a fun element of crunch that's different from the crunch you get from the iceberg. For our Everything Bagel Seasoning Wedge Salad, we added thinly sliced red onion, chopped bacon and halved cherry tomatoes as well as a homemade buttermilk ranch dressing, because it's simple enough to make and why not, ya know? Store bought dressing works JUST as well though; and while we made our own 'everything seasoning' I saw recently that Trader Joe's now sells their own pre-made 'everything seasoning' which I think is so rad!
This dish is seriously so easy to make, so until I can make it down to New Orleans to try the real deal myself, I'll happily settle for our simple lil version here, lol. Enjoy! xx, Jenny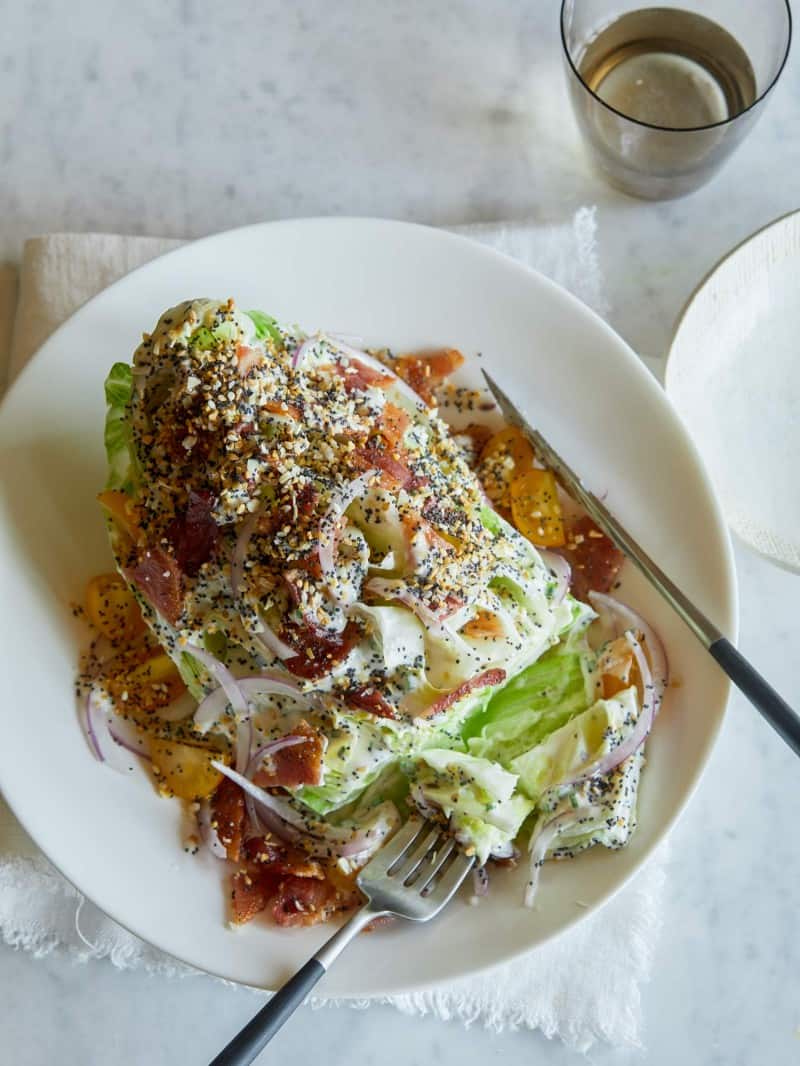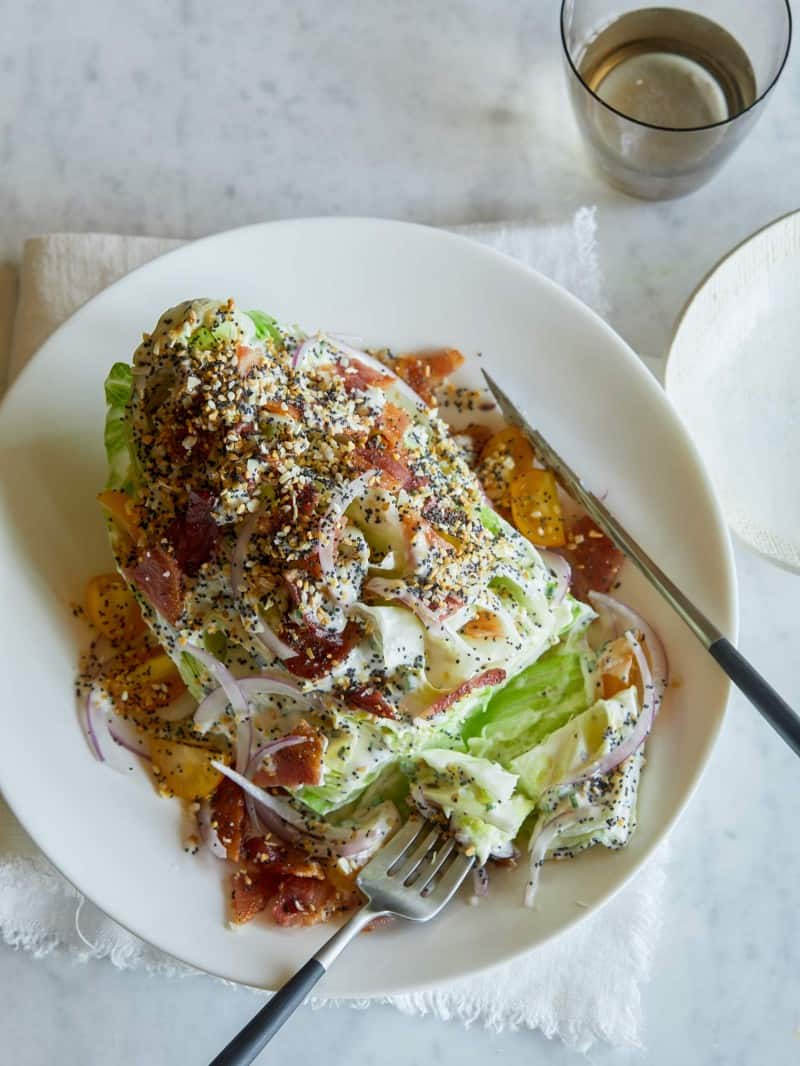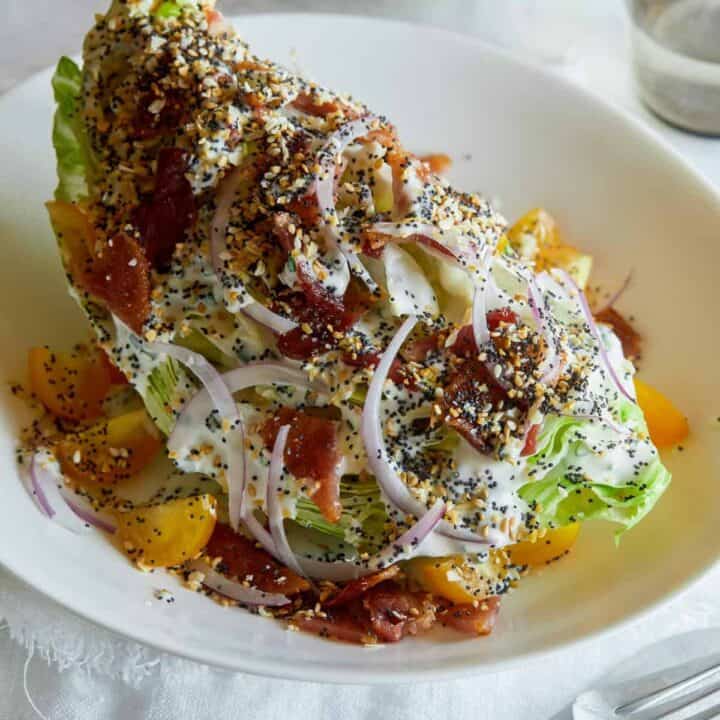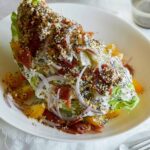 ---
Everything Bagel Seasoning Wedge Salad
INGREDIENTS
buttermilk ranch dressing
½

cup

sour cream

½

cup

buttermilk

¼

cup

mayonnaise

½

lemon, juiced

2

garlic cloves, minced

2 ½

tablespoons

thinly sliced chives

½

teaspoon

minced dill

salt and pepper to taste
assembly
½

large head

iceberg lettuce, halved lengthwise

4

rashers

crispy cooked bacon, chopped

thinly sliced red onion

cherry tomatoes, halved
INSTRUCTIONS
Buttermilk ranch dressing: Place all ingredients into a mixing bowl and whisk together. Adjust seasonings, cover and refrigerate for at least 30 minutes to allow flavors to marry together.

Place icebergs wedges onto two plates or a single platter and drizzle with a generous amount of the buttermilk ranch dressing. Top with chopped bacon, thinly sliced red onions and cherry tomatoes and finally a bunch of everything seasoning. Serve.