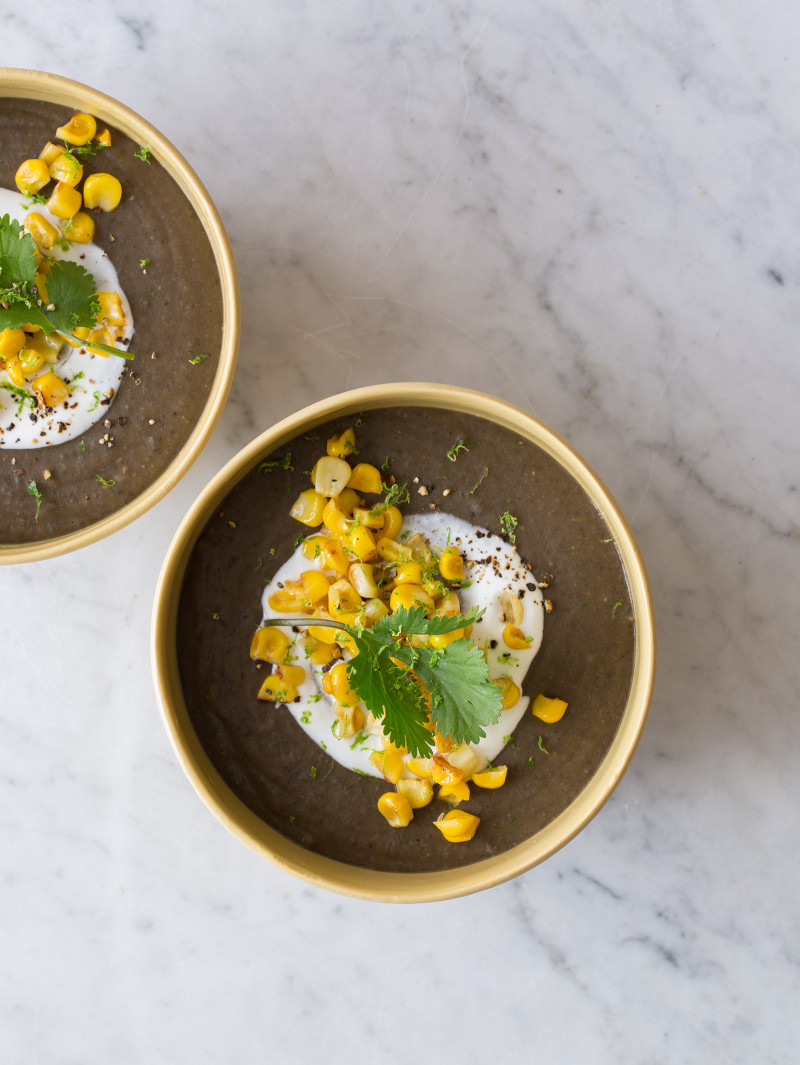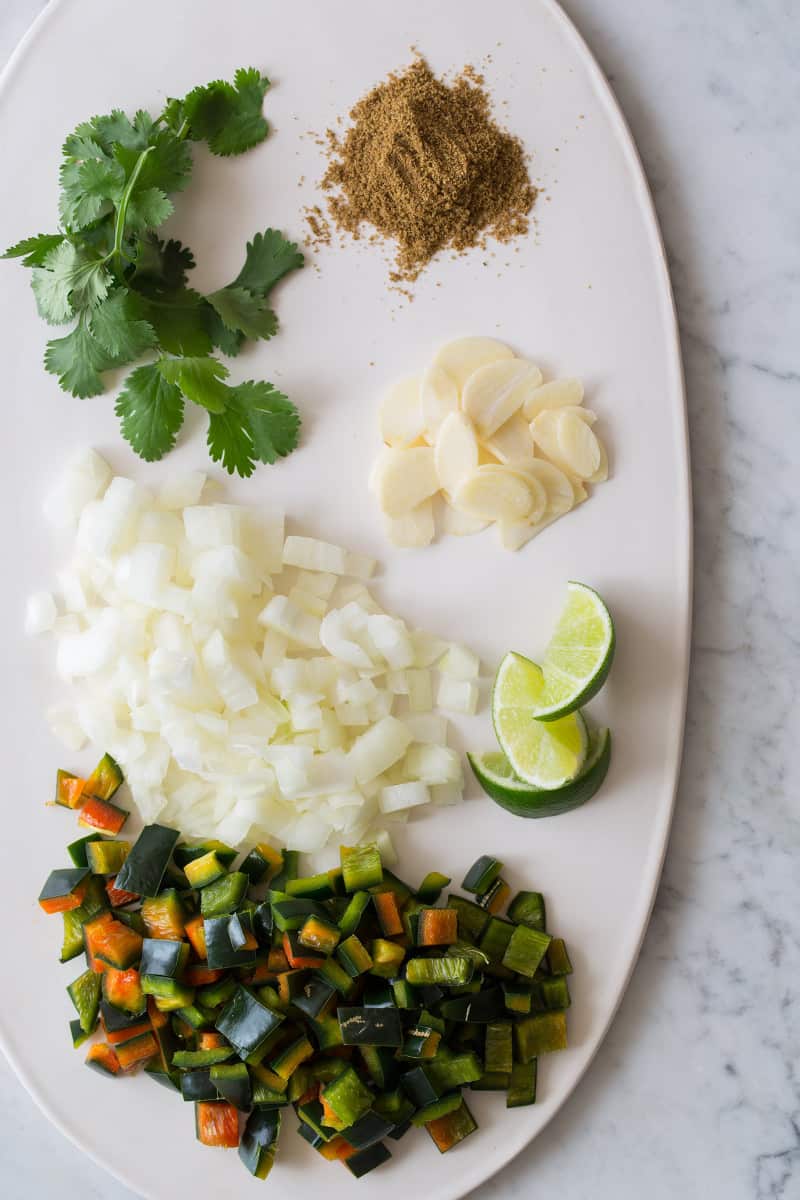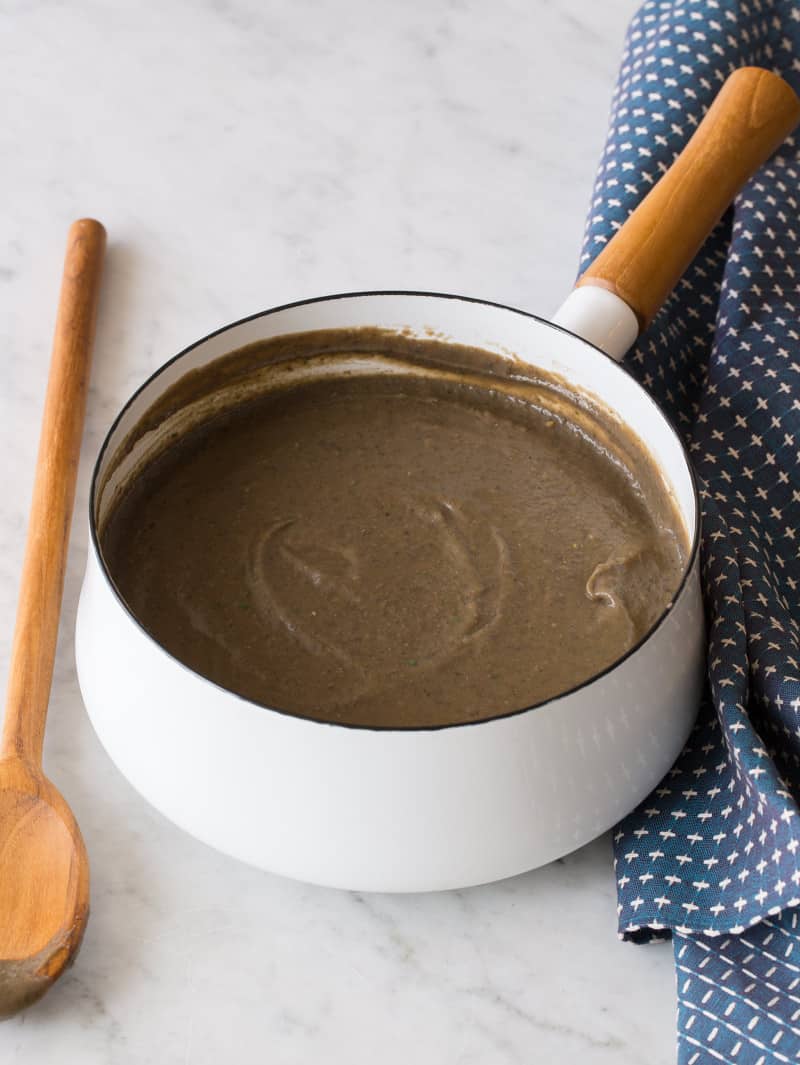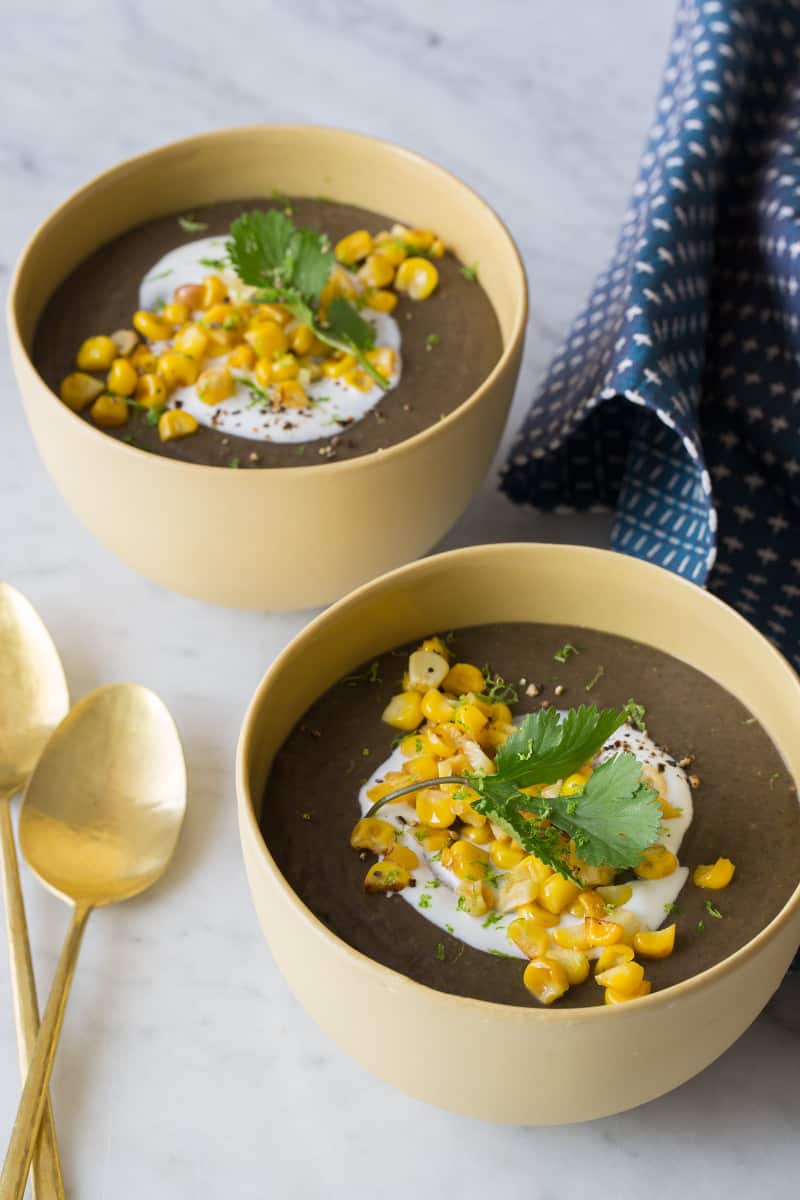 It has been unbearably hot in Los Angeles the last couple of days. I get really angry when I'm too hot, and my face is in a permanent state of red, and I sweat too much. I hate it. Hate it bad. Ironically, we are posting a soup recipe today. Something I would totally not eat during this weather. So I would like to dedicate this Spicy Black Bean Soup to those of you who are wearing socks to keep your feet warm at night, covering your cold necks in huge scarfs, and wearing big jackets with your hands stuffed inside while you walk down the street. I envy you. I bet you all will eat this soup with those mittens on your hands that have the tops cut off so you can hold things better and use your iphone. That's cool, my sheets are in the freezer right now. I also want to mention that this soup vegetarian. AND vegan if you don't use the sour cream.
♥ Teri
Spicy Black Bean Soup
Makes 5-6 cups
Ingredients:
for beans:
1 cup dry black beans
4 cups water, divided
2 teaspoons sea salt
3 sprigs thyme
2 tablespoons extra virgin olive oil
1 medium yellow onion, chopped
2 garlic cloves, thinly sliced
1 jalapeno, seeded and diced
1 poblano pepper, seeded and diced
1 tablespoon minced oregano
2 1/2 teaspoons cumin
1 1/2 teaspoons smoked paprika
1 teaspoon chile powder
1/2 teaspoon ground ginger
1/4 teaspoon cinnamon
1/2 bunch cilantro, chopped
2 cups vegetable stock
juice of 1 lime
salt and pepper to taste
garnishes:
sour cream
roasted corn
cilantro leaves
lime wedges
Directions:
1. For beans: Soak beans in 3 cups of water for 18 hours. After beans have soaked, pour them into a medium pot and add remaining cup of water, thyme and salt. Stir together and lightly boil for about 2 hours or until beans are tender. Remove from heat and set aside.
2. For soup: Pour oil into a medium pot and place over medium-high heat. Add onions, garlic, jalapeno, and poblano and sauté for 7 to 8 minutes. Season with salt and pepper. Add oregano cumin. Smoked paprika, chile powder, ginger, and cinnamon and stir together. Continue to sauté for 3 to 4 minutes.
3. Stir in cilantro, black beans (including excess liquid) and stock, reduce heat to medium and simmer for about 20 minutes. Lightly season with salt and pepper.
4. Pour mixture into a blender and blend (until smooth). Pour mixture back into the pot, simmer for 5 minutes and adjust seasonings.
5. Ladle soup into bowls and top with a dollop of sour cream, some roasted corn kernels and cilantro leaves. Serve.
**Notes:
– You can replace the dry black beans for 2 (15 ounce) cans of black beans, not drained and skip step 1.
– When blending hot liquids, its important to remove the center cap to the top and replace it with a kitchen towel to prevent a steam 'explosion' for occurring.