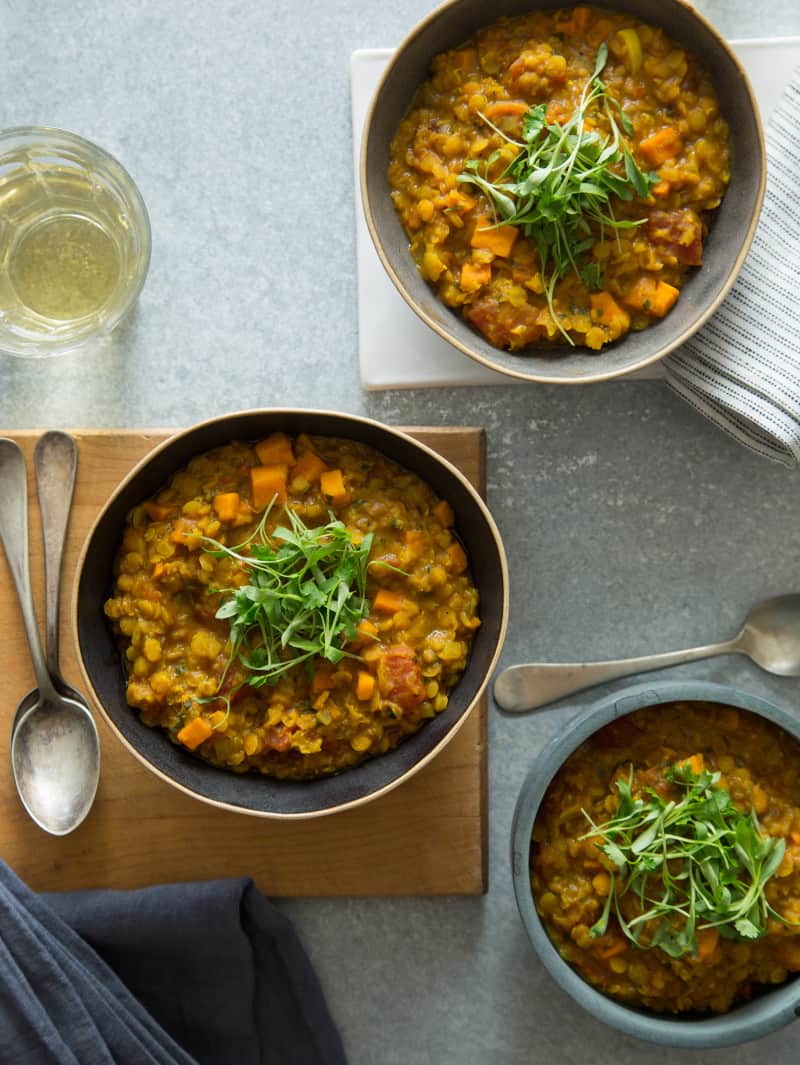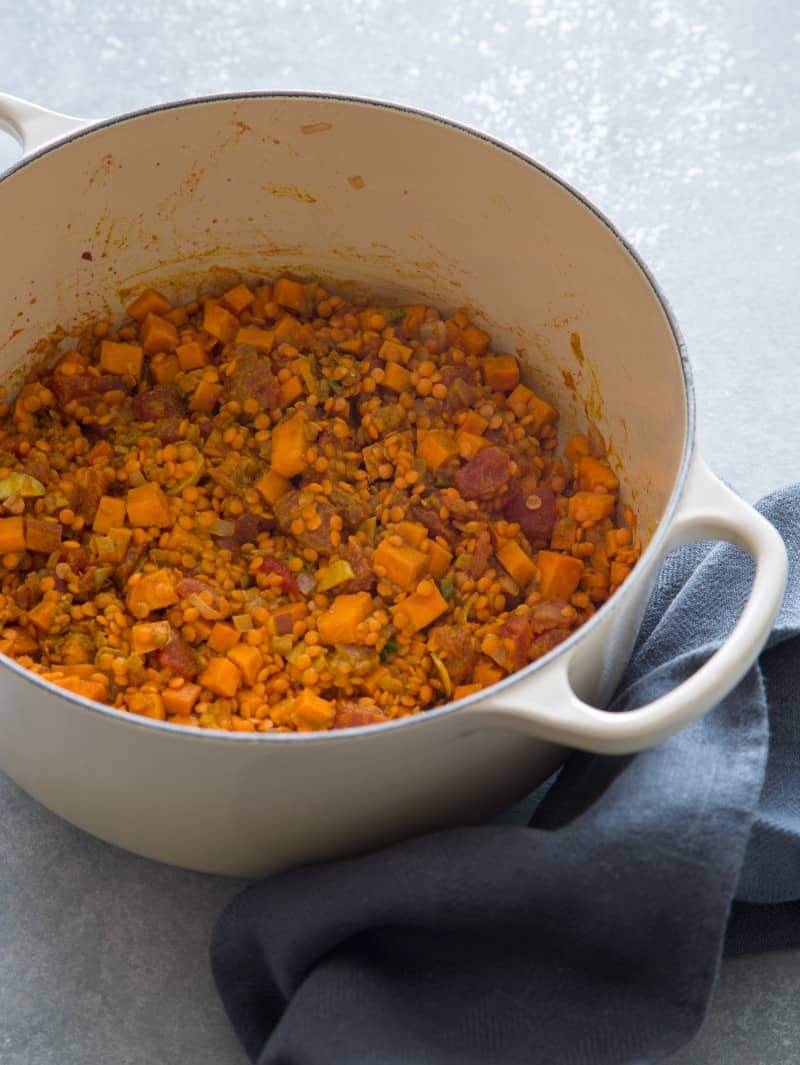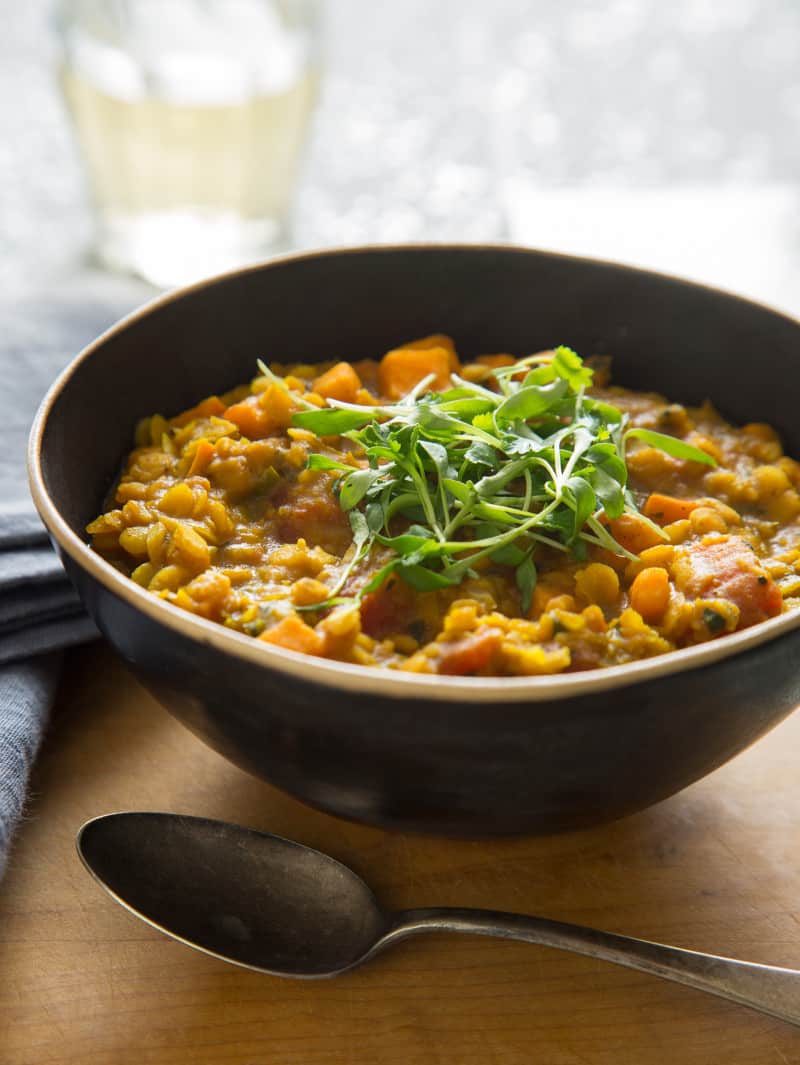 Can we talk lentils for a minute? I absolutely love them. I think they're one of the few perfect foods out there. I love their texture, how you can pack them with loads of flavor, how they're a great source of protein, etc. I also love stews and such, so it's not really surprising that I would be into dal…of all kinds.
Today we have one of my favorite kinds of dal, masoor dal or stewed red lentils. I love making giant batches of this recipe and eating it throughout the week. I'm not really the type of person that makes my lunches for the week, because I usually get sick of something easily and I will usually change my mind on what I want to eat, but big batches of dal are an exception. I could happily eat this recipe and other dal recipes for weeks at a time. This is really great for anytime of the year and is always so filling and satisfying, without giving you a weighed down feeling.
This recipe is also perfect if you're looking to cook something with only a handful of ingredients and in about an hours time. Enjoy! xx, Jenny
Masoor Dal (Stewed Red Lentils)
Serves 6 to 8
Ingredients:
2 tablespoons extra virgin olive oil or ghee
1 medium sweet potato, peeled and diced
1 medium yellow onion, diced
3 garlic cloves, minced
2 teaspoons minced ginger
1 serrano chile, seeded and diced
1 cup red lentils, soaked in water for 1 hour and drained
1 tablespoon ground cumin
1 tablespoon ground coriander
2 teaspoons ground turmeric
2 teaspoons ground ginger
2 teaspoons dried fenugreek leaves
1 (15 ounce) can diced tomatoes
1 quart vegetable or chicken stock or water
1/4 cup chopped cilantro
salt and pepper to taste
garnish:
chopped cilantro or micro cilantro
Directions:
1. Pour oil or ghee into a dutch oven and place over medium-high heat.
2. Add sweet potatoes and sauté for 2 to 3 minutes. Stir in onions, garlic, ginger, and Serrano chile and continue to sauté for 4 to 5 minutes. Season with salt and pepper.
3. Stir in red lentils, cumin, coriander, turmeric, ginger, and fenugreek leaves and continue to cook for 4 to 5 minutes, until mixture becomes fragrant and slightly smoky in scent.
4. Add diced tomatoes and stock and bring mixture to a boil. Once mixture is boiling, cover and reduce heat to medium-low and simmer for 40 to 50 minutes or until lentils have softened and mixture has turned into a stew-like consistency. Season with salt and pepper and stir in cilantro.
5. Top with more cilantro and serve with a side of grilled naan or steamed basmati rice.