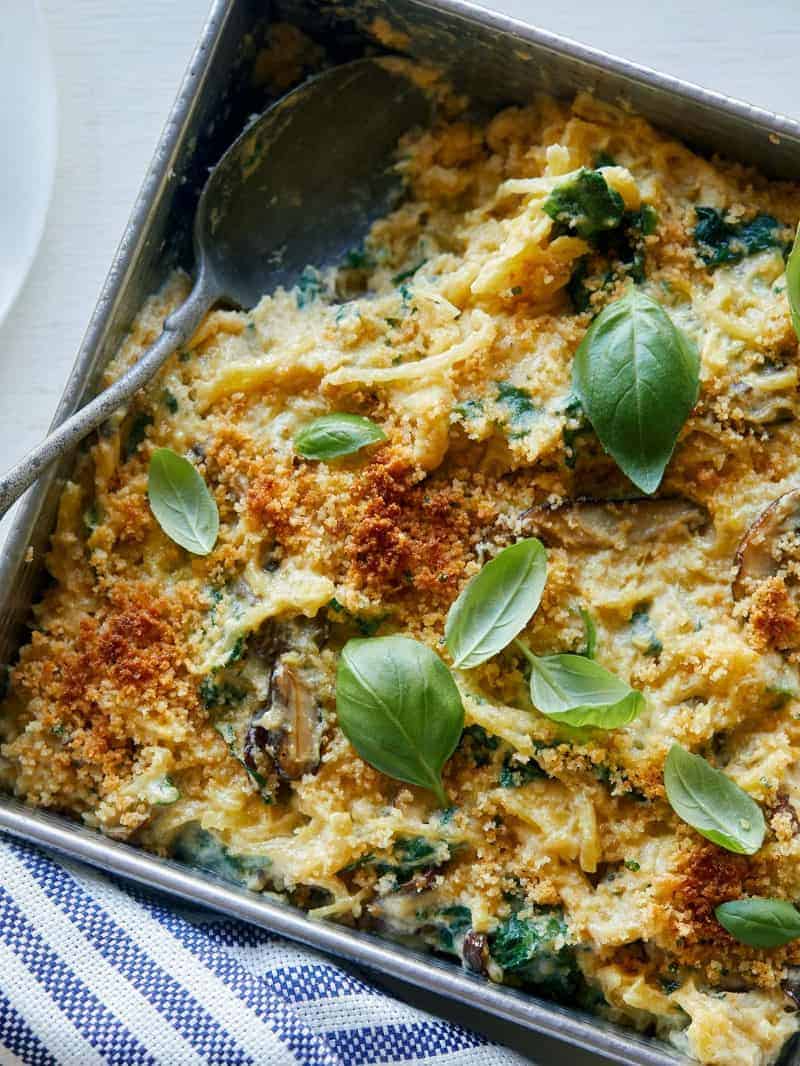 Ok – so this recipe is one of those to keep on hand when you really need to go all out and splurge, but probably shouldn't. So first thing that makes this recipe awesome is that it is creamy AF – like so creamy, and it tastes super creamy too, like the real deal creamy. We used the magic of nutritional yeast. Then to make this recipe even more awesome instead of pasta we used spaghetti squash. In this situation where it is baked in with this yummy sauce and some veg, you really don't miss real pasta. There is no need for it. So just keep this recipe on hand for the times you really want to go for it, but don't need to go for it. :)
♥ Teri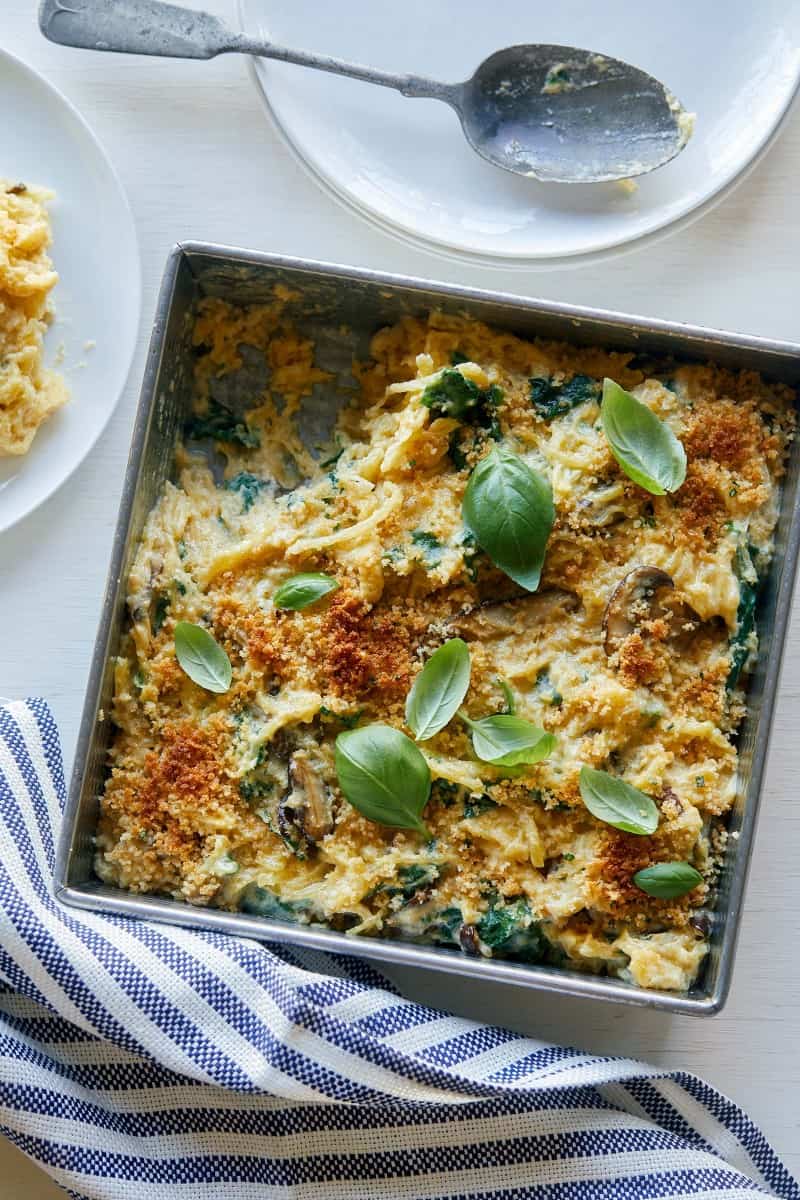 Creamy Vegan Spaghetti Squash, Wild Mushroom and Spinach Bake

Makes 1 (9"x13" dish)

Ingredients:
Ingredients:
1 medium spaghetti squash
2 tablespoons unsalted butter
2 tablespoon extra virgin olive oil or coconut oil
3 garlic cloves, thinly sliced
1 large shallot, minced
12 cremini mushrooms, cleaned and sliced
12 shiitake mushrooms, cleaned stemmed and thinly sliced
12 ounces baby spinach
cauliflower "cream" sauce:
2 1/2 tablespoons extra virgin olive oil, divided
1 small shallot, diced
2 garlic cloves, minced
1 head cauliflower (about 1 1/2 pounds), cut into bite sized pieces
1 teaspoon dry mustard
1 1/2 cups warm vegetable stock, plus up to 1 cup more as needed
1/4 cup plus 1 tablespoon nutritional yeast
salt and pepper to taste

Directions:
1. Preheat oven to 375˚F.
2. Slice squash in half lengthwise and place onto a baking sheet, cut side down and roast for about 1 hour or until squash becomes fork tender.
3. Allow squash to cool for about 15 minutes, before scraping the flesh out with a fork (squeeze to drain any access liquid from squash). Place squash innards in a mixing bowl, lightly season with salt and pepper and set aside.
4. Place a large skillet over medium-high heat and add oil. Sauté garlic and shallot for 2 to 3 minutes. Add mushrooms and continue to sauté for 3 to 4 minutes or until caramelized.
5. Add spinach and continue to sauté for 2 to 3 minutes or until spinach has wilted. Drain excess liquid and stir mixture into the mixing bowl with spaghetti squash.
6. For 'cream' sauce: Pour 1 1/2 tablespoons oil into the pot and place back over medium-high heat. Add shallot and garlic and sauté for 2 to 3 minutes.
7. Add cauliflower, continue to sauté for 2 to 3 minutes and season with salt and pepper. Stir in mustard and continue to sauté for 2 to 3 minutes.
8. Pour 1 1/2 cups stock into the pot and simmer until cauliflower becomes fork tender, 6 to 8 minutes.
9. Carefully ladle mixture into the well of a blender and add nutritional yeast. Blend on high, adding more stock as needed. With the motor running, add remaining tablespoon oil and season with salt and pepper. Blend until a smooth, glossy and creamy sauce forms.
10. Pour sauce over the spaghetti squash mixture and toss together until fully combined.
11. Pour mixture into a lightly greased baking dish and bake for 15 to 20 minutes or until the top has lightly browned.
12. Allow bake to cool about 10 minutes before serving.