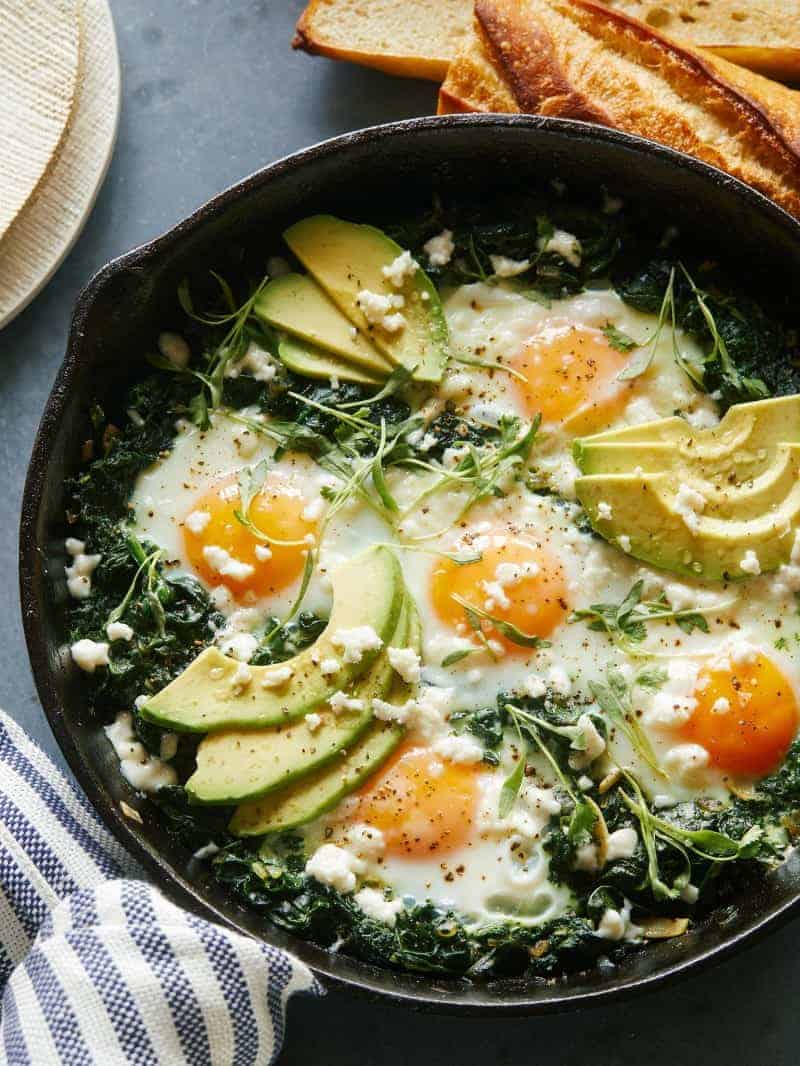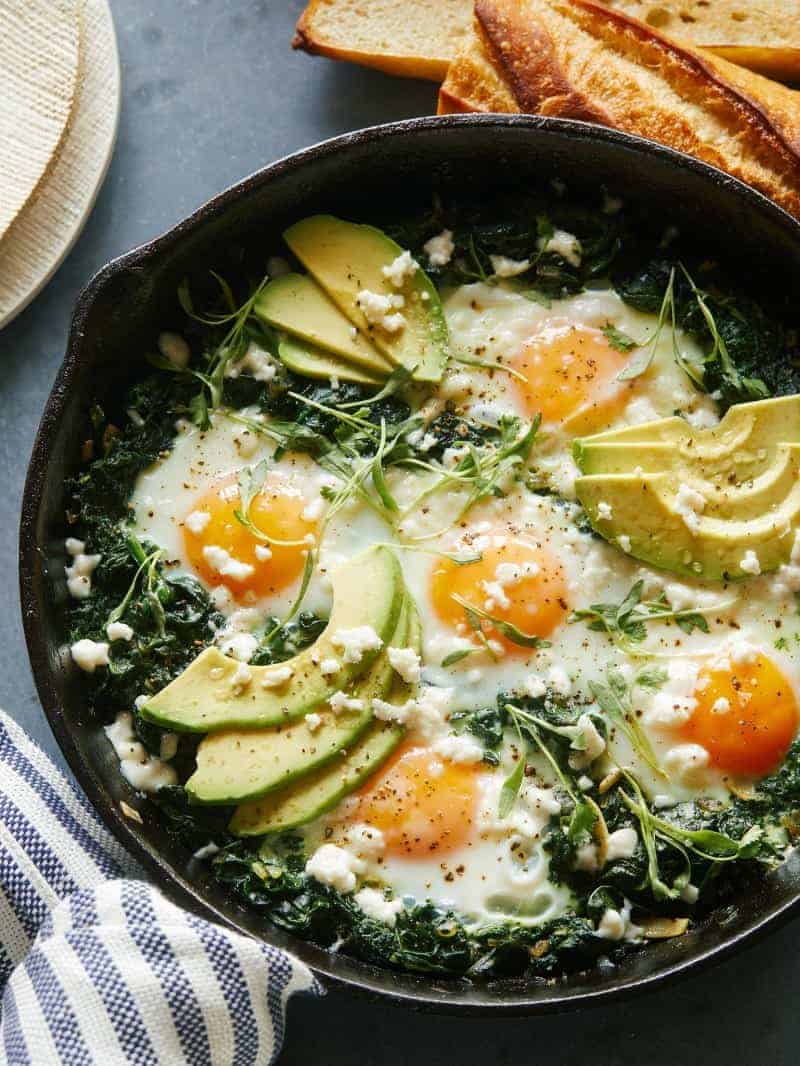 St Patrick's Day is in two days and I'm very excited that it falls on a Saturday this year! I don't always have time to make a nice breakfast in the morning. During the week it's usually grabbing a protein bar or banana as I head out the door for work, and I'm usually 'enjoying' it in the car. This weekend though the husband and I are going to take our time to make ourselves a nice sit down breakfast, specifically this Green Shakshuka, and because it's 'green', it's perfect for St Patrick's Day! I wonder when St Patrick's Day started becoming associated with green colored food? That has to be a US started tradition, right? It's such a weird thing, but I'll take it, lol.
I've never been very into the heavily dyed green foods, they just weird me out; like bright green bagels with bright green cream cheese?? NO thank you. This Green Shakshuka is the perfect dish to wake up to this St Patrick's Day morning (or any morning for that matter!) It's easy to make and taste delicious, plus you're still being festive (naturally festive too!). We're using organic, pasture raised eggs because they're really delicious. Pro tip: The brighter and more orange the egg yolk, the healthier and more nutritious and well rounded the diet of the chicken that laid it is, which in turn just make better eggs. You guys know how crazy in love we are about eggs (we may or may not have written an all encompassing 'egg cookbook' a few years back!) and that includes where they come from.
If you guys are looking for a low key, but still totally delicious and nutritious start to your St Patrick's Day festivities, this simple Green Shakshuka dish is just for you! Enjoy! xx, Jenny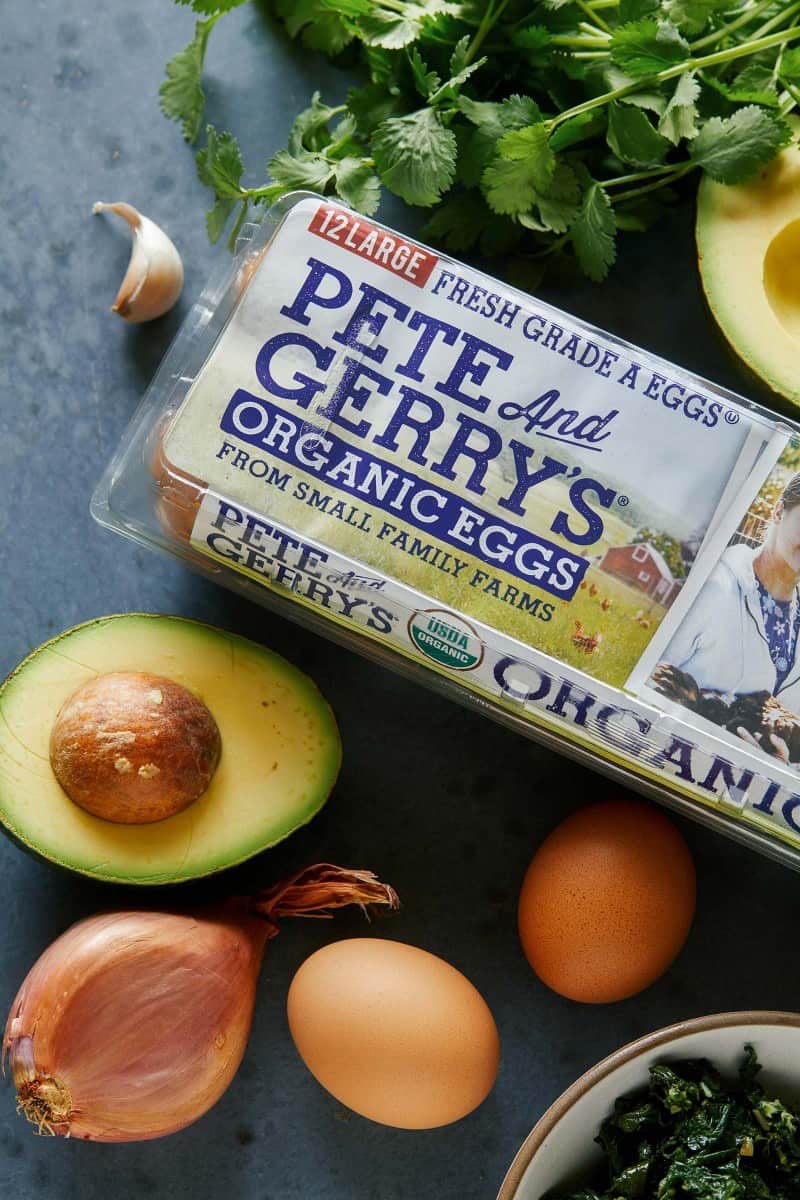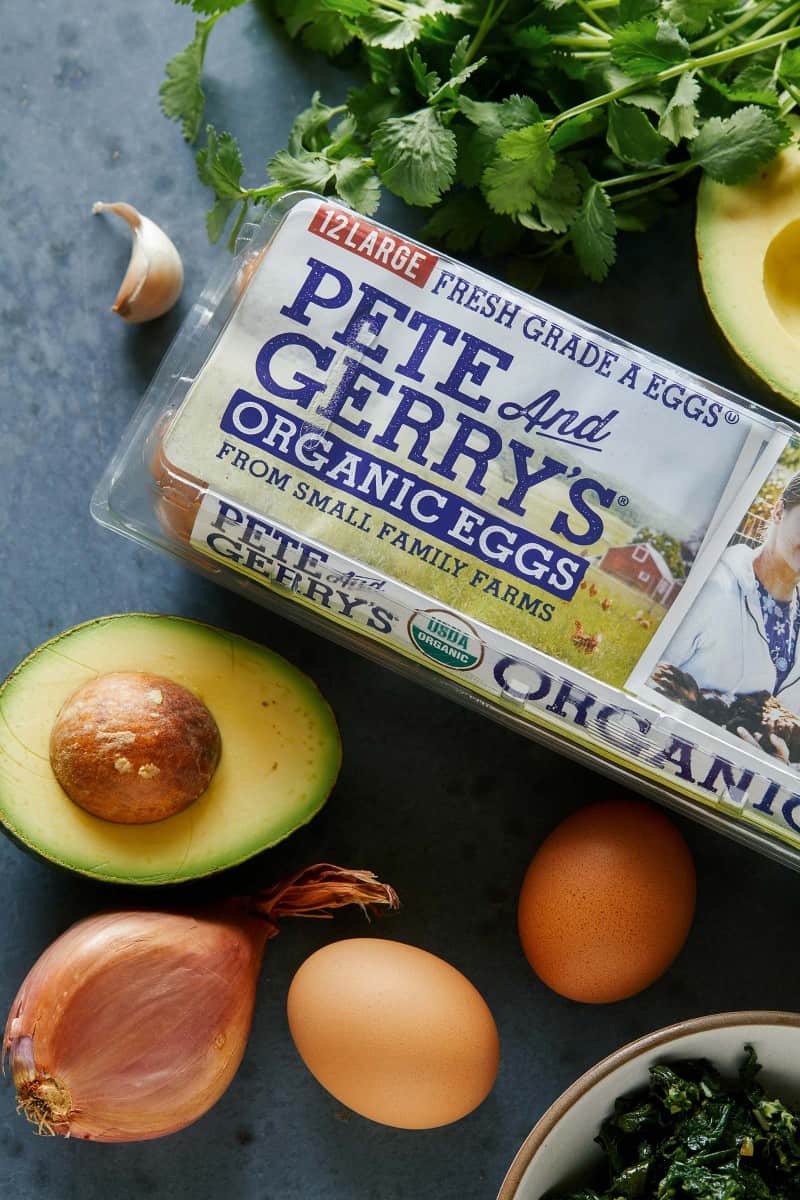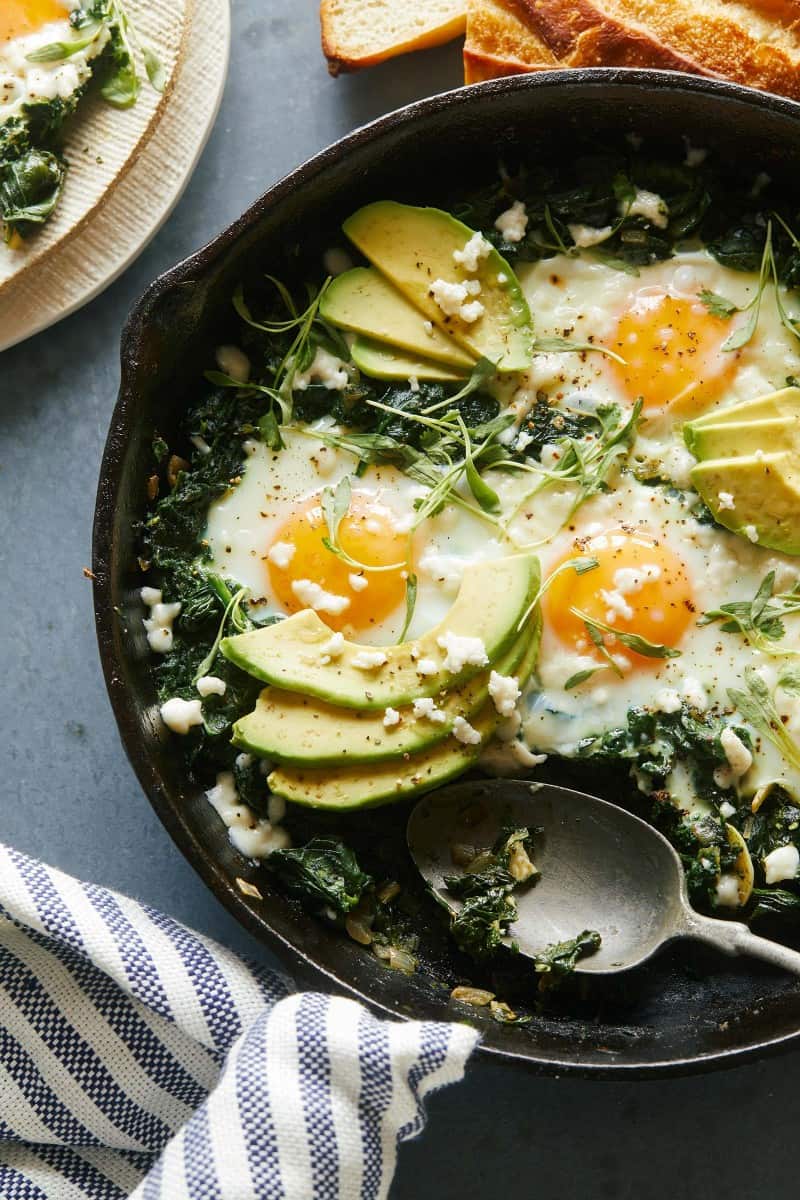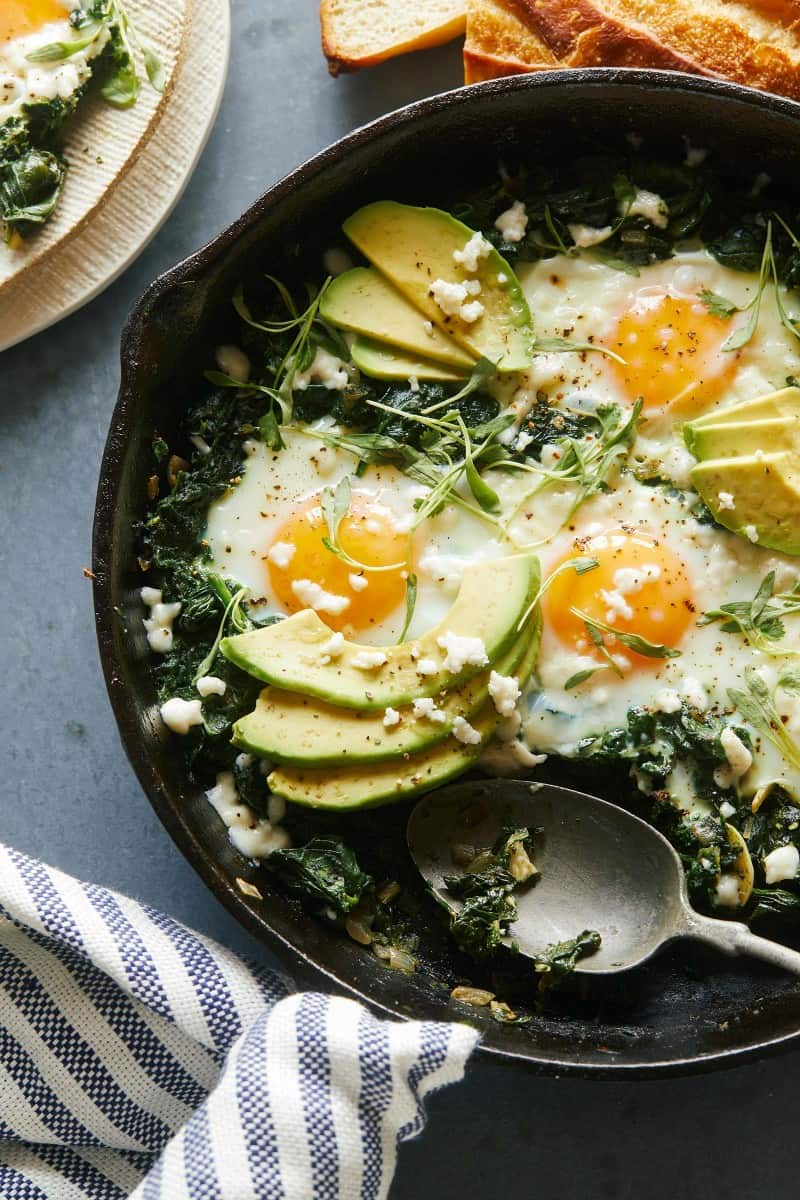 Hungry for more?
Subscribe to never miss a recipe.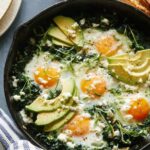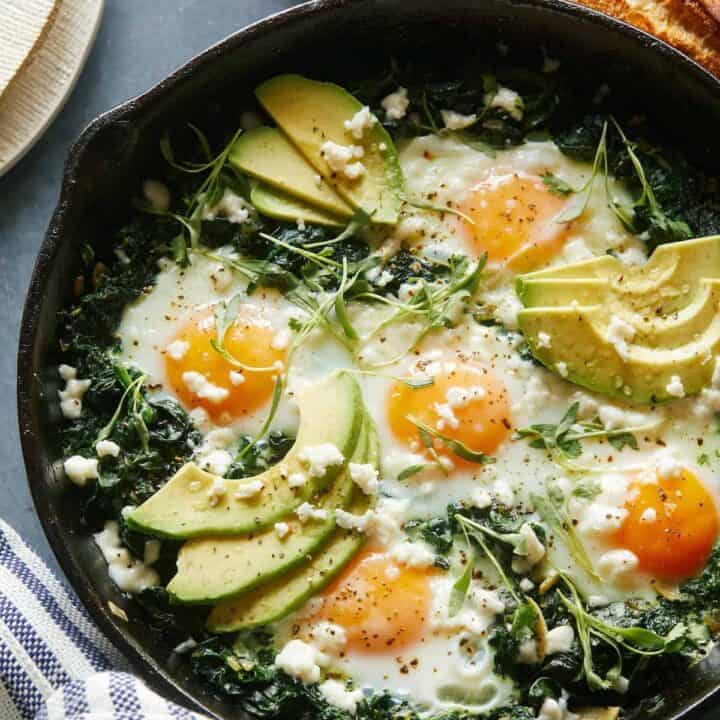 ---
Green Shakshuka
INGREDIENTS
3 ½

tablespoons

extra virgin olive oil, divided

1

pound

baby spinach

1

shallot (or scallions), minced

1

garlic clove, thinly sliced

2

teaspoons

cumin

1

teaspoon

ground coriander

½

bunch

cilantro, chopped

¼

cup

water

½

cup

crumbled queso fresco, divided

½

avocado, thinly sliced

salt and pepper to taste

micro cilantro or more cilantro leaves for garnish
INSTRUCTIONS
Place a large skillet over medium heat and add 1 tablespoon oil. Add spinach and sauté until wilted, 3 to 4 minutes.

Transfer to a colander and drain excess water by pressing into the spinach with the back of a wooden spoon (squeezing out with your hands if needed). Set aside.

Place skillet back over heat and add 1 ½ tablespoons oil. Add shallots and garlic and sauté for 2 to 3 minutes. Add cumin and coriander, continue to sauté for 1 to 2 minutes and season with salt and pepper.

Add spinach back to skillet and lightly season with salt and pepper Sauté for 1 minute. Stir in cilantro.

Transfer half of the mixture to a food processor and puree with remaining 1 tablespoon oil, until mixture is smooth. Pour puree back into the skillet and stir to combine. Spread mixture into an even layer and create 5 wells in the spinach mixture.

Carefully crack an egg into each well and cook mixture for 2 to 3 minutes.

Pour water around the edge of the skillet and cover for about 2 minutes, allowing the mixture to steam and the egg whites to set.

Remove lid and sprinkle with half of cheese. Lightly season with salt and pepper.

Remove shakshuka from stove and lightly season with salt and pepper. Sprinkle remaining cheese on top. Finish with sliced avocado and more cilantro.

Serve immediately with toasted baguette or pita.
Calories:
248
kcal
Carbohydrates:
7
g
Protein:
11
g
Fat:
20
g
Saturated Fat:
5
g
Cholesterol:
172
mg
Sodium:
231
mg
Potassium:
711
mg
Fiber:
4
g
Sugar:
1
g
Vitamin A:
8936
IU
Vitamin C:
28
mg
Calcium:
196
mg
Iron:
4
mg