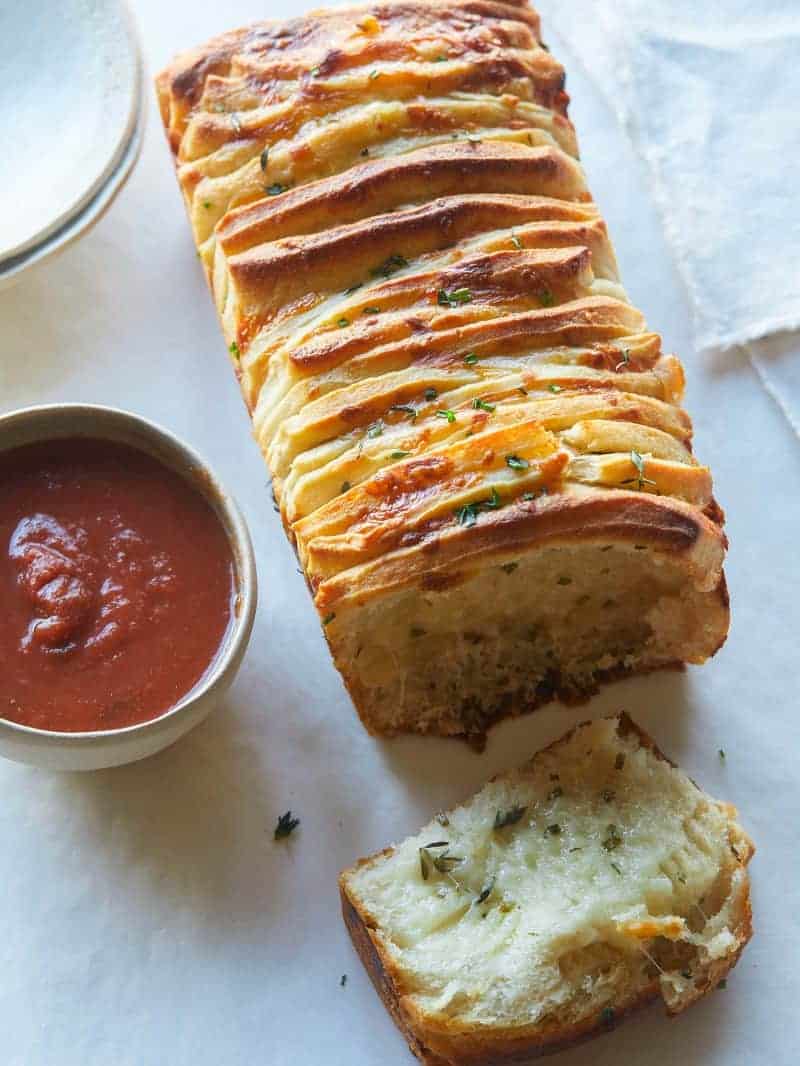 Carbs are good – but cheesy carbs are even better. I can never get enough of pull apart bread so we made another recipe. This time just straight up super cheesy pull apart bread. It's kind of a riff on our Pull Apart Pizza Bread which is delicious. I always think of this as more of an appetizer type dish, and never in place of rolls at a dinner table, but wouldn't this be a serious upgrade for regular dinner rolls?! Yes. I will be doing that now. What would you serve this with for dinner?
♥ Teri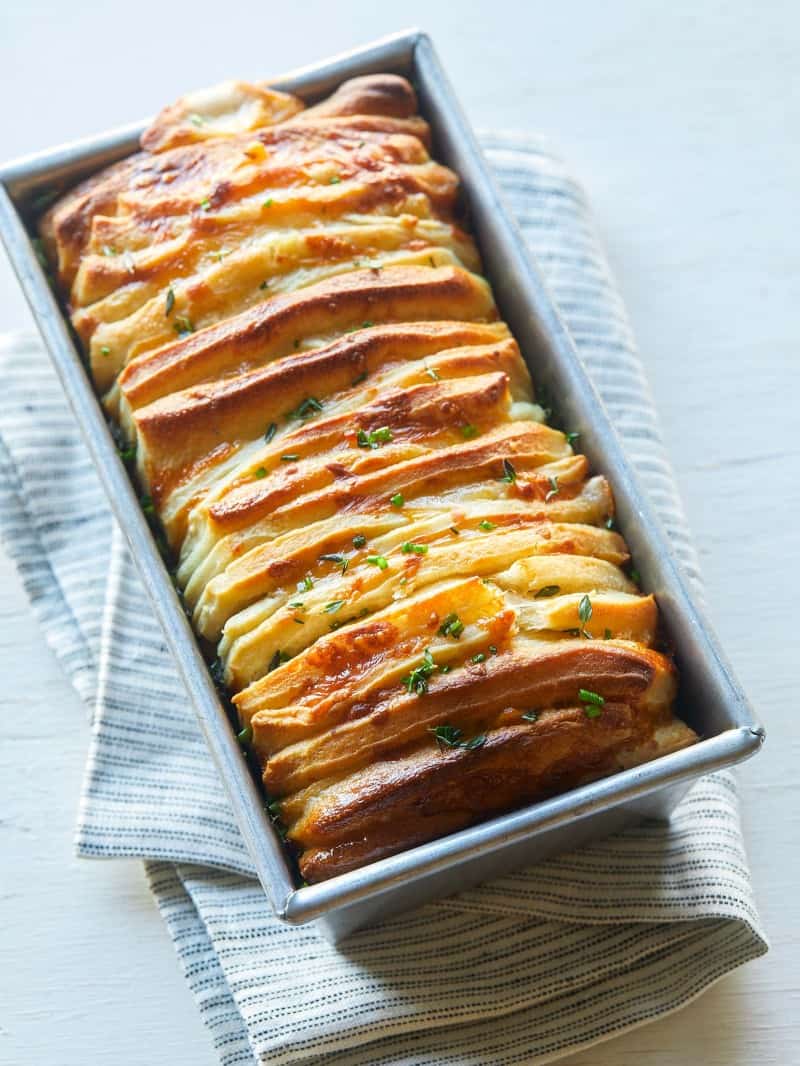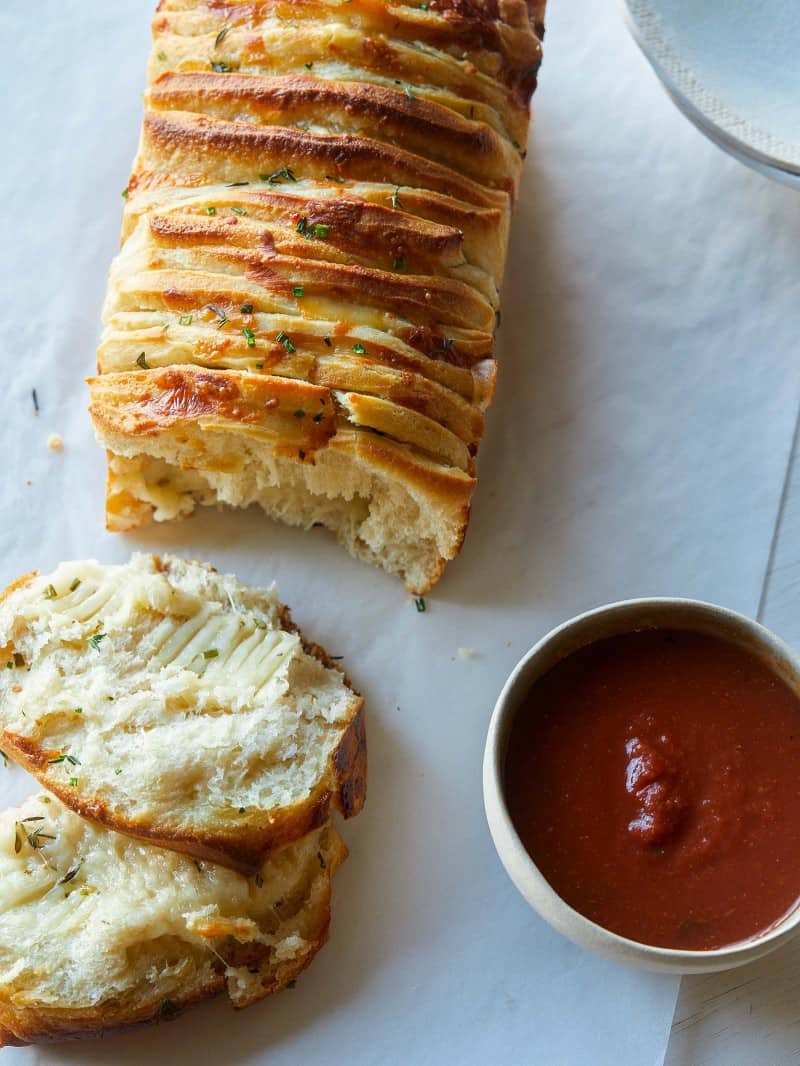 Cheesy Herb Pull Apart Pizza Bread
Makes 2 (2.5" x 5") loaves
Ingredients:
dough:
3 cups bread flour (all purpose is fine)
2 1/4 teaspoon instant yeast
1 1/2 teaspoons salt
2 tablespoons extra virgin olive oil
8 ounces warm water
filling:
1 1/2 cups shredded Gouda
1 cup shredded Havarti
1/2 cup grated Parmesan, plus more for sprinkling
2 tablespoons thinly sliced chives
2 teaspoons minced thyme
2 teaspoons minced oregano
1/2 cup (1 stick) salted butter, melted and slightly cooled
1. Dough: Pour flour, yeast, salt, and oil into a mixing bowl and whisk together. Add water, 1/4 cup water at a time and mix together until soft and sticky dough forms.
2. Turn dough out onto a clean and lightly floured surface and knead for 2 to 3 minutes, until smooth dough forms.
3. Lightly grease a mixing bowl, add dough and cover. Allow dough to rest and double in size, about 1 hour.
4. Filling: Place all ingredients into a mixing bowl and toss together.
5. To assemble: Preheat oven to 400˚F.
6. Divide dough in half and cover one of the balls of dough. Roll other half of dough until 1/2″ thick (about 12"x 24" rectangle).
7. Cut out 18 (4"x 4") squares of dough. Brush butter onto the surface of each square and spread 2 tablespoons of filling over the surface.
8. Stack three squares atop one another and carefully press them into a lightly greased loaf pan so they're 'standing up'. Repeat and continue to stack until all the squares are neatly in the loaf pan.
9. Once the pan is filled, sprinkle the top with grated Parmesan and repeat with the remaining ingredients in the other loaf pan.
10. Place the pans onto a baking sheet and bake for 22 to 25 minutes. Remove from the oven and Allow breads to cool, about 10 minutes.
11. Remove from loaf pans and serve with warm marinara sauce.