Hi all! So I just got back from my honeymoon this past weekend and it's actually really nice to be home! My husband and I had an absolutely amazing time (we explored our way through Croatia and Italy), but by day 14 we were ready to come home to our dog Dex and to sleep in our own bed. We ate our hearts out, but I don't feel too bad about it because we also did A LOT of walking and some bike riding (my favorite activity!) and feel like things sort of balanced out in the end….hopefully. :) More on the honeymoon and the things we did and ate coming soon!
For now though we have one of our favorite summer recipes that we're reposting today, our Sweet Corn Gazpacho, because after a couple weeks of nonstop eating out it was so nice to come home and eat a really simple and fresh dish that also didn't require us to cook anything after exhaustingly flying home for about 16 hours (24 if you count the 8 hour layover we had between flights, yikes).
This gazpacho really hit the spot for both my husband and I, we ended up eating it all weekend long, adding a side salad or a small piece of toast here and there. We also bulked it up for one of our meals by adding a little bit of cooked quinoa to it and it was really nice! While I'm finally snapping out of my jet-lag and getting back into the swing of things I need to remember to make this gazpacho more often; it really is so refreshing and tasty and I really can't complain about the 6 minute prep time to make it, you know?! Enjoy! xx, Jenny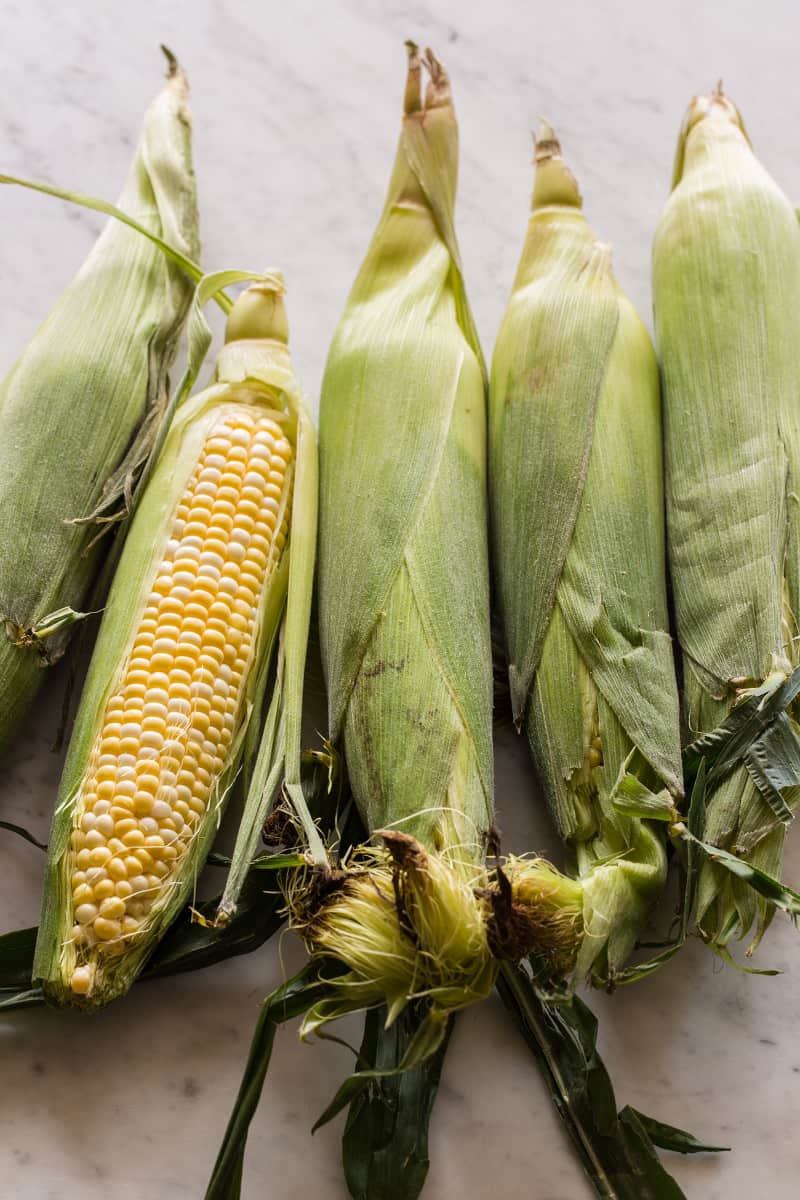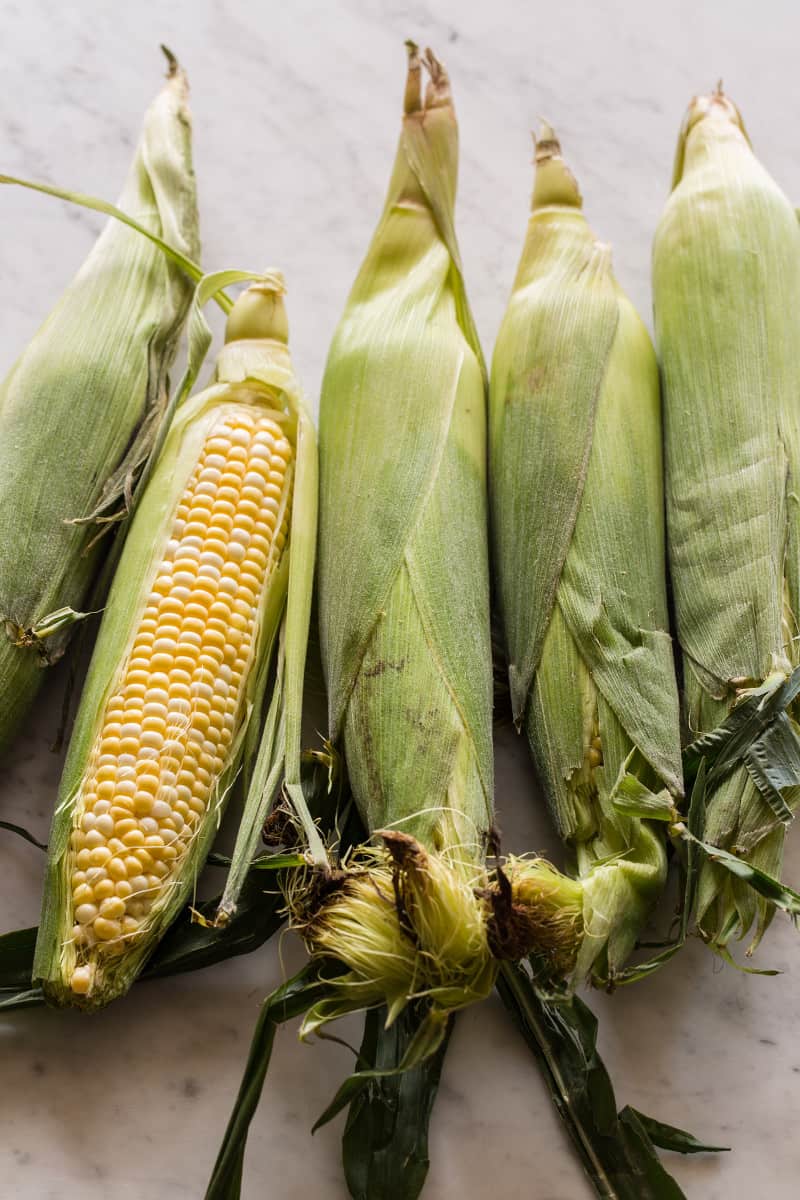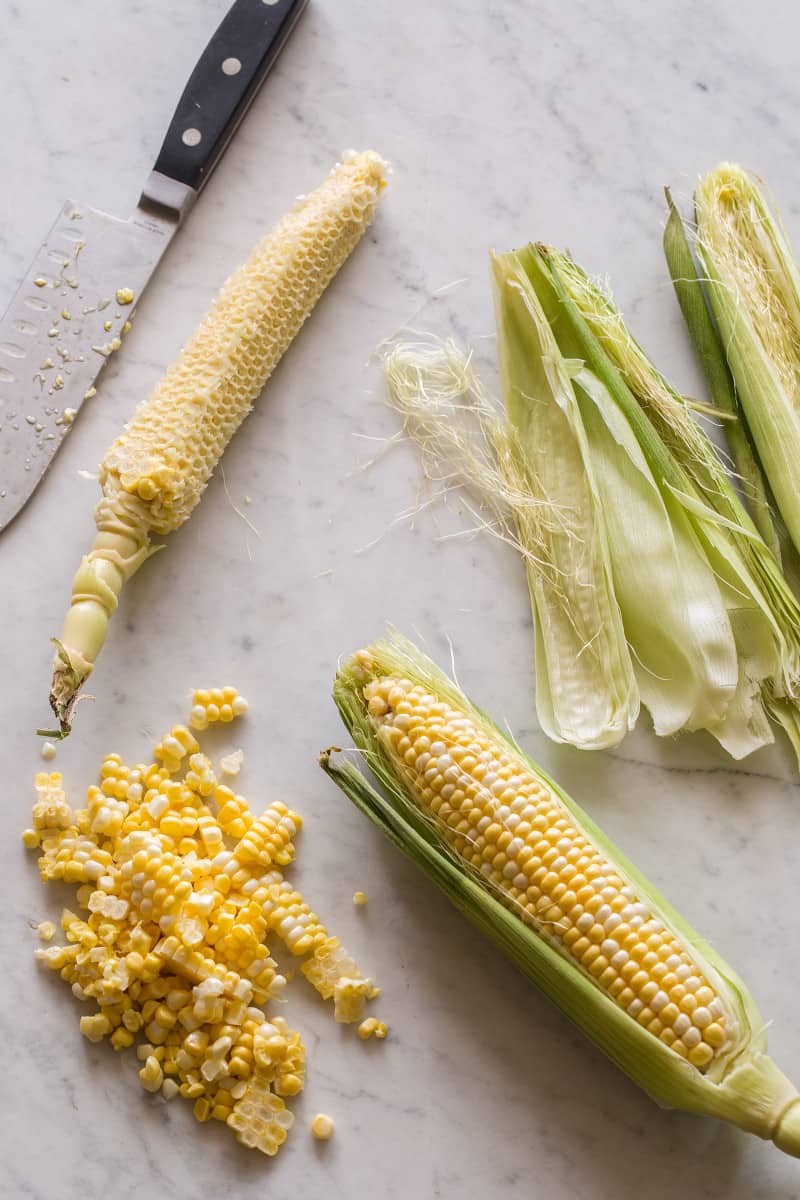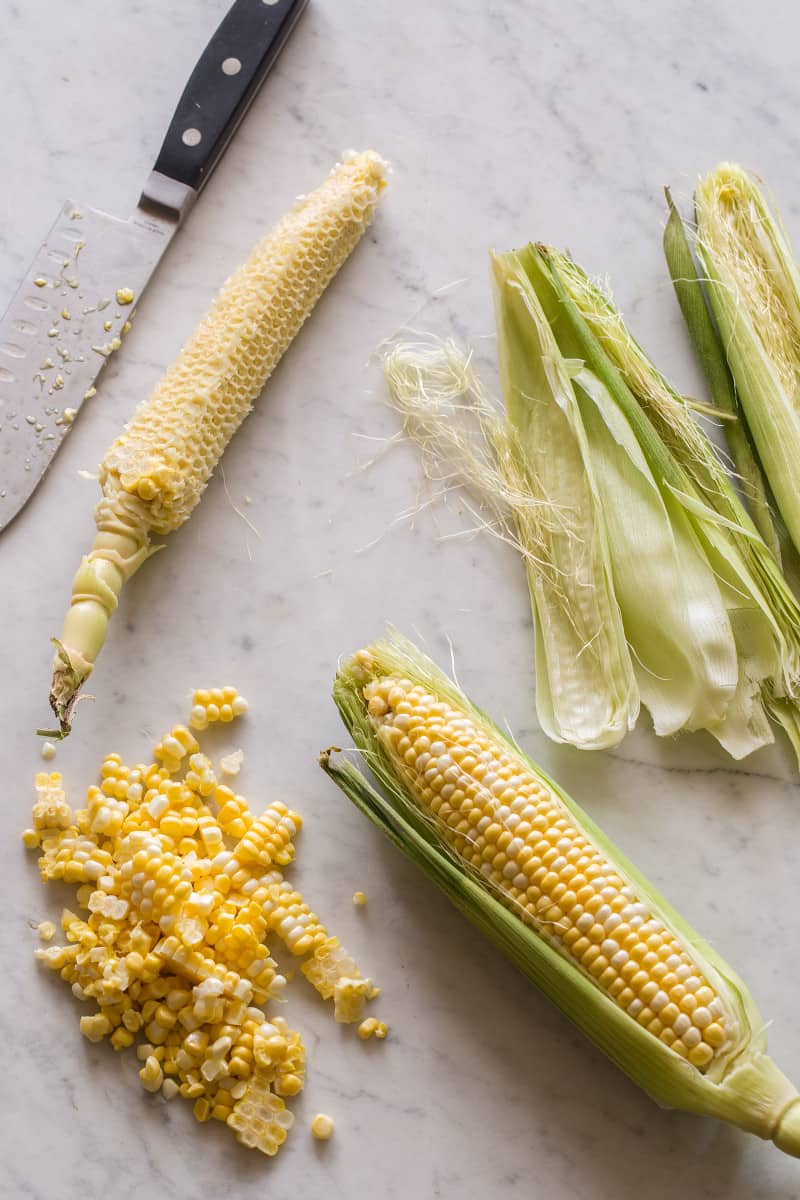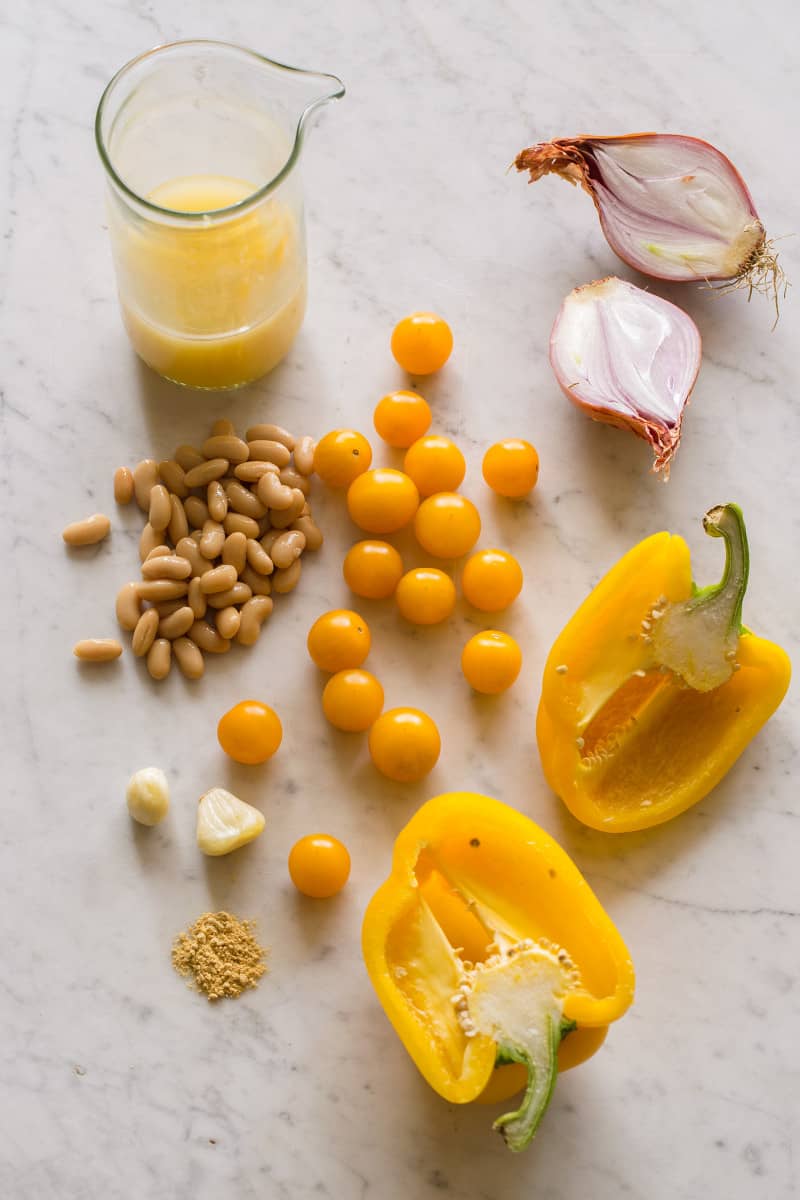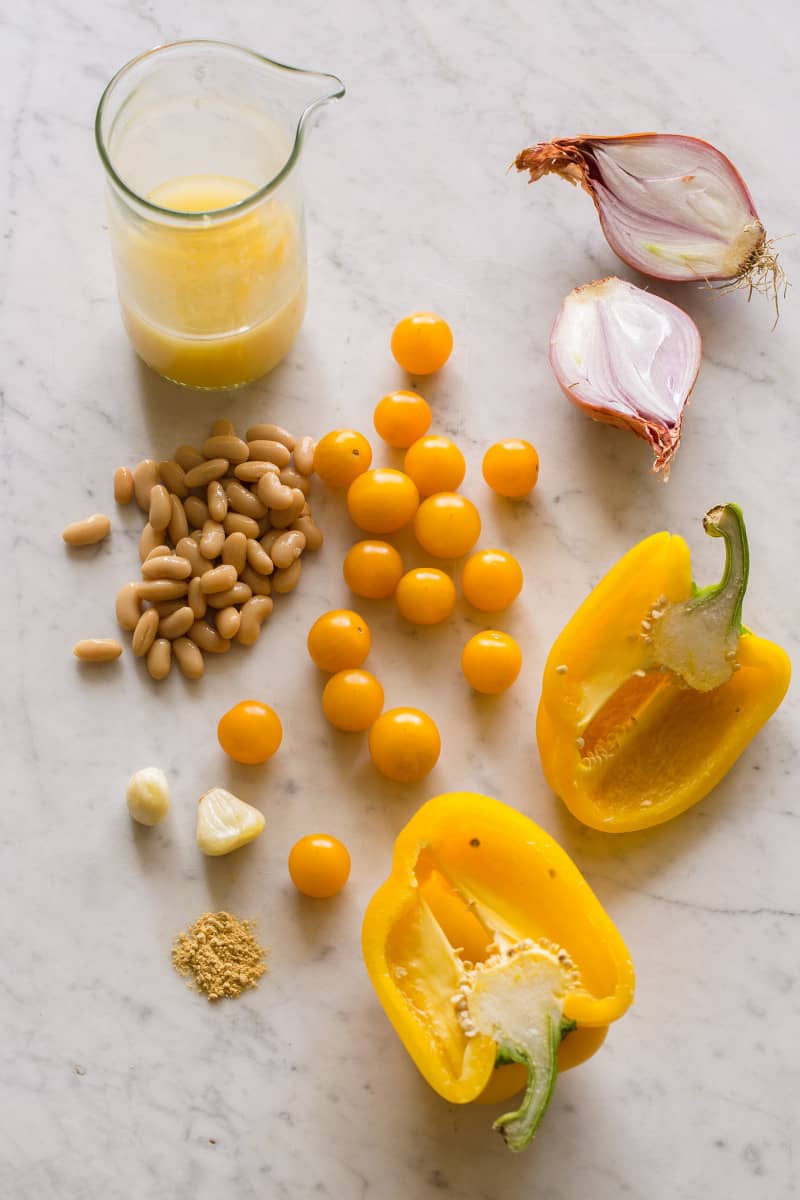 Hi Guys! I'm getting so excited for the summer because there's always something going on and something to do. I also love summer grilling, barbecues and eating one of my favorite things in the whole world…sweet corn! We were lucky enough to receive some gorgeous sunshine sweet corn from a collective of family farmers in Florida. What's particularly exciting about this corn is that the sweetness peaks throughout April and May, which means getting our corn-fix on two whole months before summer begins! The lovely people over at Sunshine Sweet Corn are also running a fun Pinterest contest where you can win great prizes. Make sure to head on over to their site for full details.
We used our corn to create this super light and refreshing Sweet Corn Gazpacho. I love raw corn. I always find myself nibbling on freshly cut kernels, every time I cook with corn. I love the crunch of each individual kernel and how they explode the bright sweet flavors into your mouth. So fresh, so good. I don't think people use raw corn enough, I certainly don't but need to start…which takes me back to this gazpacho. It's a different take on the standard tomato gazpacho. I love fun flavored gazpachos, like our Strawberry and Tomato Gazpacho. Our sweet corn gazpacho is a tad bit more hearty, but still makes for a super fresh and light dish. You can kick up the heat by adding in a serrano or jalapeno pepper to the mix. This soup is so easy to make and you can add in whichever fresh ingredients you want, depending on your taste. Sometimes I'll blend 1/2 a bunch of cilantro directly into the mixture for a more intense flavor.Yum. This recipe is great because it's vegan and gluten-free (so long as the stock/broth you use is homemade or gluten-free, as some store bought stocks/broths contain gluten). As the weather starts to warm up, I hope you guys try out this quick, easy and delicious sweet corn gazpacho. Enjoy! xx, Jenny
---
Sweet Corn Gazpacho
INGREDIENTS
3

ears of Sunshine Sweet Corn

12

ounces

(about 2 heaping cups) yellow cherry tomatoes

1

yellow bell pepper, seeded roughly chopped

½

medium shallot

2 to 4

garlic cloves

depending on preference

½

cup

canned white beans, drained

¾ to 1

cup

vegetable stock

juice of 1 lime, optional

½

teaspoon

cayenne pepper

1

teaspoon

ground ginger

salt and pepper to taste
garnish
radish sprouts

high quality extra virgin olive oil

raw Sunshine Sweet Corn kernels

cilantro leaves
INSTRUCTIONS
Holding an ear of corn on an angle in a large mixing bowl, slice fresh kernels off the cob and reserve ⅓ cup kernels for garnish. Using the back of your knife, remove the excess 'milk' (liquid) from the cob, into the bowl with the kernels. Discard cobs or reserve for later use.

Place the corn and remaining ingredients into a blender and thoroughly blend until smooth, 3 to 4 minutes. Refrigerate mixture (in the blender well) for at least an hour.

When ready to serve, blend mixture for 30 seconds and adjust seasonings.

Ladle gazpacho into bowls and top with a sprinkle the reserved corn kernels.

Finish each serving with a drizzle of oil and a small about of radish sprouts and cilantro leaves. Serve.
Calories:
97
kcal
Carbohydrates:
21
g
Protein:
4
g
Fat:
1
g
Saturated Fat:
1
g
Sodium:
108
mg
Potassium:
350
mg
Fiber:
3
g
Sugar:
5
g
Vitamin A:
558
IU
Vitamin C:
47
mg
Calcium:
20
mg
Iron:
1
mg