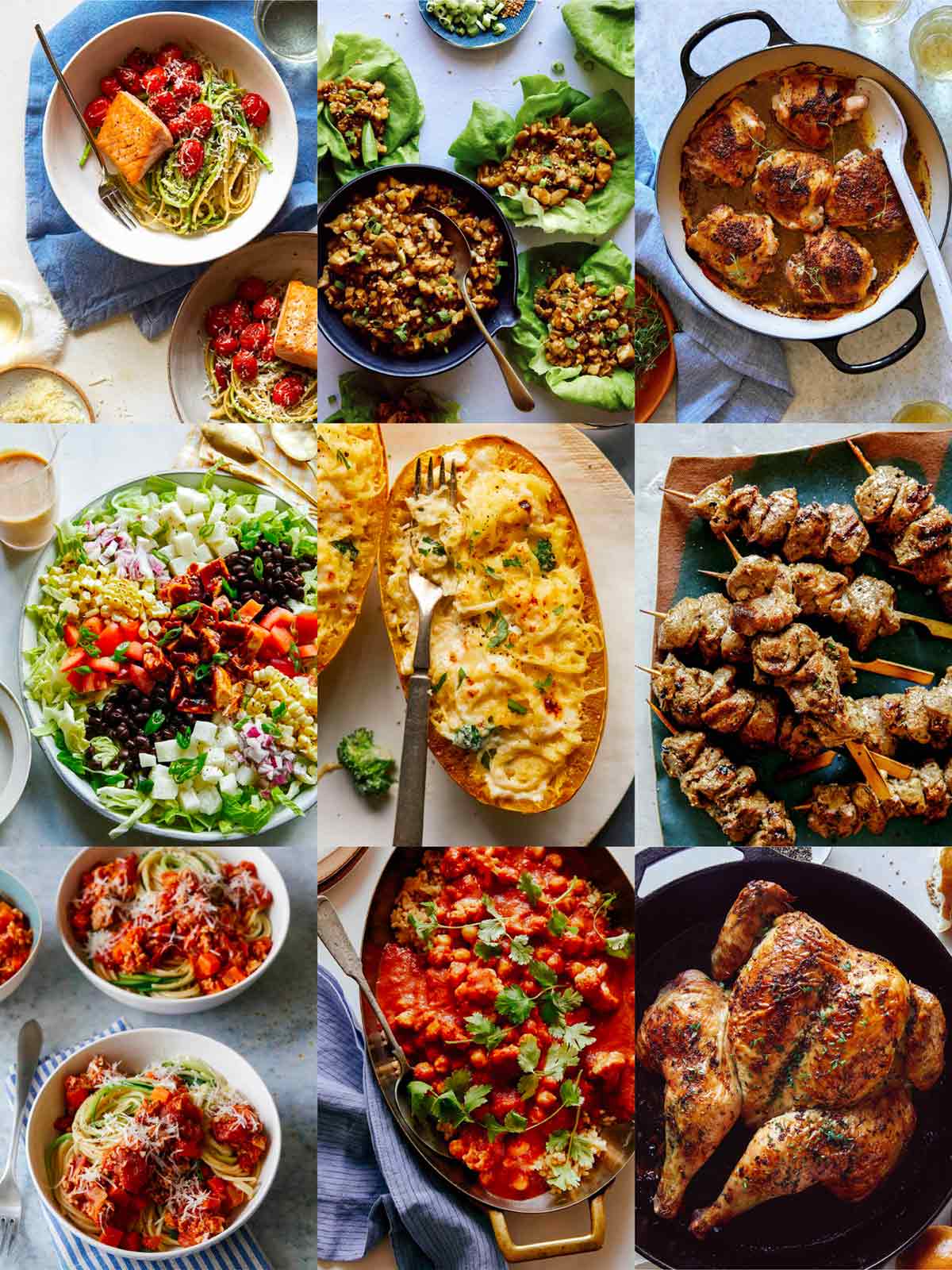 After the holidays we are always looking for some solid healthy dinner ideas that are on the lighter side. We tend to gravitate towards recipes that offer more vegetables than what we had been consuming over the holidays. We picked out our favorite healthy recipes that we will be making nonstop. Delicious chicken dinner recipes that are on the lighter side, and some hearty soups and stews, as well as some of our favorite healthy dinner recipes. Check them all out below!
Our Go-to Healthy Dinner Ideas
We have some staple healthy dinner ideas that we keep on deck when we need them. We are pretty proud of this list because we have some creative and flavorful recipes in the mix.
---
Seared Salmon over 50/50 Noodles – This recipe is perfect when you are craving pasta, but don't want to go full out. We cut the pasta with zucchini noodles so you still get some pasta, but also a healthy serving of vegetables! This is one of our favorite healthy dinner recipes. A lot of markets now have pre-cut zucchini noodles in the cold section of the produce aisle!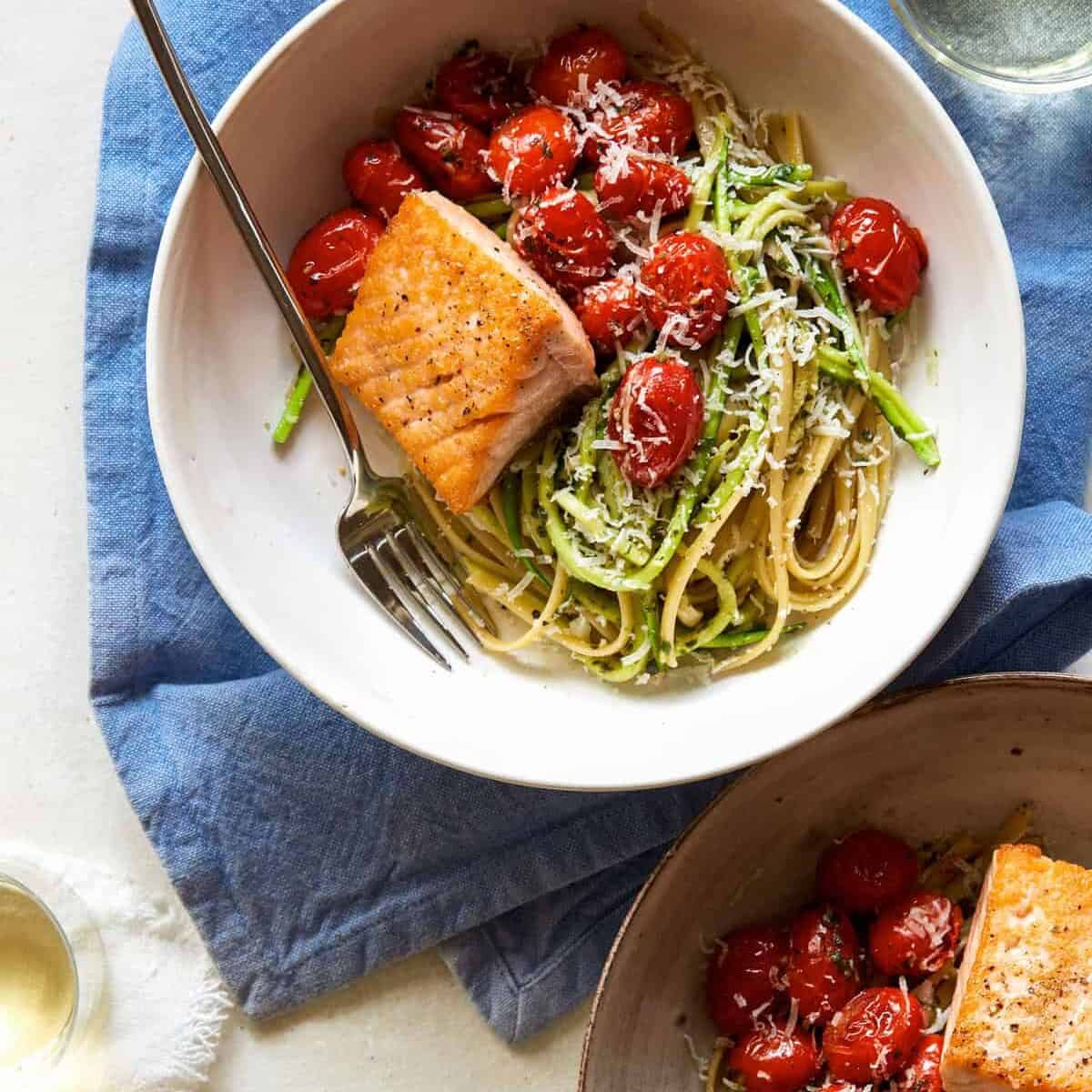 ---
---
Roasted and Stuffed Sweet Potatoes – This is a vegetarian friendly dinner recipe and these sweet potatoes are so delicious and filling. The cilantro-garlic cashew sauce is so good, and something you will want to make so you can drizzle it on everything! I love making extra to drizzle over some simple roasted veggies for dinner on the following nights.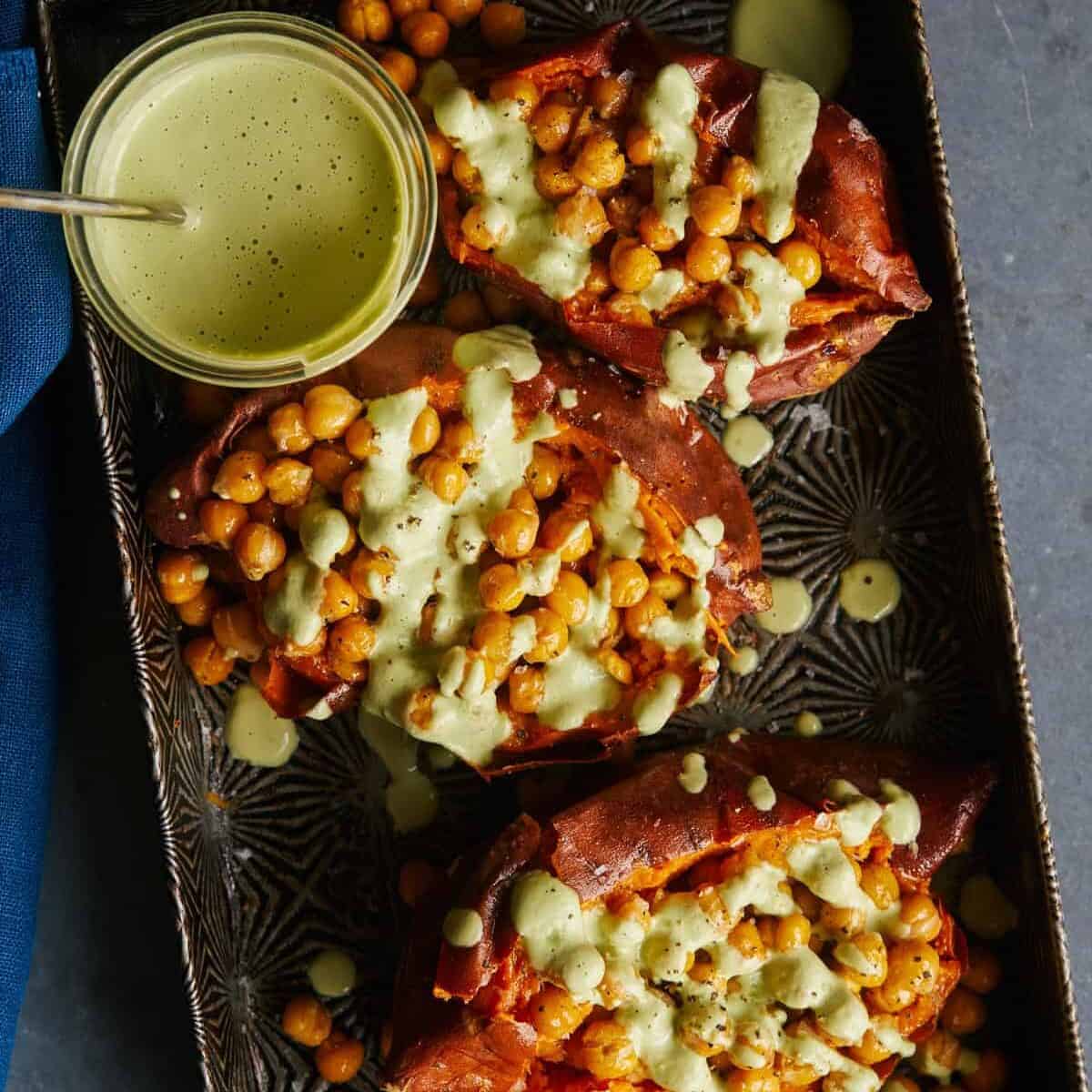 ---
---
Spaghetti Squash and Broccoli Alfredo – This healthy dinner idea is the perfect recipe for you if you still want something creamy, but want to lose the carbs. We love using spaghetti squash in place of pasta because it's still totally satisfying. You can stuff this recipe with extra broccoli or other veggies too!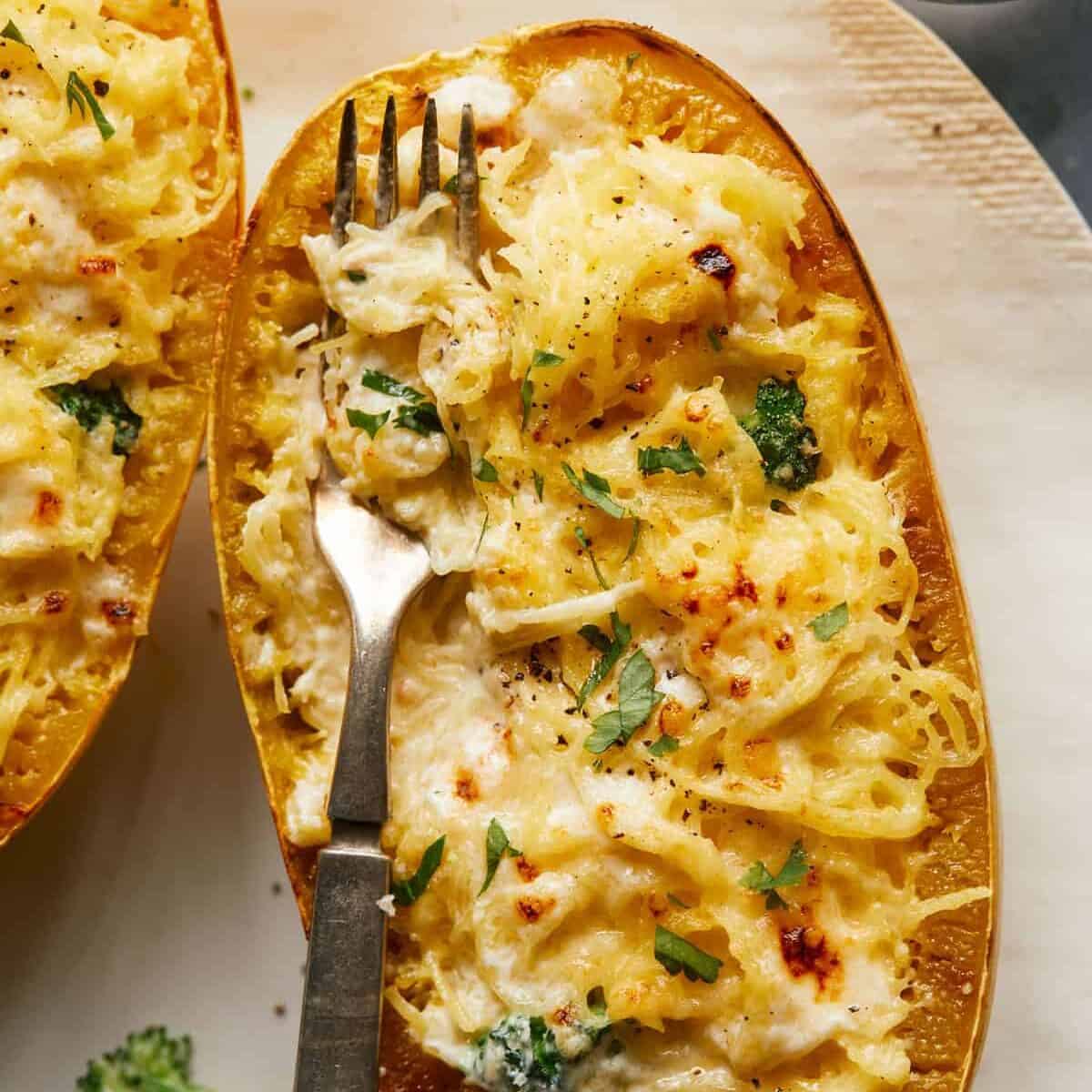 ---
---
Buddha Bowl – These Buddha Bowls make a delicious vegetarian, yet totally filling meal. All of the different components and textures of this dish pair so well together and make it totally delicious. This is a great dinner recipe for leftovers because it keeps so well! I find myself always making extra for some lunches the following days. You can also add whatever other ingredients you prefer to customize this bowl, just don't skimp on the garlic cashew sauce!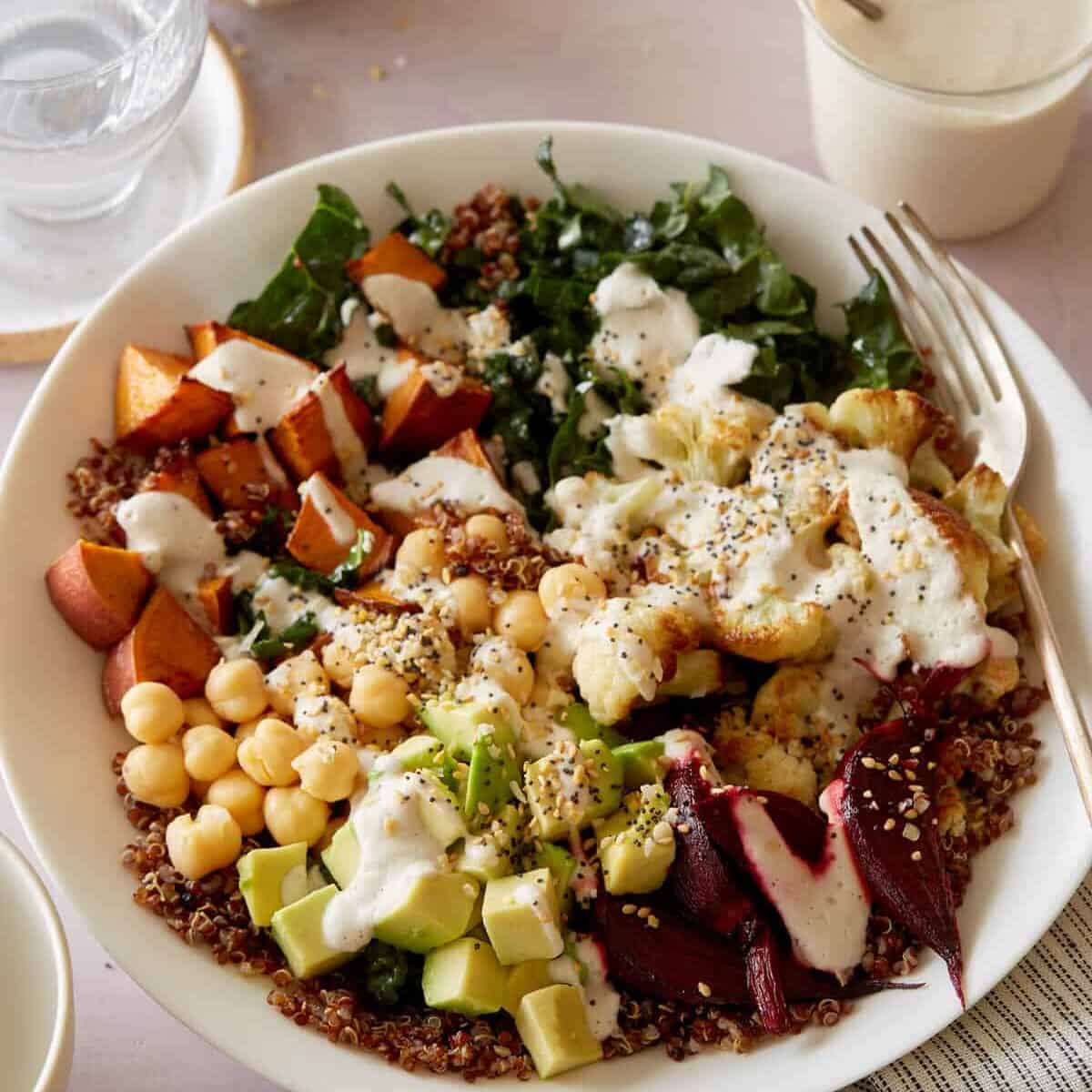 ---
---
Soba Noodles with Shrimp – I love this dinner idea because it's super flavorful. The creamy peanut flavor is really good. Soba noodles are high in protein and gluten free. We also have this recipe for sesame soba noodles with shrimp that is also a favorite!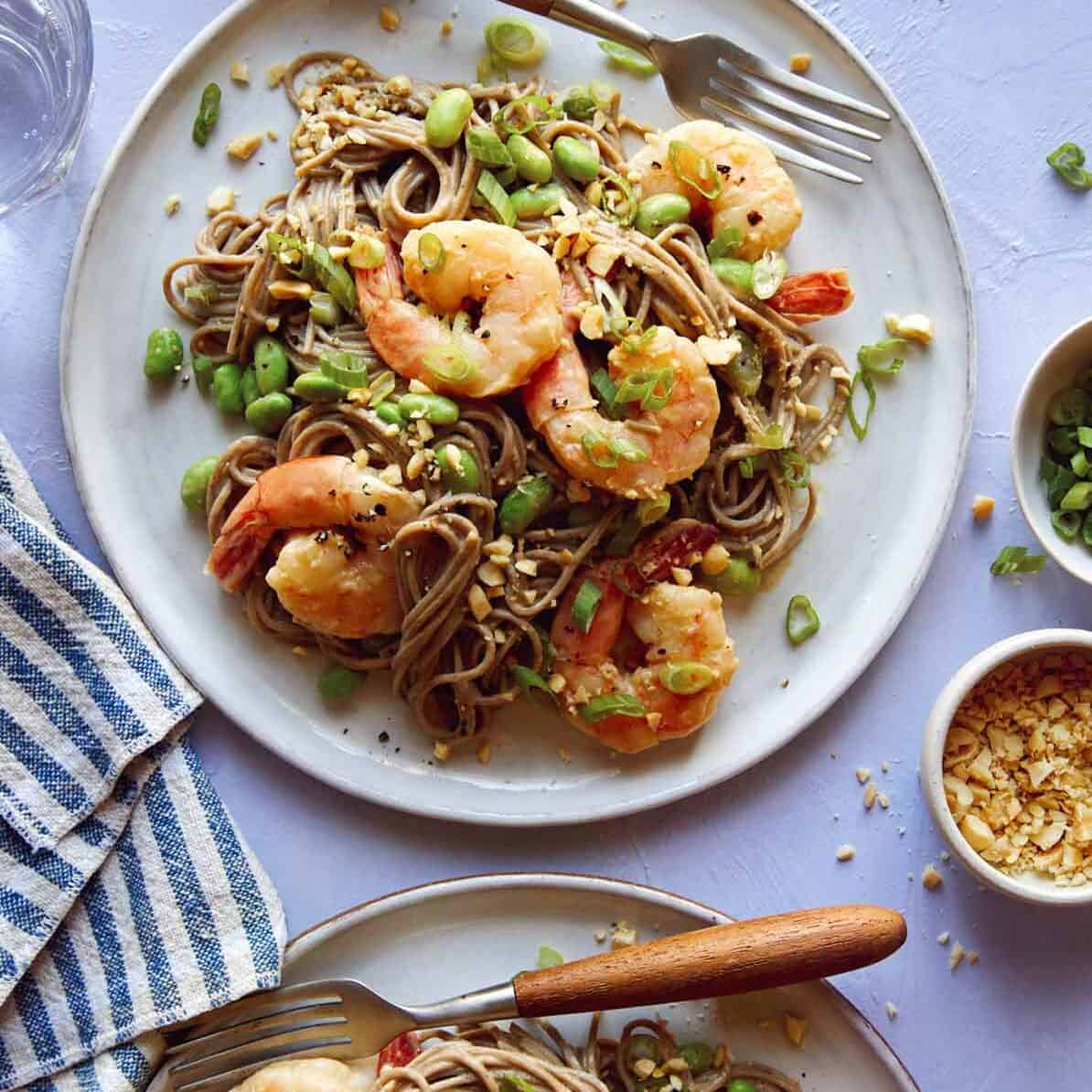 ---
---
Healthy Chicken Dinner Ideas
We love us some chicken dinner ideas! We have quite a few chicken recipes on the blog, but we combed through and picked out our best chicken dinner ideas.
---
Oven Baked Chicken Thighs – We love this easy healthy dinner recipe because chicken thighs are good source of lean protein. We both keep a stash of frozen chicken thighs in the freezer for this dinner recipe because all of the other ingredients you need are usually items you have on hand. These thighs have a lot of flavor and can pair perfectly with a simple leafy green salad with your favorite dressing.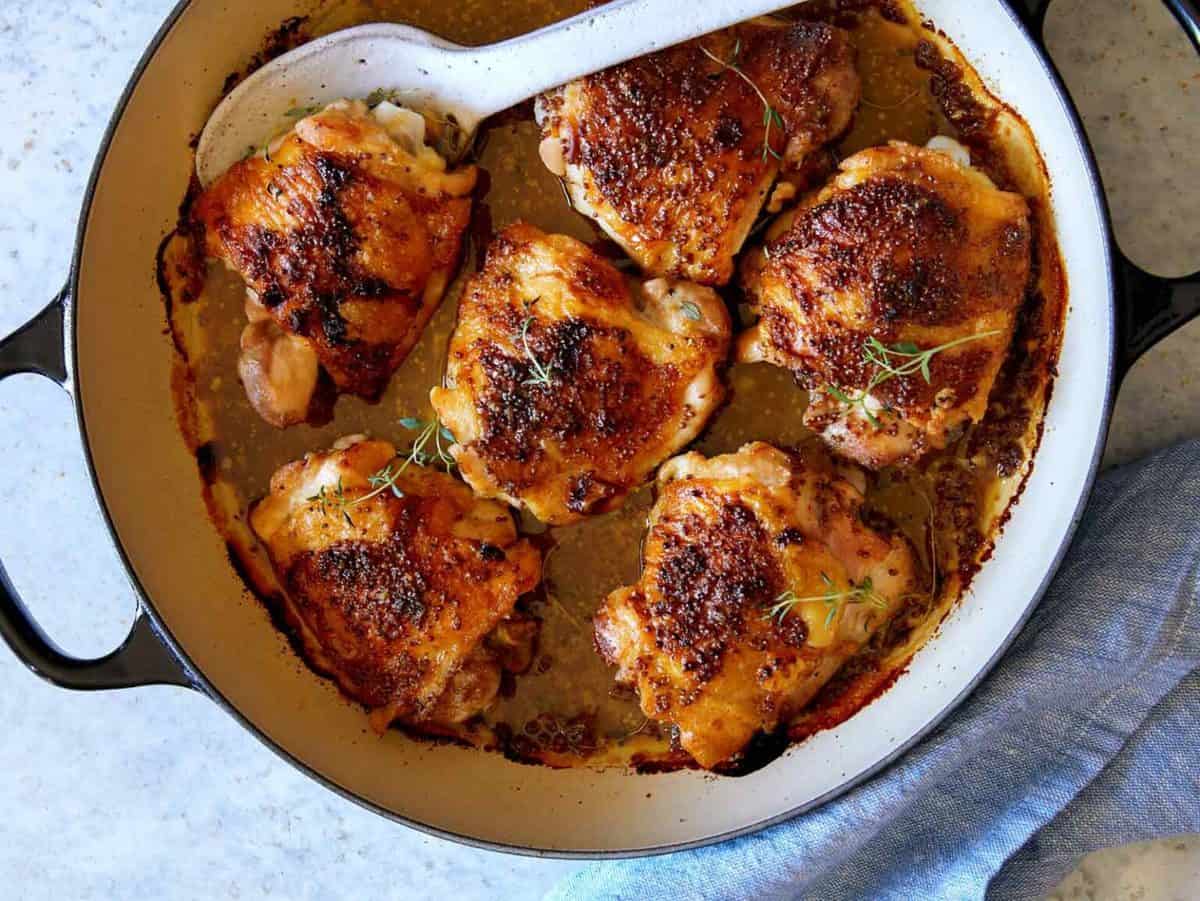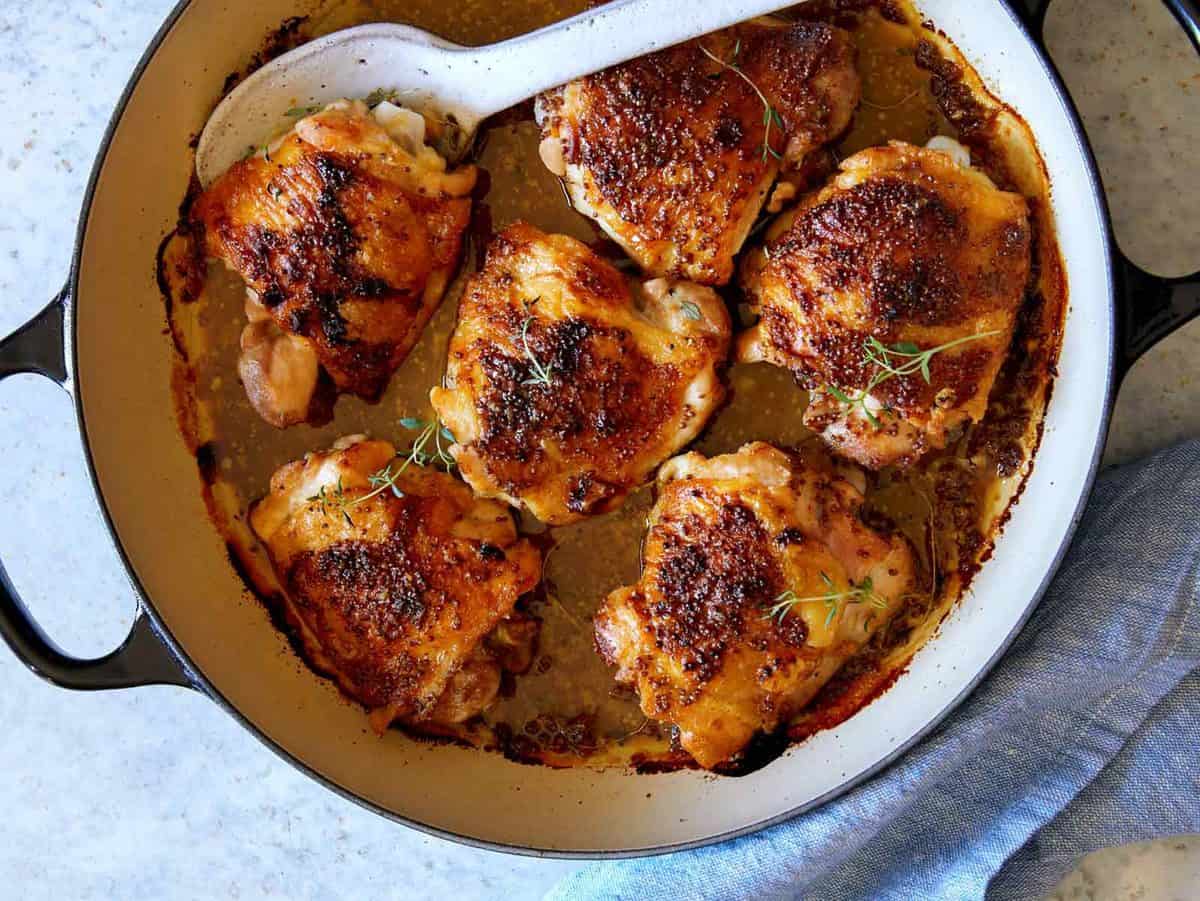 ---
---
Chicken Lettuce Wraps – This recipe is incredibly flavorful and makes great leftovers. This healthy chicken dinner idea is one of my favorites on the site. My husband requests it frequently!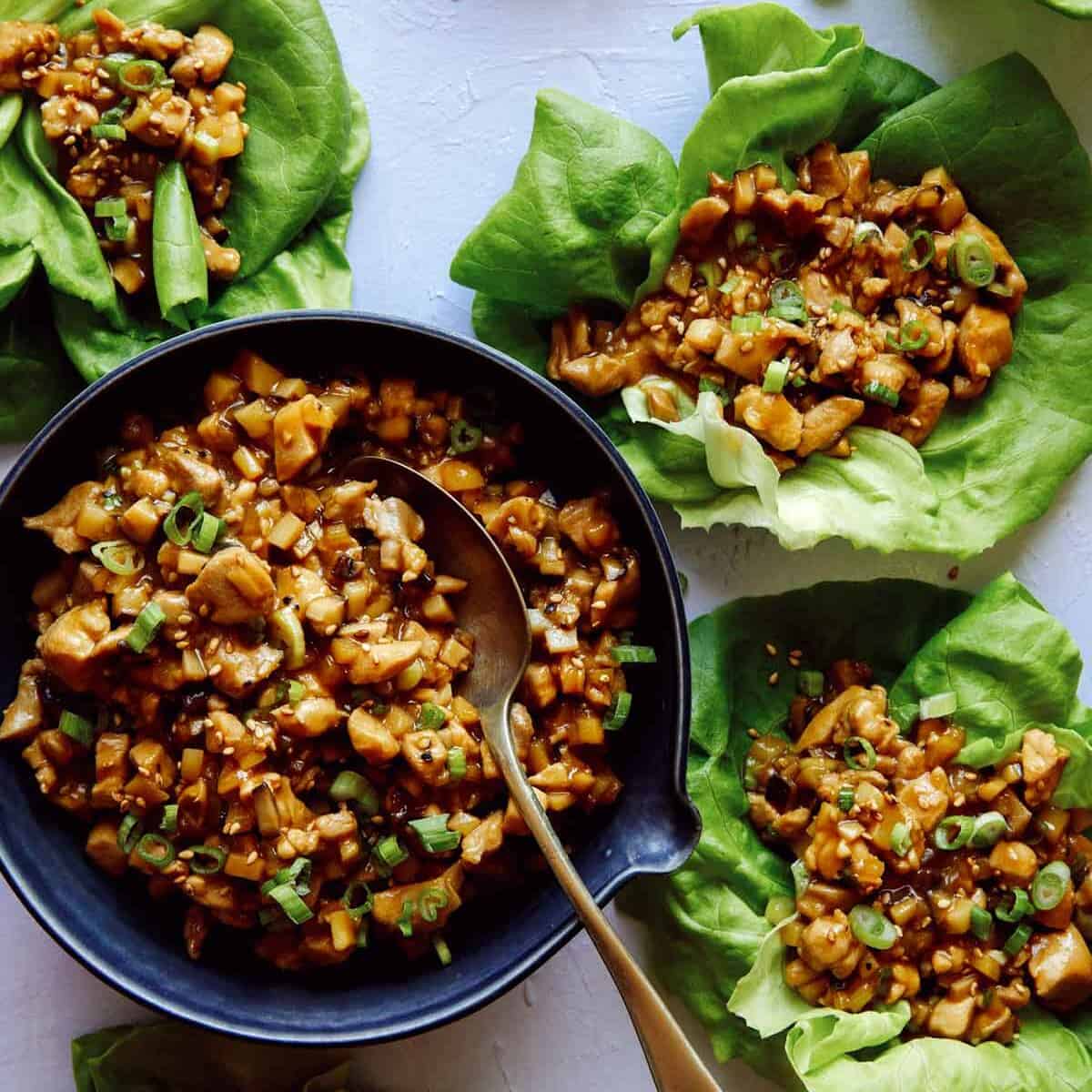 ---
---
Spatchcock Chicken – This healthy dinner recipe is awesome. The spatchcock technique gives you a perfectly cooked and juicy chicken. We love using chicken recipe to make at the start of the week and then using the meat to make things like our BBQ Chicken Salad, or our Creamy Chicken and Farro Soup. I wanted to include it because it's such an easy dinner idea that can go with a simple salad.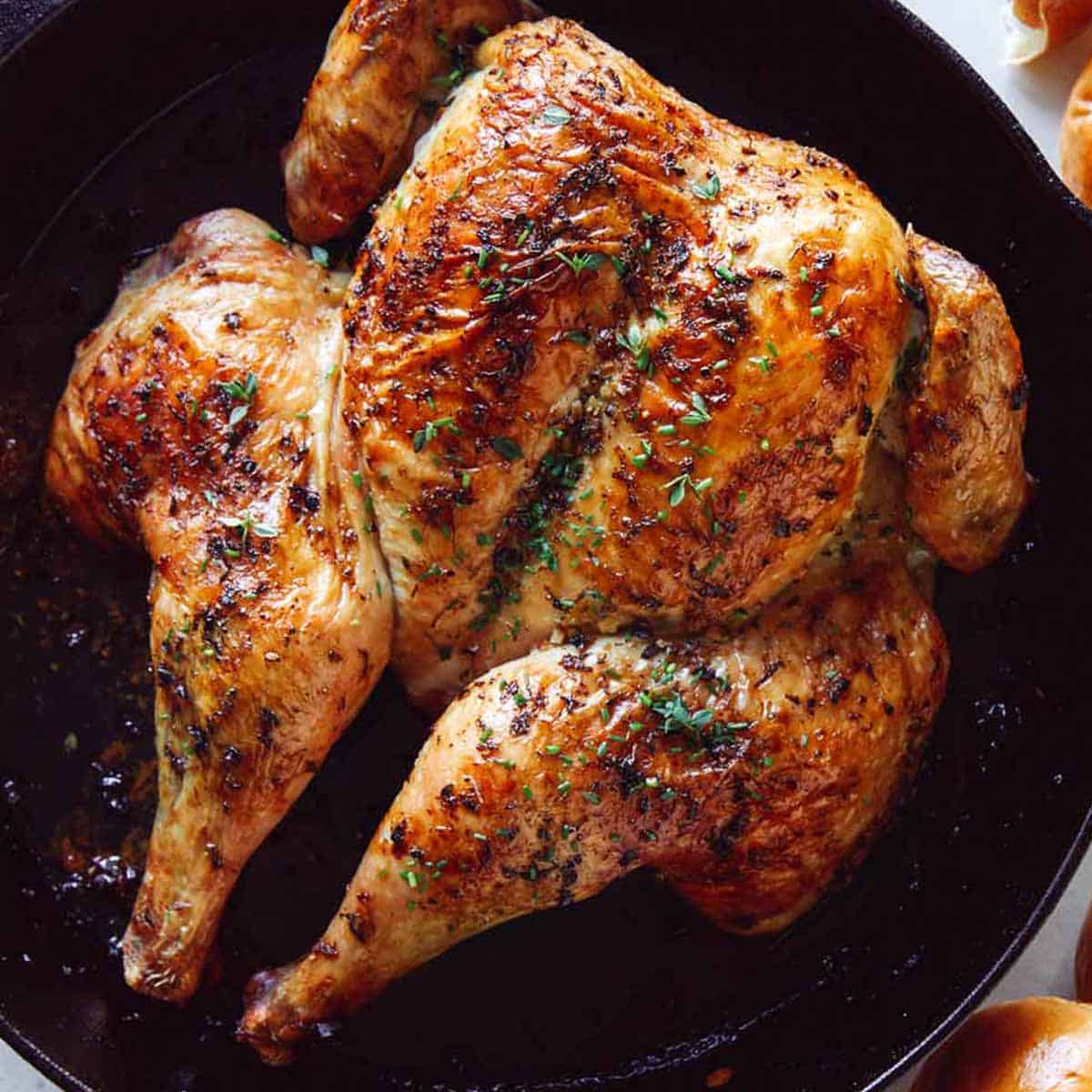 ---
---
Loaded BBQ Chicken Salad – This is one of my favorite salad recipes to eat. It's just so flavorful because of all the components, but it's actually a really easy salad to throw together so don't let the list of ingredients deter you! If you can't find fresh corn, you can use canned or I love Trader Joe's Fire Roasted Corn in the freezer section.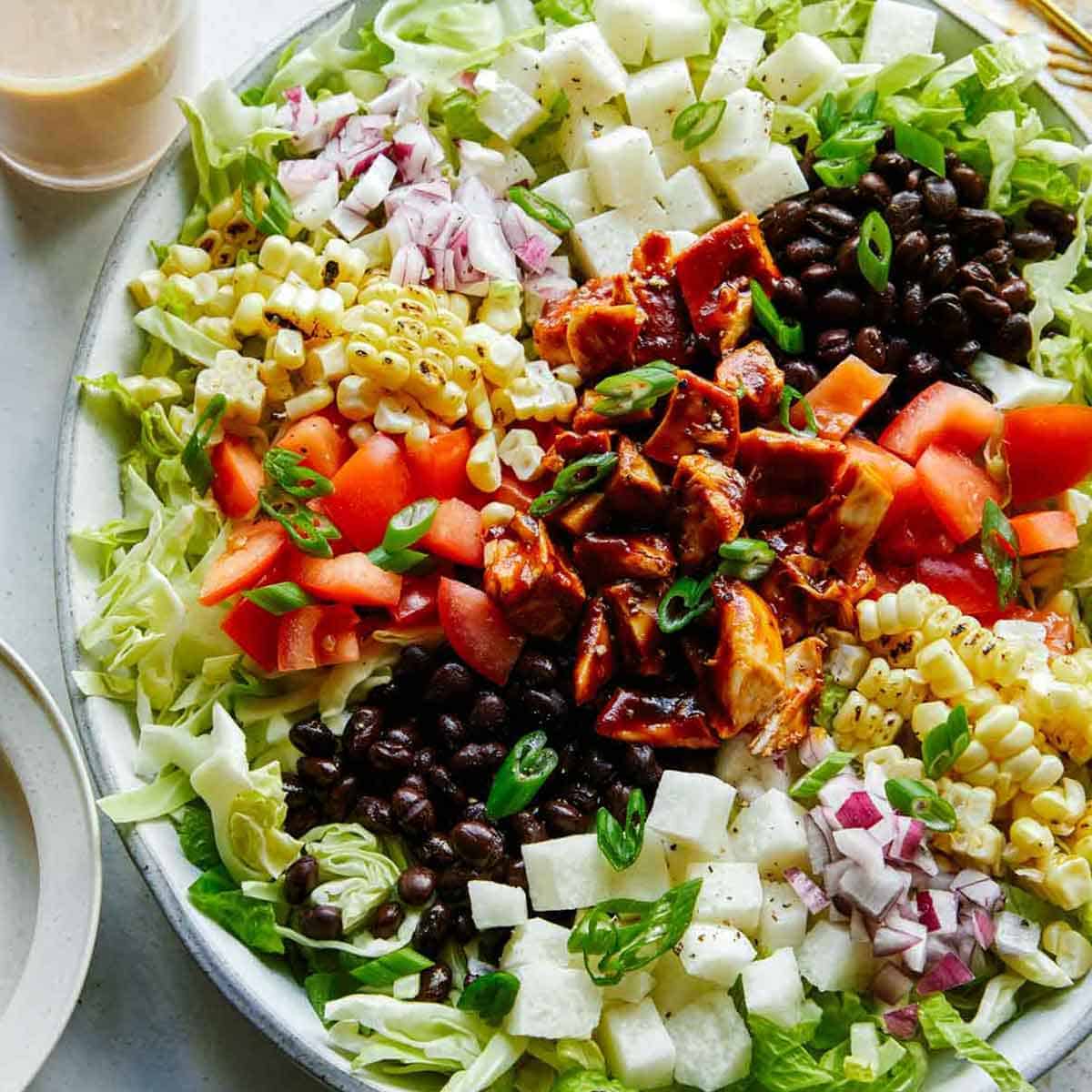 ---
---
Pozole Verde De Pollo – This hearty soup recipe makes the perfect healthy chicken dinner recipe. It's incredibly comforting and an easy dinner recipe to throw together!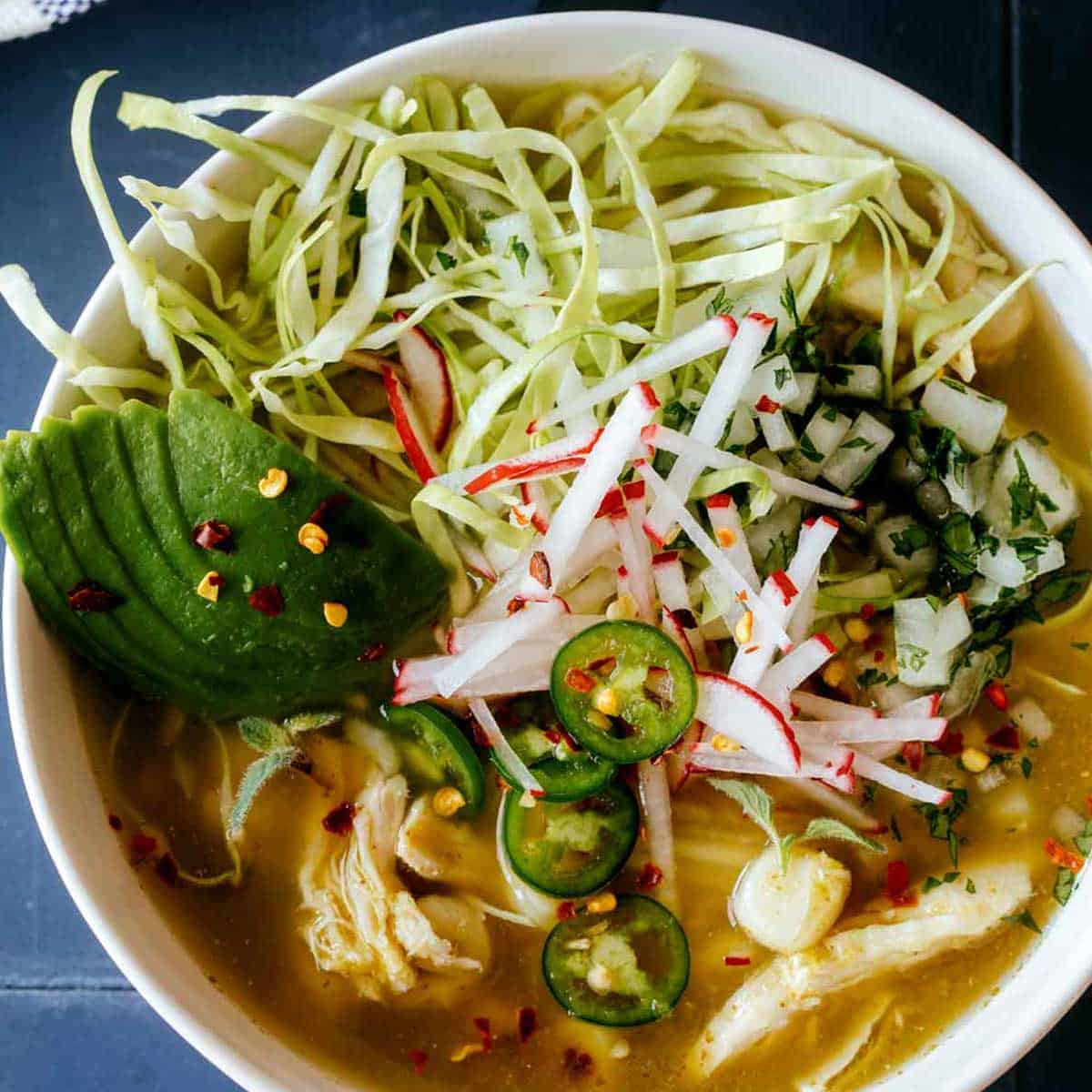 ---
---
Chipotle Honey Chicken Burrito Bowls – I love bowl recipes, and this is one our favorite chicken dinner ideas. You can load up with whatever ingredients you love the most! Think of this like your own at home Chipotle burrito bowl. I personally like to make this with riced cauliflower as my base.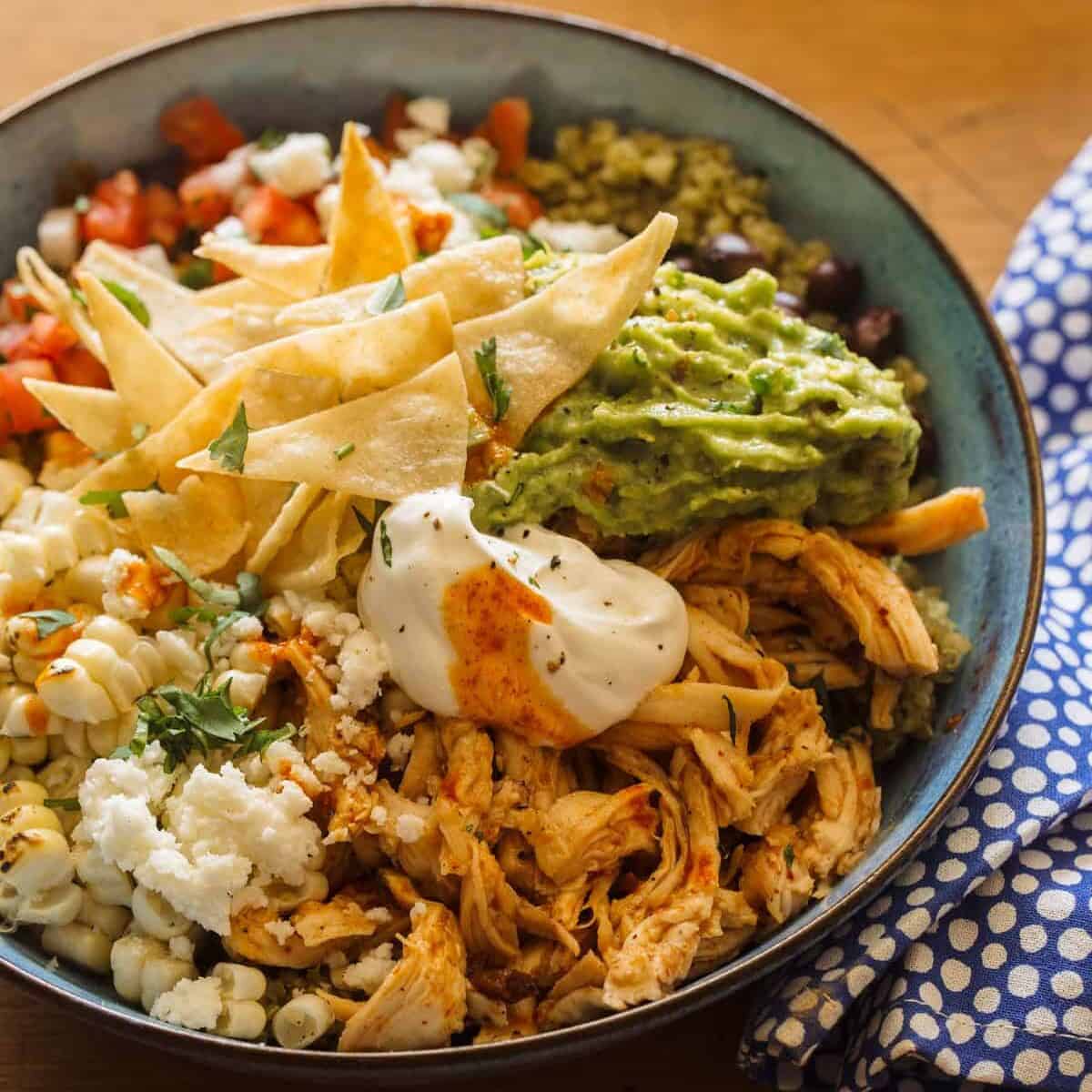 ---
---
Vegetarian Dinner Recipes
Obviously not all vegetarian dinner ideas are totally considered "healthy" but it is nice to break up some more of your meat heavy dinners with vegetarian options. Here we have a big list of some of favorites!
---
Vegetable Loaded Vegan Korma – This healthy dinner recipe is a total winner. I love making a big batch of this because the leftovers are so good. Serve this yummy dinner idea over rice or whatever grain you love. I love it over sprouted brown rice.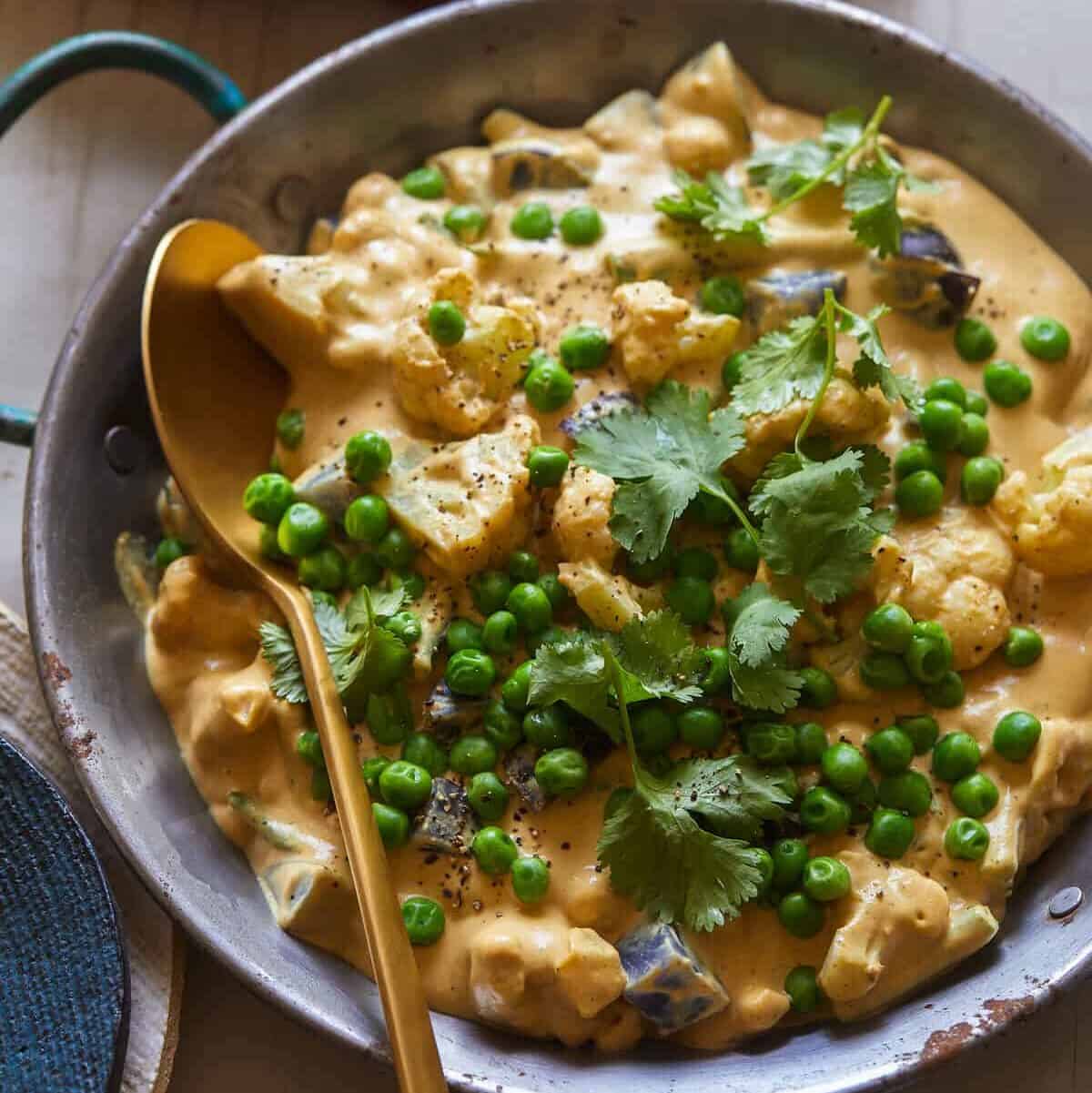 ---
---
White Bean Shakshuka – We are shakshuka lovers here. We have quite a few shakshuka recipes on the site. Like our Individual Shakshukas, our Shakshuka Chilaquiles, or our Green Shakshuka. I choose this one for our heather dinner ideas because the white beans and spinach make it really filling. We serve it with some nice warm pita!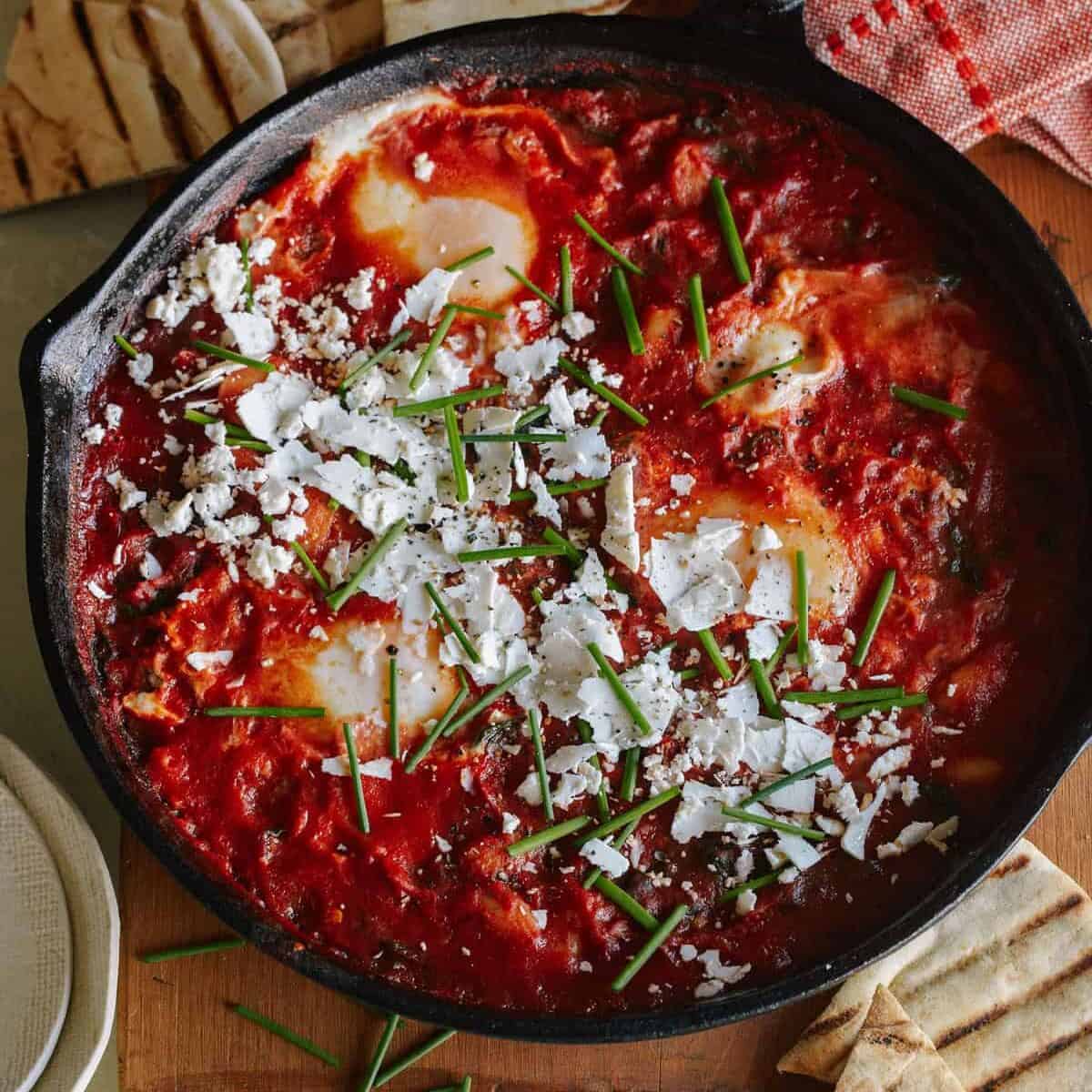 ---
---
Indian Butter Cauliflower – A great vegetarian recipe! I love the flavors in this recipe and it's one of my favorite healthy dinner ideas. You can also make this with other vegetables if you don't love cauliflower, or you can just add some carrots or potatoes or anything else along with the cauliflower.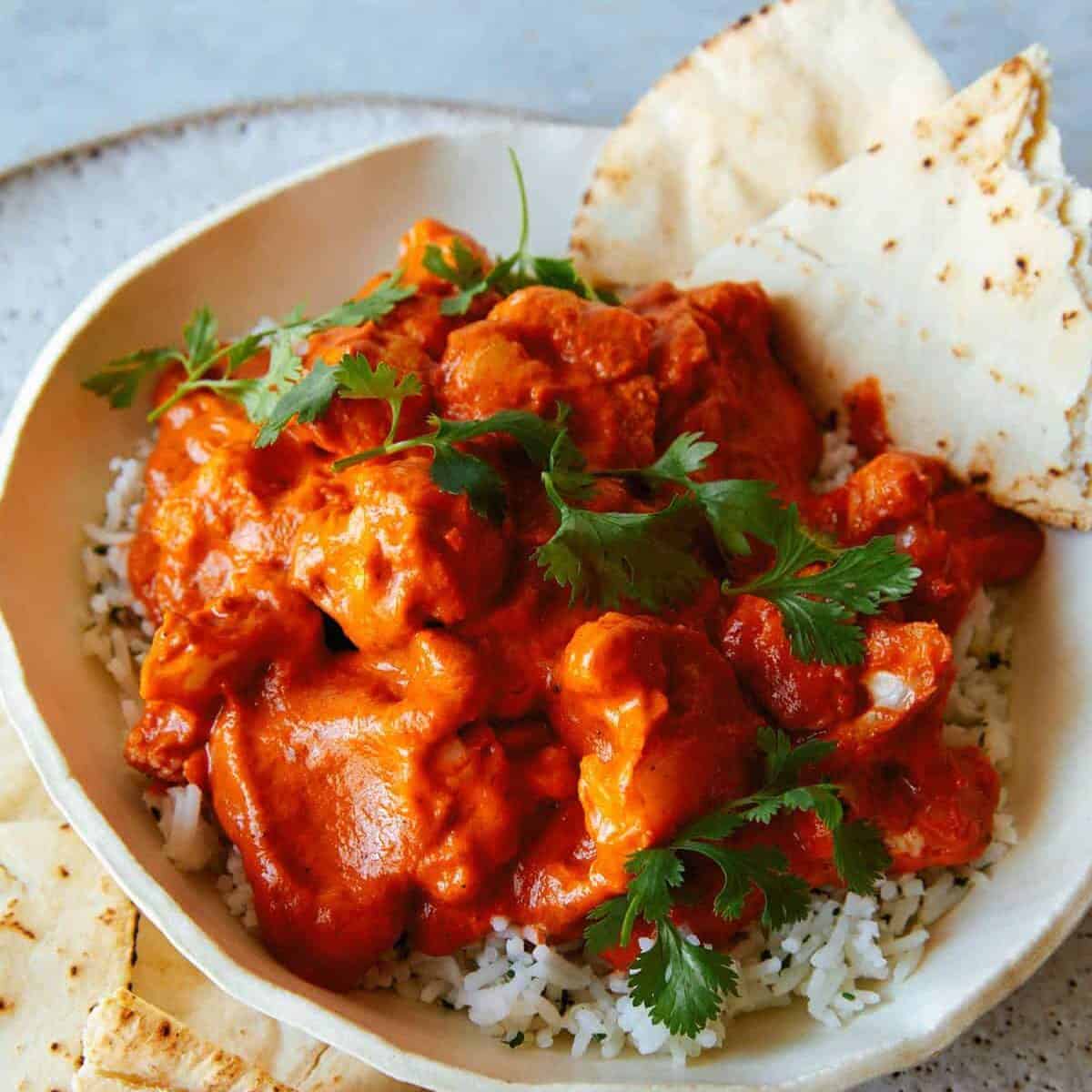 ---
---
Spicy Chickpea and Cauliflower Curry – We are big chickpea fans (try our Chickpea Salad Sandwich!) This curry recipe is a fantastic healthy dinner idea, loaded with flavor and very filling – not to mention a good helping of vegetables from the cauliflower!
---
---
Our Favorite Healthy Stews and Soups
A good soup our stew is just perfect for colder weather. We picked out our best soups and stews for our heather dinner ideas list, and we hope you can find a recipe you love!
---
Spicy White Bean Chili – This dinner idea is a great one because this soup freezes really well. It's also a great soup to make if you need a way to get rid of some leftover chicken.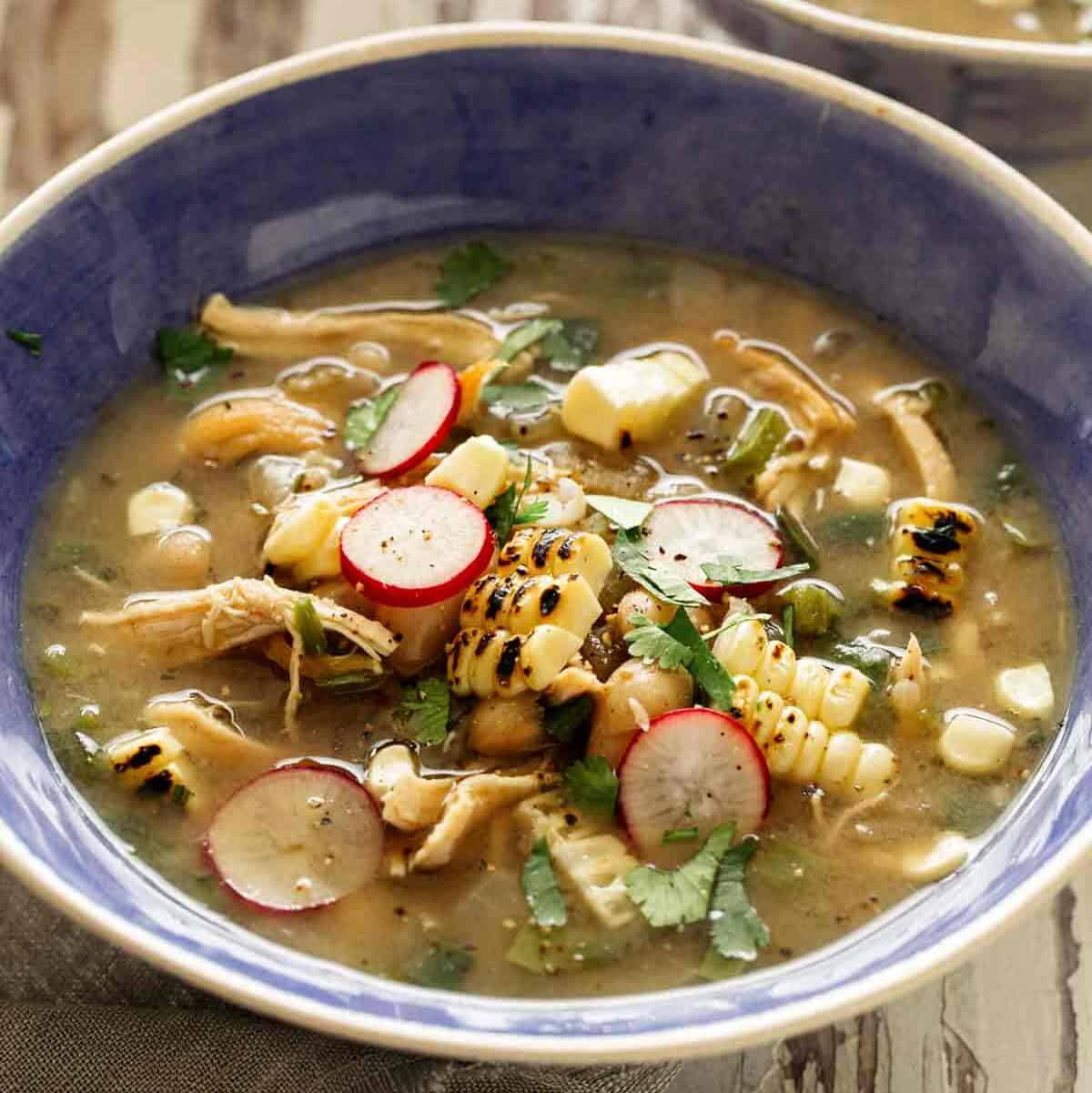 ---
---
Spicy Black Bean Soup – This is a perfect easy healthy dinner recipe that is made even more great because you can make this in advance! This is honestly a great soup just on it's own, but you can partner this soup up with some pieces of chicken, or get creative with toppings and load up some fresh cherry tomatoes, avocado, corn, and radish to name a few.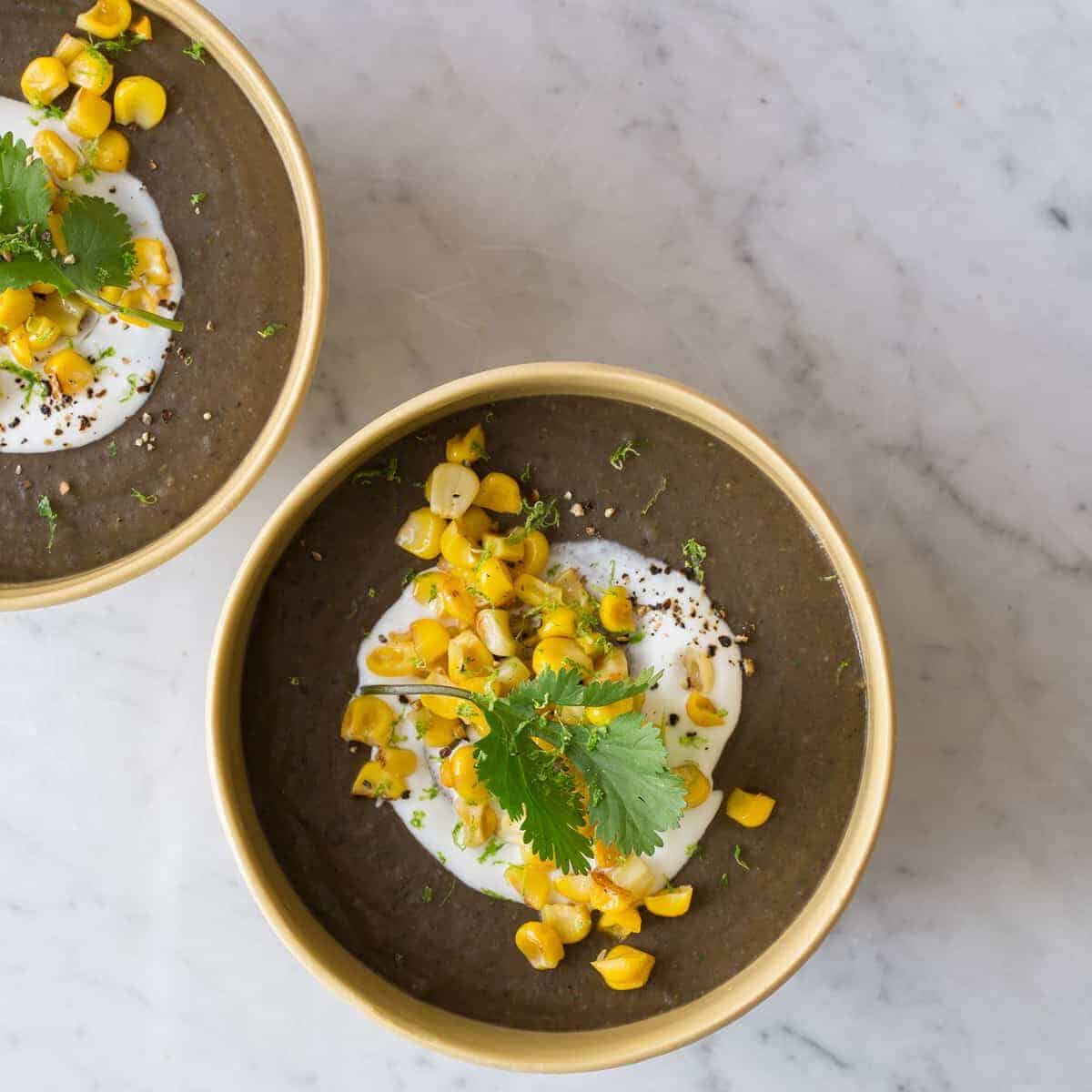 ---
---
Masoor Dal – This cozy stew has lots of protein and fiber so it's a perfect heather dinner recipe. This dinner idea is great for a weeknight dinner because once it's all prepped out you can step away as it stews for a bit. This dinner idea also freezes really well and makes amazing leftovers.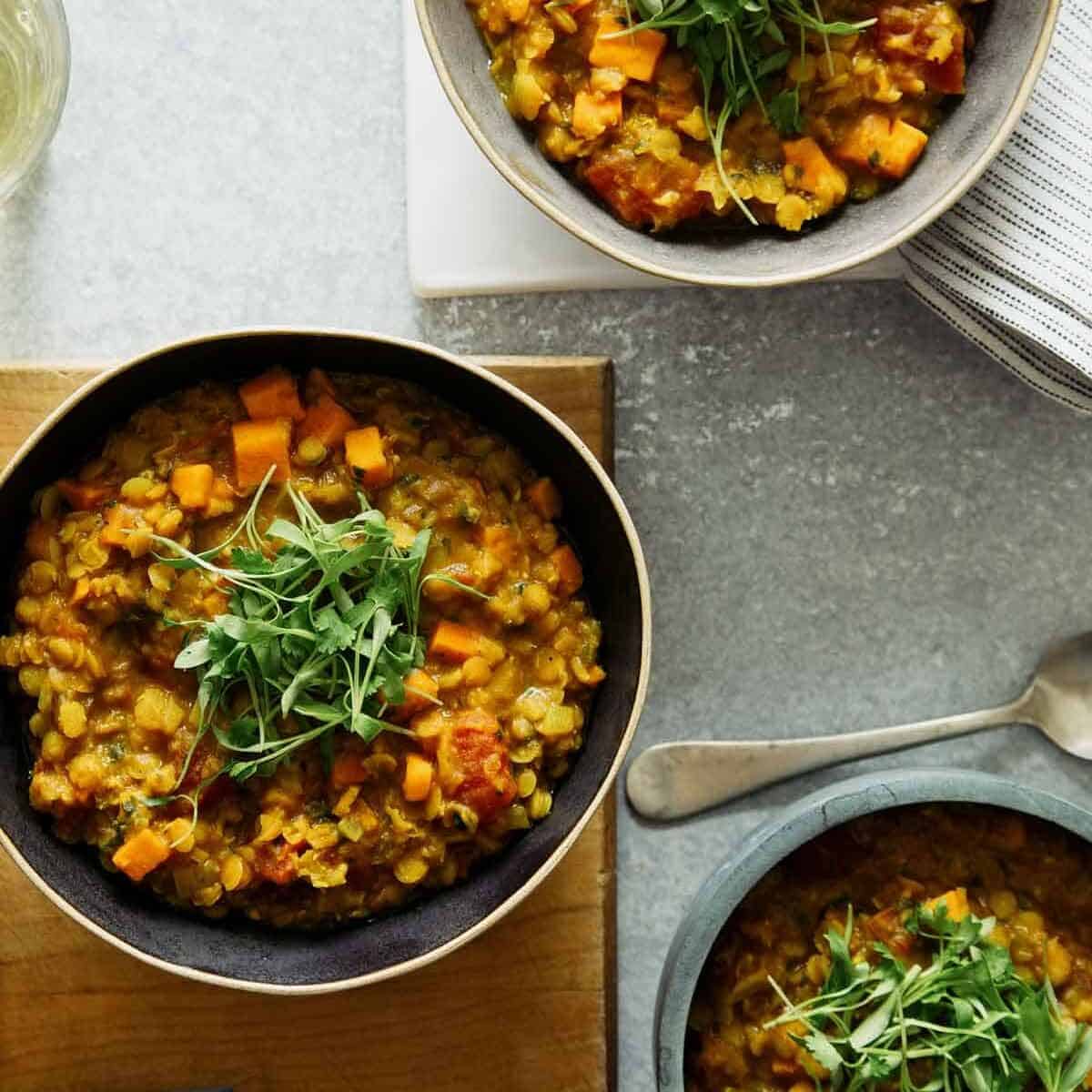 ---
---
Hearty White Bean and Kale Soup – This is a hearty and flavorful dinner recipe! This healthy dinner recipe is loaded with white beans and kale, but has delicious chinks of ham throughout. Check out our Soups and Stews recipe collection for more recipes!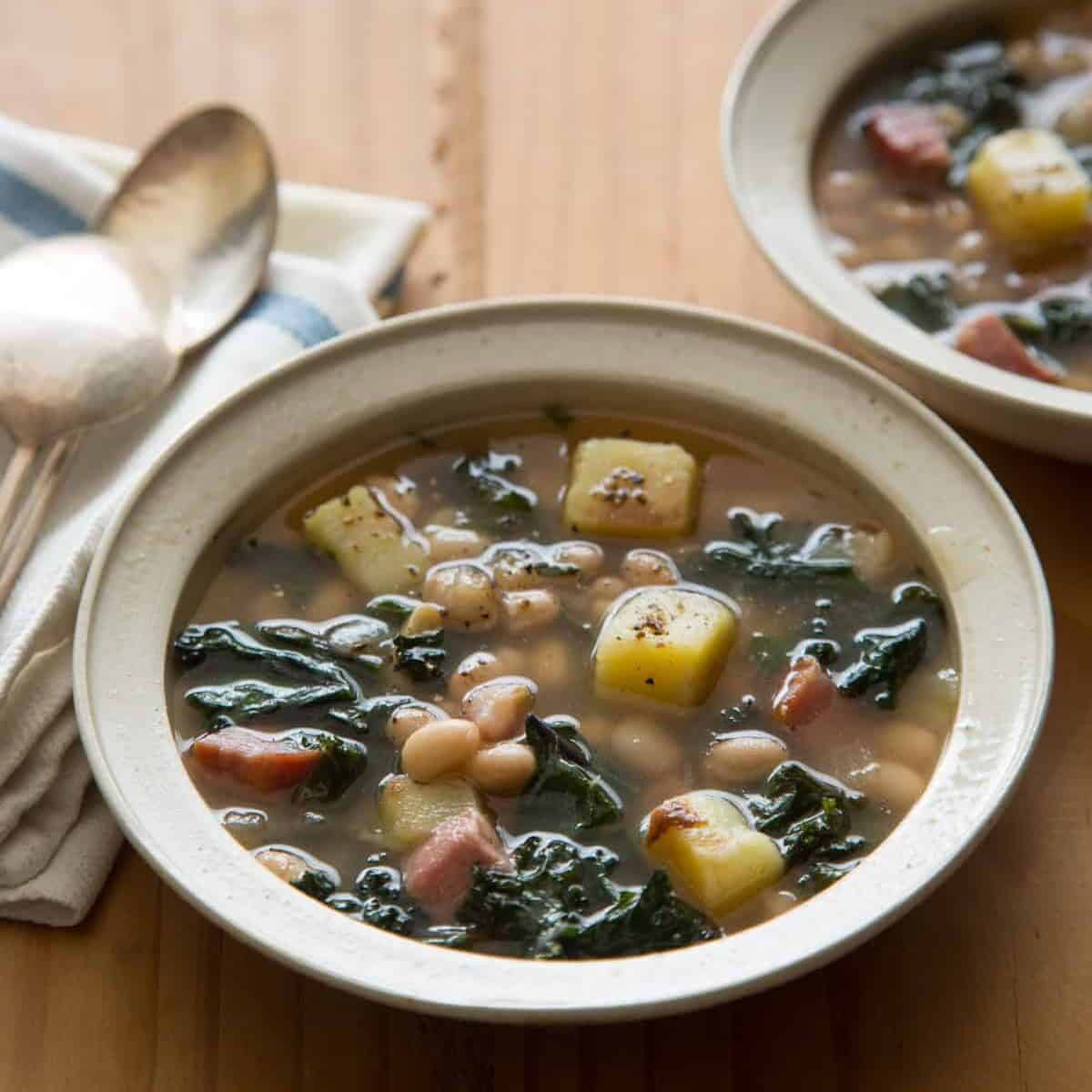 ---
---
Roasted Cauliflower and Parsnip Soup – This recipe is a favorite amongst our healthy dinner ideas. It tastes super creamy and rich, but totally isn't! The cauliflower works magic in this recipe!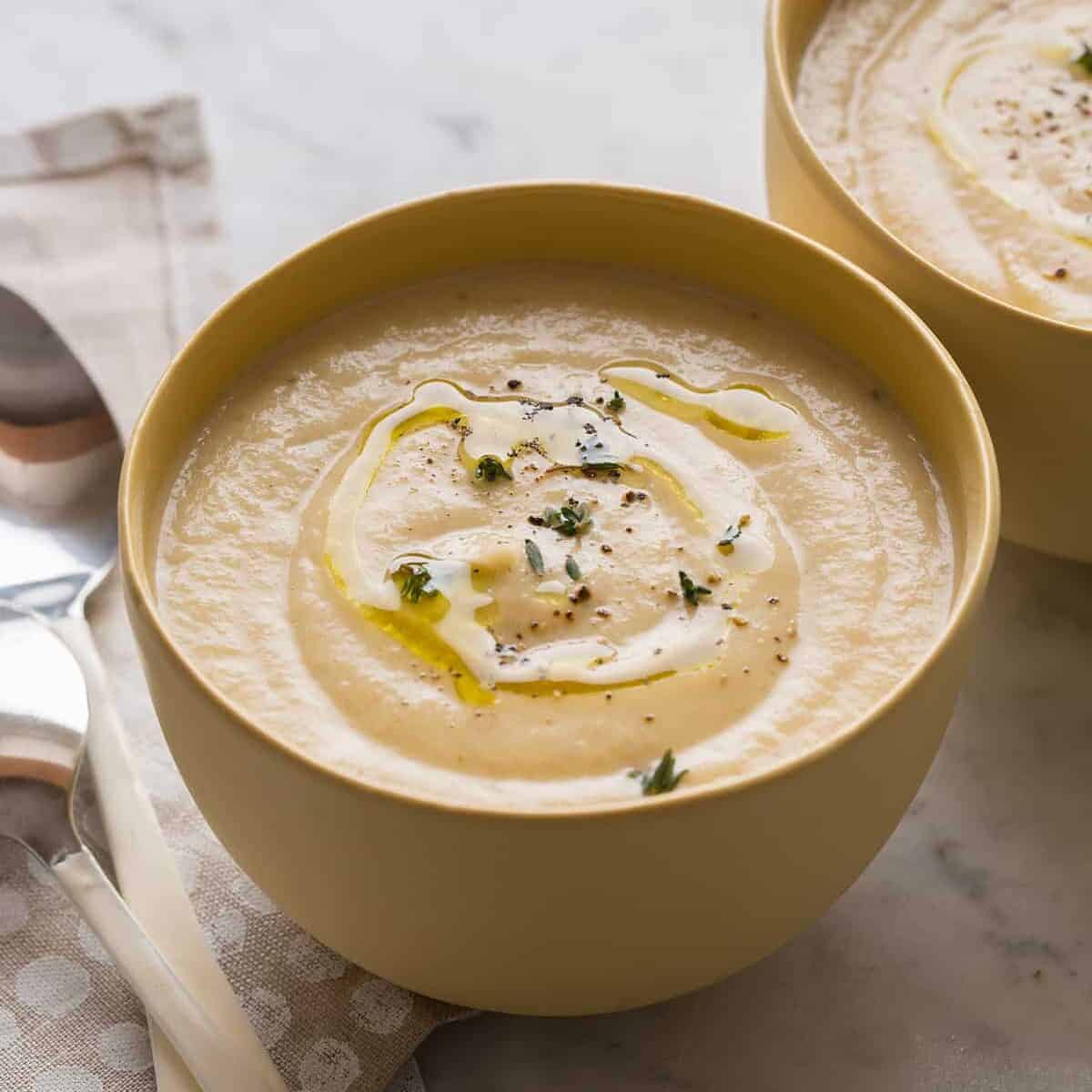 ---
---
Healthy Dinner Recipes for a Family
A lot of our healthy dinner ideas are definitely family friendly, but we picked out a few that we thought might be really great.
---
Turkey Bolognese with Spaghetti and Zucchini Noodles – One of our favorite tricks when you are craving pasta is to cut the pasta with zucchini noodles. That way you are still getting the pasta you want, but also some veggies! We find that we don't miss the full serving pasta.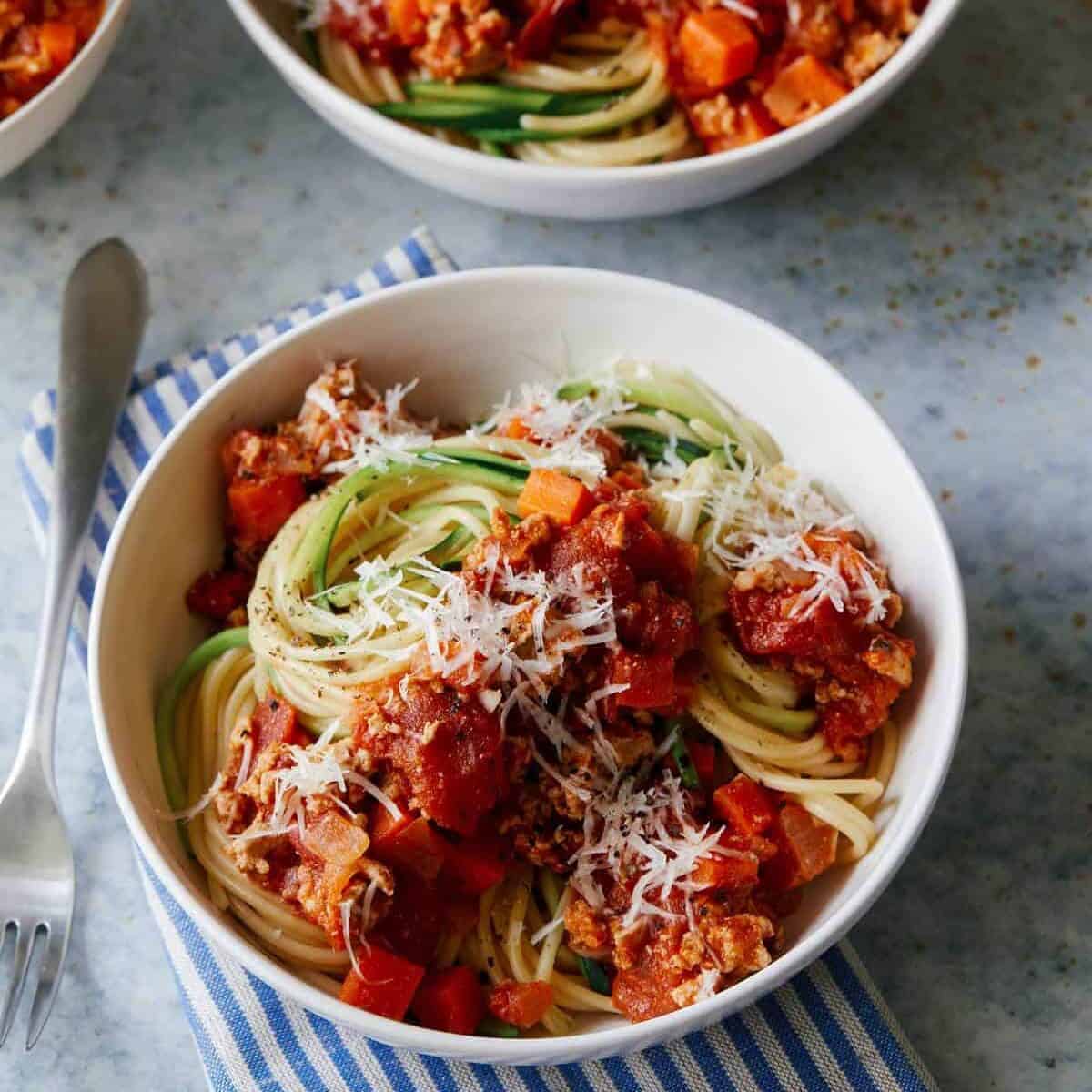 ---
---
Stacked Side of Salmon – Not only is the presentation of this healthy dinner recipe beautiful but it's so delicious! We serve this with a simple grain, or a leafy side salad. Make some extra so you can throw it over a salad for lunch the next day.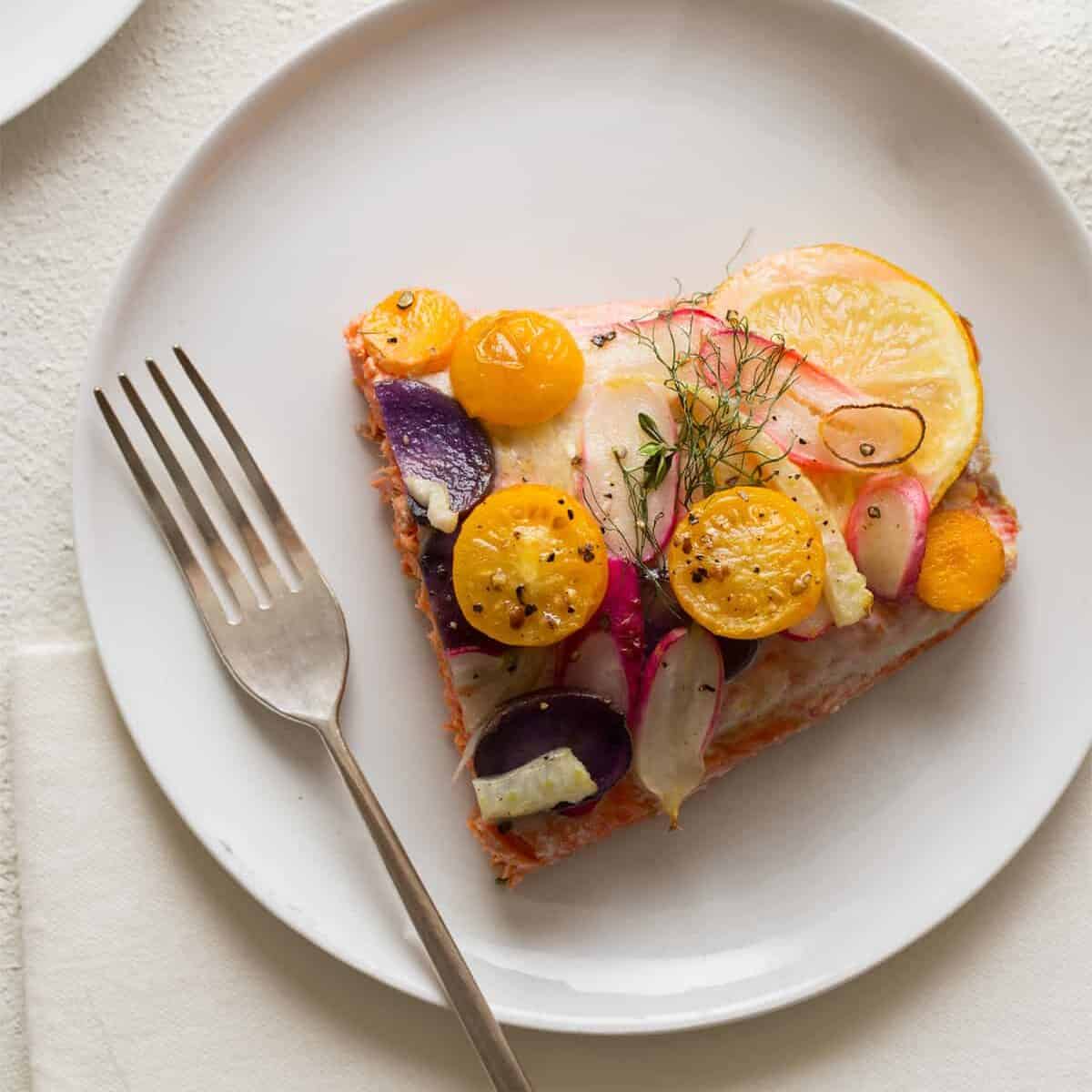 ---
---
Lamb Kabobs – These lamb kabobs are really delicious over a bed of greens. This recipe also makes a mint yogurt sauce, but if you're in a pinch for time you can use store bought tzatziki. In addition to leafy greens, you can serve these with sliced tomatoes, cucumbers, or any other refreshing vegetables for an even more vegetable loaded healthy dinner idea.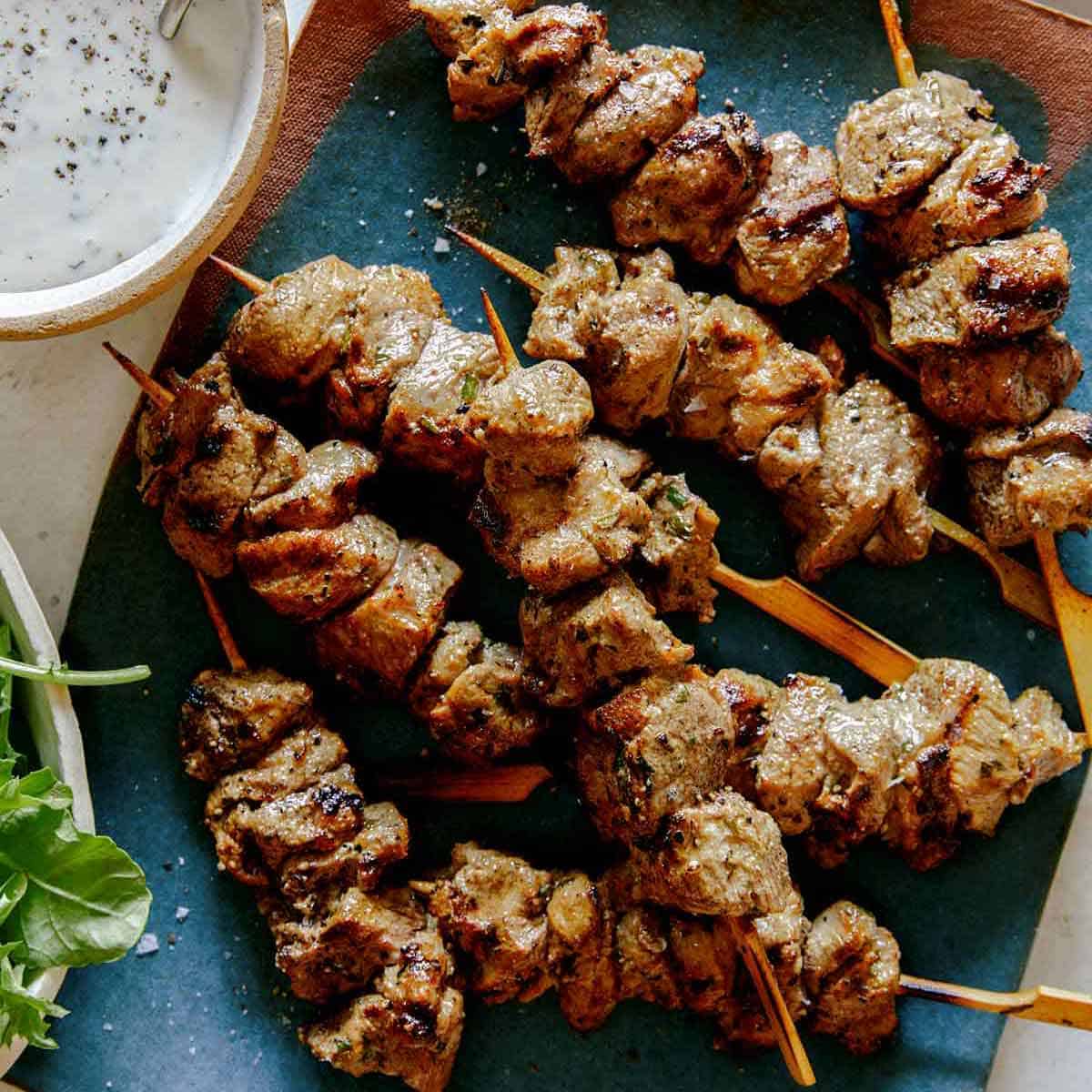 ---
---
Falafel Salad Hummus Bowls – I love bowls! These falafel salad hummus bowls are loaded with fresh ingredients which makes this a really easy healthy dinner idea. Serve with pita on the side, and if you want to get really crazy, grab a garlic salad dressing at the store for dipping.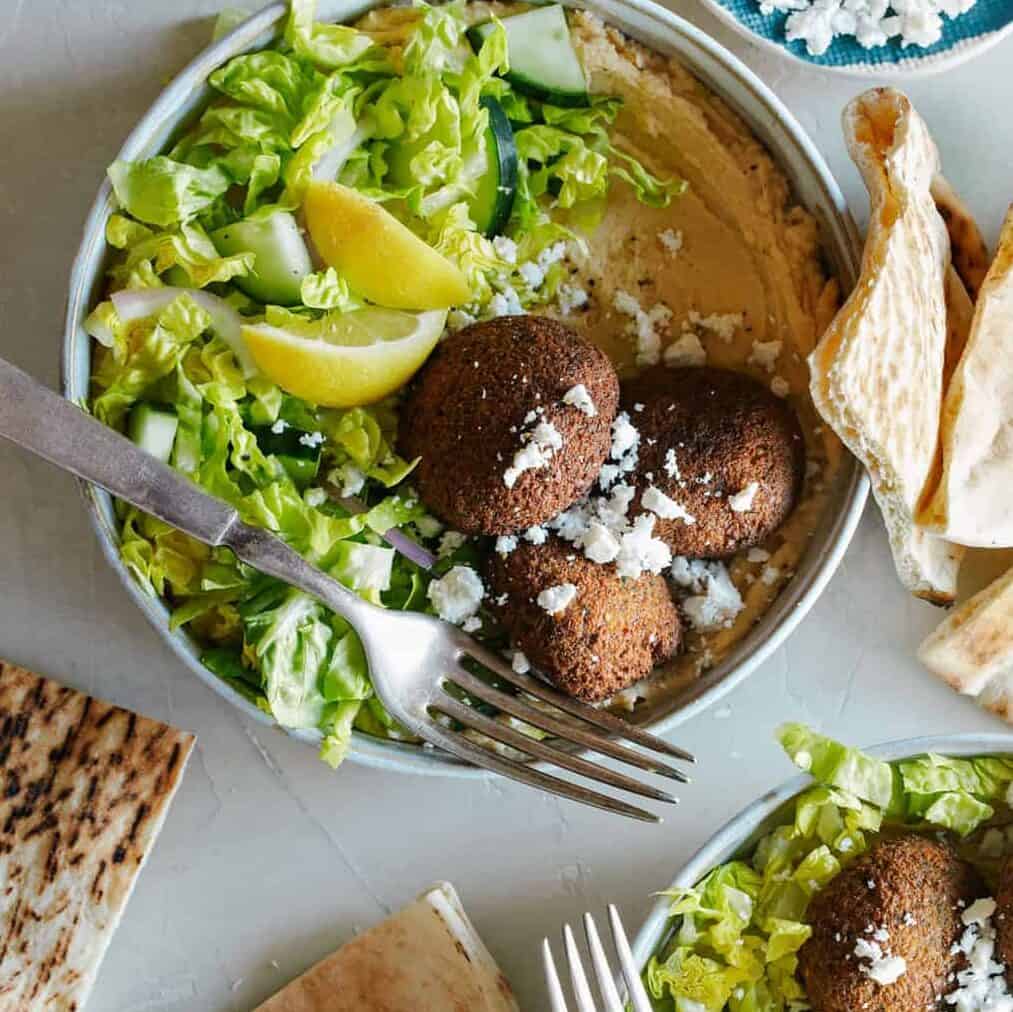 ---
---
Zucchini Lasagna Roll Ups – Last but not least our favorite healthy dinner recipe! Our Turkey and Zucchini Lasagna Roll ups! We took out the noodles all together and used thin slices of zucchini instead. Spoiler alert! You won't miss the noodles. Recipe below!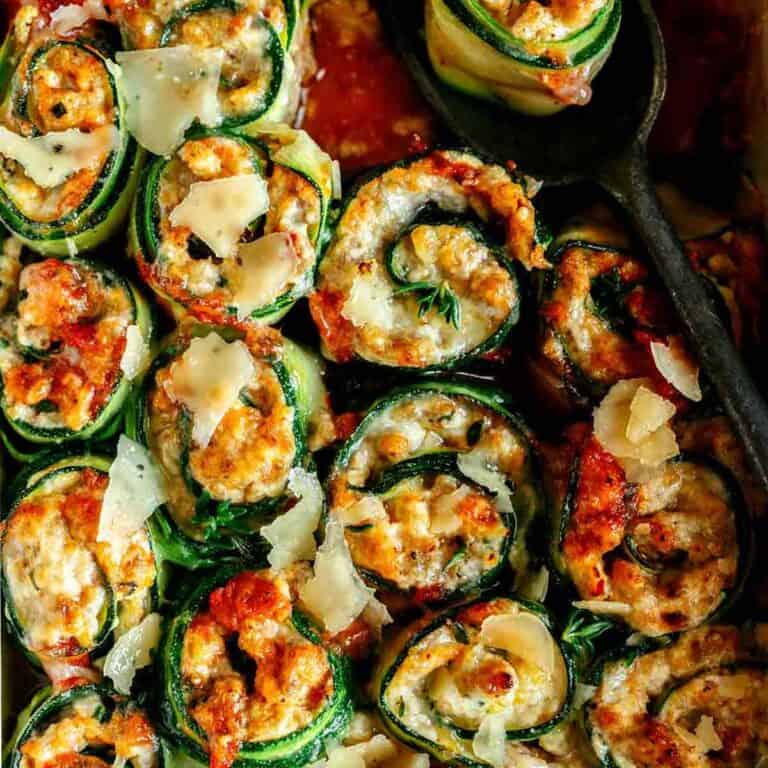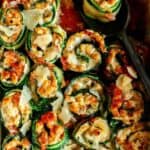 ---
Healthy Dinner Ideas: Turkey and Zucchini Lasagna Roll Ups
We have all of our favorite heathy dinner ideas in one place! Including our Turkey and Zucchini Lasagna Roll Ups which make the perfect heathy dinner recipe. Instead of traditional lasagna noodles we use thin slices of zucchini for a lighter recipe.
INGREDIENTS
filling
2 ½

tablespoons

extra virgin olive oil, divided

½

pound

Italian turkey sausage

½

pound

lean ground turkey

½

small onion, finely diced

1

garlic clove, minced

1 /2

tablespoons

minced basil

1 ½

teaspoons

minced oregano

1

teaspoon

minced thyme

1

cup

part skim ricotta

1

large egg white, beaten until frothy

¼

cup

grated Parmesan cheese

plus more for garnish

salt and pepper to taste
roll ups
4

large zucchini, ends trimmed

1

tablespoon

salt

4 to 5

fresh basil leaves

3

cups

marinara sauce
INSTRUCTIONS
For filling: Pour 1 ½ tablespoons oil into a large skillet and place over medium-high heat. Add sausage and ground turkey and brown for 4 to 5 minutes, breaking up into small piece with a wooden spoon.

Strain meat from skillet and place into a large mixing bowl. Set aside.

Drain grease from skillet and place back over medium-high heat. Add remaining oil and sauté onion for 3 to 4 minute. Add garlic and herbs and continue to sauté for an additional 2 minutes.

Transfer mixture to bowl with the meat and allow mixture to cool, about 15 minutes.

Add remaining filling ingredients into the mixing bowl, season with salt and pepper and stir together until fully combined. (if mixture is too soft, refrigerate for 1 hour to firm up)

Using a potato peeler, peel thin, long strips from each zucchini, lengthwise.

Spread zucchini strips onto a baking sheet in a single layer and season with tablespoon of salt. Allow zucchini to sit for 20 minutes. Lightly pat zucchini dry.

To assemble: Pour and evenly spread 2 1/4 cups marinara sauce into the bottom of a 9"X12" baking dish. Stir ½ cup marinara sauce into the filling mixture.

Spread about 2 tablespoons of the filling mixture evenly over the top of one of the sliced zucchini sheets and tightly roll the zucchini into a tightly coil. Place filled and rolled zucchini into the baking dish, coil side up.

Repeat step 9 until all of the zucchini strips and filling have been used and the baking dish is filled.

Top dish with the remaining marinara sauce and a sprinkle of Parmesan and bake for about 20 minutes or until the dish is bubbling and the top has lightly browned. (Place entire dish under broiler for 1 minute if a crispier top is desired)

Top dish with another sprinkle of grated Parmesan and fresh basil leaves and serve.
Calories:
434
kcal
Carbohydrates:
25
g
Protein:
37
g
Fat:
23
g
Saturated Fat:
8
g
Cholesterol:
86
mg
Sodium:
3464
mg
Potassium:
1517
mg
Fiber:
6
g
Sugar:
15
g
Vitamin A:
1670
IU
Vitamin C:
68
mg
Calcium:
325
mg
Iron:
9
mg
CUISINE:
Italian-american
KEYWORD:
lasagna, zucchini recipe