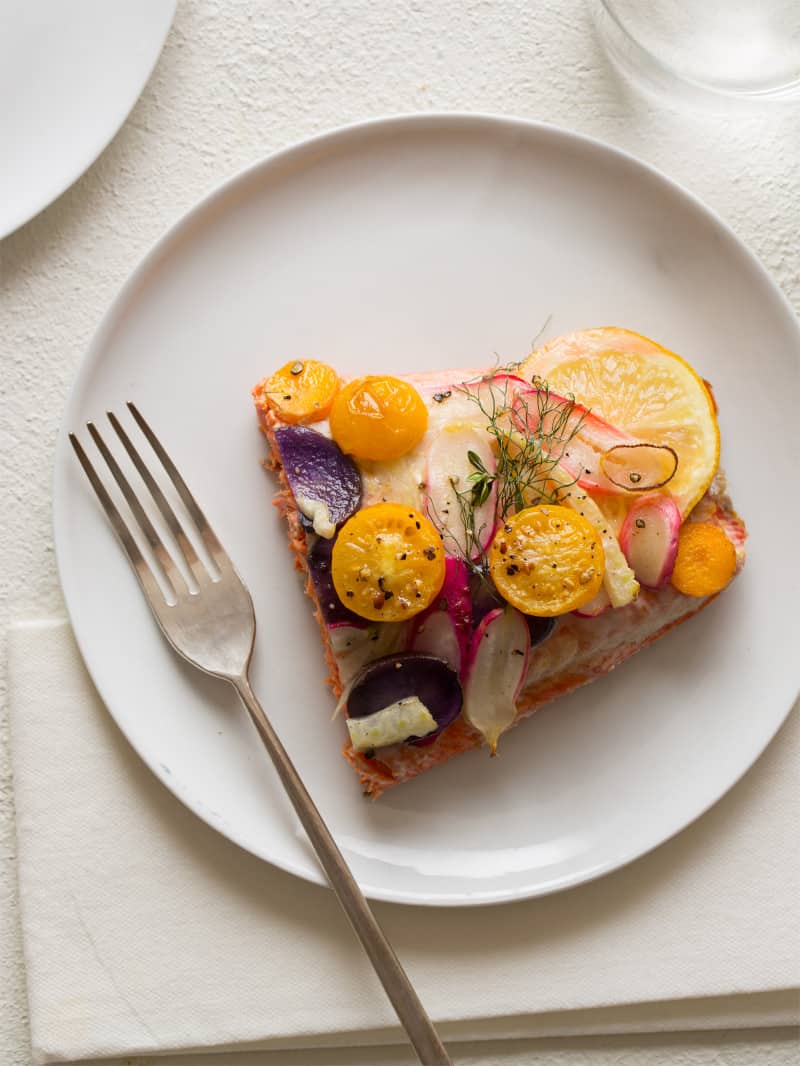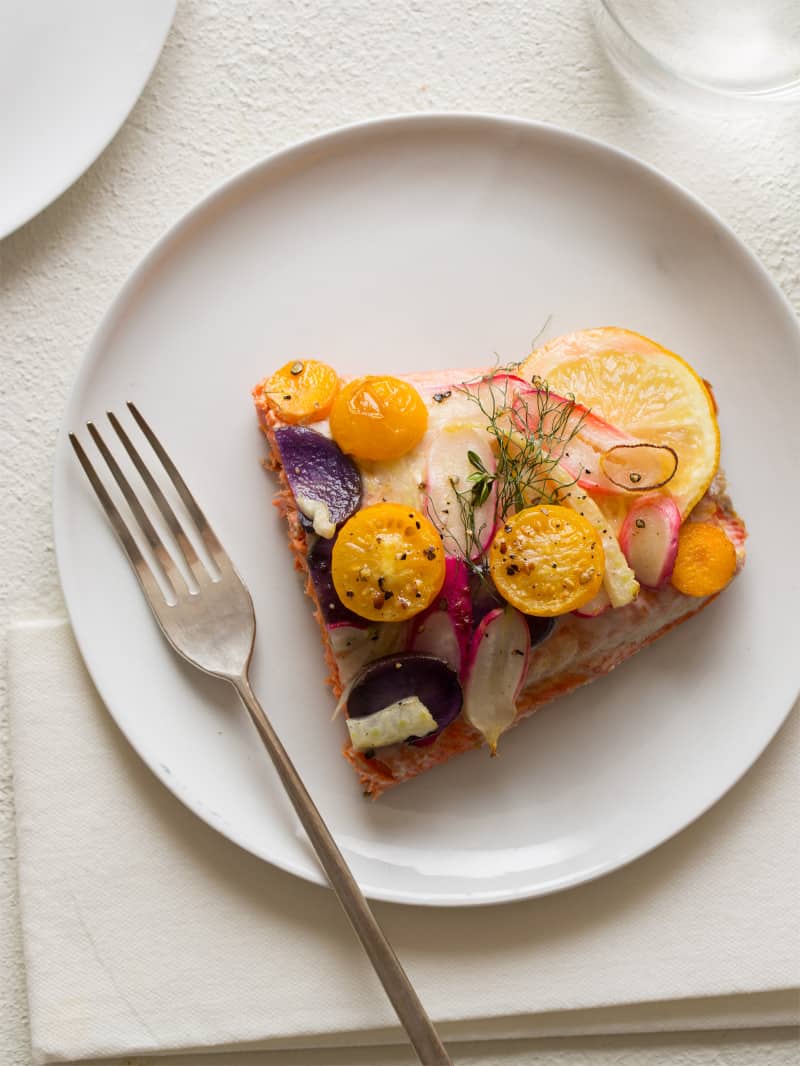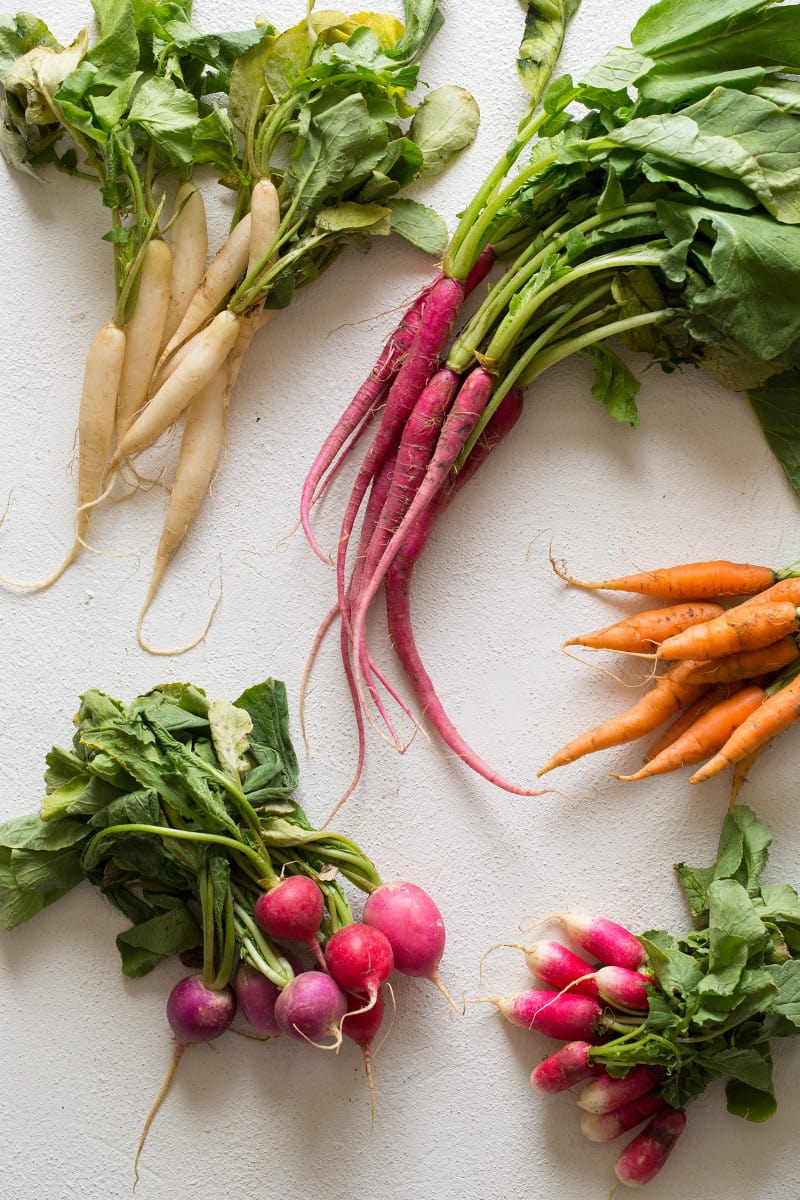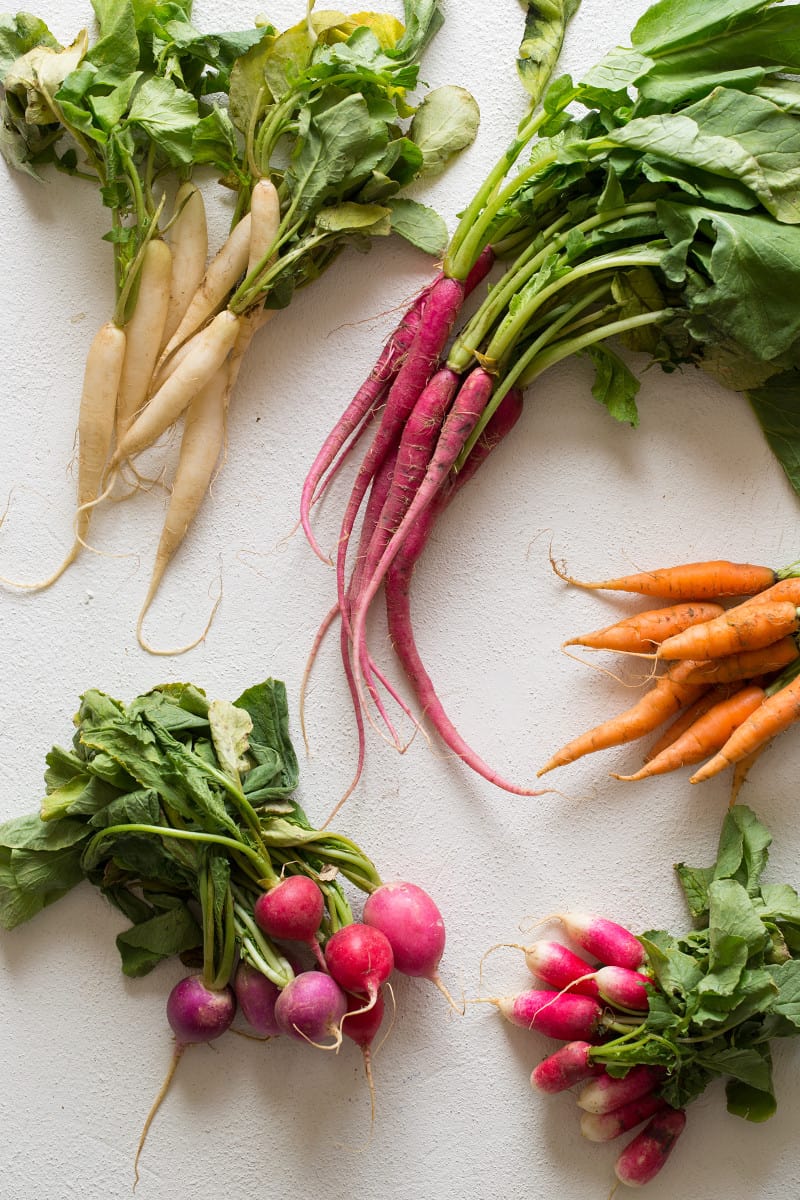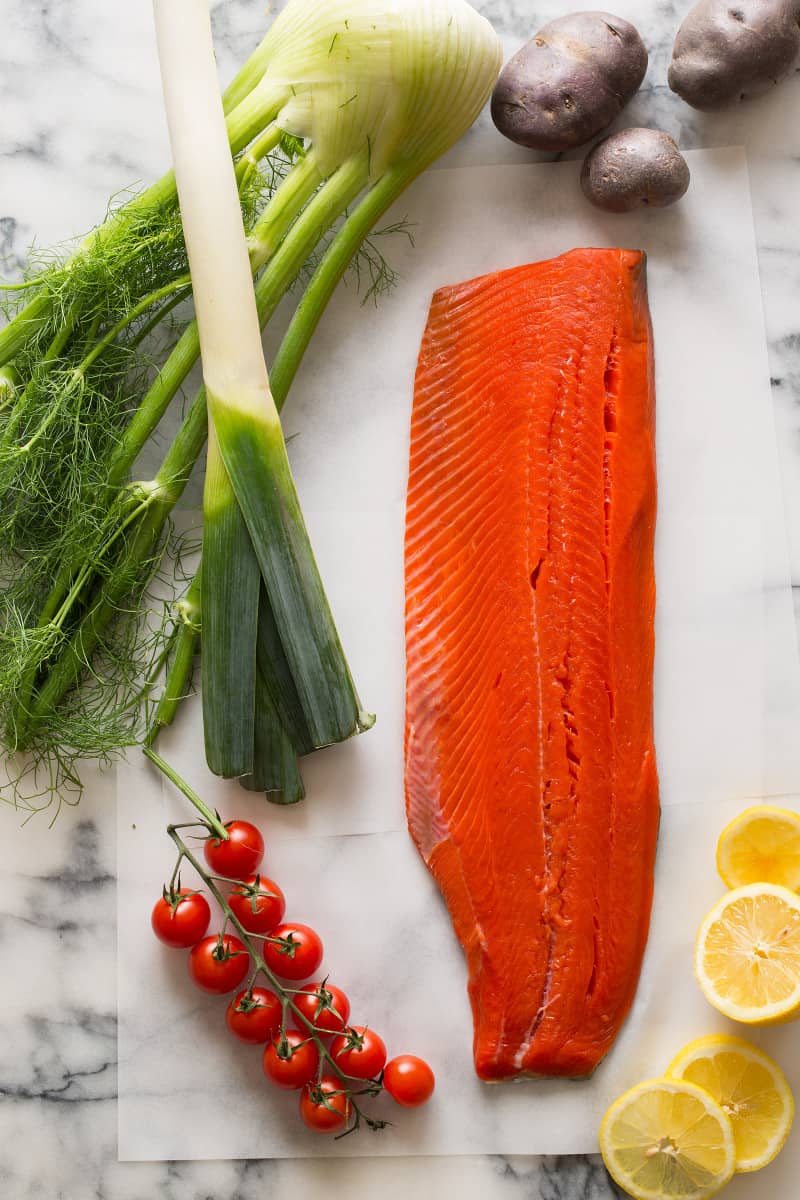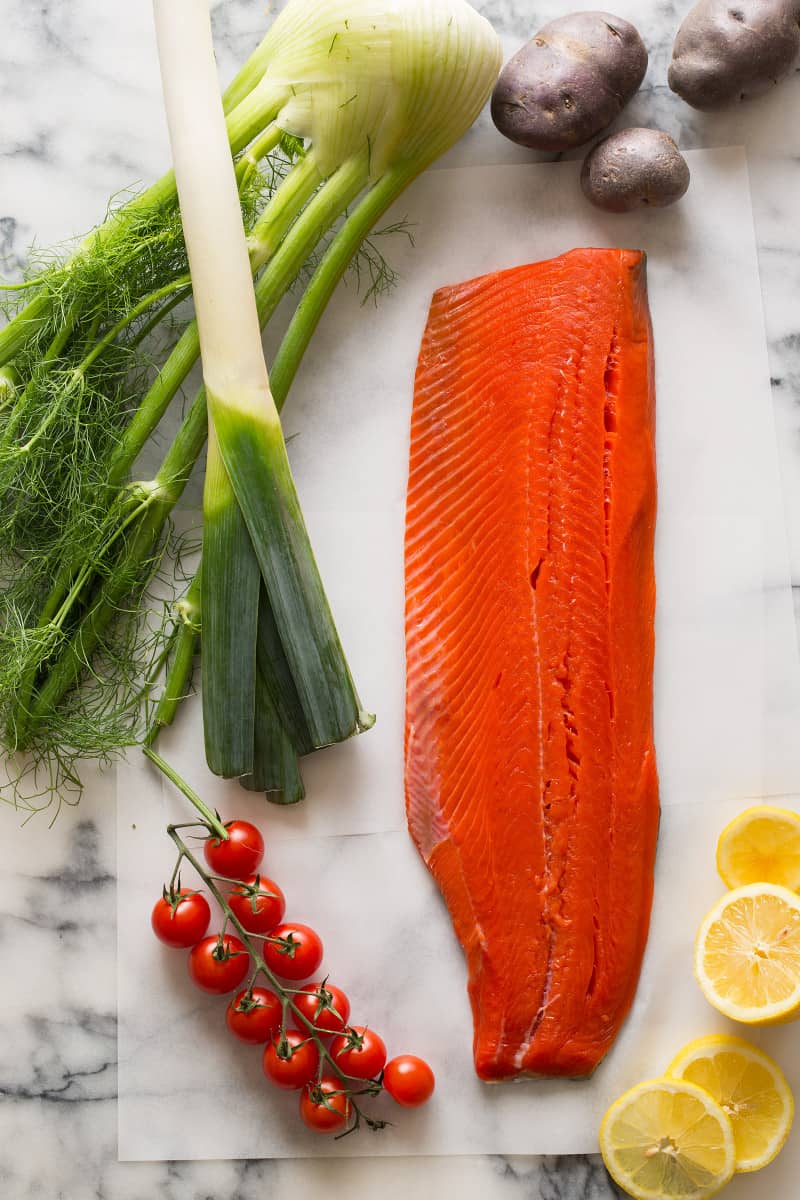 Hi Guys! I've been so into spring lately. I'm loving all the gorgeous blooms popping up around my neighborhood, the great weather we've been having and most of all, the crazy amount of gorgeous produce showing up at farmer's markets! The boyfriend and I have started a little intense patio garden and we're totally obsessed. We're first time gardeners and who knew it could be so much fun?! He's built a couple of wooden troughs and we're having a field day growing things like blueberries, kieffer limes, tarragon, purple basil, chocolate mint, baby mesclun, cherry tomatoes, and the list goes on! The most exciting thing about it?…physically seeing the germination occur! It's so neat! It's like watching little babies grow…little green babies. No black thumbs for us this year…hopefully.
Since we're totally feeling the spring/summer vibe we're spending the next couple of months loading everything we possibly can with fresh and delicious market produce and we're starting with this stacked side of salmon dish! Pretty, right?! I really wanted to make a dish that celebrates the beautiful bounty of the season and that was both visually stunning as well as delicious. This dish is perfect for light dinner parties and it's so easy to throw together. You can just pair it with a simple side salad, a fresh baguette, a great bottle of wine and dinner is served.
There are just a few things to note with this recipe: The brown sugar and mustard rub work as sort of an adhesive for the veggies you put on top, so feel free to be liberal with brushing the mixture onto the salmon. I know veggies normally go beneath the protein in roasted dishes, to pick up the flavor of the meat juices, but today we're infusing our salmon with the juices from the roasted vegetables (that practically melt into the fish)…so good! Also, sometimes I find that when the veggies are on the bottom they become a little on the mushy side and depending on the protein, they're also swimming in grease and fat. In this dish, the vegetables turn tender in the middle, but become slightly caramelized and crisp on top. The key is to make sure your vegetables are sliced very thin. It's especially important to slice things like carrots and potatoes super thin to make sure the vegetables cook evenly with the salmon. The last thing anyone wants is to bite into a crunchy piece of half cooked potato. No thank you. Another small tip is to make sure your vegetables and herbs are fully coated in olive oil before stacking them onto your salmon, otherwise they'll dry up and not roast evenly when you stick them in the oven.
You can go nuts and pile on as much or as little veg. you want and whichever kind you want. I tried sticking with things I picked up from the farmers market, mostly to save myself from an extra trip to the grocery store, and I used a little thyme from my garden! (oh and just a little FYI…if you grow herbs yourself, they will most likely bud and bloom…so pretty!) If you're in a pinch and need a last minute meal that will impress guests, here you go. It's so simple and delicious. Enjoy! xx, Jenny

Here are some yummy recipes to serve with this delicious salmon recipe: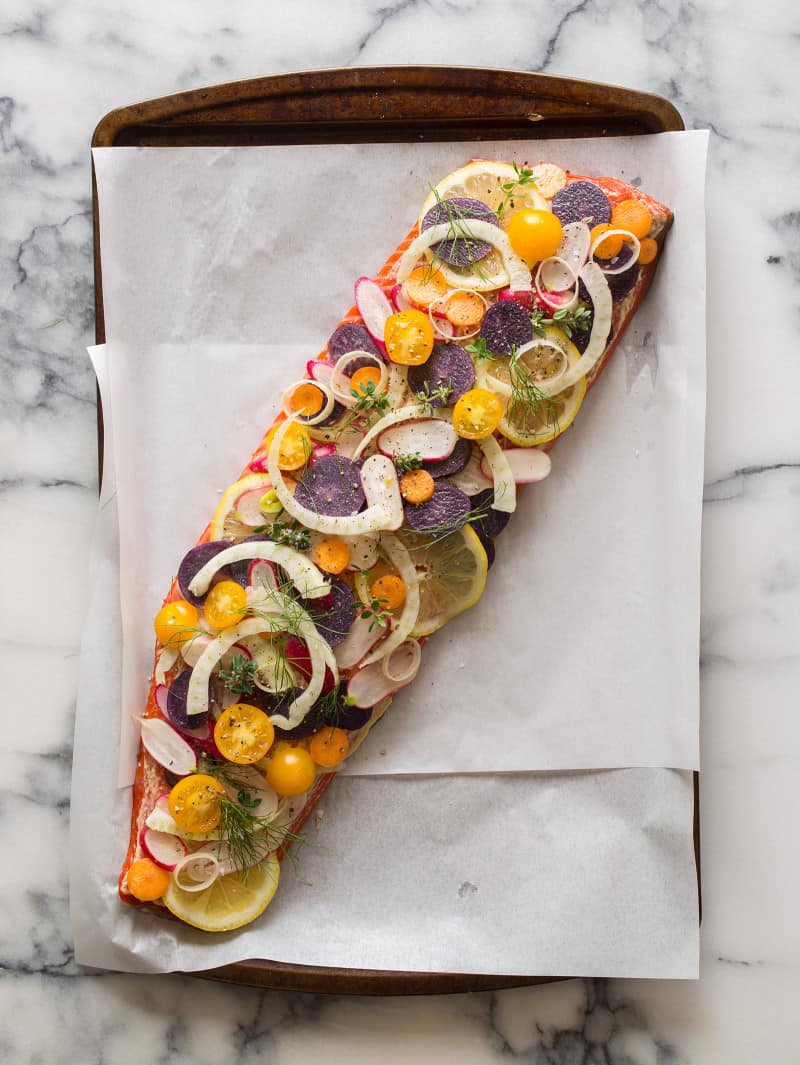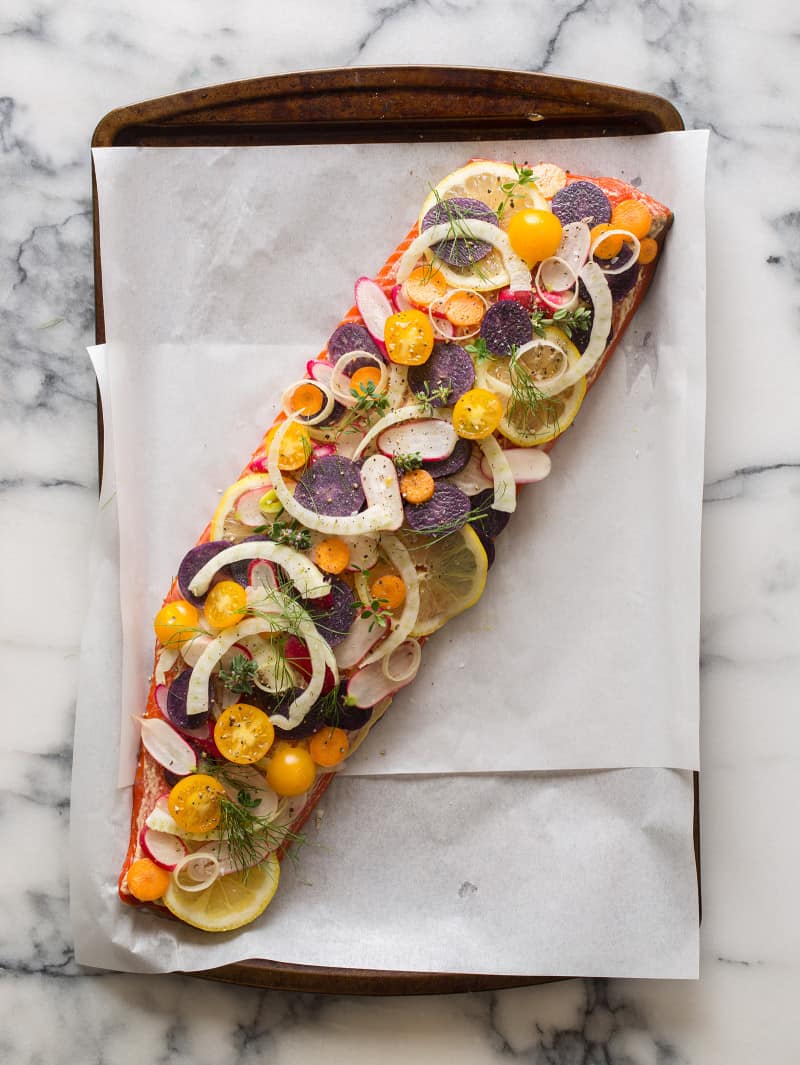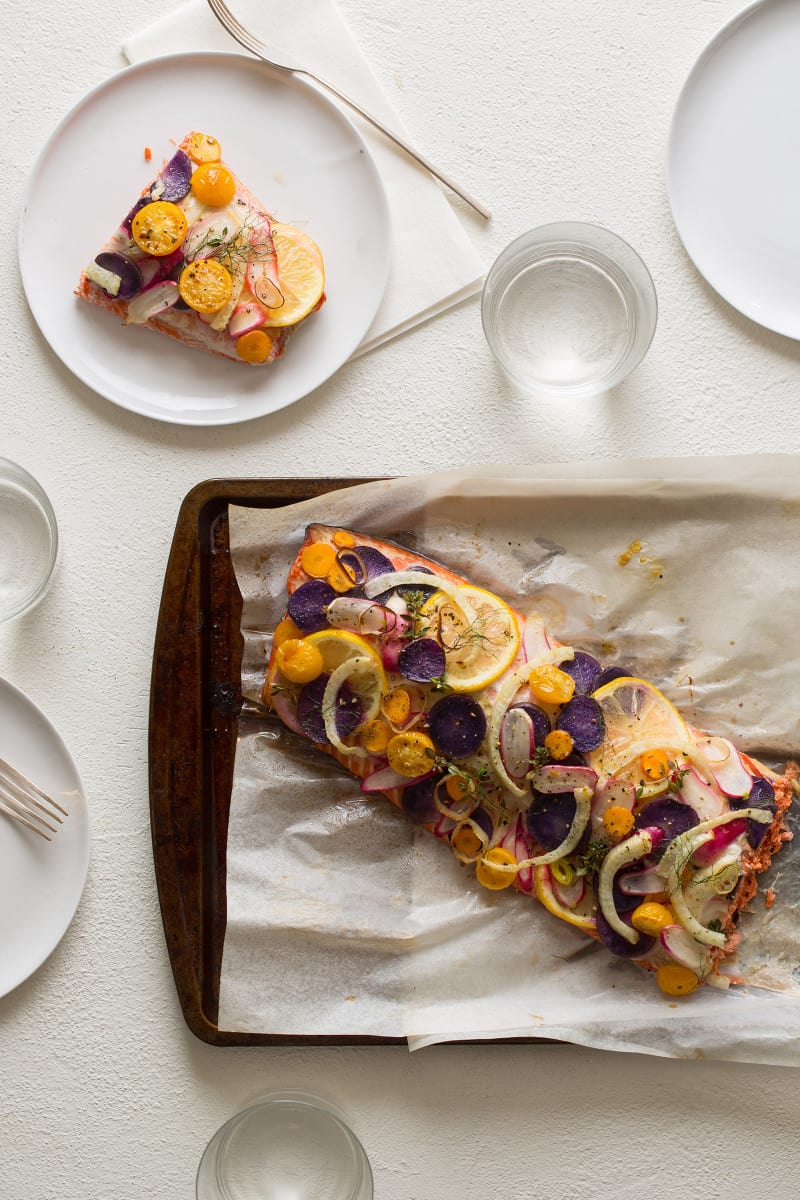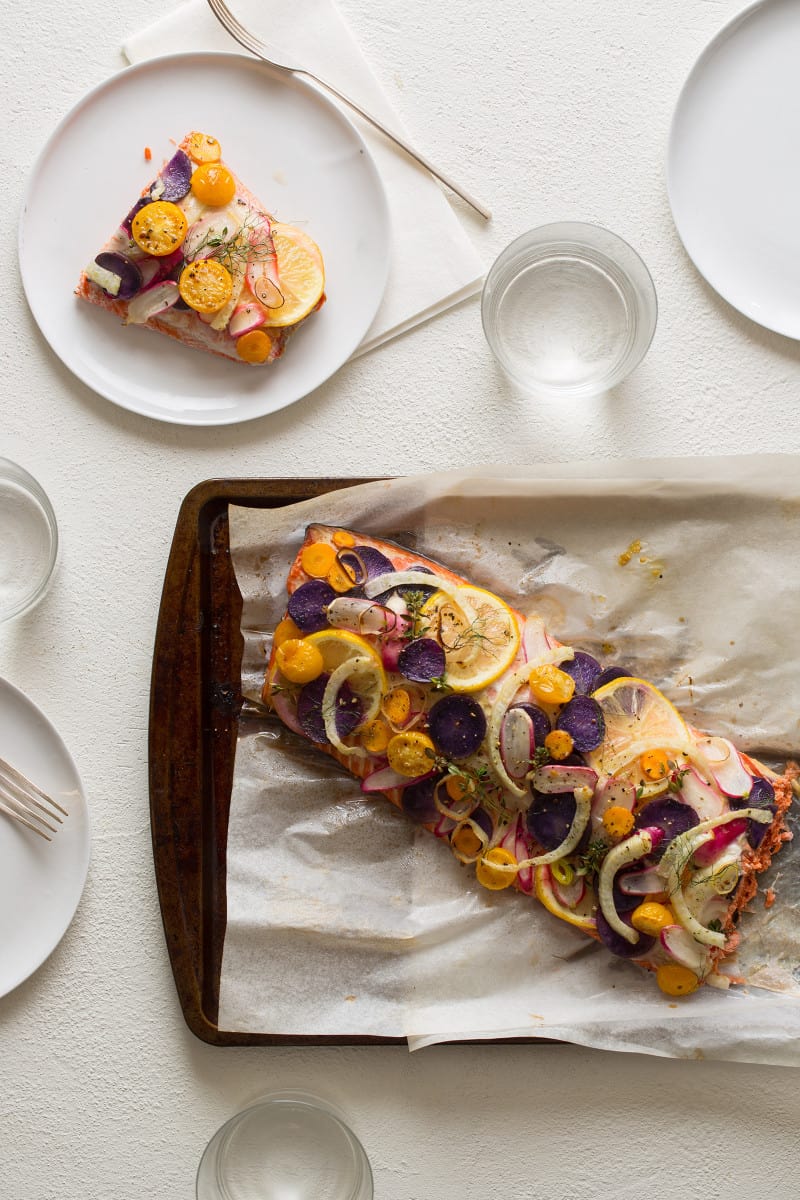 Hungry for more?
Subscribe to never miss a recipe.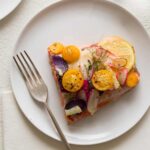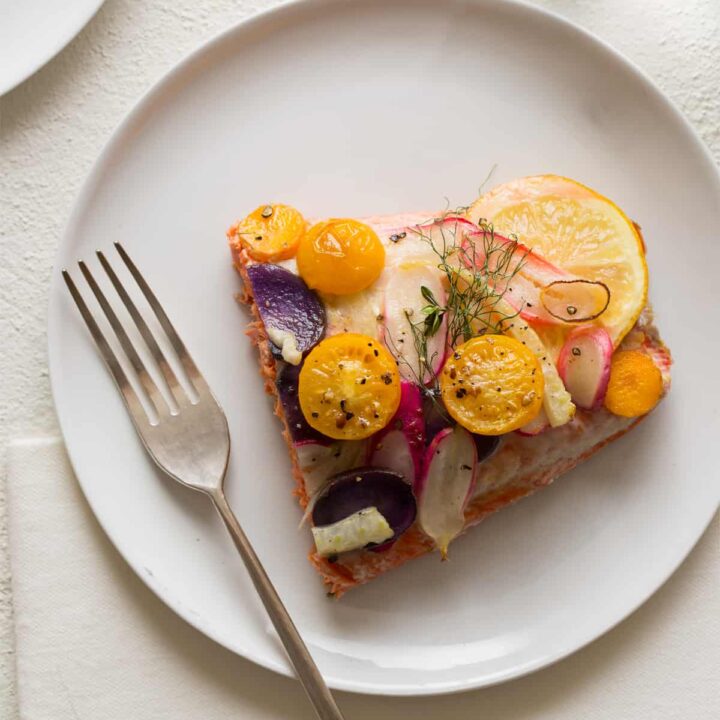 ---
Stacked Side of Salmon
INGREDIENTS
¼

cup

whole grain mustard

1 ½

teaspoons

light brown sugar

1

(~2 lb.) whole side of salmon , skin-on

2 ½

tablespoons

extra virgin olive oil

1

lemon, thinly sliced

4

radishes, thinly sliced

4

small purple potatoes, very thinly sliced

1

carrot, peeled and thinly sliced

½

leek, thinly sliced

½

fennel bulb, thinly sliced

10

cherry tomatoes, halved

sprigs of dill

sprigs of thyme

salt and pepper to taste
INSTRUCTIONS
Place mustard and sugar into a small bowl and stir together.

Lay salmon onto a parchment lined baking sheet and season with salt and pepper. Brush an even layer of the mustard mixture over the whole side and set aside.

Place all remaining ingredients into a large mixing bowl and season with salt and pepper. Toss together until all the vegetables are well coated.

Place individual pieces of produce over the entire side of salmon, distributing produce randomly and evenly until the entire side of covered and all the vegetables and herbs have been used.

Lightly season with salt and pepper and roast for 24 to 28 minutes or until vegetables are tender and salmon has just cooked through.

Slice into individual portions and serve.
Calories:
268
kcal
Carbohydrates:
9
g
Protein:
27
g
Fat:
14
g
Saturated Fat:
2
g
Cholesterol:
71
mg
Sodium:
179
mg
Potassium:
881
mg
Fiber:
2
g
Sugar:
3
g
Vitamin A:
1755
IU
Vitamin C:
20
mg
Calcium:
42
mg
Iron:
2
mg