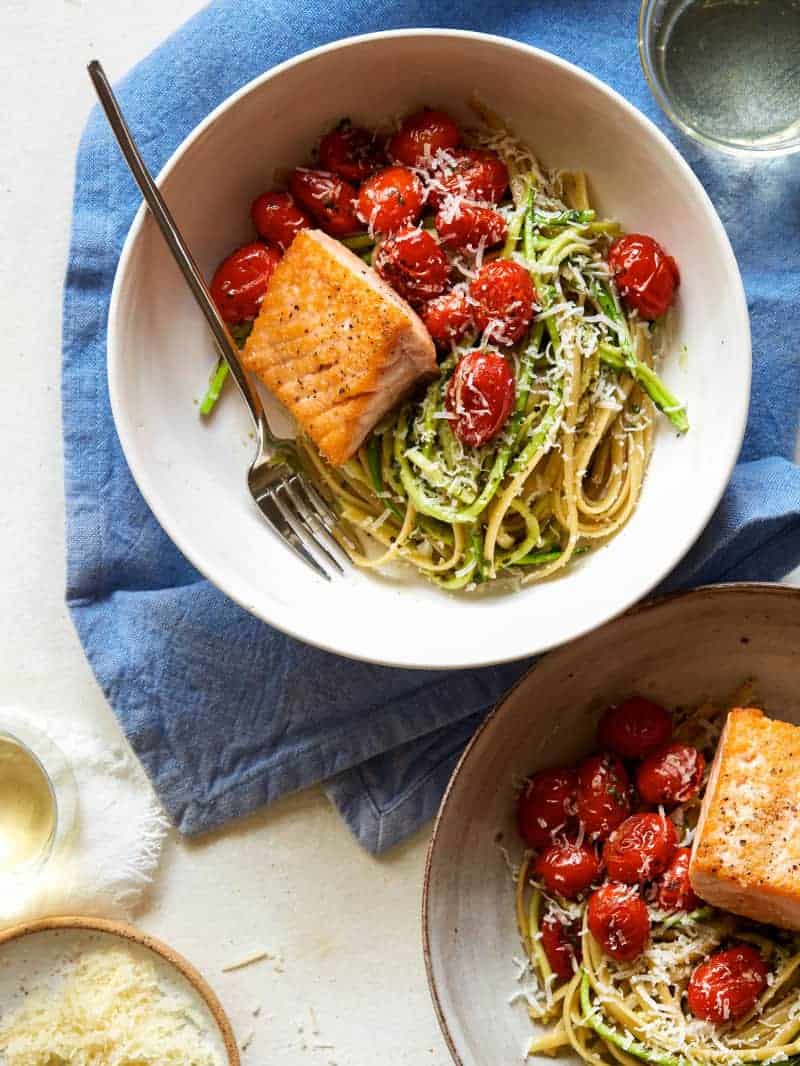 You know when you have had a week of super good clean eating – and then over the weekend you ruin everything by eating burgers and mozzarella sticks? Ugh. The worst – but you also have to live you life. I find during those times of eating crap food, it is super hard for me to then turn around and start to eat really well again. So this is a great recipe for those in-between times. A little buffer in between burgers and super healthy dinner. It's perfect – 50/50 spaghetti with yummy salmon thats a little crispy. Yum. :)
♥ Teri
Seared Salmon over 50/50 Spaghetti with Arugula and Walnut Pesto

Serves 2

Ingredients:
arugula-walnut pesto:
1 garlic clove
1/4 cup raw walnuts
1 1/3 heaping cups arugula
1/2 cup extra virgin olive oil
2 tablespoons freshly grated parmesan
salt snd pepper to taste

2 tablespoons extra virgin olive oil
2 tablespoons unsalted butter, melted
4 ounces cherry tomatoes
3 garlic cloves
3 thyme sprigs
6 ounces dry spaghetti
2 medium zucchini, ends trimmed and peeled with a julienne peeler

2 tablespoons extra virgin olive oil
2 (4 ounce) boneless salmon fillets
salt and pepper to taste
garnish:
freshly grated Parmesan

Directions:
1. Preheat oven to 375˚F.
2. For pesto: place garlic, walnuts and pepper flakes into a food processor and pulse until evenly ground. Add arugula. With the motor running slowly drizzle in oil until fully blended. Fold in parmesan, salt and pepper. Set aside.
3. In a shallow baking dish, combine oil, butter, tomatoes, garlic, and thyme and place into the oven. Roast tomatoes for 15 minutes. Remove from oven and sprinkle with salt and pepper. Set aside.
4. Fill a large pot with water and place over medium-high heat.
5. Once water comes to a boil, add a small handful of salt and the dry spaghetti.
6. Once the pasta is al dente, 6 to 7 minutes, add the zucchini and cook for an additional 30 seconds. Drain pasta and zucchini into a colander and set aside.
7. For salmon: Pour oil into a skillet and place oven medium-high heat. Season salmon fillets with salt and pepper. Place each fillet, skin-side up and sear for 2 to 3 minutes or until the fillets lift up easily from the skillet. Flip and sear for an additional 2 to 3 minutes. Transfer skillet to the oven and roast for 7 to 8 minutes or until each fillet has just cooked through.
8. To assemble: Scoop pesto into a large mixing bowl and top with pasta and zucchini blend. Toss together until pasta and zucchini are well coated. Divide pasta mixture between 2 serving bowls and top with roasted tomatoes and a piece of salmon.
9. Finish each dish with freshly grated Parmesan and serve.