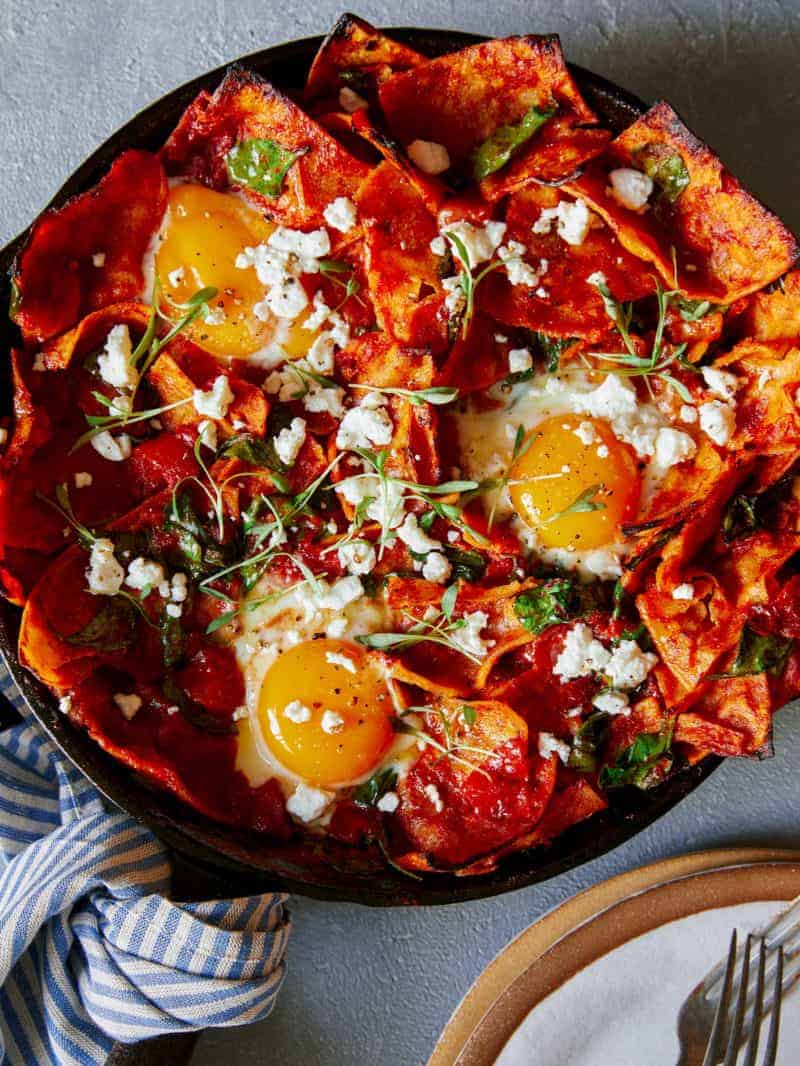 Today we've combined two of my favorite breakfasts, Shakshuka and Chilaquiles and smooshed them together to make our Shakshuka Chilaquiles. I've always been a savory and hearty breakfast kind of person and these two dishes are just that! I love the rich, tomato-y goodness of each dish and sort of melded the flavors together. There's a bit of a smoky essence throughout the dish, from both the cumin and chipotle in adobo that I absolutely love; especially paired with creamy eggs and cheese. Also, whoever first thought of stirring tortilla chips into luscious sauce to be cooked down, but still maintain its integrity as a chip…you're a genius! That's all. lol. Enjoy! xx, Jenny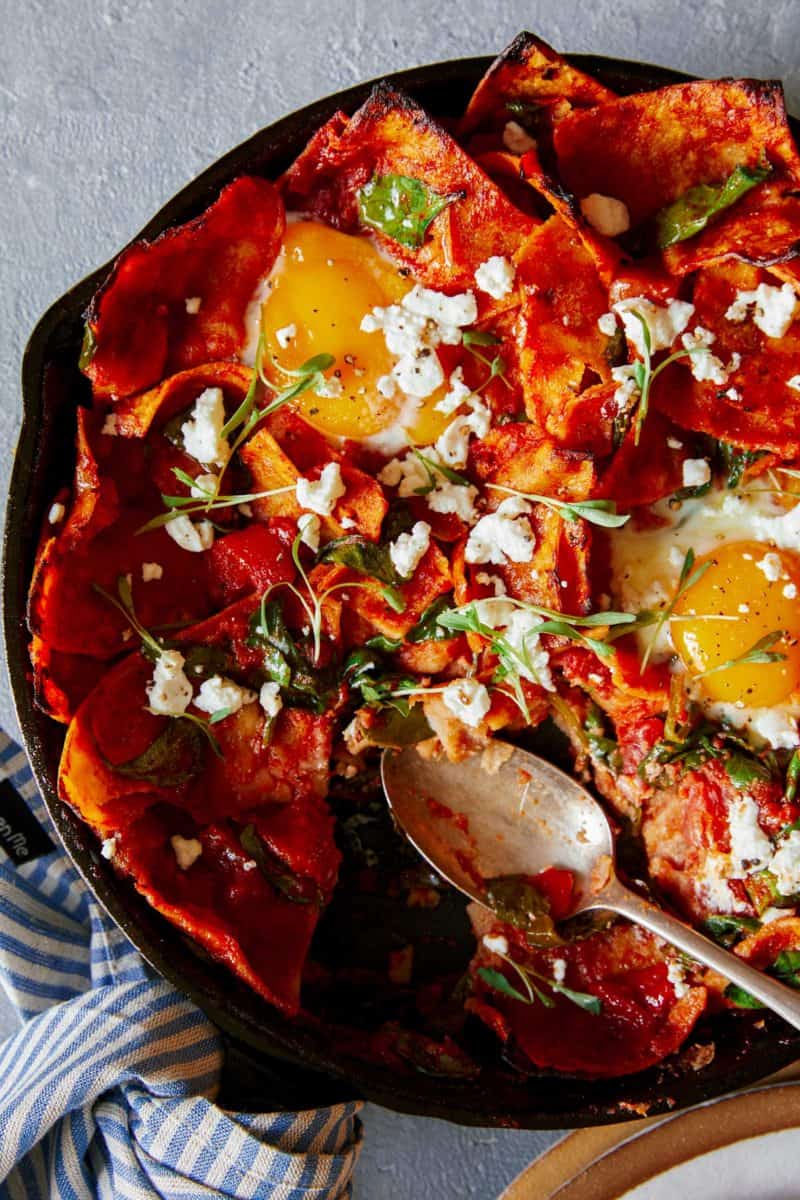 Shakshuka Chilaquiles
Ingredients
1 ½

tablespoons

extra-virgin olive oil or grapeseed oil

¼

small yellow onion, diced

2

garlic clove, minced

½

cup

diced roasted red bell pepper

1

tablespoon

seeded and diced jalapeno

optional

2

teaspoons

ground cumin

1

teaspoon

ground coriander

pinch

nutmeg

1

minced chipotle pepper in adobo sauce

1

tablespoon

(extra) adobo sauce

1

tablespoon

tomato paste

2

cups

crushed tomatoes

⅔

cup

chicken or vegetable stock

3 to 4

large handfuls (thick) tortilla chips

3

large eggs
garnishes
2

ounces

feta or goat cheese, crumbled

fresh chopped cilantro or thinly sliced green onion
Instructions
Place a large skillet over medium-high heat and add oil. Sauté onions, garlic, bell peppers, and jalapeno (if using) for 3 to 4 minutes or until onions become translucent.

Add cumin and coriander and season with salt and pepper.

Lower heat to medium and stir in chipotle, adobo sauce, tomato paste, crushed tomatoes and stock to mixture and continue to stir until sauce is smooth. Simmer for 6 to 7 minutes.

Carefully fold chips into tomato sauce, handful at a time, until fully incorporated and all chips are well and evenly coated in sauce. Cover and continue to cook mixture for 6 to 8 minutes.

Crack each egg into a small ramekin, one at a time, then carefully drop each egg into the skillet, atop the chips.

Cover skillet again and continue to cook for an additional 6 to 8 minutes or until all whites have set and yolks are still runny. Remove from heat and top with feta or goat cheese, and cilantro or green onions. Lightly season with salt and pepper and serve.