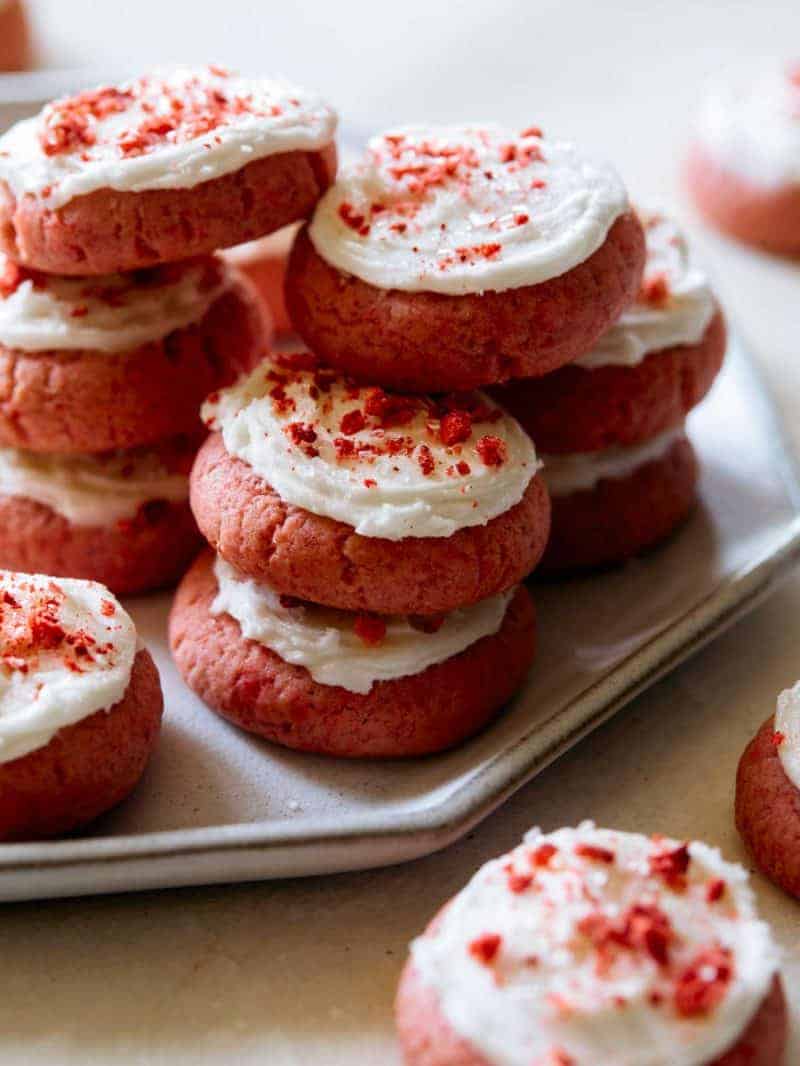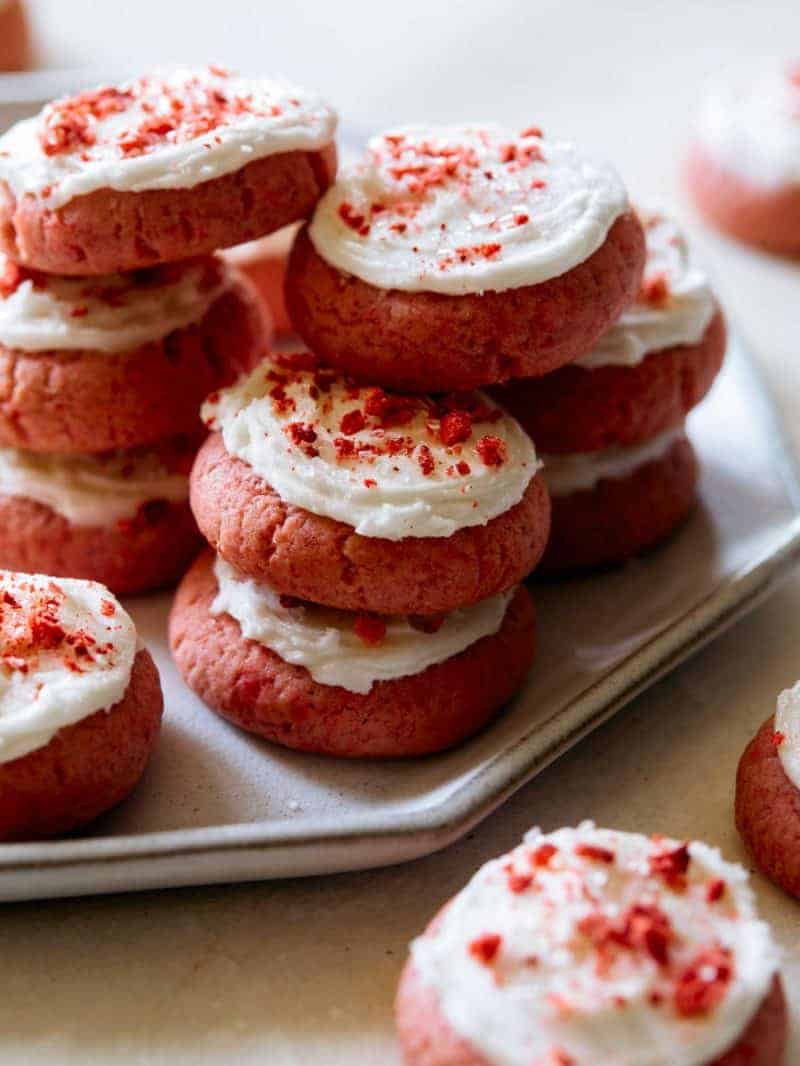 Do you guys know about Lofthouse cookies? They are at the grocery store and are plain vanilla cookies that are the softest and fluffiest cookies you can imagine and then topped with frosting and sprinkles. Sometimes the frosting is pink if it's near valentines day, or green for St. Patricks day, or green and red for Christmas. They are so delicious. I have definitely binge eaten a pack multiple times in college. We made our version of regular Lofthouse cookies awhile ago. Today we decided to give you a new version, our Soft and Fluffy Strawberry Cookies with Vanilla Frosting! I love these so much, and if you like Lofthouse you should be making these!
♥ Teri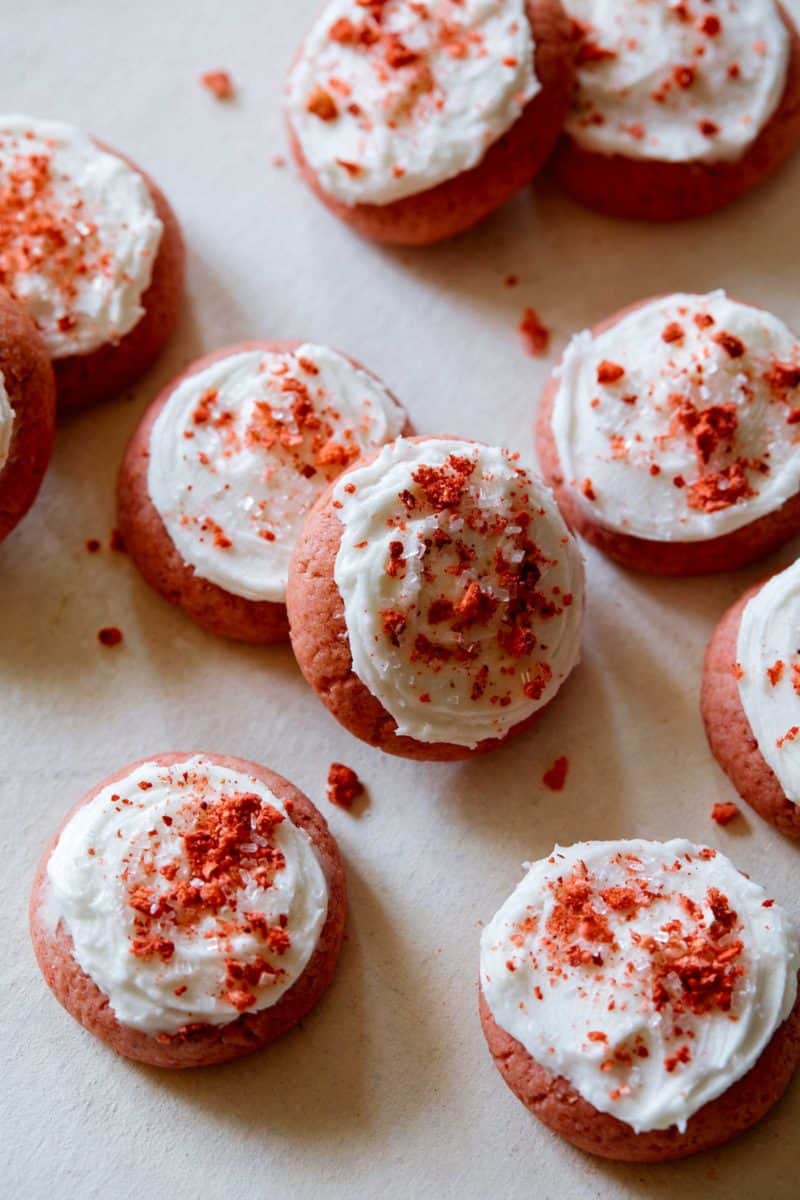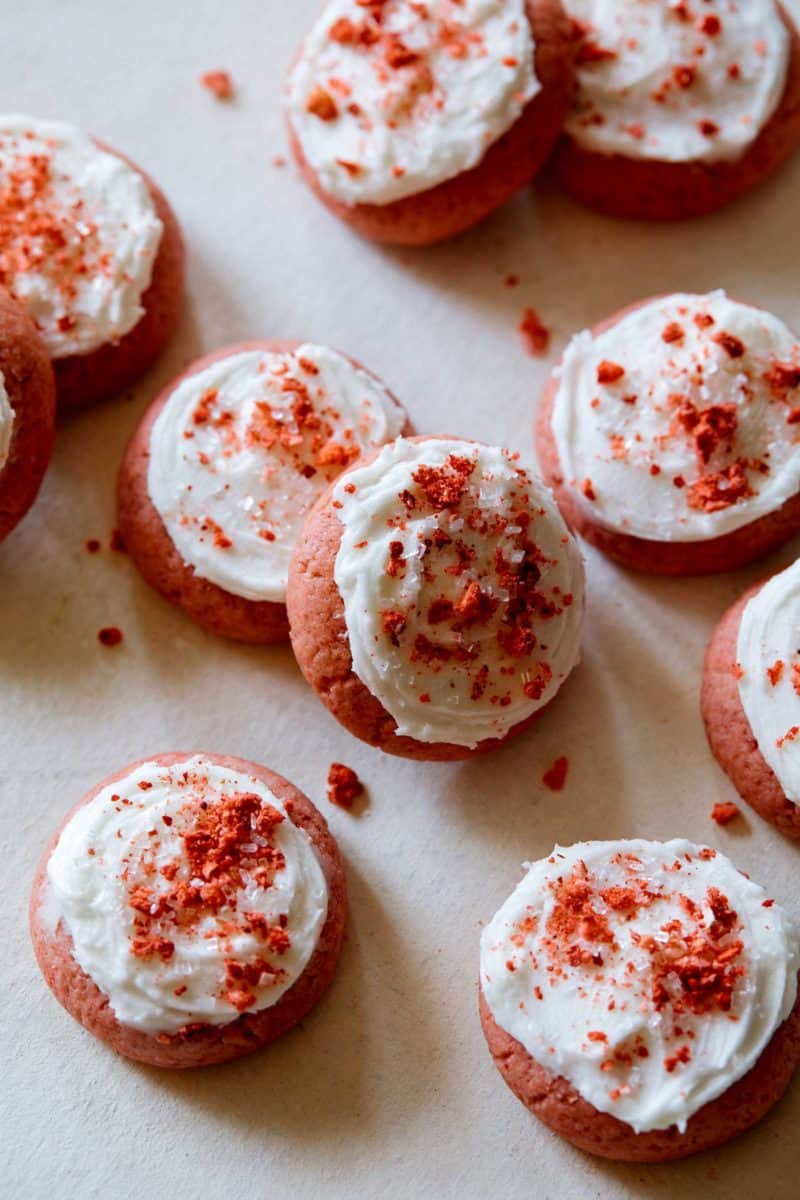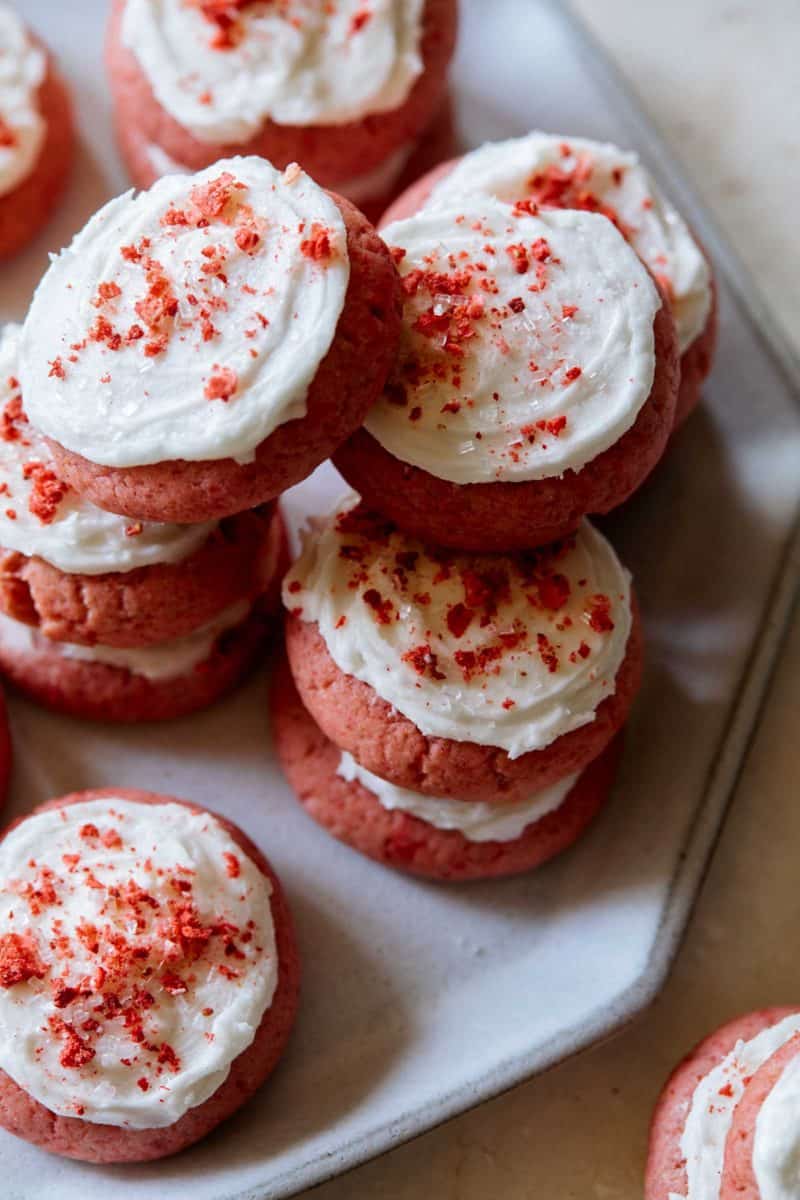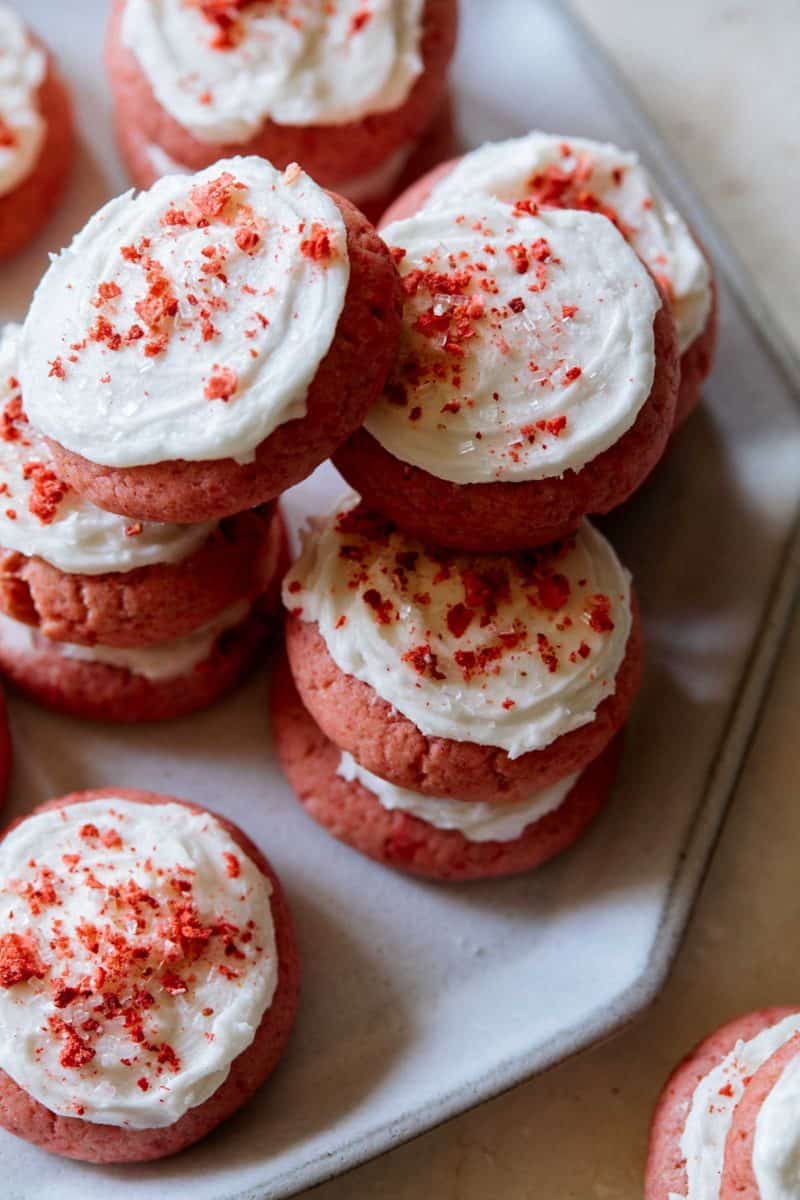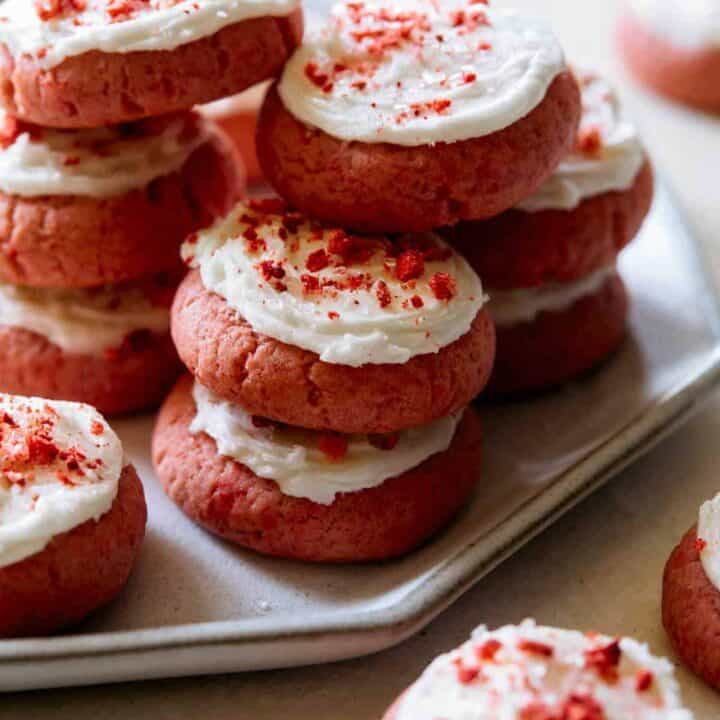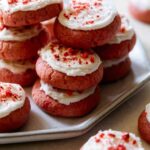 ---
Soft and Fluffy Strawberry Cookies with Vanilla Frosting
INGREDIENTS
cookies
3

cups

cake flour

1

tablespoon

baking powder

½

teaspoon

salt

1

cup

(2 sticks) unsalted butter, softened

1

cup

sugar

1 ½

cups

freeze-dried strawberries

1

large egg plus 1 large egg white, lightly beaten together

2

tablespoons

sour cream

1

teaspoon

vanilla extract

3

drops red food coloring

optional
frosting
½

cup

(1 stick) unsalted butter, softened

1

pound

powdered sugar, sifted

3

tablespoons

milk

1 ½

teaspoons

vanilla extract

pinch of salt
toppings
sanding sugar

2

tablespoons

roughly crushed freeze-dried strawberries
INSTRUCTIONS
In a large mixing bowl whisk together flour, baking powder and salt. Set aside.

Place sugar and freeze-dried strawberries in a food processor and process together until finely ground.

In a stand mixer, fitted with a paddle attachment, cream together butter and strawberry sugar until soft and fluffy.

Add beaten eggs and continue to mix together. Scrape down the sides of the bowl and add the sour cream and vanilla. Mix together (mixture will look lumpy and not entirely together). Add food coloring, if using, and mix together.

Add the dry ingredients and mix together until everything is fully incorporated and completely combined.

Cover dough with plastic wrap (directly on the surface) and refrigerate for about 30 minutes.

Roll 2 tablespoon sized balls of cookie dough, using your hands and place on a baking sheet lined with parchment, about 1 inch apart. Using the bottom of a sterilized measuring cup or can, gently press the tops of each cookie down so they have a flat top.

Bake cookies for about 9 minutes or just until they puff up and barely begin to brown along the bottom edges (the surface should still be pale and white).

Remove cookies from the oven and allow them to cool for about 5 minutes before transferring them to a cooling rack to completely cool.

Frosting: Place all the ingredients into the well of a stand mixer (fitted with a paddle attachment) and beat together until soft and fluffy, 6 to 8 minutes.

Once cookies have cooled completely, frost the tops with the frosting and finish with a sprinkle of sanding sugar and crushed freeze-dried strawberries. Serve.
NOTES
*Makes 48 mini cookies or 24 large cookies