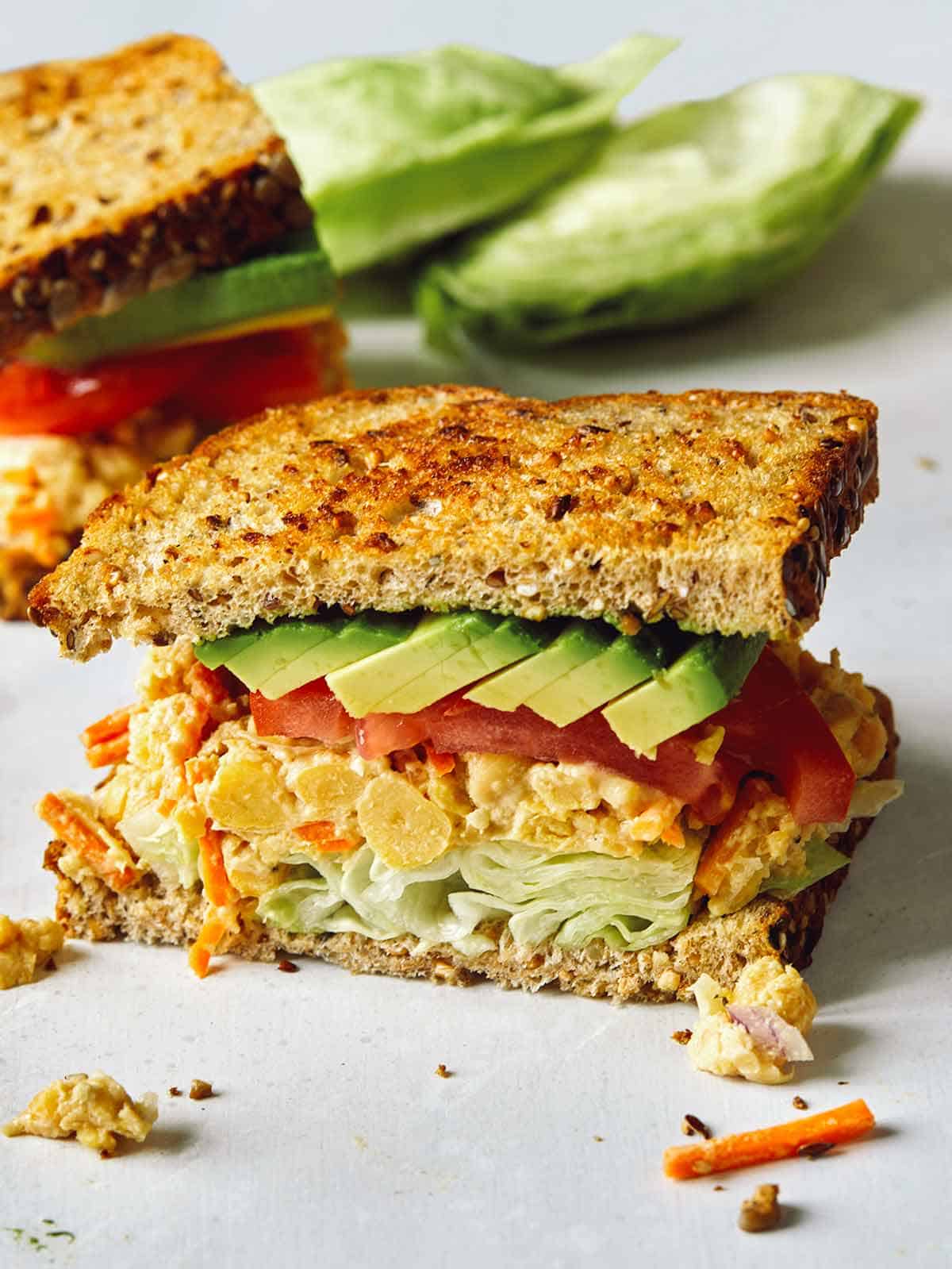 I love this vegan chickpea salad sandwich. When I'm craving something in the middle of the day that's hearty and delicious, but won't make me crash, I usually turn to this very tasty (and vegan!) sandwich and it always hits the spot! If you love chicken salad sandwiches, we know you'll love this plant based version!
I love the flavor and texture of this chickpea salad (or garbanzo beans salad) so much and it's just a bonus that the mixture goes so well in a sandwich. I also love how customizable this recipe is based on personal preferences!
Why This is the BEST Chickpea Salad Sandwich!
Our recipe is vegetarian and vegan friendly, plant-based and dairy-free!
It's loaded with so much flavor!
Our recipe is quick and easy – it only takes 10 minutes to make!
It's easily customizable based on your personal preference!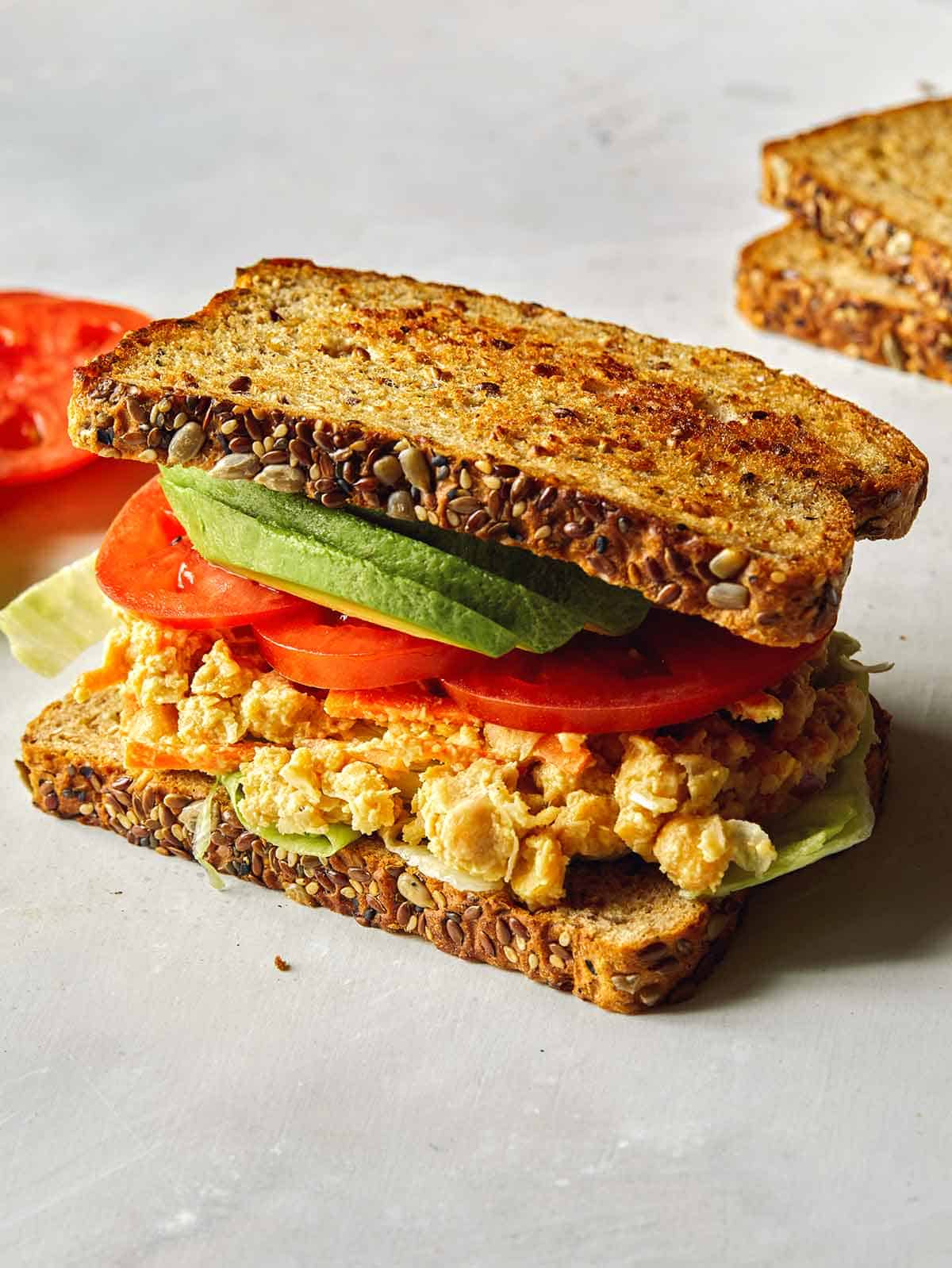 How to Make Our Chickpea Salad Sandwich
Process
CHICKPEA SALAD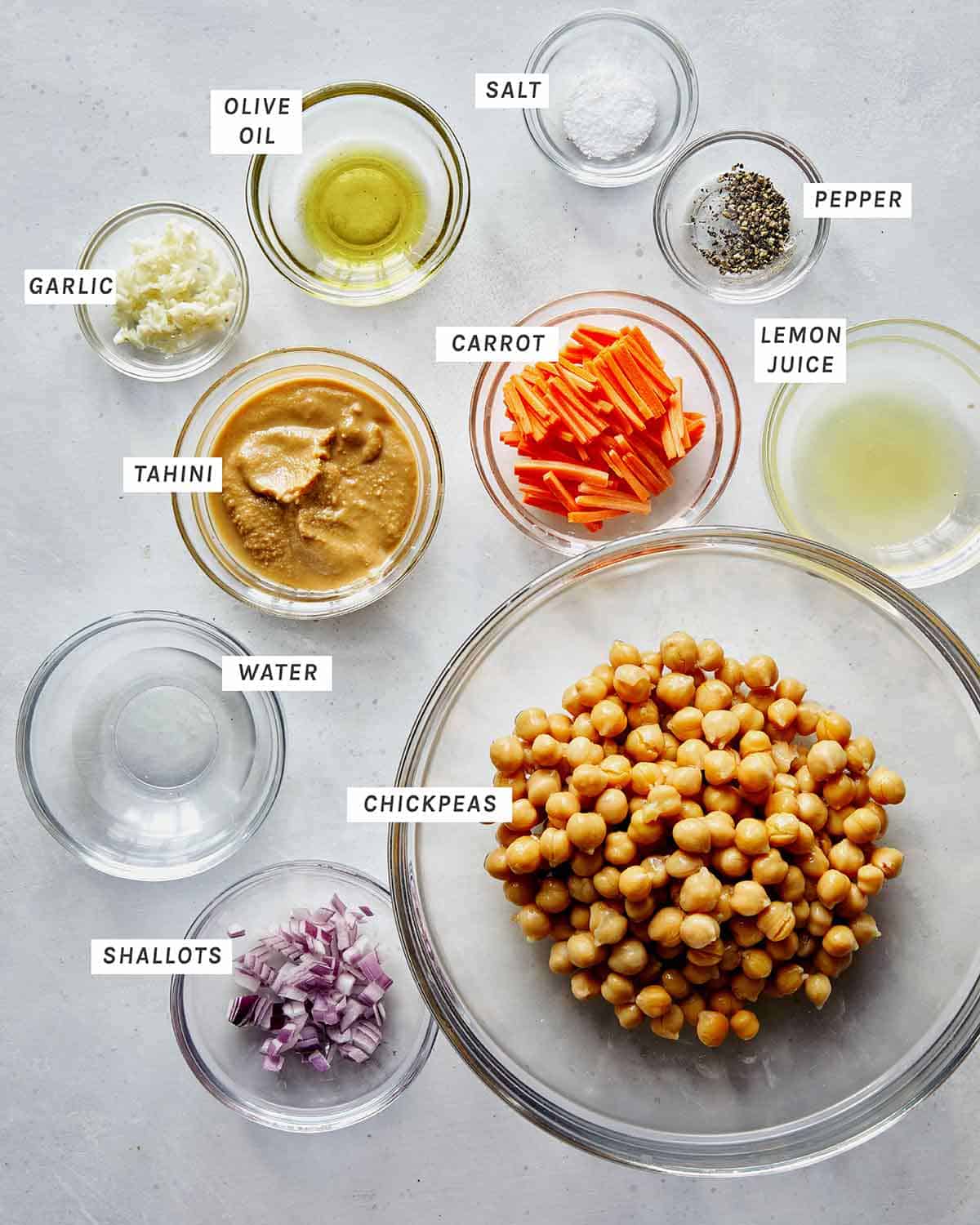 Place water, tahini, lemon juice, garlic, oil, salt, and pepper into a mixing bowl and whisk together.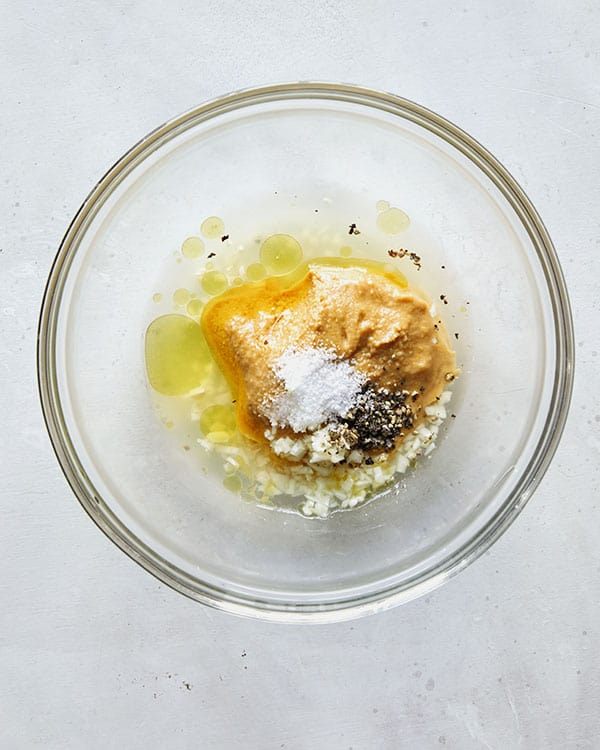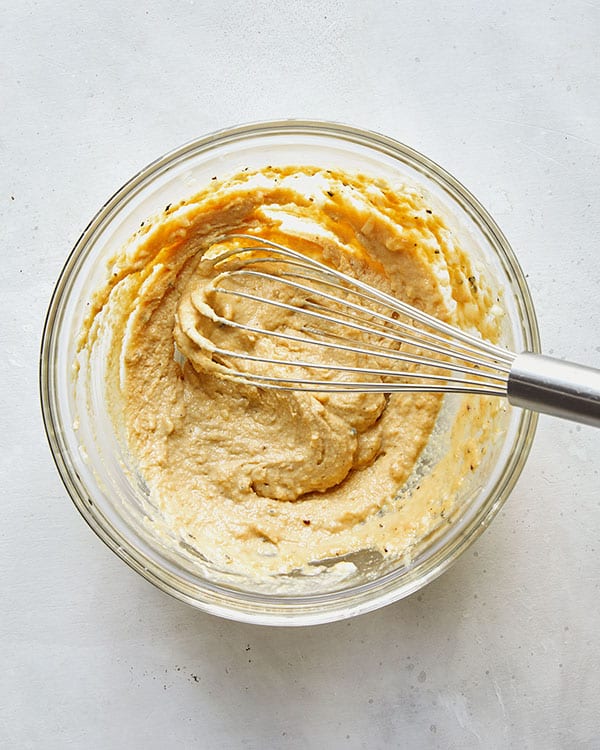 In another mixing bowl add the canned chickpeas and mash with a potato masher

or the back of a fork until coarsely mashed.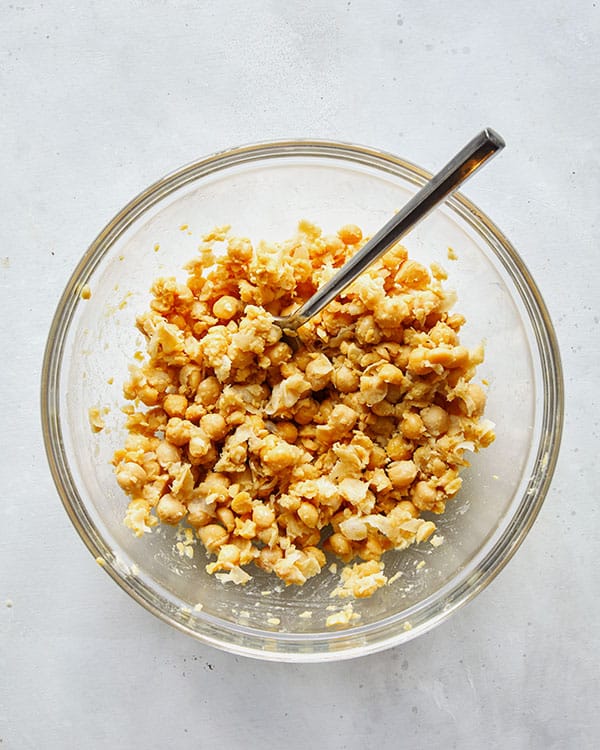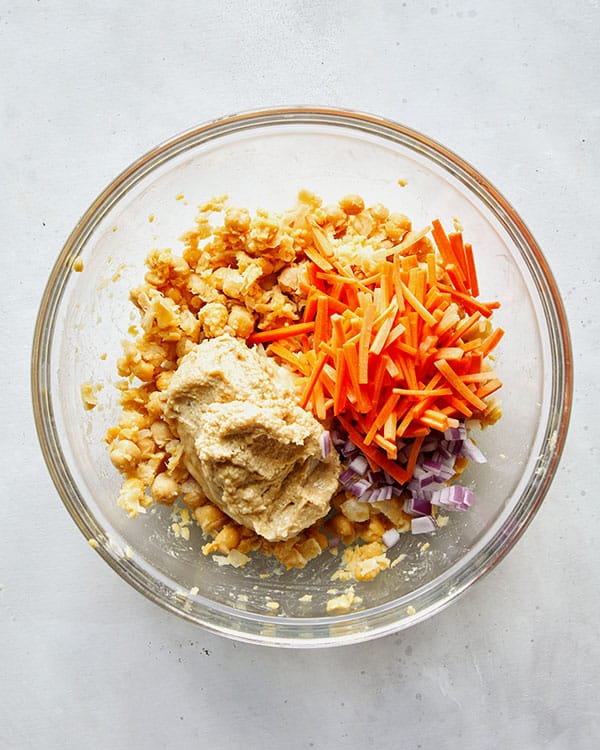 Add tahini sauce, shallots, carrot, and green onions (if using) to the mashed chickpeas and fold together until fully combined. Adjust salt and pepper if needed.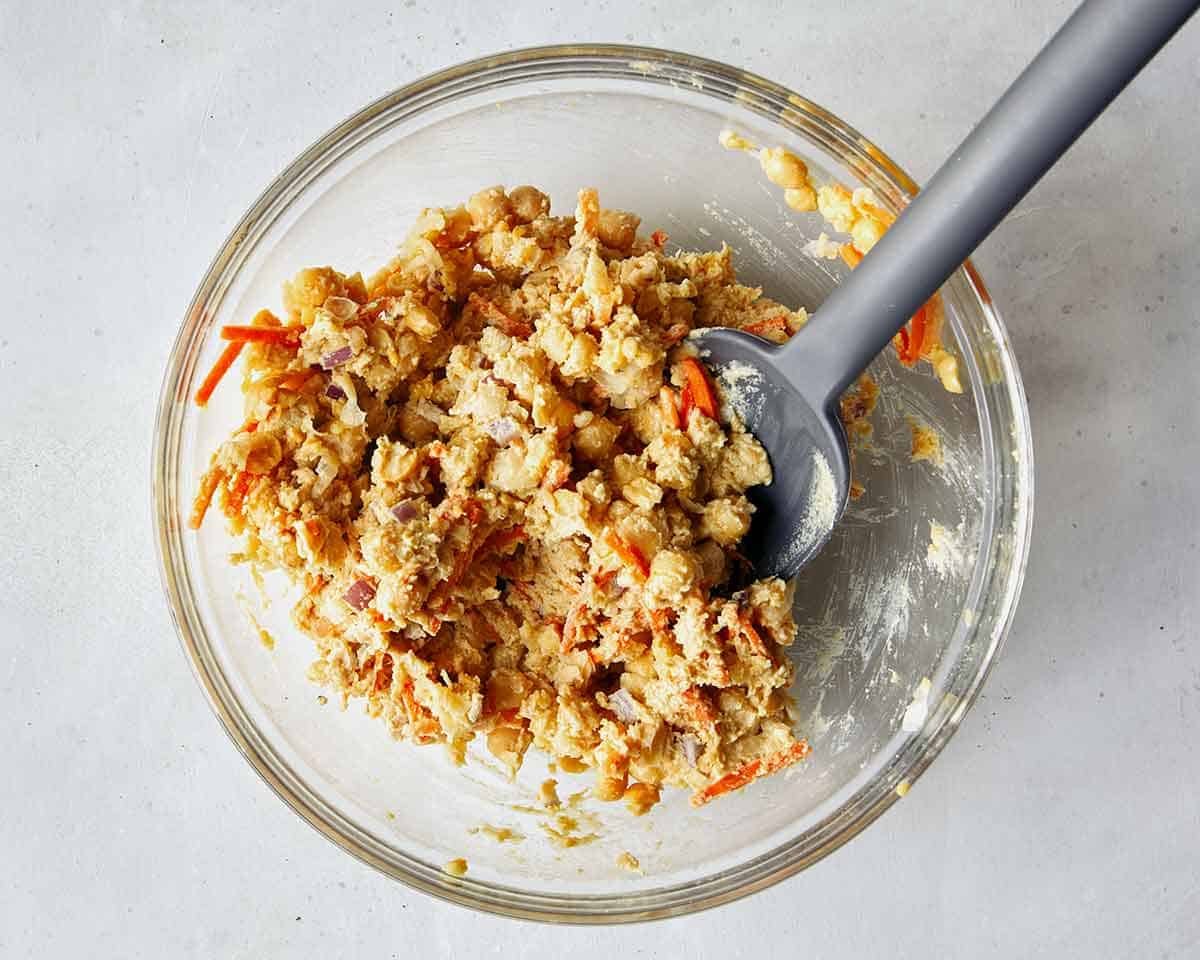 SANDWICH ASSEMBLY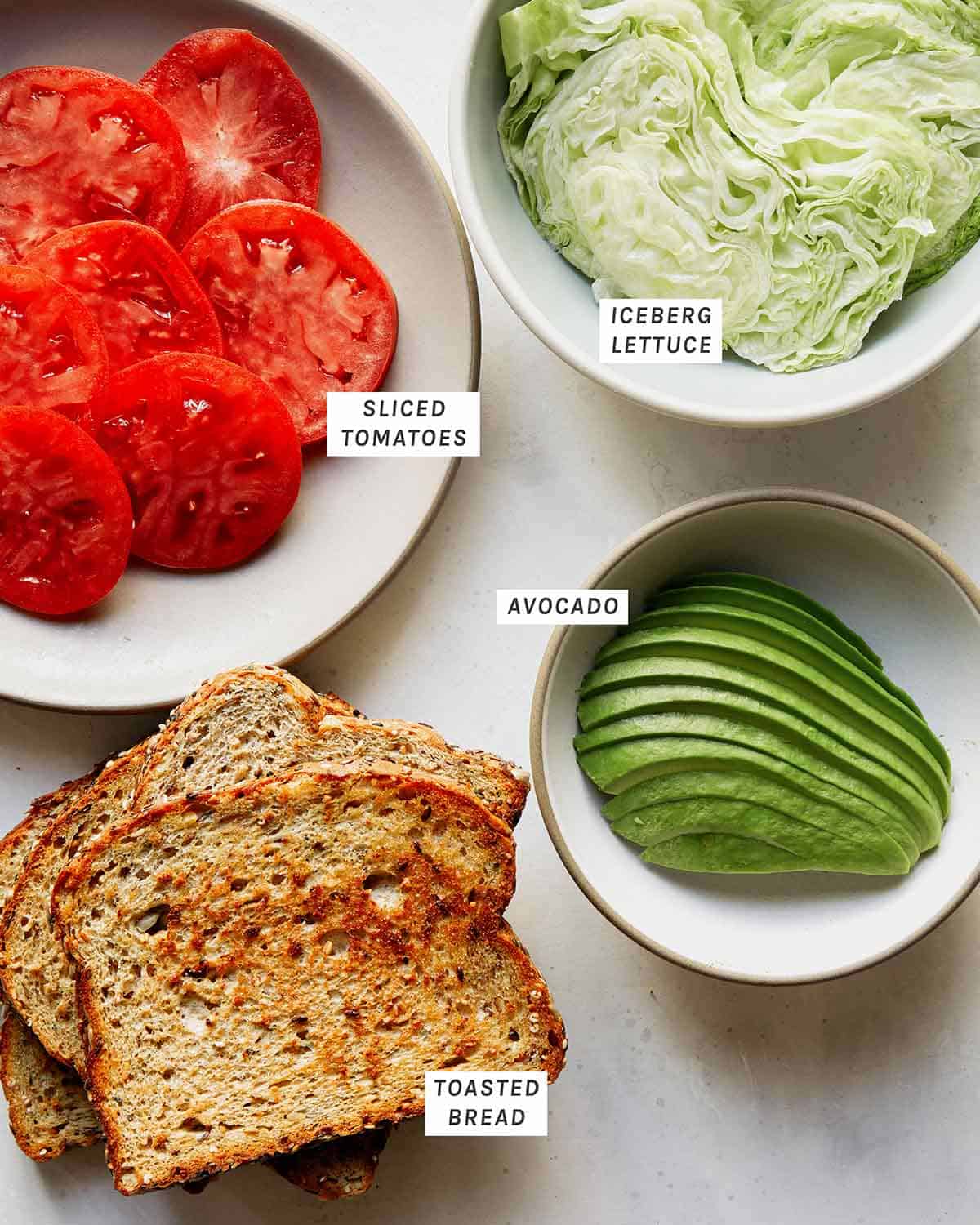 Place some iceberg lettuce over a slice of lightly toasted bread.
Scoop some chickpea salad onto a slice of toasted sandwich bread.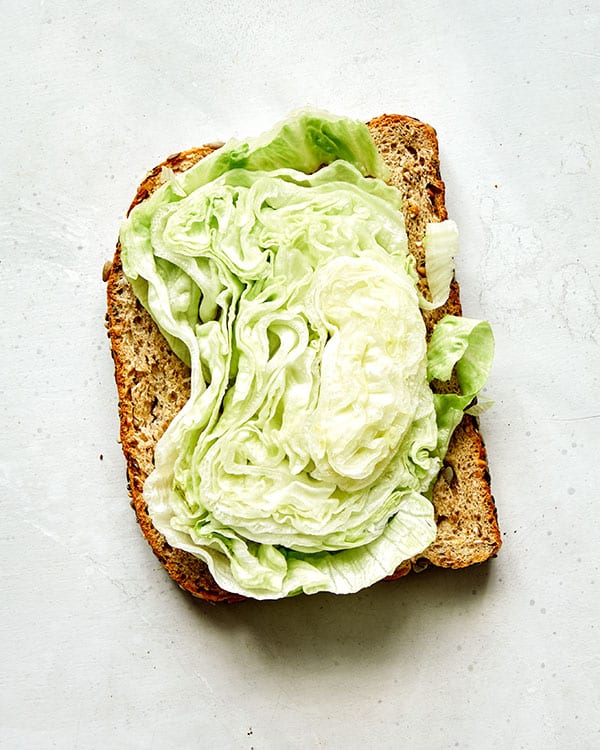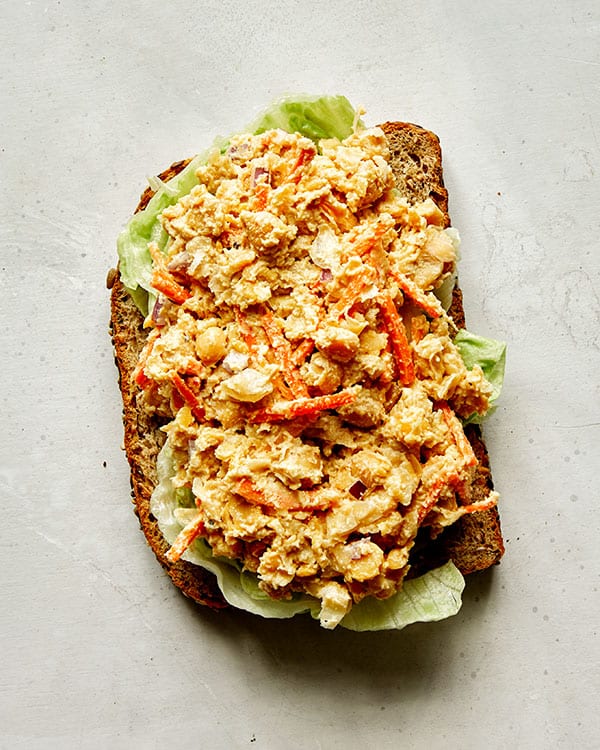 Top with some tomato slices and sliced avocado.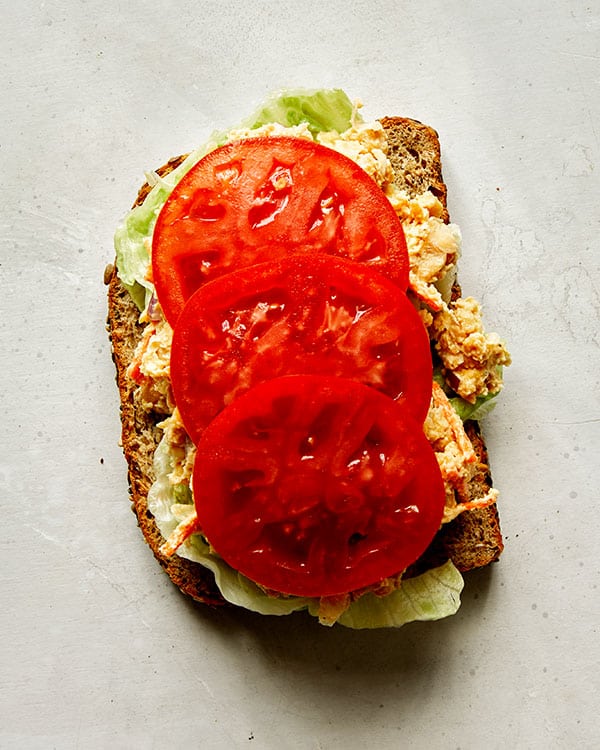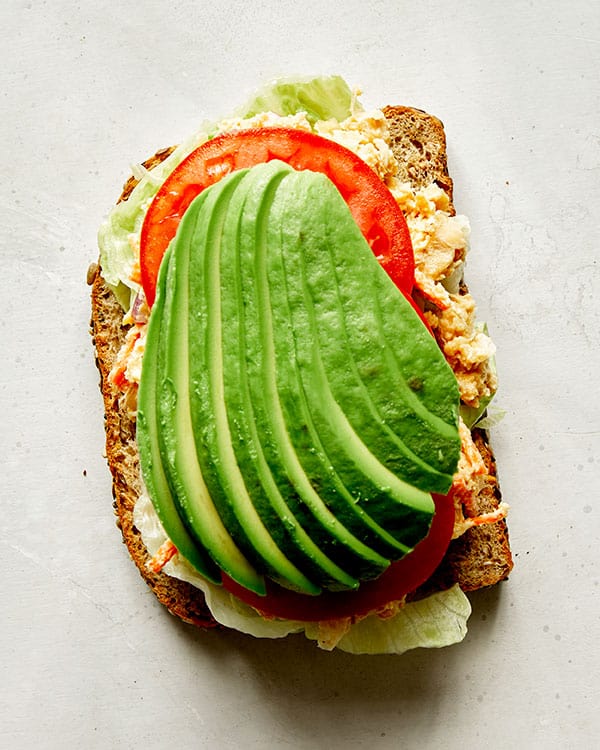 Gently press another slice of toasted bread over the sandwich. Slice in half and serve.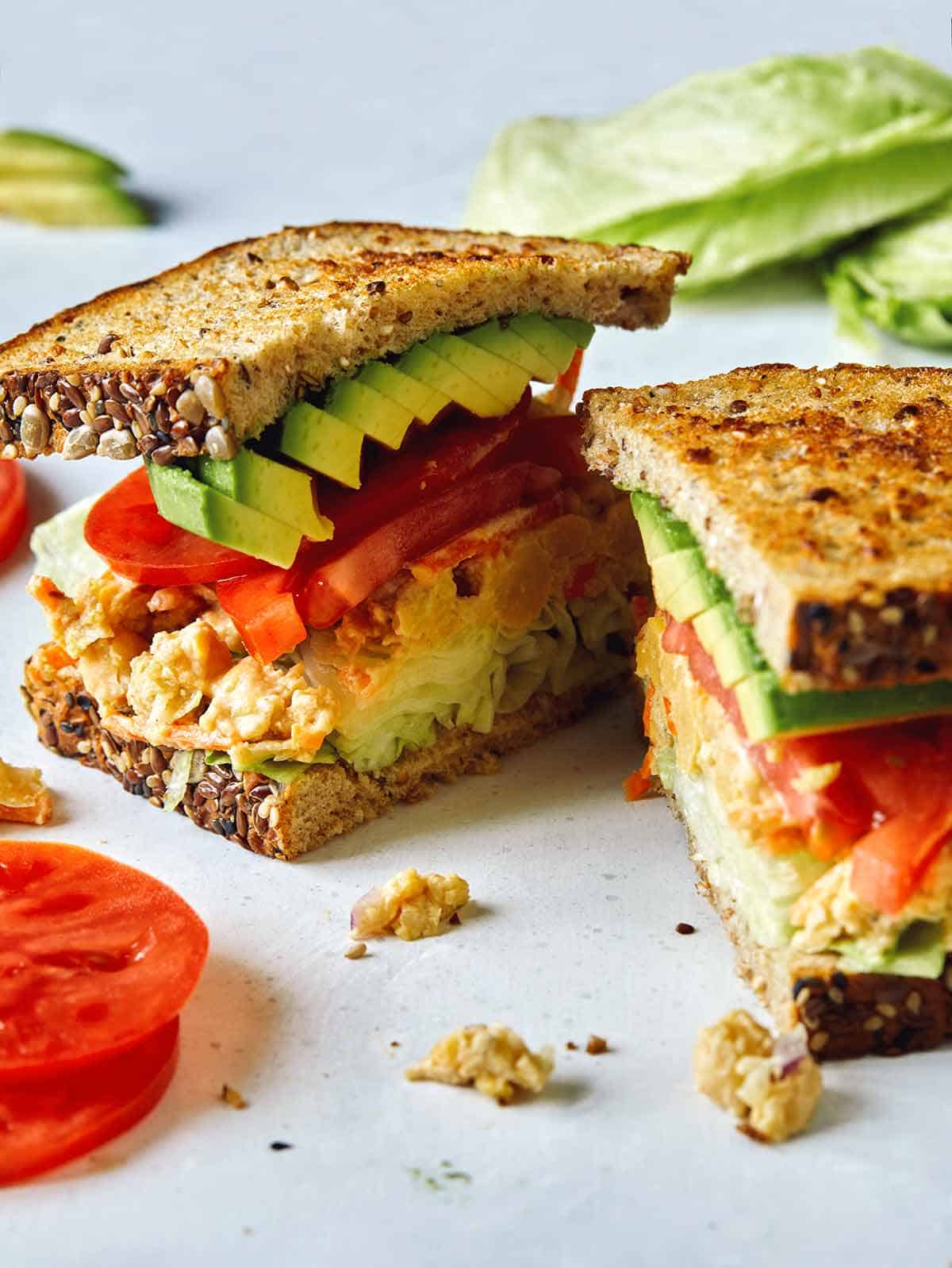 Our Favorite Variations
We love that there are so many ways this sandwich can be made based on personal preference. Some of our favorite variations are below:
Add fresh herbs to your chickpea salad mixture! Fresh herbs add a bright pop of flavor to this salndwich. We love adding some sliced chives, minced tarragon, minced thyme, torn basil leaves, or some fresh dill.
Make a different binding mix if tahini isn't your taste. You can go with the classic mayo (or vegan mayo), apple cider vinegar mixture (3 1/2 tablespoons mayonnaise, 1 1/2 teaspoons apple cider vinegar, 1 teaspoon dijon mustard (optional), 1/2 teaspoon poppyseeds (optional), and a large pinch of salt and pepper). We also love using a mixture of 1/2 mashed avocado, 2 teaspoons lemon juice, and a large pinch of salt and pepper for another binding option. Delicious!
Add more things like veggies and protein to the chickpea salad mixture. We've kept our mixture simple for this recipe so the chickpeas really take center stage, but we also love adding in some diced apple, finely chopped celery or diced red bell pepper to the mixture. We also love stirring in some wilted spinach for added fiber or even a chopped boiled egg into the mix for even more protein to make it a chickpea and egg salad sandwich!
Turn the chickpea sandwich into a salad! We often enjoy just taking the chickpea salad mixture and scooping it over a bed of arugula, halved cherry tomatoes and sliced cucumbers (like you would with tuna salad or chicken salad). It's such a good on the go lunch that keeps you fueled up for the afternoon!
More Fixing Options!
spring mix or other mixed greens
sprouts or micro-greens
sliced cucumbers
crumbled cheese in the chickpea mixture or sliced cheese in the sandwich
potato chips – for extra crunch!
smear of spicy or herb mayo on the slices of bread
sliced dill pickles
thinly sliced red onion or pickled red onions
Make Ahead Instructions
The chickpea salad mixture can be made up to 3 days in advance. Store in an airtight container in the refrigerator until ready to use. When ready to use, adjust consistency, if needed, with 1 to 2 tablespoons water stirred into the mix and re-season with a little more salt and pepper.
The sandwich can be made up to 1 day in advance. Store the sandwich in a fitted, airtight container or tightly in foil. Place wrapped sandwich in the refrigerator until ready to enjoy.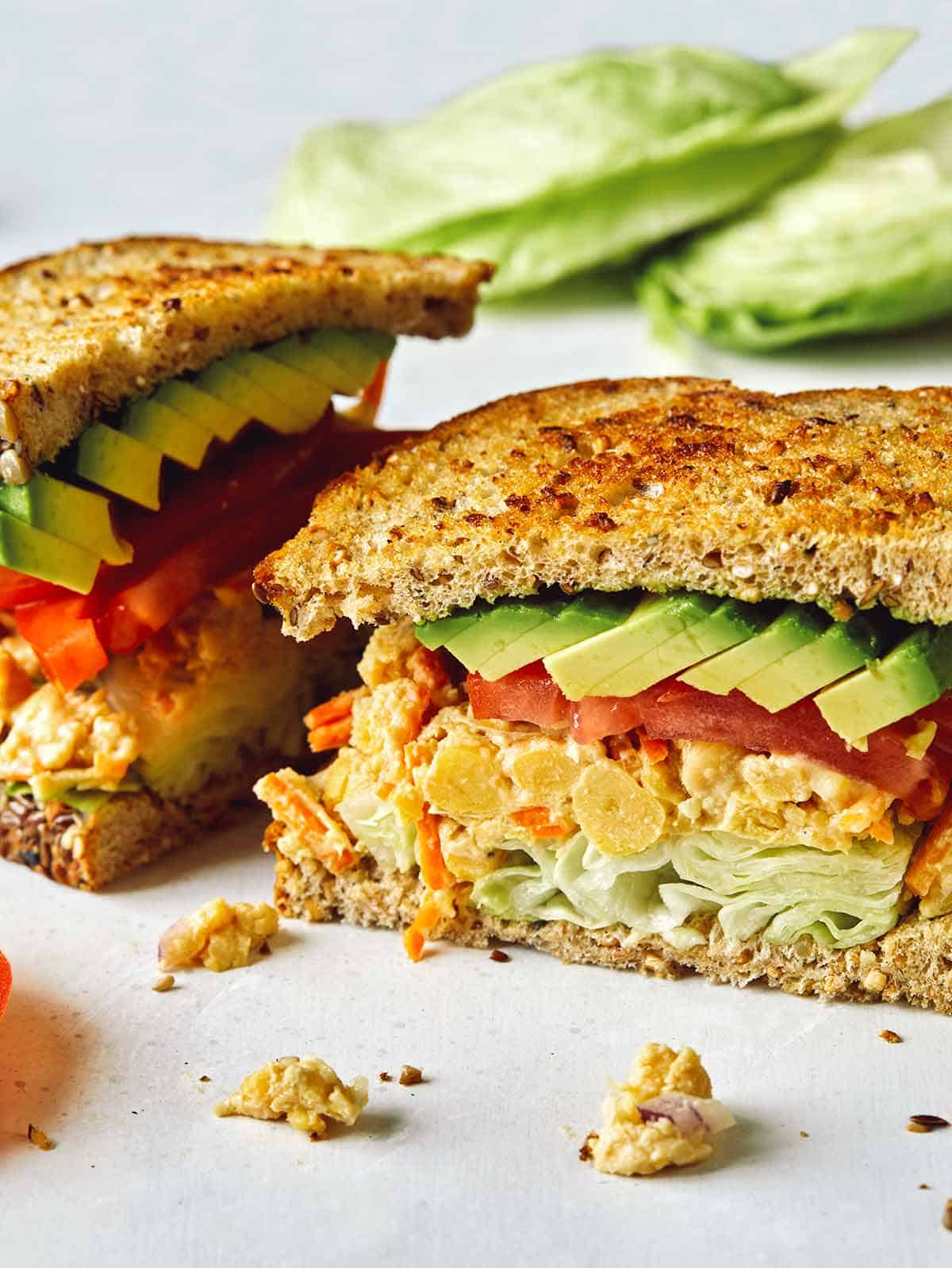 More Delicious Vegan/Plant-Based Recipes You Will Love
Hungry for more?
Subscribe to never miss a recipe.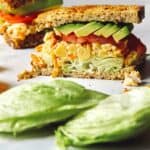 ---
Chickpea Salad Sandwich
INGREDIENTS
3

tablespoons

mayonnaise

½

lemon, juiced

1

(15 oz) can chickpeas, drained

2 ½

tablespoons

minced shallots

1

large carrot, peeled and grated

1

green onion, thinly sliced

salt and pepper to taste

green leaf lettuce

optional

4

slices

bread of choice
INSTRUCTIONS
Place mayonnaise and lemon juice in a large bowl. Season with salt and pepper and stir together until smooth.

In another mixing bowl, add half of the chickpeas and mash with a potato masher or the back of a fork until coarsely mashed.

Add mashed chickpeas, whole chickpeas, shallots, carrot, and green onion to mayonnaise mixture and fold together until fully mixed together. Season with salt and pepper.

Place a couple leaves of green leaf lettuce atop two slices of bread (if using) and top with chickpea mixture. Top each chickpea salad mixture with remaining bread and gently press down. Slice each sandwich in half and serve.