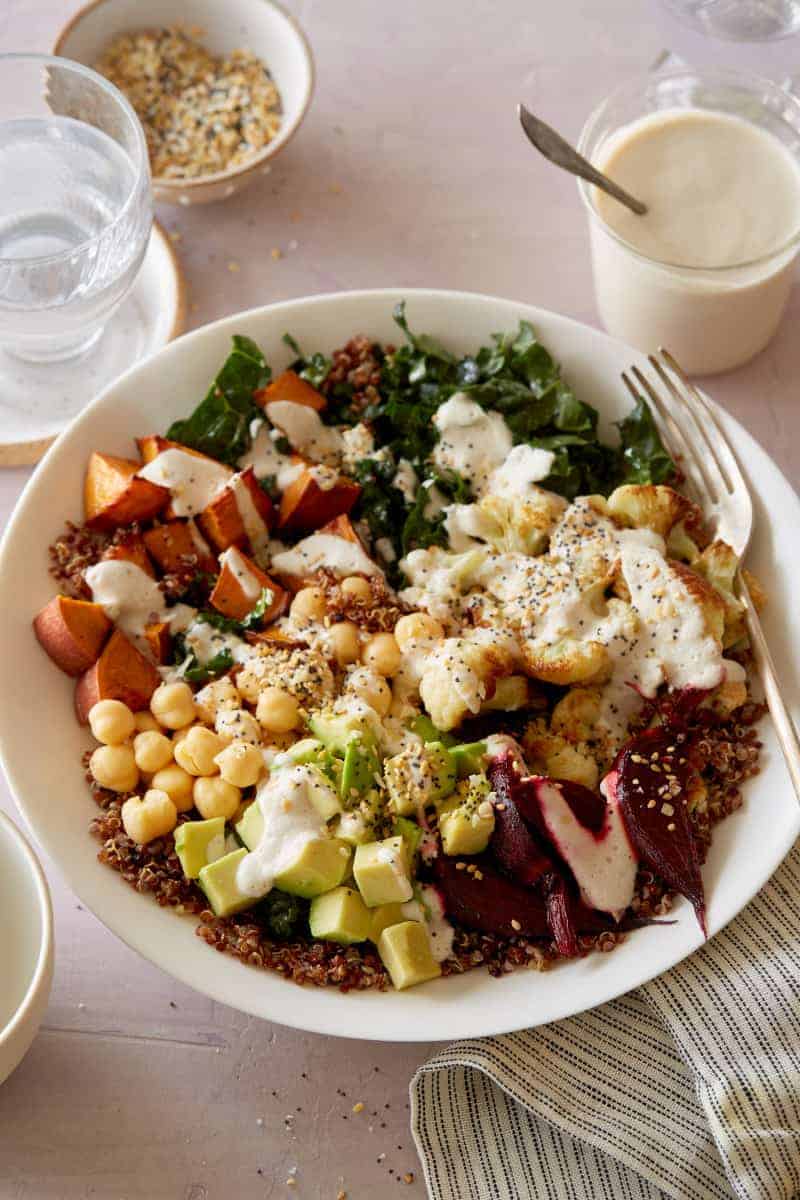 I feel like buddha bowls are everywhere right now and I'm totally happy to jump on that bandwagon! "______ bowls" are some of my favorite dishes ever….whether it's a sushi/poke bowl, a burrito bowl, a falafel bowl, etc. I love a good buffet of ingredients that can be tossed (or nicely arranged) together into a large bowl and eaten like a salad that's not really a salad, which makes it even that much better.
Since it's officially spring, we wanted to start the season off the right way with a fresh and delicious bowl of vegetables, that's also extremely hearty (Oh so probably a good time to mention that this dish is 100% vegan! Yay!) While I love everything in this bowl it's really all about the creamy, velvety, luscious cashew cream sauce that's just SO.GOOD. It's basically like crack. I could probably drink a huge glass of this stuff, it's THAT good. I also love how versatile this sauce is; I literally drizzle it onto anything. We also topped our bowl off with some "everything seasoning" because why not, right?
I also love this dish because you can have it hot or cold. I can't even tell you how much a love cold roasted veggies. They're just so good…especially beets! I swear it's like natures candy. Yum! Anyway, get in the kitchen and whip this bowl up, it's totally worth it, I promise. Enjoy! xx, Jenny
Check out our Meal Prep Grain Bowls for another light option!
Hungry for more?
Subscribe to never miss a recipe.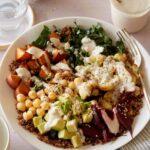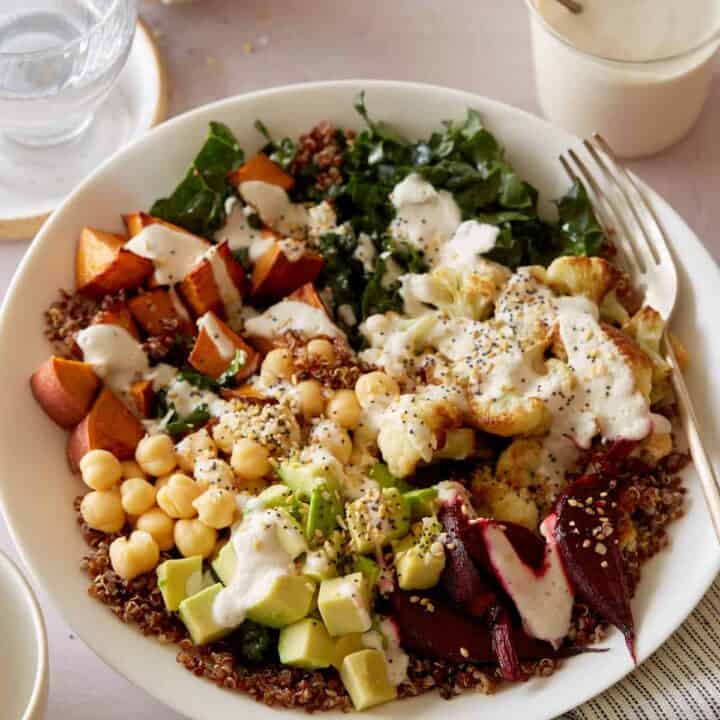 ---
Light and Fresh Buddha Bowl Topped with a Creamy Roasted Garlic Cashew Sauce
INGREDIENTS
Creamy roasted garlic cashew sauce
1 ¼

cups

raw cashews

¾

cup

chicken stock

or vegetable stock

1

head

roasted garlic cloves

1

tablespoon

nutritional yeast

or sub with 2 teaspoons onion powder + 1 teaspoon dry mustard

½

teaspoon

ground coriander

salt and pepper to taste
assembly
3

cups

cooked red quinoa

2

cups

chopped, roasted sweet potato

2

cups

roasted cauliflower florets

2

cups

chickpeas, drained

4

small red beet, peeled, cut into 1/6's and roasted

1

avocado, diced

4

large dino kale leaves, ribs removed, thinly sliced and massaged
INSTRUCTIONS
For cashew sauce: Place all ingredients into a blender and blend for 2 to 3 minutes or until sauce is completely smooth with a good drizzle consistency. Adjust seasonings and set aside.

To assemble: Set out four wide and shallow bowls and fill each with ¾ cup quinoa. Divide the remaining ingredients in even, small piles into each bowl of quinoa. Lightly season each bowl with salt and pepper and drizzle with as much or as little cashew sauce as desired. Finish each bowl with a sprinkle of everything seasoning and serve.
Calories:
749
kcal
Carbohydrates:
98
g
Protein:
28
g
Fat:
31
g
Saturated Fat:
5
g
Cholesterol:
1
mg
Sodium:
209
mg
Potassium:
1794
mg
Fiber:
21
g
Sugar:
18
g
Vitamin A:
10656
IU
Vitamin C:
51
mg
Calcium:
158
mg
Iron:
9
mg