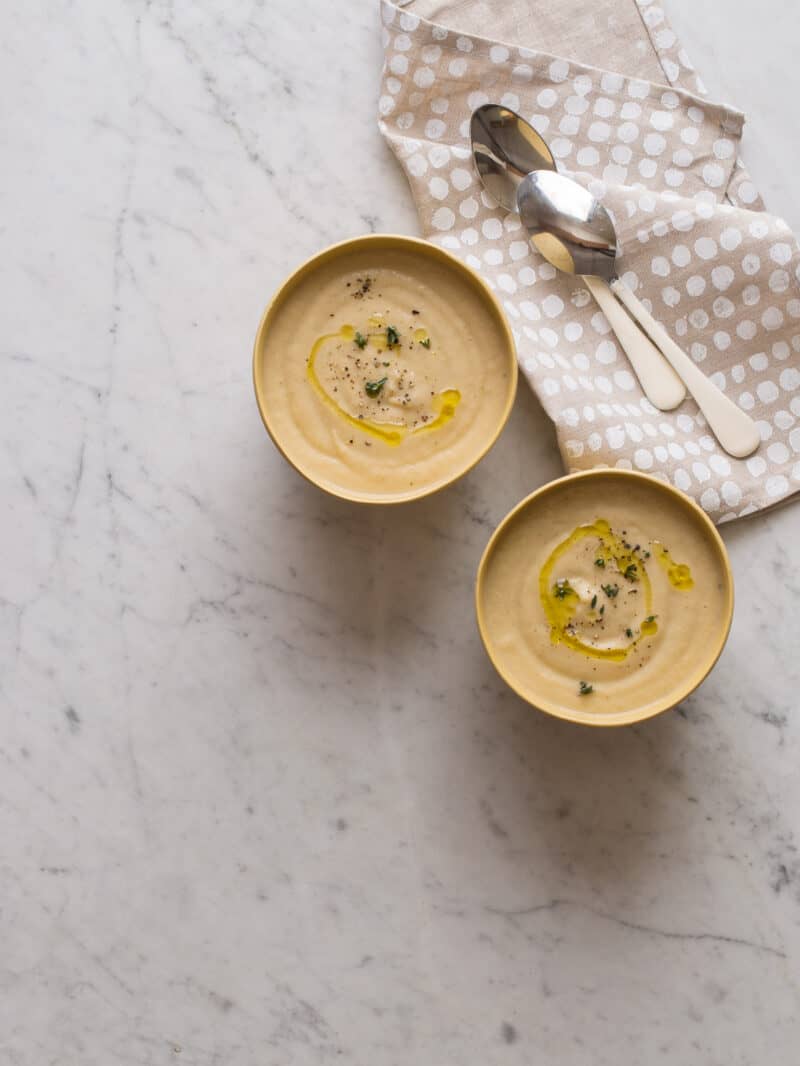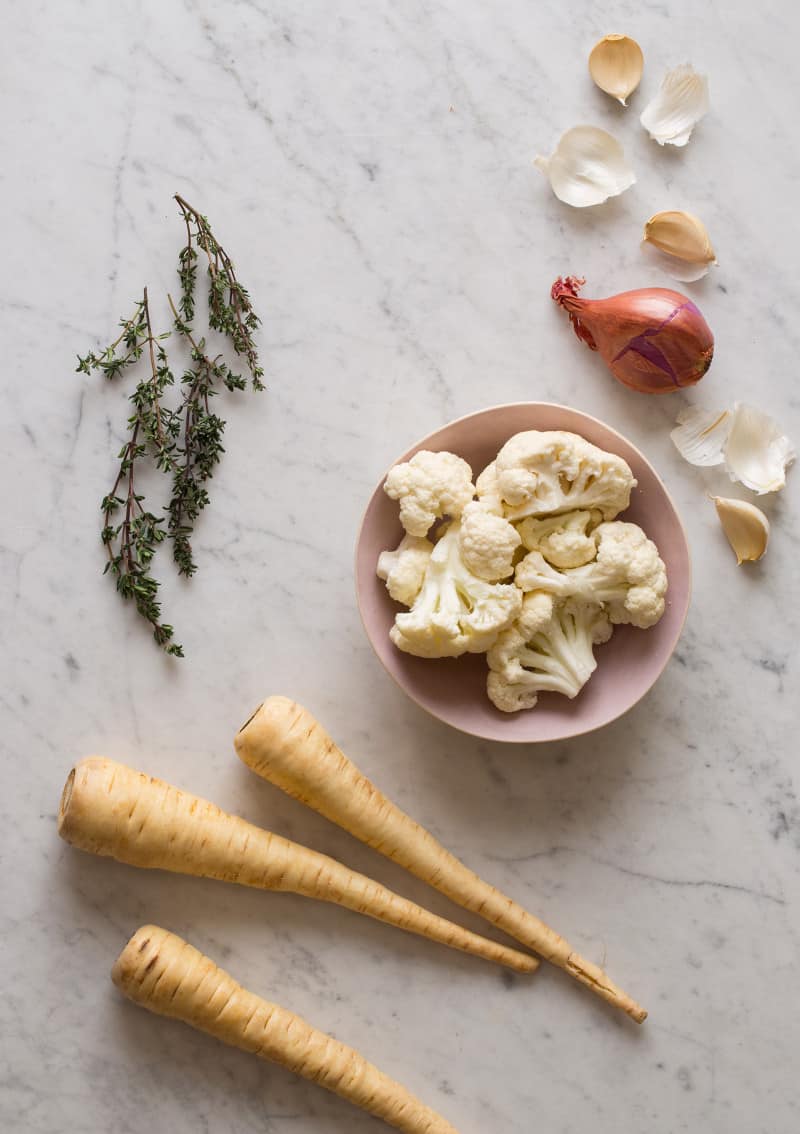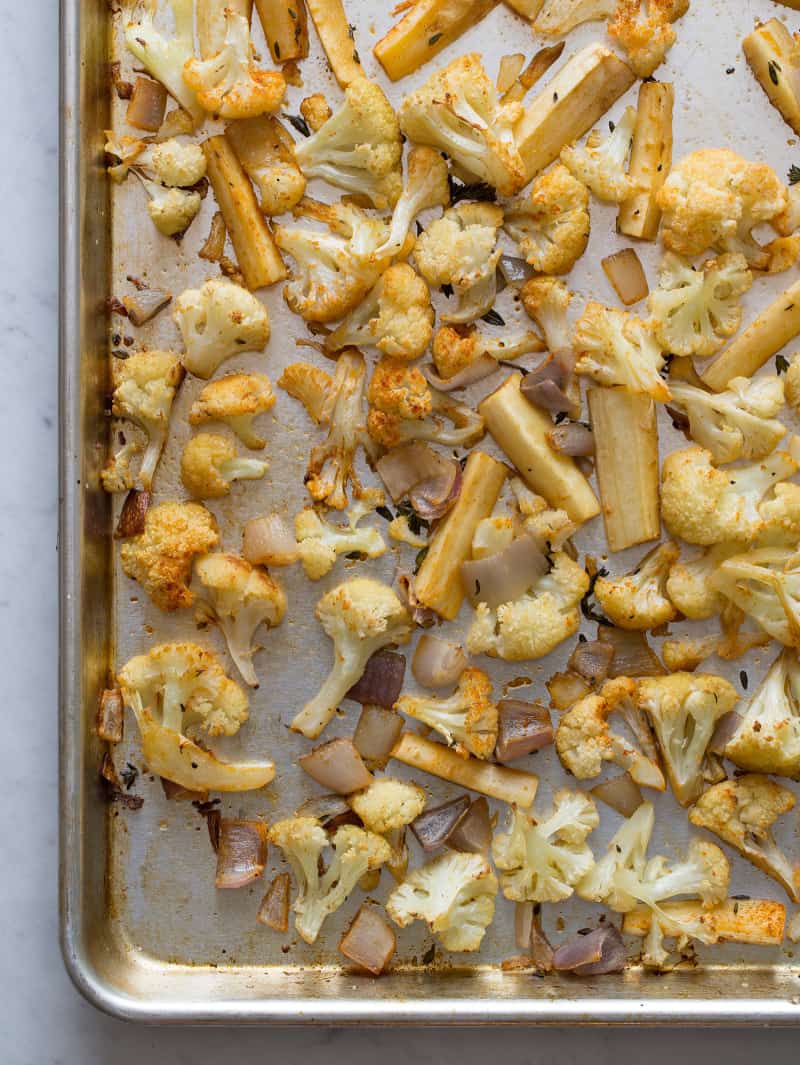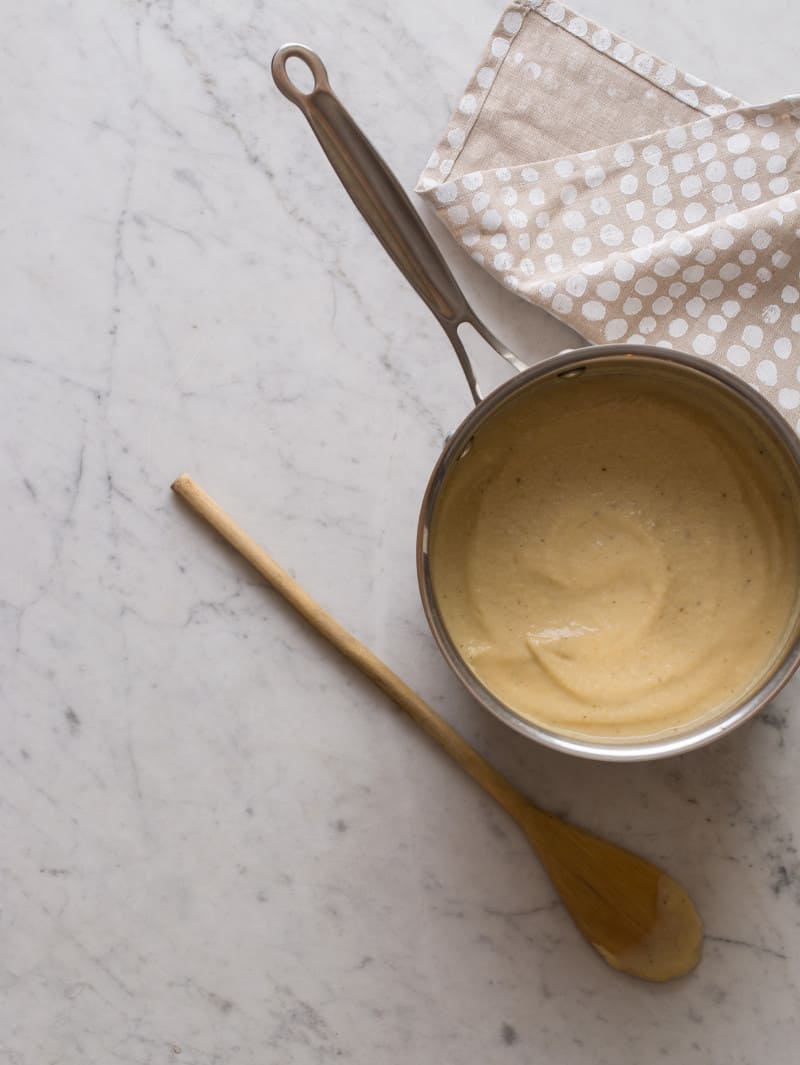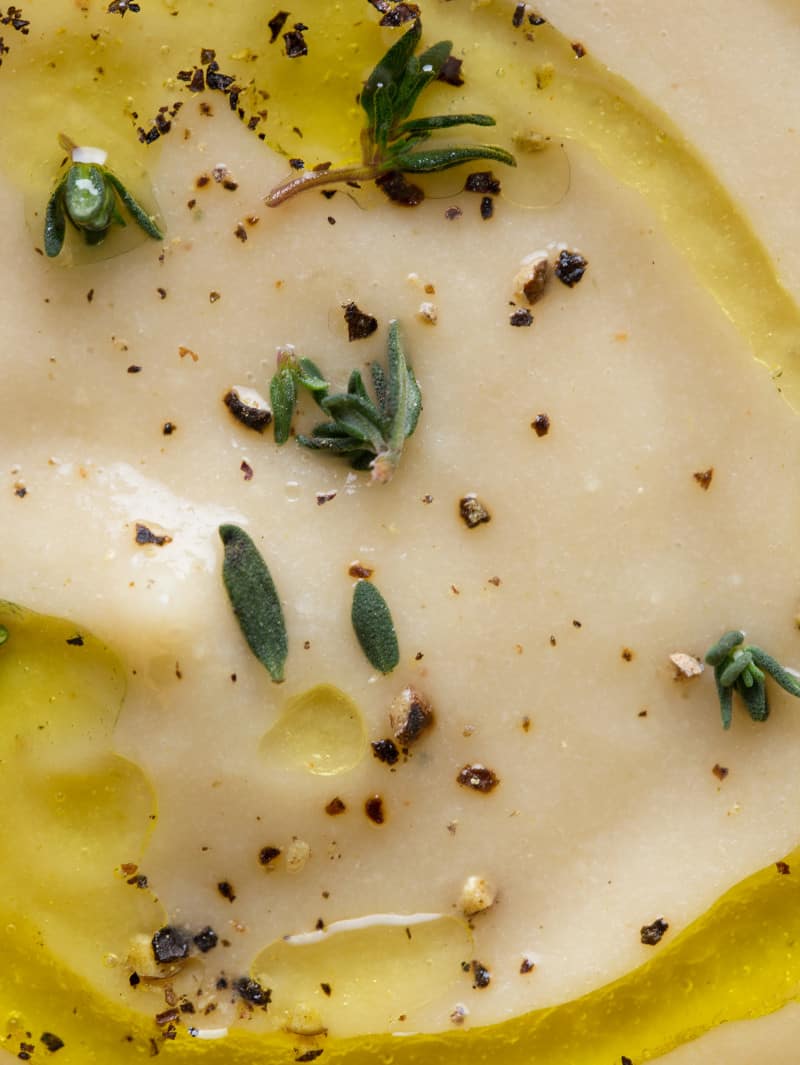 Did everyone have a good Christmas? I was in Idaho, where it wasn't as cold as I would have thought. There was snow on the ground, but nothing fresh. It was the kind of snow that was crunchy, and for some reason I always think about freezer burn when I encounter this kind of snow. My favorite part is this beef rib roast my step mom makes. It is so juicy and the texture is perfection. She also made my favorite potatoes in all the land, Heavenly Potatoes. I try and save myself so be able to fill up on the beef, predictable. I felt like a balloon when I came home. John and I went off to Boston for New Years. When we returned, all we are trying to eat will be light and yummy food. Which is why we have this Roasted Cauliflower and Parsnip Soup for you. Here is the deal with this soup, the cauliflower is great because it has a similar texture and mouth feel to potatoes but with less carbs! Hooray! The parsnips are so delicious when roasted because they just get a little sweeter. When we puree all these ingredients together to make this soup, it really feels as though you are eating a creamy rich soup. I think it is a perfect start to the new year when you still may crave all the rich foods you have been eating, but don't actually want to eat them.
♥ Teri
Check out our Best Cauliflower Recipes!
Also check out this post for our Best Soup Recipes!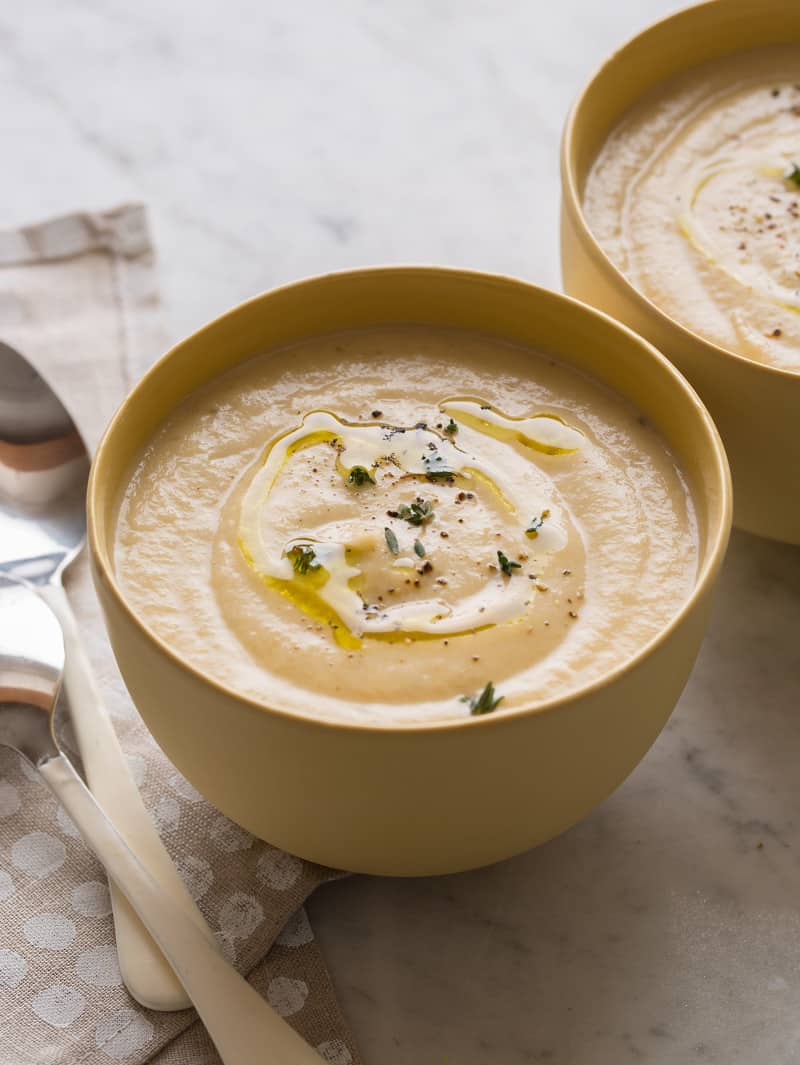 Hungry for more?
Subscribe to never miss a recipe.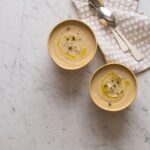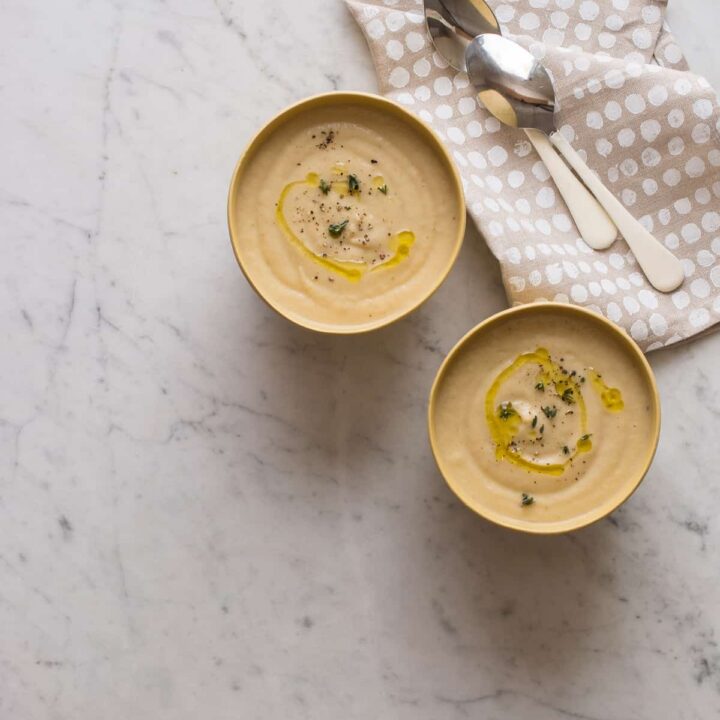 ---
Roasted Cauliflower and Parsnip Soup
INGREDIENTS
1

head

cauliflower florets (about 3 1/2 cups), roughly chopped

2

parsnips, peeled and roughly chopped

2

shallots, peeled and quartered

3

garlic cloves, peeled and smashed

2

tablespoons

minced thyme, plus more for garnish

3

tablespoons

extra virgin olive oil

½

teaspoon

cumin

½

teaspoon

smoked paprika

3

cups

vegetable or chicken stock

¼

cup

sour cream or crème fraiche

salt and pepper to taste
INSTRUCTIONS
Spread cauliflower, parsnips, shallots, garlic, and thyme onto a baking sheet, in a single layer, and drizzle with oil. Sprinkle with cumin, paprika, salt and pepper and toss everything together until the vegetables are well coated with oil.

Roast vegetables for 25-30 minutes, tossing vegetables around 15 minutes into the roasting process.

Meanwhile pour stock into a medium pot and bring to a simmer. Lightly season with salt and pepper.

Once vegetables have roasted through and stock is hot, transfer both the vegetables and 2 1/2 cups stock into the well of a blender. Securely fasten the lib, but remove the small, plastic center-top and replace that with a kitchen towel with your hand securely over the towel (this will allow for the stream to escape without a soup 'explosion' occurring).

Puree mixture for 3 to 5 minutes or until the mixture is smooth. Add more stock and continue to puree if necessary.

Transfer the mixture into the pot that the stock was in and bring to a light simmer. Stir in sour cream or crème fraiche and adjust seasonings.

Top each bowl with a drizzle of extra virgin olive oil and fresh thyme leaves and serve.