Hey guys! We're still on a little bit of a high from our book release yesterday, yay! Since its been a little chilly in LA (apologies to everyone not in California that finds me calling our weather "chilly" extremely annoying!!) I've been indulging in shakshuka lately. I love this stuff. Nothing like a flavorful, aromatic and stewy tomato sitch, topped with runny eggs to really hit the spot on a cold day.
While I really love shakshuka, I also like things with a lot of texture, so I'll usually add something to "bulk" it up a bit. I had originally planned to add garbanzo beans to this recipe, but when it came time to meet at the studio and shoot the dish, I realized I totally forgot to bring some with me! So a quick little scan of our pantry led me to a lonely can of hominy lying around. Turns out, shakshuka with hominy is delicious! Yay for happy mistakes!
If you're looking for a quick and easy chilly day meal that's hearty but not heavy, this simple shakshuka with hominy and feta is a really great option. Enjoy! xx, Jenny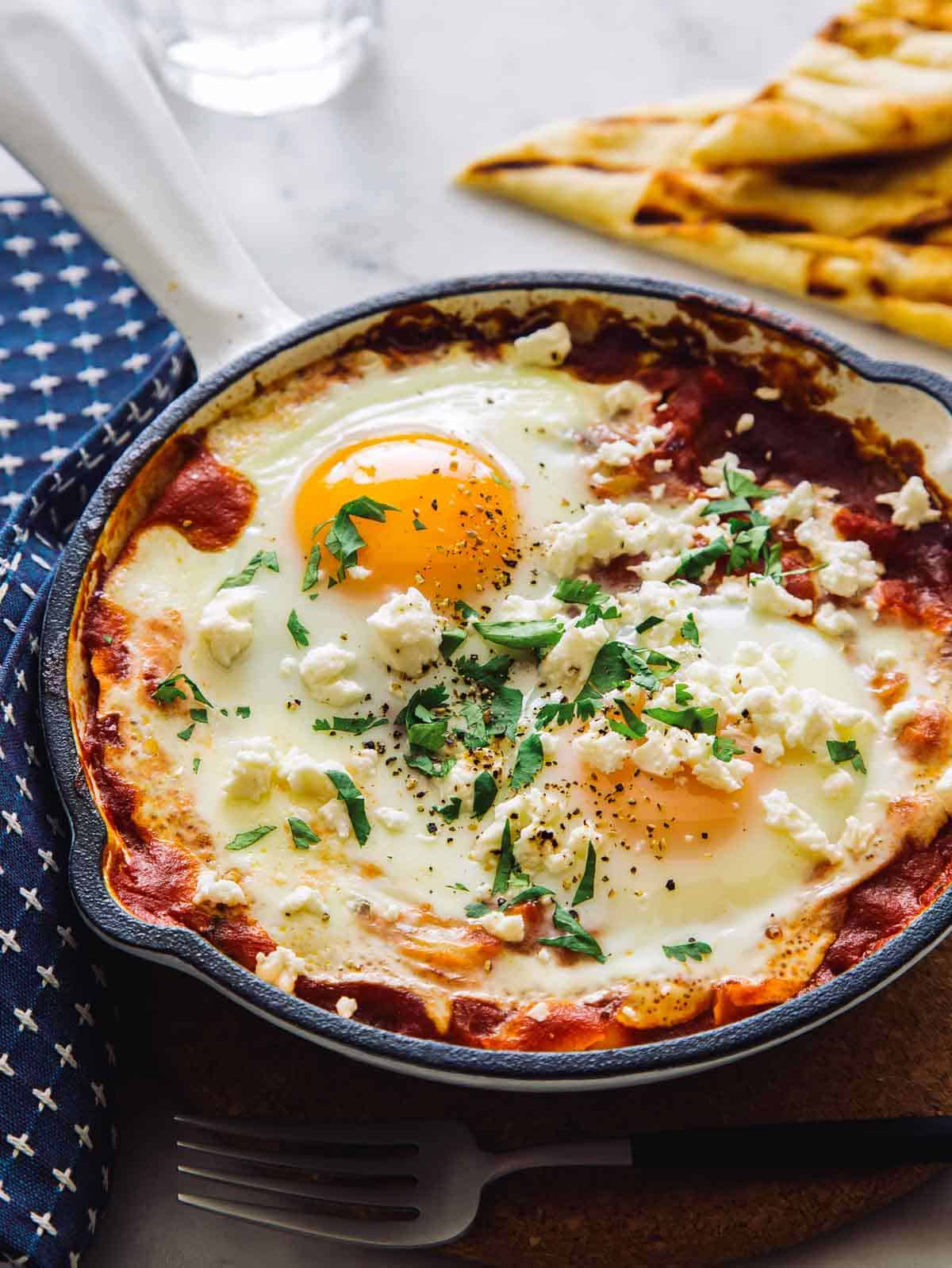 We have a couple other shakshuka recipes we love. Check them out below!
Questions about Shakshuk
What is shakshuka?
Shakshuka is a dish made in a skillet. It consists of eggs poached in a tomato sauce. The dish is flavored with spices and vegetables like onions and peppers. It is a Mediterranean dish.
What is hominy?
Hominy is made from dried corn kernels. It is treated to soften the kernels, and then washed to remove the bitter flavor that comes from the softening process. You can find it canned in most grocery stores.
What do you eat with shakshuka?
You can have this dish any time of day. We love it for breakfast. We prefer to serve ours with bread. We like pita or flatbread, but any crusty bread will do. You will just want to make sure to have some to dip with!

You can also serve this with a simple side salad or add some protein for a more complete meal.
How do you pronounce shakshuka?
It's not as difficult as it looks! Shack-shoe-kah
Variations
Instead of hominy use chickpeas. We mention this in the recipe and it's a fantastic substitution.
OTHER VARIATIONS?!
Skillets we love for this recipe: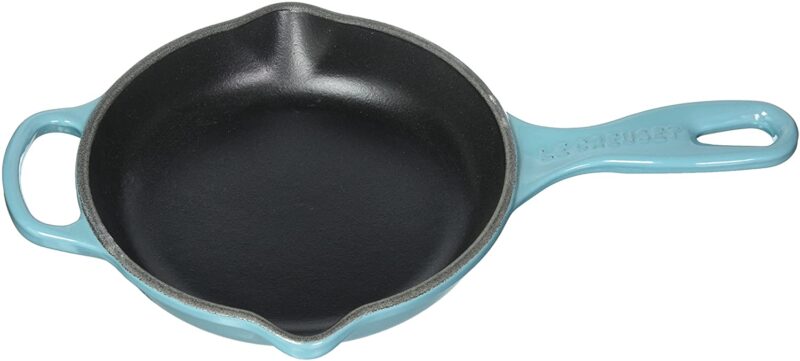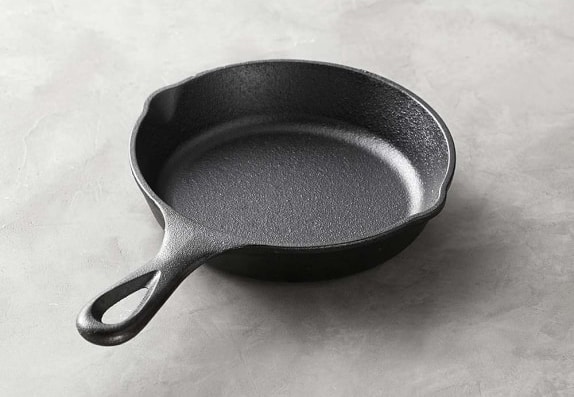 Tips and tricks
Cracking the eggs into a ramekin makes it a lot easier to pour into a skillet. It helps prevent breaking the yolk when adding it to the skillet.
If your skillet doesn't come with a top you can cover it with another pan or a heatproof plate.
OTHER TIPS AND TRICKS?!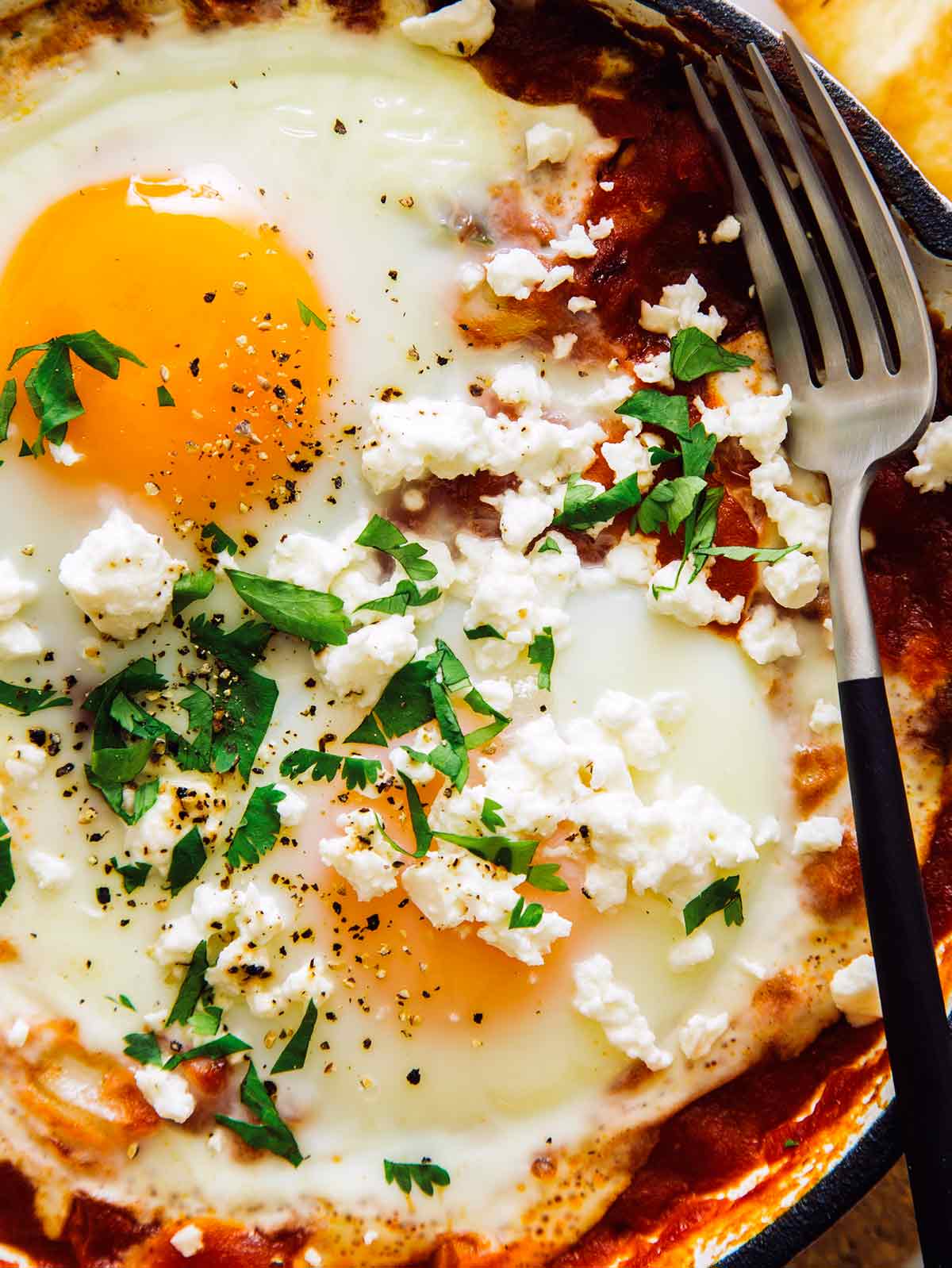 Hungry for more?
Subscribe to never miss a recipe.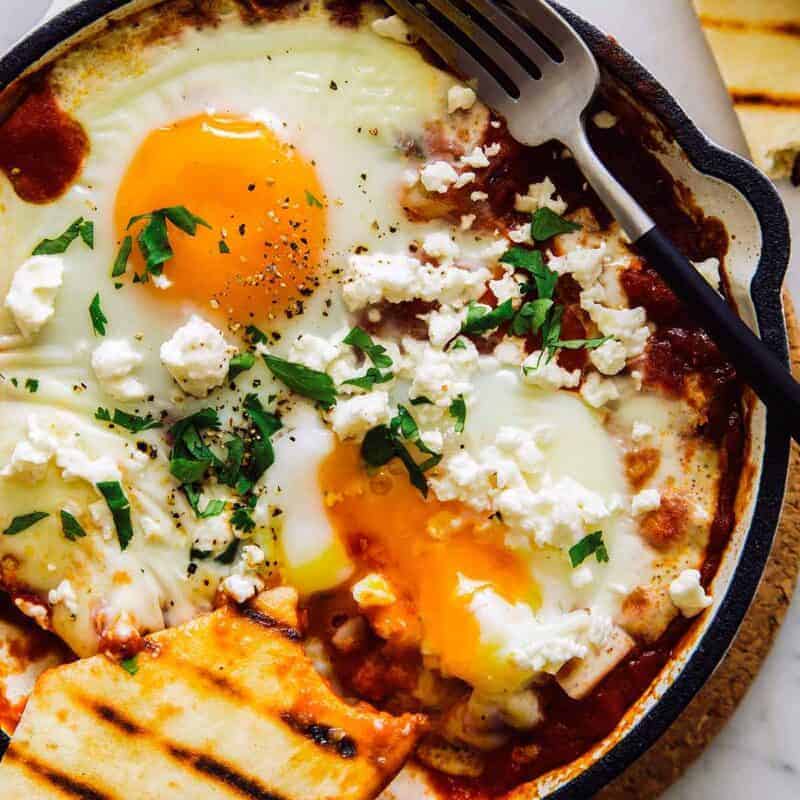 ---
Individual Shakshuka with Hominy and Feta
This shakshuka recipe is delicious. Eggs cooked in a flavorful tomato sauce mixed with hominy. We topped this baked egg dish with feta and cilantro. Double this recipe to use in typical skillet size and make it for two!
INGREDIENTS
1

tablespoon

extra virgin olive oil or grapeseed oil

2

tablespoons

diced yellow onion

1

garlic clove, minced

2

tablespoons

diced red bell pepper

1

teaspoon

minced jalapeno

½

cup

canned and drained hominy

or chickpeas

½

teaspoon

ground cumin

¼

teaspoon

ground coriander

1

tablespoon

tomato paste

1

cup

crushed tomatoes

2

large eggs
garnishes
1

ounce

feta, crumbled

fresh chopped cilantro

salt and pepper to taste
INSTRUCTIONS
Pour oil into a large skillet and place over medium-high heat. Sauté onions, garlic, bell peppers, and jalapeno for 3 to 4 minutes or until onions become translucent.

Add cumin and coriander and season with salt and pepper.

Lower heat to medium and stir in hominy and sauté for 1 minute.

Stir tomato paste and tomatoes to mixture and continue to stir until sauce is smooth. Simmer for 3 to 4 minutes.

Crack each egg into a small ramekin, one at a time.

Carefully drop each egg into the skillet.

Cover and continue to cook for 5 to 7 minutes or until all whites have set and yolks are still runny. Top with feta and cilantro and lightly season with salt and pepper. Serve. Remove from heat and serve with crusty bread or grilled naan.
NOTES
Notes: 
Double the recipe for use in a regular size skillet 
Serving:
1
g
Calories:
499
kcal
Carbohydrates:
39
g
Protein:
22
g
Fat:
30
g
Saturated Fat:
9
g
Cholesterol:
353
mg
Sodium:
1176
mg
Potassium:
1032
mg
Fiber:
8
g
Sugar:
17
g
Vitamin A:
1995
IU
Vitamin C:
58
mg
Calcium:
271
mg
Iron:
7
mg
CUISINE:
Amercian, Mediterranean