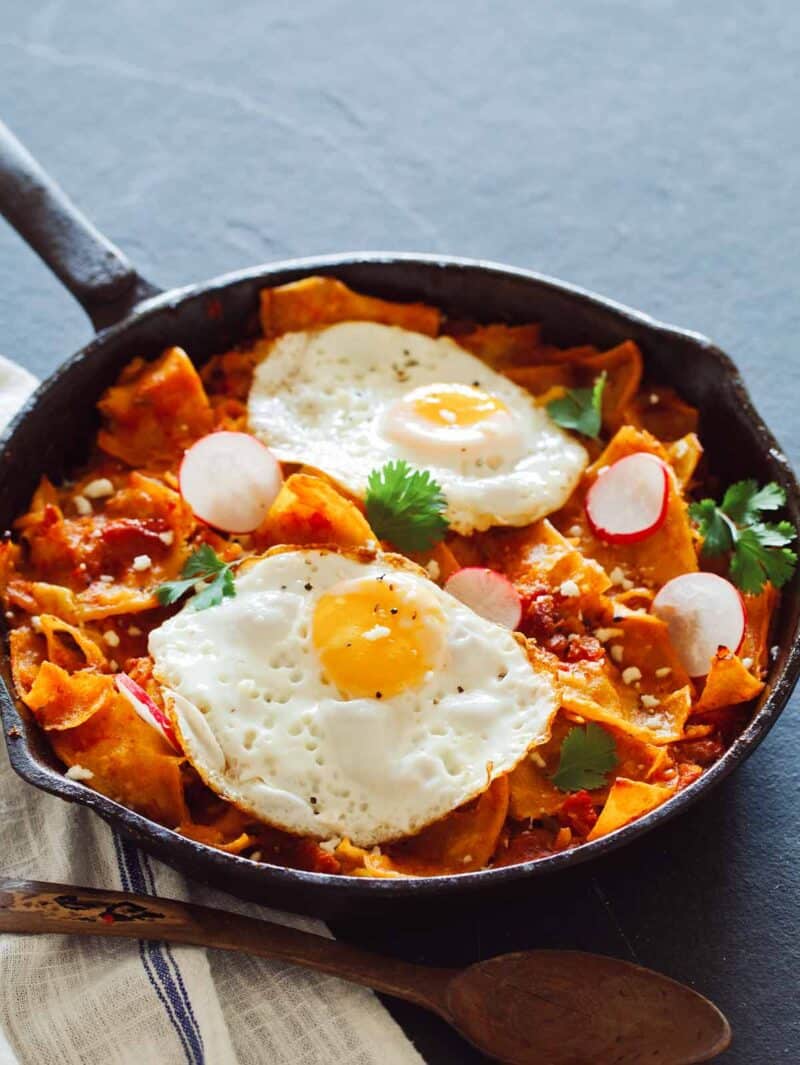 Today we are going to share with you one of my favorite recipes ever, our Chilaquiles recipe. The first time I tried it was in Mexico when I was 12 or 13 years old. I remember sitting at breakfast with my family and seeing a server walk past me with a big plate of cheesy tortilla chips with an egg on top. I thought chips for breakfast was pretty incredible, so I ordered it and whoa! The freshly fried chips were slathered in a smoky red sauce, topped with salty queso fresco and finished with a perfectly fried egg. It was so simple, but unforgettable.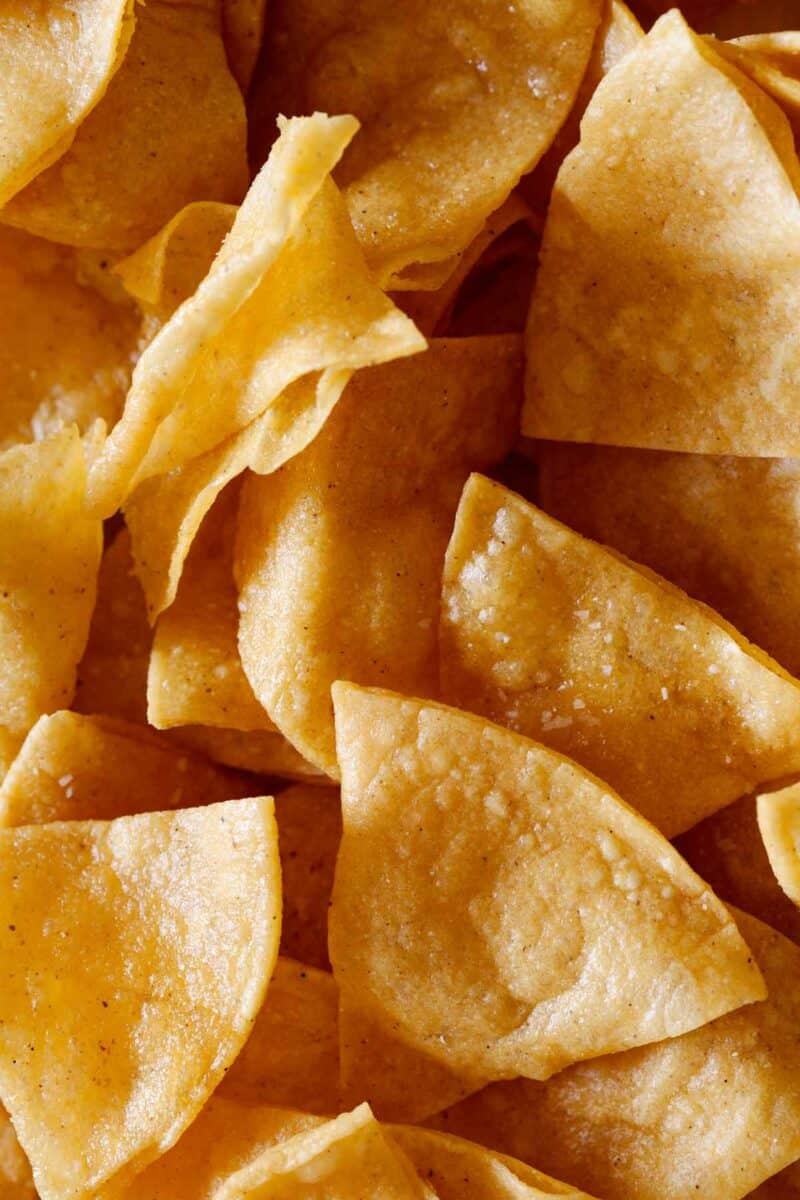 What Are Chilaquiles?
Chilaquiles is a traditional Mexican breakfast. It consists of fried tortilla chips lightly simmered in a red (roja) or green (verde) sauce.
How Do You Make Chilaquiles?
Chilaquiles rojas is traditionally made by sautéing and blending together diced onion, garlic, tomatoes, and dried guajillo chiles to create a smoky red sauce. Chilaquiles verdes is made with tomatillo salsa, providing a brighter and slightly tangy flavor. Once the sauce is made, its simmered in a skillet. Tortilla chips are then folded into the sauce until evenly coated.
What Do You Eat With Chilaquiles?
They are generally topped with fried eggs and finished with crumbled queso fresco. There are many variations for chilaquiles – they can be served with shredded chicken, refried beans and topped with a variety of garnishes like sliced radishes, cilantro or avocado to name a few.
To Toss or Simmer Together?
I like to simmer the chips in the sauce for a few minutes because I like the slightly softer results.  If you want your chips to have a crispier texture, remove the sauce from the heat and toss together with your chips. Either way is great and totally based on personal preference.
Our chilaquiles recipe is a little nontraditional by using chipotle peppers in adobe instead of dried chiles and canned tomatoes instead of fresh ones. I like the smoky and spicy flavors that chipotles in adobe sauce have and the more intensely concentrated tomato flavor you get from crushed tomatoes from a can. You can always make this recipe even more simple by buying and using readymade red sauce from the store. I personally love this one.
If you love chilaquiles as much as I do, I recommend checking out our other versions!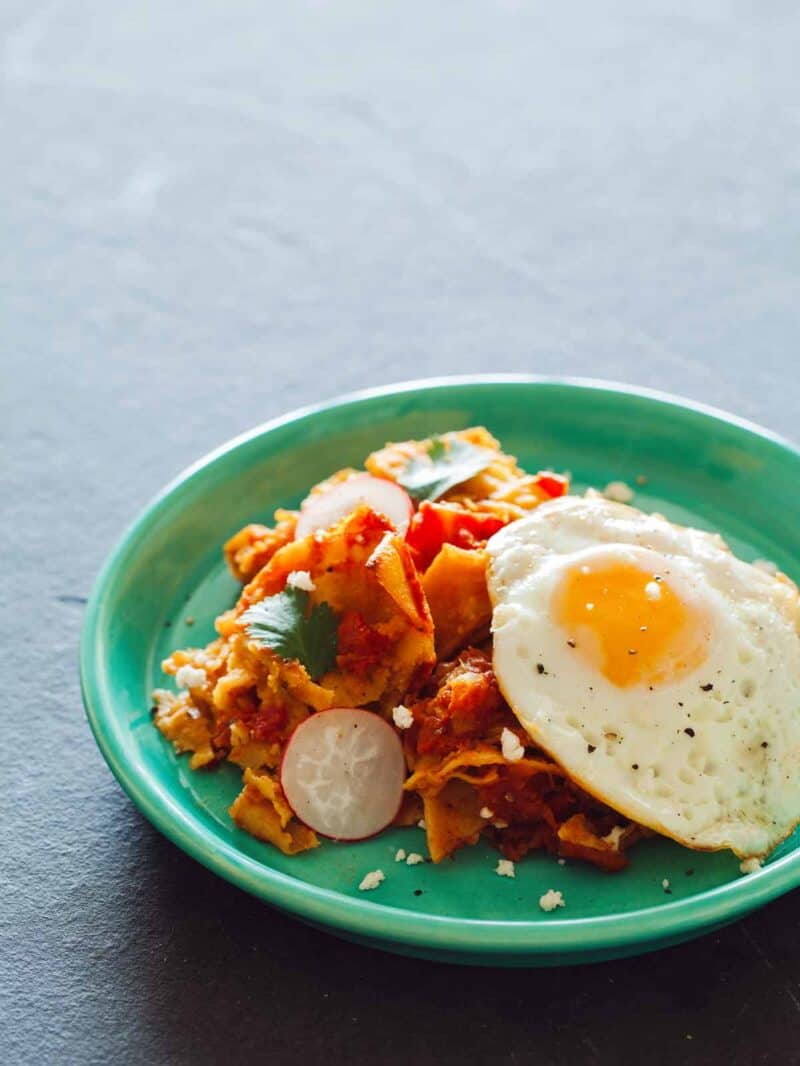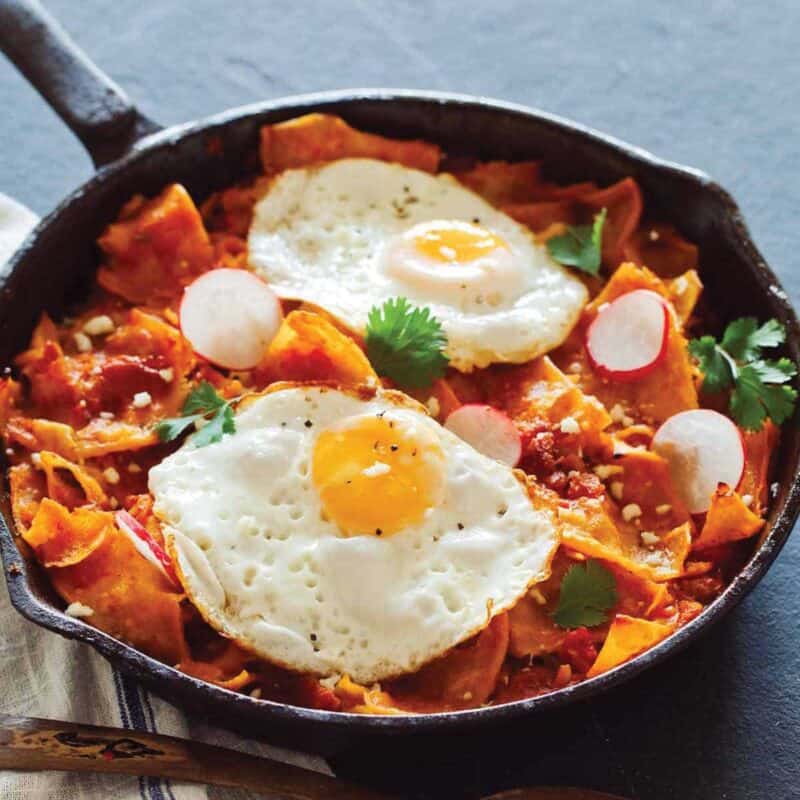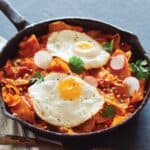 ---
Easy Chilaquiles
Chilaquiles is a traditional Mexican breakfast. This recipe is simple and delicious with our smoky red sauce that is tossed and simmered with crispy fried tortilla chips and topped with a fried egg!
Ingredients
red sauce
3

tablespoons

neutral oil

½

sweet onion, diced

2

garlic cloves, minced

2 ½

cups

crushed tomatoes

4

chipotles in adobo sauce

1

cup

low sodium chicken stock
fried eggs
2

tbsp

extra virgin olive oil

4

eggs

salt and pepper to taste
garnishes
½

cup

queso fresco, crumbled

2

radishes, thinly sliced

½

bunch

cilantro leaves, roughly chopped

hot sauce

optional
Instructions
red sauce
Place oil in a heavy bottom skillet and place over medium-high heat.

Saute onion and garlic for 2 to 3 minutes. Reduce heat to medium and continue to sauté for 2 minutes. Season with salt and pepper.

Pour mixture into a blender and add crushed tomatoes, chipotle peppers in adobe and stock. Blend until smooth.

Pour sauce back into skillet and simmer over medium-low heat for 10 minutes.
fried eggs
Place a large nonstick pan over medium-high heat and add oil. Swirl oil around pan and crack eggs into pan. Fry eggs for 3 to 4 minutes until edges are crispy, whites have set but yolks are still runny. Remove from heat and set aside.
chilaquiles
Raise heat of sauce to medium-high and bring to a boil about 3 minutes. Add tortilla chips, a handful at a time, folding gently to coat every chip before adding more.

Repeat until all chips have been added and evenly coated, about 3 minutes. Season with salt and pepper and gently fold together. Remove from heat and top with fried eggs.

Top with queso fresco, radishes, cilantro, and hot sauce. Serve immediately.
Serving:
4
g
Calories:
763
kcal
Carbohydrates:
74
g
Protein:
19
g
Fat:
46
g
Saturated Fat:
8
g
Cholesterol:
174
mg
Sodium:
948
mg
Potassium:
806
mg
Fiber:
9
g
Sugar:
11
g
Vitamin A:
1503
IU
Vitamin C:
17
mg
Calcium:
321
mg
Iron:
5
mg