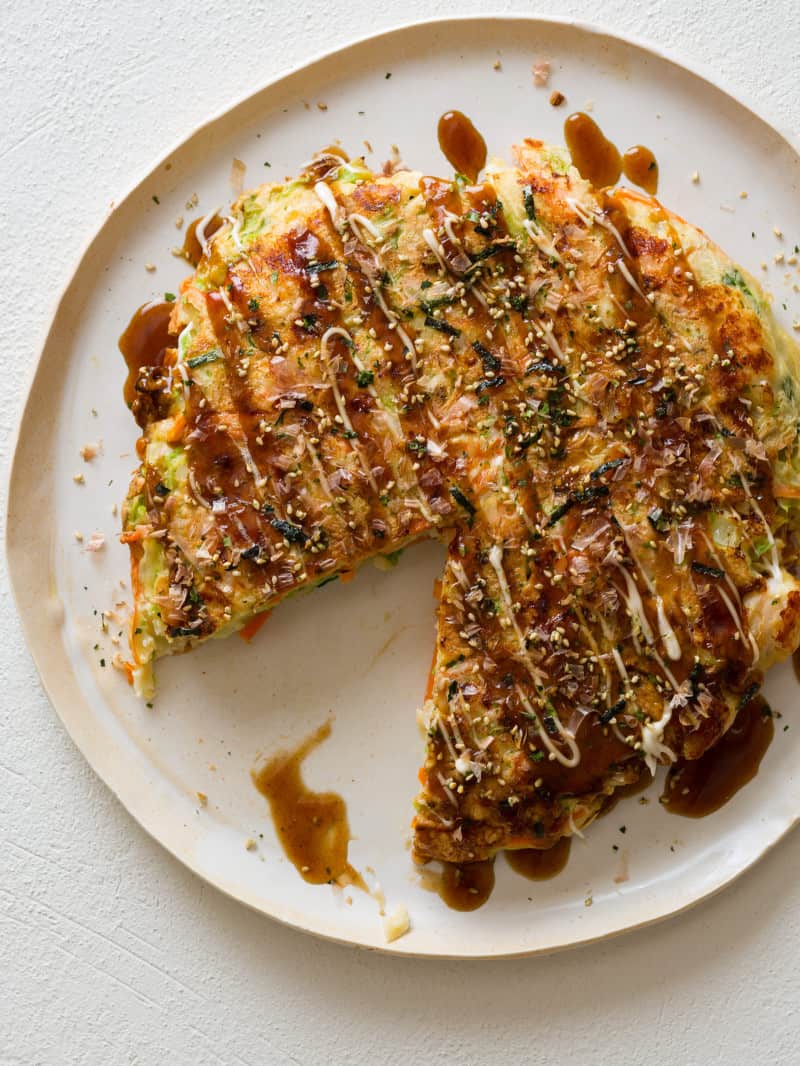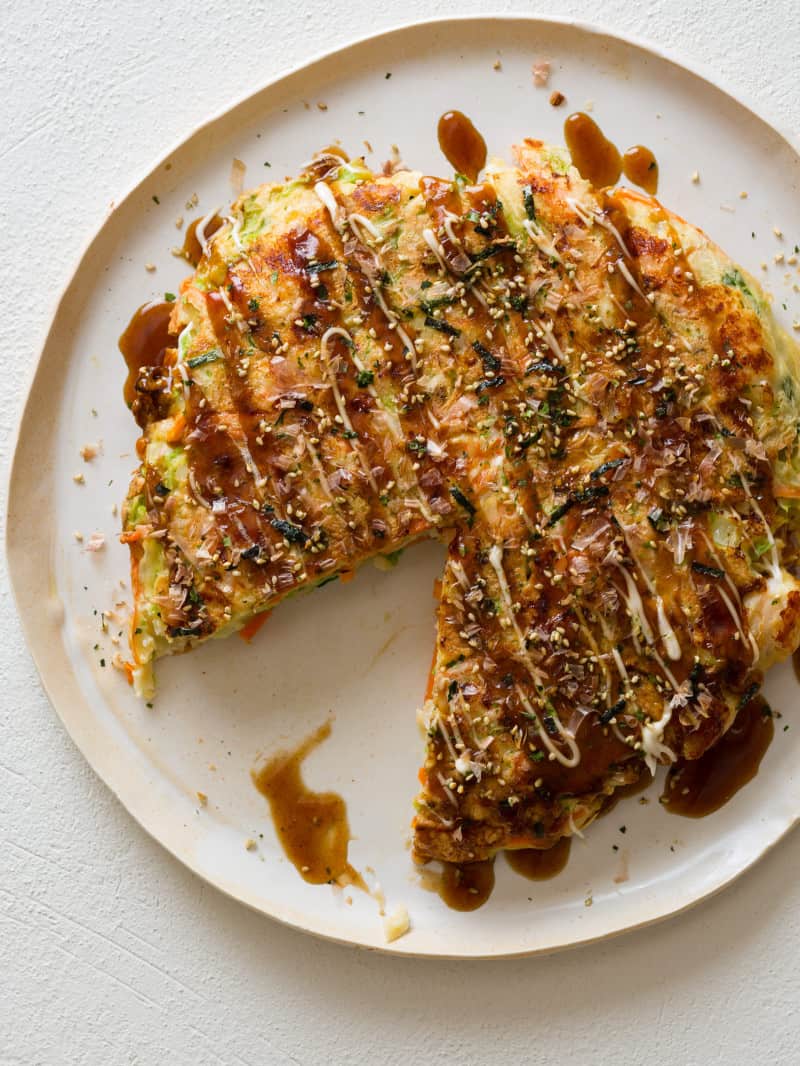 Recently when I was on my honeymoon in Tokyo last October we went to this okonomoyaki restaurant and got to choose from a wide variety. I had only ever had Shrimp Okonomiyaki so it was so neat to be able to try other kinds like potato and pork. Shrimp okonomiyaki is still my favorite, and that is what we have for you today. This makes a really good appetizer, just cut into small pieces, or you can grab a variety of other proteins and vegetables and do a create your own. Enjoy!
♥ Teri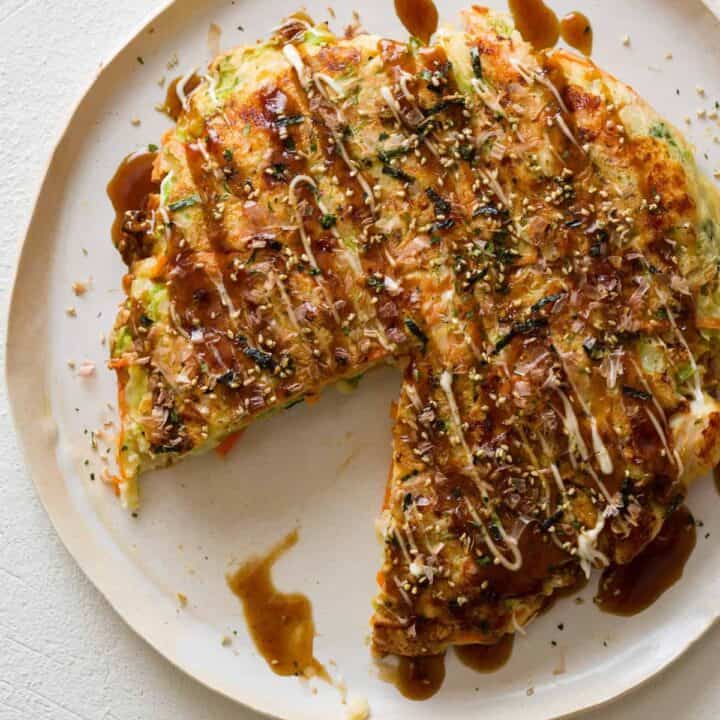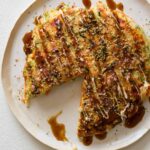 ---
Okonomiyaki
A simple and delicious recipe for Shrimp Okonomiyaki, a savory Japanese pancake. Packed with protein and vegetables, this dish can be eaten for breakfast, lunch, dinner, or even a hearty snack!
INGREDIENTS
1 1/2

cups

thinly sliced savoy or napa cabbage

1

carrot, peeled and thinly sliced

2

green onions, thinly sliced

1 1/4

cups

all-purpose flour

3

eggs, lightly beaten

3/4

cup

dashi or water

3/4

teaspoon

salt

1/2

teaspoon

ground white pepper

12

large shrimp, peeled, deveined and coarsely chopped

2

tablespoons

extra virgin olive oil oil
garnishes
1/4

cup

Okonomiyaki sauce

3

tablespoons

Kewpie (or mayonnaise)

2

tablespoons

Furikake seasoning

2

teaspoons

bonito flakes

optional
INSTRUCTIONS
Combine the cabbage, carrot, and green onions in a large bowl and toss together.

In a second smaller bowl, whisk together the flour, eggs, dashi, salt, and pepper.

Stir shrimp into egg mixture.

Pour the egg mixture over cabbage mixture and stir together until vegetables are completely and evenly coated.

Heat the oil in a 10-inch nonstick sauté pan over medium heat. Swirling pan so entire surface is covered in oil.

When the oil is hot, pour the entire mixture into pan and cook for 7 to 8 minutes, until the pancake is mostly set.

Carefully flip the pancake and cook for 4 to 6 minutes longer, until golden brown and fully set.

Transfer the pancake to a large plate and let cool for 5 minutes.

Finish pancake with a drizzle of okonomiyaki sauce and kewpie or mayonnaise and a sprinkle of furikake and bonito flakes, if using.

Cut into wedges and serve.
NOTES



Variations

Substitute the napa cabbage for savoy cabbage for a more tender filling, or replace it with green cabbage for a heartier bite and crunch.
Other proteins that work well in Okonomiyaki are: sliced pork belly, oysters, chopped chicken thighs, and sliced squid.
This dish is also delicious loaded with vegetables. Some other vegetables we like to add are: grated yams (which is traditional), grated zucchini, and some sliced and sautéed mushrooms.

Tips and Tricks for Okonomiyaki Success

Make sure that oil is swirled around the bottom and sides of the pan. It'll really help prevent the okonomiyaki from sticking when flipping and removing from the pan.
Once the batter is poured into the pan, try not to touch the dish at all until it's almost set and ready to flip. This will help the entire dish to hold together in a nice, thick disk.

Make Ahead and Freezing Instructions

Okonomiyaki can be made ahead of time as well as frozen, although freshly made is truly the best. The texture of the vegetables and the wheat/egg batter will be a little softer, but otherwise it will still be delicious. Remember to add the sauce and toppings on only once reheated and ready to serve.

Make Ahead

Our recipe can be made 1 to 3 days in advance (depending on the protein used: 1 to 2 days for seafood and 2 to 3 days for pork, chicken and beef).

Once the Okonomiyaki is made, cool completely. Once cool, tightly wrap in plastic wrap, then place in an airtight container until ready to eat. To reheat, preheat oven to 350˚F. Unwrap and place onto a baking sheet then bake for about 10 minutes or until heated through. Top with toppings, cut into wedges and serve.

Freezing

Our recipe can be frozen for up to 1 month. To freeze, cut Okonomiyaki into wedges. Tightly wrap each wedge in plastic wrap, then place in a freezer safe ziploc bag, removing as much air as possible before sealing. To reheat, preheat oven to 375˚F. Unwrap wedges and place onto a baking sheet (frozen). Bake wedges for 12 to 16 minutes or until heated through. Top with toppings and serve.
Calories:
258
kcal
Carbohydrates:
25
g
Protein:
10
g
Fat:
13
g
Saturated Fat:
2
g
Polyunsaturated Fat:
4
g
Monounsaturated Fat:
5
g
Trans Fat:
1
g
Cholesterol:
116
mg
Sodium:
742
mg
Potassium:
199
mg
Fiber:
1
g
Sugar:
4
g
Vitamin A:
1923
IU
Vitamin C:
7
mg
Calcium:
65
mg
Iron:
2
mg
KEYWORD:
savory japanese pancake, savory pancake
COURSE:
Breakfast, dinner, lunch, Main Course, Snack