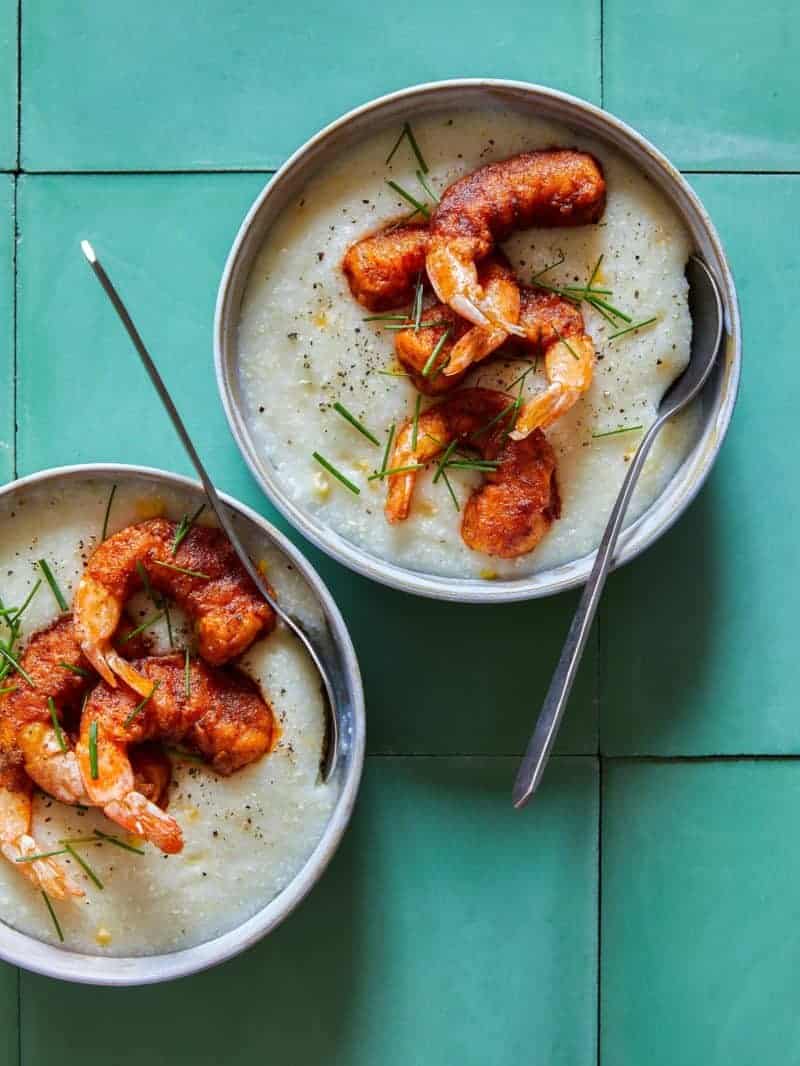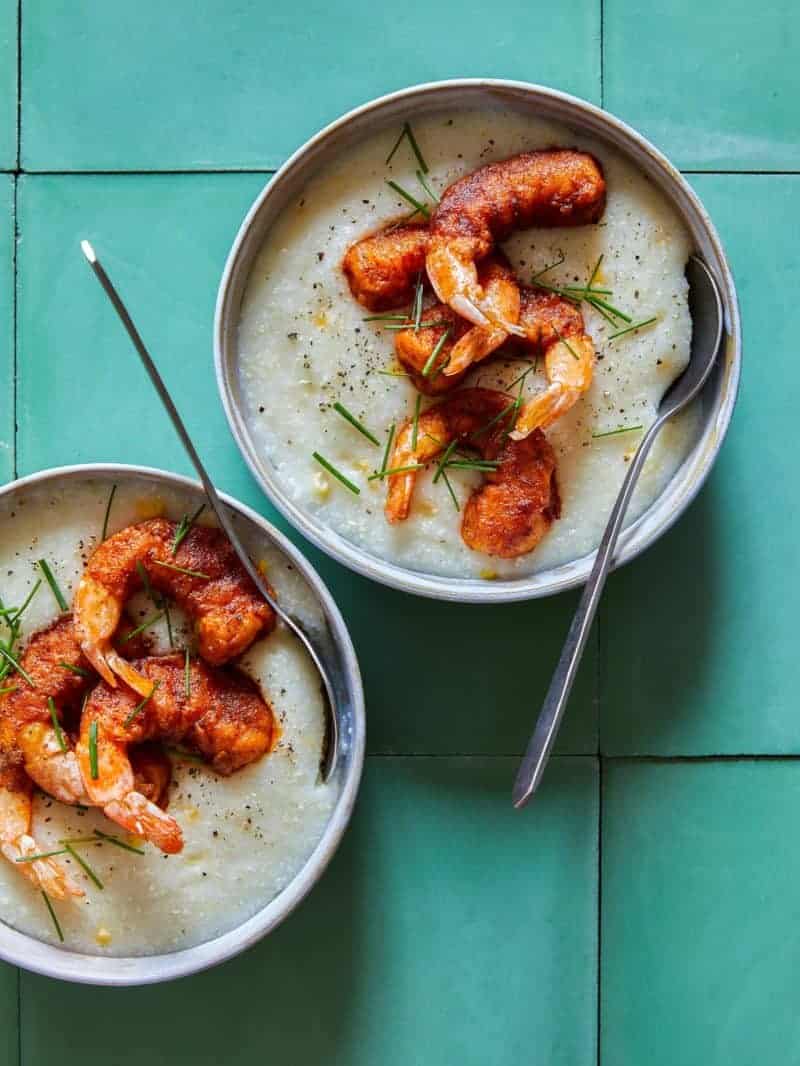 We have a couple of shrimp and grits recipes on the blog already, but this one is a little different because I'm taking my love for shrimp and grits and Nashville Hot Chicken and smashing them up together to create Hot Shrimp Over Cheesy Grits! This recipe idea actually came to me because on the freelance side I develop and test recipes for different clients and one of my favorite editors told me about a restaurant in LA that makes and serves hot shrimp (thanks, Alyse!)! The restaurant serves their version over a bed of soft, Japanese-style milk bread and it looks amazing! I haven't been their yet, but plan on trying it soon…hopefully. The version the restaurant makes is also more of a Japanese style fried shrimp, using panko, but my version is more of a take on Southern style hot chicken. I put the hot shrimp over a bed of creamy, cheesy corn grits bc they compliment each other so well, and the creamy grits really help to balance out the heat from the shrimp. This is a perfect lazy day brunch dish to make and I highly recommend you guys get ON IT! :) Enjoy! xx, Jenny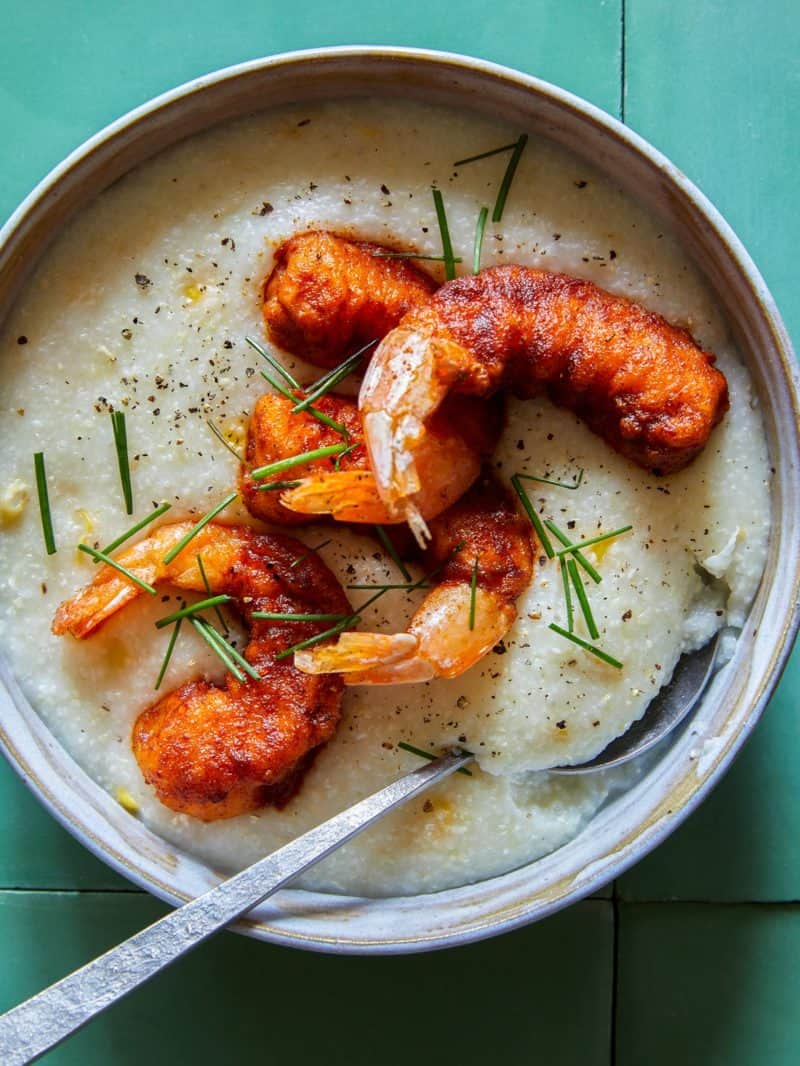 Hungry for more?
Subscribe to never miss a recipe.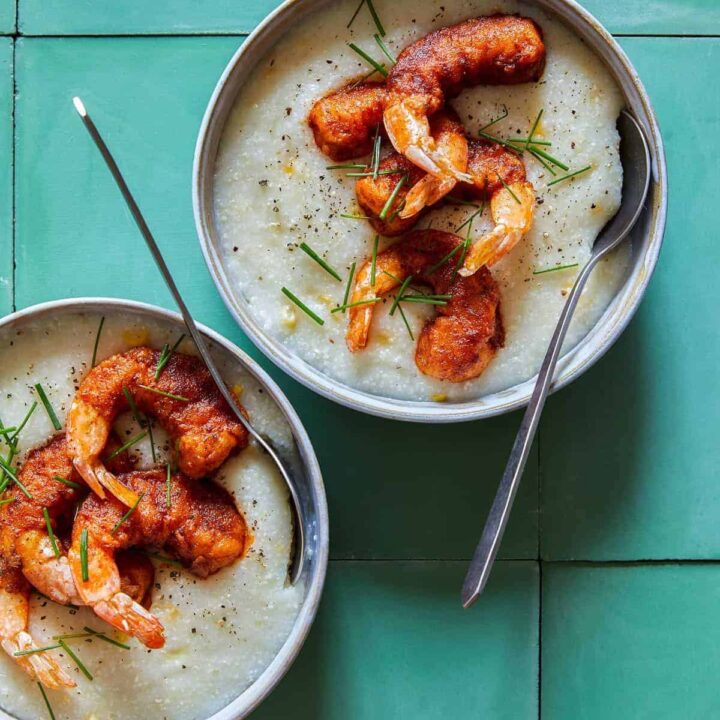 ---
Hot Shrimp Over Cheesy Corn Grits
A twist on both Nashville hot chicken and classic shrimp and grits, our Hot Shrimp over Cheesy Corn Grits is not to be missed!
INGREDIENTS
southern-style hot shrimp
1

cup

all-purpose flour

3

tablespoons

smoked paprika, divided

2

tablespoons

garlic powder, divided

1

teaspoon

salt

12

jumbo shrimp, peeled and deveined with tails intact

1

cup

buttermilk

1

large egg, beaten

3

tablespoons

cayenne pepper

can go as high as 5 and as low as 2

2

tablespoons

light brown sugar

1

stick

(½ cup) melted butter
creamy white cheddar grits
1

cup

white stone-ground grits

4

ounces

shredded white cheddar

1 heaping cup

2

ears

corn kernels

2

tablespoons

unsalted butter, softened

salt and pepper to taste

1/4

cup

Thinly sliced green onions or chives for garnish

3

cups

vegetable oil for frying
INSTRUCTIONS
In a shallow bowl, combine flour, 1 tablespoon garlic powder, 1 teaspoon paprika, and salt and whisk together.

In another shallow bowl combine buttermilk and egg and whisk together.

Lightly season shrimp with salt and pepper and dredge in flour mixture, shaking off any excess flour mixture.

Dip flour coated shrimp into the buttermilk-egg mixture, and then back into the flour mixture, shaking off any excess flour. Transfer coated shrimp onto a baking sheet lined with a wire rack. Refrigerate for 30 minutes.

While shrimp chills, make creamy grits. Bring 4 cups water to a boil. Generously salt water and stir in grits. Lower heat to medium and simmer mixture for about 30 minutes, stirring frequently, until mixture is thick and creamy. Stir in the cheese, corn and butter until fully incorporated. Adjust taste with salt and pepper, cover and set aside.

Fill a tall sided pot with 2 to 3 inches oil and preheat to 350˚F.

In a small mixing bowl combine cayenne pepper, remaining paprika, remaining garlic powder, and brown sugar and whisk together. Pour melted butter into spice mixture and whisk together until fully combined.

Remove shrimp from refrigerator and carefully drop shrimp into the hot oil, a few at a time. Fry shrimp for 2 to 3 minutes or until golden brown and shrimp has just cooked through. Remove from oil and drain on paper towels. Repeat until all shrimp have been fried.

Carefully, but generously brush each shrimp with the buttered spice mixture until completely coated.

To assemble: Divide grits into bowls and top each serving with 3 to 4 shrimp. Top each bowl with sliced green onions or chives and serve.
Calories:
910
kcal
Carbohydrates:
73
g
Protein:
23
g
Fat:
60
g
Saturated Fat:
27
g
Cholesterol:
198
mg
Sodium:
1190
mg
Potassium:
485
mg
Fiber:
5
g
Sugar:
10
g
Vitamin A:
5615
IU
Vitamin C:
5
mg
Calcium:
347
mg
Iron:
4
mg
COURSE:
Breakfast, dinner, Main Course