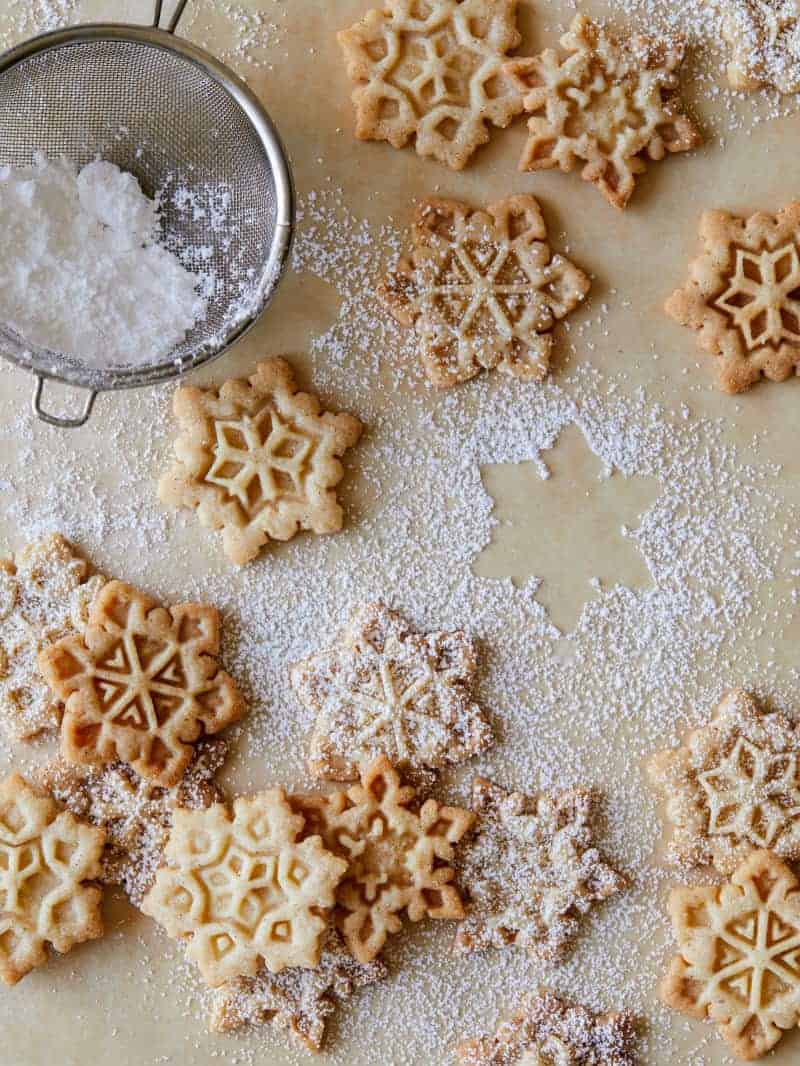 It's that time of year again, where cookie swaps, work baking competitions and just overall baking madness is happening nonstop all month long for so many of us! Today we have these cute Gingerbread Spiced Snowflake Sugar Cookies for you guys, to throw into the mix! These aren't your average sugar cookies though, these are the thin, crispy kinds that are super addicting. These are also extra special because we've made our own traditional German gingerbread spice which give these cookies SUCH a nice gingerbread flavor.
Yes, the spice mix has A LOT going on, but once you make a batch, you can use it in tons of baked goods (this recipe makes way more than what's needed for the cookies) and the rest of the cookie ingredients are super basic and minimal! While I would obviously love for everyone to make these cookies with this homemade spice mix because the flavor it adds is unreal, but if you're not feeling it you can definitely use store-bought gingerbread spice.
I'm also very into cookie "stamps" over standard cookie cutters this year. They just add so much more cute detail to cookies, especially for something like snowflake cookies! I got this set of 4 from amazon and they were pretty inexpensive! Enjoy! xx, Jenny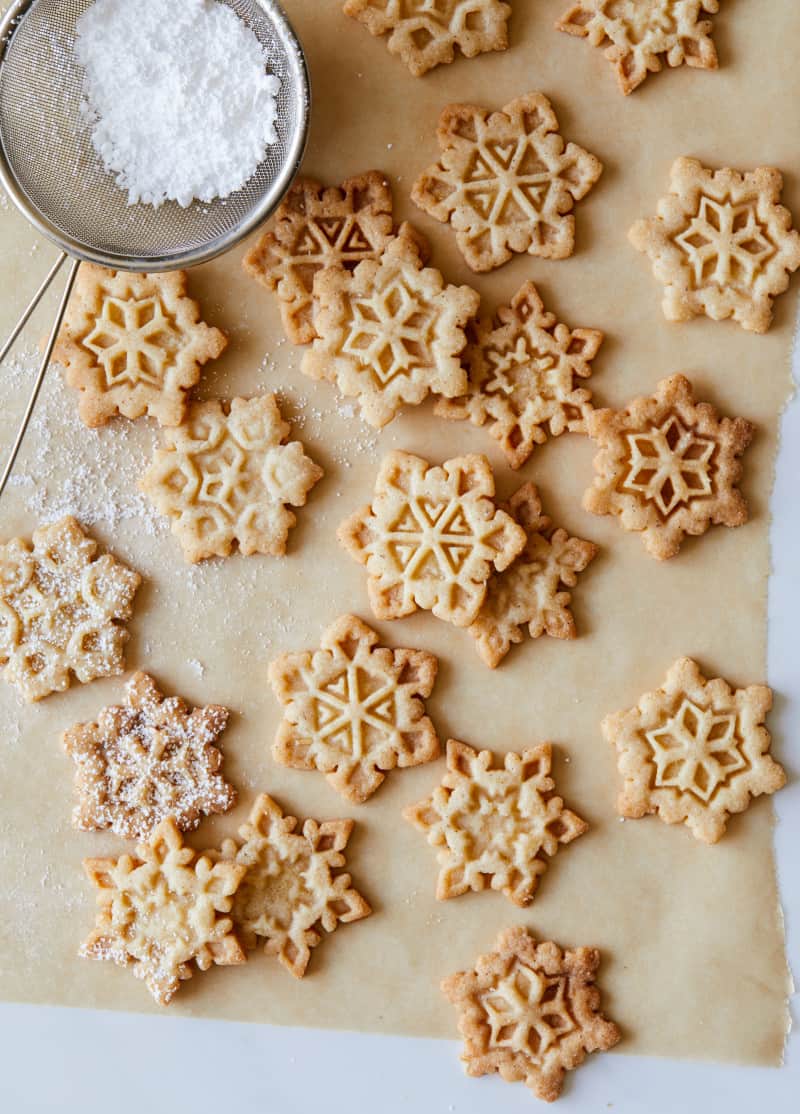 Gingerbread Spiced Snowflake Sugar Cookies

About 80 (1 1/2 inch) cookies

Ingredients:
traditional German gingerbread spice mix:
2 tablespoons ground cinnamon
1 1/2 teaspoons ground cloves
1 teaspoon ground ginger
1/2 teaspoon all spice
1/2 teaspoon ground star anise seeds
1/2 teaspoon ground coriander
1/2 teaspoon ground cardamom
1/4 teaspoon ground nutmeg
1/4 teaspoon ground mace
gingerbread spiced sugar cookies:
2 cups all-purpose flour
2 teaspoons gingerbread spice (from above)
10 tablespoons unsalted butter
1 cup sugar
1 large egg, room temperature
1 teaspoon vanilla extract

Directions:
1. Spice mix: Combine all spices together and whisk together until completely mixed. You will only need 2 teaspoons of this mix for the recipe and can store the rest of the spice mix in an airtight jar (in a cool and dry place) for up to 1 year.
2. Cookies: In a large mixing bowl combine flour and gingerbread spice. Whisk together and set aside.
3. In a stand mixer with a paddle attachment, cream together butter and sugar. Scrape down sides of the bowl and add egg and vanilla. Continue to mix together.
4. Add flour mixture and mix together until completely combined and a dough forms.
5. Flatten dough to a disc and tightly wrap in plastic wrap. Refrigerate dough for at least 8 hours and up to 3 days.
6. Preheat oven to 350˚F.
7. Sprinkle flour over a clean work surface and place dough disc in center. Sprinkle dough disc with flour and roll out dough until about 1/8 inch thick.
8. Use 1 1/2 inch snowflake cutters or stamps and cut out as many snowflakes as possible, dipping the cutters/stamps in flour every few cookies, to prevent sticking.
9. Using a small, offset spatula transfer cookies onto a parchment or silpat lined cookie sheet, 1/4 inch apart.
10. Bake cookies for 7 to 9 minutes or until the tops and edges barely begin to brown.
11. Allow cookies to sit for 2 to 3 minutes before transferring to a cooling rack. Once cookies have cooled completely, serve.