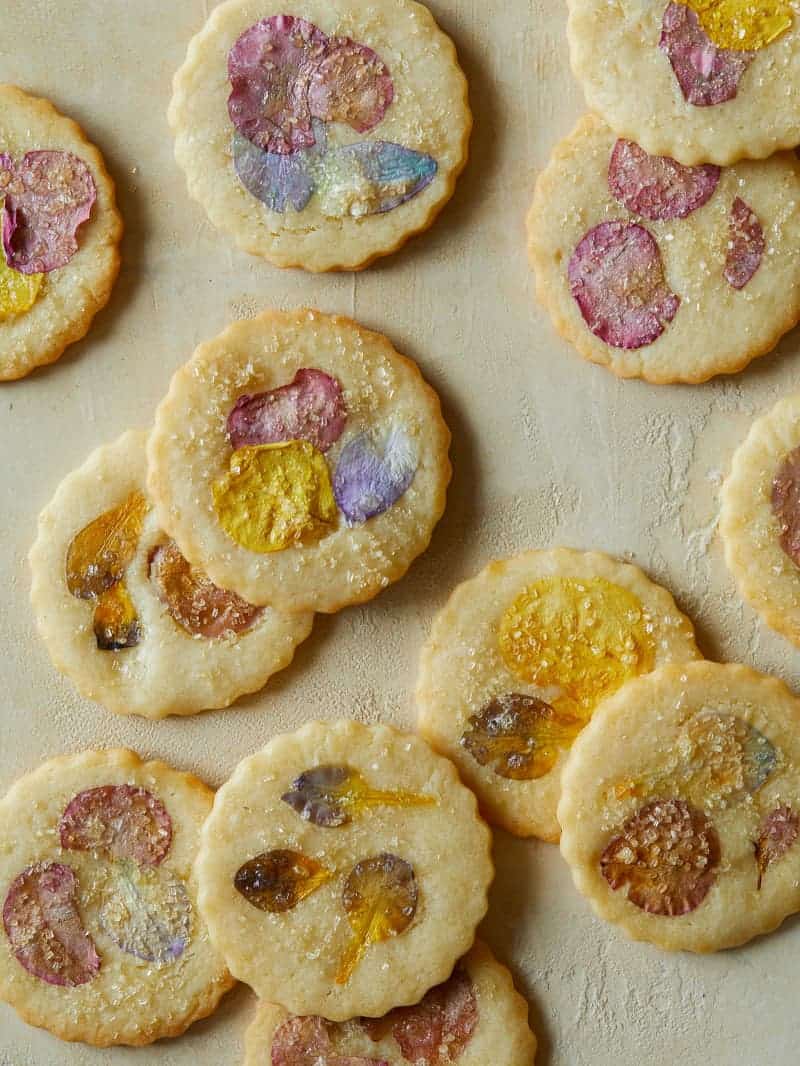 On Monday we posted our Browned Butter Cake that we adorned with candied thyme and edible flowers and we're keeping up with the edible flower theme with today's recipe, our Floral Pressed Butter Cookies! If a cake seems like too much work than these cookies are a great alternative! They're more low key, but still beautiful and would look great on any dessert table!
Also, no need to worry about the vanilla extract "deflating" the frothy egg whites since we're not trying to make a meringue or anything. The added flavor is just a nice touch to the tops of each cookie, especially for anyone feeling a little weird about brushing egg whites onto cookies (although you won't get an 'eggy' taste, I promise). Enjoy! xx, Jenny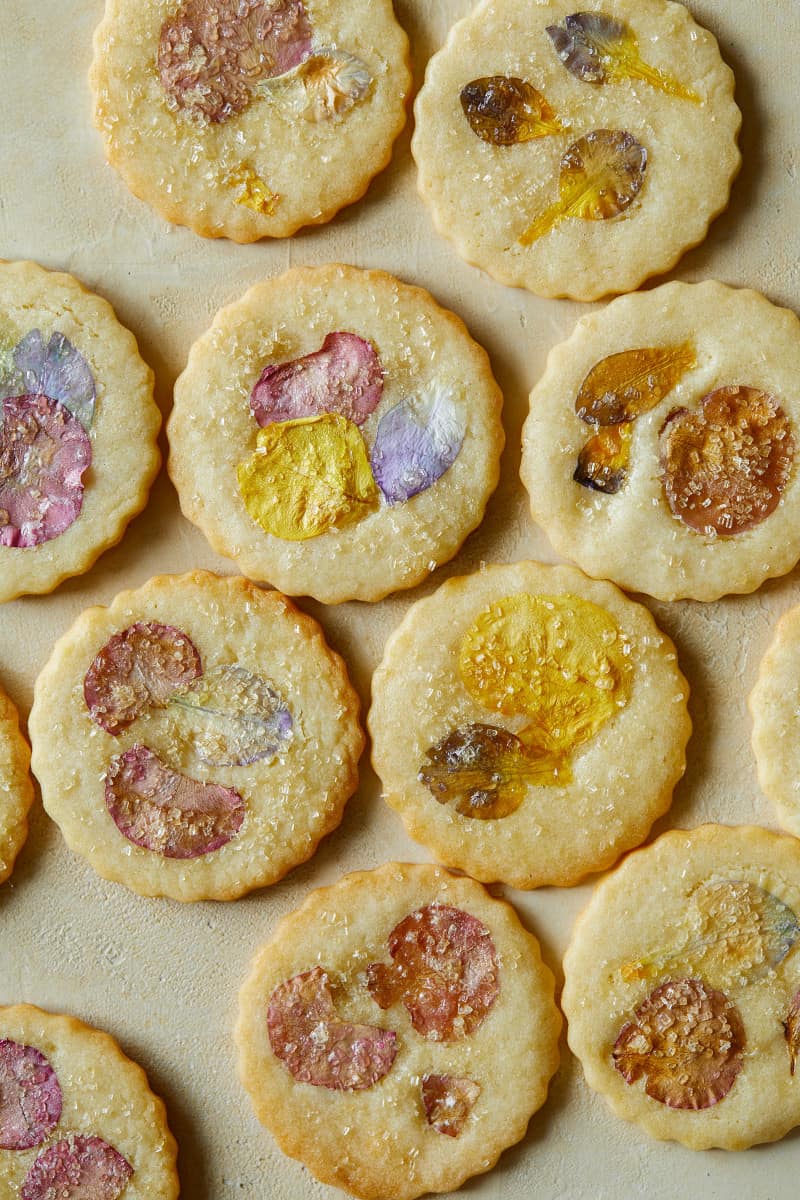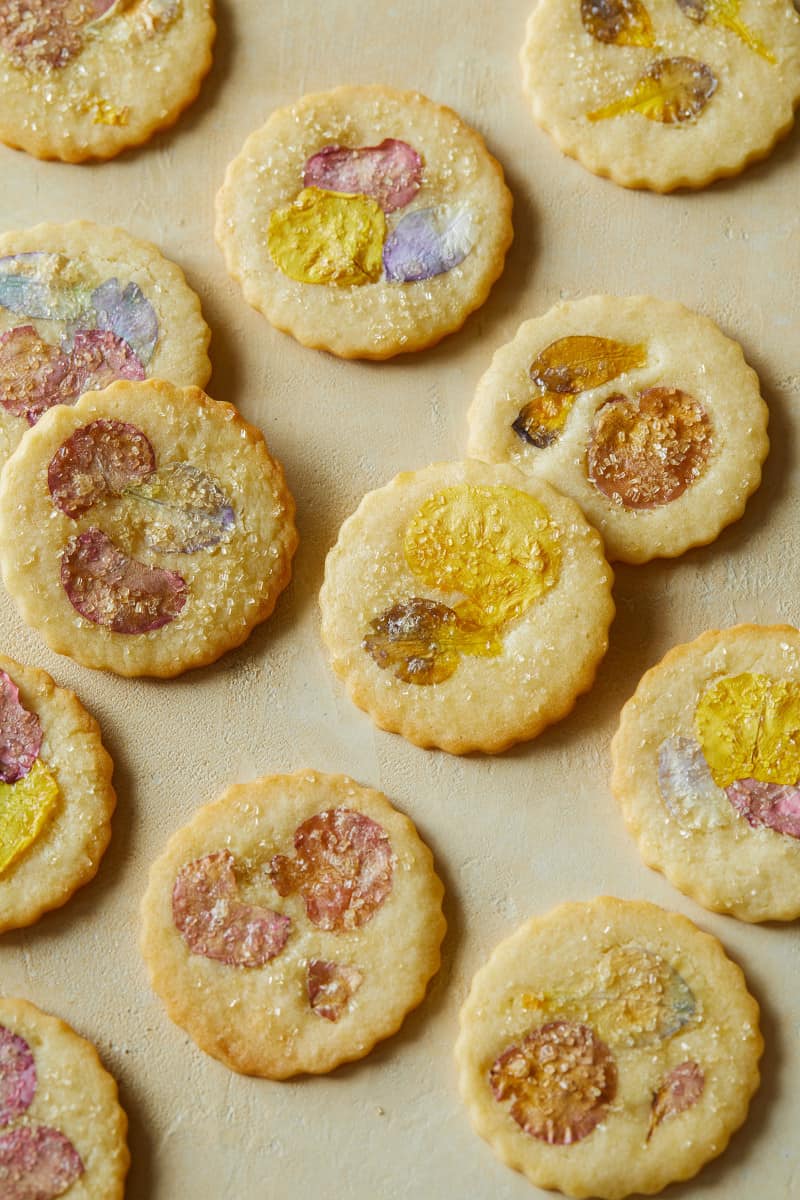 Floral Pressed Butter Cookies

Makes 40

Ingredients:
butter cookies:
1 cup (2 sticks) unsalted butter
1 cup superfine sugar
3 1/2 tablespoons whole milk
1 large egg, lightly beaten
1/2 teaspoon vanilla extract
3 cups all purpose flour
1/2 teaspoon baking powder
1/4 teaspoon salt

2 egg whites, beaten until frothy
1/4 teaspoon vanilla extract
variety of edible flowers of choice
turbinado sugar

Directions:
1. Preheat oven to 350˚F.
2. In a stand mixer or with a hand mixer cream together butter and sugar.
3. Add milk, egg and vanilla and continue to mix. Scrape down sides of the bowl.
4. In another mixing bowl, whisk together flour, baking powder and salt.
5. Pour flour mixture into the butter mixture and mix until evenly blended and a dough forms.
6. Divide dough into two discs, wrap in plastic wrap and refrigerate for 1 hour.
7. Lightly flour a clean surface. Roll out 1 disc of dough to 1/8 inch thickness. Using a 3 inch round cutter punch out 20 cookies.
8. Transfer cookies onto a parchment lined baking sheet, 1 inch apart. (you will need multiple baking sheets or will need to do it in batches)
9. Par-bake cookies for 6 to 7 minutes so they are partially baked.
10. In a small mixing bowl beat together frothy egg whites and vanilla extract.
11. Carefully dip each flower into the egg white mixture, shaking off any excess, and gently press dipped flowers onto the surface of each par-baked cookie (if flower edges curl up, gently press them back down with your fingers).
12. Using a pastry brush, brush the entire surface of the floral pressed cookies with a little more of the egg white mixture and sprinkle with a small amount of turbinado sugar.
13. Return the cookies to the oven and finish baking off, about 5 to 6 minutes or until the cookies bake through completely and barely begin to brown around the edges.
14. Transfer cookies to a cooling rack and cool completely.
15. Repeat steps 7 to 14 with the other disc of cookie dough. Serve.