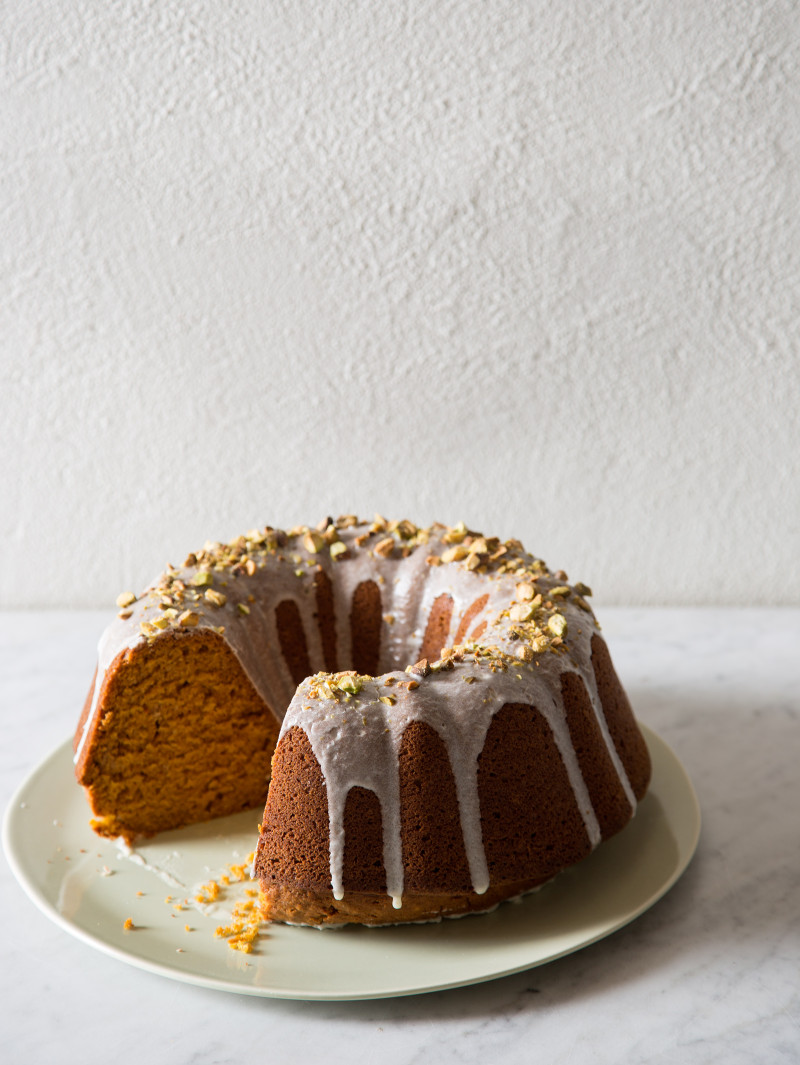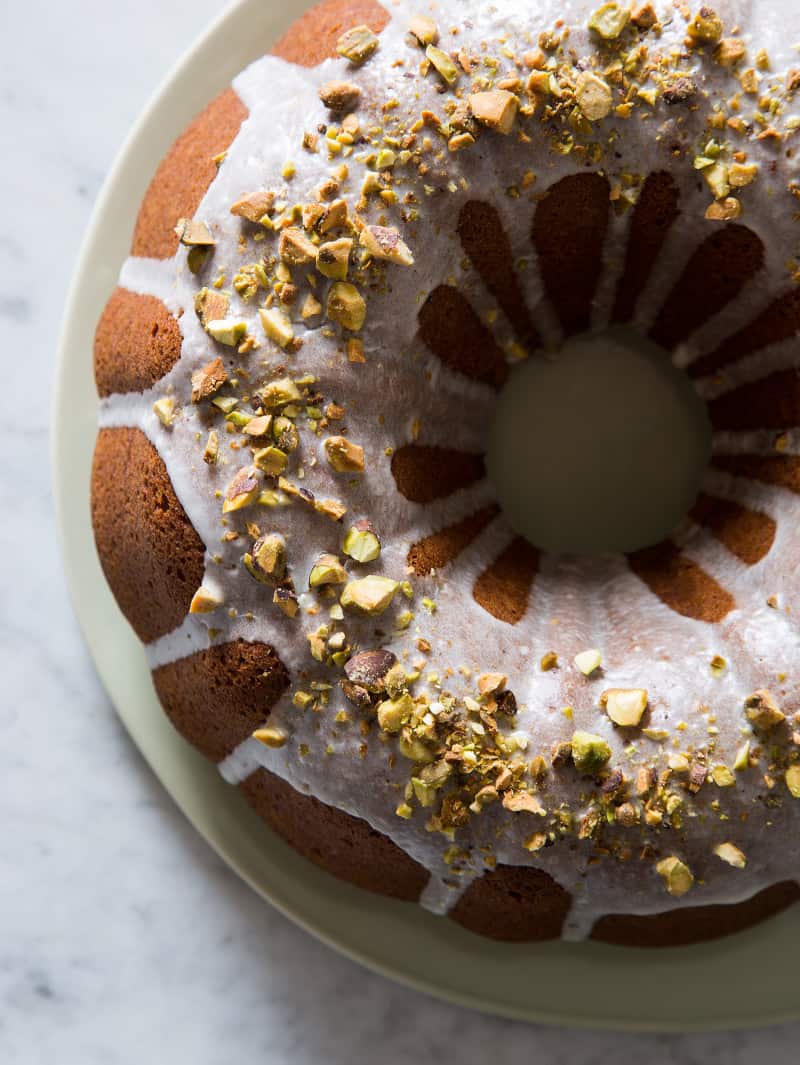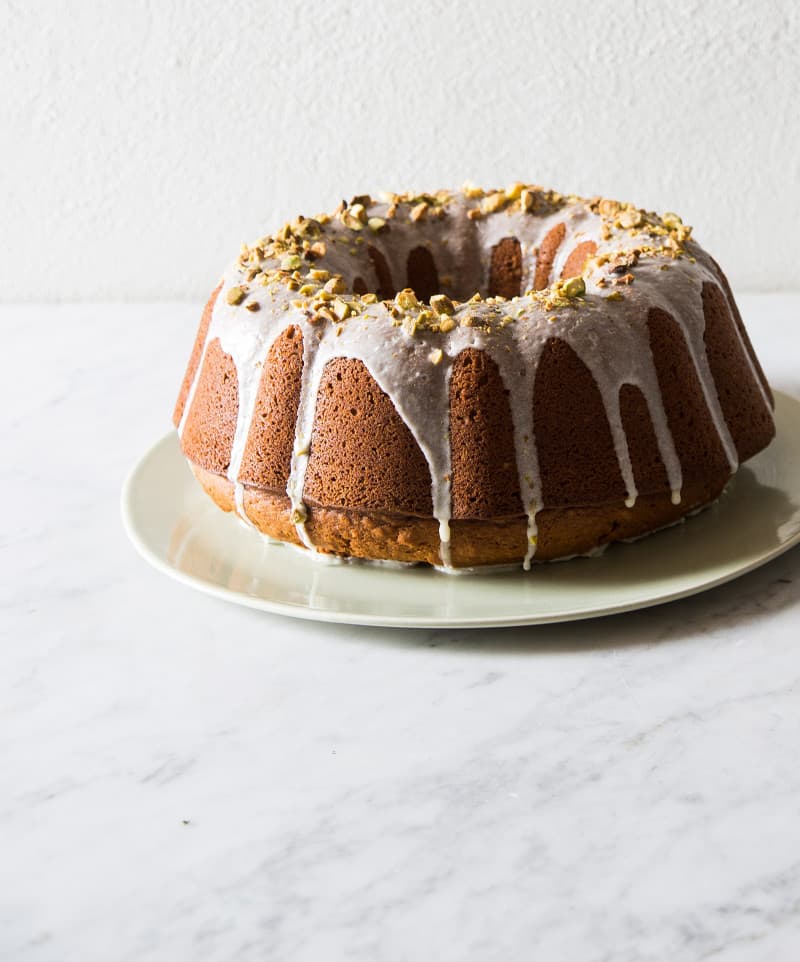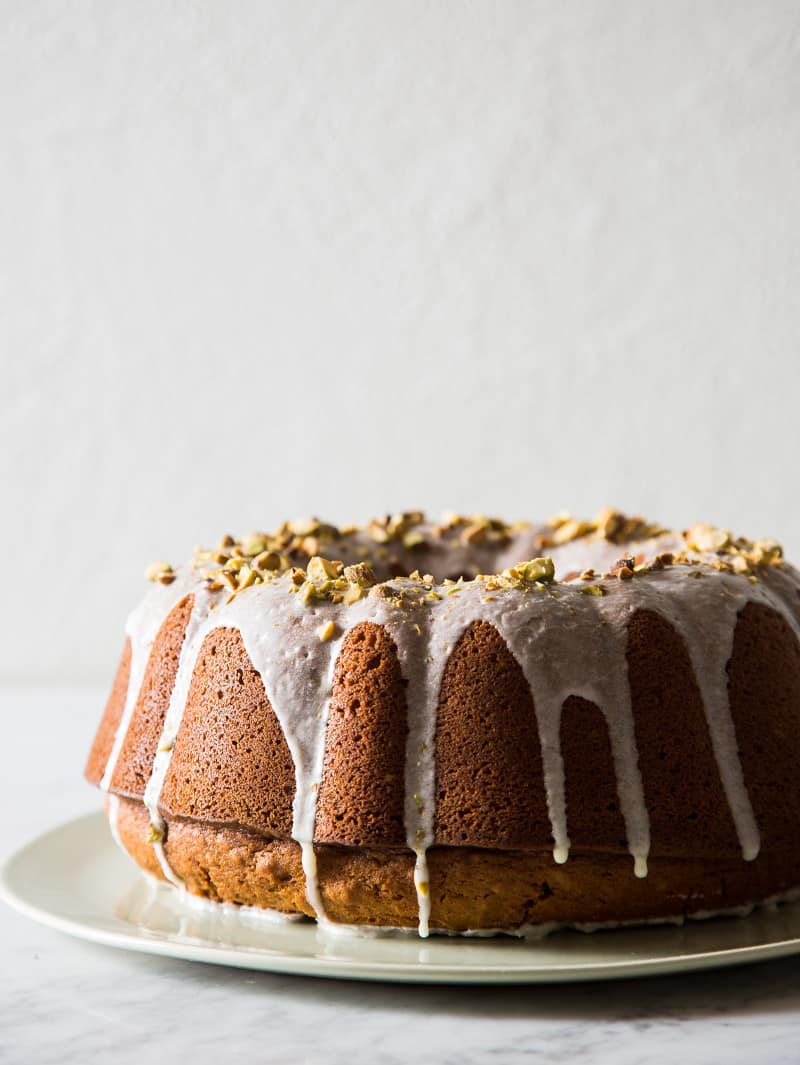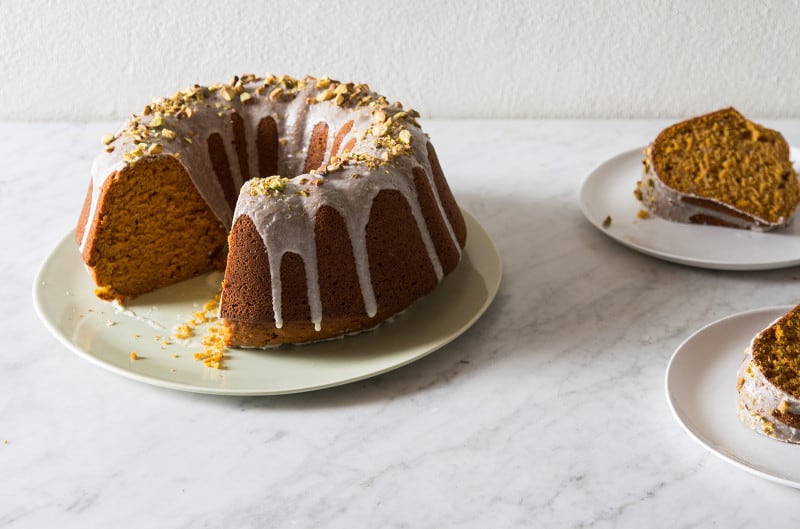 I feel like the Pumpkin Spice Latte situation has made people turn their backs away from all things pumpkin. It really bums me out, but I guess haters gonna hate. We on the other hand are still very much into pumpkin, to still have more pumpkin recipes to share in the coming weeks. Today's recipe is for a Pumpkin Cake with a Pistachio Glaze. I love bundt cakes because they come out of the oven already really pretty so you don't have to do anything to make them impressive. However, when you add the glaze on top and get beautiful drips, AND add a garnish of pistachios, the simple bundt cake becomes absolutely stunning. This cake has the perfect amount of sweetness, and isn't too pumpkin-y. What I am trying to say is it doesn't take like you're eating pumpkin puree with sugar in cake form. This cake really is perfect, and you should make it for all the pumpkin haters in your life because I really do think it will turn them. ☺
Pumpkin Cake with a Pistachio Glaze
1 (9 inch) bundt cake
Ingredients:
pumpkin cake:
3 cups all purpose flour
2 teaspoons baking powder
1 1/2 teaspoons ground cinnamon
3/4 teaspoon ground ginger
1/2 teaspoon baking soda
1/2 teaspoon salt
1/4 teaspoon ground nutmeg
1 1/4 cup (2 1/2 sticks) unsalted butter, melted and cooled
1 1/2 cups light brown sugar
3/4 cup pure cane sugar
3 eggs
1 (15 ounce) can pure pumpkin puree
pistachio glaze:
2/3 cup whole milk
1/3 cup chopped pistachios
1 1/4 cups sifted confectioners sugar
3 tablespoons chopped pistachios, for garnish
Directions:
1. Preheat oven to 350˚F.
2. Place flour, baking powder, cinnamon, ginger, baking soda, salt, and nutmeg in a mixing bowl and whisk together.
3. Place butter and both sugars in the bowl of a stand mixer, fitted with a paddle attachment, and mix together until light and fluffy.
4. Add eggs to the sugar and butter mixture, 1 at a time, scraping down the sides of each bowl after each addition, and beat together until well combined.
5. Pour the flour mixture into the wet mixture and beat together until just combined. Stir in the pumpkin puree and mix until fully combined and no lumps remain.
6. Pour the batter into a lightly greased, 9 inch bundt pan and bake for 55 to 65 minutes or until the top is golden brown and a toothpick comes out clean when inserted into the center of the cake.
7. Allow the cake to cool for 15 minutes before inverting onto a cooling rack. Then allow cake to finish cooling, about 2 hours.
8. While the cake cools, make the glaze: Place the milk and chopped pistachios in a small saucepan and simmer over medium-low heat. Simmer mixture for 10 minutes, remove from heat and cover. Allow the mixture to steep for 1 hour. Strain nuts from milk and discard.
9. Stir powdered sugar into the milk, 1/4 cup at a time, until all the sugar has been added and mixture is smooth.
10. Pour glaze over the cooled cake and finish a sprinkle of chopped pistachios. Slice and serve.