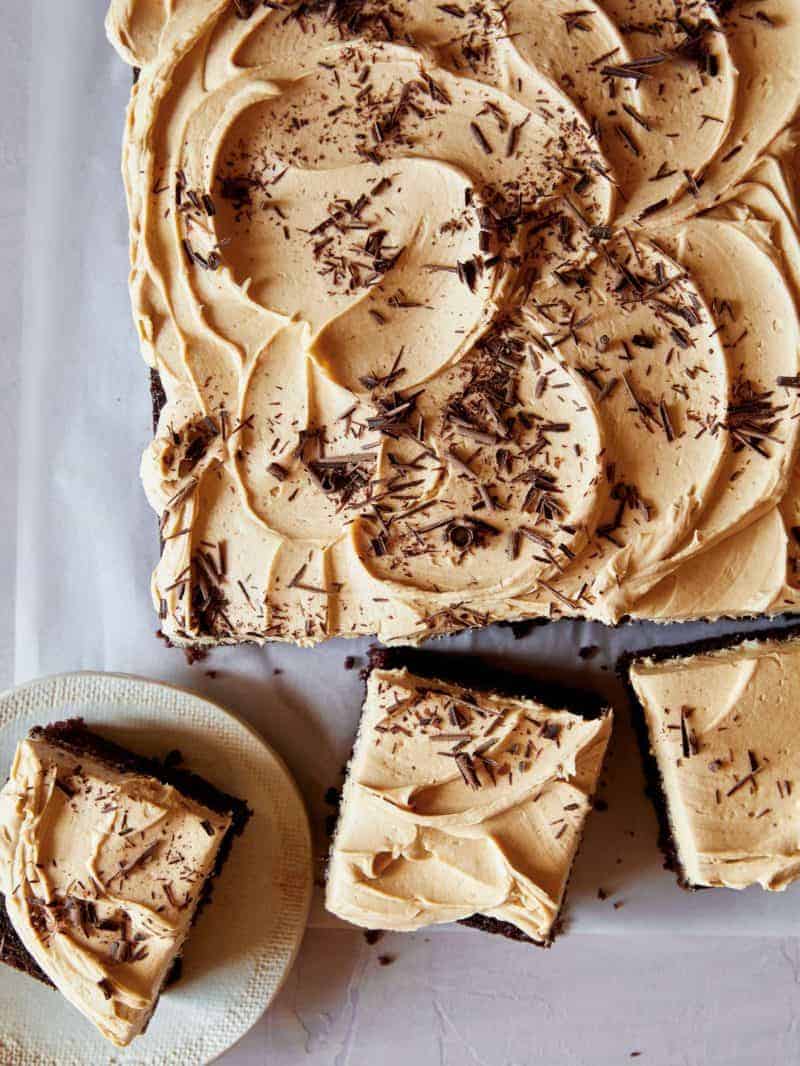 I realized recently that we don't have a simple One Bowl Chocolate Sheet Cake Recipe on the blog yet, so I thought this would be a great time to add one to the mix. Plus chocolate cake is my favorite, so I was really surprised we didn't have a one bowl chocolate cake recipe already! This cake is super fluffy, moist and really easy to make. I paired it with an equally as fluffy peanut butter frosting because I love the classic chocolate and peanut butter pairing and I've never been crazy about a chocolate on chocolate combo in general. I also kept this cake as a sheet cake because it's in keeping with the whole quick and easy vibe of this recipe, you know? Enjoy! xx, Jenny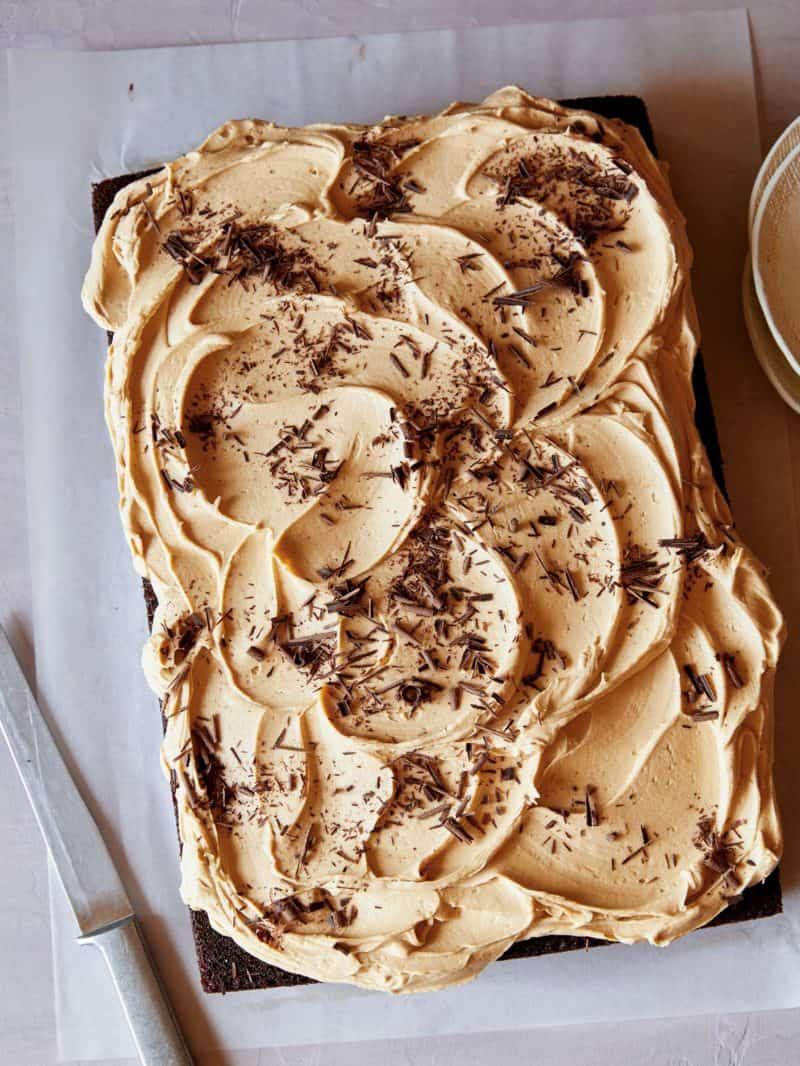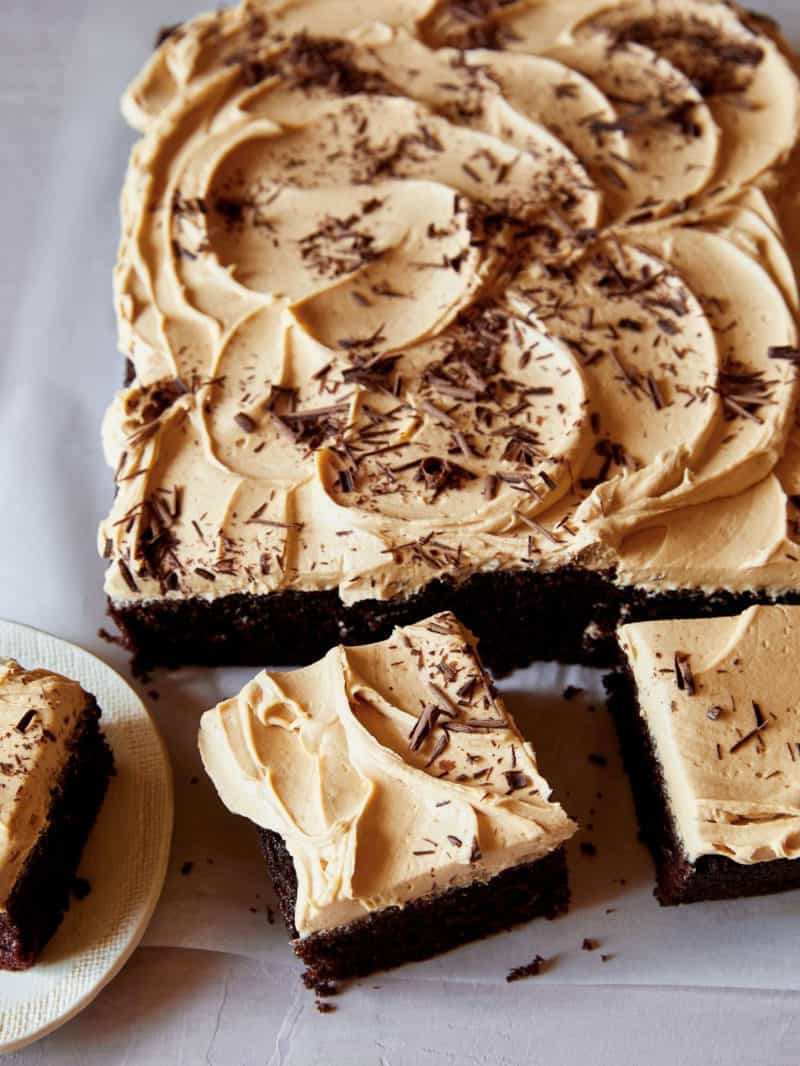 One Bowl Chocolate Sheet Cake with Creamy Peanut Butter Frosting

Makes 1 (9"x13") sheet cake

Ingredients:
chocolate cake:
2 cups all-purpose flour
2 cups sugar
3/4 cup unsweetened cocoa powder
2 teaspoons baking soda
1 teaspoon baking powder
1/2 teaspoon salt
2 large eggs
1 cup buttermilk
1 cup hot water
3/4 cup vegetable oil
1 teaspoon vanilla extract or paste
fluffy peanut butter frosting:
1 cup (2 sticks) unsalted butter, softened
1 cup creamy peanut butter
3 cups sifted powdered sugar
1 teaspoon vanilla extract
1/2 teaspoon salt
3 1/2 tablespoons heavy cream

dark chocolate shavings, for decorating

Directions:
1. chocolate cake: Preheat oven to 350˚F. Lightly grease a 9"x 13" baking dish and set aside.
2. In a large mixing bowl whisk together flour, sugar, cocoa powder, baking soda, baking powder, and salt.
3. Add eggs, buttermilk, water, oil, and extract (or paste) and whisk together until thick, even batter has formed.
4. Pour batter into prepared baking dish and bake for 35 to 40 minutes or until a toothpick comes out clean when inserted into the center of cake.
5. Allow cake to cool enough to handle, then transfer cake to a cooling rack and cool completely.
6. frosting: Place butter and peanut butter into a mixing bowl and beat together with a hand mixer, until light and fluffy. Scrape down sides of bowl and add 1/2 cup sugar at a time until all sugar has been incorporated. Add vanilla, salt and heavy cream and continue to beat frosting until light and fluffy.
7. Assemble: Evenly spread frosting over sheet cake and top with shaved chocolate. Slice and serve.