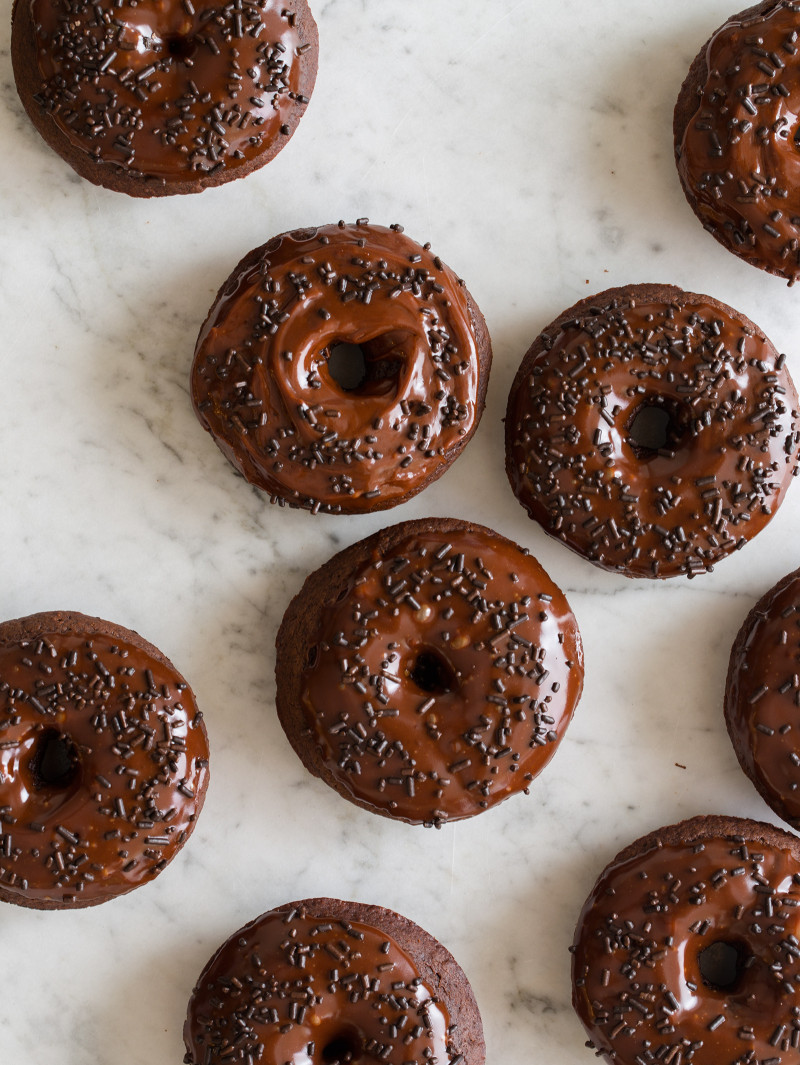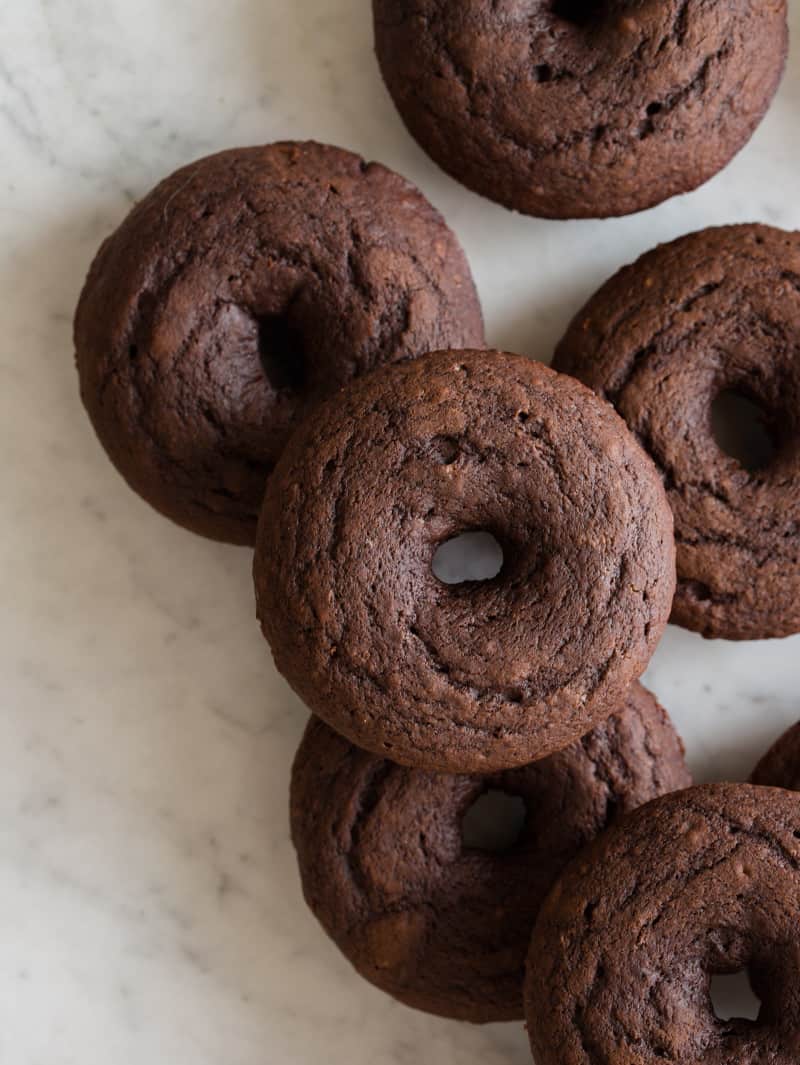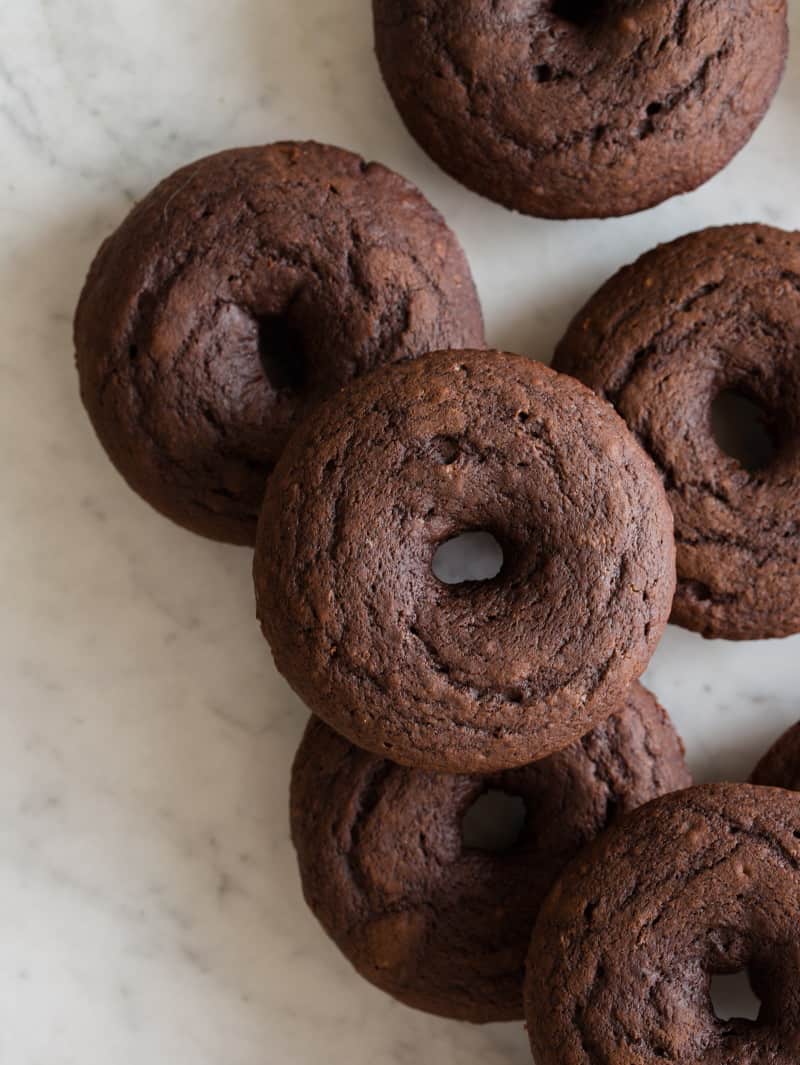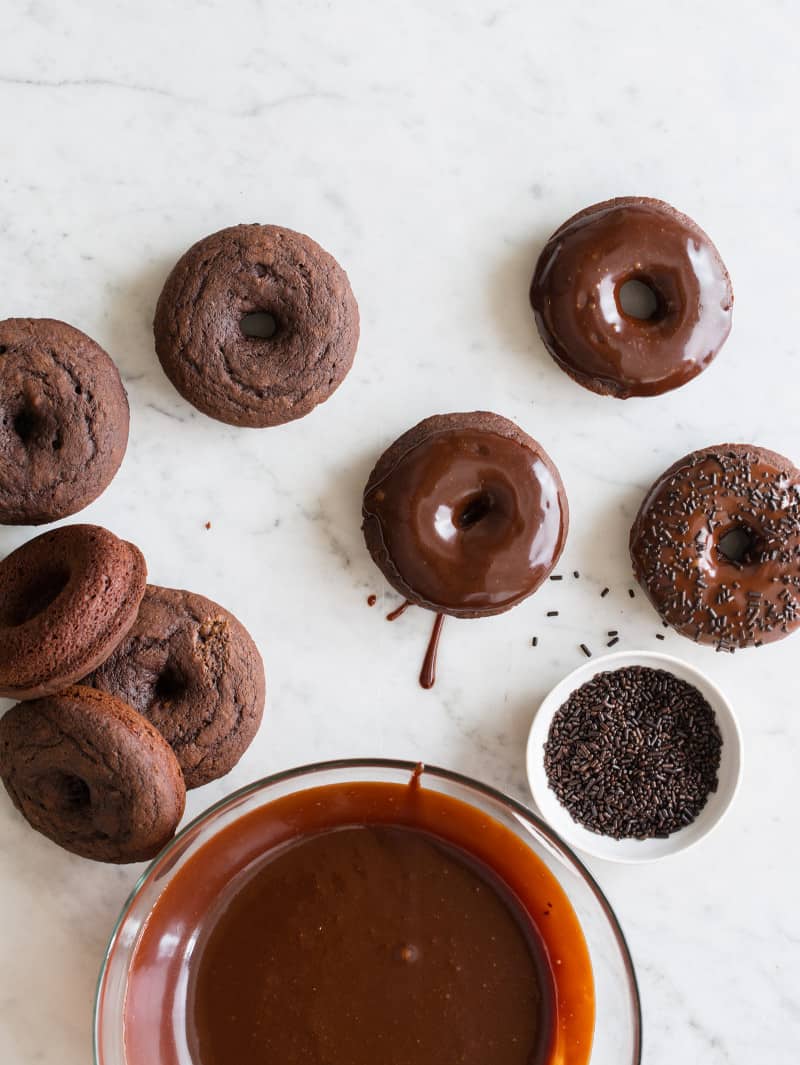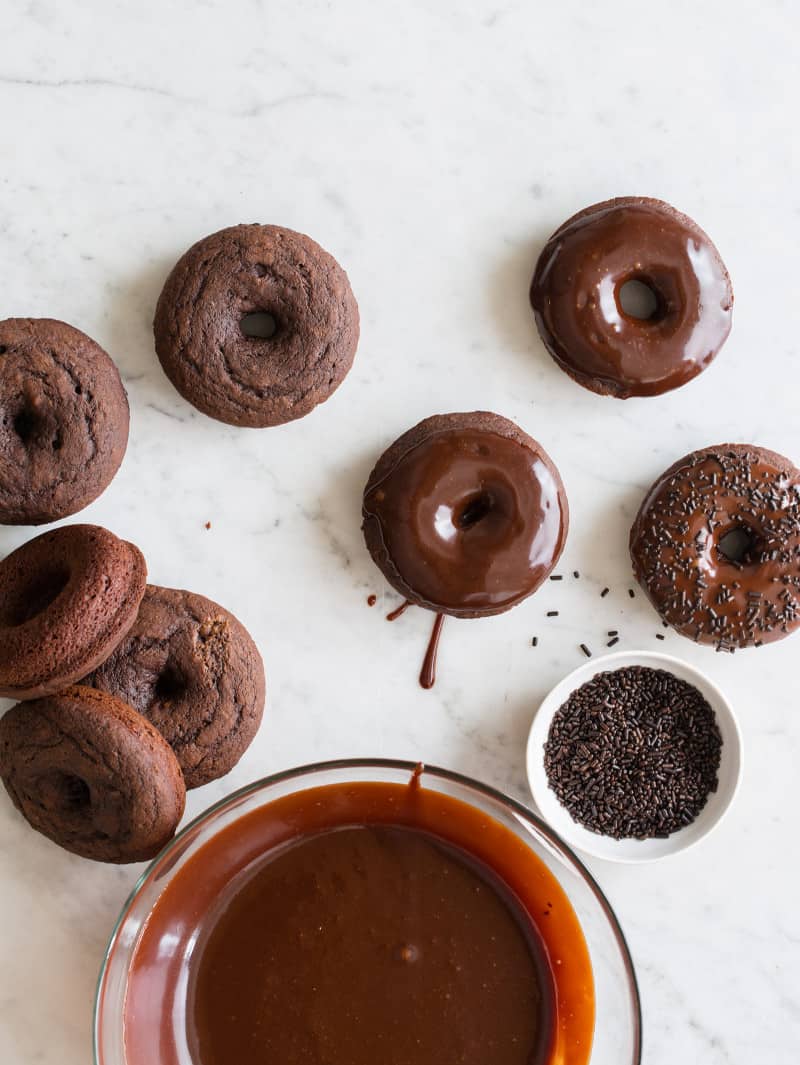 Hi Guys! Today we have baked chocolate donuts for you! Oh the donut. I feel like I could write (really bad) poems and songs about my love for donuts. I have always self-proclaimed myself as a non-sweets person; after dinner I usually want meat/cheese/crackers and usually scrunch my nose up at cakes/cookies/pies. Not that I don't enjoytasting sweets and desserts, because I do love tasting them, but usually just enough to get a sense of the flavors and textures and not to eat the whole thing or even close to it.
This all changes though with donuts. I don't know what it is about soft, rich, fried dough that I love so much but I can genuinely say (from straight up experience) that taking a dozen donuts to the face, in one sitting, would be no problem for me. Ever. I definitely have my favorites, and these days I LOVE a good old fashioned doughnut that's been fried in peanut oil (peanut oil is KEY when talking fried doughnuts) and encased in the thinnest layer of sweet vanilla glaze. I think it's exciting that donuts have gotten so fancy in the last several years with awesome shops like Doughnut Plant, VooDoo Doughnuts, Sidecar Doughnuts and so many others! I love a good, fancy doughnut with fun flavors, but am just as happy with a donut from any hole in the wall spot around town….just has to be tasty! (nor am I a stickler for the spelling…as you can see I'm annoyingly interchanging them even within this post…sorry not sorry!)
Although old fashioned ones are probably my favorite type of donut as an adult, as a kid it started when I was 5 years old and had my very first donut: a chocolate on chocolate cake donut with chocolate sprinkles. A classmate had brought them into class for her birthday and my bratty 5 year old self pretty much dove for the triple chocolate donut, claiming it for myself.…and the donut obsession began.
Today we have a recreate of my favorite childhood donut, but a baked version. While I still prefer fried over baked, these are super delicious and so easy to make…plus you cut down on a lot of the mess by baking and not frying. I also think donuts can seem intimidating to make yourself if you've never done it before and removing the frying factor also removes some of that stress and intimidation!
I use bread flour in this recipe because it results in a slightly denser (and chewy…if that makes sense) donut, so you feel like you're eating a real cake donut and not just regular chocolate cake that was shaped into an "O". Also, if you find that your glaze is a little gritty and not totally smooth, just throw it into a blender or food processor for a minute before transferring it to your double boiler to ensure a nice, smooth texture! If anyone is looking for a super delicious baked donut, loaded with chocolate…you may have just found it! (I say as I sit shamelessly giving myself a pat on the back) Enjoy! xx, Jenny
More donut recipes that are awesome: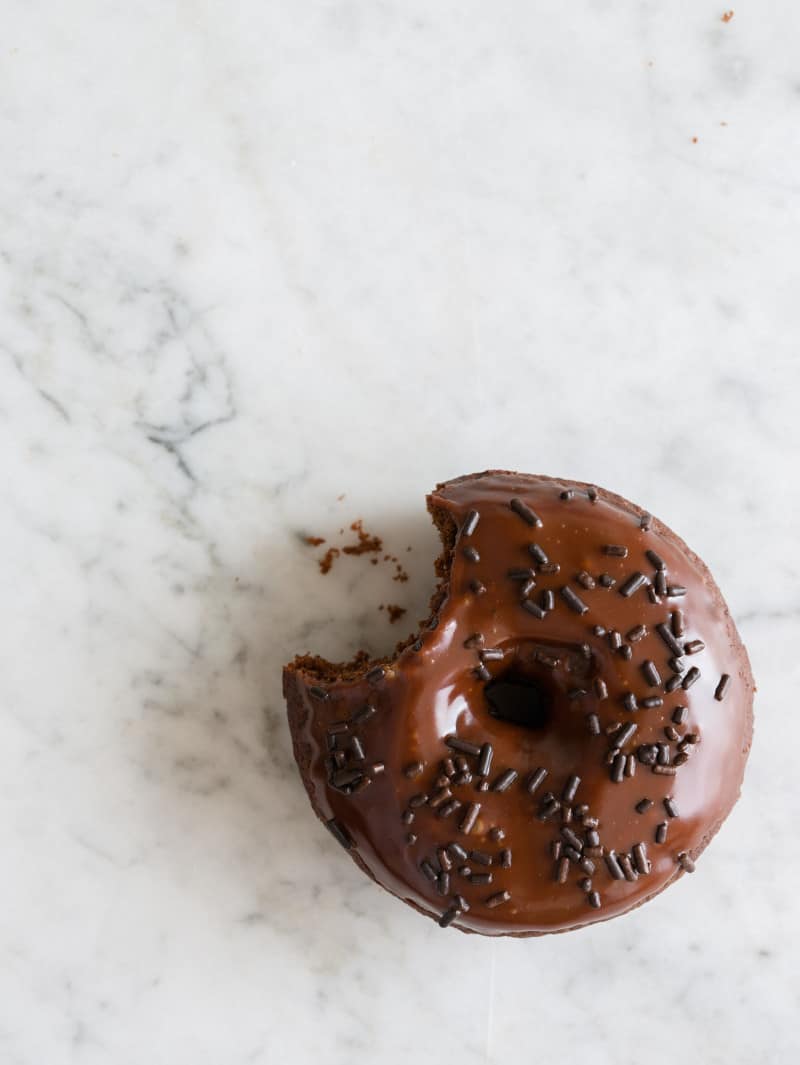 Hungry for more?
Subscribe to never miss a recipe.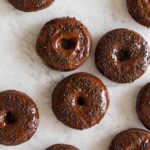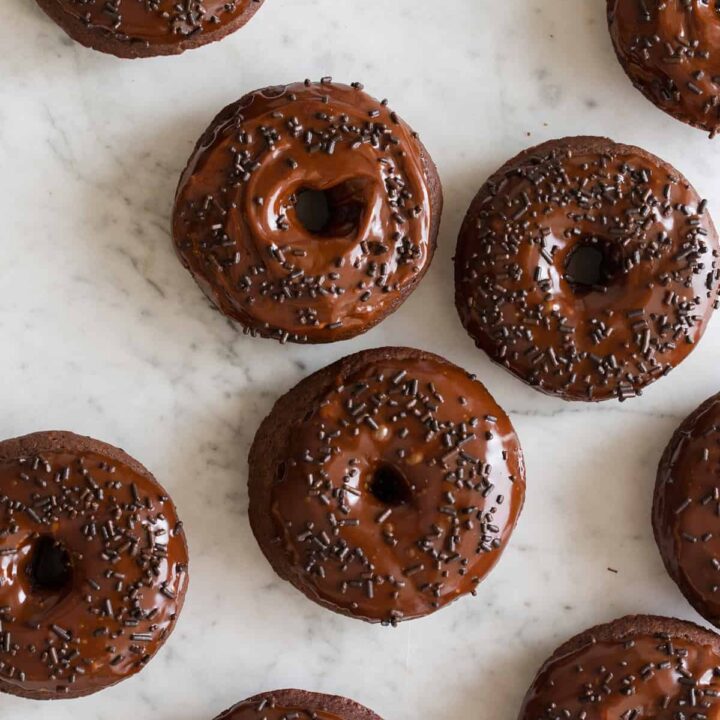 ---
Our Best Ever Baked Chocolate Doughnuts
INGREDIENTS
doughnuts
2

cups

bread flour

1

cup

light brown sugar

⅔

cup

unsweetened cocoa powder

1

teaspoon

baking soda

½

teaspoon

salt

1

cup

buttermilk

½

cup

strong brewed black coffee, cooled

2

eggs, lightly beaten

6

tablespoons

unsalted butter, cooled

2

teaspoons

apple cider vinegar

1

teaspoon

pure vanilla extract

¾

cup

melted semisweet chocolate chips, cooled
glaze
½

cup

(1 stick) unsalted butter, softened

⅓

cup

heavy cream

1 ½

tablespoons

light corn syrup

1

teaspoon

vanilla extract

5

ounces

chopped bittersweet chocolate

2 ¼

cups

sifted powdered sugar
garnish
chocolate sprinkles/jimmies
INSTRUCTIONS
Place flour, sugar, cocoa powder, baking soda, and salt into a mixing bowl and whisk together. Set aside.

Pour buttermilk coffee, eggs, butter, vinegar, and vanilla into another mixing bowl and whisk together.

Pour the flour mixture into the buttermilk mixture and stir until fully mixed. Fold in melted chocolate until just combined.

Lightly grease a couple baked doughnut pans and pour batter into a piping bag or gallon sized re-closeable bag and pipe batter into the doughnut molds, filling ¾ of the way up.

Bake the doughnuts for 18 to 20 minutes or until a toothpick comes out clean when inserted into the center of a doughnut.

Remove from molds and transfer doughnuts onto a cooling rack and allow doughnuts to cool completely.

For glaze: Place all ingredients, except powdered sugar, into a small saucepan over medium-low heat. Stir until butter and chocolate have melted and mixture is smooth. Whisk in powdered sugar, ½ cup at a time, until all 2 ¼ cups has been added and mixture is smooth. Pour mixture into a heatproof bowl and set over a saucepan filled with 2 inches of simmering water (to create a double boiler, which is needed to keep the glaze loose and make it easy to dip the doughnuts)

To assemble: Dip the tops of each doughnut into the warm glaze and shake to remove any excess glaze. Place doughnuts onto a cooling rack, glaze side-up and top with a small amount of chocolate sprinkles. Repeat until all doughnuts have been dipped and sprinkled. Allow doughnuts to sit for 10 to 15 minutes to allow the glaze to harden. Serve.
Calories:
330
kcal
Carbohydrates:
44
g
Protein:
4
g
Fat:
16
g
Saturated Fat:
10
g
Cholesterol:
45
mg
Sodium:
171
mg
Potassium:
177
mg
Fiber:
2
g
Sugar:
31
g
Vitamin A:
356
IU
Calcium:
44
mg
Iron:
2
mg