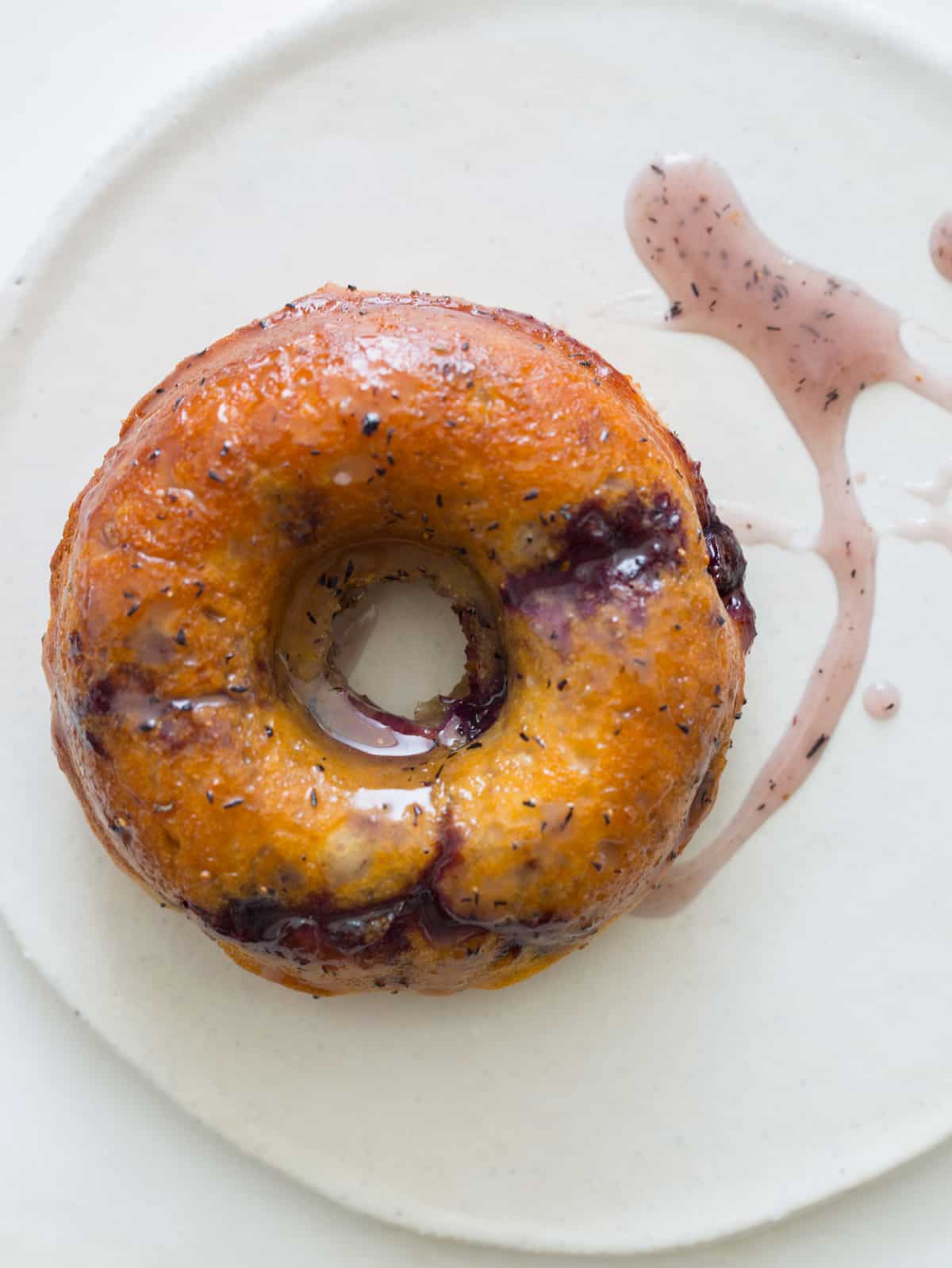 Hi! I've been really into blueberries lately. I have them almost every morning stirred into my Greek yogurt/flaxseed/honey mix or sometimes I'll puree a little bit and add it into my fresh grapefruit juice as an extra sweet topper. It's really tasty and along with my 5 gallons of coffee, blueberries help me to stay sane during a busy week.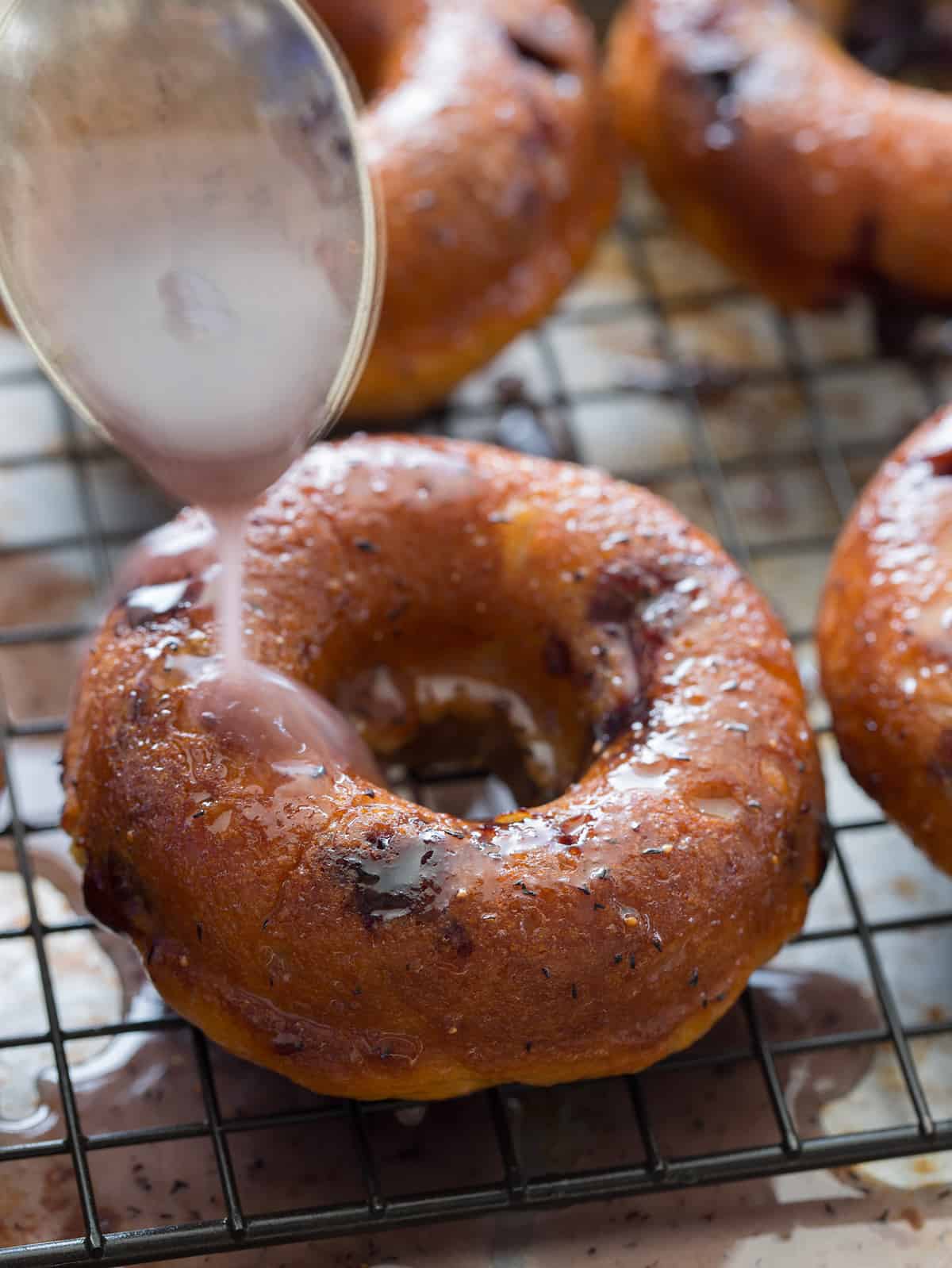 These doughnuts today are inspired by the infamous blueberry doughnuts from "m&m donuts". It's one of those places known for there extra special this or their really awesome that…in this case their glazed blueberry doughnuts. The quirky thing about this place is that their target doughnut buyers are younger drunk peeps (or stoners) who want freshly baked, late-night doughnuts. They don't open until 10pm and they're closed again by 10am. People go so crazy for m&m's blueberry doughnuts that every night there's a 1-2 hour line that begins to form well before opening hours. In addition, people are only allowed to buy one dozen blueberry doughnuts per purchase because they're in such high demand throughout the night.
Being pretty doughnut obsessed I went for it….in the morning. Sorry, I wasn't about to wait 2 hours at night for a box of doughnuts that could end up being really overrated. Anyway, I'm super glad I went in the morning. I still had a fresh box of blueberry doughnuts and only waited for 10 minutes while they were finishing them up in the back. The results?? Awesome flavored doughnuts!….swimming in a pile of grease. :/ The tons of grease soaked into the doughnuts really ruined what could've been a killer experience. Naturally I did what I usually do when I try something new, I thought to myself, "Hm, how can I make this at home…and how can I make it better?"
So today we have a baked version of the doughnuts I tried a couple months ago. Since it was mainly the grease that bummed me out I decided to do a baked version to avoid that issue all together. In addition to baking them I swapped all the butter, shortening, oil out for greek yogurt and applesauce, so we're totally going healthy-ish with these guys! Also, if you make these you'll notice the batter is oober thick (that why I recommend piping them)…that's a good thing, the batter should be nice and thick because you want a dense, cake-doughnut-like result. You can even go 50/50 all purpose to whole wheat flour if you want and you'll get a doughnut with more of a "bite" but that's it. Still super good. The glaze on this is also different than what you'd expect. It's a light glaze that will stay sticky and wet, if you want a glaze that will eventually dry onto the doughnut then you can scale back on the blueberries and o.j. and double the powdered sugar.
Enjoy! xx, Jenny
More recipes with blueberries:
More donut recipes we love:
For this recipe we use the regular sized donut pans, but you can use the small donut pans if you prefer, the baking time will just need to be less.