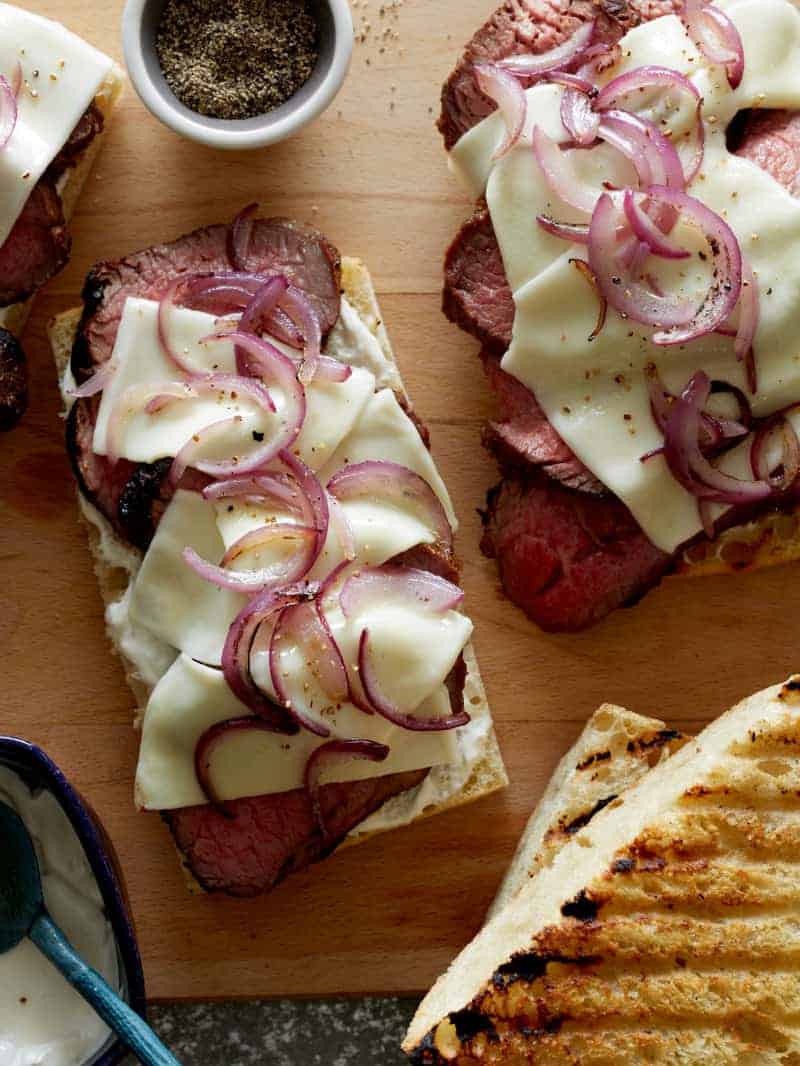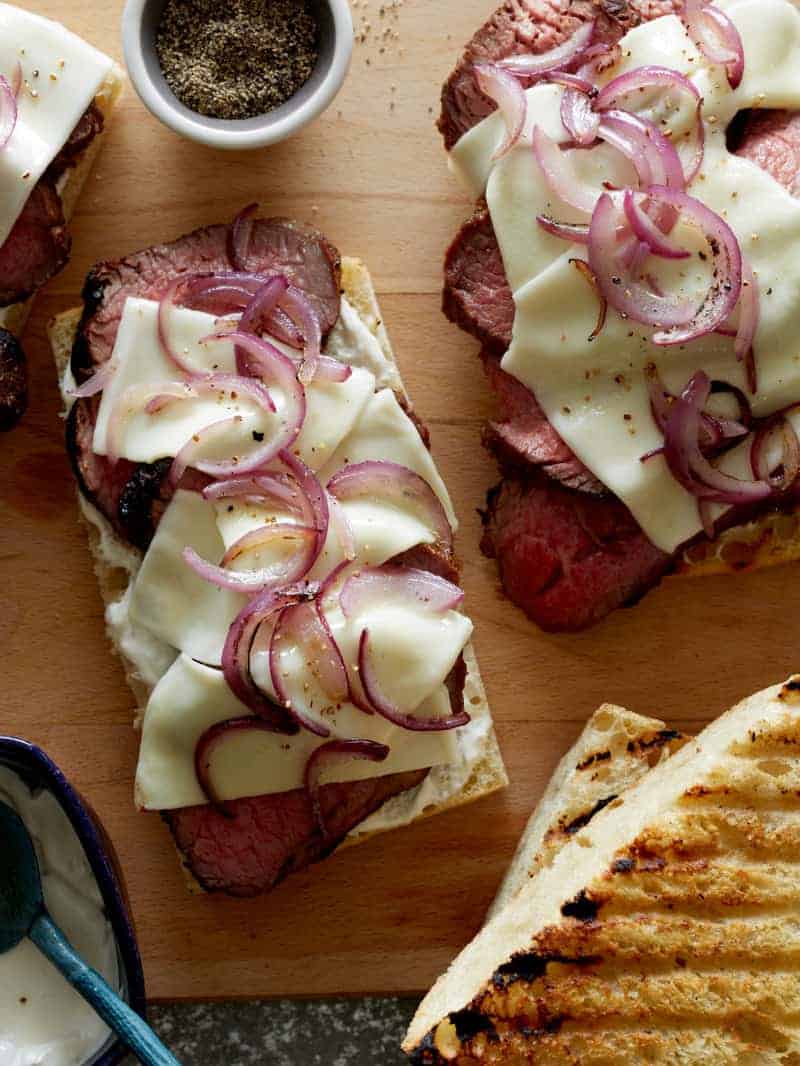 Is anyone still trying to figure out what to cook up this Memorial Day Weekend? Our Grilled Tri-Tip Sandwiches are perfect if you're looking to feed a crowd. You can get large quantities for an inexpensive price and it's a fairly easy and forgiving cut of beef to grill. Plus tri-tip doesn't require too much time to cook up and it's pretty low maintenance, so it's also great for grilling novices to cook and serve. You can make them into sandwiches, like we really like doing, or you can serve the meat sliced up a la carte with baked potatoes and a fresh salad. Both options are totally satisfying. Enjoy! xx, Jenny

My dude and I have been making great use of our grill already this summer! We've been grilling everything from ribs, burgers, bbq chicken, oysters, pizza, and veggies. This Fourth of July we're going to keep things simple by grilling up a few tri-tip roasts and turning them into big ole' sandwiches! I love tri-tip! It's a great cut of meat to serve up at a casual get-together with lots of people because it's fairly inexpensive and can easily feed a crowd.
While I think the dry rub is important to penetrate some initial flavor into the meat, I think it's the basting marinade that really does wonders to the overall flavor! I also love making tri-tip sandwiches from the roast because they're so yummy and I love how the bread always manages to soak up a good amount of the flavorful meat juices. I also like keeping the sandwiches pretty simple so that the tri-tip remains the star of the show, but you can also dress them up or down to you specific taste and preference.
This is such a great, low maintenance recipe that's perfect for these gorgeous summer days. Enjoy! xx, Jenny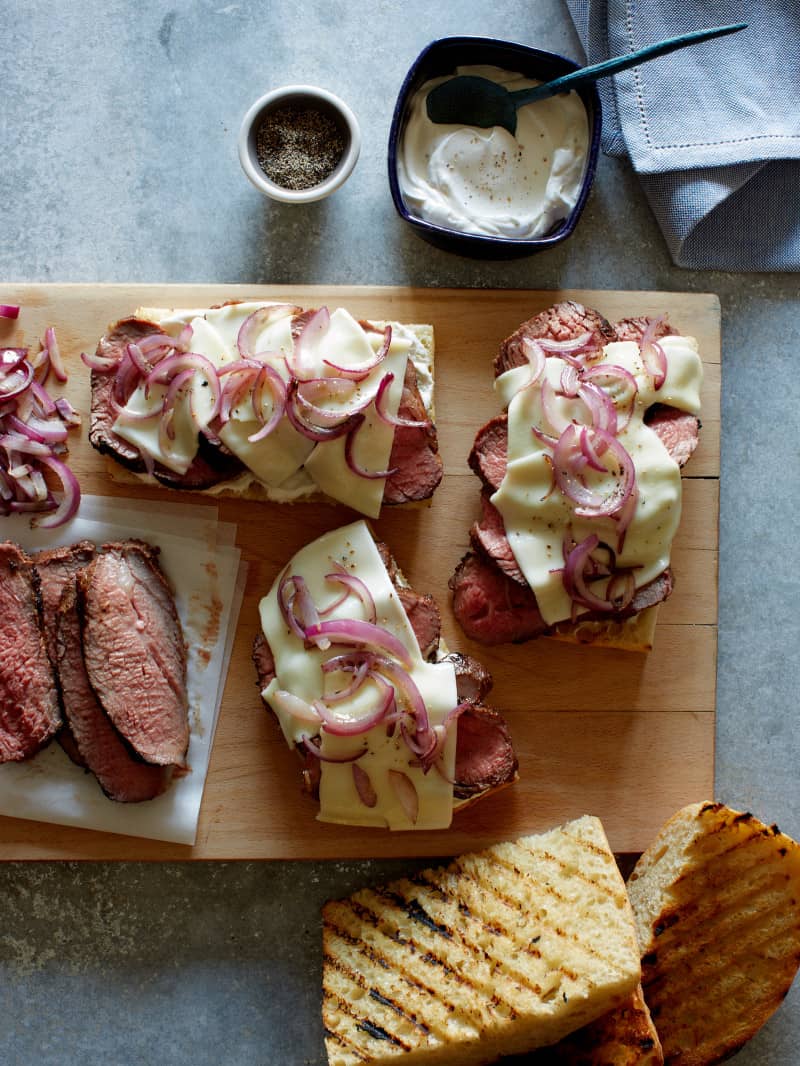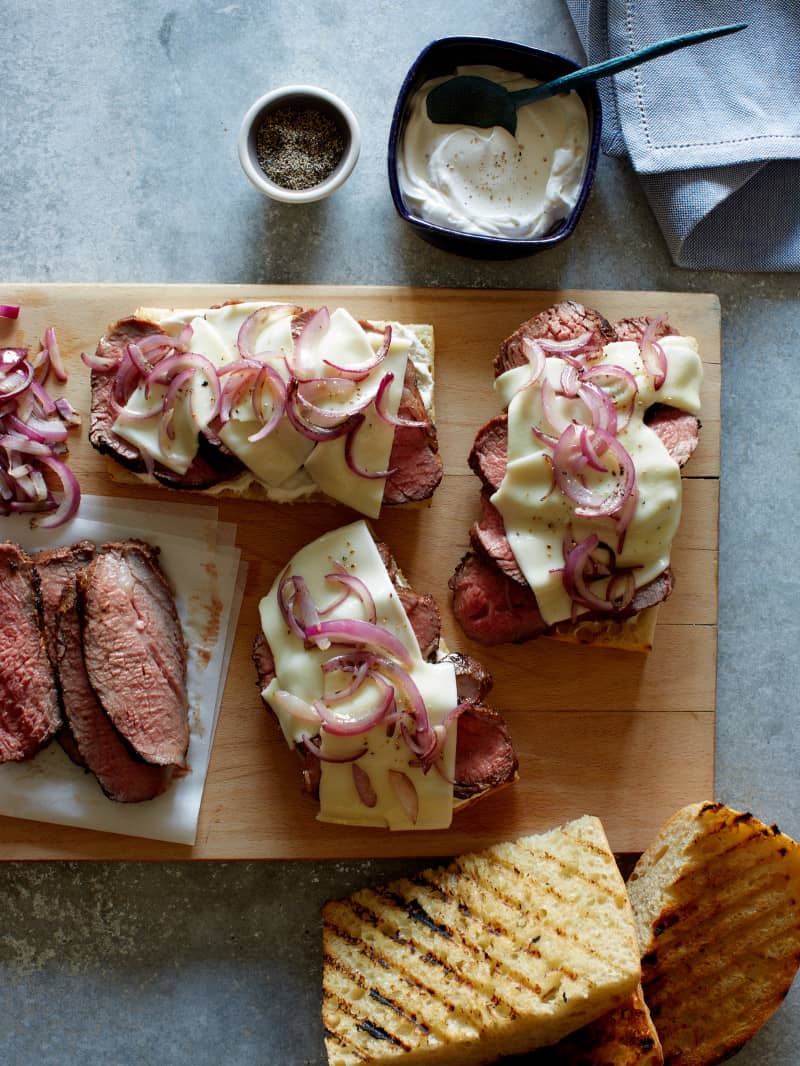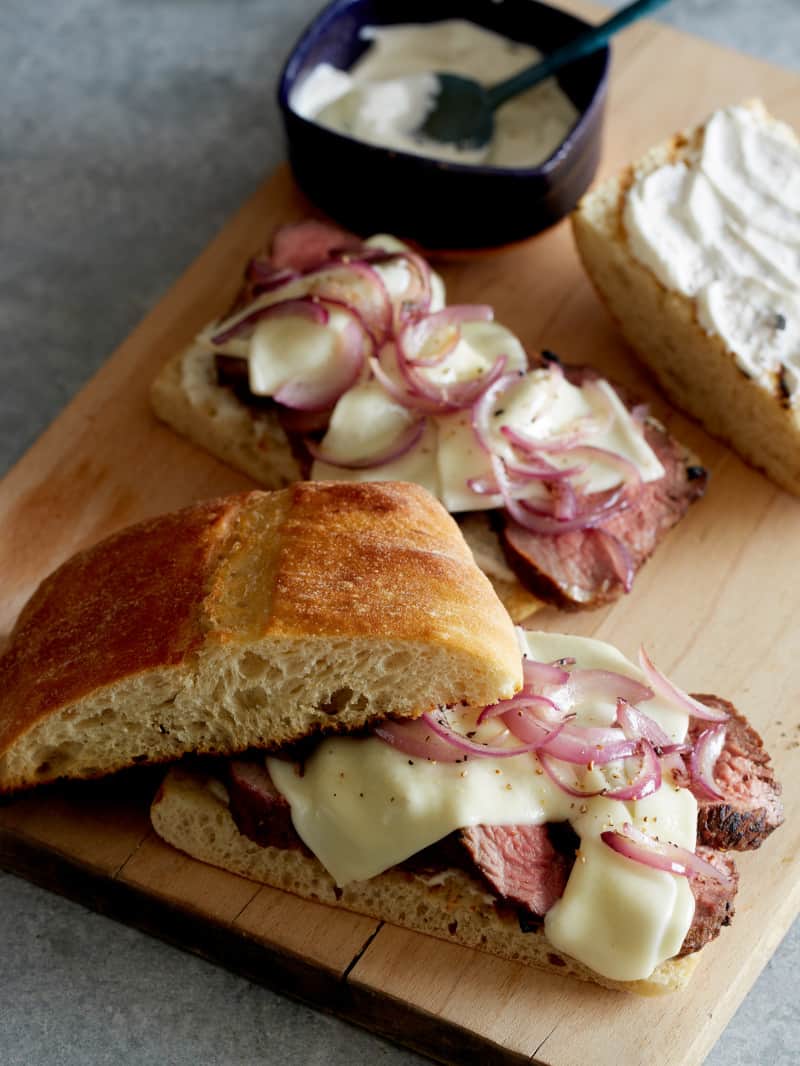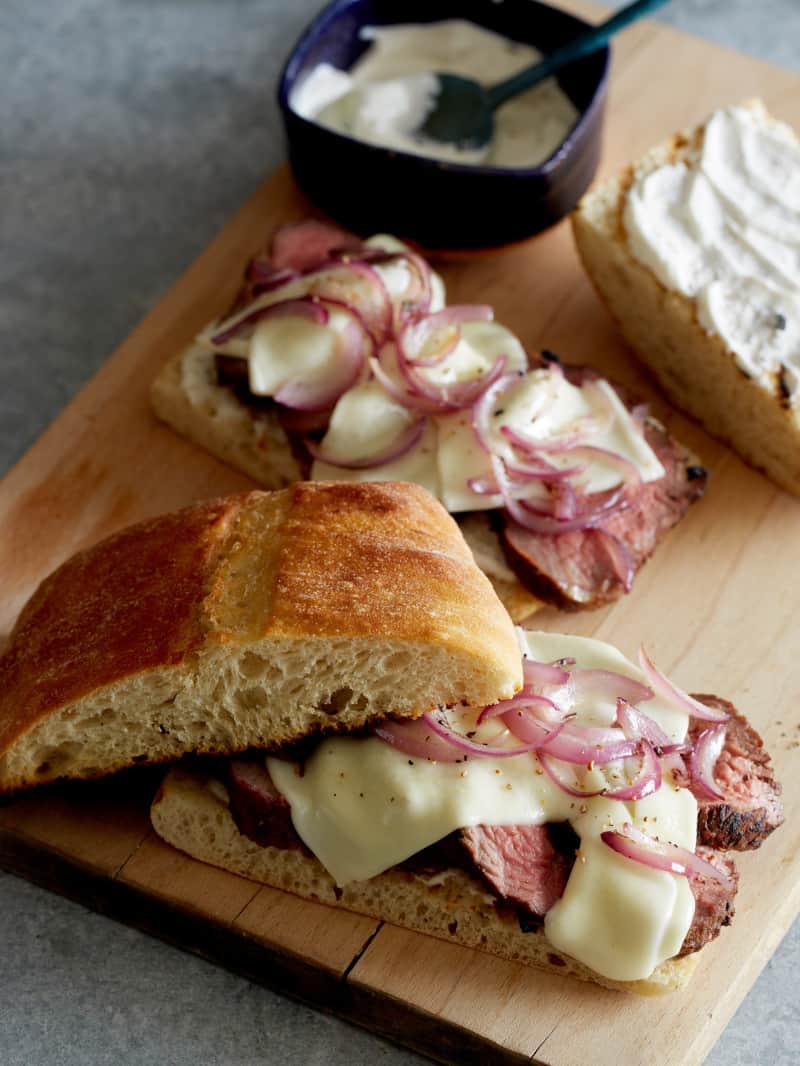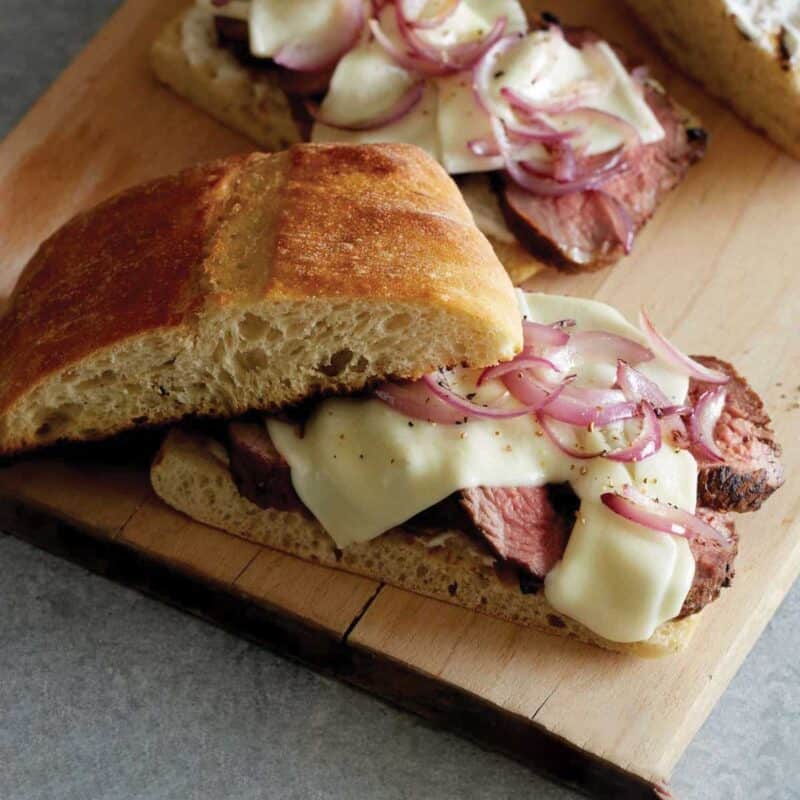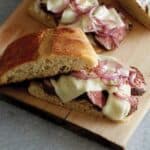 ---
Grilled Tri-Tip Sandwiches
INGREDIENTS
dry rub
2 ½

teaspoons

salt

2 ½

teaspoons

black pepper

1

tablespoon

garlic powder

2 ½

teaspoons

smoked paprika

2

teaspoons

onion powder

1

teaspoon

minced rosemary
tri-tip
One 2.5

pound

tri-tip roast

1

tablespoon

extra virgin olive oil
assembly
ciabatta rolls, buttered and grilled/toasted

creamy horseradish sauce

lightly caramelized red onions

slices of provolone cheese

cracked black pepper
INSTRUCTIONS
Place all dry rub ingredients into a small mixing bowl and whisk together. Generously sprinkle mixture over the tri-tip and rub all over the meat.

Tightly wrap tri-tip in plastic wrap and refrigerate for at least 3 hours and up to 24 hours.

Unwrap tri-tip and gently pat dry. Brush with 1 tablespoon of oil and lightly season with salt and pepper.

Place all basting ingredients into a mixing bowl and whisk together.

Preheat grill to medium-high heat. Add tri-tip and sear for 3 to 4 minutes. Flip and continue to sear for 3 to 4 minutes.

Lower heat to medium and baste roast with basting marinade. Flip and baste other side of the roast.

Continue to flip and baste tri-tip every 4 minutes for about 16 minutes or until cooked to medium-rare (pink in the center) or for 20 minutes or until cooked to medium (slightly pink in the center).

Remove tri-tip from grill and transfer to a cutting board. Allow beef to rest for about 10 minutes.

Thinly slice tri-tip and assemble into sandwiches with the ciabatta, creamy horseradish sauce, caramelized red onion, cheese, and black pepper. Place open faced, cheese topped sandwiches under the broiler for couple minutes to melt cheese.

Finish with grilled ciabatta tops and serve.