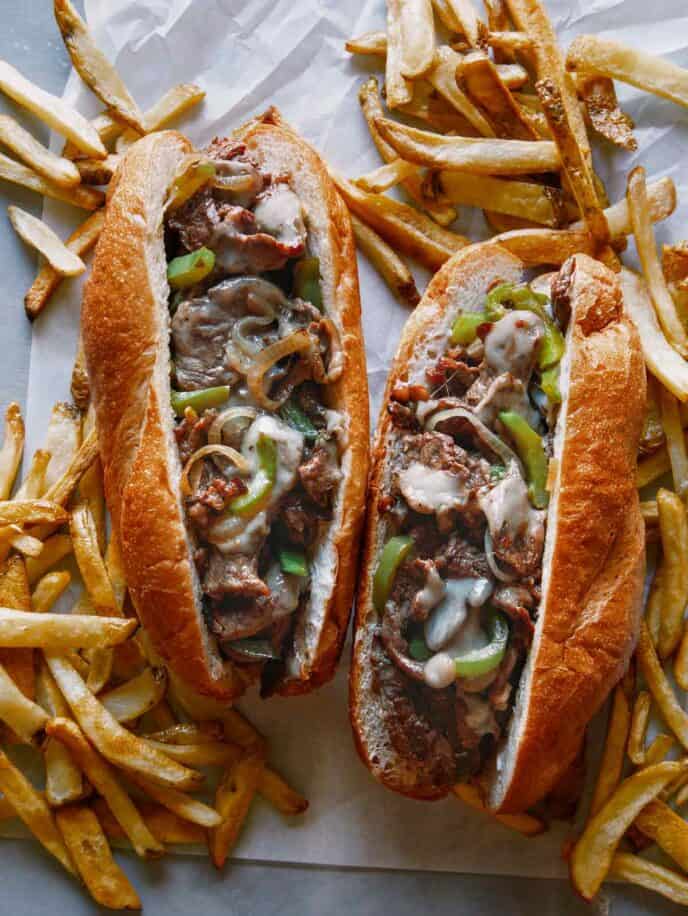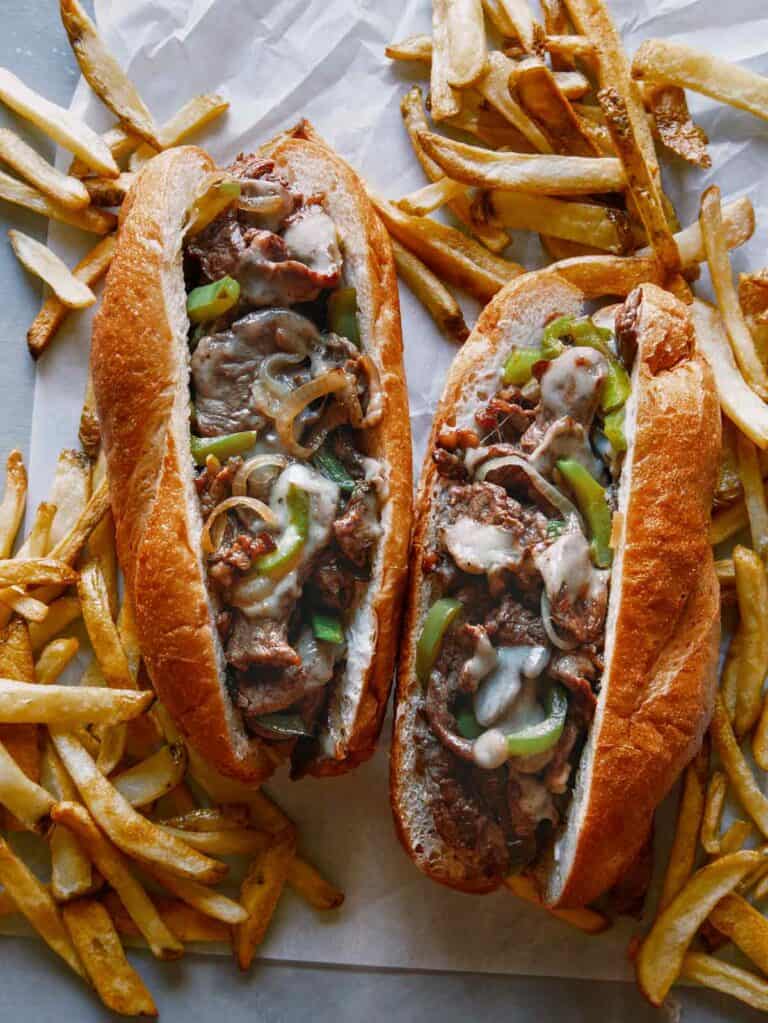 I'm so excited about today's Philly Cheesesteak Sandwich recipe! I LOVE Philly Cheesesteaks so much; it's one of my favorite sandwiches. The combination of thin sliced, juicy ribeye steak, lightly caramelized sweet peppers and onions, melty-gooey cheese, all wrapped up in a soft and warm hoagie roll is seriously hard to beat! It's also a sandwich that's way easier to make than you would think!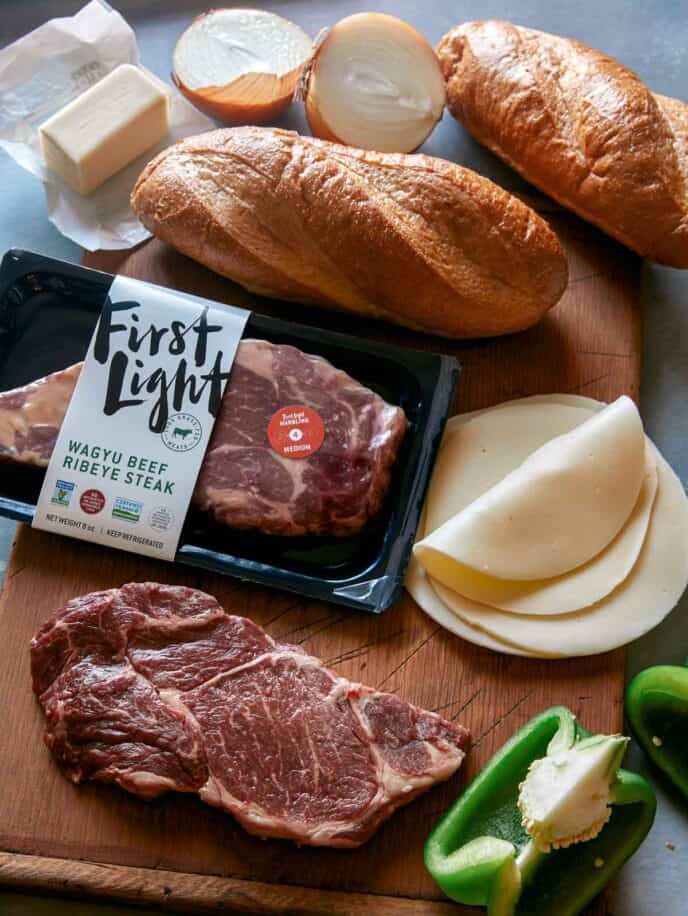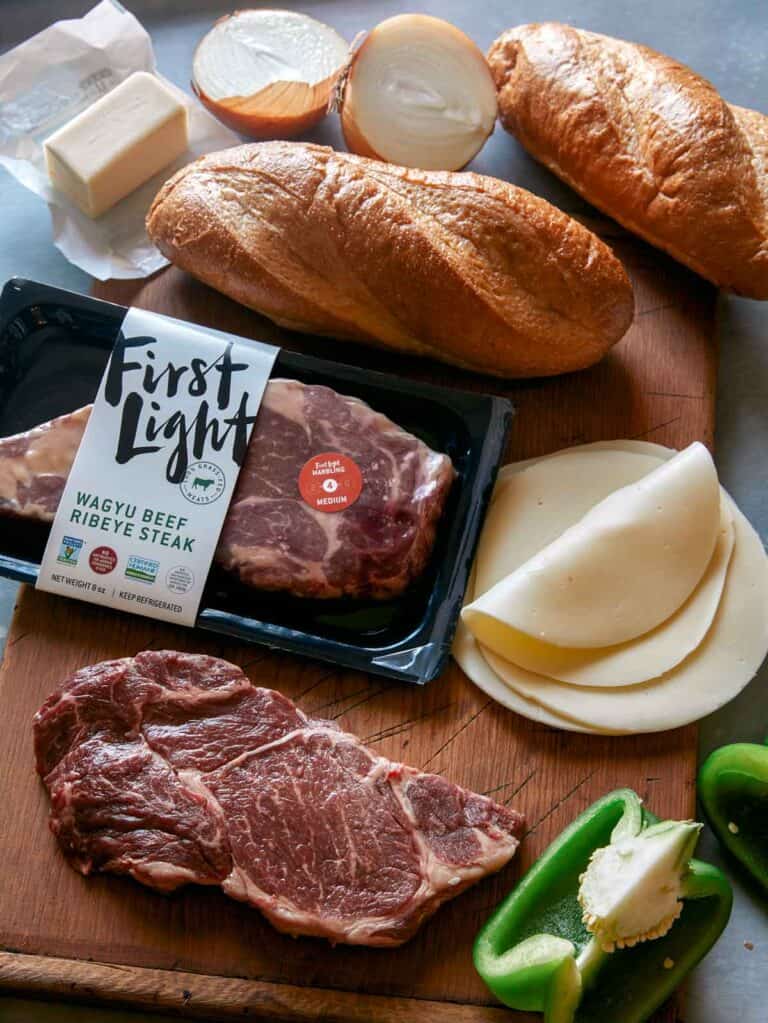 I'm even more excited to present our Philly cheesesteak sandwich recipe to you all today because we're using New Zealand Grass-Fed Wagyu Ribeye and it's one of the best ribeye steaks I've ever tasted. You can truly taste the amount of care put into their delicious, sustainable, humanely, pasture raised Wagyu. The flavor is so clean and fresh, and the meat has a nice and tender texture. The quality is incredible!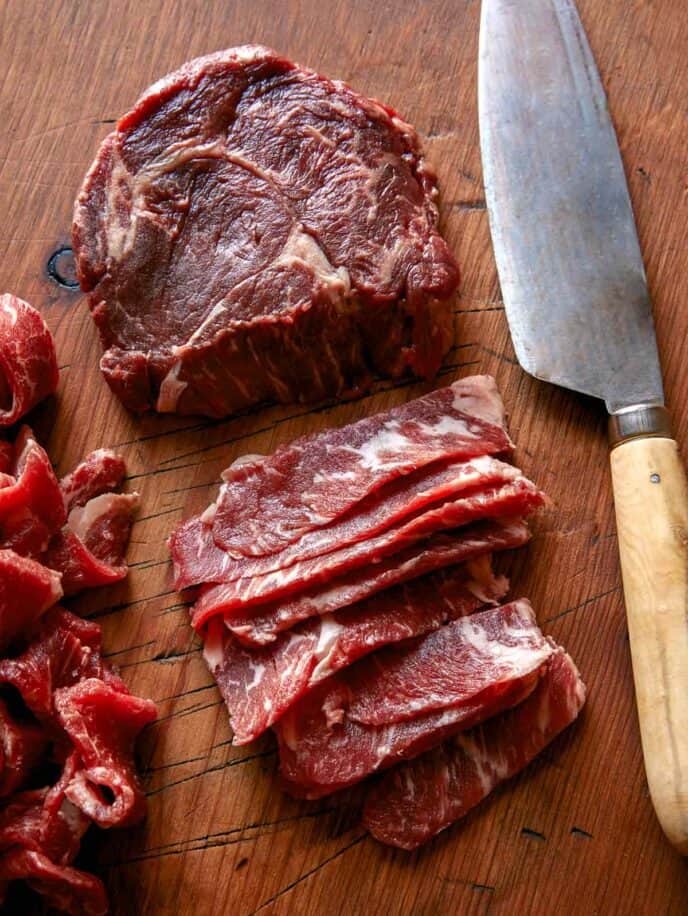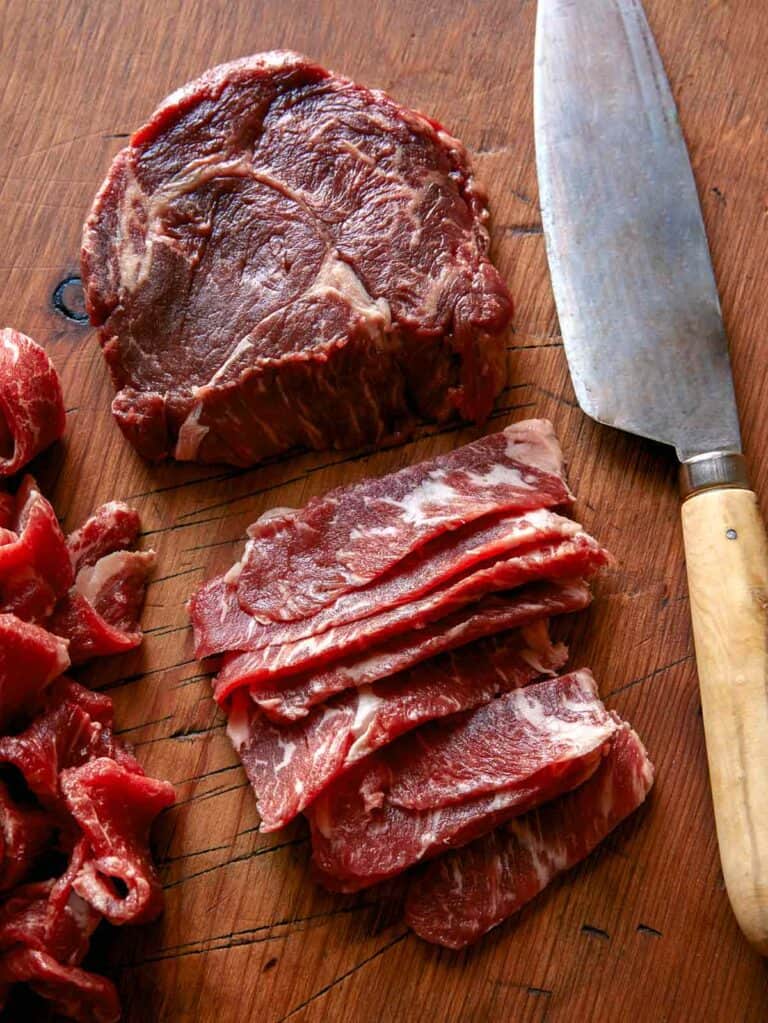 Let's talk about grass-fed beef for a quick second. When I'm at the market, I always look for grass-fed beef. Why? It's loaded with healthy fats, vitamins, minerals, and antioxidants. It's lower in fat overall compared to grain-fed, and it has a healthier omega 3: omega 6 ratio, and loaded with complete proteins. When I find New Zealand grass-fed beef, I always feel good and assured knowing I'm feeding my family beef that is incredibly delicious, nutritionally superior and humanely raised. I mean, who doesn't love that?? Check out the Beef + Lamb New Zealand website to find it at a store near you!
Our cheesesteak recipe is so simple! The toughest part of our recipe is getting the beef sliced as thin as possible and we have a simple hack for that! Just stick your steak in the freezer for about 20 minutes, until the steak is partially frozen. When the steak is partially frozen, it's so much easier to get thin slices (using a sharp knife, of course!). Once the beef is sliced up, we only season it with salt and pepper to allow the natural flavors of the grass-fed Wagyu beef to shine.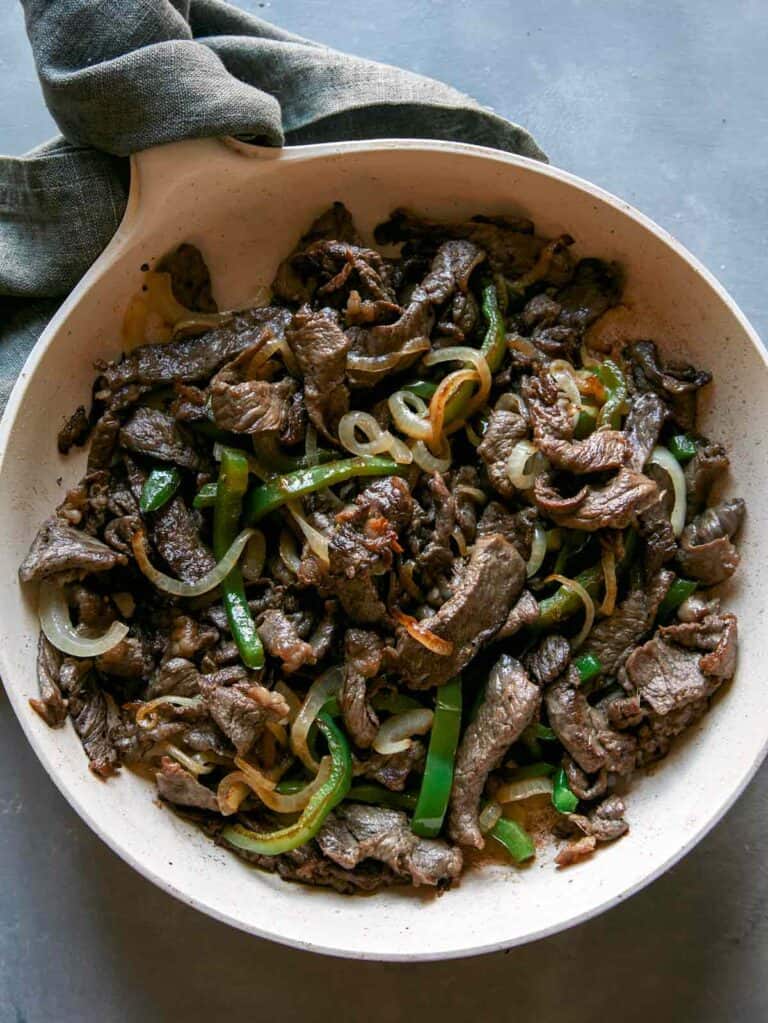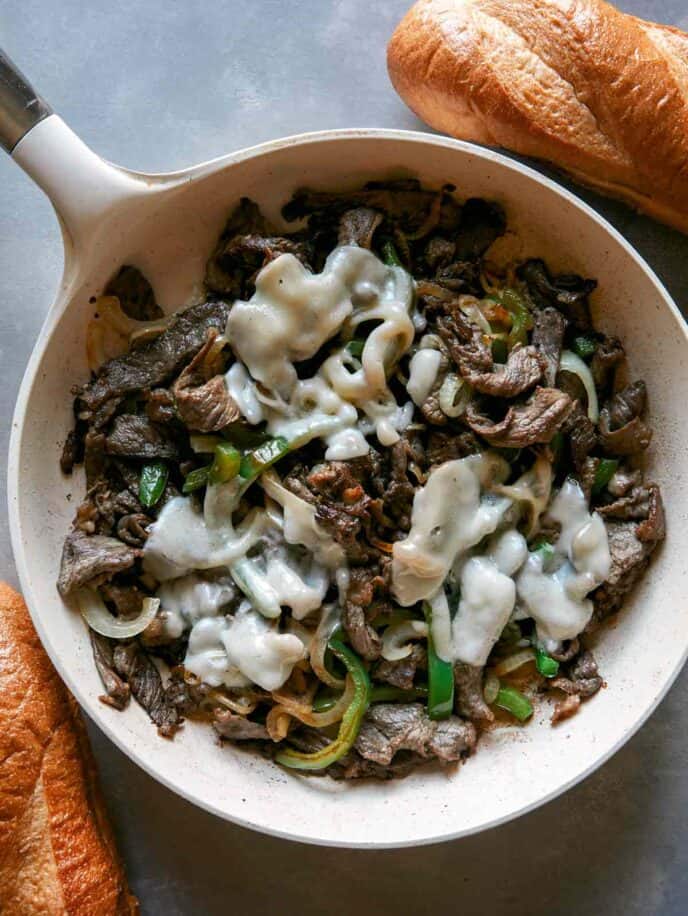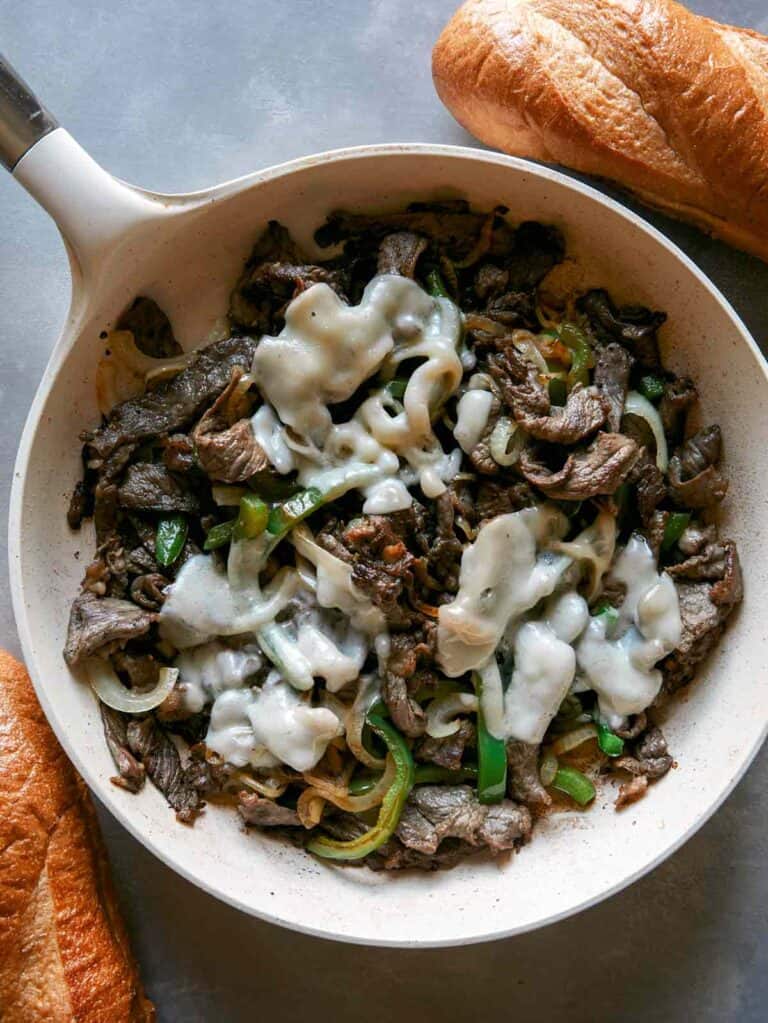 We opted for sliced provolone in our recipe because we love how well it melts into the nooks and crannies of the thin sliced beef and sliced onions and peppers. The mild flavor of provolone also pairs so well with the other ingredients. If you're more of a cheese whiz person though, by all means go for it! Either way you'll end up with a mouthwatering sandwich you'll want to eat every week!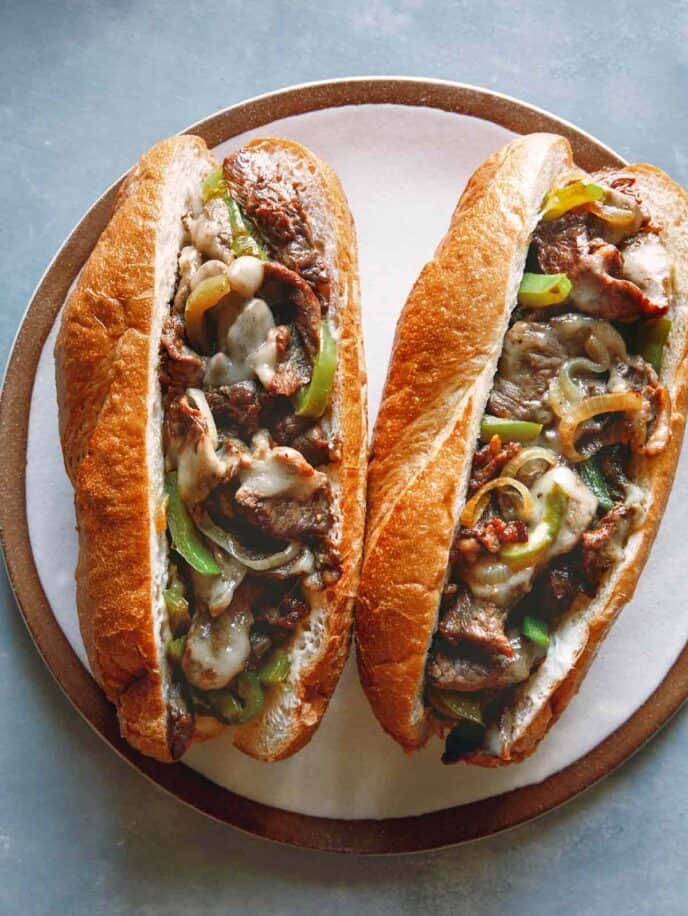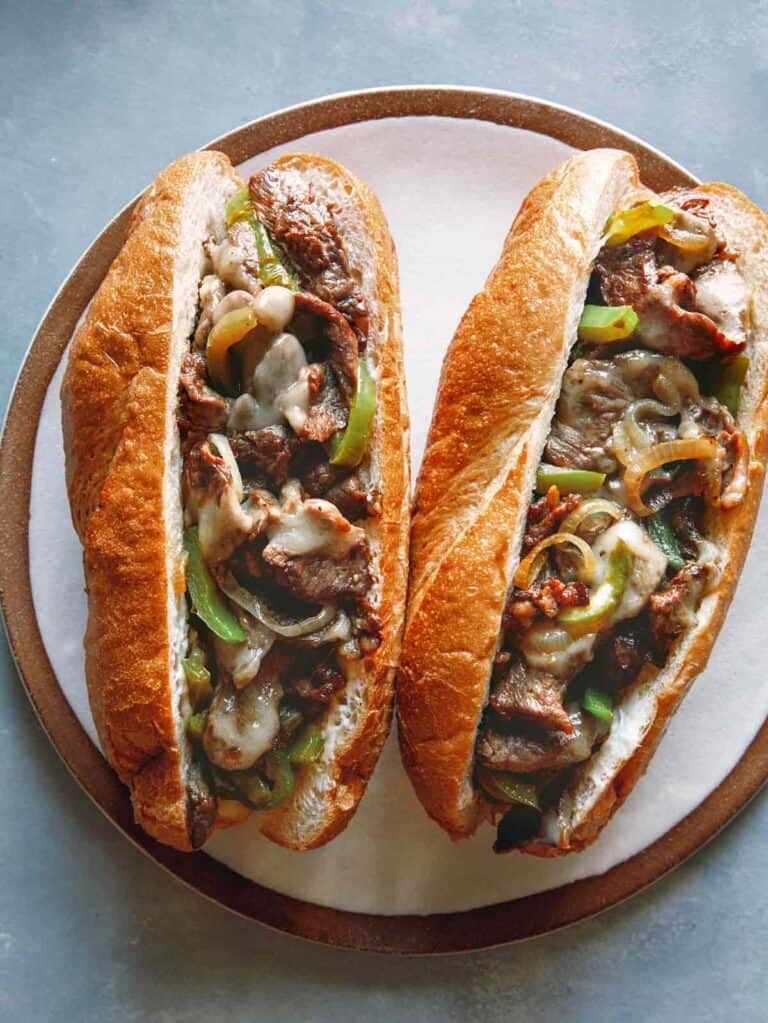 We use a traditional hoagie roll that's just slightly warmed (not toasted), but if you can't find them, you can use soft French bread as well. If you want your sandwich to have a bit of a kick we recommend cooking some thin strips of jalapenos with your pepper and onion mixture.
Everyone should run to their local market right now to buy the handful of basic ingredients for this ridiculously simple and delicious Philly cheesesteak sandwich! We promise you won't be disappointed!
Check out these other delicious sandwich recipes: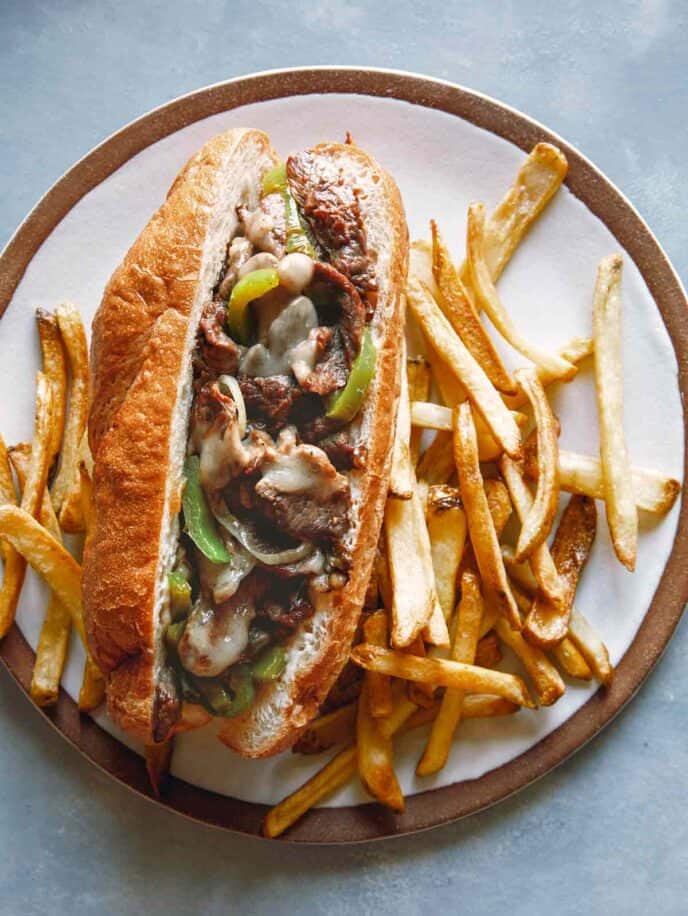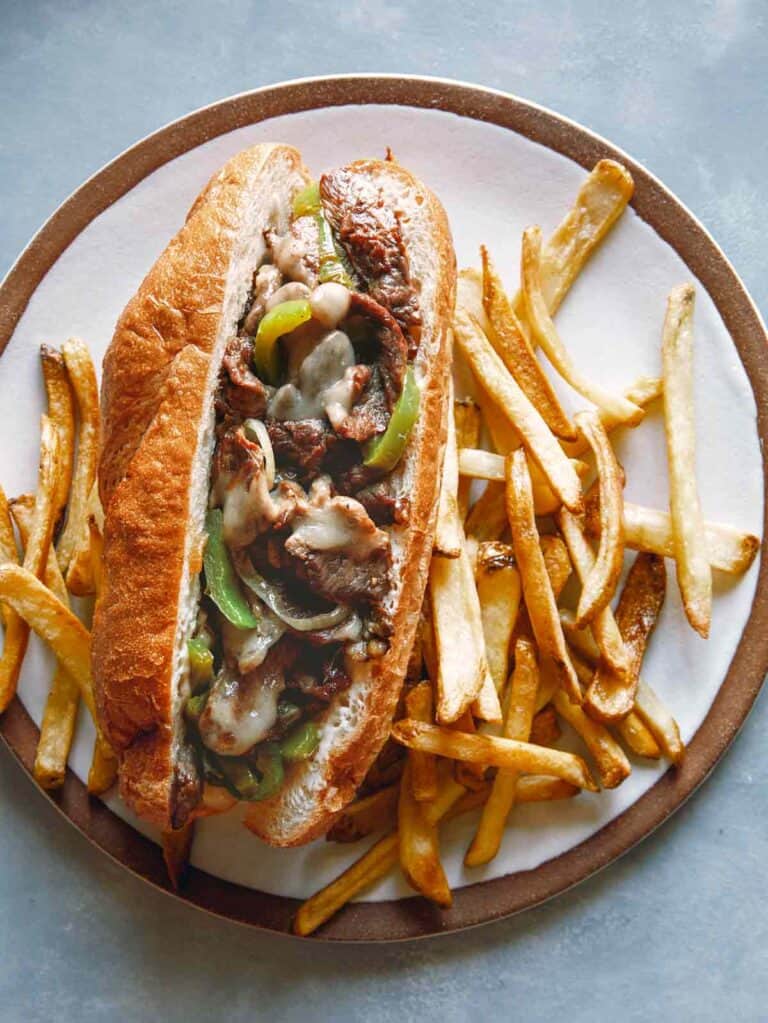 Hungry for more?
Subscribe to never miss a recipe.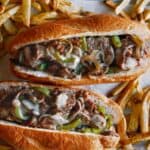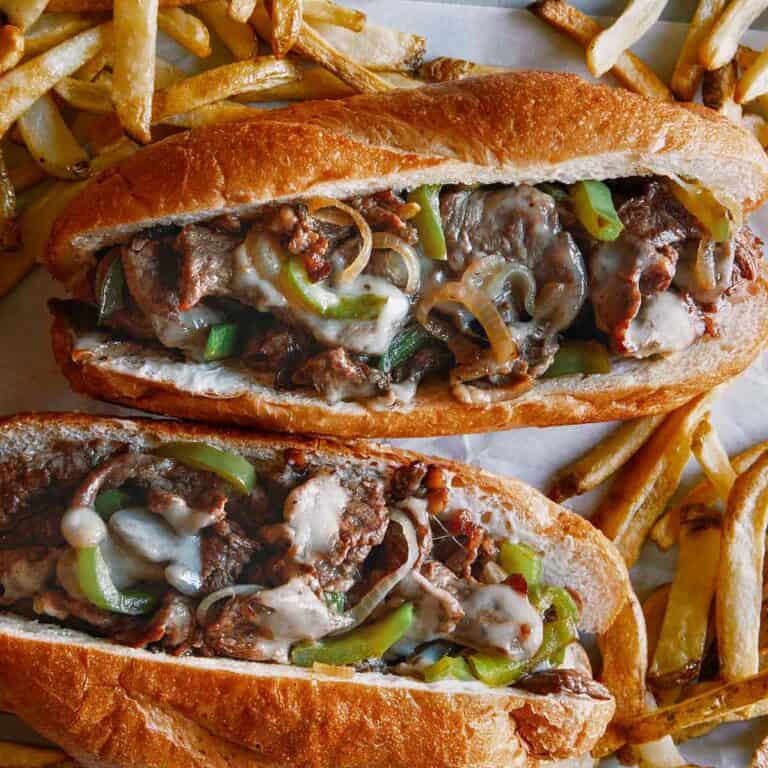 ---
Philly Cheesesteak
The best Philly Cheesesteak sandwich you'll ever taste! Our recipe Is so simple, delicious, rich, meaty, and cheesy! Our recipes comes together In just 35 minutes, making It a fantastic meal anytime of the week!
INGREDIENTS
1 1/2

pounds

very thinly sliced New Zealand grass-fed ribeye steak

2

tablespoons

unsalted butter

1/2

thinly sliced yellow onion

1

thinly sliced green bell pepper

1 1/2

tablespoons

vegetable oil

5

slices

provolone

6

tablespoons

mayonnaise

3

hoagie rolls

salt and pepper to taste
INSTRUCTIONS
Generously season sliced ribeye with salt and pepper. Set aside

Place a large skillet over medium heat and melt butter.

Add sliced onion and cook until lightly caramelized, 6 to 8 minutes.

Add sliced peppers and continue to cook until peppers soften, 3 to 4 minutes. Season with salt and pepper.

Transfer onion and peppers to a plate and return skillet to stove

Turn heat up to medium-high and add oil.

Add beef to skillet and sear until just barely cooked through, 3 to 4 minutes.

Add onions and peppers back to skillet and stir together until evenly distributed.

Place 3 slices of provolone on top of the beef mixture, add 1-2 tablespoons water to the side of the skillet and cover for 1 minute, allowing the steam to melt the cheese.

Stir mixture together, top with remaining slices of provolone, add 2 more tablespoons water to side of skillet and cover for another minute to melt cheese. Uncover and remove from heat.

Spread mayonnaise onto each hoagie roll and top with 1/3 of the beef mixture. Serve immediately.
NOTES
To get the beef very thinly sliced – stick the steaks in the freezer for about 20 minutes, until the steak is partially frozen. Once steak is partially frozen, use a sharp knife to thinly slice beef against the grain. 
Beef can be sliced up to a day ahead of time and stored in an airtight container in the refrigerator. 
Bell pepper and onion can be sliced up to 3 days ahead of time and stored in an airtight container in the refrigerator. 
Calories:
1029
kcal
Carbohydrates:
37
g
Protein:
60
g
Fat:
71
g
Saturated Fat:
28
g
Polyunsaturated Fat:
15
g
Monounsaturated Fat:
24
g
Trans Fat:
1
g
Cholesterol:
192
mg
Sodium:
869
mg
Potassium:
756
mg
Fiber:
2
g
Sugar:
7
g
Vitamin A:
711
IU
Vitamin C:
33
mg
Calcium:
274
mg
Iron:
15
mg
KEYWORD:
flat iron steak ideas, steak sandwich
COURSE:
dinner, lunch, Main Course