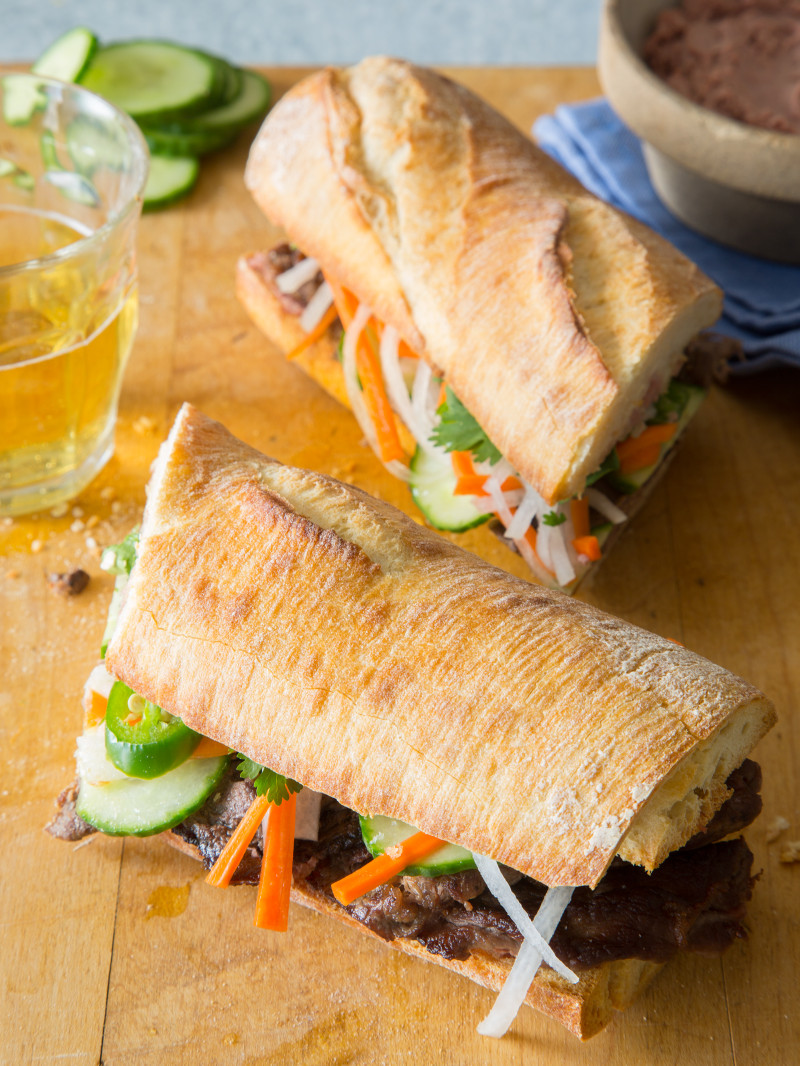 Banh Mi sandwiches might be my favorite sandwiches of all time….and that's a really bold statement for me to make because I LOVE sandwiches. My favorite part of any banh mi is probably the chicken liver pate. It's usually optional or "extra", and that's how we've written it today because I know it's not for everyone, but for me it makes the sandwich. There's so much going on in a banh mi aside from the protein, with the pickled veg, spicy jalapeno rings, crunchy cucumber, and super fresh, aromatic cilantro; it's a big reason as to why I think pate is totally necessary, it really helps to round all the flavors out and adds that much needed bit of richness. If you have a chicken liver pate recipe of your own that you love, use it! Otherwise you can easily fine ready-made pate's at local markets all over the place. I just recommend getting one that's mild in flavor. If you're having trouble finding pate and you don't want to make your own, liverwurst is another option that I actually enjoy on occasion and easily available.
BBQ pork tends to be my favorite protein on banh mi's, but I thought we'd change it up a bit and use thinly sliced, marinated beef rib-eye….cause why not, right? The marbling in the rib-eye helps to keep the meat from drying out during it's quick sear/cooking, which is why I prefer it over using something like eye of round. I like the lemongrass because it has a bright flavor which goes well with the other components in the sandwich.
If you're able to get a baguette from a vietnamese market, especially a freshly baked one, those are ideal. There's something about those 'super crisp on the outside and lighter than air on the inside' baguettes that really perfect an already amazing sandwich. If you're not able to score one of those perfect baguettes a bolillo roll works great….and if you have no luck finding those either a standard french baguette is just fine…but make sure it's a great quality baguette! I really hope you guys love this recipe as much as I do! Enjoy! xx, Jenny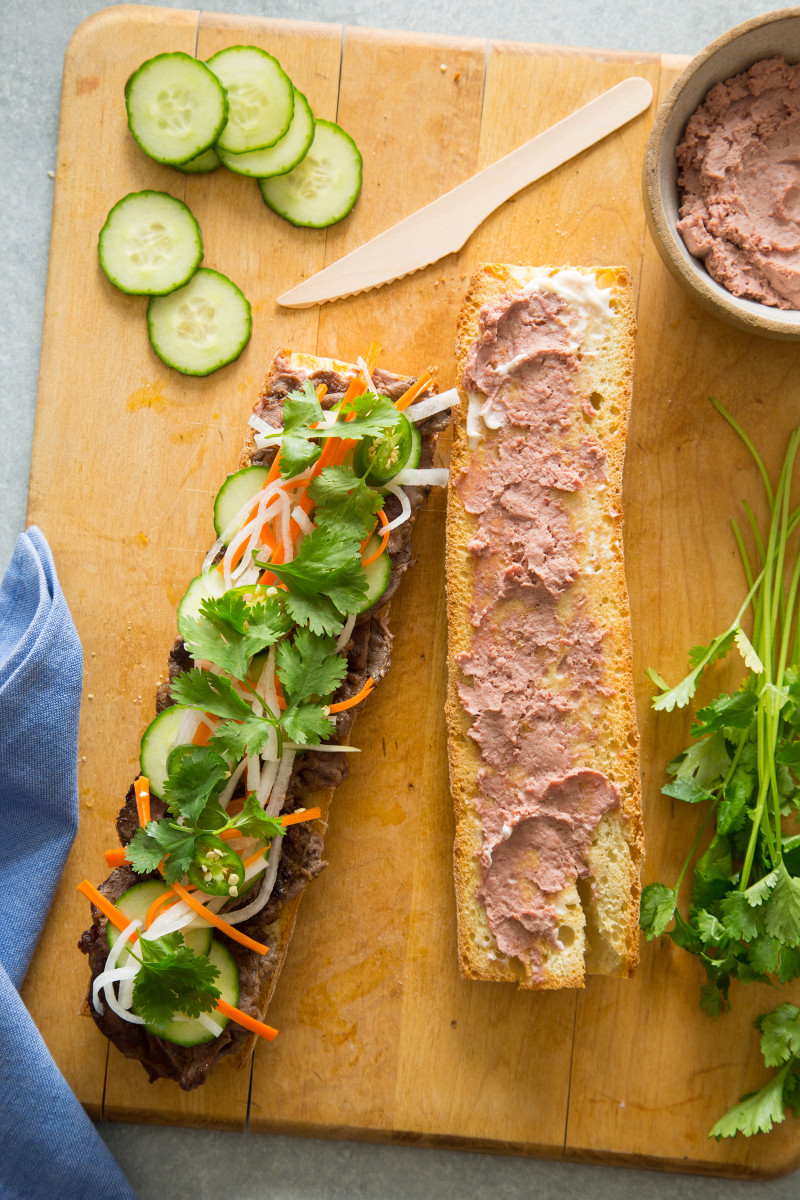 Here are some delicious sandwich recipes you might like: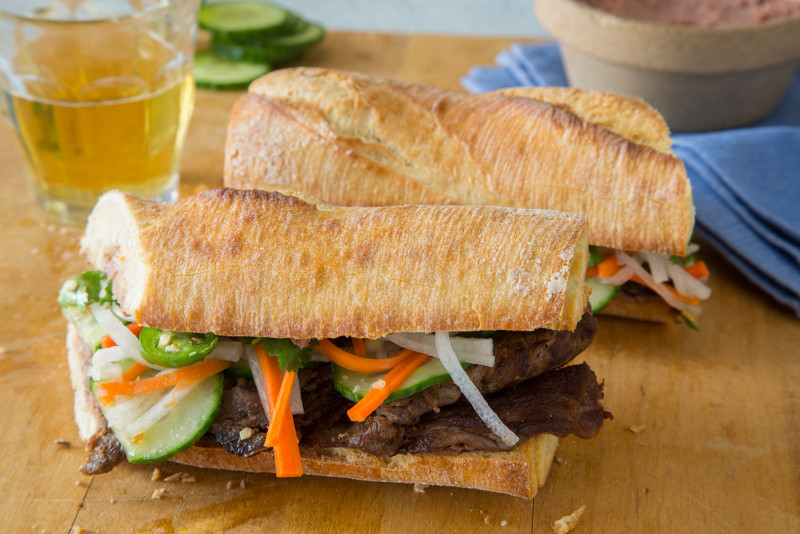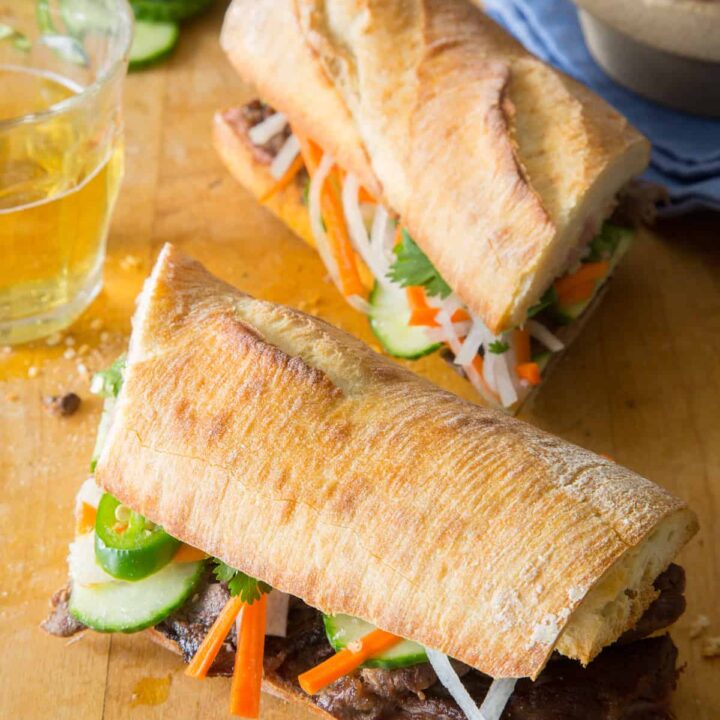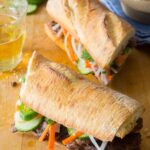 ---
Lemongrass Beef Banh Mi Sandwich
INGREDIENTS
pickled daikon and carrot
1

cup

tightly packed julienne daikon radish

1

cup

tightly packed julienne carrot

3

cups

warm water

½

cup

distilled vinegar

2 ½

tablespoons

sugar

2

tablespoons

salt
lemongrass beef
1

pound

thinly sliced rib-eye steak

3

tablespoons

soy sauce

1

tablespoon

minced lemongrass

2

teaspoons

rice wine vinegar

1

teaspoon

honey

1

teaspoon

minced ginger

½

teaspoon

white pepper
ingredients
4

10" French baguettes, trimmed

mayonnaise

chicken liver pate

optional

thinly sliced cucumber

thinly sliced jalapenos

optional

cilantro sprigs
INSTRUCTIONS
For pickles: Place water, vinegar, sugar and salt in a large pitcher and stir together until liquid dissolves. Mix together daikon and carrot and divide into 2 large jars. Pour vinegar mixture into each jar, until the vegetables are fully submerged. Seal and refrigerate. (these will yield the best results when made 1 day ahead of time)

For beef: Place all ingredients, except beef, into a mixing bowl and whisk together. Add beef and gently fold together until all the beef is marinated. Cover and refrigerate for 30 minutes.

Heat a skillet over medium-high heat and l lightly grease with oil. Add beef and cook for 2 to 3 minutes on each side and remove onto a plate. Set aside.

To assemble: Slice each baguette and smear both cut sides with mayo and pate (if using). Top the bottom half of the baguette with the beef, followed by some sliced cucumbers, jalapenos (if using), pickled daikon and carrot, and cilantro sprigs. Close sandwich with top half of the baguette and gently press together. Repeat until all banh mi's have been made. Serve.
Calories:
983
kcal
Carbohydrates:
140
g
Protein:
47
g
Fat:
25
g
Saturated Fat:
9
g
Cholesterol:
69
mg
Sodium:
5872
mg
Potassium:
785
mg
Fiber:
8
g
Sugar:
13
g
Vitamin A:
5363
IU
Vitamin C:
8
mg
Calcium:
230
mg
Iron:
10
mg