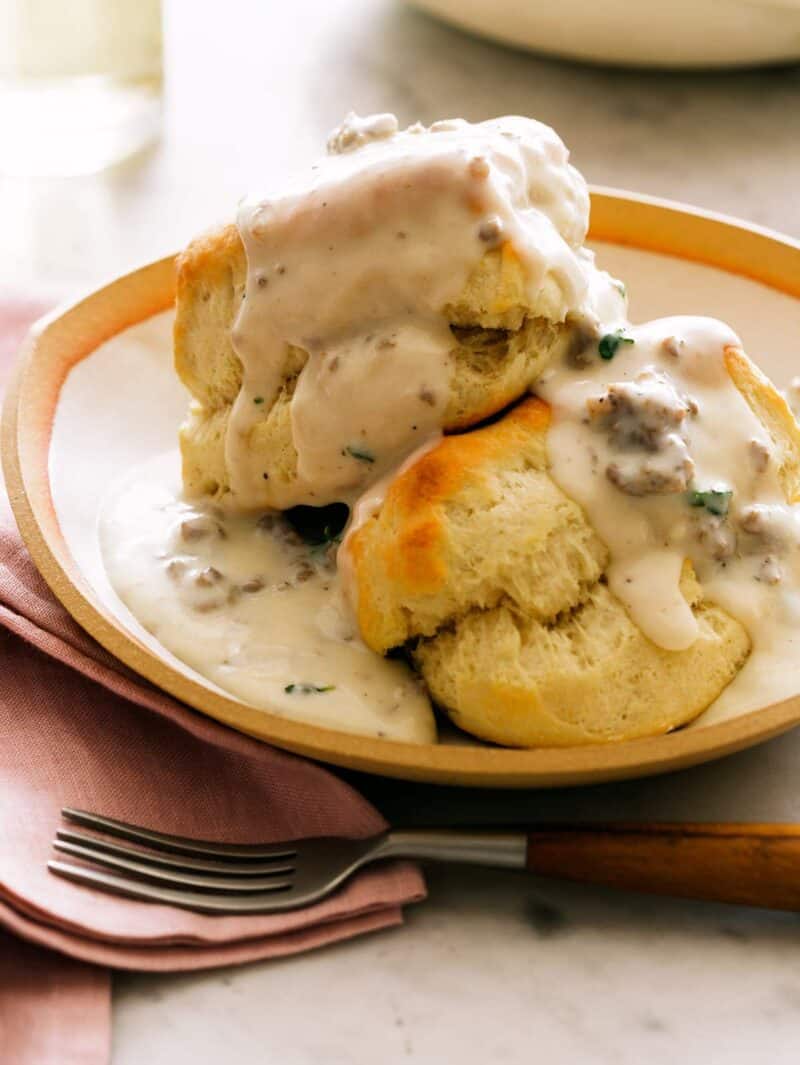 Today we have an Easy Biscuits and Gravy recipe that is just so comforting and delicious. A perfect recipe to look forward to making this weekend.  There was a time, a couple years ago, when every time I went out to breakfast or brunch and had an opportunity to order biscuits and gravy, I did…as a side dish…to my "actual" meal. Not the healthiest choice, but I was determined to try all the biscuits and gravy, really just to try all the biscuits and gravy. After trying a bunch, with a wide variety of flavors and textures I think my favorite type of biscuits and gravy overall is one with a super tall, crisp on the outside and super soft and buttery on the inside biscuit with a 'no-frills' creamy sausage gravy.
How to make biscuits and gravy from scratch?
We have made our Homemade Biscuits and Gravy recipe easy and simple so you can have biscuits and gravy in about XX minutes! All it takes are 5 easy steps.
1. Make the biscuits. It rolling and cutting dough isn't your thing, no problem! Try our Sour Cream and Chive Drop biscuit recipe. These fluffy biscuits are easy to make. Mix you dry ingredients, add the butter and shortening, then stir in cream. Then it's all about kneading and cutting the biscuits out and baking them!
2. Sauté garlic, then sausage.
3. Melt butter, whisk in flour and cook. Then whisk in milk.
4. Stir back in sausage and garlic.
5. Pour gravy over biscuits and enjoy!
What to serve with Biscuits and Gravy?
Biscuits and gravy is a full meal in itself. Traditionally it's served for breakfast, but we also love this recipe for dinner! Here are some ideas for what goes well with Biscuits and Gravy:
– A simple side salad
– Roasted Vegetables
– Eggs – Fried or over easy, or even scrambled.
– Fruit Salad
Make ahead and freezing Biscuits and Gravy
You can make ahead Biscuits and Gravy easily.
For the Biscuits:
– You can bake them ahead of time and store them in an airtight container for up to three days. When you are ready to serve, just pop them into the microwave for about 30 seconds to warm up.
– To freeze the biscuits: Place the uncooked biscuits onto a baking sheet as if they were going into the oven. Place them in the freezer until full frozen (about 2 or 3 hours), then transfer to an airtight bag such as a ziplock and store in the freezer for up to three months. Then bake when you are ready to use!
For the Gravy:
– Make the gravy ahead of time and store in an airtight container in the refrigerator for up to three days. When you are ready to serve, reheat on the stove until warmed all the way through.
– To freeze the gravy: Make gravy and let it come to room temperature. Place in an airtight container in the freezer for up to three months. When you are ready to reheat, place the gravy on the counter for 6 hours to thaw. Then reheat on the stove until warmed through.
Tips for making Biscuits and Gravy
– When you are making the biscuits, be sure not to over-knead your dough. The biscuits will become dense and tough.
– It is best to stick with whole milk (or even cream for an extra indulgent gravy) for this recipe, but if you cannot have dairy, you can use milk alternatives such as almond or oat milk. The flavor will vary slightly.
– If you don't want to use sausage in your gravy you can substitute with mushrooms for a vegetarian version, bacon, or ground turkey for a lighter version.
– It is best to serve this dish when everything is warm! The fluffy biscuits will soak up the delicious creamy sausage gravy better when they are fresh.
If you love making biscuits we love this pretty dough scraper from Food52!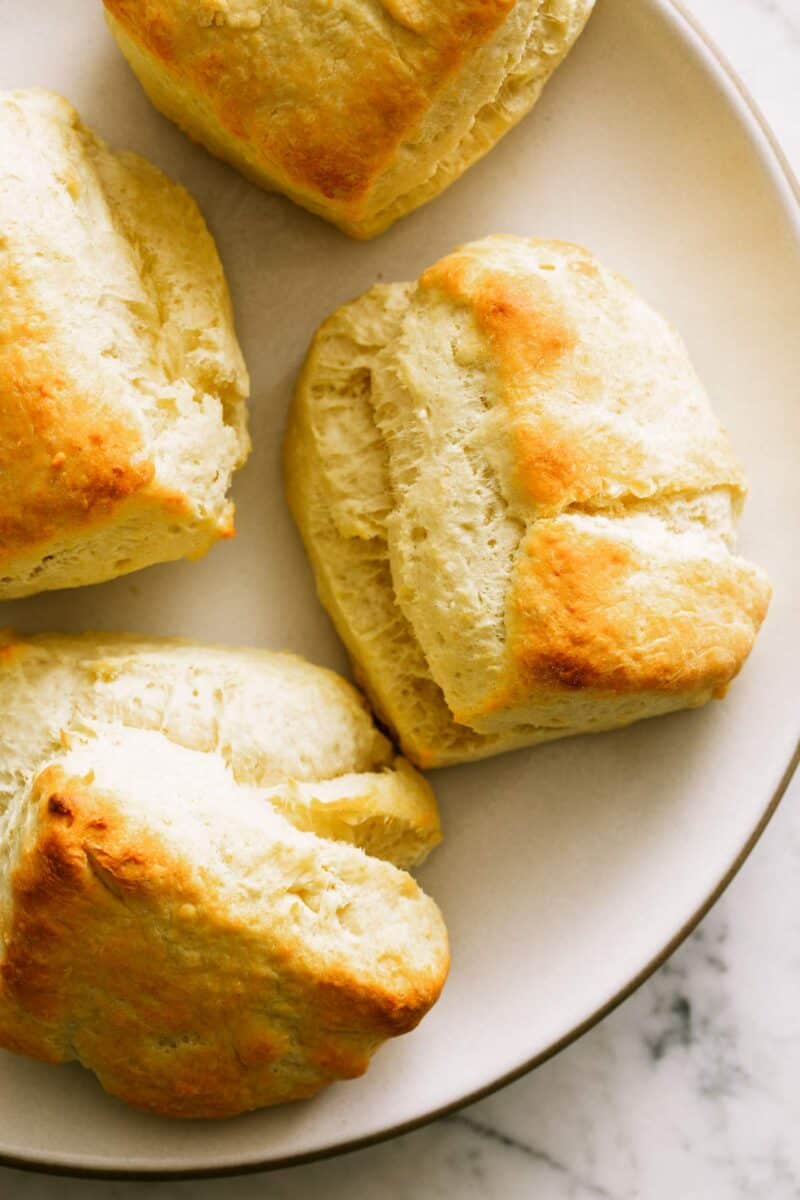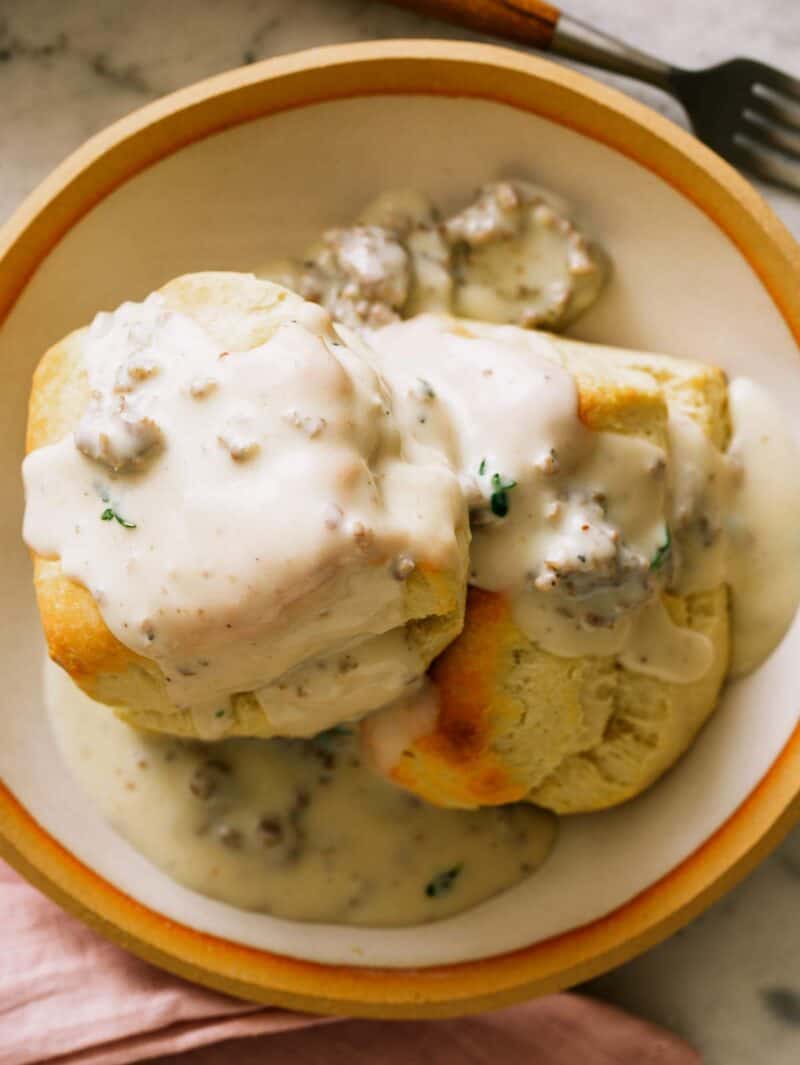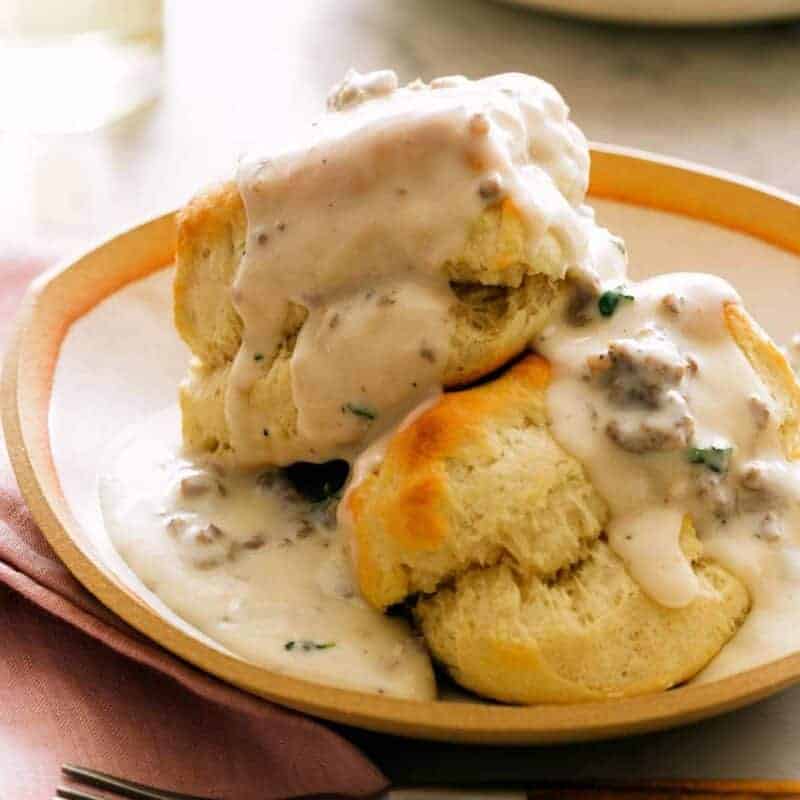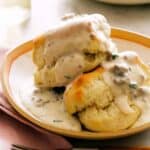 ---
Easy Biscuits and Gravy recipe
Our easy and classic Biscuits and Gravy recipe is a deliciously comforting meal. We love how the fluffy biscuits soak up the creamy sausage gravy.
INGREDIENTS
biscuits
2

cups

all purpose flour

2

tsp

baking powder

1/4

tsp

baking soda

1 1/4

tsp

salt

6

tbsp

cold unsalted butter

cut into small cubes

4

tbsp

shortening

3/4

cup

buttermilk

plus more for brushing
sausage gravy
1

tbsp

extra virgin olive oil

1

garlic clove

minced

6

ounces

breakfast sausage

3

tbsp

unsalted butter

2½

tbsp

all purpose flour

1⅓

cup

whole milk

salt and pepper to taste

1

tbsp

sliced chives

optional

1

tsp

minced thyme

optional
INSTRUCTIONS
biscuits
Place flour, baking powder, baking soda, and salt in a mixing bowl and whisk together. Add butter and shortening and cut into the dry mixture, until a coarse mealy texture forms. Stir in buttermilk until just incorporated and turn mixture out onto a clean and lightly floured surface. Knead until a dough just comes together, make sure not to overwork.

Press dough together to form a 1 inch thick square and cut dough into 4 equal pieces. Place biscuits onto a parchment lined baking sheet.

Brush the surface of each biscuit with buttermilk. Place in the oven and bake for 20 to 25 minutes or until biscuits have risen and are golden brown.

Set aside and allow biscuits to cool slightly, about 5 to 7 minutes.
sausage gravy
Pour oil into a saucepan and place over medium-high heat. Add garlic and sauté for 1 minute. Add sausage and continue to sauté, while crumbling the sausage.

Once the sausage has browned, about 3 to 4 minutes, remove from heat and set aside. Drain grease from saucepan.9. Add butter and melt. Whisk in the flour and continue for 2 to 3 minutes to cook out the raw flour taste.

Whisk in the milk until no lumps remain. Season with salt and pepper. Lower heat to medium and continue to stir until gravy thickens, about 4 to 5 minutes. Stir sausage mixture back into the gravy and add herbs, if using.

Simmer gravy for 2 to 3 minutes and adjust seasoning.

To serve, place biscuits onto a platter or individual, shallow dishes and cover with sausage gravy. Serve immediately.
Calories:
827
kcal
Carbohydrates:
58
g
Protein:
18
g
Fat:
58
g
Saturated Fat:
26
g
Cholesterol:
112
mg
Sodium:
1407
mg
Potassium:
340
mg
Fiber:
2
g
Sugar:
7
g
Vitamin A:
1069
IU
Vitamin C:
1
mg
Calcium:
300
mg
Iron:
4
mg
COURSE:
Breakfast, brunch, dinner