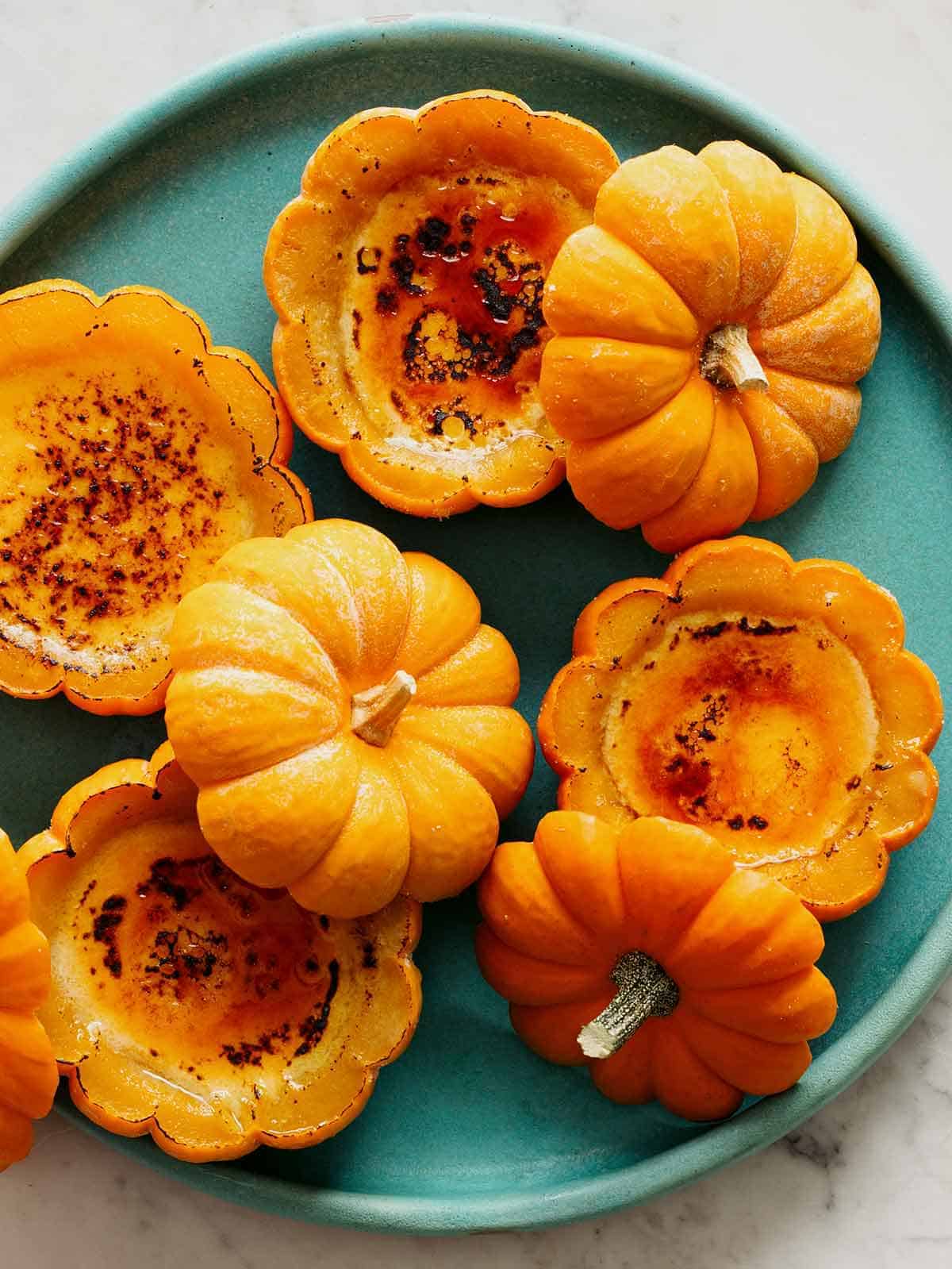 We love pumpkin and pumpkin season so we thought a round up of Our Favorite Pumpkin Recipes would be appropriate for you all today! This round up has a nice mix of both sweet and savory recipes from snacks/appetizers, full meals and sweet treats! We hope you enjoy it!
Breakfast and Brunch Pumpkin Recipes
Pumpkin Spiced Waffles: These simple waffles are crisp on the outside, fluffy on the inside and filled with delicious pumpkin spiced flavor! Enjoy with warm butter and Maple syrup!
Cheesy Pumpkin Pancakes: This pumpkin pancake recipe is savory and we're here for it! Light, fluffy and packed with all the cheesy pumpkin flavor you could want! Top them with a fried egg for an extra decadent breakfast!
Pumpkin Butter: This sweet pumpkin butter is SO good! It's perfect to smear a thick layer over toast, waffles, and pancakes! Enjoy it with a cup of coffee or tea. It's such a delicious breakfast condiment, but it's also really good to dollop over scoops of vanilla ice cream. Just saying.
Appetizer and Snack Pumpkin Recipes
Creamy Pumpkin Soup: There's nothing more fall and cozy than a big bowl of this creamy pumpkin soup. It's easy to make and is filled with so much savory pumpkin goodness. Don't skip out on those seedy Parmesan crisps either, they're perfect to crumble over the silky smooth soup!
Pumpkin Cornbread: If you're looking for something else to dip with your pumpkin soup, try our pumpkin cornbread! It's soft, fluffy and delicious! We baked them in mini cast iron skillets for fun individual servings, but you can also make these recipe in a full size one!
Roasted Pumpkin Hummus: We love a great hummus and our roasted pumpkin hummus utilizes all the excess sugar pumpkins most of us probably have laying around after halloween. We topped it with all the beautiful and delicious things and love serving it with crudités!
Pumpkin Beer Cheese Soup: Yep, you read that correctly! We love beer cheese soup and this pumpkin beer cheese soup is delicious! It is creamy, cheesy and has a subtle pumpkin flavor that we love. Top it with buttery croutons for a crunchy contrast to finish it off, or pair it with our Cheesy Herb Beer Bread.
Dinner Pumpkin Recipes
Pumpkin Risotto with Seared Scallops: This is probably one of our favorite fall dinners to indulge in! The risotto is perfectly creamy and al dente and goes so well with the buttery and sweet seared scallops. The bits of candied pancetta really knock this recipe out in the best way possible!
Vegan Baked Spaghetti Squash with Pumpkin Alfredo: When you feel like a deliciously creamy fall pasta dish, but also want to try and keep things somewhat light, you can make our vegan baked spaghetti squash recipe! The squash is roasted in the oven and finished with a lusciously, silky smooth (and vegan!) pumpkin infused alfredo sauce. We promise you won't even be able to tell there's no cream, butter or cheese!
Pumpkin Mac and Cheese: This pumpkin mac and cheese is not only delicious, but can be made in under 30 minutes! It's the perfect weeknight meal for busy nights or when you just don't want to spend hours in the kitchen. Eat it as is or throw some shredded chicken on top and serve with a simple side salad for a complete meal!
Dessert Pumpkin Recipes
Baked Pumpkin Doughnuts: These baked pumpkin doughnuts are one of our favorite treats! Dipped in a sweet maple glaze and finished with a healthy coat of toasted coconut, these fluffy doughnuts require no frying and are filled with delicious pumpkin-cinnamon flavor! We use these pans to make these simple baked doughnuts!
Pumpkin Crullers: These pumpkin flavored crullers dipped in a vanilla bean glaze are insanely delicious. We love the crisp out texture and almost custard-like insides. Enjoy them with a glass of hot cider!
Pumpkin Bars: Our simple and delicious Pumpkin Bars are topped with our favorite cream cheese frosting and are so easy to make.
Pumpkin Cake with Pistachio Glaze: This pumpkin bundt cake is delicious, easy to make, moist, light, fluffy, and serves a crowd. The thin pistachio glaze is like the perfect hug around the cake, adding a subtly sweet and nutty finish to the cake!
Marbled Pumpkin Cheesecake Bars: These marbled pumpkin cheesecake bars are so decadent! We love cutting them into bite sized pieces and serving them to a crowd.
Pumpkin Pie with a Chocolate Crust: We couldn't have a pumpkin recipe round up without including our pumpkin pie with a chocolate crust! The chocolate crust is a keeper for sure! It pairs so well with the pumpkin pie filling and is a unique variation from the traditional pastry crust.
We seriously love how diverse pumpkin is and how it can be incorporated into both sweet and savory dishes. We also love that it's something that can be eaten at anytime of the day. If you love pumpkin recipes as much as we do, you'll also love our other Pumpkin Hummus recipe (but one that uses canned pumpkin!), our Pumpkin Mousse and our Pumpkin Crème Brûlée, Doughnuts. Enjoy!
Check our our Fall Inspired Tablescape perfect for the holidays that utilizes pumpkins as the decor!
Check out more of our round ups:
Check out our Best Pumpkin Recipes Google Web Story.