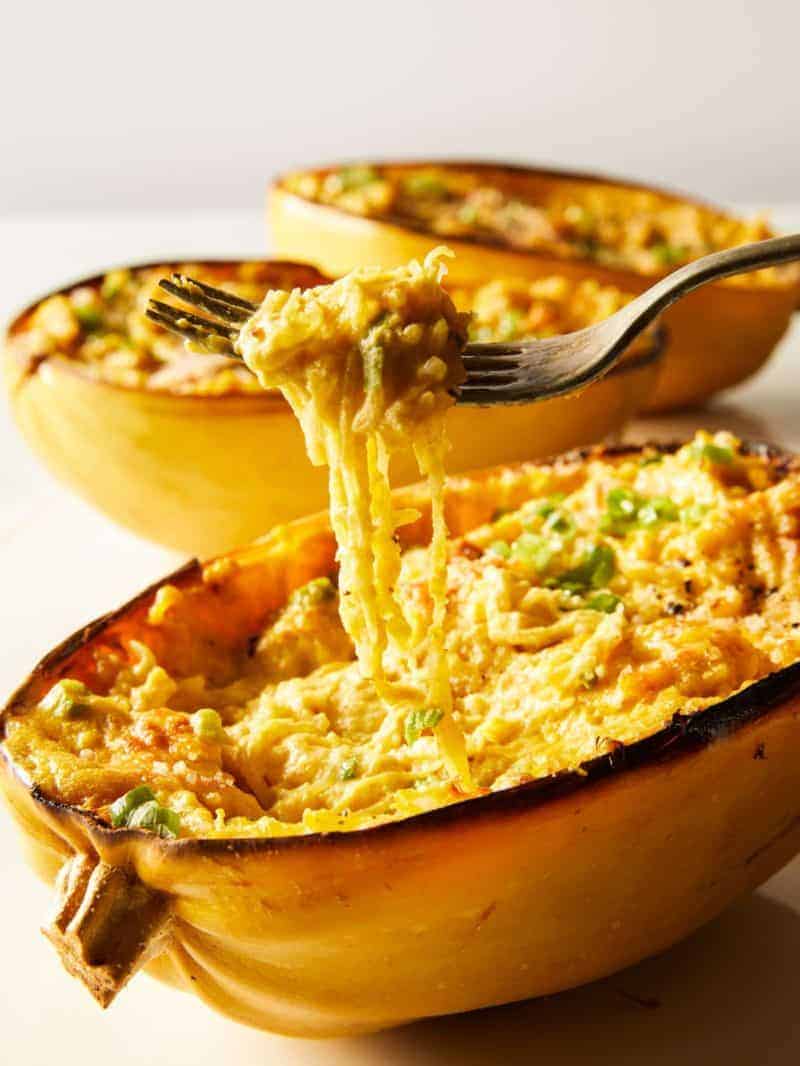 I love spaghetti squash, especially when Jenny makes a magical creamy VEGAN alfredo to saturate it with. We added pumpkin too because it's fall and we are apart of the basic girl pumpkin fan club. Ok but this does really taste super creamy, and actually pretty filling because it is quite a bit of squash. I love that making 4 servings isn't a huge deal either. Easy! Done! Happy fall!
♥ Teri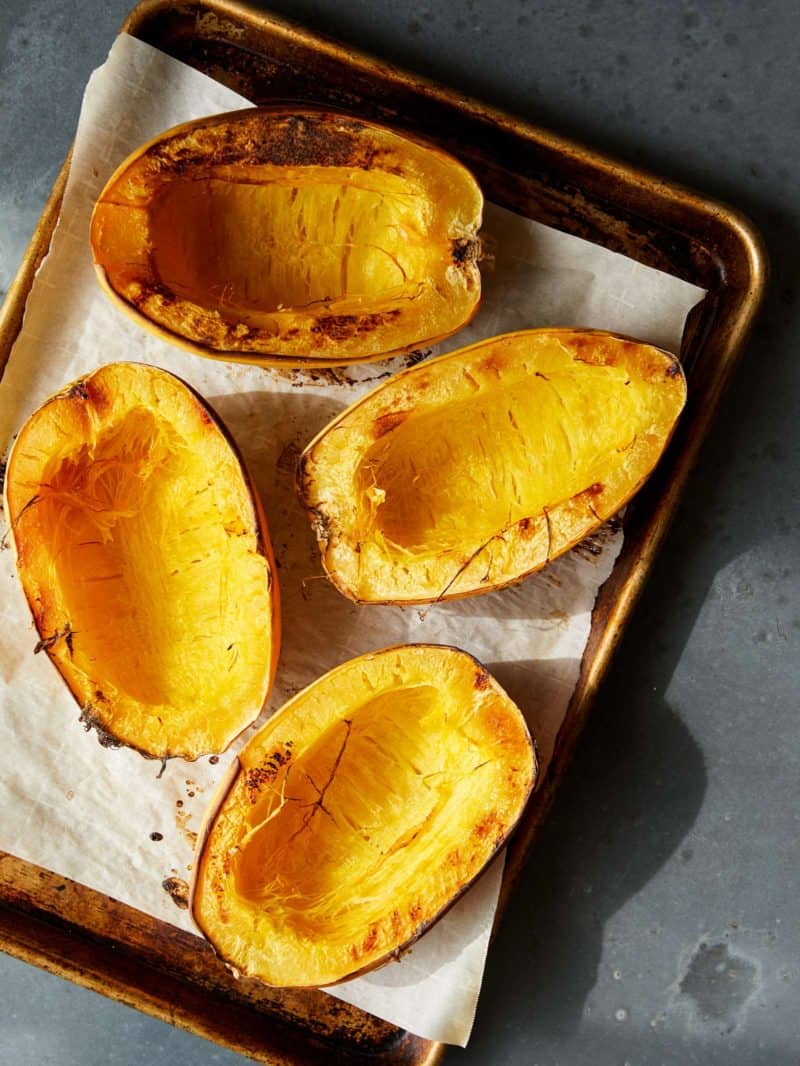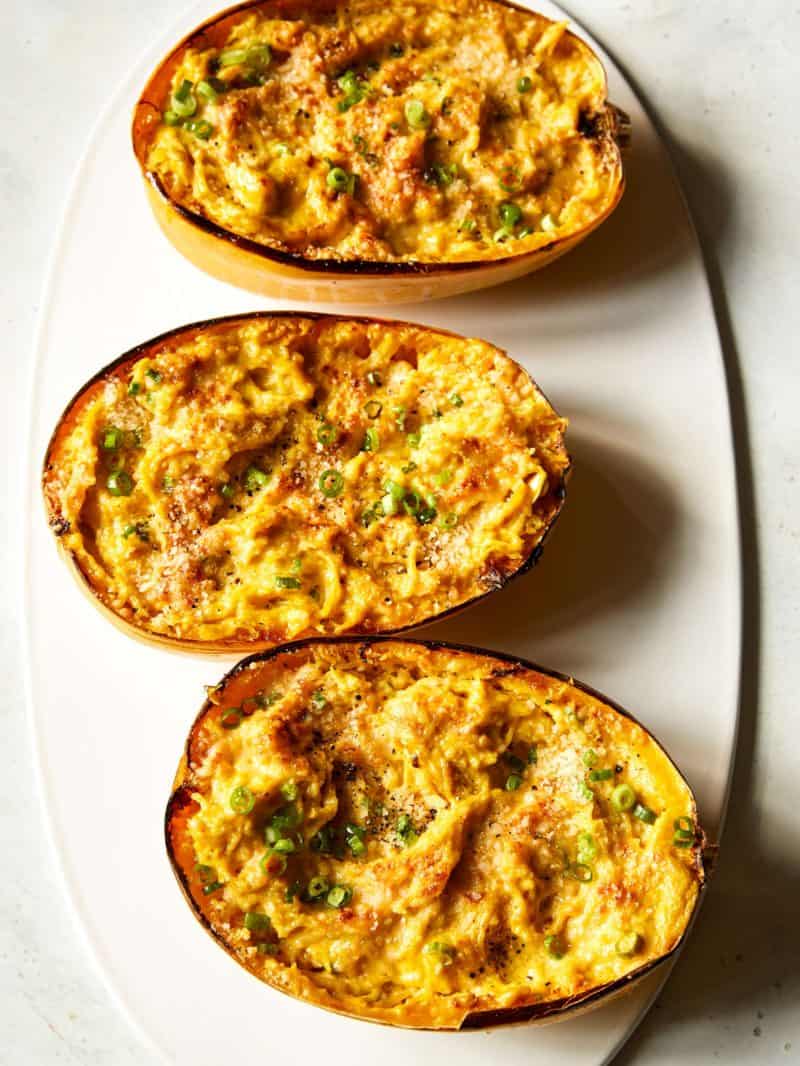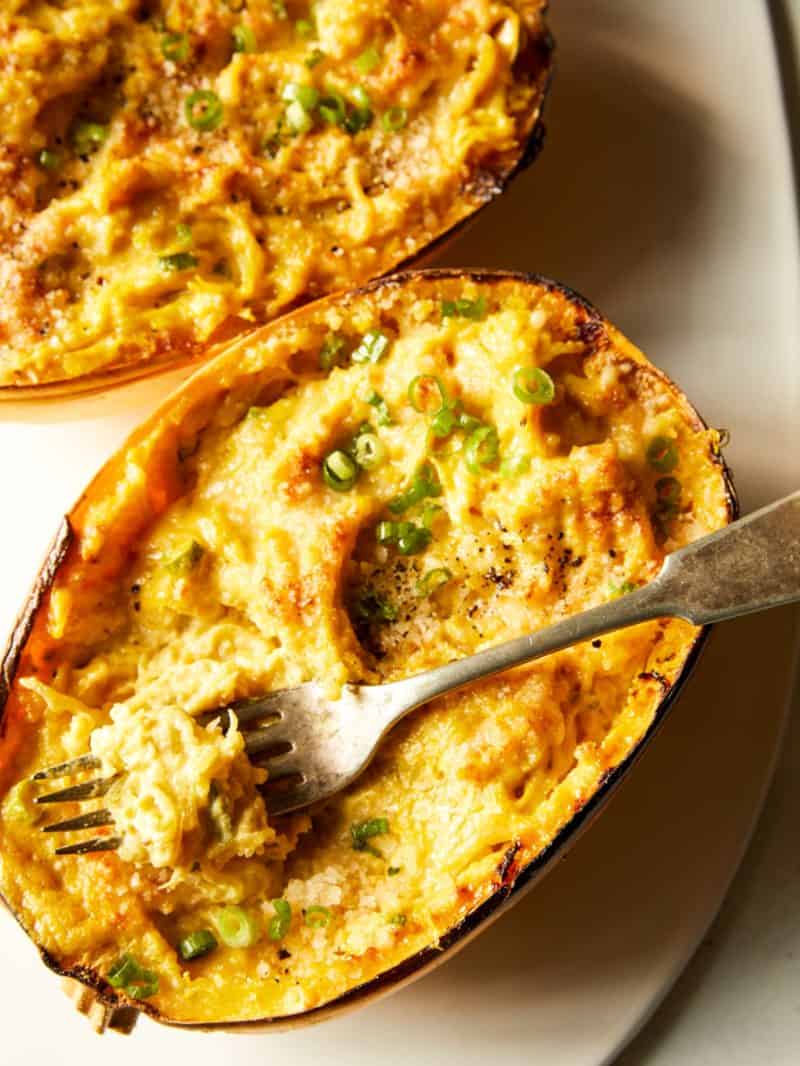 Vegan Baked Spaghetti Squash with Pumpkin and Green Onion Alfredo

Serves 2

Ingredients:
1 medium spaghetti squash
1 tablespoons extra virgin olive oil
1 shallot, minced
1 garlic clove, minced
1 1/2 cups raw cashews (soaked in 2 cups water for 1 hour)
2/3 cup pumpkin puree
3 tablespoons nutritional yeast
2 tablespoons grated, vegan Parmesan
2 green onions, thinly sliced
salt and pepper to taste

Directions:
1. Preheat oven to 375˚F.
2. Slice squash in half lengthwise and place onto a baking sheet, cut side down and roast for about 1 hour or until squash becomes fork tender.
3. Allow squash to cool for about 15 minutes, before scraping the flesh out with a fork, making sure to keep the peels intact. Place squash innards in a mixing bowl, lightly season with salt and pepper and set aside.
4. Add oil to a small skillet and place over medium heat. Add shallots and garlic and sauté for 3 to 4 minutes.
5. Remove from heat and transfer to a blender. Drain cashews and add to blender along with 1 1/2 cups water, pumpkin puree and nutritional yeast. Blend until mixture is smooth. Season with salt and pepper and add more water, if needed. Pulse a few times
6. Add spaghetti squash to the skillet and toss together with alfredo sauce and half of sliced green onion. Adjust seasonings and stuff hollowed squash peels with squash mixture.
7. Top each stuffed squash with a sprinkle of vegan Parmesan.
8. Place squash until a broiler and broil for about 2 minutes or until the tops of each squash brown and bubble.
9. Top each stuffed squash with more vegan Parmesan and thinly sliced green onion and serve.