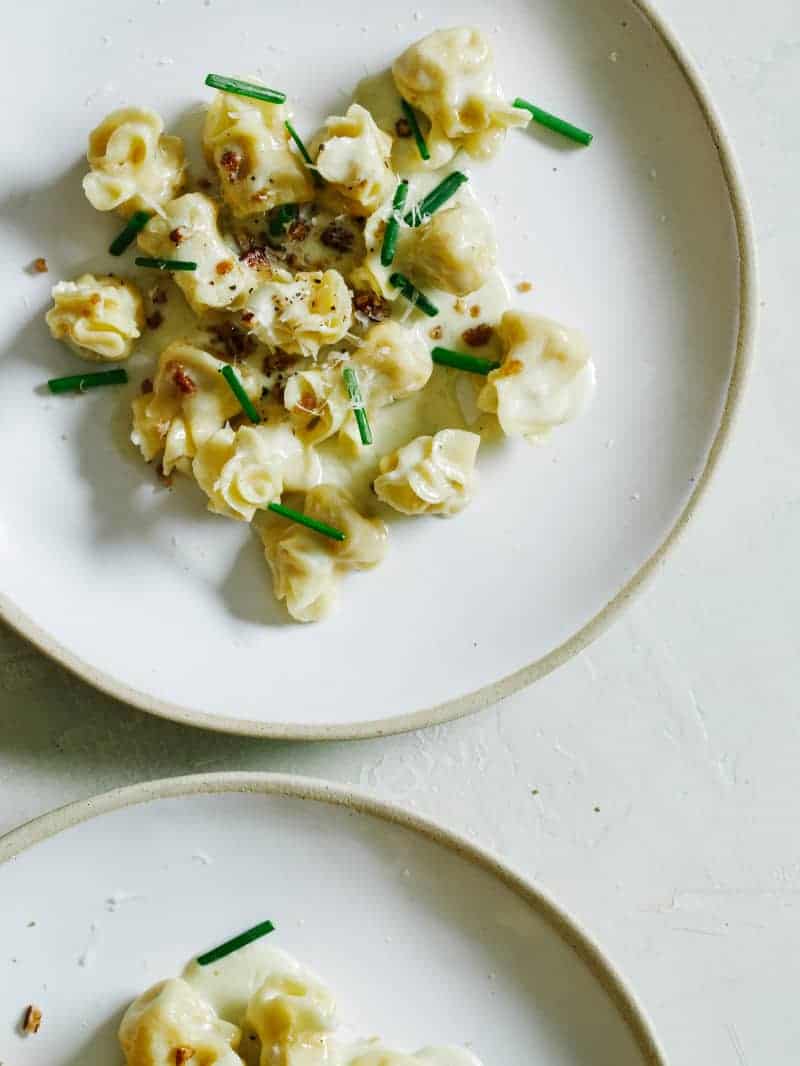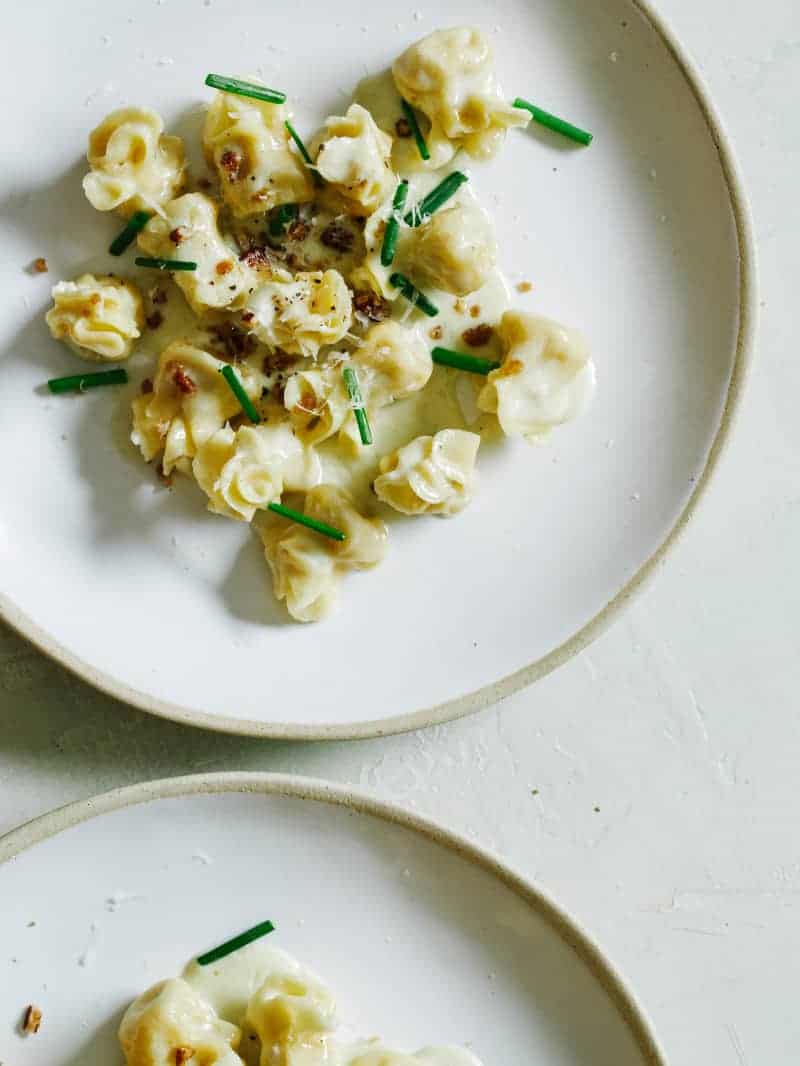 I really enjoy making homemade pasta (I know I've said this before), but like how some people find doing the dishes therapeutic, I find making and stuffing pasta from scratch gives me that same sort of therapeutic feeling. Today's stuffed pasta dish is our Caramelized Apple and Herb Fiocchi with a Gorgonzola Cream Sauce.
I love using apples in savory applications as much as I do sweet, if not even more. This recipe is a little labor intensive, but for the most part pretty easy and not complicated; and although the task of bundling 50 of these guys seems daunting, they freeze tremendously well, so I recommend sticking on your favorite show or podcast, zoning out while stuffing a bunch of these guys, and you'll basically have made several batches of fiocchi that you can enjoy throughout the winter! Enjoy! xx, Jenny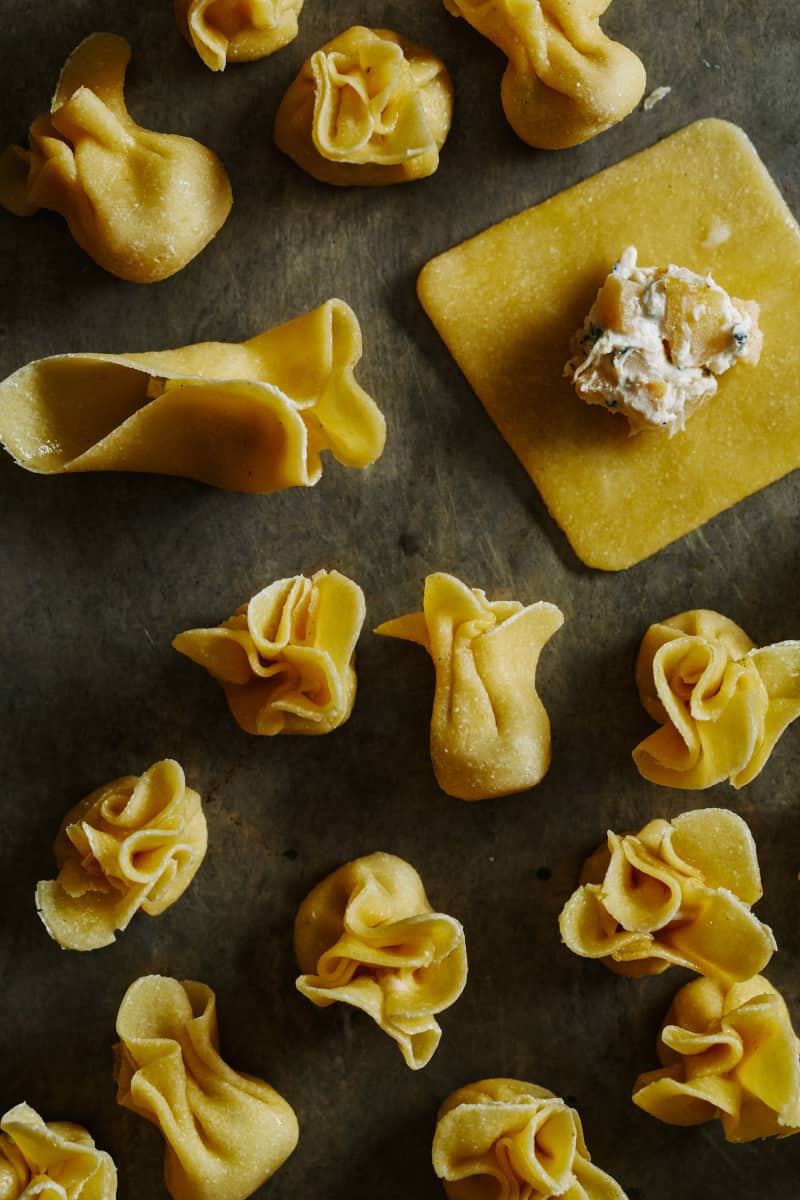 Hungry for more?
Subscribe to never miss a recipe.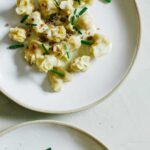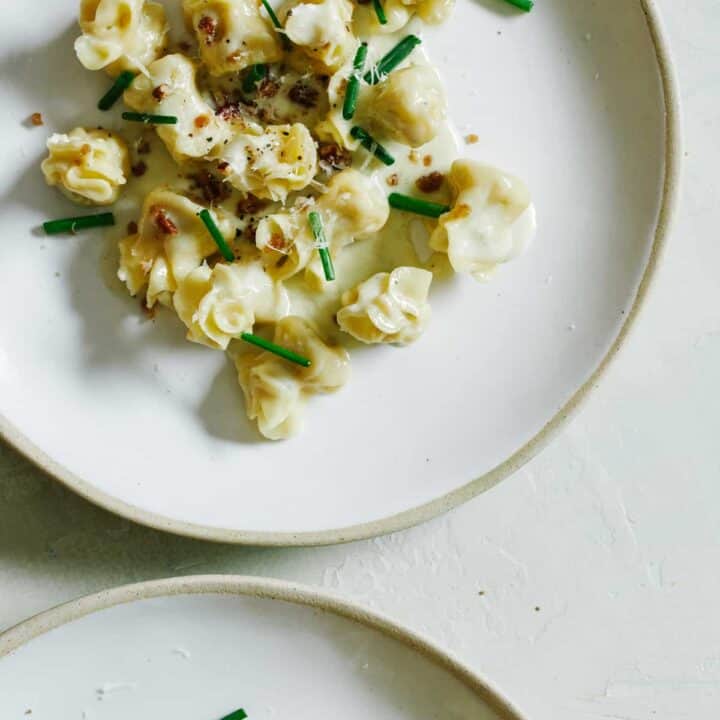 ---
Caramelized Apple and Herb Fiocchi with a Gorgonzola Cream Sauce
INGREDIENTS
filling
2 ½

tablespoons

unsalted butter

½

yellow onion, thinly sliced

1

apple (such as gala or jazz), very finely diced

4

ounces

mascarpone, softened

2

ounces

ricotta, drained

1 ½

tablespoons

minced thyme

salt and pepper to taste

1

egg, beaten
gorgonzola cream sauce
2

tablespoons

unsalted butter, softened

2

tablespoons

minced shallots

1

garlic clove, minced

⅔

cup

dry white wine

1

cup

heavy cream

2 ½

ounces

crumbled gorgonzola

salt and pepper to taste
stovetop candied pecans
2

tablespoons

unsalted butter

⅔

cup

chopped pecans

3

tablespoons

light brown sugar

pinch salt
INSTRUCTIONS
Make pasta dough recipe according to instructions. After allowing dough to rest, roll out into a thin sheet and cut out 50 (1 ½ inch squares). Cover with a towel and set aside.

Filling: Place a sauté pan over medium heat and melt butter. Add onions and caramelize for 15 to 20 minutes. Add apples and continue to caramelize for an additional 6 to 7 minutes.

Pour apple and onion mixture into a mixing bowl and allow to cool, about 15 minutes.

Add the remaining filling ingredients to the mixing bowl and thoroughly mix together. Season with salt and pepper.

To assemble fiocchi: Brush the top of a pasta square with the egg wash and place a small amount of filling in the center. Taking all the corners, bunch the corners together, so you create pasta "pouch" and then pinch to seal shut. Repeat until all of the fiocchi have been filled. (bring a large pot of salted water to a boil and add fiocchi and cook until fiocchi float to the top, a few minutes).

Gorgonzola Cream Sauce: Place a large skillet over medium-high heat and melt butter. Add shallots and garlic and continue to sauté for 3 to 4 minutes. Season with salt and pepper. Deglaze the pan with wine and reduce the heat to medium. Add cream and reduce by ⅓. Stir in the gorgonzola until smooth and sauce has thickened. Adjust seasonings.

Add cooked fiocchi to the gorgonzola cream sauce and simmer for 2 to 3 minutes. Top with sliced chives, crushed candied pecans and serve.
Stovetop candied pecans
Melt butter in a skillet, over medium heat. Add pecans and toss together. Sprinkle brown sugar over the mixture and toss together.

Continue to cook together for 2 minutes or until sugar melts and a thickened glaze has formed around the pecans. Add a pinch of salt and toss together. 

Transfer pecans to a parchment lined baking sheet and allow pecans to cool completely. Once cooled, break apart and crush over fiocchi dish.