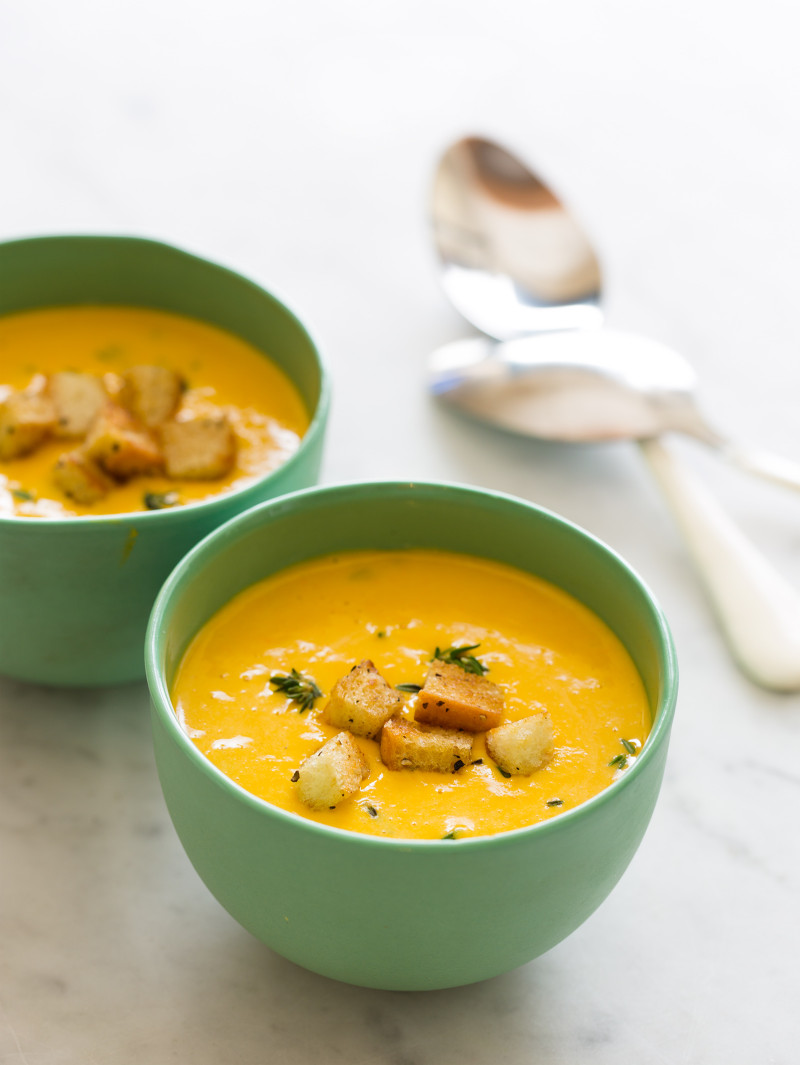 Hi! We know everyone is thinking "ok, enough with all the pumpkin stuff," and yes, I agree. When you start having a whole section dedicated to pumpkin stuff at the grocery store, it's starts to get overwhelming. Which is why we thought this was a good time to remind you of this pumpkin beer cheese soup recipe we have, because it's a good one. And just because everyone is all negative about pumpkin stuff doesn't mean you can't still have a couple of amazing savory pumpkin recipes in your collection. :)
♥ Teri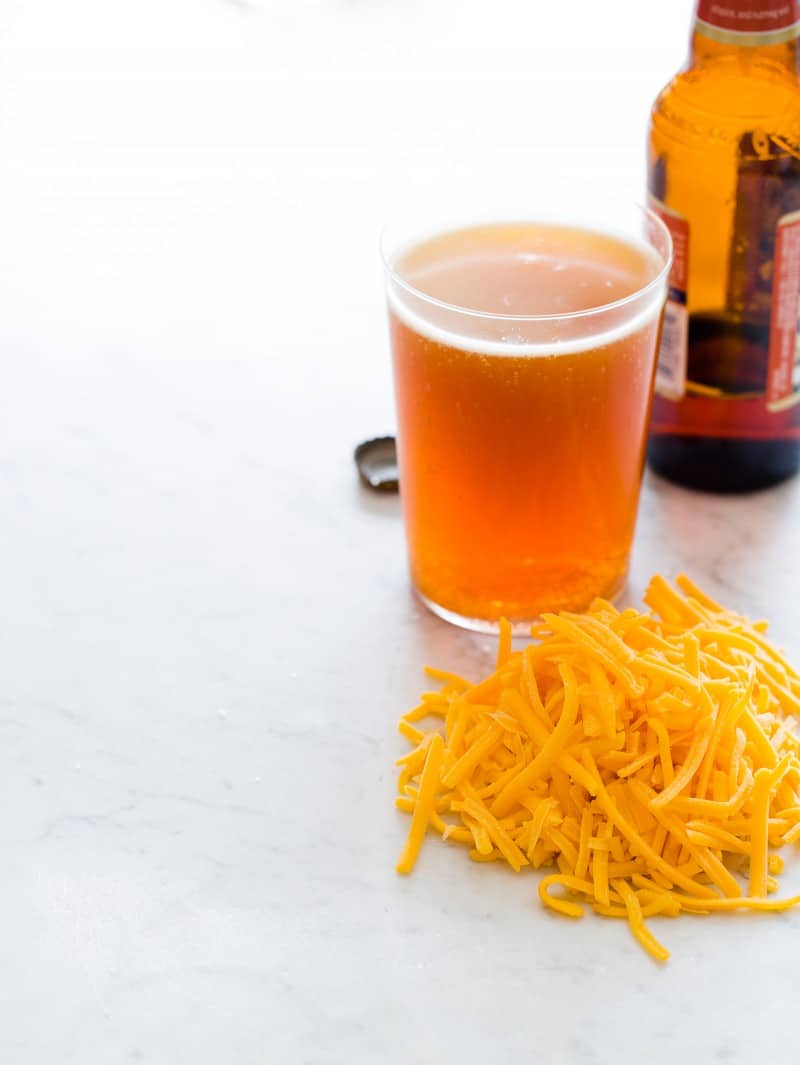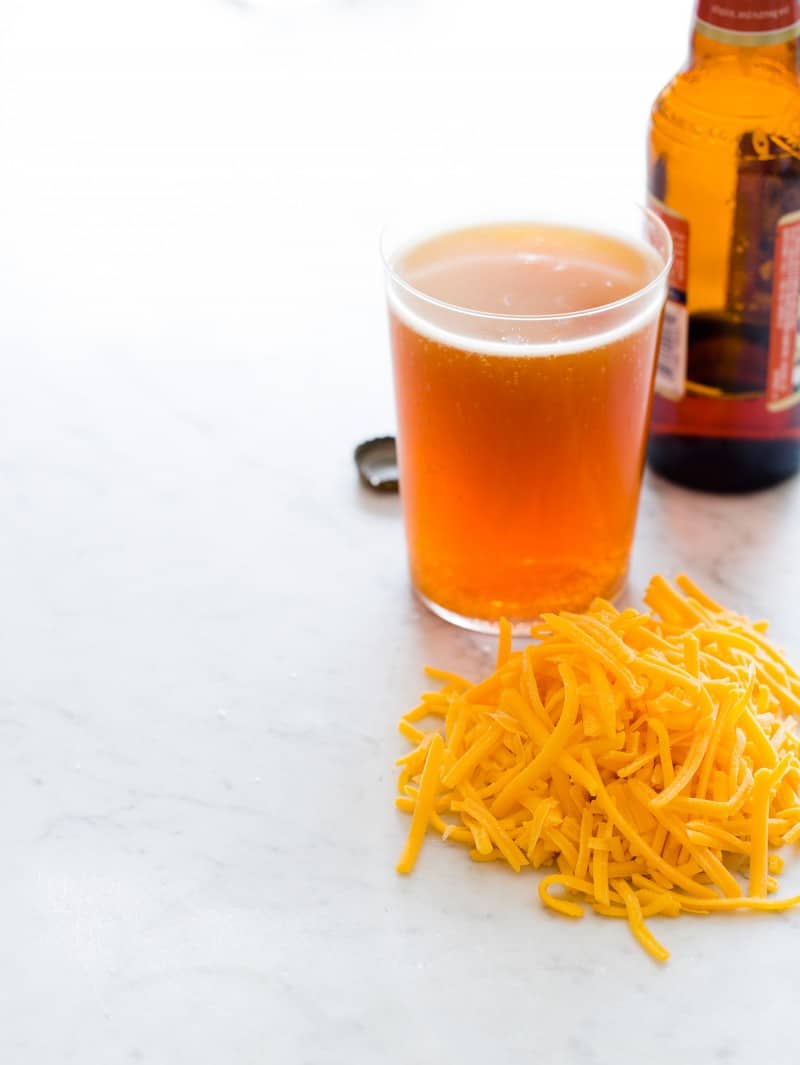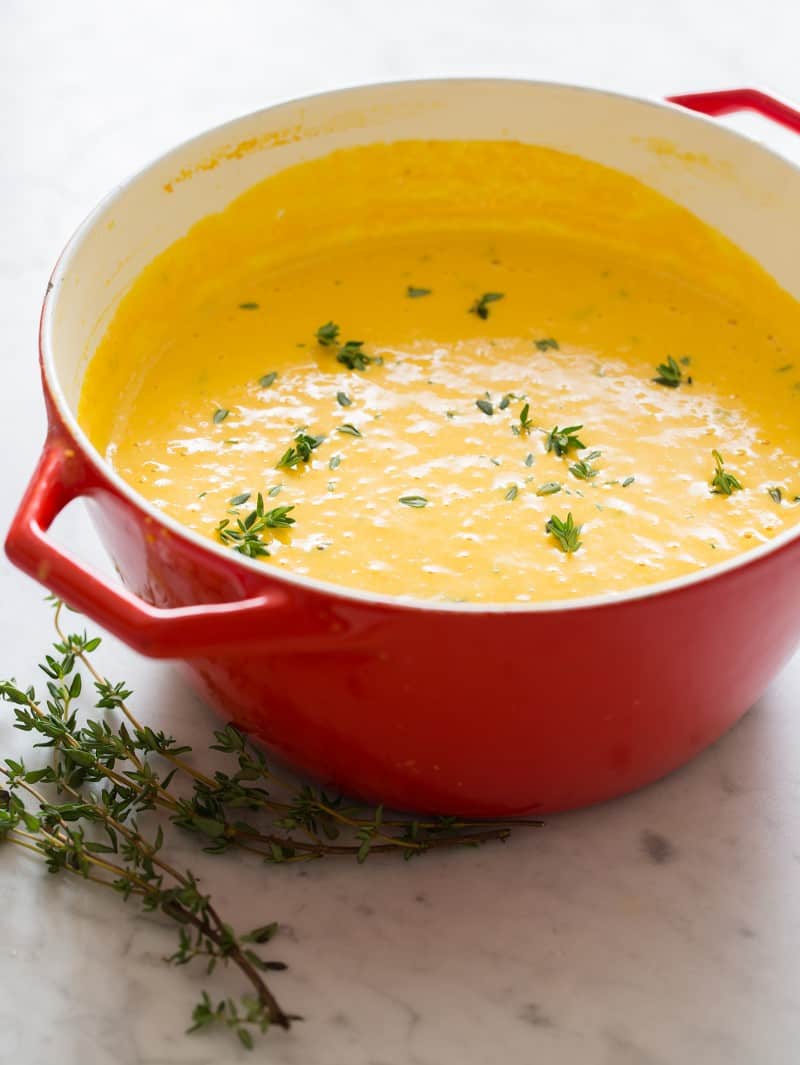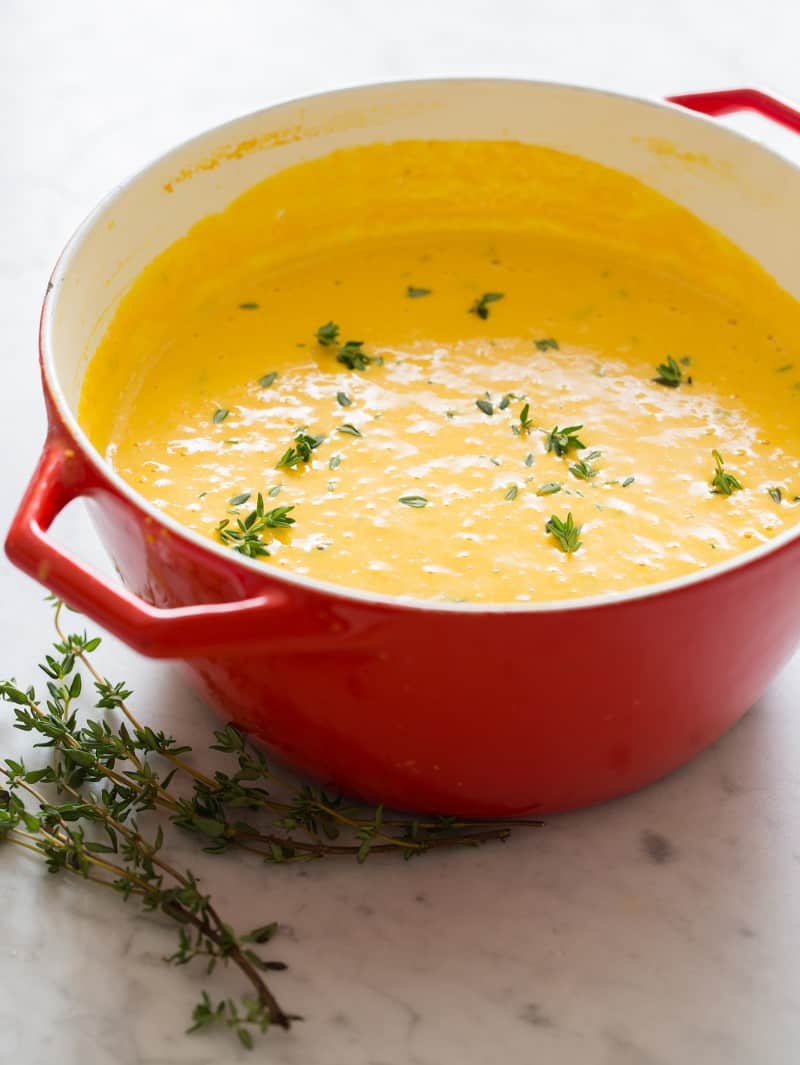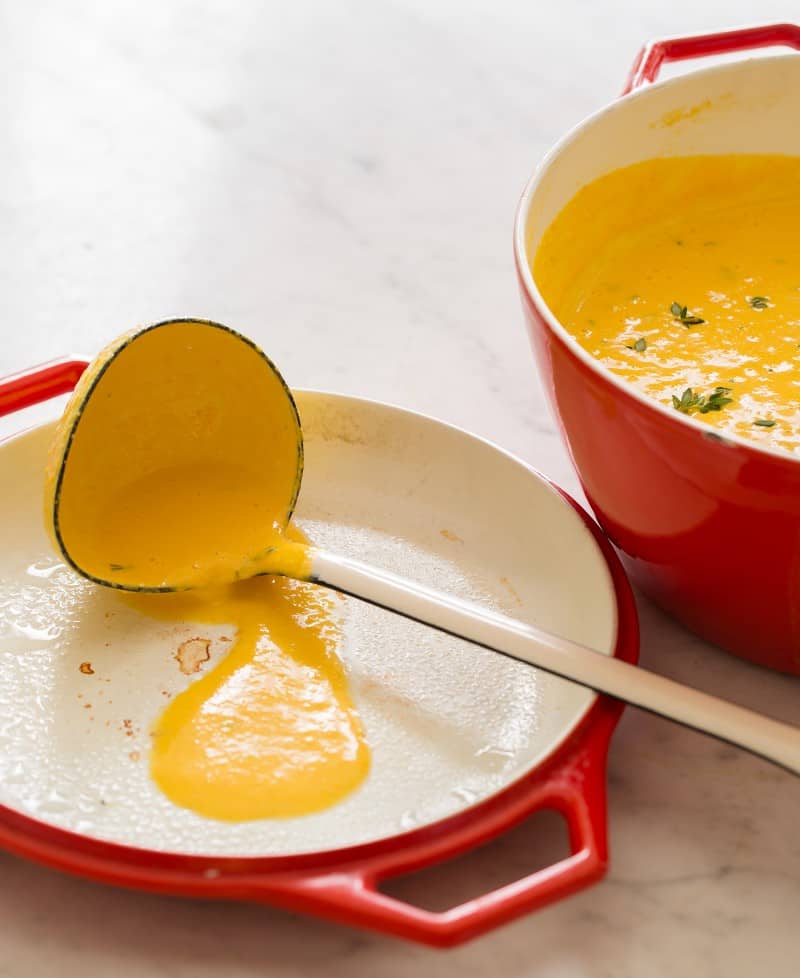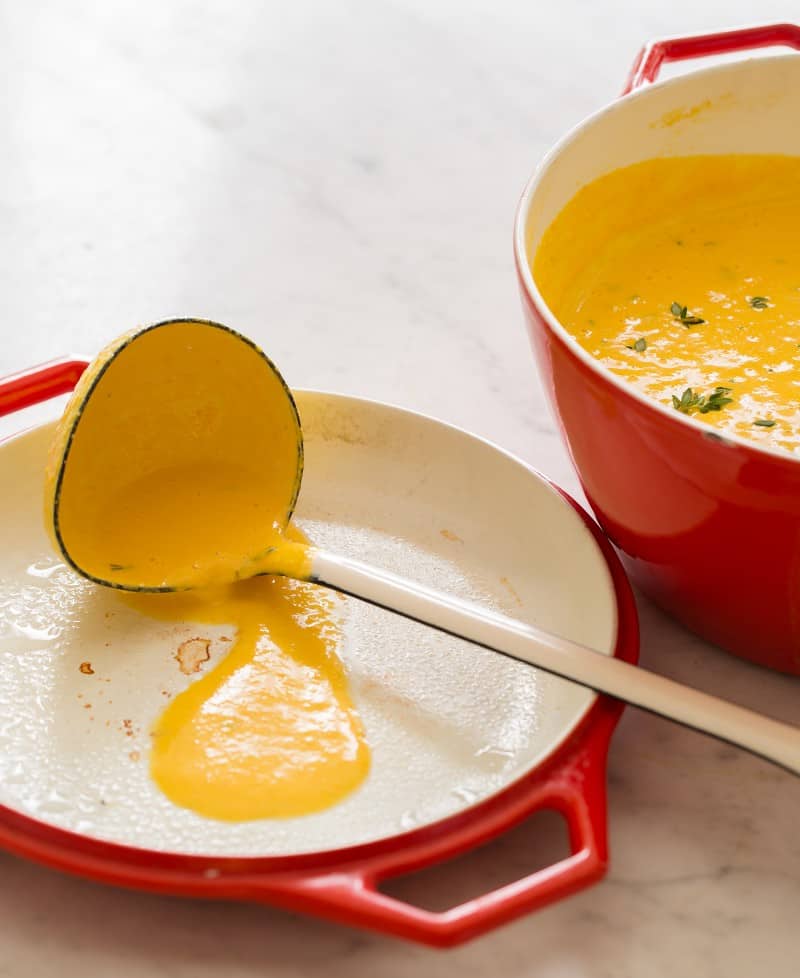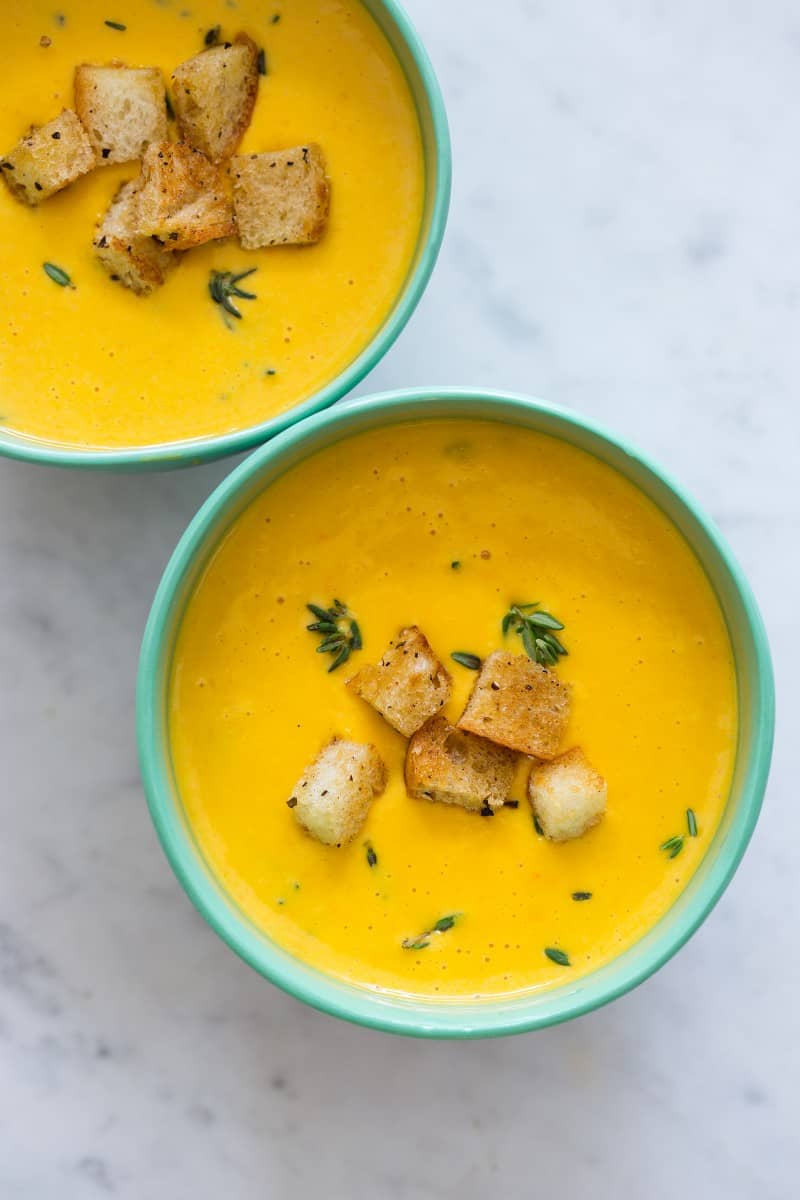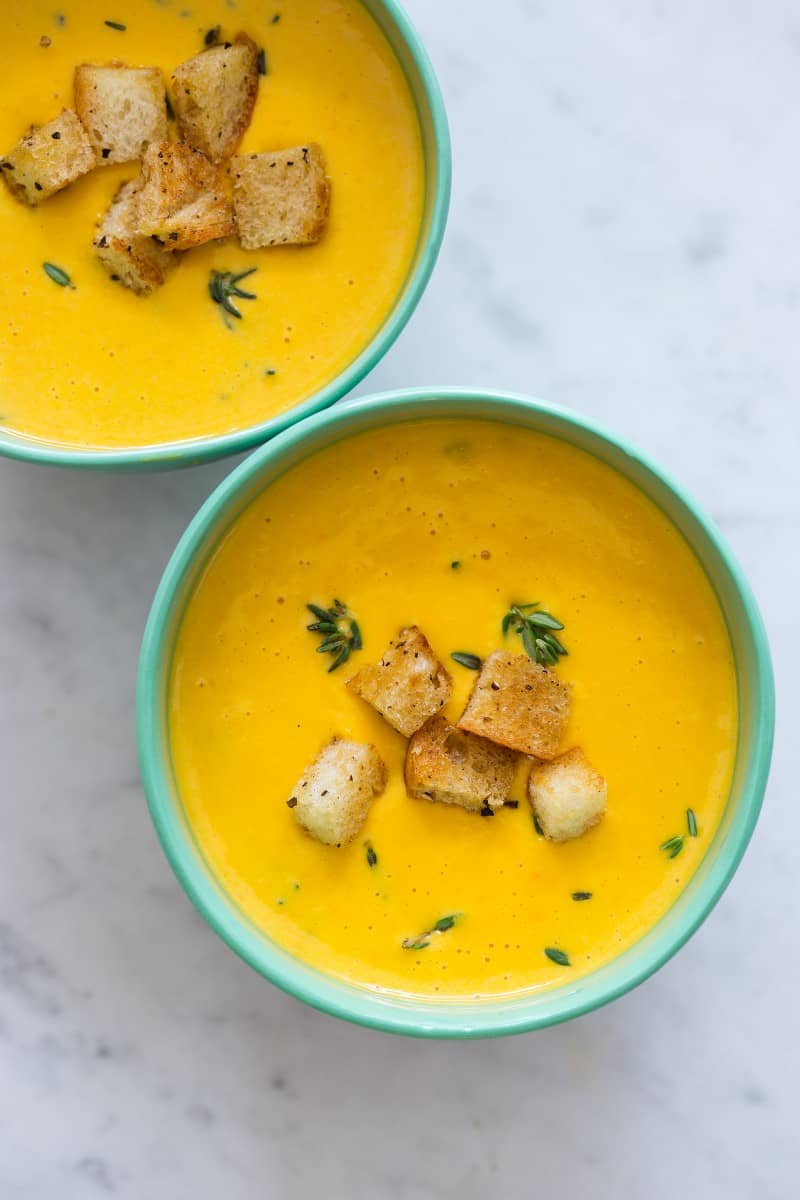 Hi Guys! If you haven't notice, Teri and I are stoked about the fall season. Not only do we get to put on our cozy clothes (if LA will just hurry up and make up its freakin' mind about the weather!!), but we get make cozy dishes and eat cozy foods! Today we have beer cheese soup. I grew up a mere hop-skip away from Wisconsin (hello Mars Cheese Castle) and have had my fair share of real beer cheese soup. If you've never heard of it, imagine extremely flavorful cheese sauce that's infused with beer and slightly thinned for a pleasant mouthfeel….that's basically beer cheese soup. Awesome, right?!
We've infused ours with pumpkin and thyme (I love the combo and may have featured it before…here!) for a more seasonal type of soup, but if you think straying from the original is an abomination (which is totally okay, because I even went back and forth a number of times, trying to decide if I should stick to classic or go seasonal) you can totally nix the pumpkin puree, thyme and nutmeg for an equally delicious soup. You can also switch the pumpkin ale out for a simple pilsner, which is what I usually use. What I like about the addition of pumpkin here is that unlike most things infused with pumpkin, the flavor in this dish is extremely subtle. It adds a bit of sweet, richness to the soup, but that's it…it's really not too "pumpkiny" at all. Don't get me wrong, I love me some pumpkin, but for this soup I love that it doesn't fight the beer or the cheese or the overall soup for that matter. I also blend this soup, which is not super typical. I blend the soup because I like it with no little bits inside and I feel it makes the soup super silky…if you like the veggie bits, no problem…just whisk the beer/broth mixture into the cheese mixture, being careful not to break your cheese sauce.
This soup is easy to make and keeps well for up to 5 days! Oh and one random thing before I go….this has absolutely nothing to do with today's recipe, but has anyone seen the quinoa burger/Bud Light commercial? If not, please go watch it now! It might be the greatest commercial out there! I've probably watched it over a hundred times this last month and I love it….so hilarious!! Maybe after you guys watch it you'll be inspired to make our quinoa burger…which does NOT taste like a dirty old tree branch thankyouverymuch!! Enjoy and have a great weekend!! xx, Jenny
Hungry for more?
Subscribe to never miss a recipe.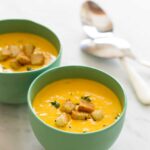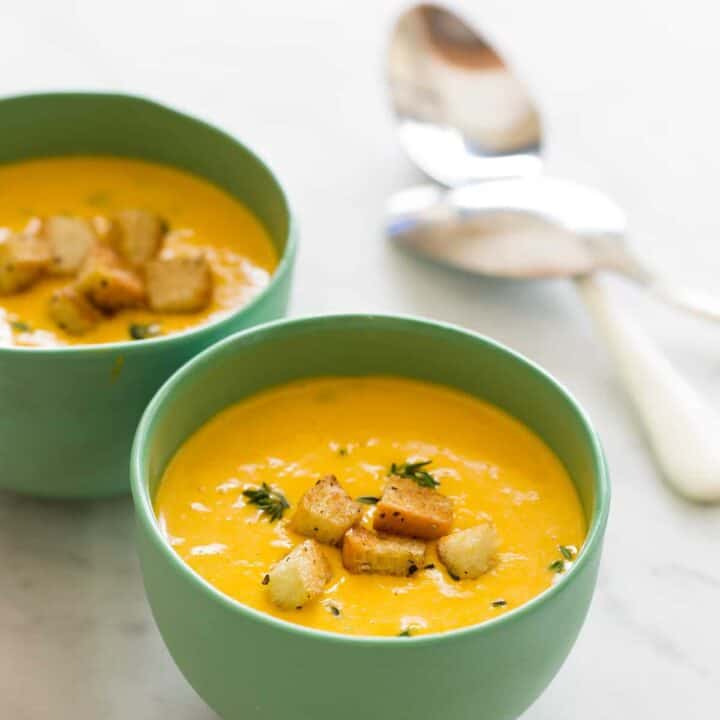 ---
Pumpkin Beer Cheese Soup
INGREDIENTS
2

tablespoons

extra virgin olive oil

½

yellow onion, diced

1

large

leek, thinly sliced

2

garlic cloves, minced

2

carrots, peeled and diced

1

rib celery, diced

2 ½

tablespoons

minced thyme

1

(12 ounce) bottle pumpkin ale

2

cups

chicken broth

¼

cup

unsalted butter

⅓

cup

all purpose flour

2

cups

whole milk

low fat is fine

⅔

cup

pumpkin puree

4

cups

shredded sharp cheddar cheese

1

tablespoon

lemon juice

1

teaspoon

dry mustard

½

teaspoon

smoked paprika

¼

teaspoon

ground nutmeg

salt and pepper to taste
simple butter croutons
1

cup

diced sourdough bread

3 ½

tablespoons

melted salted butter

½

teaspoon

garlic powder

½

teaspoon

salt

¼

teaspoon

black pepper
INSTRUCTIONS
For croutons: Place all ingredients into a bowl and toss together until evenly coated. Pour croutons into a large skillet and place over medium heat. Toast croutons for 5 to 7 minutes, stirring frequently. Remove from heat and allow to cool and crisp. Set aside until ready to use.

For soup: Pour oil into a medium pot and place over medium-high heat. Add onion and leek and sauté for 3 to 4 minutes or until onions and leeks become translucent. Add garlic, carrots and celery and season with salt and pepper.

Sauté for 4 to 5 minutes and stir in 2 tablespoons thyme. Add beer and broth and simmer for 8 to 10 minutes or until vegetable mixture is fork tender. Remove from heat and set aside.

In another medium pot melt butter. Whisk in flour to create a roux and continue to whisk for 2 to 3 minutes. Whisk in milk until no lumps remaining and mixture thickens. Stir in pumpkin puree until smooth. Toss cheese together with lemon juice before stirring into the milk mixture. Stir until cheese sauce is smooth.  Stir in remaining spices.

Pour cheese mixture and broth mixture into a blender and blend until smooth. Pour mixture back into a pot and simmer for 3 to 4 minutes or until soup thickens slightly. Stir in remaining thyme and adjust seasonings.

Ladle soup into bowls and top with buttered croutons. Serve.
Calories:
940
kcal
Carbohydrates:
36
g
Protein:
37
g
Fat:
71
g
Saturated Fat:
41
g
Cholesterol:
188
mg
Sodium:
1634
mg
Potassium:
677
mg
Fiber:
4
g
Sugar:
11
g
Vitamin A:
14143
IU
Vitamin C:
24
mg
Calcium:
1030
mg
Iron:
4
mg