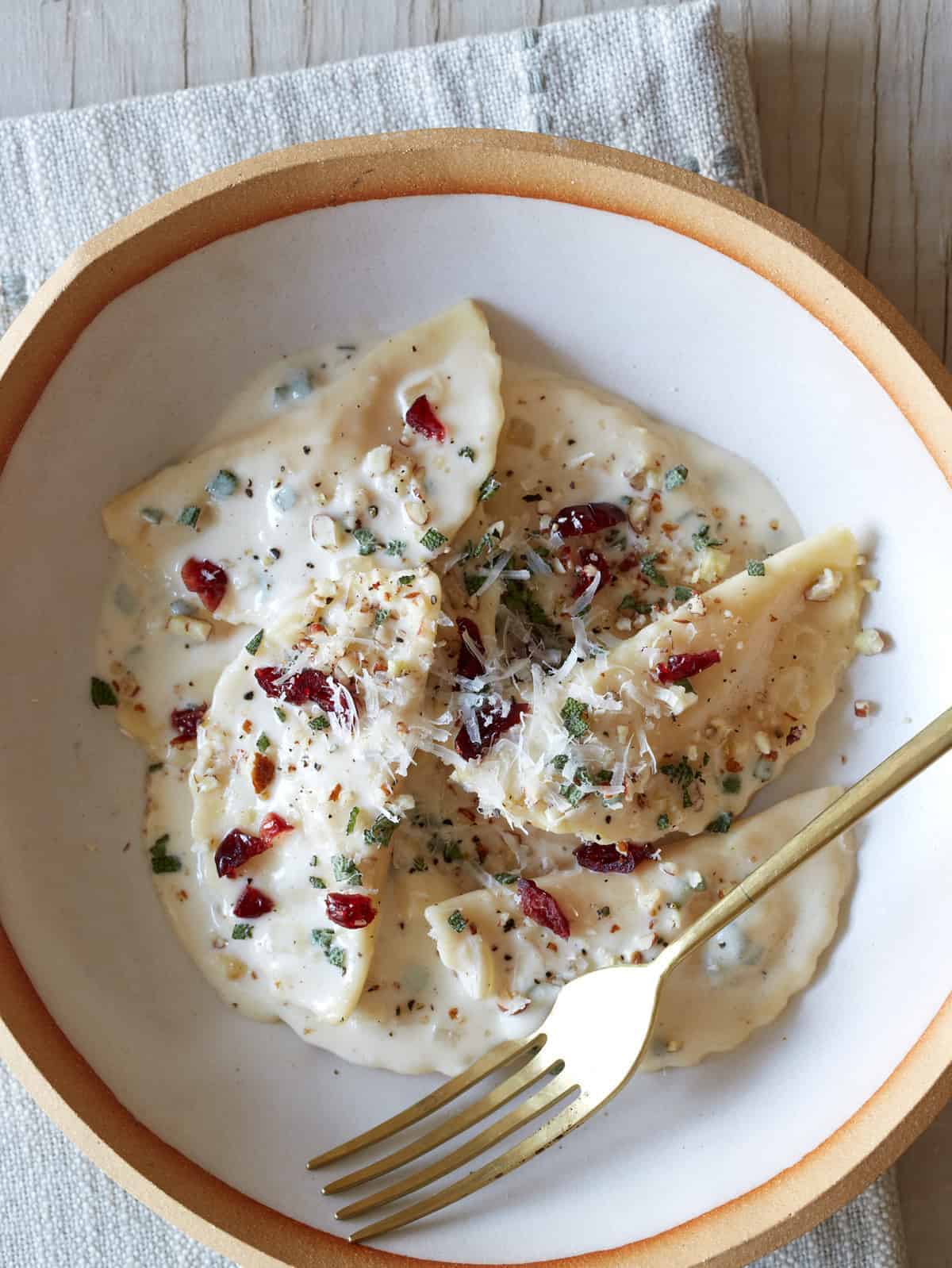 I never had butternut squash ravioli until I went to culinary school. During one of my first courses we learned how to make pasta from scratch and one of the first things we did with it was make butternut squash ravioli. We made it with it's perfect counterpart, browned butter and crispy fried sage. I instantly fell in love with the dish and have been making it 2 to 3 times a year at home ever since!
Today I've made one of my favorite variations of that dish, our Butternut Squash Mezzaluna with a Roasted Garlic and Sage Cream Sauce! I prefer making mezzaluna over ravioli because it's kind of like the 'lazy mans ravioli'. I've kept the filling pretty simple to allow the mild flavor of the butternut squash to shine, but changed the sauce up to a super decadent roasted garlic and sage cream sauce. The dish is finished with diced, dried cranberries for a pop of sweet and tart to cut through the overall richness and crushed, toasted pecans for texture. This meal is seriously fall in a bowl (or in this case a shallow dish) and perfect to cook and share with loved ones. PLUS, this recipe makes A LOT of mezzaluna and they freeze really well, so really you're making like 3 to 4 meals in 1, ya know? :) Enjoy! xx, Jenny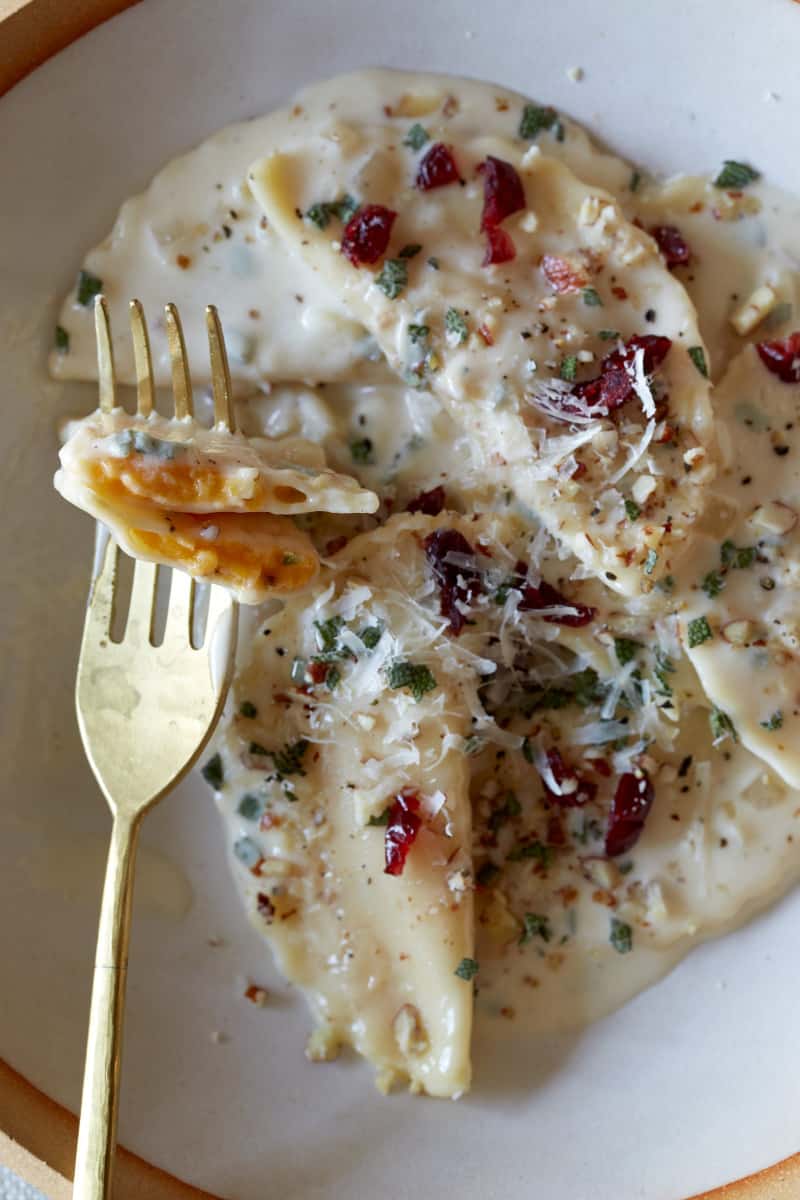 More fun pasta recipes to try:
Hungry for more?
Subscribe to never miss a recipe.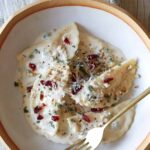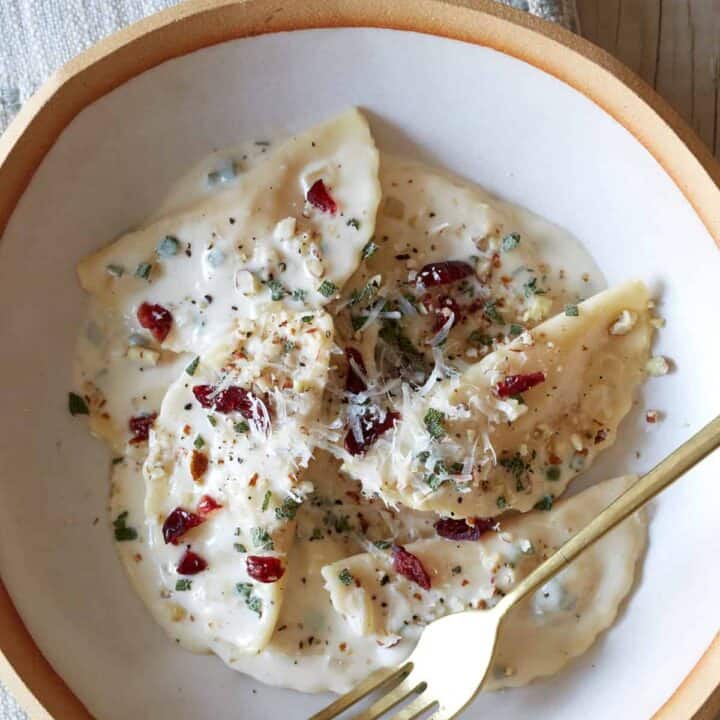 ---
Butternut Squash Mezzaluna with Roasted Garlic and Sage Cream Sauce
INGREDIENTS
filling
½

pound

butternut squash, peeled seeded and diced

3

ounces

grated Parmesan

1 ½

teaspoons

minced thyme

1

teaspoon

salt

½

teaspoons

cracked black pepper

1

egg, beaten
sauce
2

tablespoons

unsalted butter

4

cloves roasted garlic, minced

2

tablespoons

minced shallots

⅓

cup

dry white wine

1

tablespoon

minced sage, divided

1

cup

heavy cream
garnish
dried cranberries, diced

finely crushed pecans
INSTRUCTIONS
Make pasta dough according to the instructions from steps 1-3.

For filling: Steam butternut squash until fork tender. Place squash in a food processor and puree until smooth and the steam dissipated. Transfer puree into a mixing bowl and stir in the remaining ingredients. Cover and refrigerate filling for 30 minutes.

Using a 3-3.5" circle cutter, cut out pasta dough rounds. Fill the center of each dough circle with 1 ½ teaspoons of the squash mixture and lightly brush the perimeter of the circle with the beaten egg. Fold each mezzaluna in half. Set aside.

For sauce: Place butter into a large skillet and place over medium heat. Add roasted garlic and shallots and and sauté for 3 to 4 minutes and season with salt and pepper. Deglaze the pan with the wine and simmer until the pan is almost dry. Add the cream, half of the sage and and simmer until the mixture has reduced by half. Add the remaining sage and adjust seasonings.

Bring a pot of water to a boil and add a small handful of salt. Add 15 mezzaluna to the pot and boil for 3 to 4 minutes or until they begin to float. Transfer mezzaluna from the boiling water, with a slotted spoon, into the cream sauce, add the remaining sage and swirl to coat.

Transfer mezzaluna to a serving platter and top with a sprinkle of diced cranberries and crushed pecans. Serve.
NOTES
*Makes 50 mezzaluna (sauce serving is for ~15)