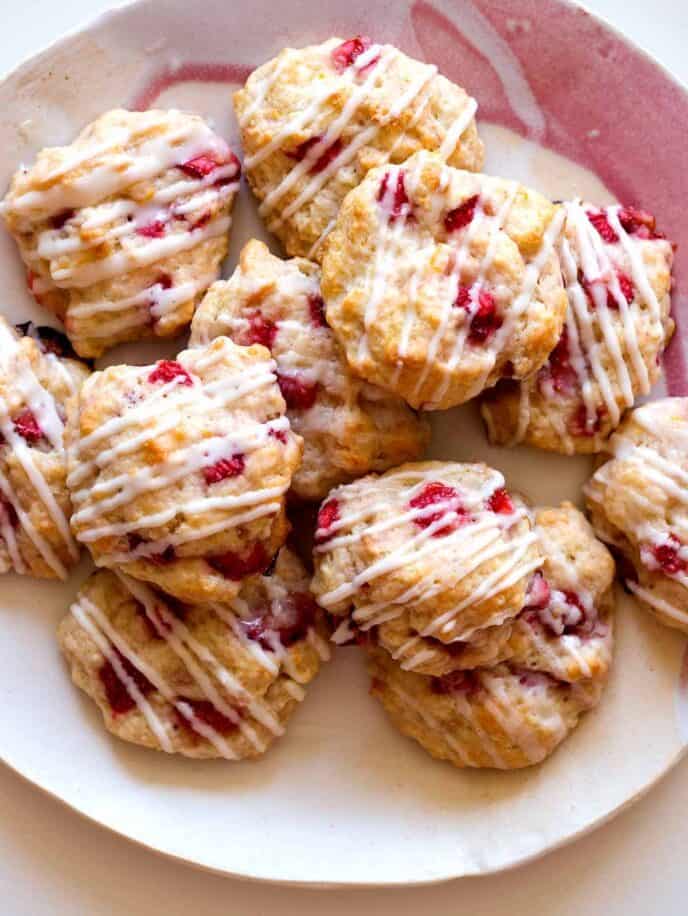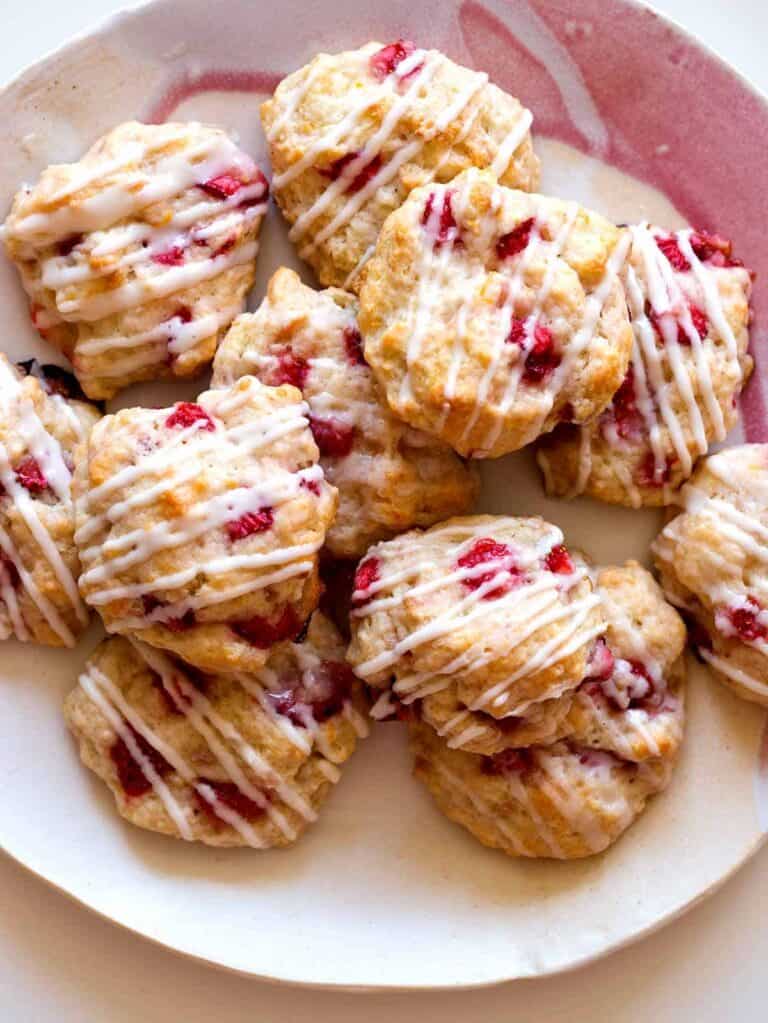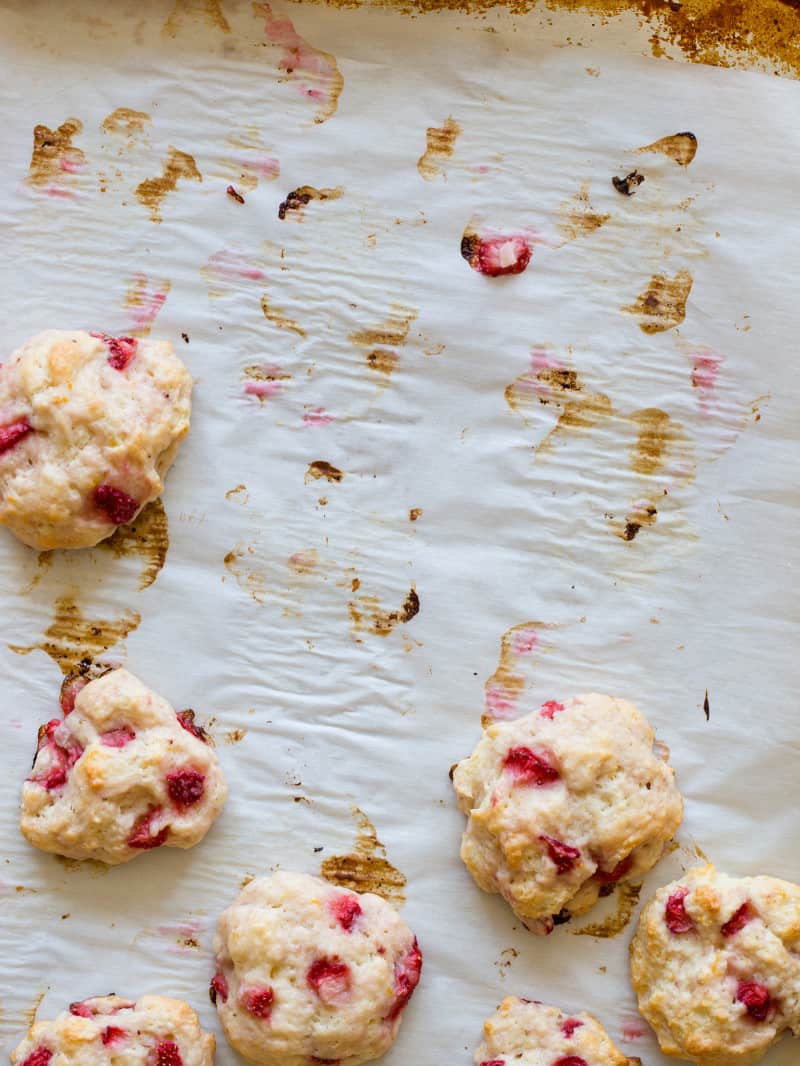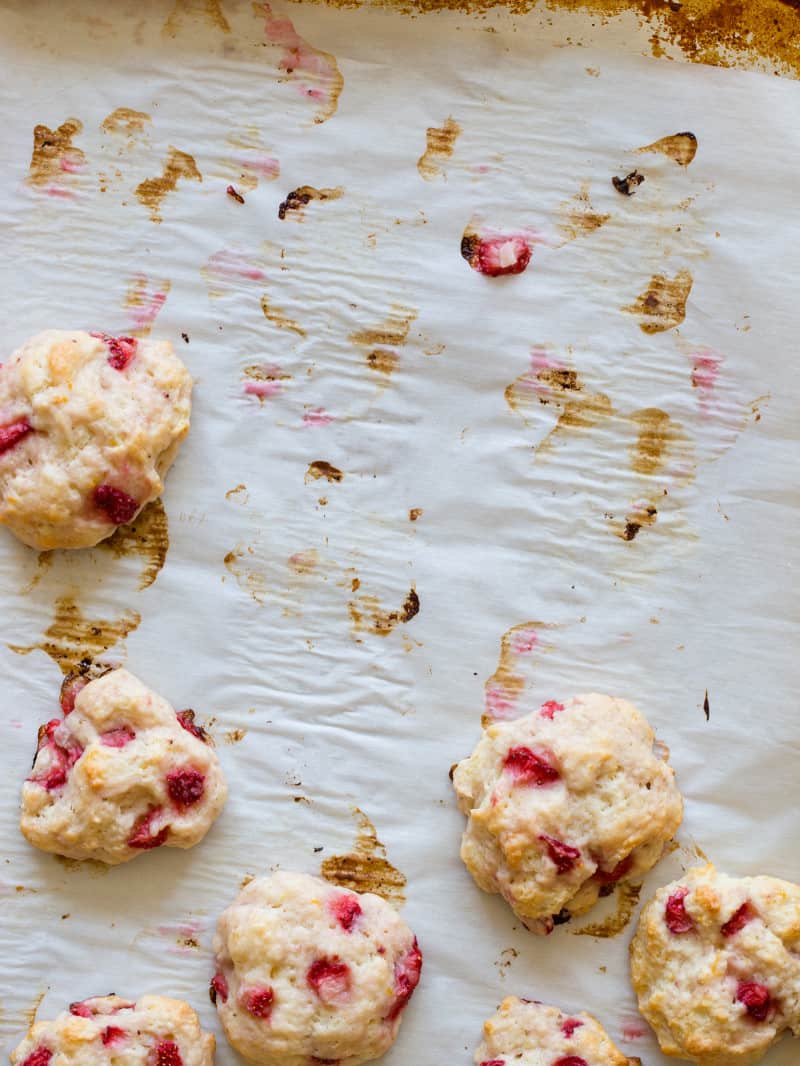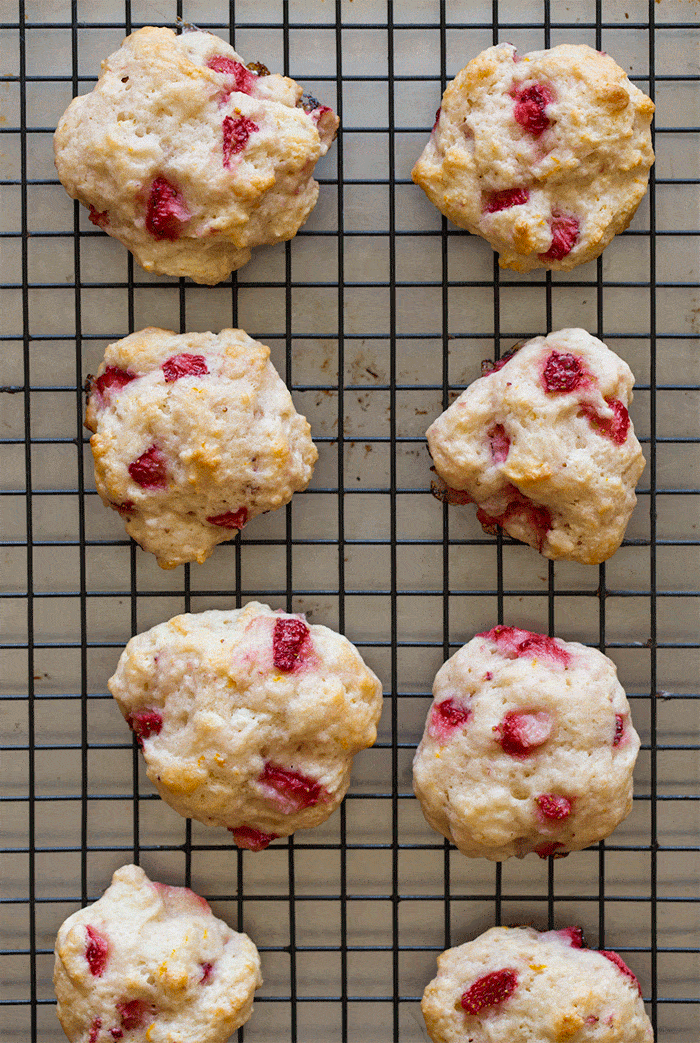 Hey guys! Today I'm jumping right into the recipe because I'm really excited about it. We have strawberry shortcake cookies topped with vanilla glaze for you! I have to admit, I hadn't actually tasted my first strawberry shortcake until culinary school, about 4 years ago…I know….BUT I did grow up obsessed with the books, especially the scented ones that were also plastic with a sponge lining so you could take the book into the bath with you to smell and read it, which I now think are a little weird/creepy or maybe I've just been watching too much Law and Order: SVU lately….I digress.
ANYWAY, I've been on a pretty big Greek yogurt kick lately… I mean, I've always had a thing for Greek yogurt, but I've recently become super into using it in my cooking/baking. Today I've replaced my egg and milk for Greek yogurt AND just like in regular shortcake recipes the amount of sugar in the whole batch is pretty low….yay, for sorta healthier cookies! :)
These cookies are great, really! My boyfriend even looked at me with bright eyes the second he took his first bite and said, "Oh wow, these are delightful!" I don't think I've ever heard him use the word "delightful" before…ever, so I'm going to take that as a good thing. They're super light and fluffy and the strawberries are both sweet and slightly tart which is great with the thin, sweet glaze. They're really great for any occasion and now that the weather around my parts has cooled off a bit I'm not terrified to turn my oven on anymore! Woo!! I think I may even like these cookies better than the cake itself, but I'm also a little bias….you all should bake these and let me know what you think…yes? maybe? please?! Enjoy!
xx Jenny
Have a ton of strawberries to use? Here are more yummy strawberry forward recipes: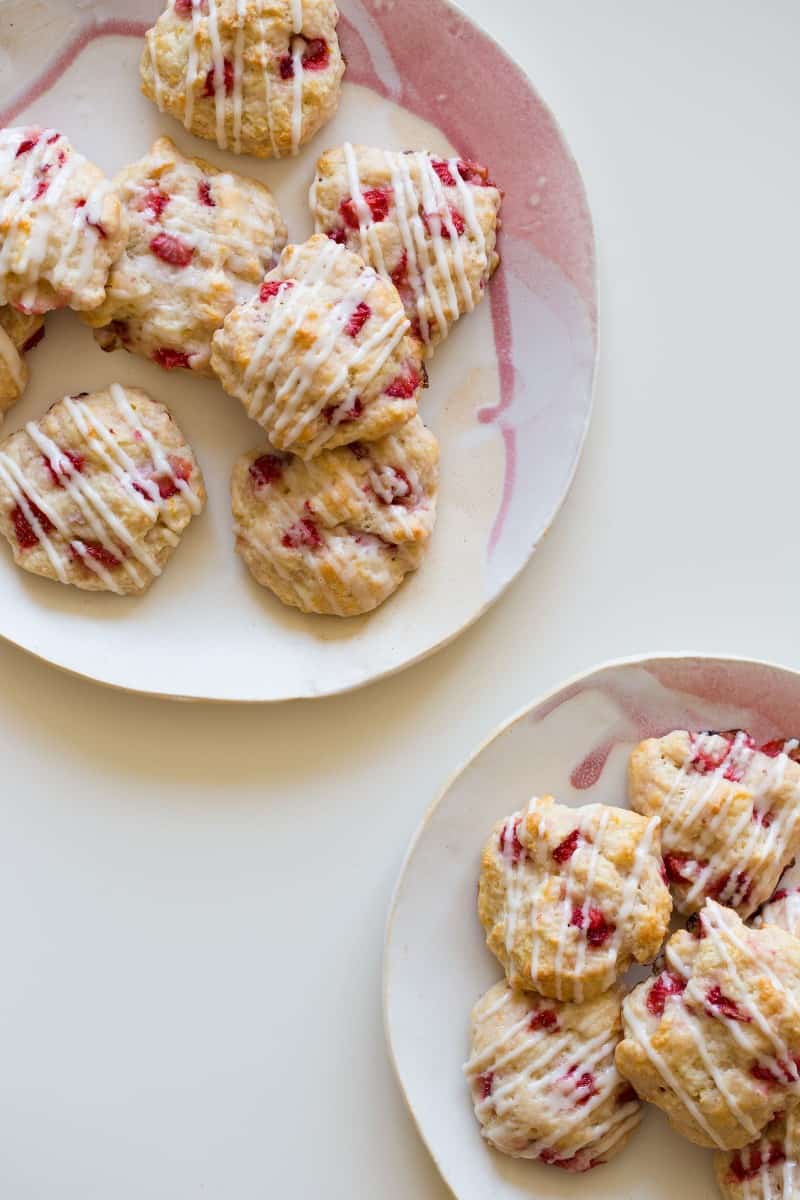 Hungry for more?
Subscribe to never miss a recipe.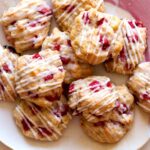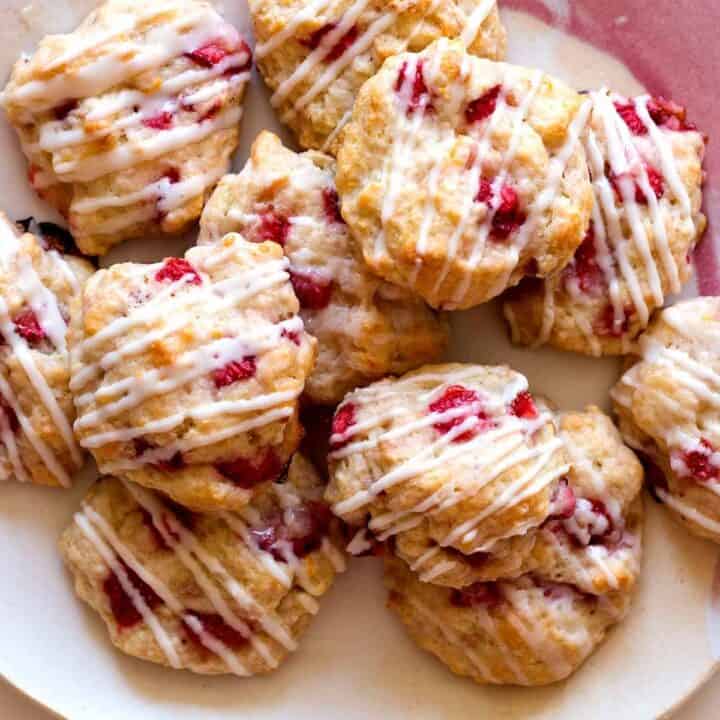 ---
Strawberry Shortcake Cookies
INGREDIENTS
1

cup

diced strawberries

2

teaspoons

lemon juice

2

cups

plus 2 tablespoons all purpose flour

1

cup

plus 1 ½ tablespoons granulated sugar

2

teaspoons

baking powder

¼

teaspoon

baking soda

¼

teaspoon

salt

6

tablespoons

cold butter, cut into small cubes

½

cup

nonfat Greek yogurt

1

teaspoon

vanilla extract

zest of 1 lemon
vanilla glaze
1

cup

powdered sugar, sifted

2

tablespoons

milk

1 ½

teaspoons

vanilla extract
INSTRUCTIONS
Place strawberries, lemon juice, 2 tablespoons flour, and 1 1/2 tablespoons sugar into a small mixing bowl and toss together until well coated. Place in refrigerator and set aside.

In a medium mixing bowl, sift together the remaining flour, remaining sugar, baking powder, baking soda, and salt. Cut in the butter until a fine/even, grainy texture forms.

Stir in the Greek yogurt and vanilla and mix until just combined. Fold in the strawberry mixture and lemon zest and mix until well combined.

Line a baking sheet with parchment and spoon on 2 tablespoons of dough at a time, about 1 inch apart.

Bake for 17 to 20 minutes or until the cookies have barely started to brown on top. Remove from the oven and transfer cookies onto a cooling rack and allow to cool completely.

While the cookies cool, make the glaze: Place the sugar, milk and vanilla into a small bowl and gently stir together with a fork until no lumps remain. Drizzle glaze over cookies and serve or allow to set, about 30 minutes, before serving.
Calories:
294
kcal
Carbohydrates:
54
g
Protein:
4
g
Fat:
7
g
Saturated Fat:
4
g
Cholesterol:
19
mg
Sodium:
236
mg
Potassium:
63
mg
Fiber:
1
g
Sugar:
34
g
Vitamin A:
210
IU
Vitamin C:
9
mg
Calcium:
58
mg
Iron:
1
mg
KEYWORD:
cookies, strawberry recipes