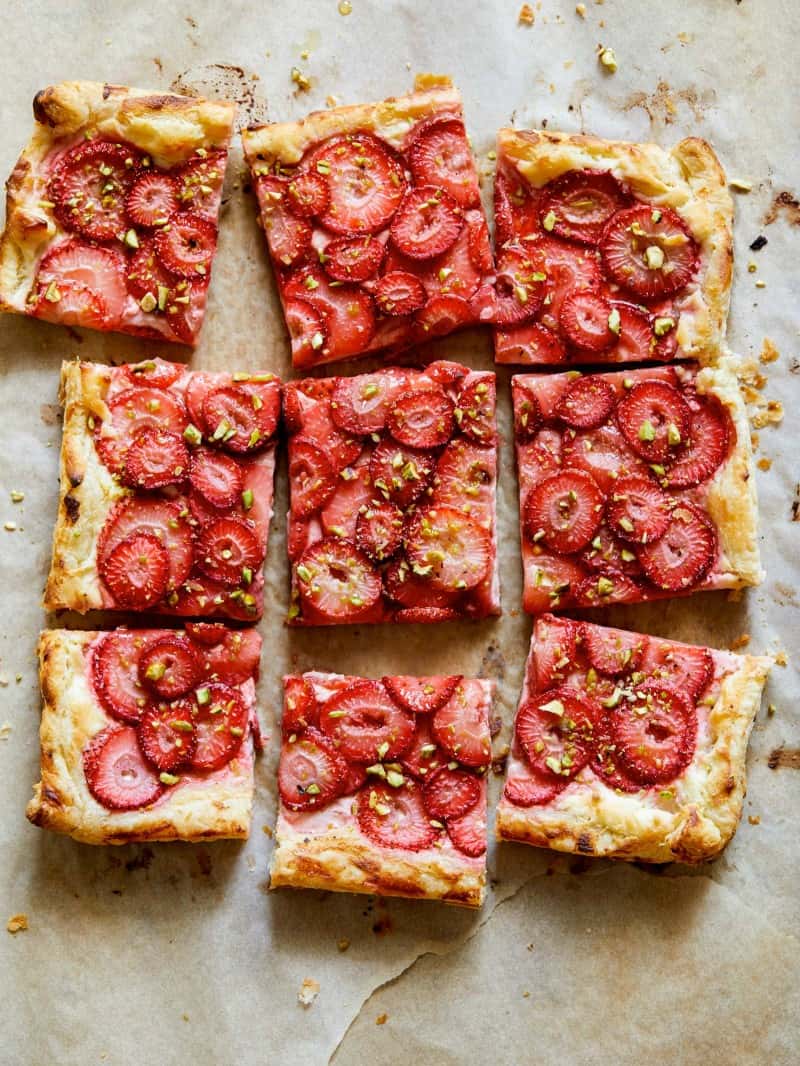 We are re posting this recipe because it's super easy and really beautiful! Even better if you serve it with some vanilla ice cream on top. Yum. Ok but really strawberries are really happening right now so grab some of those cheap pints and make this. Makes a super good breakfast also!
♥ Teri

This recipe was originally posted on June 22nd, 2017
Around my town we have these single standing strawberry stands set up randomly here and there and I love it! It's so easy to get persuaded by those big signs and those extra juicy and sweet smell strawberries. I bought an entire flat of them the other day and have been making tons of strawberry things including jams, salsas, salads, etc. Today we have this Strawberry and Pistachio Tart that I've also been making with the loads of strawberries I have.
This tart is so easy to make and really tasty. It's perfect to enjoy with a cup of coffee or tea for breakfast or with a scoop of ice cream for dessert. I also like how simple and pretty this tart is, so it's also a great crowd pleaser. I might be making this for 4th of July this year to serve with scoops of rich vanilla bean ice cream. So simple and so good. Enjoy! xx, Jenny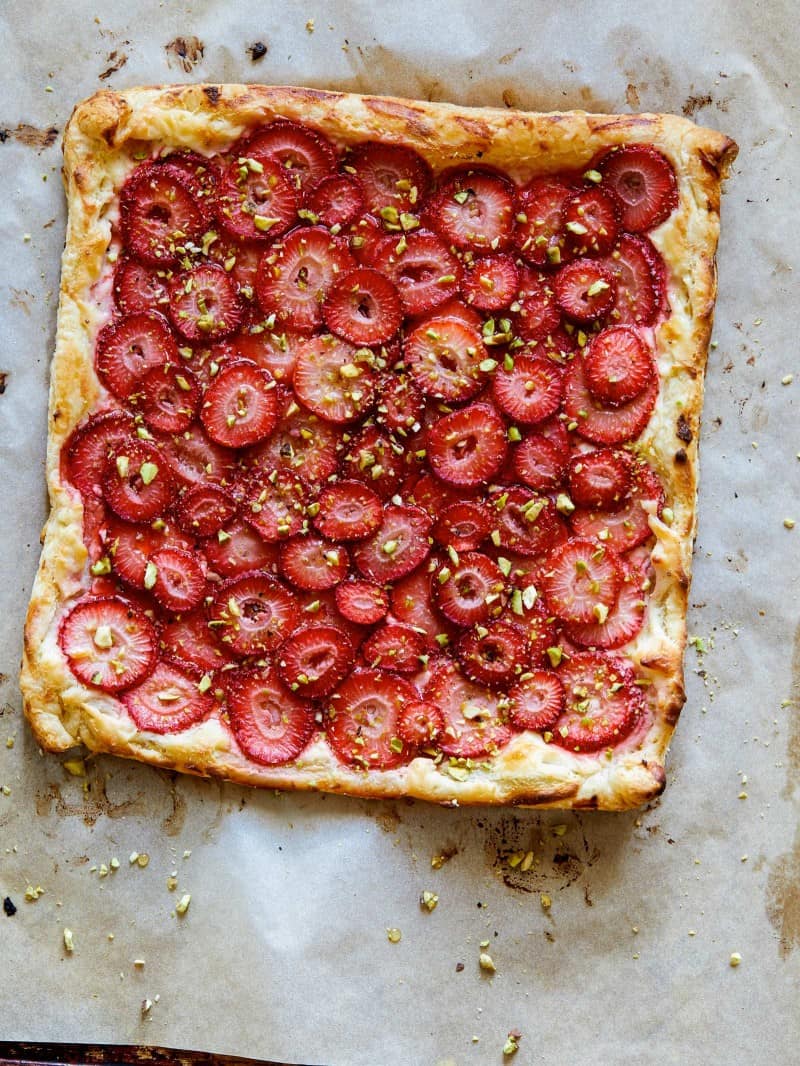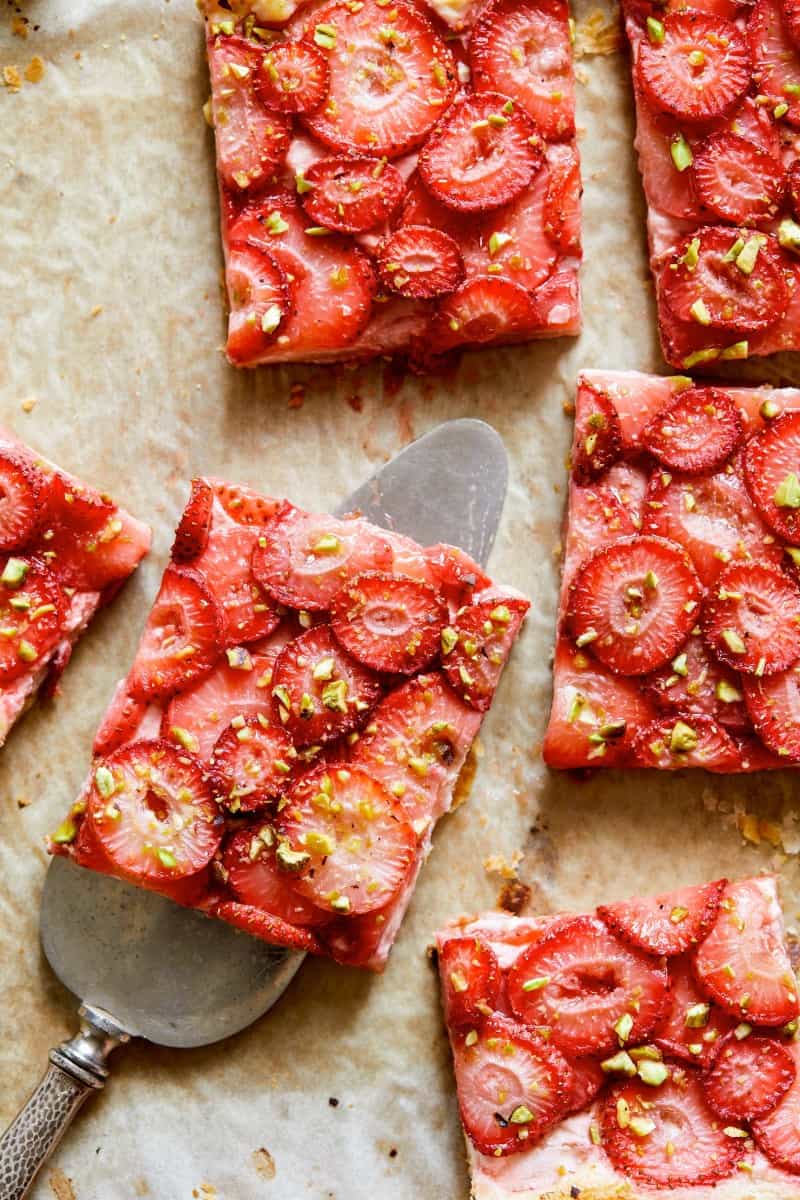 Strawberry + Pistachio Tart

Makes 1 8"x8" tart

Ingredients:
6 ounces cream cheese softened
3 tablespoons honey, plus more for drizzling
1 sheet puff pastry, thawed
18 to 20 strawberries, hulled and thinly sliced crosswise
1/4 cup crushed pistachios

Directions:
1. Preheat oven to 400˚F.
2. Place cream cheese and honey into a mixing bowl and beat together until light and fluffy.
3. Place puff pastry sheet onto a parchment lined baking sheet and spread honey whipped cream cheese onto the surface, in an even layer.
4. Spread strawberries over the cream cheese, leaving a 1/2 inch border, in a single, even layer, before stacking the remaining strawberries.
5. Fold in the 1/2 inch puff pastry border and place tart into the oven.
6. Bake tart for 18 to 22 minutes or until the crust is golden brown and the strawberries have caramelized.
7. Remove tart from oven and drizzle honey over the top. Sprinkle pistachios over the top.
8. Allow tart to cool, about 15 minutes before slicing and serving.